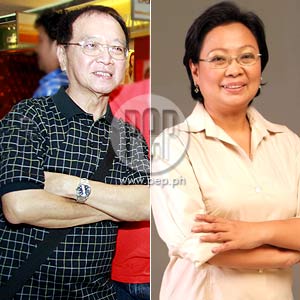 Director Mel Chionglo (left) and YES! magazine editor-in-chief Jo-Ann Maglipon join the Appeals Committee of the Movie and Television Review and Classification Board (MTRCB).
Photo: Noel Orsal (Mel Chionglo);
Filmmaker Carmelo "Mel" Chionglo and YES! magazine and PEP editor-in-chief Jo-Ann Maglipon were recently appointed as members of the Movie and Television Review and Classification Board (MTRCB) Appeals Committee at the Office of the President.
The Appeals Committee is tasked to assist and to recommend to the President of the Philippines on the proper disposition of appeal from the decisions of the MTRCB disapproving or prohibiting the public exhibition of a motion picture or television program.
It is under the Office of the President of the Philippines and is entirely independent from the control and supervision of the MTRCB. Section 4 of P.D. 1986 mandates the creation of the Appeals Committee, composed of a Chairperson and four (4) members.
Meanwhile, Atty. Victoriano S. Maturing Jr. was named by President Benigno Aquino III as MTRCB executive director with a term that expires on September 30, 2011.
The appointment was announced over the state-owned radio station dzRB by Deputy Presidential Spokesperson Abigail Valte. She also revealed other presidential appointees who will occupy various positions in government bureaus.
Mel Chionglo is widely known in entertainment circles for creating daring movies that have earned the attention of the government regulating board in the past.
Some of Chionglo's film projects that are classified as "sexy" include Sibak (1994), Tagos Sa Laman (1995), Mapusok (1998), Malikot Na Mundo (1999), Burlesk King (1999), Two Timer (2002), Xerex (2003), and Twilight Dancers (2006).
Direk Mel, according to the website of MTRCB, "is a veteran in the film industry having been engaged in its varied areas as film production designer, screenwriter, stage director, TV director and film director. He obtained professional training in acting and directing from Lee Strasberg Institute, New York, U.S.A."
Jo-Ann Maglipon, on the other hand, is one of the most respected and credible journalists in the entertainment industry. She has a Special Course on Advanced Publishing from Stanford University, San Francisco, U.S.A.
The MTRCB's primary task is to rate television shows and movies that are submitted by the producers to the board for review and clearance before exhibiting the materials to the public.
The agency stated in its mission statement that it "aims to afford the public exemplary exhibitions of movie and television with the purpose of encouraging production of globally-competitive movies/exhibitions, which should be both entertaining and artistic, in order to raise the standard of art for the general public."
It also "strives to provide the industry opportunities for improvement by implementing regulations and guidelines acceptable to parties concerned, thereby maintaining a wholesome atmosphere of partnership."
President Aquino, in a message posted on MTRCB's official website, cites the agency's task of "guarding and promoting the moral development" of the Filipino citizens, particularly the youth.