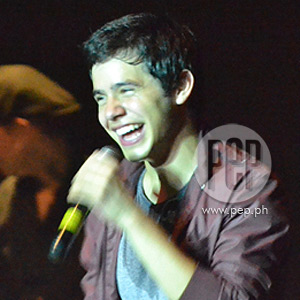 Filipinos sang and danced along with David Archuleta as he performed at the Araneta Coliseum last night, July 18. This marks the third time that the American Idol Season 7 runner-up visited the Philippines.
Photo: Leslie Tang
Last night's concert marked David Archuleta's third time to perform in the Philippines but with the warm reception given to him at the Araneta Coliseum, it seems that Pinoys can't get enough of the charming singer.
David first came to the Philippines with David Cook in 2009 and again in 2010 for the launch of his album, The Other Side of Down.
As soon as the American Idol Season 7 runner-up came out on stage singing "Stomping the Roses," audience members started dancing to the beat while others stood up on their seats to get a better view of the American singer.
David kept on jumping up and down and walking across the stage as he performed "The Other Side of Down," culled from his latest album of the same name.
As soon as his song ended, David shouted: "Kamusta kayo, Manila?"
The crowd reacted with cheers and applause as David continued: "It's so good to be back here. It's been amazing."
Wearing a gray shirt and red jacket throughout the concert, David liked to gesture with his hands and walk around the stage.
Some of the songs that he performed last night include "A Little Too Not Over You," "Don't Let Go," and his version of the Tears For Fears song "Everybody Wants To Rule The World."
When he sang "Something 'Bout Love," he gave up mic duties for a while to let the crowd sing their hearts out.
For his next song, production set up a keyboard to let David play. He told the crowd that when people ask him if he likes blondes or brunettes, he points out: "I wonder if she likes to go to a theme park..."
He then sat down on the keyboards to play his song "My Kind of Perfect."
He performed the keyboards for the second time when he played "A Thousand Miles," which he admitted reminds him of his mom.
He expressed his gratitude for his Pinoy fans by telling them: "I would really fly a thousand miles to see you guys."
For one of his songs last night, he sang "Elevator" and asked different sections of the Big Dome to sing along with him. He was very pleased with the results, prompting him to exclaim, "Good job, Manila!"