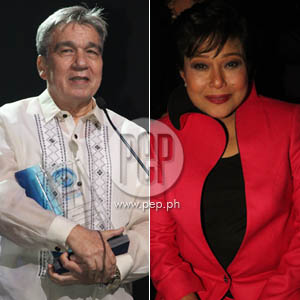 Director Mario O'Hara (left) and Superstar Nora Aunor (right) were given honorary awards at the Cinema One Originals 2011 for their pioneering efforts in the country's independent cinema.
Photo: Allan Sancon
Last night, November 13, was the awards night for the Cinema One Originals Digital Film Festival 2011, held at the Carlos Romulo Auditorium of RCBC Plaza, Makati City.
Aside from the awards for the filmmakers who submitted their entries in this year's festival (CLICK HERE to read related story), Cinema One added a new accolade: an honorary award for artists who pioneer efforts in the country's independent cinema.
The awardees for this year are multi-awarded film and television director Mario O'Hara, and renowned film actress Nora Aunor.
According to the official citation from Cinema One, both artists are pioneers in the Philippine indie scene.
Mario O'Hara is known as an actor, screenplay writer, and director.
His acting stints include Stardoom (1971) and Tinimbang Ka Ngunit Kulang (1974).
He wrote the classic films Insiang (1976) and Mortal (1975).
He also directed the masterpieces Tatlong Taong Walang Diyos (1976) and Condemned (1984).
But it is Mario's low-budget independent film Babae sa Breakwater (2003) in 2003 that solidified his connection to indie cinema.
Babae sa Breakwater was screened at Cannes, as well as other film festivals.
This feat inspired other local indie filmmakers to submit their films to the major film fstivals abroad, gaining them a global audience.
Nora Aunor, meanwhile, is known for her role in several classic films, like Banaue (1975), Bona (1980), Tatlong Taong Walang Diyos (1976), and Annie Batungbakal (1979).
But what might be surprising to many is that Nora not only acted in these movies; she also produced them.
Nora can then truly be called an indie artist.