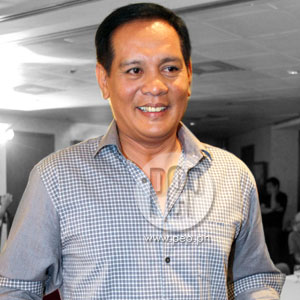 Joey Marquez on his children: "One thing I like about my children, although iba-iba ang nanay nila, buo kami. It's the atmosphere of protection for each other. They will fight for the right of their half-brothers, sisters. And in fact, they don't call themselves as half-brother or sister—they are brother, sister, period."
Photo: Noel Orsal
Joey: "Oo naman! Ayokong maging lalakero."
Charlene: "Ano ang current status ng puso mo—available, non-available, or ready and able?"
Joey: "I am... can you rephrase the question? I am in a relationship right now and as a matter of fact, we talked about it that 'let's keep this relationship as private as we can.' Because this relationship, this present girl is ordinary."
Charlene: "I respect the relationship, but how long has it been?"
Joey: "Yeah... Hahaha! Well, it's not how long we've been together. It's the privacy of we've been together."
Charlene: "What made you fall in love again?"
Joey: "Well, it's always like this with all men. Palagi nilang tinitingnan ang quality ng magulang nila. Especially if I see a resemblance coming from my mom to the woman, I easily fall in love.
"Kasi my mom will die for us. And I hope, any woman that I fall with also die for me. Not only for me, but for my children."
Charlene: "You're a man of the world. Confess to us, what else that Joey Marquez dream and aspire for?"
Joey: "Alam ninyo, the saddest day of my life is when I signed the annulment paper. I've been... thirteen years married to Ness [Alma Moreno]. I thought, all the while, by signing that annulment paper, I'll be free. Hindi pala ganoon."
Charlene: "If you have once chance to relieve a moment in your life, what will you do?"
Joey: "I'll probably reconsider the past that I did and do it again, but not necessarily I don't want my children. Kung puwede lang lahat sa anak lumabas and I'll have that."
Charlene: "And how do your children continue to inspire you?"
Joey: "Well, I always tell them that nobody can compete with you. If they did, they will lose. I always tell that to anyone I've been to a relationship. Never compete with my children. They need me because it's the responsibility that God gave us to take care of them for the rest of my life.
"Regardless if they are minor or adult, but they are still my blood. I have to take care of them. Don't make me choose because I'll choose them [his children].