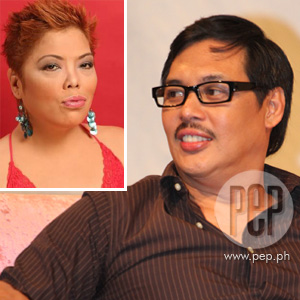 Cinemalaya Monitoring Head Robbie Tan says MNL 143, Emerson Reyes's entry to the 8th Cinemalaya, was disqualified because the director and the producer insisted on having Alan Paule (main photo) and Joy Viado (inset) as the lead stars. Considering the premise of the film—a man in search of his long lost love—Tan explained that having Alan and Joy as lead stars "will not work."
Tan also admitted: "Actually, heavy heart ako, e, sa MNL 143, heavy heart ako. I saw promise naman kay Emerson [Reyes]. Kaya lang, kung yun ang gusto niya [and] they insisted, wala akong magawa."
Photo: Noel Orsal
Emerson Reyes's entry to the 8th Cinemalaya Philippine Independent Film Festival was dropped from this year's New Breed category finalists.
MNL 143 was disqualified by Cinemalaya's Organizing Committee, which saw its casting of Alan Paule and Joy Viado as "not suitable to the material."
Reyes's entry, which would have been his first full-length film, is about an OFW who comes back to Manila as an FX driver in search for his long lost love.
MNL 143 will be replaced by Gino Santos' entry, The Animals, a film that studies the lifestyle of society's elite.
In a letter addressed to MNL 143 producer Nestor Abrogena dated February 27, 2012, Cinemalaya's Competition Chairperson Laurice Guillen Feleo wrote:
"Following consultations on your entry between Mr. Emerson Reyes and Monitoring Head, Mr. Robbie Tan, we were informed that you were fixed on the original casting of your two leads, which we had pointed out were not suitable to the material.
"There is never any directive given to the finalists on who to cast—only our guideline as to how to cast. The basis of our interest in casting is that we want competence, suitability to the role, and greater audience acceptability.
"In our briefing, it was emphasized to the finalists that all requirements that are to be submitted for the corresponding grant releases will have to be approved and accepted before any fund release is to be made. This is also provided for in our MOA.
"We have always treated our finalists as partners, and as such, mutually look out for what is best for each project. But in the case of MNL 143, not heeding Cinemalaya's advice shows a one-sided effort—only on our part—to achieve our objectives.
"Constrained therefore by a conflict of interest and by the provision in the MOA, the Cinemalaya Organizing Committee collegially decided on February 8, 2012 to exercise its prerogative and disqualify your entry from competition."
When PEP.ph (Philippine Entertainment Portal) contacted MNL 143 director Emerson Reyes regarding this issue, he sent an email stating:
"The papers are with Atty. Chel Diokno na po...And I was advised not to talk muna po regarding the issue. Will update you po. Thanks."
In a separate phone interview, Direk Emerson admitted: "Itutuloy ko po ang film."
WHY MNL 143 WAS DISQUALIFIED. To expound on the committee's decision to disqualify MNL 143 from the film competition, PEP.ph contacted Cinemalaya Monitoring Head Robbie Tan.