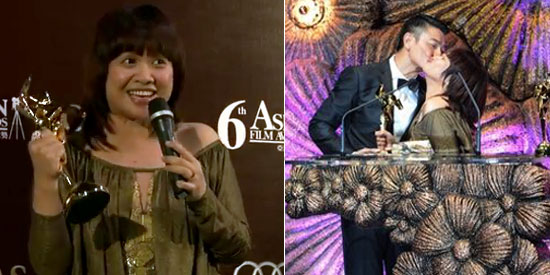 "This honor I share with all the actors and actresses and filmmakers in my country, the Philippines. Mabuhay! Salamat!" says Eugene Domingo after winning Asian Film Awards' Favorite Actress. (Right) The Filipino actress gets a kiss from popular international actor-singer Andy Lau, who won as Favorite Actor for A Simple Life.
Photo: Screen grab from YouTube / Twitter
Despite being officially nominated for Best Actress at the 6th Asian Film Awards, Eugene Domingo's name was not mentioned when the nominees for the category was announced on Monday, March 19, at the Hong Kong Convention and Exhibition Center.
The Filipino actress was nominated for her performance in The Woman in the Septic Tank (Ang Babae Sa Septic Tank).
The award went to Hong Kong actress Deanie Ip for A Simple Life.
The other nominees were Michelle Chen of You Are the Apple of My Eye (Taiwan), Vidya Balan of The Dirty Picture (India), and Leila Hatami of Nader and Simin, A Separation (Iran).
Nonetheless, Eugene did not go home empty-handed as she picked up the trophy as People's Choice for Favorite Actress
Also bagging a trophy for the Philippines is thespian Shamaine Buencamino, who won the Best Supporting Actress award for Niño.
(CLICK HERE to read related story.)
Eugene and Shamaine, both theater and film actresses, also won Best Actress and Best Supporting Actress, respectively, in the New Breed category of the 7th Cinemalaya Philippine Independent Film Festival last year.
EUGENE'S SPEECH. When the winner of the People's Choice for Favorite Actress was finally announced, Eugene's acceptance speech elicited boisterous laughter from the audience, which includes some of the biggest names in Asian cinema.
Standing next to People's Choice for Favorite Actor Andy Lau on stage, the candid Eugene demanded that the audience wait for her to deliver her speech until she gets a shot of her and the Hong Kong actor in her cell phone's camera.
"Of course you can wait, okay? I waited 25 years for this," Eugene told the audience.
Over the microphone, the actress turned to Andy, saying, "Mr. Andy Lau, you know I have to tell you something... Where's my trophy?"
As the actor handed the trophy to her, Eugene demanded in jest, "Now you have to kiss me because I won!"
Playing along the hilarity of the moment, Andy granted the actress her request and planted a kiss on Eugene's cheek to the amusement of the audience.