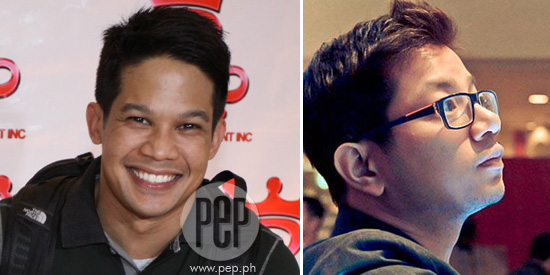 DJ Mojo Jojo (right) lashes back at his former Good Times co-host Mo Twister (left). He says the real reason behind his departure from the show was not because of his tardiness and "attitude problem," but because he could longer put up with Mo's "abusive and fraudulent" behavior.
Photo: Noel Orsal/Cosmo.ph
"You remember this Gucci Gang thing with Brian Gorrell and like 'I wanna take down high society,' you know, but at the same time tries to be part of high society?
"It's really one of these things that calls itself high society, calls the A-list, the B-list, the C-List and there's just a lot of discrimination between [people] if you make a lot money or if you party hard and everything. But it's all right, I mean, whatever. You deal with it.
WEBSITE. "So that website tends to give away all of these really fabricated stories and stuff, but then they hide behind these 'Oh, political rights,' it's creepy.'
"That side is just…I mean, if this was a print version, I'd use it to wipe my ass. That's the value of that, the information on that website. But unfortunately it's digital. I could pee on my computer screen, but that's the best I can do."
S: "Aside from the Blackberry thing, what else was written about you?"
M: "You should look it up. I haven't memorized. And the thing is, it's a site that thinks that they're powerful, that they're major players in society, that they think that they inculcate culture and all that, it really is a crop of crap. If you read it, you'll know it's crap.
"But anyway, he's gone but the show will go on without him. No problem. But for him to be retained by the station is a little bit shocking for me because my thing was if Grace or if someone could say "I wanna get rid of Chopper because of this," then Mojo should serve the same fate.
"Because a President, although with Chopper was put together, right? But unfortunately it's not and he'll be shipped off to somewhere else, I guess. But it doesn't matter, I'm here, he's there.
"I love Mojo dearly for the contribution and camaraderie that we've had since we've been together here.
"But the tag team between him and his high society boyfriend, and then hitting sponsors of our program, I mean, that's wrong and I think he should be dispatched as well for that."
MOJO JOJO SPEAKS UP. Now, Mojo Jojo, a.k.a. Joseph Javier, tells his side of the story
In a phone interview with Mojo on April 30, he said that he was not fired—as Mo Twister suggested in his account—rather it was his decision to leave the show.
"I left because he's [Mo] abusive, like he treats you without respect.
"He threw a phone at me. He calls me stupid, and says 'I can get you fired,' 'You're nothing without me,' 'I made you,' iyong ganyan.
"He does it every day, so physically and emotionally it's not good for me.