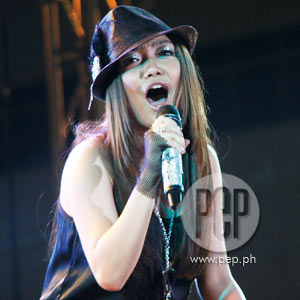 Charice has been criticized worldwide for undergoing a botox procedure. She is currently heading to Los Angeles for an urgent recording project, according to the Twitter account of her mother Raquel.
Photo: Paul Mata
Proof of Charice's surging popularity is the international backlash that the celebrated Pinay singer received after she underwent a botox procedure last Saturday, July 17. Five days later, the Internet is still abuzz with criticisms against Charice for deciding go under the needle at such a young age.
Filipinos have kept close watch on the 18-year-old Charice's rise to fame. She has guested in countless foreign television shows, has had duets with acclaimed international singers, and will soon star in the next season of the hit American television series Glee.
That Charice is one of the few Pinoys who has reached international success makes her kababayans protective. Generally, Filipinos are prejudiced against any form of cosmetic surgery, so the backlash against her botox procedure seems neverending.
The media was invited to witness the botox procedure live, conducted by celebrity beauty doctor Vicki Belo in her Tomas Morato clinic. In an interview after the procedure, Charice said she had the procedure to prepare for her appearance in Glee. (CLICK HERE to read related story.)
Not soon after, the foreign media got wind of the story. Major news outlets in the United States, Australia, Korea, and other countries immediately picked up the news and wrote about it.
The feedback was mostly negative. New York magazine, for instance, said on July 19 that the young would-be Hollywood actress "missed" Glee's message.
The short post from New York read, "Filipina singer Charice, dubbed by Oprah the 'Most Talented Girl in the World,' is scheduled to appear on the upcoming season of Glee as a foreign-exchange student and rival to Lea Michele's Rachel Berry. To prepare, the 18-year-old has gotten Botox and an anti-aging procedure 'to look fresh on camera.' A 'celebrity cosmetic surgeon' said the operation was intended to make Charice's 'naturally round face' more narrow, all but forcing Glee creator Ryan Murphy to rewrite Charice's episode to contain the message: It's important to love and embrace one's naturally round face as it is."
Also on July 19, Hollywood's "most-hated" blogger Perez Hilton also called Charice's decision "SICK!!!"
"And she's 18!!! Just a little too young to start that shiz! Who the eff would do that to an effing teenager in good conscience?!" Hilton, or Mario Lavandeira in real life, added.
TWITTER POSTS. On July 20, news of Charice's botox procedure became the sixth most talked-about topic on Twitter. Majority of the Twitter posts that culminated the ranking expressed disappointment over Charice's decision.
Among them is the opinion of former APO Hiking Society member Jim Paredes (@jimparedes), who tweeted on July 20, "Kinda disturbed that charice is getting a face job. Don't go changing to try and plea(s)e glee. We love you just the way you are."
More than 300 Twitter users agreed with Jim's comment by re-posting it.
Other Twitter users have several opinions. Today, July 22, Jeanne Peh (@jeanpeh) from Singapore tweeted, ":Sigh...the young n talented Charice juz got Botox to narrow her rounded face."
Reny Suwarna (@yoreney) from Indonesia also tweeted today, "somehow i never really like this charice girl. and now to hear she had a botox done just cos she's gonna be on glee? blah. silly girl."
Eula Schofield (@mizzuschief) from Alaska in the United States tweeted today, "Charice should let her handlers know what she's doing. Hopefully she won't get pulled out of Glee coz of this botox fiasco!"