Here are the highlights of the comparative ratings of GMA-7, ABS-CBN and TV5 programs from November 6-9, 2015, according to AGB Nielsen Philippines survey among Mega Manila households.
GMA-7 maintained its position as the top network for both daytime and primetime programming.
Eat Bulaga! and Sunday Pinasaya were the daytime leaders during the given period. Both are produced by TAPE Inc. for GMA-7.
Eat Bulaga! continued to garner more than double, or even quadruple, the ratings of ABS-CBN's It's Showtime. Its November 7 episode got 36.5% over It's Showtime's 8.3%.
This Eat Bulaga! episode, however, failed to enter the list of top 10 highest-rating shows for 2015. It was even the lowest-rated Saturday episode since about eight weeks ago. The September 12 episode got 36%.

For the past several weeks, it will be noticed that although the Kalyeserye segment has boosted Eat Bulaga's TV ratings to historic heights, there has a slight dip since the Tamang Panahon fans' day was held at the Philippine Arena.

This chart shows the Saturday episodes in October and early November featuring AlDub, composed of Alden Richards and Yaya Dub (played by Maine Mendoza). During the first part of October, the weekend episodes of Eat Bulaga were getting ratings of over 40%. The October 24 episode still holds the record for its whopping 50.8% Mega Manila TV rating.

It can be seen that there was a huge spike when AlDub met personally during the Tamang Panahon concert but the ratings slid down after the event.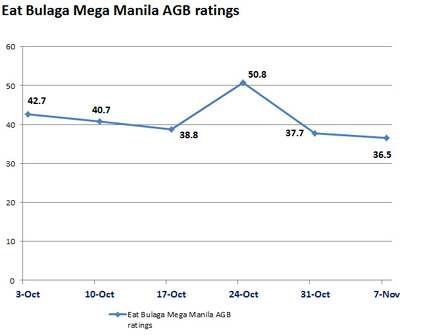 On the other hand, It's Showtime registered a low rating of 5.4% when the Tamang Panahon concert was aired on that day.

However, in the weekends that followed, its ratings steadily climbed up. The ABS-CBN noontime show finally registered a double-digit rating again on November 9 episode when it got 11.1%.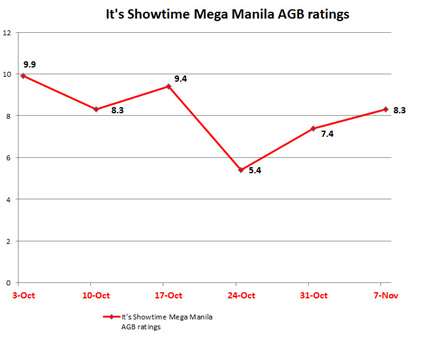 GMA-7 comedy show Sunday Pinasaya also outperformed its Kapamilya counterpart. The November 8 episode scored 25.7% against ASAP 20's 8.9%, a 16.8-point margin.

Weekday primetime was also GMA-7's domain. Marimar took first place on November 6 with a 24.3% rating. FPJ's Ang Probinsyanogot a Mega Manila TV rating of 21.8%.

That November 6 Marimar episode featured Megan Young's transformation as Bella Aldama, the affluent woman that will take revenge on Marimar's tormentors. This story development may have been interesting to viewers, because the following episode on Monday, November 9, scored 26.9%. It is now the highest rating that Marimar has received since its August 24, 2015 pilot episode.

Another development on primetime happened on November 9, with the premiere of You're My Home on ABS-CBN. The new primetime drama, which replaced Pinoy Big Brother 737, stars Richard Gomez, Dawn Zulueta, Jessy Mendiola, and JC de Vera.

The pilot episode of You're My Home rated 10.2%, losing to the 15.3% registered by GMA-7's telecast of My Big Bossing on Kapuso Primetime Cinema.

My Big Bossing is a hit 2014 movie that stars Vic Sotto, Marian Rivera and Ryzza Mae Dizon.

Pinoy Big Brother 737 had its big night finale on November 8. The big winners were Japanese-Filipino Miho Nishida and Nueva Vizcaya's Jimboy Martin.

This final episode rated 20.2%, losing toKapuso Mo, Jessica Soho's 24.7%. The Kapuso news magazine program was the number one primetime program on that day.

PBB 737's popularity may continue to benefit ABS-CBN in the coming weeks. For instance, the appearance of its cast on It's Showtime on November 9 gave the noontime show a double-digit rating after weeks of single digits.

The November 9 episode got 11.1%. The previous double-digit rating was 10% on the October 1 episode.

Meanwhile, the first placer on Saturday night was Magpakailanman, which garnered 29.4% over Maalaala Mo Kaya's 15.6%.

Here are comparative ratings of GMA-7, ABS-CBN and TV5 programs from November 6-9, 2015, according to AGB Nielsen Philippines survey among Mega Manila households.
--
November 6, 2015 (Friday)
Morning:
Alisto! Replay (GMA-7) 1.3%; O Shopping (ABS-CBN) .2%; Shop Japan (TV5) 0%
Unang Hirit! (GMA-7) 5.6%; Umagang Kay Ganda (ABS-CBN) 3.1%; Aksyon sa Umaga (TV5) .8%; Handy Manny (TV5) 2%; Handy Manny (TV5) 3.4%
San Miguel Pure Foods Home Foodie (GMA-7) 6.1%; Pokemon XY (GMA-7) 6.4%; Toriko (GMA-7) 6.7%; Dragon Ball Z (GMA-7) 7.9%; Kris TV (ABS-CBN) 4.2%; Jake and the Neverland Pirates (TV5) 3.9%; Randy Cunningham 9th Grade Ninja (TV5) 3.6%; Hi-5 (TV5) 3.1%
Fairytail (GMA-7) 8.6%; Mr. Bean (ABS-CBN) 5.3%; The Looney Tunes Show (TV5) 2.8%
Stairway to Heaven (GMA-7) 8.2%; Someone Like You (GMA-7) 10.2%; The King's Doctor (GMA-7) 12.4%;Dangwa (GMA-7) 13.1%; Kapamilya Blockbusters: Girl Boy Bakla Tomboy (ABS-CBN) 10.4%; The Tom & Jerry Show (TV5) 3.9%; Scooby-Doo! Mystery Inc (TV5) 3.1%; Madam Chairman (TV5) 1.7%; Amachan (TV5) 1.6%; Hallo2 Cafe (TV5) 1.5%
The Ryzza Mae Show: Princess in the Palace (GMA-7) 16.6%; Ningning (ABS-CBN) 10.4%; Aksyon sa Tanghali (TV5) 1.8%
Afternoon:
Eat Bulaga!(GMA-7) 29.7%; It's Showtime (ABS-CBN) 8.8%; Movie Max 5: Enemies Closer (TV5) 3.1%; Marvel Hulk and the Agents of Smash (TV5) 1.1%; X-Men (TV5) 1.4%
The Half Sisters (GMA-7) 19.4%; Doble Kara (ABS-CBN) 10.2%; Teen Wolf (TV5) 2.4%
Buena Familia (GMA-7) 16.2%; All Of Me (ABS-CBN) 9%; Walang Iwanan (ABS-CBN) 6.2%; Supernatural (TV5) 2.5%; Movie Max 5: 12 Disasters (TV5) 3.5%
Destiny Rose (GMA-7) 15.8%; TNT (ABS-CBN) 4.3%
Love Hotline (GMA-7) 11.2%; Kapamilya Deal or No Deal (ABS-CBN) 8.3%
Evening:
Starstruck (GMA-7) 13.8%; Pasion de Amor (ABS-CBN) 12.7%
24 Oras (GMA-7) 23.3%; TV Patrol (ABS-CBN) 16%; Aksyon (TV5) 5.2%
Marimar (GMA-7) 24.3%; FPJ's Ang Probinsyano (ABS-CBN) 21.8%; Movie Max 5: Fist of Legend (TV5) 6.3%
Beautiful Strangers (GMA-7) 19.6%; Pangako Sa 'Yo (ABS-CBN) 22.5%; Wattpad Presents (TV5) 3.3%
My Faithful Husband (GMA-7) 17%; On the Wings of Love (ABS-CBN) 18.4%; My Fair Lady (TV5) 2.1%; Amachan (TV5) 1.9%
Bubble Gang (GMA-7) 13.1%; Pinoy Big Brother 737 (ABS-CBN) 15.2%; Tonight with Boy Abunda (ABS-CBN) 7%; Hallo2 Cafe (TV5) 1.3%; Aksyon Tonite (TV5) .9%; Reaksyon (TV5) .7%
Saksi (GMA-7) 7.5%; Bandila (ABS-CBN) 4.1%; The Medyo Late Night Show (TV5) .7%
The Tim Yap Show (GMA-7) 3.1%; O Shopping (ABS-CBN) 1.4%; Smart Bro PBA 2016 Philippine Cup: Alaska vs Mahindra Enforcers (TV5) 1.2%
--
November 7, 2015 (Saturday)
Morning:
PJM Forum (GMA-7) .3%; Adyenda (GMA-7) .7%; O Shopping (ABS-CBN) .2%; Shop Japan (TV5) .2%
Kapwa Ko Mahal Ko (GMA-7) 1.8%; Sa Kabukiran (ABS-CBN) .3%; Family Matters (TV5) .2%
Pinoy MD (GMA-7) 4.4%; Salamat Dok (ABS-CBN) 1.3%; Kakaibang Lunas (TV5) .4%
The Smurfs (GMA-7) 8.5%; Swak na Swak (ABS-CBN) 2.4%; CCF (TV5) .1%
Tobot (GMA-7) 12.3%; Angel Wings (ABS-CBN) 1.7%
Pac-Man and the Ghostly Adventures (GMA-7) 12.3%; Why Not? (ABS-CBN) 1.6%; Higglytown Heroes (TV5) 1.2%
Angry Birds Toons (GMA-7) 12.1%; Crossfight B-Daman (GMA-7) 10.3%; Doraemon Nobita's Great Battle (GMA-7) 12.2%; Maynila (GMA-7) 12.3%; NBA 2015-2016 Season: Orlando Magic vs Toronto Raptors (ABS-CBN) 2.8%; Doc McStuffins (TV5) 3.2%; Little Einsteins (TV5) 4.4%; Stitch! (TV5) 3.9%; Hi-5 (TV5) 4.2%; Scooby-Do! Mystery Inc. (TV5) 4.9%
Sarap Diva (GMA-7) 12.8%; Del Monte Kitchenomics (TV5) 17.7%; Kapamilya Blockbusters: Jack Brooks Monster Slayer (ABS-CBN) 8.4%; Scooby-Do! Mystery Inc. (TV5) 6.7%; Magical Do Re Mi (TV5) 4.3%
Afternoon:
Eat Bulaga! (GMA-7) 36.5%; It's Showtime (ABS-CBN) 8.3%; Movie Max 5: Sky H.I.G.H. (TV5) 3.1%; Philippine Super Liga Grand Prix 2015 (TV5) .8%
Karelasyon (GMA-7) 18.1%; Ipaglaban Mo (ABS-CBN) 8.8%; Movie Max 5: Miami Magma (TV5) 2.9%
Wish Ko Lang! (GMA-7) 14.3%; Failon Ngayon (ABS-CBN) 4.7%; Smart Bro PBA 2016 Philippine Cup: Alaska vs Mahindra Enforcers (TV5) 3.4%
Celebri TV (GMA-7) 11.7%; SOCO (ABS-CBN) 7.5%
Imbestigador (GMA-7) 17%; Mga Kwento ni Marc Logan (GMA-7) 7.2%; TV Patrol Weekend (ABS-CBN) 8.4%
Evening:
24 Oras Weekend (GMA-7) 23.4%; Celebrity Playtime (GMA-7) 10.6%
Pepito Manaloto: Ang Tunay na Kuwento (GMA-7) 28.8%; Home Sweetie Home (ABS-CBN) 11.9%; Lola Basyang.com (TV5) 4.6%
Magpakailanman (GMA-7) 29.4%; MMK Ang Tahanan Mo (ABS-CBN) 15.6%; Parangnormal Activity (TV5) 4.1%
Celebrity Bluff (GMA-7) 18.8%; Pinoy Big Brother 737: The Big Night (ABS-CBN) 19.2%; Kano Luvs Pinay (TV5) 1.5%; History with Lourd (TV5) 1.3%
i-Witness (GMA-7) 11.9%; Your Face Sounds Familiar (ABS-CBN) 14.2%; Politics for Beginners (TV5) 1.1%; Kaya. (TV5) .6%
Kapuso Movie Night: Hard Ride to Hell (GMA-7) 7.7%; Banana Split Extra Scoop (ABS-CBN) 6.1%; Smart Bro PBA 2016 Philippine Cup: Alaska vs Brgy Ginebra (TV5) 1.4%
Walang Tulugan (GMA-7) 2.1%; The Bottom Line (ABS-CBN) 2.1%; O Shopping (ABS-CBN) 1%
--
November 8, 2015 (Sunday)
Daytime:
In Touch with Dr. Charles Stanley (GMA-7) .3%; Jesus The Healer (GMA-7) 1.1%; O Shopping (ABS-CBN) .5%; Shop Japan (TV5) .2%
Kapuso Sine Klasika: Ayos Lang Pare Ko (GMA-7) 4.8%; The Healing Eucharist (ABS-CBN) 3.7%; Misa Nazareno (TV5) 1.1%
Grimm's Fairy Tales (GMA-7) 8.5%; Tobot (GMA-7) 11.7%; Swak na Swak (ABS-CBN) 2.4%; Power to Unite with Elvira (TV5) .9%
Doraemon Nobita's Great Battle (GMA-7) 13.3%; Salamat Dok (ABS-CBN) 2.1%; Healing Galing sa TV5 (TV5) .9%
Aha! (GMA-7) 12.8%; Kuroko's Basketball (ABS-CBN) 2.1%; Higglytown Heroes (TV5) 2.7%; Doc McStuffins (TV5) 4.1%
Born To Be Wild (GMA-7) 10.7%; Haikyu!! (TV5) 2.4%; Stitch! (TV5) 4.3%
iBilib (ABS-CBN) 9.9%; Superbook (ABS-CBN) 5.1%; Hi-5 (TV5) 2.5%
Kapuso Movie Festival: Scooby-Doo Wow-O Toy Factory the Case (GMA-7) 17.7%; Matanglawin (ABS-CBN) 5.6%; Kapamilya Kiddie Blockbusters: Enchanted (ABS-CBN) 8.2%; The Tom & Jerry Show (TV5) 3%; The Tom & Jerry Show (TV5) 3.4%
Afternoon:
Del Monte Kitchenomics (GMA-7) 22.2%; Sunday Pinasaya (GMA-7) 25.7%; ASAP 20 (ABS-CBN) 8.9%; Happy Truck ng Bayan (TV5) 1.2%; Alagang Kapatid (TV5) 1.1%; T3 Alliance (TV5) 2.5%
Wowowin (GMA-7) 18.6%; Kapamilya Mega Blockbusters: The Mistress (ABS-CBN) 9.1%; Countdown to Rio (TV5) 1.3%; Smart Bro PBA 2016 Philippine Cup: Barako Bull vs Global Port (TV5) 3.1%
GMA Blockbusters: Shaolin Soccer (GMA-7) 16.9%; Juan Tamad (GMA-7) 14%; Luv U (ABS-CBN) 6.8%; ; TV Patrol Weekend (ABS-CBN) 9.3%
Evening:
24 Oras Weekend (GMA-7) 20.7%; Vampire Ang Daddy Ko (GMA-7) 23.4%; Goin' Bulilit (ABS-CBN) 11.3%
Ismol Family (GMA-7) 24.6%; Wansapanataym (ABS-CBN) 14.5%; Rated K: Handa Na Ba Kayo? (ABS-CBN) 16.4%; Who Wants to be a Millionaire (TV5) 2.9%
Kapuso Mo, Jessica Soho (GMA-7) 24.7%; Pinoy Big Brother 737 (ABS-CBN) 20.2%; Masterchef Asia (TV5) 1.7%
Sunday Night Box Office: Dreams Never End (GMA-7) 6.3%; Your Face Sounds Familiar (ABS-CBN) 16.5%; Gandang Gabi Vice (ABS-CBN) 11%; Cool Guys Hot Ramen (TV5) 1.4%; Sports 360 (TV5) .5%
Diyos at Bayan (GMA-7) 1.8%; Sunday's Best: Daluyong (ABS-CBN) 4.3%; Countdown to Rio (TV5) .3%; History with Lourd (TV5) .4%
O Shopping (ABS-CBN) 1.5%; Shop Japan (TV5) .1%
--
November 9, 2015 (Monday)
Morning:
Power House Replay (GMA-7) 1.6%; O Shopping (ABS-CBN) .4%; Shop Japan (TV5) .1%
Unang Hirit! (GMA-7) 5.9%; Umagang Kay Ganda (ABS-CBN) 3.5%; Aksyon sa Umaga (TV5) .9%; Handy Manny (TV5) 1.3%; Handy Manny (TV5) 2%
Pokemon XY (GMA-7) 5.7%; Toriko (GMA-7) 7.5%; Dragon Ball Z (GMA-7) 7.8%; Kris TV (ABS-CBN) 5%; Jake and the Neverland Pirates (TV5) 2.5%; Randy Cunningham 9th Grade Ninja (TV5) 2.6%; Hi-5 (TV5) 3.2%
Fairytail (GMA-7) 8.3%; Mr. Bean (ABS-CBN) 5.3%; The Looney Tunes Show (TV5) 3.7%
Stairway to Heaven (GMA-7) 8.3%; Someone Like You (GMA-7) 10%; The King's Doctor (GMA-7) 12.3%; Dangwa (GMA-7) 14.4%; Kapamilya Blockbusters: Born to Love You (ABS-CBN) 9.9%; The Tom & Jerry Show (TV5) 4.4%; Scooby-Doo! Mystery Inc. (TV5) 4.8%; Madam Chairman (TV5) 2.5%; Amachan (TV5) 1.5%; Hallo2 Cafe (TV5) 1.2%
The Ryzza Mae Show: Princess in the Palace (GMA-7) 16.4%; Ningning (ABS-CBN) 12.2%; Aksyon sa Tanghali (TV5) 1.9%
Afternoon:
Eat Bulaga!(GMA-7) 27.4%; It's Showtime (ABS-CBN) 11.1%; Movie Max 5: Judgment Day (TV5) 2.4%; Marvel Hulk and the Agents of Smash (TV5) 1.1%; X-Men (TV5) 1.1%
The Half Sisters (GMA-7) 18.7%; Doble Kara (ABS-CBN) 10.1%; Teen Wolf (TV5) 2.1%
Buena Familia (GMA-7) 16.6%; All Of Me (ABS-CBN) 9.6%; Walang Iwanan (ABS-CBN) 7.8%; Supernatural (TV5) 2.3%; Smart Bro PBA 2016 Philippine Cup: Alaska vs Brgy Ginebra (TV5) 2.3%
Destiny Rose (GMA-7) 18.3%; Mission Possible (ABS-CBN) 6.4%
Alisto! (GMA-7) 12.1%; Kapamilya Deal or No Deal (ABS-CBN) 9.8%
Evening:
Starstruck (GMA-7) 15.1%; Pasion de Amor (ABS-CBN) 12.6%
24 Oras (GMA-7) 24.5%; TV Patrol (ABS-CBN) 16%; Aksyon (TV5) 4.2%
Marimar (GMA-7) 26.9%; FPJ's Ang Probinsyano (ABS-CBN) 21.6%; Movie Max 5: Once a Thief (TV5) 5.2%
Beautiful Strangers (GMA-7) 22.1%; Pangako Sa 'Yo (ABS-CBN) 22.3%; Wattpad Presents (TV5) 3.3%
My Faithful Husband (GMA-7) 18.7%; On the Wings of Love (ABS-CBN) 17.2%; My Fair Lady (TV5) 1.7%
Kapuso Primetime Cinema: My Big Bossing (GMA-7) 15.3%; You're My Home (ABS-CBN) 10.2%; Tonight with Boy Abunda (ABS-CBN) 6.5%; Amachan (TV5) 1.3%; Hallo2 Cafe (TV5) .5%; Aksyon Tonite (TV5) .6%; Reaksyon (TV5) .5%
Saksi (GMA-7) 6.7%; Front Row (GMA-7) 3.3%; Bandila (ABS-CBN) 4%; Mukha (ABS-CBN) 2.6%; Demolition Job (TV5) .6%; Shop Japan (TV5) .3%
The Tim Yap Show (GMA-7) 2.3%; O Shopping (ABS-CBN) 1.5%
--
TOP TEN PROGRAMS:
November 6, 2015 (Friday)
DAYTIME:
Eat Bulaga! (GMA-7) – 29.7%
The Half Sisters (GMA-7) – 19.4%
The Ryzza Mae Show: Princess in the Palace(GMA-7) - 16.6%
Buena Familia(GMA-7) – 16.2%
Destiny Rose(GMA-7) - 15.8%
Dangwa(GMA-7) - 143.1%
The King's Doctor(GMA-7) - 12.4%
Love Hotline(GMA-7) - 11.2%
Kapamilya Blockbusters (ABS-CBN) / Ningning (ABS-CBN) - 10.4%
Someone Like You(GMA-7) / Doble Kara (ABS-CBN) - 10.2%
PRIMETIME:
Marimar(GMA-7) – 24.3%
24 Oras(GMA-7) - 23.3%
Pangako Sa 'Yo(ABS-CBN) – 22.5%
FPJ's Ang Probinsyano (ABS-CBN) - 21.8%
Beautiful Strangers(GMA-7) - 19.6%
On the Wings of Love (ABS-CBN) – 18.4%
My Faithful Husband(GMA-7) - 17%
TV Patrol (ABS-CBN) – 16%
Pinoy Big Brother 737 (ABS-CBN) - 15.2%
Starstruck(GMA-7) - 13.8%
November 7, 2015 (Saturday)
DAYTIME:
Eat Bulaga! (GMA-7) – 36.5%
Karelasyon (GMA-7) - 18.1%
Del Monte Kitchenomics(GMA-7) / Imbestigador (GMA-7) - 17.7%
Wish Ko Lang!(GMA-7) - 14.3%
Sarap Diva (GMA-7) – 12.8%
Tobot (GMA-7) / Pac-Man and the Ghostly Adventures(GMA-7) / Maynila(GMA-7) - 12.3%
Doraemon Nobita's Great Battle (GMA-7) - 12.2%
Angry Birds Toons (GMA-7) - 12.2%
Celebri TV (GMA-7) – 11.7%
Crossfight B-Daman (GMA-7) - 10.3%
PRIMETIME:
Magpakailanman (GMA-7) - 29.4%
Pepito Manaloto: Ang Tunay na Kuwento (GMA-7) - 28.8%
24 Oras Weekend (GMA-7) - 23.4%
Pinoy Big Brother 737 (ABS-CBN) - 19.2%
Celebrity Bluff (GMA-7) – 18.8%
MMK: Ang Tahanan Mo (ABS-CBN) – 15.6%
Your Face Sounds Familiar (ABS-CBN) – 14.2%
I-Witness (GMA-7) / Home Sweetie Home (ABS-CBN) – 11.9%
Celebrity Playtime (ABS-CBN) - 10.6%
Kapuso Movie Night: Hard Ride to Hell (GMA-7) - 7.7%
November 8, 2015 (Sunday)
DAYTIME:
Sunday Pinasaya (GMA-7) - 25.7%
Del Monte Kitchenomics (GMA-7) - 22.2%
Wowowin (GMA-7) - 18.6%
Kapuso Movie Festival (GMA-7) - 17.7%
GMA Blockbusters (GMA-7) - 16.9%
Juan Tamad (GMA-7) - 14%
Doraemon Nobita's Great Battle (GMA-7) - 13.3%
Aha! (GMA-7) - 12.8%
Tobot (GMA-7) - 11.7%
Born to be Wild (GMA-7) - 10.7%
PRIMETIME:
Kapuso Mo, Jessica Soho (GMA-7) - 24.7%
Ismol Family (GMA-7) - 24.6%
Vampire Ang Daddy Ko (GMA-7) - 23.4%
24 Oras Weekend (GMA-7) - 20.7%
Pinoy Big Brother 737 (ABS-CBN) - 20.2%
Your Face Sounds Familiar (ABS-CBN) – 16.5%
Rated K(ABS-CBN) – 16.4%
Wansapanataym(ABS-CBN) – 14.5%
Goin' Bulilit(ABS-CBN) – 11.3%
Gandang Gabi Vice (ABS-CBN) - 11%
November 9, 2015 (Monday)
DAYTIME:
Eat Bulaga! (GMA-7) – 27.4%
The Half Sisters (GMA-7) – 18.7%
Destiny Rose(GMA-7) - 18.3%
Buena Familia(GMA-7) - 16.6%
The Ryzza Mae Show: Princess in the Palace(GMA-7) - 16.4%
Dangwa(GMA-7) - 14.4%
The King's Doctor(GMA-7) - 12.3%
Ningning (ABS-CBN) - 12.2%
Alisto!(GMA-7) - 12.1%
It's Showtime (ABS-CBN) - 11.1%
PRIMETIME:
Marimar(GMA-7) - 26.9%
24 Oras(GMA-7) - 24.5%
Pangako Sa 'Yo (ABS-CBN) - 22.3%
Beautiful Strangers (GMA-7) - 22.1%
FPJ's Ang Probinsyano (ABS-CBN) - 21.6%
My Faithful Husband (GMA-7) - 18.7%
On the Wings of Love (ABS-CBN) - 17.2%
TV Patrol (ABS-CBN) – 16%
Kapuso Primetime Cinema: My Big Bossing (GMA-7) - 15.3%
StarStruck (GMA-7) - 15.1%
Source: AGB Nielsen Philippines