Here are the highlights of the comparative ratings of GMA-7, ABS-CBN, and TV5 programs from November 10-23, 2015, according to AGB Nielsen Philippines survey among Mega Manila households.

Several shows premiered or ended during this given ratings period.

GMA-7's My Faithful Husband had its finale episode on November 13. The last episode rated 19.9%, defeating On The Wings of Love's 16.7%.

The Kapuso heavy dramaalso defeated the Kapamilya romantic series from Monday to Thursday before the finale.

My Faithful Husband starred Jennylyn Mercado and Dennis Trillo in a tale of infidelity. It aired a total of 70 episodes.


My Faithful Husband (GMA-7)

According to data from AGB Nielsen Philippines from Mega Manila households

Rating at pilot (August 10, 2015)

17.6%

Rating at finale (November 13, 2015)

19.9%

Total number of episodes

70

Show average

17.78%

Highest rating

20.7% (September 10, 2015)

Lowest rating

15.7% (August 24 and 31, 2015)

The replacement of My Faithful Husband is Little Nanay, which aired its pilot episode on November 16. The pilot episode got 22.7%, outperforming Pangako Sa 'Yo's 21.9%.

Little Nanay stars Kris Bernal as a mother who has special needs. It also features Nora Aunor, Eddie Garcia, Bembol Roco, Sunshine Dizon, Gladys Reyes, Keempee de Leon, Mark Herras, and child actress Chlaui Malayao.

ABS-CBN had two shows that premiered during the weekend.

Dance Kids premiered on November 14, Saturday, as the replacement to the weekend episodes of Pinoy Big Brother 737. The first episode got 15.9%, lower than Pepito Manaloto's 27.8%.

Dance Kids is a talent competition for children, hosted by Robi Domingo and Alex Gonzaga.

The other show is Banana Sundae, which had its pilot episode on November 15, Sunday. It is ABS-CBN's answer to GMA-7's comedy-variety programming on Sunday noontime.

ASAP 20 was reduced to two hours so Banana Sundae can air after it. The comedy gag show scored 9.8%, less than half the rating of GMA-7's Wowowin, which was 20%.

Included in the cast of Banana Sundae are Angelica Panganiban, Jason Gainza, John Prats, Pokwang, JC de Vera, Jessy Mendiola, and Ryan Bang.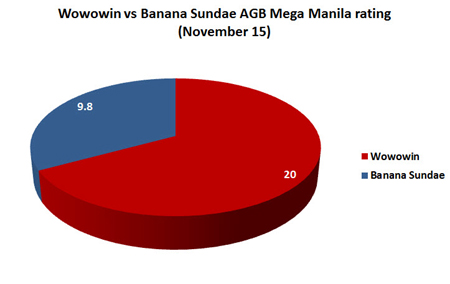 The following Sunday, November 22, Wowowin was able to get double the rating of Banana Sundae. Willie Revillame's game show got 16.6% while the Kapamilya comedy show got a Mega Manila TV rating of 8.3%.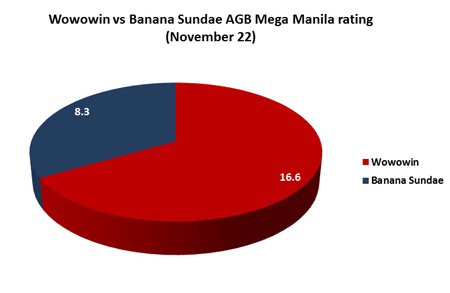 GMA-7 continued to lead the top 10 lists on both weekday and weekends, daytime and primetime of the given period.

The daytime leader was still Eat Bulaga! and Sunday Pinasaya.

Marimar and 24 Oras were the first placers on weekday primetime. Magpakailanman and Kapuso Mo, Jessica Soho were the winners on weekend primetime.

Eat Bulaga! was still the highest-rated daytime program on weekdays and Saturday. The long-running noontime show continued to get remarkable numbers due to AlDub (the love team of Alden Richards and Maine "Yaya Dub" Mendoza).

The November 21, Saturday episode featured Alden and Yaya Dub's visit to the mansion of Lola Babah (Ai-Ai delas Alas). It scored 34.6%, beating It's Showtime's 8%.

This Eat Bulaga episode, again, failed to make the Top 10 list of highest ratings for 2015. As of now, all Saturday episodes during November did not land in the top 10 spot.

The last top-ten worthy episode was the October 31 episode, which got 37.7% for 9th place.

This does not indicate, however, that It's Showtime was gaining ground. In fact, its Saturday episodes continued to be pinned to single digits even with the addition of the cast of PBB 737.

For instance, the rating on November 21 was 8%, the lowest rating for the month.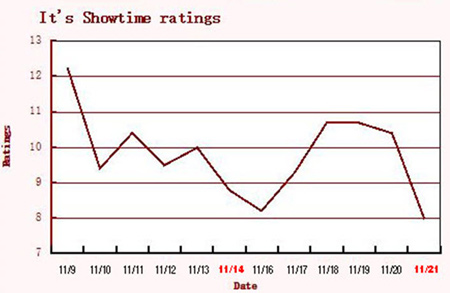 GMA-7's afternoon soap opera about a transgender, Destiny Rose, has been consistently doing well in the ratings game, especially when lead star Ken Chan finally appeared as a transgender woman. On this day, viewers were able to see Ken wear a dress after undergoing surgery in Thailand.

On November 13, Destiny Rose was able to climb up to the No. 2 slot among most-watched daytime shows with its TV rating of 19.1%. This figure placed it next only to Eat Bulaga.

Prior to Ken's transformation, Destiny Rose was either in the No. 4 or No. 3 slot.

After the transformation, the LGBT-themed show was either in the No. 3 or No. 2 slot (except on November 18 when it landed on the No. 4 slot).

Here are comparative ratings of GMA-7, ABS-CBN and TV5 programs from November 10-23, 2015, according to AGB Nielsen Philippines from Mega Manila households.
--
November 10, 2015 (Tuesday)


Morning:
i-Witness Replay (GMA-7) 1.8%; O Shopping (ABS-CBN) .2%; Shop Japan (TV5) 0%


Unang Hirit! (GMA-7) 5.6%; Umagang Kay Ganda (ABS-CBN) 3%; Aksyon sa Umaga (TV5) .5%; Handy Manny (TV5) 1%; Handy Manny (TV5) 2%


Pokemon XY (GMA-7) 6.3%; Toriko (GMA-7) 6.9%; Dragon Ball Z (GMA-7) 8.3%; Kris TV (ABS-CBN) 3.6%; Jake and the Neverland Pirates (TV5) 3%; Randy Cunningham 9th Grade Ninja (TV5) 3.2%; Hi-5 (TV5) 3%


Fairytail (GMA-7) 9.5%; Mr. Bean (ABS-CBN) 4%; The Looney Tunes Show (TV5) 3.4%


Stairway to Heaven (GMA-7) 7.7%; Someone Like You (GMA-7) 8.1%; The King's Doctor (GMA-7) 10.4%; Dangwa (GMA-7) 11.6%; Kapamilya Blockbusters: Bromance: My Brother's Romance (ABS-CBN) 8.5%; The Tom & Jerry Show (TV5) 3.6%; Scooby-Doo! Mystery Inc. (TV5) 2.9%; Madam Chairman (TV5) 1.3%; Amachan (TV5) 1.1%; Hallo2 Cafe (TV5) .7%


Biyaheng Namnam (GMA-7) 13.2%; The Ryzza Mae Show: Princess in the Palace (GMA-7) 14.7%; Ningning (ABS-CBN) 9.4%; Aksyon sa Tanghali (TV5) 1.3%



Afternoon:
�
Eat Bulaga!(GMA-7) 27.3%; It's Showtime (ABS-CBN) 7.6%; Movie Max 5: I Will Follow You Into the Dark (TV5) 2.2%; Meet the Presidentiables Series (TV5) .9%;� X-Men (TV5) 1.9%
�
The Half Sisters (GMA-7) 18%; Doble Kara (ABS-CBN) 9%; Teen Wolf (TV5) 1.9%
�
Buena Familia (GMA-7) 15%; All Of Me (ABS-CBN) 8.9%; Walang Iwanan (ABS-CBN) 7%; Supernatural (TV5) 2.2%; PSL Grand Prix 2015: Foton vs Meralco (TV5) 1.8%
�
Destiny Rose (GMA-7) 16.6%; My Puhunan (ABS-CBN) 5.7%
�
Tunay na Buhay (GMA-7) 11.7%; Kapamilya Deal or No Deal (ABS-CBN) 8.5%
�
Evening:
�
Starstruck (GMA-7) 12.9%; Pasion de Amor (ABS-CBN) 11.9%; Aksyon (TV5) 4.1%
�
24 Oras (GMA-7) 23.6%; TV Patrol (ABS-CBN) 15.8%; Movie Max 5: Let the Bullets Fly (TV5) 4.9%
�
Marimar (GMA-7) 27.1%; FPJ's Ang Probinsyano (ABS-CBN) 22.5%
�
Beautiful Strangers (GMA-7) 21%; Pangako Sa 'Yo (ABS-CBN) 23%; Wattpad Presents (TV5) 2.6%
�
My Faithful Husband (GMA-7) 18.6%; On the Wings of Love (ABS-CBN) 17.4%; My Fair Lady (TV5) 1.9%
�
Kapuso Primetime Cinema: Watchmen (GMA-7) 13%; You're My Home (ABS-CBN) 9.7%; Tonight with Boy Abunda (ABS-CBN) 5.5%; Amachan (TV5) 1.1%; Hallo2 Cafe (TV5) .7%; Aksyon Tonite (TV5) .7%
�
Saksi (GMA-7) 6.7%; Stan Lee's Superhumans (GMA-7) 4.1%; Bandila (ABS-CBN) 3.3%; Reaksyon (TV5) .7%; Numero (TV5) .4%; Shop Japan (TV5) .2%
�
The Tim Yap Show (GMA-7) 2%; O Shopping (ABS-CBN) 1%
--
November 11, 2015 (Wednesday)
�
Morning:
�
Tunay na Buhay Replay (GMA-7) 1.2%; O Shopping (ABS-CBN) .2%; Shop Japan (TV5) 0%
�
Unang Hirit! (GMA-7) 5.6%; Umagang Kay Ganda (ABS-CBN) 2.5%; Aksyon sa Umaga (TV5) .6%; Handy Manny (TV5) 1.7%; Handy Manny (TV5) 3%
�
Pokemon XY (GMA-7) 5.7%; Toriko (GMA-7) 6.3%; Dragon Ball Z (GMA-7) 7.7%; Kris TV (ABS-CBN) 4.5%; Jake and the Neverland Pirates (TV5) 3.2%; Randy Cunningham 9th Grade Ninja (TV5) 2.5%; Hi-5 (TV5) 2.2%
�
Fairytail (GMA-7) 8.7%; Mr. Bean (ABS-CBN) 4.7%; The Looney Tunes Show (TV5) 3%
�
Stairway to Heaven (GMA-7) 7.4%; Someone Like You (GMA-7) 9%; The King's Doctor (GMA-7) 11%; Dangwa (GMA-7) 11.6%; Kapamilya Blockbusters: Catch Me... I'm in Love (ABS-CBN) 9.4%; The Tom & Jerry Show (TV5) 3.6%; Scooby-Doo! Mystery Inc. (TV5) 3.6%; Madam Chairman (TV5) 1.9%; Amachan (TV5) 1.8%; Hallo2 Cafe (TV5) 1.4%
�
The Ryzza Mae Show: Princess in the Palace (GMA-7) 15.6%; Ningning (ABS-CBN) 10.4%; Aksyon sa Tanghali (TV5) 1.7%
�
Afternoon:
�
Eat Bulaga!(GMA-7) 28.7%; It's Showtime (ABS-CBN) 8%; Movie Max 5: Ninja (TV5) 3.4%; Marvel Hulk and the Agents of Smash (TV5) 2.3%; X-Men (TV5) 2.1%
�
The Half Sisters (GMA-7) 18.2%; Doble Kara (ABS-CBN) 9.8%; Teen Wolf (TV5) 2.3%
�
Buena Familia (GMA-7) 15%; All Of Me (ABS-CBN) 9.8%; Walang Iwanan (ABS-CBN) 7.4%; Supernatural (TV5) 2.5%; Smart Bro PBA 2016 Philippine Cup: Meralco vs Talk n Text (TV5) 3.2%
�
Destiny Rose (GMA-7) 15.3%; Red Alert (ABS-CBN) 6.4%
�
Power House (GMA-7) 9.6%; Kapamilya Deal or No Deal (ABS-CBN) 9.1%
�
Evening:
�
Starstruck (GMA-7) 12.9%; Pasion de Amor (ABS-CBN) 12.9%; Aksyon (TV5) 5.4%
�
24 Oras (GMA-7) 23.9%; TV Patrol (ABS-CBN) 17.2%; Smart Bro PBA 2016 Philippine Cup: Blackwater Elite vs San Miguel Beermen (TV5) 5.4%
�
Marimar (GMA-7) 23.9%; FPJ's Ang Probinsyano (ABS-CBN) 22.1%
�
Beautiful Strangers (GMA-7) 20.6%; Pangako Sa 'Yo (ABS-CBN) 22%; Wattpad Presents (TV5) 3%
�
My Faithful Husband (GMA-7) 18.5%; On the Wings of Love (ABS-CBN) 17.2%; My Fair Lady (TV5) 1.6%
�
Kapuso Primetime Cinema: Superman Returns (GMA-7) 13.4%; You're My Home (ABS-CBN) 9.4%; Tonight with Boy Abunda (ABS-CBN) 5.4%; Amachan (TV5) 1.4%; Hallo2 Cafe (TV5) .7%; Aksyon Tonite (TV5) .8%; Reaksyon (TV5) .6%
�
Saksi (GMA-7) 7.4%; Bandila (ABS-CBN) 3.4%; The Medyo Late Night Show (TV5) .4%
�
Serial Killer Earth (GMA-7) 5.1%; The Tim Yap Show (GMA-7) 2.5%; O Shopping (ABS-CBN) .8%; Shop Japan (TV5) .1%
�
--
�
November 12, 2015 (Thursday)
�
Morning:
�
Born to be Wild Replay (GMA-7) 1.1%; O Shopping (ABS-CBN) .2%; Shop Japan (TV5) 0%
�
Unang Hirit! (GMA-7) 5.5%; Umagang Kay Ganda (ABS-CBN) 3.1%; Aksyon sa Umaga (TV5) .9%; Handy Manny (TV5) 1.7%; Handy Manny (TV5) 2.7%
�
Pokemon XY (GMA-7) 6%; Toriko (GMA-7) 7.4%; Dragon Ball Z (GMA-7) 8.6%; Kris TV (ABS-CBN) 4.3%; Jake and the Neverland Pirates (TV5) 3.1%; Randy Cunningham 9th Grade Ninja (TV5) 3.2%; Hi-5 (TV5) 3%
�
Fairytail (GMA-7) 9.8%; Mr. Bean (ABS-CBN) 4.5%; The Looney Tunes Show (TV5) 3.7%
�
Stairway to Heaven (GMA-7) 8%; Someone Like You (GMA-7) 9.4%; The King's Doctor (GMA-7) 11.8%; Dangwa (GMA-7) 12.6%; Biyaheng Namnam (GMA-7) 13.5%; Kapamilya Blockbusters: Momzillas (ABS-CBN) 9.3%; The Tom & Jerry Show (TV5) 4.1%; Scooby-Doo! Mystery Inc. (TV5) 4.1%; Madam Chairman (TV5) 2.2%; Amachan (TV5) 1.8%; Hallo2 Cafe (TV5) 1.5%
�
The Ryzza Mae Show: Princess in the Palace (GMA-7) 17.5%; Ningning (ABS-CBN) 9.5%; Aksyon sa Tanghali (TV5) 2.2%
�
Afternoon:
�
Eat Bulaga!(GMA-7) 30%; It's Showtime (ABS-CBN) 8.1%; Movie Max 5: Derailed (TV5) 2.9%; Marvel Hulk and the Agents of Smash (TV5) 1.4%; X-Men (TV5) 1.2%
�
The Half Sisters (GMA-7) 17.5%; Doble Kara (ABS-CBN) 10.4%; All Of Me (ABS-CBN) 9.5%; Teen Wolf (TV5) 2.1%; Supernatural (TV5) 2.3%
�
Buena Familia (GMA-7) 14.7%; Walang Iwanan (ABS-CBN) 8.1%; PSL Grand Prix 2015: Cignal vs Philips (TV5) 1.8%
�
Destiny Rose (GMA-7) 17%; Sports U (ABS-CBN) 5.2%
�
Reporter's Notebook (GMA-7) 12.8%; Kapamilya Deal or No Deal (ABS-CBN) 9.7%
�
Evening:
�
Starstruck (GMA-7) 14.3%; Pasion de Amor (ABS-CBN) 13.5%; Aksyon (TV5) 4.5%
�
24 Oras (GMA-7) 24.3%; TV Patrol (ABS-CBN) 16.6%; Movie Max 5: Dragon: The Bruce Lee Story (TV5) 6.4%
�
Marimar (GMA-7) 26.2%; FPJ's Ang Probinsyano (ABS-CBN) 22.8%
�
Beautiful Strangers (GMA-7) 20.8%; Pangako Sa 'Yo (ABS-CBN) 21.1%; Wattpad Presents (TV5) 2.9%
�
My Faithful Husband (GMA-7) 18.5%; On the Wings of Love (ABS-CBN) 15.6%; My Fair Lady (TV5) 2.5%
�
Kapuso Primetime Cinema: The Scorpion King (GMA-7) 14%; You're My Home (ABS-CBN) 9.4%; Tonight with Boy Abunda (ABS-CBN) 6%; Amachan (TV5) 1.8%; Hallo2 Cafe (TV5) 1.3%; Aksyon Tonite (TV5) .8%
�
Saksi (GMA-7) 9.3%; Big History (GMA-7) 5.2%; Bandila (ABS-CBN) 3.6%; Reaksyon (TV5) .5%;� The Medyo Late Night Show (TV5) .4%
�
The Tim Yap Show (GMA-7) 2.2%; O Shopping (ABS-CBN) .9%; Shop Japan (TV5) .2%
November 13, 2015 (Friday)
�
Morning:
�
Alisto! Replay (GMA-7) 1.2%; O Shopping (ABS-CBN) .2%; Shop Japan (TV5) 0%
�
Unang Hirit! (GMA-7) 5.9%; Umagang Kay Ganda (ABS-CBN) 3%; Aksyon sa Umaga (TV5) .5%; Handy Manny (TV5) 1.6%; Handy Manny (TV5) 2.8%
�
Pokemon XY (GMA-7) 6.4%; Toriko (GMA-7) 7.5%; Dragon Ball Z (GMA-7) 9.2%; Kris TV (ABS-CBN) 4.3%; Jake and the Neverland Pirates (TV5) 3.5%; Randy Cunningham 9th Grade Ninja (TV5) 2.8%; Hi-5 (TV5) 3.5%
�
Fairytail (GMA-7) 10%; Mr. Bean (ABS-CBN) 4.8%; The Looney Tunes Show (TV5) 3.2%
�
Stairway to Heaven (GMA-7) 9.2%; Someone Like You (GMA-7) 9.9%; The King's Doctor (GMA-7) 12.4%; Dangwa (GMA-7) 13.3%; Kapamilya Blockbusters: Corazon: Ang Unang Aswang (ABS-CBN) 9.4%; The Tom & Jerry Show (TV5) 4.2%; Scooby-Doo! Mystery Inc (TV5) 4.1%; Madam Chairman (TV5) 2.3%; Amachan (TV5) 1.8%
�
The Ryzza Mae Show: Princess in the Palace (GMA-7) 16.9%; Ningning (ABS-CBN) 10%; Hallo2 Cafe (TV5) 1.3%; Aksyon sa Tanghali (TV5) 2.7%
�
Afternoon:
�
Eat Bulaga!(GMA-7) 29.8%; It's Showtime (ABS-CBN) 7.9%; Movie Max 5: Earth's Final Hours (TV5) 2.8%; Marvel Hulk and the Agents of Smash (TV5) 2%; X-Men (TV5) 1.4%
�
The Half Sisters (GMA-7) 18.7%; Doble Kara (ABS-CBN) 10.2%; Teen Wolf (TV5) 2%
�
Buena Familia (GMA-7) 16.6%; All Of Me (ABS-CBN) 9.5%; Walang Iwanan (ABS-CBN) 7.3%; Supernatural (TV5) 2.4%; Smart Bro PBA 2016 Philippine Cup: Mahindra Enforcers vs NLEX (TV5) 3.3%
�
Destiny Rose (GMA-7) 19.1%; TNT (ABS-CBN) 5.9%
�
Love Hotline (GMA-7) 13.8%; Kapamilya Deal or No Deal (ABS-CBN) 9.8%
�
Evening:
�
Starstruck (GMA-7) 15.3%; Pasion de Amor (ABS-CBN) 12.2%
�
24 Oras (GMA-7) 21.6%; TV Patrol (ABS-CBN) 15.1%; Aksyon (TV5) 4.1%
�
Marimar (GMA-7) 26.3%; FPJ's Ang Probinsyano (ABS-CBN) 22.2%; Smart Bro PBA 2016 Philippine Cup: Global Port vs Rain or Shine (TV5) 6.4%
�
Beautiful Strangers (GMA-7) 19.7%; Pangako Sa 'Yo (ABS-CBN) 21.2%
�
My Faithful Husband (GMA-7) 19.9%; On the Wings of Love (ABS-CBN) 16.7%; Wattpad Presents (TV5) 3%; My Fair Lady (TV5) 1.7%
�
Bubble Gang (GMA-7) 16%; You're My Home (ABS-CBN) 9%; Tonight with Boy Abunda (ABS-CBN) 5.6%; Amachan (TV5) 1.5%; Hallo2 Cafe (TV5) 1%; Aksyon Tonite (TV5) .5%; Reaksyon (TV5) .4%
�
Saksi (GMA-7) 8.3%; Bandila (ABS-CBN) 3.7%; Bigtime (TV5) .3%
�
The Tim Yap Show (GMA-7) 3.1%; O Shopping (ABS-CBN) 1.3%; Shop Japan (TV5) .1%
November 14, 2015 (Saturday)
�
Morning:
�
PJM Forum (GMA-7) .4%; Adyenda (GMA-7) 1.1%; O Shopping (ABS-CBN) .3%; Shop Japan (TV5) .1%
�
Kapwa Ko Mahal Ko (GMA-7) 1.6%; Sa Kabukiran (ABS-CBN) .7%; Family Matters (TV5) .3%
�
Pinoy MD (GMA-7) 5.1%; Salamat Dok (ABS-CBN) 1.8%; Kakaibang Lunas (TV5) .7%
�
The Smurfs (GMA-7) 10.2%; Swak na Swak (ABS-CBN) 2%; CCF (TV5) .4%
�
Tobot (GMA-7) 12.2%; Angel Wings (ABS-CBN) 1.5%
�
Pac-Man and the Ghostly Adventures (GMA-7) 11.5%; Why Not? (ABS-CBN) 1.7%; Higglytown Heroes (TV5) 1.4%
�
Angry Birds Toons (GMA-7) 12%; Crossfight B-Daman (GMA-7) 9.5%; Doraemon Nobita's Great Battle (GMA-7) 11%; Maynila (GMA-7) 9.5%; NBA 2015-2016 Season: Indiana vs Minnesota (ABS-CBN) 3%; Doc McStuffins (TV5) 2.8%; Little Einsteins (TV5) 4.5%; Stitch! (TV5) 4.4%; Hi-5 (TV5) 4.4%; Scooby-Do! Mystery Inc. (TV5) 4.3%
�
Sarap Diva (GMA-7) 11.2%; Del Monte Kitchenomics (TV5) 14.3%; Kapamilya Blockbusters: The Chronicles of Narnia: The Lion, The Witch and the Wardrobe (ABS-CBN) 9.4%; Scooby-Do! Mystery Inc. (TV5) 4.4%; Magical Do Re Mi (TV5) 2.8%
�
Afternoon:
�
Eat Bulaga! (GMA-7) 34.6%; It's Showtime (ABS-CBN) 8.8%; Movie Max 5: Skyrunners (TV5) 3.5%; Philippine Super Liga Grand Prix 2015 (TV5) 1.1%
�
Karelasyon (GMA-7) 19.4%; Ipaglaban Mo (ABS-CBN) 8.2%; Movie Max 5: Swamp Shark (TV5) 2.4%
�
Wish Ko Lang! (GMA-7) 15%; Failon Ngayon (ABS-CBN) 5.7%
�
Celebri TV (GMA-7) 16.5%; SOCO (ABS-CBN) 9.6%; Smart Bro PBA 2016 Philippine Cup: Purefoods Star Hotshots vs Talk n Text (TV5) 5%
�
Imbestigador (GMA-7) 21.5%; Mga Kwento ni Marc Logan (GMA-7) 11.2%
�
Evening:
�
24 Oras Weekend (GMA-7) 25.2%; TV Patrol Weekend (ABS-CBN) 13%
�
Pepito Manaloto: Ang Tunay na Kuwento (GMA-7) 27.8%; Dance Kids (ABS-CBN) 15.9%; Home Sweetie Home (ABS-CBN) 15.6%; Lola Basyang.com (TV5) 3.8%
�
Magpakailanman (GMA-7) 33.7%; MMK Ang Tahanan Mo (ABS-CBN) 16.7%; Parangnormal Activity (TV5) 3%; Kano Luvs Pinay (TV5) 1.2%
�
Celebrity Bluff (GMA-7) 18.9%; Your Face Sounds Familiar (ABS-CBN) 15.4%; History with Lourd (TV5) 1.1%;Politics for Beginners (TV5) 1.2%
�
i-Witness (GMA-7) 10.5%; Celebrity Playtime (GMA-7) 8.3%; Kaya. (TV5) .7%
�
Kapuso Movie Night: One Missed Call (GMA-7) 7.1%; The Bottom Line (ABS-CBN) 2.7%; Shop Japan (TV5) .3%
�
Walang Tulugan (GMA-7) 3%; O Shopping (ABS-CBN) 1.2%
November 15, 2015 (Sunday)


Daytime:
�
In Touch with Dr. Charles Stanley (GMA-7) .4%; Jesus The Healer (GMA-7) .9%; O Shopping (ABS-CBN) .7%; Shop Japan (TV5) .1%
�
Kapuso Sine Klasika: O-Ha! Ako Pa? (GMA-7) 5.7%; The Healing Eucharist (ABS-CBN) 3.4%; Misa Nazareno (TV5) 1.7%
�
Grimm's Fairy Tales (GMA-7) 9.7%; Swak na Swak (ABS-CBN) 2.5%; Power to Unite with Elvira (TV5) .6%
�
Tobot (GMA-7) 12.1%; Doraemon Nobita's Great Battle (GMA-7) 13.7%; Salamat Dok (ABS-CBN) 3.1%; Healing Galing sa TV5 (TV5) .8%; Higglytown Heroes (TV5) 2.4%
�
Aha! (GMA-7) 11.7%; Kuroko's Basketball (ABS-CBN) 3%; Doc McStuffins (TV5) 3.8%
�
Born To Be Wild� (GMA-7) 10%; Haikyu!! (TV5) 3.6%; Stitch! (TV5) 4.4%
�
iBilib (ABS-CBN) 10.8%; Superbook (ABS-CBN) 4.6%; Hi-5 (TV5) 3.4%
�
Kapuso Movie Festival: Bee Movie (GMA-7) 18.2%; Matanglawin (ABS-CBN) 5.5%; Kapamilya Kiddie Blockbusters: The Waterboy (ABS-CBN) 8.6%; The Tom & Jerry Show (TV5) 4.5%; The Tom & Jerry Show (TV5) 4.2%
�
Afternoon:
�
Del Monte Kitchenomics (GMA-7) 20.6%; Sunday Pinasaya (GMA-7) 25%; ASAP 20 (ABS-CBN) 8.9%; Happy Truck ng Bayan (TV5) 1.6%; Alagang Kapatid (TV5) .8%; T3 Alliance (TV5) 1.2%
�
Wowowin (GMA-7) 20%; Banana Sundae (ABS-CBN) 9.8%; Kapamilya Mega Blockbusters: Tragic Theater (ABS-CBN) 10.3%; Countdown to Rio (TV5) 1.1%; Countdown to Rio (TV5) .9%; Smart Bro PBA 2016 Philippine Cup: Barako Bull vs Meralco (TV5) 3.2%
�
GMA Blockbusters: Van Helsing (GMA-7) 16.7%; Luv U (ABS-CBN) 6.8%
�
Juan Tamad (GMA-7) 15.8%; TV Patrol Weekend (ABS-CBN) 7.9%; Smart Bro PBA 2016 Philippine Cup: Brgy Ginebra vs San Miguel Beermen (TV5) 9.5%
�
Evening:
�
24 Oras Weekend (GMA-7) 20.6%; Dance Kids (ABS-CBN) 13.4%
�
Vampire Ang Daddy Ko (GMA-7) 21.2%; Goin' Bulilit (ABS-CBN) 13.6%
�
Ismol Family (GMA-7) 24.6%; Wansapanataym (ABS-CBN) 15.7%; Who Wants to be a Millionaire (TV5) 4.8%
�
Kapuso Mo, Jessica Soho (GMA-7) 25.7%; Rated K: Handa Na Ba Kayo? (ABS-CBN) 15%; Your Face Sounds Familiar (ABS-CBN) 15.6%; Masterchef Asia (TV5) 1.5%; Cool Guys Hot Ramen (TV5) .6%
�
Sunday Night Box Office: Contraband (GMA-7) 11.7%; Gandang Gabi Vice (ABS-CBN) 11.9%; Sunday's Best: Guro to Pangulo (ABS-CBN) 3.3%; Sports 360 (TV5) .3%; Countdown to Rio (TV5) .1%; History with Lourd (TV5) .3%; Shop Japan (TV5) 0%
�
Diyos at Bayan (GMA-7) 1.9%; O Shopping (ABS-CBN) .9%
November 16, 2015 (Monday)


Morning:
�
Power House Replay (GMA-7) .9%; O Shopping (ABS-CBN) .1%; Shop Japan (TV5) .1%
�
Unang Hirit! (GMA-7) 5.7%; Umagang Kay Ganda (ABS-CBN) 3.2%; Aksyon sa Umaga (TV5) .7%; Handy Manny (TV5) 1.5%; Handy Manny (TV5) 3.1%
�
Pokemon XY (GMA-7) 6.1%; Toriko (GMA-7) 6.6%; Dragon Ball Z (GMA-7) 7.8%; Kris TV (ABS-CBN) 3.9%; Jake and the Neverland Pirates (TV5) 3.5%; Randy Cunningham 9th Grade Ninja (TV5) 3.8%; Hi-5 (TV5) 2.6%
�
Fairytail (GMA-7) 9.1%; Mr. Bean (ABS-CBN) 4.2%; The Looney Tunes Show (TV5) 3.1%
�
Stairway to Heaven (GMA-7) 7.4%; Someone Like You (GMA-7) 7.5%; The King's Doctor (GMA-7) 10%; Dangwa (GMA-7) 13%; Kapamilya Blockbusters: Starting Over Again (ABS-CBN) 8.5%; The Tom & Jerry Show (TV5) 3.9%; Scooby-Doo! Mystery Inc. (TV5) 3.6%; Madam Chairman (TV5) 2.7%; Amachan (TV5) 1.5%; Hallo2 Cafe (TV5) .8%
�
The Ryzza Mae Show: Princess in the Palace (GMA-7) 16.4%; Ningning (ABS-CBN) 8.2%; Aksyon sa Tanghali (TV5) 1.9%
�
Afternoon:
�
Eat Bulaga!(GMA-7) 27.8%; It's Showtime (ABS-CBN) 7.7%; Movie Max 5: Scorcher (TV5) 3.2%; Star Wars the Clone Wars (TV5) 2.4%; X-Men (TV5) 2.6%
�
The Half Sisters (GMA-7) 17.8%; Doble Kara (ABS-CBN) 9.1%; Teen Wolf (TV5) 2.4%
�
Buena Familia (GMA-7) 15.9%; All Of Me (ABS-CBN) 8.5%; Walang Iwanan (ABS-CBN) 6.3%; Supernatural (TV5) 2.4%; Philippine Super Liga Grand Prix 2015 (TV5) 2.1%
�
Destiny Rose (GMA-7) 18.8%; Mission Possible (ABS-CBN) 5.5%
�
Alisto! (GMA-7) 13.5%; Kapamilya Deal or No Deal (ABS-CBN) 9.9%
�
Evening:
�
Starstruck (GMA-7) 14.9%; Pasion de Amor (ABS-CBN) 14.4%
�
24 Oras (GMA-7) 24.1%; TV Patrol (ABS-CBN) 17.2%; Aksyon (TV5) 3%
�
Marimar (GMA-7) 24.4%; FPJ's Ang Probinsyano (ABS-CBN) 22.8%; Movie Max 5: Dragon Fist (TV5) 5%
�
Little Nanay (GMA-7) 22.7%; Pangako Sa 'Yo (ABS-CBN) 21.9%
�
Beautiful Strangers (GMA-7) 18.2%; On the Wings of Love (ABS-CBN) 17%; Wattpad Presents (TV5) 2.2%
�
Kapuso Primetime Cinema: Jack the Giant Slayer (GMA-7) 15.9%; You're My Home (ABS-CBN) 8.9%; Tonight with Boy Abunda (ABS-CBN) 5.9%; My Fair Lady (TV5) 1.8%; Amachan (TV5) 1.5%; Hallo2 Cafe (TV5) .9%; Aksyon Tonite (TV5) .7%
�
Saksi (GMA-7) 7.9%; Front Row (GMA-7) 4.4%; Bandila (ABS-CBN) 3.6%; Mukha (ABS-CBN) 2.1%; Reaksyon (TV5) .1%; Shop Japan (TV5) .1%
�
The Tim Yap Show (GMA-7) 2.5%; O Shopping (ABS-CBN) 1%



November 17, 2015 (Tuesday)


Morning:
�
i-Witness Replay (GMA-7) .9%; O Shopping (ABS-CBN) .2%; Shop Japan (TV5) 0%
�
Unang Hirit! (GMA-7) 5.3%; Umagang Kay Ganda (ABS-CBN) 3.2%; Aksyon sa Umaga (TV5) .5%; Handy Manny (TV5) 1.5%; Handy Manny (TV5) 2.9%
�
Pokemon XY (GMA-7) 8.1%; Toriko (GMA-7) 9.1%; Dragon Ball Z (GMA-7) 10.1%; Kris TV (ABS-CBN) 3.9%; Jake and the Neverland Pirates (TV5) 4.1%; Randy Cunningham 9th Grade Ninja (TV5) 3.4%; Hi-5 (TV5) 2.6%
�
Fairytail (GMA-7) 10.1%; Mr. Bean (ABS-CBN) 5%; The Looney Tunes Show (TV5) 3.1%
�
Stairway to Heaven (GMA-7) 8.3%; Someone Like You (GMA-7) 8.7%; The King's Doctor (GMA-7) 10.9%; Dangwa (GMA-7) 12.2%; Kapamilya Blockbusters: Praybeyt Benjamin (ABS-CBN) 10.1%; The Tom & Jerry Show (TV5) 4%; Scooby-Doo! Mystery Inc. (TV5) 3.6%; Madam Chairman (TV5) 1.6%; Amachan (TV5) 1%; Hallo2 Cafe (TV5) 1%
�
Biyaheng Namnam (GMA-7) 15.3%; The Ryzza Mae Show: Princess in the Palace (GMA-7) 17.4%; Ningning (ABS-CBN) 9.3%; Aksyon sa Tanghali (TV5) 1.8%
�
Afternoon:
�
Eat Bulaga!(GMA-7) 29%; It's Showtime (ABS-CBN) 6.9%; Movie Max 5: Crash Landing (TV5) 3.5%; Star Wars the Clone Wars (TV5) 1.8%; X-Men (TV5) 1.5%
�
The Half Sisters (GMA-7) 19.1%; Doble Kara (ABS-CBN) 9.3%; Teen Wolf (TV5) 2.2%
�
Buena Familia (GMA-7) 16.8%; All Of Me (ABS-CBN) 9.3%; Walang Iwanan (ABS-CBN) 6.9%; Supernatural (TV5) 2.8%
�
Destiny Rose (GMA-7) 18.8%; My Puhunan (ABS-CBN) 5.7%; Smart Bro PBA 2016 Philippine Cup: Barako Bull vs Mahindra Enforcers (TV5) 3%
�
Tunay na Buhay (GMA-7) 12.6%; Kapamilya Deal or No Deal (ABS-CBN) 10%
�
Evening:
�
Starstruck (GMA-7) 14.1%; Pasion de Amor (ABS-CBN) 13.3%
�
24 Oras (GMA-7) 24.9%; TV Patrol (ABS-CBN) 15.6%; Aksyon (TV5) 4.4%
�
Marimar (GMA-7) 24.7%; FPJ's Ang Probinsyano (ABS-CBN) 20.9%; Smart Bro PBA 2016 Philippine Cup: Brgy Ginebral vs Meralco (TV5) 6.6%
�
Little Nanay (GMA-7) 21.9%; Pangako Sa 'Yo (ABS-CBN) 20.9%; Wattpad Presents (TV5) 2.6%
�
Beautiful Strangers (GMA-7) 18.2%; On the Wings of Love (ABS-CBN) 16.4%; My Fair Lady (TV5) 2.1%
�
Kapuso Primetime Cinema: Johnny English Reborn (GMA-7) 14.9%; You're My Home (ABS-CBN) 9.8%; Tonight with Boy Abunda (ABS-CBN) 5.6%; Amachan (TV5) 1.4%; Hallo2 Cafe (TV5) 1.2%; Aksyon Tonite (TV5) .9%
�
Saksi (GMA-7) 7.8%; Stan Lee's Superhumans (GMA-7) 5%; Bandila (ABS-CBN) 3.6%; Reaksyon (TV5) .4%; Numero (TV5) .2%; Shop Japan (TV5) .3%
�
The Tim Yap Show (GMA-7) 2.6%; O Shopping (ABS-CBN) 1.2%
November 18, 2015 (Wednesday)
Morning:
�
Tunay na Buhay Replay (GMA-7) .8%; O Shopping (ABS-CBN) .3%; Shop Japan (TV5) 0%
�
Unang Hirit! (GMA-7) 6.1%; Umagang Kay Ganda (ABS-CBN) 2.8%; Aksyon sa Umaga (TV5) .8%; Handy Manny (TV5) 1.9%; Handy Manny (TV5) 3.1%
�
Pokemon XY (GMA-7) 7.1%; Toriko (GMA-7) 8.4%; Dragon Ball Z (GMA-7) 9.1%; Kris TV (ABS-CBN) 4.4%; Jake and the Neverland Pirates (TV5) 3.7%; Randy Cunningham 9th Grade Ninja (TV5) 3.3%; Hi-5 (TV5) 3.7%
�
Fairytail (GMA-7) 10.5%; Mr. Bean (ABS-CBN) 5.2%; The Looney Tunes Show (TV5) 4%
�
Stairway to Heaven (GMA-7) 8.2%; Someone Like You (GMA-7) 8.8%; The King's Doctor (GMA-7) 11.5%;Dangwa (GMA-7) 14.1%; Kapamilya Blockbusters: One More Chance (ABS-CBN) 11.2%; The Tom & Jerry Show (TV5) 4.9%; Scooby-Doo! Mystery Inc. (TV5) 4.5%; Madam Chairman (TV5) 2.4%; Amachan (TV5) 1.5%
�
The Ryzza Mae Show: Princess in the Palace (GMA-7) 18.9%; Ningning (ABS-CBN) 10.7%; Hallo2 Cafe (TV5) 1.3%; Aksyon sa Tanghali (TV5) 2.1%
�
Afternoon:
�
Eat Bulaga!(GMA-7) 30.6%; It's Showtime (ABS-CBN) 7.7%; Movie Max 5: Cradle 2 the Grave (TV5) 4.2%; Star Wars the Clone Wars (TV5) 1.8%; X-Men (TV5) 1.6%
�
The Half Sisters (GMA-7) 19.3%; Doble Kara (ABS-CBN) 8.4%; Teen Wolf (TV5) 2.5%
�
Buena Familia (GMA-7) 16.4%; All Of Me (ABS-CBN) 8.4%; Walang Iwanan (ABS-CBN) 6.4%; Supernatural (TV5) 3%; Movie Max 5: Premium Rush (TV5) 4.4%
�
Destiny Rose (GMA-7) 16.8%; Red Alert (ABS-CBN) 5.6%
�
Power House (GMA-7) 9.6%; Kapamilya Deal or No Deal (ABS-CBN) 8.9%
�
Evening:
�
Starstruck (GMA-7) 12.3%; Pasion de Amor (ABS-CBN) 12.8%
�
24 Oras (GMA-7) 24.6%; TV Patrol (ABS-CBN) 17.3%; Aksyon (TV5) 5.7%
�
Marimar (GMA-7) 22.8%; FPJ's Ang Probinsyano (ABS-CBN) 22.5%; Movie Max 5: Who Am I? (TV5) 7%
�
Little Nanay (GMA-7) 22%; Pangako Sa 'Yo (ABS-CBN) 23.1%; Wattpad Presents (TV5) 2.3%
�
Beautiful Strangers (GMA-7) 17.6%; On the Wings of Love (ABS-CBN) 17.4%; My Fair Lady (TV5) 1.8%; Amachan (TV5) 1.6%
�
Kapuso Primetime Cinema: Constantine (GMA-7) 13.2%; You're My Home (ABS-CBN) 10.2%; Tonight with Boy Abunda (ABS-CBN) 5.6%; Hallo2 Cafe (TV5) .8%; Aksyon Tonite (TV5) .9%; Reaksyon (TV5) .5%
�
Saksi (GMA-7) 6.7%; Bandila (ABS-CBN) 3.4%; History with Lourd (TV5) .5%
�
Serial Killer Earth (GMA-7) 4.1%; The Tim Yap Show (GMA-7) 2.4%; O Shopping (ABS-CBN) 1.1%; Shop Japan (TV5) .2%
November 19, 2015 (Thursday)
�
Morning:
�
Born to be Wild Replay (GMA-7) 1.1%; O Shopping (ABS-CBN) .1%; Shop Japan (TV5) 0%
�
Unang Hirit! (GMA-7) 4.6%; Umagang Kay Ganda (ABS-CBN) 2.4%; Aksyon sa Umaga (TV5) .5%; Handy Manny (TV5) 1.2%; Handy Manny (TV5) 2.5%
�
Pokemon XY (GMA-7) 5.6%; Toriko (GMA-7) 8.3%; Dragon Ball Z (GMA-7) 10%; Kris TV (ABS-CBN) 4.4%; Jake and the Neverland Pirates (TV5) 3.7%; Randy Cunningham 9th Grade Ninja (TV5) 4%; Hi-5 (TV5) 3.4%
�
Fairytail (GMA-7) 11.4%; Mr. Bean (ABS-CBN) 5.1%; The Looney Tunes Show (TV5) 4.4%
�
Stairway to Heaven (GMA-7) 9%; Someone Like You (GMA-7) 9.9%; The King's Doctor (GMA-7) 11.6%; Dangwa (GMA-7) 12.3%; Kapamilya Blockbusters: Kimmy Dora Prequel (ABS-CBN) 9.1%; The Tom & Jerry Show (TV5) 5.1%; Scooby-Doo! Mystery Inc. (TV5) 4.2%; Madam Chairman (TV5) 2.2%; Amachan (TV5) 1.6%; Hallo2 Cafe (TV5) 1.2%
�
Biyaheng Namnam (GMA-7) 14.6%; The Ryzza Mae Show: Princess in the Palace (GMA-7) 17.1%; Ningning (ABS-CBN) 10.7%; Aksyon sa Tanghali (TV5) 2.2%
�
Afternoon:
�
Eat Bulaga!(GMA-7) 31%; It's Showtime (ABS-CBN) 7.5%; Movie Max 5: The Rage Carrie 2 (TV5) 2.4%; Star Wars the Clone Wars (TV5) 2%; X-Men (TV5) 1.7%
�
The Half Sisters (GMA-7) 17.6%; Doble Kara (ABS-CBN) 9.2%; All Of Me (ABS-CBN) 7.9%; Teen Wolf (TV5) 2.4%; Supernatural (TV5) 2.6%
�
Buena Familia (GMA-7) 15.2%; Walang Iwanan (ABS-CBN) 6.7%; PSL Grand Prix 2015: Foton vs Philips (TV5) 2.4%
�
Destiny Rose (GMA-7) 18.8%; Sports U (ABS-CBN) 4.5%
�
Reporter's Notebook (GMA-7) 11.7%; Kapamilya Deal or No Deal (ABS-CBN) 8.8%
�
Evening:
�
Starstruck (GMA-7) 13.9%; Pasion de Amor (ABS-CBN) 13%
�
24 Oras (GMA-7) 25.4%; TV Patrol (ABS-CBN) 17.4%; Aksyon (TV5) 3.9%
�
Marimar (GMA-7) 25%; FPJ's Ang Probinsyano (ABS-CBN) 23.8%; Movie Max 5: Dragon: Jackie Chan's First Strike (TV5) 5.9%
�
Little Nanay (GMA-7) 22.7%; Pangako Sa 'Yo (ABS-CBN) 23.4%
�
Beautiful Strangers (GMA-7) 18%; On the Wings of Love (ABS-CBN) 16.7%; Wattpad Presents (TV5) 1.5%; My Fair Lady (TV5) 1.1%
�
Kapuso Primetime Cinema: Kung Fu Panda (GMA-7) 13%; You're My Home (ABS-CBN) 9.2%; Tonight with Boy Abunda (ABS-CBN) 5.3%; Amachan (TV5) .9%; Hallo2 Cafe (TV5) .7%; Aksyon Tonite (TV5) .7%
�
Saksi (GMA-7) 6.9%; Big History (GMA-7) 5%; Bandila (ABS-CBN) 3.3%; Reaksyon (TV5) .3%; Astig (TV5) .2%
�
The Tim Yap Show (GMA-7) 2.4%; O Shopping (ABS-CBN) .7%; Shop Japan (TV5) .1%
November 20, 2015 (Friday)
�
Morning:
�
Alisto! Replay (GMA-7) .8%; O Shopping (ABS-CBN) .1%; Shop Japan (TV5) 0%
�
Unang Hirit! (GMA-7) 4.2%; Umagang Kay Ganda (ABS-CBN) 2.5%; Aksyon sa Umaga (TV5) .7%; Handy Manny (TV5) 1.9%; Handy Manny (TV5) 2.6%
�
Pokemon XY (GMA-7) 7.7%; Toriko (GMA-7) 8.8%; Dragon Ball Z (GMA-7) 9.5%; Kris TV (ABS-CBN) 4.2%; Jake and the Neverland Pirates (TV5) 2.8%; Randy Cunningham 9th Grade Ninja (TV5) 3.1%; Hi-5 (TV5) 3.1%
�
Fairytail (GMA-7) 10.2%; Mr. Bean (ABS-CBN) 4.7%; The Looney Tunes Show (TV5) 3.5%
�
Stairway to Heaven (GMA-7) 8.2%; Someone Like You (GMA-7) 8.6%; The King's Doctor (GMA-7) 11.5%; Dangwa (GMA-7) 13.1%; Kapamilya Blockbusters: Cinco (ABS-CBN) 9.9%; The Tom & Jerry Show (TV5) 4.4%; Scooby-Doo! Mystery Inc (TV5) 4.1%; Madam Chairman (TV5) 2.2%; Amachan (TV5) 1.6%; Hallo2 Cafe (TV5) 1.3%
�
The Ryzza Mae Show: Princess in the Palace (GMA-7) 18.1%; Ningning (ABS-CBN) 10.4%; Aksyon sa Tanghali (TV5) 1.8%
�
Afternoon:
�
Eat Bulaga!(GMA-7) 30.2%; It's Showtime (ABS-CBN) 8.4%; Movie Max 5: End of the World (TV5) 2.7%; Star Wars the Clone Wars (TV5) 1.9%; X-Men (TV5) 1.3%
�
The Half Sisters (GMA-7) 19.5%; Doble Kara (ABS-CBN) 9%; Teen Wolf (TV5) 2.4%
�
Buena Familia (GMA-7) 17.8%; All Of Me (ABS-CBN) 9%; Walang Iwanan (ABS-CBN) 7.2%; Supernatural (TV5) 2.3%; Smart Bro PBA 2016 Philippine Cup: Alaska vs Global Port (TV5) 3.8%
�
Destiny Rose (GMA-7) 19.7%; TNT (ABS-CBN) 5.4%
�
Love Hotline (GMA-7) 12.2%; Kapamilya Deal or No Deal (ABS-CBN) 9.5%
�
Evening:
�
Starstruck (GMA-7) 15%; Pasion de Amor (ABS-CBN) 12.8%
�
24 Oras (GMA-7) 23.4%; TV Patrol (ABS-CBN) 16%; Aksyon (TV5) 5.2%
�
Marimar (GMA-7) 26.8%; FPJ's Ang Probinsyano (ABS-CBN) 22.2%; Smart Bro PBA 2016 Philippine Cup: NLEX vs Talk n Text (TV5) 5.9%
�
Little Nanay (GMA-7) 25%; Pangako Sa 'Yo (ABS-CBN) 21.5%
�
Beautiful Strangers (GMA-7) 21.1%; On the Wings of Love (ABS-CBN) 16.5%; Wattpad Presents (TV5) 2.1%; My Fair Lady (TV5) 1.6%
�
Bubble Gang (GMA-7) 17%; You're My Home (ABS-CBN) 9.7%; Tonight with Boy Abunda (ABS-CBN) 4.9%; Amachan (TV5) 1%; Hallo2 Cafe (TV5) .4%; Aksyon Tonite (TV5) .7%
�
Saksi (GMA-7) 8.7%; Bandila (ABS-CBN) 3.2%; Reaksyon (TV5) .3%; Bigtime (TV5) .5%
�
The Tim Yap Show (GMA-7) 4%; O Shopping (ABS-CBN) .9%; Shop Japan (TV5) .3%
November 21, 2015 (Saturday)
�
Morning:
�
PJM Forum (GMA-7) .1%;Adyenda (GMA-7) .8%; O Shopping (ABS-CBN) .4%; Shop Japan (TV5) .2%
�
Kapwa Ko Mahal Ko (GMA-7) 1.8%; Sa Kabukiran (ABS-CBN) .7%; Family Matters (TV5) .4%
�
Pinoy MD (GMA-7) 4.8%; Salamat Dok (ABS-CBN) 1.9%; Kakaibang Lunas (TV5) .8%
�
The Smurfs (GMA-7) 10.5%; Swak na Swak (ABS-CBN) 2.6%; CCF (TV5) .2%
�
Tobot (GMA-7) 13.5%; Angel Wings (ABS-CBN) 1.4%
�
Pac-Man and the Ghostly Adventures (GMA-7) 13.3%; Why Not? (ABS-CBN) 1.2%; Higglytown Heroes (TV5) 1.7%
�
Angry Birds Toons (GMA-7) 13.9%; Crossfight B-Daman (GMA-7) 11.8%; Doraemon Nobita's Great Battle (GMA-7) 12.3%; Maynila (GMA-7) 12.7%; NBA 2015-2016 Season: Charlotte Hornets vs Philadelphia (ABS-CBN) 3%; Doc McStuffins (TV5) 2.9%; Little Einsteins (TV5) 3.5%; Stitch! (TV5) 3.8%; Hi-5 (TV5) 3.2%; Scooby-Do! Mystery Inc. (TV5) 3.3%
�
Sarap Diva (GMA-7) 12.8%; Del Monte Kitchenomics (TV5) 16.4%; Kapamilya Blockbusters: I Am Number Four (ABS-CBN) 9.8%; Scooby-Do! Mystery Inc. (TV5) 4.4%; Star Wars Rebel (TV5) 3.9%
�
Afternoon:
�
Eat Bulaga! (GMA-7) 34.6%; It's Showtime (ABS-CBN) 8%; Movie Max 5: Camp Rock (TV5) 2.8%; Smart Bro PBA 2016 Philippine Cup: Cignal HD vs Philips Gold (TV5) 1.2%
�
Karelasyon (GMA-7) 20.8%; Ipaglaban Mo (ABS-CBN) 8.1%; Smart Bro PBA 2016 Philippine Cup: Blackwater Elite vs Rain or Shine (TV5) 2.2%
�
Wish Ko Lang! (GMA-7) 13.1%; SOCO (ABS-CBN) 8.5%
�
Celebri TV (GMA-7) 11.3%; Celebrity Playtime (ABS-CBN) 9.2%
�
Imbestigador (GMA-7) 19.1%; Mga Kwento ni Marc Logan (GMA-7) 10%; Smart Bro PBA 2016 Philippine Cup: Meralco vs Purefoods Star Hotshots (TV5) 6.4%
�
Evening:
�
24 Oras Weekend (GMA-7) 25.4%; TV Patrol Weekend (ABS-CBN) 11.2%
�
Pepito Manaloto: Ang Tunay na Kuwento (GMA-7) 28.9%; Home Sweetie Home (ABS-CBN) 12.1%; Dance Kids (ABS-CBN) 16.4%; Lola Basyang.com (TV5) 4.6%
�
Magpakailanman (GMA-7) 31.6%; MMK Ang Tahanan Mo (ABS-CBN) 16.2%; Parangnormal Activity (TV5) 3.8%
�
Celebrity Bluff (GMA-7) 20.4%; Your Face Sounds Familiar (ABS-CBN) 15.4%; Kano Luvs Pinay (TV5) 1.3%; History with Lourd (TV5) 1.1%
�
i-Witness (GMA-7) 11.4%; Failon Ngayon (GMA-7) 5.8%; Politics for Beginners (TV5) 1.2%; Kaya. (TV5) .6%
�
Kapuso Movie Night: The Unborn (GMA-7) 7.8%; The Bottom Line (ABS-CBN) 3.2%; Shop Japan (TV5) .3%
�
Walang Tulugan (GMA-7) 3.6%; O Shopping (ABS-CBN) .7%



November 22, 2015 (Sunday)


Daytime:
�
In Touch with Dr. Charles Stanley (GMA-7) .3%;Jesus The Healer (GMA-7) .4%;O Shopping (ABS-CBN) .5%; Shop Japan (TV5) .3%
�
Kapuso Sine Klasika: Biboy Banal (GMA-7) 3.8%; The Healing Eucharist (ABS-CBN) 3.6%; Misa Nazareno (TV5) 1.2%
�
Grimm's Fairy Tales (GMA-7) 7.6%; Swak na Swak (ABS-CBN) 2.6%; Power to Unite with Elvira (TV5) .4%
�
Tobot (GMA-7) 10.6%; Doraemon Nobita's Great Battle (GMA-7) 11%; Salamat Dok (ABS-CBN) 2.7%; Healing Galing sa TV5 (TV5) .9%; Higglytown Heroes (TV5) 2.3%
�
Aha! (GMA-7) 10.8%; Kuroko's Basketball (ABS-CBN) 2.8%; Doc McStuffins (TV5) 3.1%
�
Born To Be Wild� (GMA-7) 9.7%; Haikyu!! (TV5) 4.2%; Stitch! (TV5) 4.3%
�
iBilib (ABS-CBN) 9.4%; Superbook (ABS-CBN) 5.2%; Hi-5 (TV5) 2.5%
�
Kapuso Movie Festival: Spy Kids All The Time in The World (GMA-7) 18.1%; Matanglawin (ABS-CBN) 5.6%; Kapamilya Kiddie Blockbusters: Baby Geniuses (ABS-CBN) 7.3%; The Tom & Jerry Show (TV5) 2.3%; The Tom & Jerry Show (TV5) 2.5%
�
Afternoon:
�
Del Monte Kitchenomics (GMA-7) 21.8%;Sunday Pinasaya (GMA-7) 21.4%; ASAP 20 (ABS-CBN) 10.4%; Happy Truck ng Bayan (TV5) 1.2%; Cotto vs Canelo (TV5) 5.5%
�
Wowowin (GMA-7) 16.6%; Banana Sundae (ABS-CBN) 8.3%; Countdown to Rio (TV5) 1.1%
�
GMA Blockbusters: Batman Begins (GMA-7) 12.8%; Kapamilya Mega Blockbusters: Talk Back and You're Dead (ABS-CBN) 8.1%; Luv U (ABS-CBN) 6.1%; Smart Bro PBA 2016 Philippine Cup: Barako Bull vs San Miguel Beermen (TV5) 4.3%
�
Juan Tamad (GMA-7) 12.2%; TV Patrol Weekend (ABS-CBN) 8%; Smart Bro PBA 2016 Philippine Cup: Brgy Ginebra vs Mahindra Enforcers (TV5) 9.5%
�
Evening:
�
24 Oras Weekend (GMA-7) 20.1%; Goin' Bulilit (ABS-CBN) 10.7%
�
Vampire Ang Daddy Ko (GMA-7) 19.1%; Dance Kids (ABS-CBN) 15.3%
�
Ismol Family (GMA-7) 23.6%; Wansapanataym (ABS-CBN) 15.8%; Who Wants to be a Millionaire (TV5) 4.1%
�
Kapuso Mo, Jessica Soho (GMA-7) 24.2%; Rated K: Handa Na Ba Kayo? (ABS-CBN) 15.6%; Your Face Sounds Familiar (ABS-CBN) 13.3%; Masterchef Asia (TV5) 1.6%; Cool Guys Hot Ramen (TV5) .6%
�
Sunday Night Box Office: Honey 2 (GMA-7) 13.8%; Gandang Gabi Vice (ABS-CBN) 11.2%; Sunday's Best: Pangarap Kong World Cup 2(ABS-CBN) 2.1%; Sports 360 (TV5) .5%; Countdown to Rio (TV5) .3%; Shop Japan (TV5) .1%
�
Diyos at Bayan (GMA-7) 2.2%; O Shopping (ABS-CBN) .4%
November 23, 2015 (Monday)
�
Morning:
�
Power House Replay (GMA-7) 1.6%; O Shopping (ABS-CBN) .2%; Shop Japan (TV5) .1%
�
Unang Hirit! (GMA-7) 5.6%; Umagang Kay Ganda (ABS-CBN) 3%; Aksyon sa Umaga (TV5) .6%; Handy Manny (TV5) 1.1%; Handy Manny (TV5) 1.9%
�
Pokemon XY (GMA-7) 4.9%; Toriko (GMA-7) 6.2%; Dragon Ball Z (GMA-7) 7.1%; Kris TV (ABS-CBN) 4.1%; Jake and the Neverland Pirates (TV5) 2.6%; Randy Cunningham 9th Grade Ninja (TV5) 2.6%; Hi-5 (TV5) 2.1%
�
Fairytail (GMA-7) 8.1%; Mr. Bean (ABS-CBN) 4.7%; The Looney Tunes Show (TV5) 2.5%
�
Stairway to Heaven (GMA-7) 7%; Someone Like You (GMA-7) 8.8%; Ice Adonis (GMA-7) 11.2%; Dangwa (GMA-7) 11.4%; Kapamilya Blockbusters: My Only U (ABS-CBN) 8.9%; The Tom & Jerry Show (TV5) 3.7%; Scooby-Doo! Mystery Inc. (TV5) 3.1%; Madam Chairman (TV5) 1.5%; Amachan (TV5) 1.4%; Hallo2 Cafe (TV5) .9%
�
The Ryzza Mae Show: Princess in the Palace (GMA-7) 14.6%; Ningning (ABS-CBN) 10.1%; Aksyon sa Tanghali (TV5) 2.2%
�
Afternoon:
�
Eat Bulaga!(GMA-7) 28.5%; It's Showtime (ABS-CBN) 7.9%; Movie Max 5: On Hostile Ground (TV5) 2.8%; Star Wars the Clone Wars (TV5) 1.7%; X-Men (TV5) 1.5%
�
The Half Sisters (GMA-7) 17.8%; Doble Kara (ABS-CBN) 9.2%; Teen Wolf (TV5) 2.1%
�
Buena Familia (GMA-7) 14.6%; All Of Me (ABS-CBN) 9.1%; Walang Iwanan (ABS-CBN) 7.2%; Supernatural (TV5) 2.3%; Movie Max 5: Wish Upon a Star (TV5) 2.3%
�
Destiny Rose (GMA-7) 17.6%; Mission Possible (ABS-CBN) 5.3%
�
Alisto! (GMA-7) 13.3%; Kapamilya Deal or No Deal (ABS-CBN) 9%
�
Evening:
�
Starstruck (GMA-7) 14.5%; Pasion de Amor (ABS-CBN) 13.5%; Aksyon (TV5) 4.1%
�
24 Oras (GMA-7) 24.5%; TV Patrol (ABS-CBN) 16%; Movie Max 5: The Legend of Drunken Master (TV5) 7%
�
Marimar (GMA-7) 24.7%; FPJ's Ang Probinsyano (ABS-CBN) 22.5%
�
Little Nanay (GMA-7) 23.4%; Pangako Sa 'Yo (ABS-CBN) 20.9%
�
Beautiful Strangers (GMA-7) 20.5%; On the Wings of Love (ABS-CBN) 16.2%; Wattpad Presents (TV5) 2.7%; My Fair Lady (TV5) 1.6%
�
Kapuso Primetime Cinema: The Ring (GMA-7) 11%; You're My Home (ABS-CBN) 10.5%; Tonight with Boy Abunda (ABS-CBN) 6.3%; Amachan (TV5) 1.6%; Hallo2 Cafe (TV5) 1.4%; Aksyon Tonite (TV5) 1.2%
�
Saksi (GMA-7) 6.6%; Front Row (GMA-7) 4%; Bandila (ABS-CBN) 2.9%; Mukha (ABS-CBN) 1.7%; Reaksyon (TV5) .8%; Demolition Job (TV5) .7%; Shop Japan (TV5) .2%
�
The Tim Yap Show (GMA-7) 1.8%; O Shopping (ABS-CBN) .6%

TOP TEN PROGRAMS:


November 10, 2015 (Tuesday)


DAYTIME:


Eat Bulaga! (GMA-7) – 27.3%
The Half Sisters (GMA-7) - 18%
Destiny Rose(GMA-7) - 16.6%
Buena Familia(GMA-7) – 15%
The Ryzza Mae Show: Princess in the Palace(GMA-7) - 14.7%
Biyaheng Namnam(GMA-7) - 13.2%
Tunay na Buhay(GMA-7) - 11.7%
Dangwa(GMA-7) - 11.6%
The King's Doctor(GMA-7) - 10.4%
Fairy Tail(GMA-7) - 9.5%
�
PRIMETIME:
�
Marimar(GMA-7) – 27.1%
24 Oras(GMA-7) – 23.6%
Pangako Sa 'Yo (ABS-CBN) – 23%
FPJ's Ang Probinsyano (ABS-CBN) - 22.5%
Beautiful Strangers (GMA-7) - 21%
My Faithful Husband (GMA-7) - 18.6%
On the Wings of Love (ABS-CBN) - 17.4%
TV Patrol (ABS-CBN) – 15.8%
Kapuso Primetime Cinema: Watchmen (GMA-7) - 13%
StarStruck (GMA-7) - 12.9%
�
November 11, 2015 (Wednesday)
�
DAYTIME:
�
Eat Bulaga! (GMA-7) – 28.7%
The Half Sisters (GMA-7) - 18.2%
The Ryzza Mae Show: Princess in the Palace(GMA-7) - 15.6%
Destiny Rose(GMA-7) - 15.3%
Buena Familia(GMA-7) - 15%
Dangwa(GMA-7) - 11.6%
The King's Doctor(GMA-7) - 11%
Ningning (ABS-CBN) - 10.4%
Doble Kara(ABS-CBN) / All of Me(ABS-CBN) - 9.8%
Power House(GMA-7) - 9.6%
�
PRIMETIME:
�
24 Oras(GMA-7) / Marimar(GMA-7) - 23.9%
FPJ's Ang Probinsyano (ABS-CBN) - 22.1%
Pangako Sa 'Yo (ABS-CBN) – 22%
Beautiful Strangers (GMA-7) - 20.6%
My Faithful Husband (GMA-7) - 18.5%
TV Patrol (ABS-CBN) / On the Wings of Love (ABS-CBN) - 17.2%
Kapuso Primetime Cinema: Superman Returns(GMA-7) - 13.4%
Starstruck (GMA-7) / Pasion de Amor (ABS-CBN) - 12.9%
You're My Home (ABS-CBN) - 9.4%
Saksi (GMA-7) - 7.4%
�
November 12, 2015 (Thursday)
�
DAYTIME:
�
Eat Bulaga! (GMA-7) – 30%
The Ryzza Mae Show: Princess in the Palace(GMA-7) / The Half Sisters (GMA-7) – 17.5%
Destiny Rose(GMA-7) - 17%
Buena Familia(GMA-7) – 14.7%
Biyaheng Namnam(GMA-7) - 13.5%
Reporter's Notebook(GMA-7) - 12.8%
Dangwa(GMA-7) - 12.6%
The King's Doctor(GMA-7) - 11.8%
Doble Kara(ABS-CBN) - 10.4%
Ningning (ABS-CBN) / All of Me(ABS-CBN) - 9.5%
Someone Like You(GMA-7) - 11%
�
PRIMETIME:
�
Marimar(GMA-7) – 26.2%
24 Oras(GMA-7) - 24.3%
FPJ's Ang Probinsyano (ABS-CBN) - 22.8%
Pangako Sa 'Yo(ABS-CBN) – 21.1%
Beautiful Strangers(GMA-7) - 20.8%
My Faithful Husband(GMA-7) - 18.5%
TV Patrol (ABS-CBN) – 16.6%
On the Wings of Love (ABS-CBN) – 15.6%
Starstruck (GMA-7) - 14.3%
Kapuso Primetime Cinema: The Scorpion King(GMA-7) - 14%
�
November 13, 2015 (Friday)
�
DAYTIME:
�
Eat Bulaga! (GMA-7) – 29.8%
Destiny Rose(GMA-7) - 19.1%
The Half Sisters (GMA-7) – 18.7%
The Ryzza Mae Show: Princess in the Palace(GMA-7) - 16.9%
Buena Familia(GMA-7) – 16.6%
Love Hotline(GMA-7) - 13.8%
Dangwa(GMA-7) - 13.3%
The King's Doctor(GMA-7) - 12.4%
Doble Kara (ABS-CBN) - 10.2%
Fairy Tail(GMA-7) / Ningning (ABS-CBN) - 10%
�
PRIMETIME:
�
Marimar (GMA-7) – 26.3%
FPJ's Ang Probinsyano (ABS-CBN) - 22.2%
24 Oras(GMA-7) - 21.6%
Pangako Sa 'Yo(ABS-CBN) – 21.2%
My Faithful Husband(GMA-7) - 19.9%
Beautiful Strangers(GMA-7) - 19.7%
On the Wings of Love (ABS-CBN) – 16.7%
Bubble Gang(GMA-7) - 16%
Starstruck(GMA-7) - 15.3%
TV Patrol (ABS-CBN) – 15.1%
�
November 14, 2015 (Saturday)
�
DAYTIME:
�
Eat Bulaga! (GMA-7) – 34.6%
Imbestigador (GMA-7) - 21.5%
Karelasyon (GMA-7) - 19.4%
Celebri TV (GMA-7) – 16.5%
Wish Ko Lang!(GMA-7) - 15%
Del Monte Kitchenomics(GMA-7) - 14.3%
Tobot (GMA-7) - 12.2%
Angry Birds Toons (GMA-7) - 12%
Pac-Man and the Ghostly Adventures(GMA-7) - 11.5%
Sarap Diva (GMA-7) / Mga Kwento ni Marc Logan (ABS-CBN) – 11.2%
�
PRIMETIME:
�
Magpakailanman (GMA-7) - 33.7%
Pepito Manaloto: Ang Tunay na Kuwento (GMA-7) �- 27.8%
24 Oras Weekend (GMA-7) - 25.2%
Celebrity Bluff (GMA-7) – 18.9%
MMK: Ang Tahanan Mo (ABS-CBN) – 16.7%
Dance Kids (ABS-CBN) - 15.9%
Home Sweetie Home (ABS-CBN) – 15.6%
Your Face Sounds Familiar (ABS-CBN) – 15.4%
TV Patrol Weekend (ABS-CBN) - 13%
I-Witness (GMA-7) - 10.5%
�
November 15, 2015 (Sunday)
�
DAYTIME:
�
Sunday Pinasaya (GMA-7) - 25%
Del Monte Kitchenomics (GMA-7) - 20.6%
Wowowin (GMA-7) - 20%
Kapuso Movie Festival (GMA-7) - 18.2%
GMA Blockbusters (GMA-7) - 16.7%
Juan Tamad (GMA-7) - 15.8%
Doraemon Nobita's Great Battle (GMA-7) - 13.7%
Tobot (GMA-7) - 12.1%
Aha! (GMA-7) - 11.7%
iBilib (GMA-7) - 10.8%
�
PRIMETIME:
�
Kapuso Mo, Jessica Soho (GMA-7) - 25.7%
Ismol Family (GMA-7) - 24.6%
Vampire Ang Daddy Ko (GMA-7) - 21.2%
24 Oras Weekend (GMA-7) - 20.6%
Wansapanataym(ABS-CBN) – 15.7%
Your Face Sounds Familiar (ABS-CBN) – 15.6%
Rated K(ABS-CBN) – 15%
Goin' Bulilit(ABS-CBN) – 13.8%
Dance Kids (ABS-CBN) - 13.4%
Gandang Gabi Vice (ABS-CBN) - 11.9%
�
November 16, 2015 (Monday)
�
DAYTIME:
�
Eat Bulaga! (GMA-7) – 27.8%
Destiny Rose(GMA-7) - 18.8%
The Half Sisters (GMA-7) – 17.8%
The Ryzza Mae Show: Princess in the Palace(GMA-7) - 16.4%
Buena Familia(GMA-7) - 15.9%
Alisto!(GMA-7) - 13.5%
Dangwa(GMA-7) - 13%
The King's Doctor(GMA-7) - 10%
The Kapamilya Deal or No Deal (ABS-CBN) - 9.9%
Doble Kara (ABS-CBN) / Ningning (ABS-CBN) - 9.1%
�
PRIMETIME:
�
Marimar(GMA-7) - 24.4%
24 Oras(GMA-7) - 24.1%
FPJ's Ang Probinsyano (ABS-CBN) - 22.8%
Little Nanay (GMA-7) - 22.7%
Pangako Sa 'Yo (ABS-CBN) - 21.9%
Beautiful Strangers (GMA-7) - 18.2%
TV Patrol (ABS-CBN) – 17.2%
On the Wings of Love (ABS-CBN) - 17%
Kapuso Primetime Cinema: Jack the Giant Slayer (GMA-7) - 15.9%
StarStruck (GMA-7) - 14.9%


November 17, 2015 (Tuesday)
�
DAYTIME:
�
Eat Bulaga! (GMA-7) – 29%
The Half Sisters (GMA-7) - 19.1%
Destiny Rose(GMA-7) - 18.8%
The Ryzza Mae Show: Princess in the Palace(GMA-7) - 17.4%
Buena Familia(GMA-7) – 16.8%
Biyaheng Namnam(GMA-7) - 15.3%
Tunay na Buhay(GMA-7) - 12.6%
Dangwa(GMA-7) - 12.2%
The King's Doctor(GMA-7) - 10.9%
Fairy Tail(GMA-7) / Dragon Ball Z(GMA-7) / Kapamilya Blockbusters: Praybeyt Benjamin (ABS-CBN) - 10.1%
�
PRIMETIME:
�
24 Oras(GMA-7) – 24.9%
Marimar(GMA-7) – 24.7%
Little Nanay (GMA-7) - 21.9%
FPJ's Ang Probinsyano (ABS-CBN) / Pangako Sa 'Yo (ABS-CBN) – 20.9%
Beautiful Strangers (GMA-7) - 18.2%
On the Wings of Love (ABS-CBN) - 16.4%
TV Patrol (ABS-CBN) – 15.6%
Kapuso Primetime Cinema: Johnny English Reborn(GMA-7) - 14.9%
StarStruck (GMA-7) - 14.1%
Pasion de Amor (ABS-CBN) - 13.3%
�
November 18, 2015 (Wednesday)
�
DAYTIME:
�
Eat Bulaga! (GMA-7) – 30.6%
The Half Sisters (GMA-7) - 19.3%
The Ryzza Mae Show: Princess in the Palace(GMA-7) - 18.9%
Destiny Rose(GMA-7) - 16.8%
Buena Familia(GMA-7) - 16.4%
Dangwa(GMA-7) - 14.1%
The King's Doctor(GMA-7) - 11.5%
Kapamilya Blockbusters: One More Chance (ABS-CBN) - 11.2%
Ningning (ABS-CBN) - 10.7%
Fairy Tail(GMA-7) - 10.5%
�
PRIMETIME:
�
24 Oras(GMA-7) - 24.6%
Pangako Sa 'Yo (ABS-CBN) – 23.1%
Marimar(GMA-7) - 22.8%
FPJ's Ang Probinsyano (ABS-CBN) - 22.5%
Little Nanay (GMA-7) - 22%
Beautiful Strangers (GMA-7) - 17.6%
On the Wings of Love (ABS-CBN) - 17.4%
TV Patrol (ABS-CBN) - 17.3%
Kapuso Primetime Cinema: Constantine (GMA-7) - 13.2%
Pasion de Amor (ABS-CBN) - 12.8%
�
November 19, 2015 (Thursday)
�
DAYTIME:
�
Eat Bulaga! (GMA-7) – 31%
Destiny Rose(GMA-7) - 18.8%
The Half Sisters (GMA-7) – 17.6%
The Ryzza Mae Show: Princess in the Palace(GMA-7) - 17.1%
Buena Familia(GMA-7) – 15.2%
Biyaheng Namnam(GMA-7) - 14.6%
Dangwa(GMA-7) - 12.3%
Reporter's Notebook(GMA-7) - 11.7
The King's Doctor(GMA-7) - 11.6%
Fairy Tail(GMA-7) - 11.4%
�
PRIMETIME:
�
24 Oras(GMA-7) - 25.4%
Marimar(GMA-7) – 25%
FPJ's Ang Probinsyano (ABS-CBN) - 23.8%
Pangako Sa 'Yo(ABS-CBN) – 23.4%
Little Nanay (GMA-7) - 22.7%
Beautiful Strangers(GMA-7) - 18%
TV Patrol (ABS-CBN) – 17.4%
On the Wings of Love (ABS-CBN) – 16.7%
Starstruck (GMA-7) - 13.9%
Kapuso Primetime Cinema: Kung Fu Panda (GMA-7) / Pasion de Amor (ABS-CBN) - 13%
�
November 20, 2015 (Friday)
�
DAYTIME:
�
Eat Bulaga! (GMA-7) – 30.2%
Destiny Rose(GMA-7) - 19.7%
The Half Sisters (GMA-7) – 19.5%
The Ryzza Mae Show: Princess in the Palace(GMA-7) - 18.1%
Buena Familia(GMA-7) – 17.8%
Dangwa(GMA-7) - 13.1%
Love Hotline(GMA-7) - 12.2%
The King's Doctor(GMA-7) - 11.5%
Ningning (ABS-CBN) - 10.4%
Fairy Tail(GMA-7) - 10.2%
�
PRIMETIME:
�
Marimar(GMA-7) – 26.8%
Little Nanay (GMA-7) - 25%
24 Oras(GMA-7) - 23.4%
FPJ's Ang Probinsyano (ABS-CBN) - 22.2%
Pangako Sa 'Yo(ABS-CBN) – 21.5%
Beautiful Strangers(GMA-7) - 21.1%
Bubble Gang(GMA-7) - 17%
On the Wings of Love (ABS-CBN) – 16.5%
TV Patrol (ABS-CBN) – 16%
Starstruck (GMA-7) - 15%
�
November 21, 2015 (Saturday)
�
DAYTIME:
�
Eat Bulaga! (GMA-7) – 34.6%
Karelasyon (GMA-7) - 20.8%
Imbestigador (GMA-7) - 19.1%
Del Monte Kitchenomics(GMA-7) - 16.4%
Angry Birds Toons (GMA-7) - 13.9%
Tobot (GMA-7) - 13.5%
Pac-Man and the Ghostly Adventures(GMA-7) - 13.3%
Wish Ko Lang!(GMA-7) - 13.1%
Sarap Diva (GMA-7) - 12.8%
Maynila (GMA-7) – 12.7%
�
PRIMETIME:
�
Magpakailanman (GMA-7) - 31.6%
Pepito Manaloto: Ang Tunay na Kuwento (GMA-7) �- 28.9%
24 Oras Weekend (GMA-7) - 25.4%
Celebrity Bluff (GMA-7) – 20.4%
Dance Kids (ABS-CBN) - 16.4%
MMK: Ang Tahanan Mo (ABS-CBN) – 16.2%
Your Face Sounds Familiar (ABS-CBN) – 15.4%
Home Sweetie Home (ABS-CBN) – 12.1%
I-Witness (GMA-7) - 11.4%
TV Patrol Weekend (ABS-CBN) - 11.2%
�
November 22, 2015 (Sunday)
�
DAYTIME:
�
Del Monte Kitchenomics (GMA-7) - 21.8%
Sunday Pinasaya (GMA-7) - 21.4%
Kapuso Movie Festival (GMA-7) - 18.1%
Wowowin (GMA-7) - 16.6%
GMA Blockbusters (GMA-7) - 12.8%
Juan Tamad (GMA-7) - 12.2%
Doraemon Nobita's Great Battle (GMA-7) - 11%
Aha! (GMA-7) - 10.8%
Tobot (GMA-7) - 10.6%
ASAP(ABS-CBN) – 10.4%
�
PRIMETIME:
�
Kapuso Mo, Jessica Soho (GMA-7) - 24.2%
Ismol Family (GMA-7) - 23.6%
24 Oras Weekend (GMA-7) - 20.1%
Vampire Ang Daddy Ko (GMA-7) - 19.1%
Wansapanataym(ABS-CBN) – 15.8%
Rated K(ABS-CBN) – 15.6%
Dance Kids (ABS-CBN) - 15.3%
SNBO(GMA-7) - 13.8%
Your Face Sounds Familiar (ABS-CBN) – 13.3%
Gandang Gabi Vice (ABS-CBN) - 11.2%
�
November 23, 2015 (Monday)
�
DAYTIME:
�
Eat Bulaga! (GMA-7) – 28.5%
The Half Sisters (GMA-7) – 17.8%
Destiny Rose(GMA-7) - 17.6%
The Ryzza Mae Show: Princess in the Palace(GMA-7) / Buena Familia(GMA-7) - 14.6%
Alisto!(GMA-7) - 13.3%
Dangwa(GMA-7) - 11.4%
Ice Adonis(GMA-7) - 11.2%
Ningning (ABS-CBN) - 10.1%
Doble Kara (ABS-CBN) - 9.2%
All of Me (ABS-CBN) - 9.1%
�
PRIMETIME:
�
Marimar(GMA-7) - 24.7%
24 Oras(GMA-7) - 24.5%
Little Nanay (GMA-7) - 23.4%
FPJ's Ang Probinsyano (ABS-CBN) - 22.5%
Pangako Sa 'Yo (ABS-CBN) - 20.9%
Beautiful Strangers (GMA-7) - 20.5%
On the Wings of Love (ABS-CBN) - 16.2%
TV Patrol (ABS-CBN) – 16%
StarStruck (GMA-7) - 14.5%
Pasion de Amor (ABS-CBN) - 13.5%



Source: AGB Nielsen Philippines