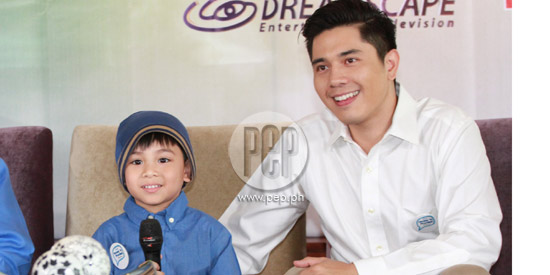 ---
In the daytime block, animé shows continue to deliver double-digit ratings and some have been constantly making it to the top 10.

In fact, last November 1, the animé Ghost Fighter (which registered 13 percent rating) was able to beat It's Showtime, which registered 12.5 percent on that day.

ABS-CBN's Got to Believe continues to lead the primetime drama race although GMA-7's Akin Pa Rin Ang Bukas is steadily climbing up with its numbers.

The Kapamilya Network successfully launched a new child star in the person of Rakki Mateo, the lead star of Honesto. This show has consistently beaten rival show Genesis starring Dingdong Dantes and Rhian Ramos.

TV5's Wow! Mali Pa Rin has been steadily entering the top 10 primetime shows. The comedy show landed on 10th place with its rating of 7.8 percent on November 3.

GMA Network shows reigned over the weekend as Kapuso shows occupied the top 3 spots in the weekend primetime block.


The Kapuso sitcom Vampire Ang Daddy Ko took the lead on November 2 while notably Kapuso Mo, Jessica Soho (which garnered a huge rating of 30.6%) was the most-watched primetime program the following day.


Sunday All Stars (GMA-7) toppled ASAP(ABS-CBN) to become the most-watched Sunday musical variety show in Mega Manila last November 3.


Here's the comparative Rating Performance of ABS-CBN, TV5 & GMA-7 programs from October 29 to November 3, 2013, derived from AGB Nielsen Philippines from Mega Manila households:



October 29, 2013 (Tuesday)
Morning:


i-Witness Replay (GMA-7) 1%; Mutya ng Masa Replay (ABS-CBN) 0.5%
Unang Hirit (GMA-7) 4.4%; Umagang Kay Ganda (ABS-CBN) 3.4%; Mondo Manu (TV5) 0.1%; Reaksyon Replay (TV5) 0.1%; Presinto 5 (TV5) 0.5%; Good Morning Club (TV5) 0.9%
ADVERTISEMENT - CONTINUE READING BELOW
Dragon Ball (GMA-7) 7.5%; Pokemon (GMA-7) 8.8%; One Piece (GMA-7) 11.3%; Kris TV (ABS-CBN) 5.9%; Jungle Junction (TV5) 4.1%; Phineas and Ferb (TV5) 5.8%
Bleach (GMA-7) 11.4%; Ghost Fighter (GMA-7) 11.4%; Power Rangers RPM (ABS-CBN) 4.4%; Jackie Chan Fantasia (ABS-CBN) 4.8%; Gargoyles (TV5) 4%; Oggy and the Cockroaches (TV5) 5.6%

Kusina Master, Sikreto ng Experto (GMA-7) 7.8%; Mr. Bean (ABS-CBN) 7.2%; Johnny Bravo (TV5) 6.7%
Lola (GMA-7) 9%; Wish Upon A Star (ABS-CBN) 8.8%; Adventure Time with Finn & Jake (TV5) 7.8%
Anak Ko 'Yan! (GMA-7) 10.9%; Junior Minute To Win It (ABS-CBN) 11.9%; Ben 10 Ultimate Alien (TV5) 6.5%

Afternoon:


Ryzza - The Ryzza Mae Show (GMA-7) 16.3%; Be Careful With My Heart (ABS-CBN) 19.1%; You Are My Destiny (TV5) 3.8%; Likeable or Not (TV5) 2.9%
Eat Bulaga (GMA-7) 19.6%; It's Showtime (ABS-CBN) 14.5%; Misibis Bay Return to Paradise (TV5) 1.7%; Sine Ko 5ingko – Attack Force (TV5) 3.7%
Mga Basang Sisiw (GMA-7) 17.1%; Magkano Ba Ang Pag-ibig (GMA-7) 12.3%; Kapamilya Blockbusters – Gagamboy (ABS-CBN) 12.1%;Sine Ko 5ingko – Earth's Final Hours (TV5) 4.9%
Pyra, Babaeng Apoy (GMA-7) 10.7%; Galema, Anak ni Zuma (ABS-CBN) 10.7%; Mutya ng Masa (ABS-CBN) 7.7%; Face The People (TV5) 5.1%

Fabulous Boys (GMA-7) 10.1%; The Love Story of Kang Chi (ABS-CBN) 8.3%; T3 Reload (TV5) 6.4%



Evening:
Prinsesa ng Buhay Ko (GMA-7) 16.2%; Annaliza (ABS-CBN) 13.3%; Aksyon (TV5) 7.5%
24 Oras (GMA-7) 23.7%; TV Patrol (ABS-CBN) 18.2%; Let's Ask Pilipinas (TV5) 7%;Madam Chairman (TV5) 7.1%
Genesis (GMA-7) 19.6%; Honesto (ABS-CBN) 22.3%; Featured Movie – Avatar (TV5) 8.8%
Kahit Nasaan Ka Man (GMA-7) 18.2%; Got To Believe (ABS-CBN) 23%
Akin Pa Rin Ang Bukas (GMA-7) 17.8%; Maria Mercedes (ABS-CBN) 18.9%

The Innocent Man (GMA-7) 13.6%; Bukas Na Lang Kita Mamahalin (ABS-CBN) 14.8%; Numero (TV5) 4.4%; Pilipinas News (TV5) 2.8%
Saksi (GMA-7) 9.5%; Bandila (ABS-CBN) 7.4%; Reaksyon (TV5) 1.4%; Wasak (TV5) 0.8%
Reporter's Notebook (GMA-7) 6.4%; Banana Nite (ABS-CBN) 4.6%; O Shopping (ABS-CBN) 2.4%
ADVERTISEMENT - CONTINUE READING BELOW

October 30, 2013 (Wednesday)


Morning:
Reporter's Notebook Replay (GMA-7) 0.9%; My Puhunan Replay (ABS-CBN) 0.2%
Unang Hirit (GMA-7) 4.2%; Umagang Kay Ganda (ABS-CBN) 3%; Reaksyon Replay (TV5) 0.2%; News 5 Imbestigasyon (TV5) 0.4%; Good Morning Club (TV5) 1.5%
Dragon Ball (GMA-7) 7.4%; Pokemon (GMA-7) 8.6%; Kris TV (ABS-CBN) 6.5%; Jungle Junction (TV5) 4.3%; Phineas and Ferb (TV5) 5.8%

One Piece (GMA7) 10.3%; Bleach (GMA-7) 11.8%; Power Rangers RPM (ABS-CBN) 6.5%;Gargoyles (TV5) 5.1%

Ghost Fighter (GMA-7) 11.3%; Jackie Chan Fantasia (ABS-CBN) 5.3%; Oggy and the Cockroaches (TV5) 6.1%
Kusina Master, Sikreto ng Experto (GMA-7) 7.4%; Mr. Bean (ABS-CBN) 6.8%; Johnny Bravo (TV5) 6.7%
Lola (GMA-7) 7.5%; Wish Upon A Star (ABS-CBN) 7.3%; Adventure Time with Finn & Jake (TV5) 7.5%
Anak Ko 'Yan! (GMA-7) 9.9%; Junior Minute To Win It (ABS-CBN) 10.4%; Ben 10 Ultimate Alien (TV5) 5.9%


Afternoon:


Ryzza - The Ryzza Mae Show (GMA-7) 15.4%; Be Careful With My Heart (ABS-CBN) 18%; You Are My Destiny (TV5) 3.8%; Likeable or Not (TV5) %
Eat Bulaga (GMA-7) 20.1%; It's Showtime (ABS-CBN) 13.7%; Misibis Bay Return to Paradise (TV5) 1.6%; Sine Ko 5ingko – First Target (TV5) 4.7%
Mga Basang Sisiw (GMA-7) 16.8%; Magkano Ba Ang Pag-ibig (GMA-7) 11.7%; Kapamilya Blockbusters – My Big Love (ABS-CBN) 12.4%; Sine Ko 5ingko – Super Shark (TV5) 6.3%
Pyra, Babaeng Apoy (GMA-7) 10.5%; Galema, Anak ni Zuma (ABS-CBN) 11.5%; My Puhunan (ABS-CBN) 7.6%; Face The People (TV5) 5.3%
Fabulous Boys (GMA-7) 9.9%; The Love Story of Kang Chi (ABS-CBN) 7.6%;T3 Reload (TV5) 7%


Evening:
Prinsesa ng Buhay Ko (GMA-7) 15.7%; Annaliza (ABS-CBN) 13.8%; Aksyon (TV5) 8.8%
24 Oras (GMA-7) 23.3%; TV Patrol (ABS-CBN) 18.5%; Let's Ask Pilipinas (TV5) 8.1%;Madam Chairman Ave.(TV5) 7.7%; Madam Chairman Part 1 (TV5) 7.5%

GMA Flash Report (GMA-7) 25.8%; Address the Nation (ABS-CBN) 20.4%; Aksyon Alert (TV5) 6.9%; Madam Chairman Part 2 (TV5) 7.8%
Genesis (GMA-7) 20.3%; Honesto (ABS-CBN) 23.3%; Featured Movie – The Ring (TV5) 8.8%
ADVERTISEMENT - CONTINUE READING BELOW
Kahit Nasaan Ka Man (GMA-7) 19%; Got To Believe (ABS-CBN) 23.8%

Akin Pa Rin Ang Bukas (GMA-7) 19.3%; Maria Mercedes (ABS-CBN) 19.1%

The Innocent Man (GMA-7) 15%; Bukas Na Lang Kita Mamahalin (ABS-CBN) 14.8%; Dayo (TV5) 2.9%; Pilipinas News (TV5) 2.3%
Saksi (GMA-7) 10.5%; Bandila (ABS-CBN) 8.1%; Reaksyon (TV5) 1.5%; News 5 Imbestigasyon (TV5) 0.8%
Born To Be Wild (GMA-7) 7.3%; Banana Nite (ABS-CBN) 5.4%

Tim Yap Show (GMA-7) 2.5%; O Shopping (ABS -CBN) 2%
October 31, 2013 (Thursday)
Morning:
Born To Be Wild Replay (GMA-7) 0.8%; TNT: Tapatan Ni Tunying Replay (ABS-CBN) 0.2%
Unang Hirit (GMA-7) 4.3%; Umagang Kay Ganda (ABS-CBN) 3%; Reaksyon Replay (TV5) 0.1%; Presinto 5 (TV5) 0.8%; Good Morning Club (TV5) 1.1%
Dragon Ball(GMA-7) 7.6%; Pokemon (GMA-7) 10%; Kris TV (ABS-CBN) 5.9%; Jungle Function (TV5) 3.9%; Phineas and Ferb (TV5) 5.6%
One Piece (GMA7) 12.6%; Power Rangers RPM (ABS-CBN) 3.6%; Gargoyles (TV5) 3.9%
Bleach (GMA-7) 12.1%; Jackie Chan Fantasia (ABS-CBN) 3.3%; Oggy and the Cockroaches (TV5) 4.6%
Ghost Fighter (GMA-7) 11.4%; Kusina Master, Sikreto ng Experto (GMA-7) 7.4%; Mr. Bean (ABS-CBN) 6.8%; Johnny Bravo (TV5) 6%
Lola (GMA-7) 7.8%; Wish Upon A Star (ABS-CBN) 7.9%; Adventure Time with Finn & Jake (TV5) 6.4%
Anak Ko 'Yan! (GMA-7) 9.8%; Junior Minute To Win It (ABS-CBN) 10.5%; Ben 10 Ultimate Alien (TV5) 5.6%; You Are My Destiny (TV5) 3.3%
Afternoon:
Ryzza - The Ryzza Mae Show (GMA-7) 17.2%; Be Careful With My Heart (ABS-CBN) 17.4%; Likeable or Not (TV5) 3%
Eat Bulaga (GMA-7) 21.6%; It's Showtime (ABS-CBN) 14.6%; Misibis Bay Return to Paradise (TV5) 2%; Sine Ko 5ingko – Blood, The Last Vampire (TV5) 4.9%
Mga Basang Sisiw (GMA-7) 17.0%; Magkano Ba Ang Pag-ibig (GMA-7) 12.1%; Kapamilya Blockbusters – Babangluksa (ABS-CBN) 11.2%; Sine Ko 5ingko – Don't Look Under The Bed (TV5) 5.6%
Pyra, Babaeng Apoy (GMA-7) 11%; Galema, Anak ni Zuma (ABS-CBN) 8.2%
Fabulous Boys (GMA-7) 11%; TNT: Tapatan Ni Tunying (ABS-CBN) 6%; The Love Story of Kang Chi (ABS-CBN) 7.7%; Face The People (TV5) 4.3%; T3 Reload (TV5) 4.3%
ADVERTISEMENT - CONTINUE READING BELOW
Evening:
Prinsesa ng Buhay Ko (GMA-7) 16.1%; Annaliza (ABS-CBN) 13.9%; Aksyon (TV5) 7.7%
24 Oras (GMA-7) 22.1%; TV Patrol (ABS-CBN) 18.5%; Let's Ask Pilipinas (TV5) 7.9%; Madam Chairman (TV5) 7.4%
Genesis (GMA-7) 20.3%; Honesto (ABS-CBN) 21.9%; For Love or Money (TV5) 4.6%
Kahit Nasaan Ka Man (GMA-7) 19.5%; Got To Believe (ABS-CBN) 23.1%; Posi+ive (TV5) 4.4%
Akin Pa Rin Ang Bukas (GMA-7) 19.6%;Maria Mercedes (ABS-CBN) 19.4%
The Innocent Man (GMA-7) 16.2%; Bukas Na Lang Kita Mamahalin (ABS-CBN) 14%; History with Lourd (TV5) 2.8%; Pilipinas News (TV5) 1.4%
Saksi (GMA-7) 10.8%; Bandila (ABS-CBN) 7.3%; Reaksyon (TV5) 0.9%; Crime Klasik (TV5) 0.8%
Alisto! (GMA-7) 6.8%; Banana Nite (ABS-CBN) 3.8%;
Tim Yap Show (GMA-7) 3.6%; O Shopping (ABS-CBN) 1.1%
November 1, 2013 (Friday)
Morning:
Born Impact Replay (GMA-7) 0.4%; Matanglawin Replay (ABS-CBN) 0.3%
GMA Flash Report (GMA-7) 1%; Unang Hirit (GMA-7) 4.3%; Umagang Kay Ganda (ABS-CBN) 2.6%; Kwentong Kanto (TV5) 0.1%; Reaksyon Replay (TV5) 0.1%; Dokumentado (TV5) 0.1%; Good Morning Club (TV5) 1%
Dragon Ball(GMA-7) 8.5%; Pokemon (GMA-7) 9.5%; Kris TV (ABS-CBN) 5.5%; Jungle Function (TV5) 4.1%; Phineas and Ferb (TV5) 4.7%
One Piece (GMA7) 12.4%; Power Rangers RPM (ABS-CBN) 5.1%; Gargoyles (TV5) 3.6%
Bleach (GMA-7) 12.3%; Ghost Fighter (GMA-7) 13%; Jackie Chan Fantasia (ABS-CBN) 4.6%; Oggy and the Cockroaches (TV5) 4.2%
Kusina Master, Sikreto ng Experto (GMA-7) 8.4%; Mr. Bean (ABS-CBN) 8.1%; Johnny Bravo (TV5) 5.3%
Lola (GMA-7) 8.8%; Wish Upon A Star (ABS-CBN) 8.7%; Adventure Time with Finn & Jake (TV5) 6.4%
Anak Ko 'Yan! (GMA-7) 8.7%; Junior Minute To Win It (ABS-CBN) 10.3%; Ben 10 Ultimate Alien (TV5) 6.5%; You Are My Destiny (TV5) 3.2%
Afternoon:
Ryzza - The Ryzza Mae Show (GMA-7) 14.7%; Be Careful With My Heart (ABS-CBN) 16.3%; Likeable or Not (TV5) 2.3%
Eat Bulaga (GMA-7) 19.6%; It's Showtime (ABS-CBN) 12.5%; Misibis Bay Return to Paradise (TV5) 1.5%; Sine Ko 5ingko – The Box (TV5) 4.4%
Mga Basang Sisiw (GMA-7) 15.3%; Magkano Ba Ang Pag-ibig (GMA-7) 11.3%; Kapamilya Blockbusters – Cinco (ABS-CBN) 11.1%; Sine Ko 5ingko – Whiteout (TV5) 4.9%
ADVERTISEMENT - CONTINUE READING BELOW
Pyra, Babaeng Apoy (GMA-7) 9.2%; Galema, Anak ni Zuma (ABS-CBN) 10.1%
Fabulous Boys (GMA-7) 9.2%; Tuklasin ang Katotohanan: Hiwaga (ABS-CBN) 8.7%; The Love Story of Kang Chi (ABS-CBN) 7.3%; Face The People (TV5) 3.4%; T3 Reload (TV5) 4.7%
Evening:
Prinsesa ng Buhay Ko (GMA-7) 12.7%; Annaliza (ABS-CBN) 11.3%; Aksyon (TV5) 6.5%
24 Oras (GMA-7) 20.9%; TV Patrol (ABS-CBN) 16.4%; Let's Ask Pilipinas (TV5) 6.7%; Madam Chairman (TV5) 6.1%
Genesis (GMA-7) 16.5%; Honesto (ABS-CBN) 22.1%; Sine Ko 5ingko Prime – Hellboy (TV5) 9%
Kahit Nasaan Ka Man (GMA-7) 17.1%; Got To Believe (ABS-CBN) 23%
Akin Pa Rin Ang Bukas (GMA-7) 18.1%;Maria Mercedes (ABS-CBN) 17.9%
Bubble Gang (GMA-7) 16.7%; Bukas Na Lang Kita Mamahalin (ABS-CBN) 14.6%; Bandila (ABS-CBN) 6.5%; Astig: Sa Sports Walang Tsamba (TV5) 4%; Pilipinas News (TV5) 2.6%; Reaksyon (TV5) 1.2%
Saksi (GMA-7) 9.2%; Banana Nite (ABS-CBN) 4.1%; Chef vs. Mom (TV5) 0.9%
Tim Yap Show (GMA-7) 4.7%; O Shopping (ABS-CBN) 1.9%
November 2, 2013 (Saturday)
Morning:
PJM Forum (GMA-7) 0.6%; Adyenda (GMA-7) 1.4%; Kapwa Ko, Mahal Ko (GMA-7) 1.5%;Sa Kabukiran (ABS-CBN) 0.3%; Family Matters (TV5) 0.3%
Pinoy MD (GMA-7) 2.6%; Salamat Dok (ABS-CBN) 1.8%; Imagination Movers (TV5) 1.4%
Cinderella (GMA-7) 3.8%; Kabuhayang Swak na Swak (ABS-CBN) 3%; Ying Yang Yo! (TV5) 2.2%
Super Book (GMA-7) 8%; Honey Watch Out! (ABS-CBN) 1.3%; Kick Buttowski! Suburban Daredevil (TV5) 2.7%
Paddle Pop Begins (GMA-7) 8.8%; Why Not (ABS-CBN) 2.1%; Misadventures of Flapjack (TV5) 3.5%
Angry Birds Toons (GMA-7) 10.6%; Ni Hao Kai-Lan (ABS-CBN) 2.5%; The Amazing World of Gumball (TV5) 2.8%
Pororo (GMA-7) 10.3%; The Penguins of Madagascar (ABS-CBN) 3.4%
Tropang Potchi (GMA-7) 8.4%; Kung Fu Panda Legends (ABS-CBN) 4.5%; Spongebob Squarepants (ABS-CBN) 6%; Regular Show (TV5) 4.4%; Powerpuff Girls Z (TV5) 4.5%
Sarap Diva (GMA-7) 7.5%; Maynila 14 (GMA-7%) 9.9%; Del Monte Kitchenomics (GMA-7) 10.8%; Be Careful With My Heart Rewind (ABS-CBN) 7%; Sym-Bionic Titan (TV5) 5.2%; TV5 Kids Movie Special: Thor – Tales of Asgard (TV5) 5.4%
Afternoon:
ADVERTISEMENT - CONTINUE READING BELOW
Eat Bulaga (GMA-7) 20.1%; It's Showtime (ABS-CBN) 12.7%; Sabado Sinerama: Halloween Town (TV5) 6.5%
Startalk (GMA-7) 10.5%; Sabado Specials: Shake, Rattle & Roll XIV (ABS-CBN) 9.4%; Sabado Sinerama: 30 Days of Night (TV5) 8.4%
Bingit (GMA-7) 7.4%; SOCO (ABS-CBN) 8.4%; Sabado Sinerama: Vampires – The Turning(TV5) 9.3%
Wish Ko Lang (GMA-7) 10.7%; Failon Ngayon (ABS-CBN) 6.6%
24 Oras Weekend (GMA-7) 15%; TV Patrol Weekend (ABS-CBN) 11%; Aksyon Weekend (TV5) 5.2%
Evening:
One Day Isang Araw (GMA-7) 19.9%; Bet On Your Baby (ABS-CBN) 19.8%; Showbiz Police Intriga Under Arrest (TV5) 3.4%
Vampire Ang Daddy Ko (GMA-7) 26.3%; Wansapanataym (ABS-CBN) 18.5%; Pinoy Explorer (TV5) 5.4%;
Magpakailanman (GMA-7) 24.2%; MMK: Ang Tahanan Mo (ABS-CBN) 23.2%; Tropa Mo 'Ko Unli (TV5) 5.7%; Killer Karaoke (TV5) 4.7%;
Celebrity Bluff (GMA-7) 25.9%; Katipunan (GMA-7) 12.4%; I Dare You (ABS-CBN) 11.4%;Juan Direction (TV5) 5%; What's Up Doods (TV5) 2.1%
Tunay na Buhay (GMA-7) 6.3%; Toda Max (ABS-CBN) 8.4%;Pilipinas News Weekend (TV5) 1.5%
Walang Tulugan (GMA-7) 1.8%; Banana Split Extra Scoop (ABS-CBN) 6.7%; The Bottomline (ABS-CBN) 2.6%; Sports Unlimited (ABS-CBN) 1.2%
November 3, 2013 (Sunday)
Morning:
Jesus The Healer (GMA-7) 0.7%; In Touch With Dr. Charles Stanley (GMA-7) 0.8%; The Healing Eucharist (ABS-CBN) 3.7%; Balitang 60 (TV5) 1%; Misa Nazareno (TV5) 2.6%
Scooby-Doo! Mystery Incorporated (GMA-7) 4%; Kabuhayang Swak Na Swak (ABS-CBN) 2.5%; Power To Unite With Elvira (TV5) 1.3%
Super Book(GMA-7) 7.2%; Paddle Pop Begins (GMA-7) 8.2%; Salamat Dok (ABS-CBN) 2.4%; Yin Yang Yo! (TV5) 1.5%; Kick Buttowski (TV5) 3.7%
Pororo (GMA-7) 8%; The Super Hero Squad Show (ABS-CBN) 2.8%; Misadventures of Flapjack (TV5) 4.8%
Toriko (GMA-7) 7.9%; Ironman (ABS-CBN) 3.4%; Regular Show (TV5) 5.2%
Aha! (GMA-7) 8.9%; Matanglawin (ABS-CBN) 5.8%; Powerpuff Girls Z (TV5) 5.4%
Born Impact Weekend Edition(GMA-7) 9.4%;Del Monte Kitchenomics (GMA-7) 7.3%;GMA Sunday Power Punch: Pacquiao & Rios (GMA-7) 9.6%;FPJ Da King on ABS-CBN: Ang Probinsyano (ABS-CBN) 14.7%; Sym-Bionic Titan (TV5) 5.4%; Generator Rex (TV5) 5.4%; Philip Lifestyle Guy (TV5) 2.6%


ADVERTISEMENT - CONTINUE READING BELOW
Afternoon:
Sunday All Stars (GMA-7) 11.8%; Dormitoryo (GMA-7) 9.6%;ASAP 18 (ABS-CBN) 10.6%; Sunday Sineplex: Jimmy Neutron – Boy Genius (TV5) 8.2%
GMA Blockbuster: Ghostbusters(GMA-7) 9.9%;Luv U (ABS-CBN) 9.6%; Buzz ng Bayan (ABS-CBN) 10.7%; Sunday Sineplex: Kazaam (TV5) 8.5%
iBilib (GMA-7) 10.1%; 24 Oras Weekend (GMA-7) 14.9%; TV Patrol Weekend (ABS-CBN) 13.5%; 2013 PBA Rookie Draft (TV5) 6.1%


Evening:


Kap's Amazing Stories (GMA-7) 19.9%; Goin' Bulilit (ABS-CBN) 16.4%; Kuwentong PBA: A Sports 5 Documentary (TV5) 4.5%
Pepito Manaloto Ang Tunay Na Kuwento (GMA-7) 27.6%; Rated K Handa Na Ba Kayo? (ABS-CBN) 16.9%; Who Wants To Be A Millionaire (TV5) 6.4%
Kapuso Mo Jessica Soho (GMA-7) 30.6%; Imbestigador (GMA-7) 20.6%;Star Cinema Originals: The Healing (ABS-CBN) 16.7%; Wow Mali Pa Rin! (TV5) 7.8%; The Mega And The Song Writer (TV5) 3.5%
Sunday Night Box Office: Shutter (GMA-7) 12.5%; Gandang Gabi Vice (ABS-CBN) 16.2%; Sunday's Best: Twilight – New Moon (ABS-CBN) 6.9%; Mula Buwis Hanggang PDAF (TV5) 1.7%; Pilipinas News Weekend (TV5) 1.5%
Diyos at Bayan (GMA-7) 0.8%; O Shopping (ABS-CBN) 1.6%
Here are the Top 10 daytime and primetime programs from October 29 to November 3, 2013 among Mega Manila households (Household Ratings):
TOP TEN PROGRAMS:


October 29, 2013 (Tuesday)
DAYTIME:

1. Eat Bulaga (GMA-7) – 19.6%
2. Be Careful With My Heart (ABS-CBN) – 19.1%
3. Mga Basang Sisiw (GMA-7) – 17.1%
4. Ryzza: The Ryzza Mae Show (GMA-7) – 16.3%
5. It's Showtime (ABS-CBN) – 14.5%
6. Magkano Ba Ang Pag-ibig (GMA-7) – 12.3%
7. Kapamilya Blockbusters: Gagamboy (ABS-CBN) – 12.1%
8. Minute to Win It (ABS-CBN) – 11.9%
9. Bleach (GMA-7) / Ghost Fighter (GMA-7) – 11.4%
10. One Piece (GMA-7) – 11.3%
PRIMETIME:
1. 24 Oras (GMA-7) – 23.7%
2. Got To Believe (ABS-CBN) – 23%
3. Honesto (ABS-CBN) – 22.3%
4. Genesis (GMA-7) – 19.6%
5. Maria Mercedes (ABS-CBN) – 18.9%
6. TV Patrol (ABS-CBN) / Kahit Nasaan Ka Man (GMA-7) – 18.2%
7. Akin Pa Rin Ang Bukas (GMA-7) – 17.8%
8. Prinsesa ng Buhay Ko (GMA-7) – 16.2%
9. Bukas Na Lang Kita Mamahalin (ABS-CBN) – 14.8%
10. The Innocent Man (GMA-7) – 13.6%



October 30, 2013 (Wednesday)
ADVERTISEMENT - CONTINUE READING BELOW
DAYTIME:

1. Eat Bulaga (GMA-7) – 20.1%
2. Be Careful With My Heart (ABS-CBN) – 18%
3. Mga Basang Sisiw (GMA-7) – 16.8%
4. Ryzza: The Ryzza Mae Show (GMA-7) – 15.4%
5. It's Showtime (ABS-CBN) – 13.7%
6. Kapamilya Blockbusters: My Big Love (ABS-CBN) – 12.4%
7. Bleach (GMA-7) – 11.8%
8. Magkano Ba Ang Pag-ibig (GMA-7) – 11.7%
9. Galema (ABS-CBN) – 11.5%
10. Ghost Fighter (GMA-7) – 11.3%


PRIMETIME:

1. GMA Flash Report (GMA-7) – 25.8%
2. Got To Believe (ABS-CBN) – 23.8%
3. 24 Oras (GMA-7) / Honesto (ABS-CBN) – 23.3%
4. Address the Nation (ABS-CBN) – 20.4%
5. Genesis (GMA-7) – 20.3%
6. Akin Pa Rin Ang Bukas (GMA-7) – 19.3%
7. Maria Mercedes (ABS-CBN) – 19.1%
8. Kahit Nasaan Ka Man (GMA-7) – 19%
9. TV Patrol (ABS-CBN) – 18.5%
10. Prinsesa ng Buhay Ko (GMA-7) – 15.7%



October 31, 2013 (Thursday)
DAYTIME:
Eat Bulaga (GMA-7) – 21.6%
Be Careful With My Heart (ABS-CBN) – 17.4%
Ryzza: The Ryzza Mae Show – 17.2%
Mga Basang Sisiw (GMA-7) – 17%
It's Showtime (ABS-CBN) – 14.6%
One Piece (GMA-7) – 12.6%
Bleach (GMA-7) / Magkano Ba Ang Pag-ibig (GMA-7) – 12.1%
Ghost Fighter (GMA-7) – 11.4%
Kapamilya Blockbusters: Babangluksa (ABS-CBN) - 11.2%
Pyra: Babaeng Apoy (GMA-7) / Fabulous Boys (GMA-7) – 11%
PRIMETIME:
Got To Believe (ABS-CBN) – 23.1%
24 Oras (GMA-7) – 22.1%
Honesto (ABS-CBN) – 21.9%
Genesis (GMA-7) – 20.3%
Akin Pa Rin Ang Bukas (GMA-7) – 19.6%
Kahit Nasaan Ka Man (GMA-7) – 19.5%
Maria Mercedes (ABS-CBN) – 19.4%
TV Patrol (ABS-CBN) – 18.5%
The Innocent Man (GMA-7) – 16.2%
Prinsesa ng Buhay Ko (GMA-7) – 16.1%
November 1, 2013 (Friday)
DAYTIME:
Eat Bulaga (GMA-7) – 19.6%
Be Careful With My Heart (ABS-CBN) – 16.3%
Mga Basang Sisiw (GMA-7) – 15.3%
Ryzza: The Ryzza Mae Show – 14.7%
Ghost Fighter (GMA-7) – 13%
It's Showtime (ABS-CBN) – 12.5%
One Piece (GMA-7) – 12.4%
Bleach (GMA-7) – 12.3%
Magkano Ba Ang Pag-ibig (GMA-7) – 11.3%
Kapamilya Blockbusters: Cinco (ABS-CBN) - 11.1%
PRIMETIME:
Got To Believe (ABS-CBN) – 23%
Honesto (ABS-CBN) – 22.1%
24 Oras (GMA-7) – 20.9%
Akin Pa Rin Ang Bukas (GMA-7) – 18.1%
Maria Mercedes (ABS-CBN) – 17.9%
Kahit Nasaan Ka Man (GMA-7) – 17.1%
Bubble Gang (GMA-7) – 16.7%
Genesis (GMA-7) – 16.5%
TV Patrol (ABS-CBN) – 16.4%
Bukas Na Lang Kita Mamahalin - (ABS-CBN) – 14.6%
November 2, 2013 (Saturday)
DAYTIME:
Eat Bulaga (GMA-7) – 20.1%
24 Oras Weekend (GMA-7) – 15%
It's Showtime (ABS-CBN) – 12.7%
Wish Ko Lang (GMA-7) – 10.7%
Angry Birds Toons (GMA-7) – 10.6%
Startalk (GMA-7) – 10.5%
Pororo (GMA-7) – 10.3%
Maynila 14 (GMA-7) – 9.9%
Sabado Specials: Shake, Rattle & Roll XIV (ABS-CBN) – 9.4%
Sabado Sinerama: Vampires – The Turning (TV5) – 9.3%
PRIMETIME:
Vampire Ang Daddy Ko (GMA-7) – 26.3%
Celebrity Bluff (GMA-7) – 25.9%
Magpakailanman (GMA-7) – 24.2%
MMK: Ang Tahanan Mo (ABS-CBN) – 23.2%
One Day, Isang Araw (GMA-7) – 19.9%
Bet On Your Baby (ABS-CBN) – 19.8%
Wansapanataym (ABS-CBN) – 18.5%
Katipunan (GMA-7) – 12.4%
I Dare You! (ABS-CBN)– 11.4%
Toda Max (ABS-CBN) – 8.4%
November 3, 2013 (Sunday)
DAYTIME:
24 Oras Weekend (GMA-7) – 14.9%
FPJ – Da King: Ang Probinsyano (ABS-CBN) – 14.7%
TV Patrol Weekend (ABS-CBN) – 13.5%
Sunday All Stars (GMA-7) – 11.8%
Buzz ng Bayan (ABS-CBN) – 10.7%
ASAP 18 (ABS-CBN) – 10.6%
i-Bilib (GMA-7) – 10.1%
GMA Blockbusters: Ghostbusters (GMA-7) – 9.9%
GMA Sunday Power Punch (GMA-7) / Dormitoryo (GMA-7) / Luv U (ABS-CBN) – 9.6%
Born Impact Weekend Edition (GMA-7) – 9.4%
PRIMETIME:
Kapuso Mo, Jessica Soho (GMA-7) – 30.6%
Pepito Manaloto (ABS-CBN) – 27.6%
Imbestigador (GMA-7) – 20.6%
Kap's Amazing Stories (GMA-7) – 19.9%
Rated K: Handa na ba Kayo? (ABS-CBN) – 16.9%
Star Cinema Originals: The Healing (ABS-CBN) – 16.7%
Goin' Bulilit (ABS-CBN) – 16.4%
Gandang Gabi Vice (ABS-CBN) – 16.2%
Sunday Night Box-Office: Shutter (GMA-7) – 12.5%
Wow! Mali Pa Rin (TV5) – 7.8%
Source: AGB Nielsen Philippines