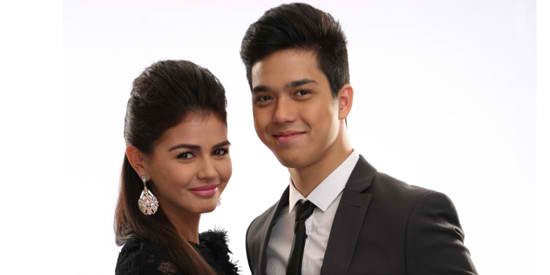 ---
Televiewers are more keenly interested in watching real-life incidents in the news as 24 Oras overtakes the lead among primetime programs.
In the Pinoy drama front, newbie loveteam of Janine Gutierrez and Elmo Magalona in Villa Quintana debuts strongly and consistently holds the No. 3 slot, thus leading the afternoon dramas.

Family drama Honesto is in a seesaw fight with Got To Be Believe as the most-watched primetime teleserye.
Eat Bulaga! abruptly started earlier than the usual last Wednesday (November 6) as it took the timeslot of The Ryzza Mae Show since Aling Maliit was sick at that time.
Meanwhile, TV5's weeknight movies are scoring double-digit ratings.


Here's the comparative Rating Performance of ABS-CBN, TV5 & GMA-7 programs from November 4-6, 2013, derived from AGB Nielsen Philippines from Mega Manila households:



November 4, 2013 (Monday)
Morning:
Tunay na Buhay Replay (GMA-7) 1.5%; Sports Unlimited Replay (ABS-CBN) 0.4%
Unang Hirit (GMA-7) 4.9%; Umagang Kay Ganda (ABS-CBN) 3.9%; Reaksyon Replay (TV5) 0.4%; Presinto 5 (TV5) 0.8%; Good Morning Club (TV5) 1.7%
Dragon Ball (GMA-7) 8.1%; Pokemon (GMA-7) 8.5%; Kris TV (ABS-CBN) 5.8%;Jungle Function (TV5) 3.8%; Phineas and Ferb (TV5) 5%
One Piece (GMA7) 9.3%; Power Rangers RPM (ABS-CBN) 4.5%; Gargoyles(TV5) 3.4%
Bleach (GMA-7) 10.6%; Shahman King (GMA-7) 10%; Jackie Chan Fantasia(ABS-CBN) 4.1%; Oggy and the Cockroaches (TV5) 4.8%
Kusina Master: Sikreto ng Experto (GMA-7) 7%; Mr. Bean (ABS-CBN) 6.1%;Johnny Bravo (TV5) 5%
Lola (GMA-7) 7.4%; Crazy Love (ABS-CBN) 6.3%; Adventure Time with Finn & Jake (TV5) 5.8%
Anak Ko 'Yan! (GMA-7) 9.3%; Junior Minute To Win It (ABS-CBN) 10.1%; Ben 10 Ultimate Alien (TV5) 5.1%; You Are My Destiny (TV5) 3.4%
Afternoon:
Ryzza - The Ryzza Mae Show (GMA-7) 13.8%; Be Careful With My Heart (ABS-CBN) 17.6%; Likeable or Not (TV5) 2.8%
Eat Bulaga (GMA-7) 20.3%; It's Showtime (ABS-CBN) 13%; Misibis Bay Return to Paradise (TV5) 1.6%; Sine Ko 5ingko: The Book of Eli (TV5) 5.1%
Villa Quintana (GMA-7) 13.8%; Magkano Ba Ang Pag-ibig (GMA-7) 12.4%; Kapamilya Blockbusters: Ang Darling Kong Aswang (ABS-CBN) 13.7%; Sine Ko 5ingko: Rocky (TV5) 3.7%
Pyra, Babaeng Apoy (GMA-7) 12.2%; Galema, Anak ni Zuma (ABS-CBN) 11.1%
Fabulous Boys (GMA-7) 11.7%; Bistado (ABS-CBN) 8.1%; The Love Story of Kang Chi (ABS-CBN) 10.2%; Face The People (TV5) 7.3%; T3 Reload (TV5) 8.5%
Evening:
Prinsesa ng Buhay Ko (GMA-7) 16.3%; Annaliza (ABS-CBN) 16.5%; Aksyon (TV5) 8.2%
24 Oras (GMA-7) 24.5%; TV Patrol (ABS-CBN) 20.7%; Honesto (ABS-CBN) 23%; Let's Ask Pilipinas (TV5) 7.4%; Madam Chairman (TV5) 7.1%
Genesis (GMA-7) 18.7%; Got To Believe (ABS-CBN) 24.8%; Monday Night Blockbusters: xXx (TV5) 9.7%
Kahit Nasaan Ka Man (GMA-7) 19.9%; Maria Mercedes (ABS-CBN) 18.9%
Akin Pa Rin Ang Bukas (GMA-7) 18.8%; A 100-Year Legacy (GMA-7) 13.7%;Bukas Na Lang Kita Mamahalin (ABS-CBN) 16.1%
Saksi (GMA-7) 8.5%; Bandila (ABS-CBN) 8.1%; Demolition Job (TV5) 4.3%;Pilipinas News (TV5) 1.9%; Reaksyon (TV5) 1%; Cocktales (TV5) 0.7%
i-Witness (GMA-7) 5.3%; Banana Nite (ABS-CBN) 4.4%
Tim Yap Show (GMA-7) 2.9%; O Shopping (ABS-CBN) 1.8%
November 5, 2013 (Tuesday)
Morning:
i-Witness Replay (GMA-7) 2%; Mutya ng Masa Replay (ABS-CBN) 0.8%
Unang Hirit (GMA-7) 6.4%; Umagang Kay Ganda (ABS-CBN) 4.7%; Mondo Manu (TV5) 0.2%; Reaksyon Replay (TV5) 0.1%; Presinto 5 (TV5) 0.7%; Good Morning Club (TV5) 1.4%
Dragon Ball (GMA-7) 8%; Pokemon (GMA-7) 9.2%; Kris TV (ABS-CBN) 6.6%;Jungle Junction (TV5) 3.3%; Phineas and Ferb (TV5) 4.1%
One Piece (GMA-7) 11.3%; Power Rangers RPM (ABS-CBN) 5.1%; Gargoyles(TV5) 3.3%;
Bleach (GMA-7) 10.5%; Shaman King (GMA-7) 10.6%; Jackie Chan Fantasia(ABS-CBN) 4.9%; Oggy and the Cockroaches (TV5) 4%
Kusina Master, Sikreto ng Experto (GMA-7) 7.6%; Mr. Bean (ABS-CBN) 2.2%;Johnny Bravo (TV5) 5.9%
Lola (GMA-7) 8.6%; Crazy Love (ABS-CBN) 6.4%; Adventure Time with Finn & Jake (TV5) 7%
Anak Ko 'Yan! (GMA-7) 9.9%; Junior Minute To Win It (ABS-CBN) 11.1%; Ben 10 Ultimate Alien (TV5) 5.8%
Afternoon:
Ryzza - The Ryzza Mae Show (GMA-7) 14.1%; Be Careful With My Heart (ABS-CBN) 17.7%; You Are My Destiny (TV5) 3.6%; Likeable or Not (TV5) 2.7%
Eat Bulaga (GMA-7) 20.6%; It's Showtime (ABS-CBN) 12.8%; Misibis Bay Return to Paradise (TV5) 1.4%; Sine Ko 5ingko: Tears of the Sun (TV5) 5.3%
Villa Quintana (GMA-7) 14.9%; Magkano Ba Ang Pag-ibig (GMA-7) 12.6%;Kapamilya Blockbusters: The Medallion (ABS-CBN) 12.8%; Sine Ko 5ingko: Rocky II (TV5) 4.2%
Pyra, Babaeng Apoy (GMA-7) 14%; Galema, Anak ni Zuma (ABS-CBN) 11.7%; Mutya ng Masa (ABS-CBN) 8.2%; Face The People (TV5) 4.9%
Fabulous Boys (GMA-7) 13.8%; The Love Story of Kang Chi (ABS-CBN) 10%;T3 Reload (TV5) 7.7%
Evening:
Prinsesa ng Buhay Ko (GMA-7) 16.2%; Annaliza (ABS-CBN) 16%; Aksyon(TV5) 9.2%
24 Oras (GMA-7) 25%; TV Patrol (ABS-CBN) 20.6%; Let's Ask Pilipinas (TV5) 8.4%; Madam Chairman (TV5) 7.2%
Genesis (GMA-7) 17.1%; Honesto (ABS-CBN) 23.3%; Got To Believe (ABS-CBN) 24.4%; Tuesday Christmas Countdown: Zoom (TV5) 10%
Kahit Nasaan Ka Man (GMA-7) 17.4%; Akin Pa Rin Ang Bukas (GMA-7) 16.6%;Maria Mercedes (ABS-CBN) 19.7%; Numero (TV5) 3.9%
A 100-Year Legacy (GMA-7) 12.2%; Bukas Na Lang Kita Mamahalin (ABS-CBN) 15.3%; Pilipinas News (TV5) 2.9%
Saksi (GMA-7) 8.9%; Bandila (ABS-CBN) 8.7%; Reaksyon (TV5) 2.3%; Wasak(TV5) 1.4%
Reporter's Notebook (GMA-7) 5.8%; Banana Nite (ABS-CBN) 5.3%
Tim Yap Show (GMA-7) 2.8%; O Shopping: An ABS-CBN Company (ABS-CBN) 2.2%
November 6, 2013 (Wednesday)
Morning:
Reporter's Notebook Replay (GMA-7) 1.1%; My Puhunan Replay (ABS-CBN) 0.7%
Unang Hirit (GMA-7) 4.8%; Umagang Kay Ganda (ABS-CBN) 4.1%; Reaksyon Replay (TV5) 0.1%; News 5 Imbestigasyon (TV5) 0.6%; Good Morning Club(TV5) 1.4%
Dragon Ball (GMA-7) 6.8%; Pokemon (GMA-7) 7.8%; Kris TV (ABS-CBN) 5.9%;Jungle Junction (TV5) 3.8%; Phineas and Ferb (TV5) 4.1%
One Piece (GMA-7) 9.6%; Bleach (GMA-7) 10.3%; Power Rangers RPM (ABS-CBN) 3.8%; Gargoyles (TV5) 3.5%
Shaman King (GMA-7) 10.6%; Jackie Chan Fantasia (ABS-CBN) 3.6%; Oggy and the Cockroaches (TV5) 3.8%
Kusina Master, Sikreto ng Experto (GMA-7) 7.8%; Lola (GMA-7) 8%; Mr. Bean (ABS-CBN) 6.0%; Johnny Bravo (TV5) 4.2%
Anak Ko 'Yan! (GMA-7) 7.8%; Del Monte Kitchenomics (GMA-7) 9.5%; Crazy Love (ABS-CBN) 6.5%; Minute To Win It (ABS-CBN) 11.1%; Adventure Time with Finn & Jake (TV5) 5.6%; Ben 10 Ultimate Alien (TV5) 4.7%
Afternoon:
Eat Bulaga (GMA-7) 18.2%; Be Careful With My Heart (ABS-CBN) 17.4%; It's Showtime (ABS-CBN) 12.8%; You Are My Destiny (TV5) 2.9%; Likeable or Not(TV5) 2.5%; Misibis Bay Return to Paradise (TV5) 2%; Sine Ko 5ingko: The Wicker Man (TV5) 4.7%
Villa Quintana (GMA-7) 13.4%; Magkano Ba Ang Pag-ibig (GMA-7) 11.5%;Kapamilya Blockbusters: Catch Me… I'm In Love (ABS-CBN) 11.2%; Sine Ko 5ingko: Rocky III (TV5) 4.6%
Pyra: Babaeng Apoy (GMA-7) 10.9%; Galema: Anak ni Zuma (ABS-CBN) 8.3%; My Puhunan (ABS-CBN) 6.9%; Face The People (TV5) 4.8%
Fabulous Boys (GMA-7) 10.8%; The Love Story of Kang Chi (ABS-CBN) 9.0%;T3 Reload (TV5) 7%
Evening:
Prinsesa ng Buhay Ko (GMA-7) 16.7%; Annaliza (ABS-CBN) 15.4%; Aksyon(TV5) 9%
24 Oras (GMA-7) 24.8%; TV Patrol (ABS-CBN) 21.1%; Let's Ask Pilipinas (TV5) 8.1%; Madam Chairman (TV5) 8.2%
Genesis (GMA-7) 17.9%; Honesto (ABS-CBN) 24.8%; Wednesday Night Thrillers: Paranormal Activity 2 (TV5) 10.2%
Kahit Nasaan Ka Man (GMA-7) 17.3%; Got To Believe (ABS-CBN) 24%;
Akin Pa Rin Ang Bukas (GMA-7) 18.3%; Maria Mercedes (ABS-CBN) 17.6%
A 100-Year Legacy (GMA-7) 14.8%; Bukas Na Lang Kita Mamahalin (ABS-CBN) 15.1%; Dayo (TV5) 3.5%; Pilipinas News (TV5) 2.1%;
Saksi (GMA-7) 14.8%; Bandila (ABS-CBN) 9.2%; Reaksyon (TV5) 1.2%; News 5 Imbestigasyon (TV5) 1.3%
Born To Be Wild (GMA-7) 6.6%; Banana Nite (ABS-CBN) 5%;

Tim Yap Show (GMA-7) 2.7%; O Shopping: An ABS-CBN Company (ABS-CBN) 1.4%
Here are the Top 10 daytime and primetime programs from November 4 to 6, 2013 among Mega Manila households (Household Ratings):


TOP TEN PROGRAMS:


November 4, 2013 (Monday)


DAYTIME:
ADVERTISEMENT - CONTINUE READING BELOW
Eat Bulaga (GMA-7) – 20.3%
Be Careful With My Heart (ABS-CBN) – 17.6%
Villa Quintana / Ryzza: The Ryzza Mae Show (GMA-7) – 13.8%
Kapamilya Blockbusters: Ang Darling Kong Aswang (ABS-CBN) - 13.7%
It's Showtime (ABS-CBN) – 13%
Magkano Ba Ang Pag-ibig (GMA-7) – 12.4%
Pyra: Babaeng Apoy (GMA-7) – 12.2%
Fabulous Boys (GMA-7) – 11.7%
Galema: Anak ni Zuma (ABS-CBN) – 11.1%
Bleach (GMA-7) -10.6%
PRIMETIME:
24 Oras (GMA-7) – 24.5%
Got To Be Believe (ABS-CBN) – 23.6%
Honesto (ABS-CBN) – 23%
TV Patrol (ABS-CBN) – 20.7%
Kahit Nasaan Ka Man (GMA-7) – 19.9%
Maria Mercedes (ABS-CBN) – 18.9%
Akin Pa Rin Ang Bukas (GMA-7) – 18.8%
Genesis (GMA-7) – 18.7%
Annaliza (ABS-CBN) – 16.5%
Prinsesa ng Buhay Ko (GMA-7) – 16.3%
November 5, 2013 (Tuesday)
DAYTIME:
Eat Bulaga (GMA-7) – 20.6%
Be Careful With My Heart (ABS-CBN) – 17.7%
Villa Quintana (GMA-7) – 14.9%
Ryzza: The Ryzza Mae Show (GMA-7) – 14.1%
Pyra: Babaeng Apoy (GMA-7) – 14%
Fabulous Boys (GMA-7) – 13.8%
It's Showtime (ABS-CBN) / Kapamilya Blockbusters: The Medallion (ABS-CBN) – 12.8%
Magkano Ba Ang Pag-ibig (GMA-7) – 12.6%
Galema: Anak ni Zuma (ABS-CBN) – 11.7%
One Piece (GMA-7) – 11.3%
PRIMETIME:
24 Oras (GMA-7) – 25%
Got To Believe (ABS-CBN) – 24.4%
Honesto (ABS-CBN) – 23.3%
TV Patrol (ABS-CBN) – 20.6%
Maria Mercedes (ABS-CBN) – 19.7%
Kahit Nasaan Ka Man (GMA-7) – 17.4%
Genesis (GMA-7) – 17.1%
Akin Pa Rin Ang Bukas (GMA-7) – 16.6%
Prinsesa ng Buhay Ko (GMA-7) – 16.2%
Annaliza (ABS-CBN) – 16%


November 6, 2013 (Wednesday)
DAYTIME:
Eat Bulaga (GMA-7) – 18.2%
Be Careful With My Heart (ABS-CBN) – 17.4%
Villa Quintana (GMA-7) – 13.4%
It's Showtime (ABS-CBN) – 12.8%
Magkano Ba Ang Pag-ibig? (GMA-7) – 11.5%
Kapamilya Blockbusters: Catch Me… I'm In Love (ABS-CBN) – 11.2%
Junior Minute To Win It (ABS-CBN) – 11.1%
Pyra: Babaeng Apoy (GMA-7) – 10.9%
Fabulous Boys (GMA-7) – 10.8%
Shaman King (GMA-7) – 10.6%
PRIMETIME:
24 Oras (GMA-7) / Honesto (ABS-CBN) – 24.8%
Got To Believe (ABS-CBN) – 24%
TV Patrol (ABS-CBN) – 21.1%
Akin Pa Rin Ang Bukas (GMA-7) – 18.3%
Genesis (GMA-7) – 17.9%
Maria Mercedes (ABS-CBN) – 17.6%
Kahit Nasaan Ka Man (GMA-7) – 17.3%
Prinsesa ng Buhay Ko (GMA-7) – 16.7%
Annaliza (ABS-CBN) – 15.4%
Bukas na Lang Kita Mamahalin (ABS-CBN) – 15.1%

Source: AGB Nielsen Philippines