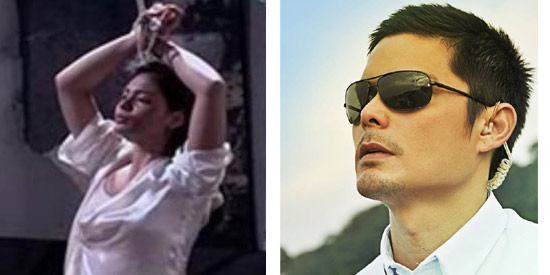 ---
Before the year ends, Eat Bulaga is still the one to beat in daytime even during weekends.

During this period, The Ryzza Mae Show peaked at 2nd place on December 25 and 26, next only to Eat Bulaga. However, the following day, December 27, Be Careful With My Heart, the now married couple Ser Chief and Maya, emerged as the most watched daytime program.

Two GMA-7 primetime shows, Akin Pa Rin Ang Bukas and Genesis, aired their finale episodes on December 27. The Lovi Poe-Rocco Nacino-starrer, Akin Pa Rin Ang Bukas, made quite an impact when it emerged as the most watched primetime program on that day. The Dingdong Dantes-Rhian Ramos starrer, Genesis, landed at No. 4 on its last two days of airing.

In the following week, the Kapuso Network replaced these teledramas with Tagalized blockbuster movies dubbed by Kapuso contract artists. Dubbed the Kapuso Primetime Cinema, select movies were pitted against the formidable teleseryes of ABS-CBN.

The Kapuso Network's move fared just fairly though ratings-wise because Got to Believe and Honesto continue to dominate weekday primetime ratings. One exception took place on New Year's Eve when GMA-7's late-night news program Saksi took the No. 1 position, even beating 24 Oras.

In the weekend block, Kapuso programs continue to make their mark. Maynila, a weekly drama anthology now on its 14th year, jumped to the 2nd spot last December 29.
It's been a fact that Celebrity Bluff consistently topping the charts for many weeks now and keeping televiewers' Saturday nights fun and educational at the same time.

True Horror Stories, which replaced Dormitoryo, debuted at No. 1 on the Sunday daytime block.
ADVERTISEMENT - CONTINUE READING BELOW
During Sunday primetime, Kapuso Mo, Jessica Soho leads the pack and was followed by two other Kapuso programs, Ang Tunay na Kuwento ni Pepito Manaloto and the year-end special of Imbestigador titled "Look Up! Look Up!" where Mike Enriquez was paired with Ryzza Mae Dizon.



Here's the comparative Rating Performance of ABS-CBN, TV5 & GMA-7 programs from December 19 to December 31, 2013, derived from AGB Nielsen Philippines from Mega Manila households:
December 19, 2013 (Thursday)
Morning:
Born To Be Wild - Replay (GMA-7) 1.0%; Kapamilya Simbang Gabi (ABS-CBN) 1.2%
Unang Hirit (GMA-7) 4.5%; Umagang Kay Ganda (ABS-CBN) 3.5%; Reaksyon - Replay (TV5) 0.3%; Good Morning Club (TV5) 0.2%
Dragon Ball(GMA-7) 6.6%; Pokemon (GMA-7) 9.2%; Kris TV (ABS-CBN) 6.1%; Jungle Junction (TV5) 4.2%; Phineas and Ferb (TV5) 5.1%
Doraemon (GMA7) 12.0%; Power Rangers Samurai (ABS-CBN) 4.2%; Gargoyles (TV5) 2.9%
Bleach (GMA-7) 9.9%; Jackie Chan Fantasia (ABS-CBN) 3.2%; Oggy and the Cockroaches (TV5) 4.9%
Flame of Recca (GMA-7) 10.0%; Mr. Bean (ABS-CBN) 4.4%; Johnny Bravo (TV5) 4.0%
Shaman King (GMA-7) 10.7%; Kusina Master – Sikreto ng Experto (GMA-7) 7.3%; Crazy Love (ABS-CBN) 5.9%; Adventure Time with Finn & Jake (TV5) 6.1%
Tunay na Buhay (GMA-7) 8.9%; Minute To Win It (ABS-CBN) 9.0%; Ben 10 - Ultimate Alien (TV5) 6.4%
Afternoon:
Ryzza: The Ryzza Mae Show (GMA-7) 12.8%; Be Careful With My Heart (ABS-CBN) 16.2%; You Are My Destiny (TV5) 3.8%
Eat Bulaga (GMA-7) 18.2%; It's Showtime (ABS-CBN) 13.2%; Likeable or Not (TV5) 3.2%; Sine ko 5ingko: Ninja Assassin (TV5) 4.8%
Villa Quintana (GMA-7) 13.3%; Magkano Ba Ang Pag-ibig? (GMA-7) 12.5%; Kapamilya Blockbusters: Tataynic (ABS-CBN) 8.7%; Sine ko 5ingko: The Prestige (TV5) 5.8%
GMA Blockbusters: Sosy Problems (GMA-7) 12.2%; Galema: Anak ni Zuma (ABS-CBN) 6.0%; TNT-Tapatan Ni Tunying (ABS-CBN) 5.1%; Princess Hours (ABS-CBN) 8.8%;Face The People (TV5) 4.4%; T3 Reload (TV5) 6.7%
ADVERTISEMENT - CONTINUE READING BELOW
Evening:
Prinsesa ng Buhay Ko (GMA-7) 12.7%; Annaliza (ABS-CBN) 14.8%; Aksyon (TV5) 8.9%
24 Oras (GMA-7) 20.1%; TV Patrol (ABS-CBN) 18.4%; Let's Ask Pilipinas (TV5) 7.0%; Madam Chairman (TV5) 6.4%
Adarna (GMA-7) 20.4%; Honesto (ABS-CBN) 22.7%; For Love Or Money (TV5) 5.6%
Genesis (GMA-7) 20.3%; Got To Believe (ABS-CBN) 23.6%
Akin Pa Rin Ang Bukas (GMA-7) 22.5%; Maria Mercedes (ABS-CBN) 20.7%; Posi+ive (TV5) 3.0%
A 100-Year Legacy (GMA-7) 16.1%; When A Man Falls in Love (ABS-CBN) 13.3%;Dayo (TV5) 1.2%; Pilipinas News (TV5) 1.2%
Saksi (GMA-7) 10.8%; Bandila (ABS-CBN) 7.0%; Reaksyon (TV5) 0.9%; Crime Klasik (TV5) 1.1%
Alisto! (GMA-7) 6.2%; Banana Nite (ABS-CBN) 4.3%
TYS: Tim Yap Show (GMA-7) 2.5%; O Shopping (ABS-CBN) 1.9%
December 20, 2013 (Friday)
Morning:
Born Impact BTBW Weekend Edition - Replay (GMA-7) 0.8%; Kapamilya Simbang Gabi (ABS-CBN) 1.0%
Unang Hirit (GMA-7) 4.0%; Umagang Kay Ganda (ABS-CBN) 3.4%; Reaksyon - Replay (TV5) 0.2%; Good Morning Club (TV5) 0.9%
Dragon Ball(GMA-7) 7.0%; Pokemon (GMA-7) 9.4%; Kris TV (ABS-CBN) 5.7%; Jungle Junction (TV5) 4.5%; Phineas and Ferb (TV5) 5.5%
Doraemon (GMA7) 12.4%; Power Rangers Samurai (ABS-CBN) 4.5%; Gargoyles (TV5) 3.9%
Bleach (GMA-7) 10.8%; Jackie Chan Fantasia (ABS-CBN) 4.4%; Oggy and the Cockroaches (TV5) 5.9%
Flame of Recca (GMA-7) 11.3%; Mr. Bean (ABS-CBN) 5.0%; Johnny Bravo (TV5) 5.7%
Shaman King (GMA-7) 10.4%; Kusina Master – Sikreto ng Experto (GMA-7) 7.4%; Crazy Love (ABS-CBN) 5.5%; Adventure Time with Finn & Jake (TV5) 6.7%
Tunay na Buhay (GMA-7) 7.8%; Minute To Win It (ABS-CBN) 9.8%; Ben 10 - Ultimate Alien (TV5) 6.5%
Afternoon:
Ryzza: The Ryzza Mae Show (GMA-7) 11.6%; Be Careful With My Heart (ABS-CBN) 18.8%; You Are My Destiny (TV5) 4.6%
Eat Bulaga (GMA-7) 18.6%; It's Showtime (ABS-CBN) 14.9%; Likeable or Not (TV5) 3.1%;
Sine Ko 5ingko: Seeds of Destruction (TV5) 5.6%
Villa Quintana (GMA-7) 12.5%; Magkano Ba Ang Pag-ibig (GMA-7) 12.3%; Kapamilya Blockbusters: TXT (ABS-CBN) 10.5%; Sine Ko 5ingko: Ice Quake (TV5) 7.4%
GMA Blockbusters: Shake, Rattle & Roll X (GMA-7) 15.1%; Galema: Anak ni Zuma (ABS-CBN) 7.6%; Tuklasin ang Katotohanan: Hiwaga (ABS-CBN) 7.1%; Princess Hours (ABS-CBN) 9.6%; Face The People (TV5) 5.7%; T3 Reload (TV5) 7.5%
ADVERTISEMENT - CONTINUE READING BELOW
Evening:
Prinsesa ng Buhay Ko (GMA-7) 15.1%; Annaliza (ABS-CBN) 14.8%; Aksyon (TV5) 9.3%
24 Oras (GMA-7) 19.8%; TV Patrol (ABS-CBN) 18.9%; Let's Ask Pilipinas (TV5) 7.2%; Madam Chairman (TV5) 7.3%
Adarna (GMA-7) 19.2%; Honesto (ABS-CBN) 22.4%
Genesis (GMA-7) 18.7%; Got To Believe (ABS-CBN) 21.5%; MyDSL PBA 2014 Philippine Cup: Global Port Batang Pier vs. San Mig Coffee Mixers (TV5) 6.9%
Akin Pa Rin Ang Bukas (GMA-7) 20.8%;Maria Mercedes (ABS-CBN) 17.4%
Bubble Gang (GMA-7) 16.9%; When A Man Falls In Love (ABS-CBN) 11.6%; Bandila (ABS-CBN) 5.4%; Astig: Sa Sports Walang Tsamba (TV5) 3.9%; Pilipinas News (TV5) 2.0%; Reaksyon (TV5) 0.8%
Saksi (GMA-7) 9.2%; Banana Nite (ABS-CBN) 3.9%; MyDSL PBA 2014 Philippine Cup: Barako Bull Energy Cola vs. Talk N' Text Tropang Texters(TV5) 1.3%
TYS: Tim Yap Show (GMA-7) 4.5%; O Shopping (ABS-CBN) 1.6%
December 21, 2013 (Saturday)
Morning:
PJM Forum (GMA-7) 0.2%; Adyenda (GMA-7) 1.0%; Kapwa Ko, Mahal Ko (GMA-7) 1.3%;Kapamilya Simbang Gabi (ABS-CBN) 2.2%; Family Matters (TV5) 0.4%
Pinoy MD (GMA-7) 2.4%; Salamat Dok (ABS-CBN) 2.1%; Imagination Movers (TV5) 0.8%
Cinderella (GMA-7) 4.5%; Kabuhayang Swak na Swak (ABS-CBN) 2.5%; Ying Yang Yo! (TV5) 2.2%
Super Book (GMA-7) 7.1%; Honey, Watch Out! (ABS-CBN) 1.2%; Kick Buttowski! Suburban Daredevil (TV5) 3.3%
Paddle Pop Elemagika (GMA-7) 8.1%; Angry Birds Toons (GMA-7) 9.7%; Why Not? (ABS-CBN) 1.1%; The Marvelous Misadventures of Flapjack (TV5) 3.3%
Pororo (GMA-7) 9.7%; Avatar: The Legend of Aang (ABS-CBN) 2.2%; The Amazing World of Gumball (TV5) 4.0%
Toriko (GMA-7) 9.2%; Teenage Mutant Ninja Turtles (ABS-CBN) 3.6%; Regular Show (TV5) 5.2%
Tropang Potchi (GMA-7) 6.9%; Spongebob Squarepants (ABS-CBN) 6.0%; Powerpuff Girls Z (TV5) 6.3%
Everyday Easy (GMA-7) 6.9%; Sarap Diva (GMA-7) 6.4%; Maynila 14 (GMA-7%) 9.2%; Del Monte Kitchenomics (GMA-7) 10.6%; NBA 2013-2014 Season: Miami Heat vs. Sacramento Kings (ABS-CBN) 6.0%; Sym-Bionic Titan (TV5) 7.4%; TV5 Kids Movie Special (TV5) 7.2%
Afternoon:
Eat Bulaga (GMA-7) 21.1%; It's Showtime (ABS-CBN) 10.2%; Sabado Sinerama: The Longest Yard (TV5) 7.3%
ADVERTISEMENT - CONTINUE READING BELOW
Startalk (GMA-7) 14.1%; The Singing Bee (ABS-CBN) 8.5%; Sabado Sinerama: Lethal Weapon 4 (TV5) 6.4%
Out of Control (GMA-7) 10.4%; SOCO (ABS-CBN) 7.1%; MyDSL PBA 2014 Philippine Cup: Alaska Aces vs. Brgy. Ginebra San Miguel Kings (TV5) 6.0%
Wish Ko Lang (GMA-7) 11.7%; Everyday Easy (GMA-7) 10.5%; Failon Ngayon (ABS-CBN) 5.4%
24 Oras Weekend (GMA-7) 12.8%; TV Patrol Weekend (ABS-CBN) 8.7%; Aksyon Weekend (TV5) 4.4%
Evening:
Picture! Picture! (GMA-7) 7.2%;Bet On Your Baby (ABS-CBN) 15.3%; Showbiz Police Intriga Under Arrest (TV5) 3.1%
Vampire Ang Daddy Ko (GMA-7) 23.3%; Wansapanataym (ABS-CBN) 15.6%; Pinoy Explorer (TV5) 3.7%
Magpakailanman (GMA-7) 22.7%; MMK: Ang Tahanan Mo (ABS-CBN) 17.3%; Tropa Mo 'Ko Unli (TV5) 6.8%; Killer Karaoke - Pinoy Naman (TV5) 7.2%
Celebrity Bluff (GMA-7) 24.1%;I Dare You (ABS-CBN) 9.5%; Give Love, Give Back Philippines: A Justin Bieber Special (TV5) 3.9%
Katipunan (GMA-7) 11.4%; Banana Split Extra Scoop (ABS-CBN) 6.4%; Juan Direction (TV5) 2.6%
Sabado Horror Night: A Wicked Ghost II (GMA-7) 6.3%; The Bottomline (ABS-CBN) 2.2%; Spinnation (TV5) 1.6%
Walang Tulugan With Master Showman (GMA-7) 1.8%; Sports Unlimited (ABS-CBN) 1.7%; O Shopping (ABS-CBN) 0.6%; Pilipinas News Weekend (TV5) 1.7%
December 22, 2013 (Sunday)
Morning:
Jesus The Healer (GMA-7) 0.6%; Kapamilya Simbang Gabi (ABS-CBN) 1.0%; Balitang 60 (TV5) 1.0%
In Touch With Dr. Charles Stanley (GMA-7) 0.6%; The Healing Eucharist (ABS-CBN) 3.3%; Pilipinas News Weekend – Replay (TV5) – 1.8%; Reaksyon – Replay (TV5) 1.8%
Scooby-Doo! Mystery Incorporated (GMA-7) 3.3%; Kabuhayang Swak na Swak (ABS-CBN) 2.9%; Power To Unite With Elvira (TV5) 1.3%
Super Book(GMA-7) 5.3%; Paddle Pop Elemagika (GMA-7) 5.3%; Pororo (GMA-7) 6.5%;
Salamat Dok (ABS-CBN) 2.1%; Yin Yang Yo! (TV5) 1.8%;Kick Buttowski! Suburban Daredevil (TV5) 3.2%
Toriko (GMA-7) 6.2%;X-Men (ABS-CBN) 2.2%; The Marvelous Misadventures of Flapjack (TV5) 4.6%
Aha! (GMA-7) 6.3%;Iron Man (ABS-CBN) 2.1%; Regular Show (TV5) 5.7%
Born Impact - Weekend Edition (GMA-7) 6.6%;Del Monte Kitchenomics (GMA-7) 6.2%; Matanglawin (ABS-CBN) 5.6%; Powerpuff Girls Z (TV5) 5.1%
ADVERTISEMENT - CONTINUE READING BELOW
Kapuso Movie Festival: Bean (GMA-7) 12.9%;Everyday Easy (GMA-7) 12.4%; FPJ – Da King on ABS-CBN: Isusumbong Kita Sa Tatay Ko (ABS-CBN) 11.3%; Sym-Bionic Titan (TV5) 4.5%; Generator Rex (TV5) 3.6%; Philip Lifestyle Guy (TV5) 1.0%;
Afternoon:
Sunday All Stars (GMA-7) 10.8%; Dormitoryo(GMA-7) 9.6%;ASAP 18 (ABS-CBN) 11.3%; Sunday Sineplex: The Mighty Ducks(TV5) 5.3%; Video Incredible (ABS-CBN) 4.2%
GMA Blockbusters: Mr. Bean's Holiday (GMA-7) 13.6%; iBilib (GMA-7) 8.6%;Luv U (ABS-CBN) 7.7%; Buzz ng Bayan (ABS-CBN) 6.6%; MyDSL PBA 2014 Philippine Cup: Barako Bull Energy Cola vs. Meralco Bolts (TV5) 2.4%
24 Oras Weekend(GMA-7) 10.9%;TV Patrol Weekend (ABS-CBN) 8.2%
Evening:
Kap's Amazing Stories (GMA-7) 16.3%; Goin' Bulilit (ABS-CBN) 11.7%; MyDSL PBA 2014 Philippine Cup: Air 21 Express vs. Talk n' Text Tropang Texters (TV5) 4.7%
Pepito Manaloto: Ang Tunay Na Kuwento(GMA-7) 21.3%;Rated K: Handa Na Ba Kayo? (ABS-CBN) 14.6%
Kapuso Mo, Jessica Soho (GMA-7) 26.8%; Star Cinema Originals: The Reunion (ABS-CBN) 15.1%; Who Wants To Be A Millionaire (TV5) 6.1%; Wow Mali Pa Rin! (TV5) 8.1%
Imbestigador(GMA-7) 21.0%; Gandang Gabi Vice (ABS-CBN) 18.7%; The Mega And The Song Writer (TV5) 2.5%
Sunday Night Box Office: Die Hard (GMA-7) 14.9%; Sunday's Best: Yolanda (ABS-CBN) 7.5%; The 39TH MMFF Parade of Stars(TV5) 1.8%; Pilipinas News Weekend (TV5) 1.0%
Diyos at Bayan (GMA-7) 2.1%; O Shopping (ABS-CBN) 2.7%


December 23, 2013 (Monday)
Morning:
Aha! - Replay (GMA-7) 0.8%; Kapamilya Simbang Gabi (ABS-CBN) 0.9%
Unang Hirit (GMA-7) 3.7%; Umagang Kay Ganda (ABS-CBN) 3.1%; Reaksyon - Replay (TV5) 0.3%; Good Morning Club (TV5) 0.7%
Dragon Ball(GMA-7) 6.8%; Pokemon (GMA-7) 10.9%; Kris TV (ABS-CBN) 6.7%; Jungle Junction (TV5) 3.3%; Phineas and Ferb (TV5) 4.0%
Doraemon (GMA7) 13.9%; Ultraman Mebius (ABS-CBN) 4.7%; Domo (ABS-CBN) 5.2%; Gargoyles (TV5) 2.8%
Bleach (GMA-7) 11.8%; Kuroko's Basketball (ABS-CBN) 4.6%; Domo (ABS-CBN) 5.9%; Oggy and the Cockroaches (TV5) 5.4%
Flame of Recca (GMA-7) 12.3%; Naruto Shippuuden (ABS-CBN) 5.3%; Johnny Bravo (TV5) 6.7%
ADVERTISEMENT - CONTINUE READING BELOW
Shaman King (GMA-7) 12.3%; Kusina Master – Sikreto ng Experto (GMA-7) 9.4%; Crazy Love (ABS-CBN) 4.9%; Adventure Time with Finn & Jake (TV5) 7.8%
Tunay na Buhay (GMA-7) 10.7%; Minute To Win It (ABS-CBN) 9.7%; Ben 10 - Ultimate Alien (TV5) 6.8%
Afternoon:
Ryzza - The Ryzza Mae Show (GMA-7) 13.4%; Be Careful With My Heart (ABS-CBN) 17.3%; Likeable or Not (TV5) 2.9%
Eat Bulaga (GMA-7) 18.6%; It's Showtime (ABS-CBN) 17.3%; Sine ko 5ingko: The Cutting Edge (TV5) 4.9%
Villa Quintana (GMA-7) 11.8%; Magkano Ba Ang Pag-ibig (GMA-7)10.2%; Kapamilya Blockbusters: Sakal, Sakali, Saklolo (ABS-CBN) 9.4%; Sine ko 5ingko: The Cutting Edge – Chasing the Dream (TV5) 7.5%
GMA Blockbusters: Enteng Kabisote 4 (GMA-7) 11.8%; Galema: Anak ni Zuma (ABS-CBN) 6.8%; Bistado (ABS-CBN) 5.3%; Princess Hours (ABS-CBN) 8.1%; Face The People (TV5) 4.9%; T3 Reload (TV5) 5.3%
Evening:
Prinsesa ng Buhay Ko (GMA-7) 13.7%;Annaliza (ABS-CBN) 13.9%; Aksyon (TV5) 6.2%
24 Oras (GMA-7) 19.8%; TV Patrol (ABS-CBN) 17.3%; Let's Ask Pilipinas (TV5) 5.4%; Madam Chairman (TV5) 6.3%
Adarna (GMA-7) 17.0%; Honesto (ABS-CBN) 20.2%
Genesis (GMA-7) 16.1%; Got To Believe (ABS-CBN) 20.5%; Monday Night Blockbusters: Con Air (TV5) 10.7%
Akin Pa Rin Ang Bukas (GMA-7) 18.6%; Maria Mercedes (ABS-CBN) 17.7%
A 100-Year Legacy (GMA-7) 14.9%; When A Man Falls in Love (ABS-CBN) 12.6%;Demolition Job (TV5) 4.7%; Pilipinas News (TV5) 3.0%
Saksi (GMA-7) 10.9%; Bandila (ABS-CBN) 7.7%; Reaksyon (TV5) 2.0%; Cocktales (TV5) 1.1%
i-Witness (GMA-7) 7.4%; TYS: Tim Yap Show (GMA-7) 3.6%;O Shopping (ABS-CBN) 2.8%
December 24, 2013 (Tuesday)
Morning:
i-Witness Replay (GMA-7) 0.8%; Kapamilya Simbang Gabi (ABS-CBN) 1.0%
Unang Hirit (GMA-7) 3.7%; Umagang Kay Ganda (ABS-CBN) 2.8%; Reaksyon - Replay (TV5) 0.2%; Good Morning Club (TV5) 0.8%
Dragon Ball(GMA-7) 5.8%; Pokemon (GMA-7) 8.3%; Kris TV (ABS-CBN) 6.2%; Jungle Junction (TV5) 3.0%; Phineas and Ferb (TV5) 4.2%
Doraemon (GMA7) 12.2%; Ultraman Mebius (ABS-CBN) 3.1%; Domo (ABS-CBN) 3.0%; Gargoyles (TV5) 2.9%
Bleach (GMA-7) 9.6%; Kuroko's Basketball (ABS-CBN) 3.7%; Domo (ABS-CBN) 5.4%; Oggy and the Cockroaches (TV5) 4.8%
ADVERTISEMENT - CONTINUE READING BELOW
Flame of Recca (GMA-7) 10.1%; Naruto Shippuuden (ABS-CBN) 5.4%; Johnny Bravo (TV5) 5.4%
Shaman King (GMA-7) 10.3%; Kusina Master – Sikreto ng Experto (GMA-7) 7.3%; Crazy Love (ABS-CBN) 5.2%; Adventure Time with Finn & Jake (TV5) 6.9%
Tunay na Buhay (GMA-7) 8.4%; Minute To Win It (ABS-CBN) 10.2%; Ben 10 - Ultimate Alien (TV5) 5.8%
Afternoon:
Ryzza - The Ryzza Mae Show (GMA-7) 14.8%; Be Careful With My Heart (ABS-CBN) 14.9%; Likeable or Not (TV5) 2.7%
Eat Bulaga (GMA-7) 18.1%; It's Showtime (ABS-CBN) 12.2%; Sine Ko 5ingko: Stuart Little 3 (TV5) 4.0%
Villa Quintana (GMA-7) 11.7%; Magkano Ba Ang Pag-ibig (GMA-7) 9.5%; Kapamilya Blockbusters: Father Jejemon (ABS-CBN) 8.7%; Sine Ko 5ingko: Rango (TV5) 6.1%
GMA Blockbusters: My Househusband, Ikaw Na! (GMA-7) 11.1%; Galema: Anak ni Zuma (ABS-CBN) 6.2%; Mutya ng Masa (ABS-CBN) 5.5%; Princess Hours (ABS-CBN) 8.0%; Face The People (TV5) 4.2%; T3 Reload (TV5) 4.2%
Evening:
Prinsesa ng Buhay Ko (GMA-7) 11.7%; Annaliza (ABS-CBN) 12.0%; Aksyon (TV5) 5.7%
24 Oras (GMA-7) 16.6%; TV Patrol (ABS-CBN) 15.7%; Let's Ask Pilipinas (TV5) 4.8%; Madam Chairman (TV5) 4.9%
Adarna (GMA-7) 13.7%; Honesto (ABS-CBN) 17.4%
Genesis (GMA-7) 14.9%; Got To Believe (ABS-CBN) 17.8%; Tuesday Christmas Countdown Movies: Christmas With The Kranks (TV5) 6.9%
Akin Pa Rin Ang Bukas (GMA-7) 17.6%; Maria Mercedes (ABS-CBN) 14.1%
A 100-Year Legacy (GMA-7) 14.0%; When A Man Falls In Love (ABS-CBN) 10.1%; Numero (TV5) 3.9%; Pilipinas News (TV5) 3.0%;
Saksi (GMA-7) 11.5%; Bandila (ABS-CBN) 7.8%; Reaksyon (TV5) 2.2%
Reporter's Notebook (GMA-7) 9.6%; TYS: Tim Yap Show (GMA-7) 5.6%; Christmas Eve Mass 2013 (ABS-CBN) 6.4%; O Shopping (ABS-CBN) 2.3%; The Mega & The Songwriter (TV5) 1.4%
December 25, 2013 (Wednesday)
Morning:
Reporter's Notebook - Replay (GMA-7) 0.4%; My Puhunan - Replay (ABS-CBN) 0.2%
Unang Hirit (GMA-7) 2.4%; Umagang Kay Ganda (ABS-CBN) 2.4%; Power To Unite With Elvira (TV5) 0.0%; Good Morning Club (TV5) 0.4%
Dragon Ball(GMA-7) 3.9%; Pokemon (GMA-7) 4.6%; Kris TV (ABS-CBN) 5.4%; Jungle Junction (TV5) 1.4%; Phineas and Ferb (TV5) 1.8%
ADVERTISEMENT - CONTINUE READING BELOW
Doraemon (GMA7) 6.9%; Ultraman Mebius (ABS-CBN) 3.0%; Domo (ABS-CBN) 3.1%; Gargoyles (TV5) 1.6%
Bleach (GMA-7) 6.3%; Kuroko's Basketball (ABS-CBN) 3.0%; Domo (ABS-CBN) 3.5%; Oggy and the Cockroaches (TV5) 2.5%
Flame of Recca (GMA-7) 7.2%; Naruto Shippuuden (ABS-CBN) 3.1%; Johnny Bravo (TV5) 2.2%
Shaman King (GMA-7) 7.5%; Kusina Master – Sikreto ng Experto (GMA-7) 5.9%; Crazy Love (ABS-CBN) 2.8%; Adventure Time with Finn & Jake (TV5) 2.1%
Tunay na Buhay (GMA-7) 6.7%; Del Monte Kitchenomics (GMA-7) 8.1%;Minute To Win It (ABS-CBN) 5.7%; Ben 10 - Ultimate Alien (TV5) 2.2%
Afternoon:
Ryzza - The Ryzza Mae Show (GMA-7) 12.3%; Be Careful With My Heart (ABS-CBN) 10.0%;Likeable or Not (TV5) 2.1%
Eat Bulaga (GMA-7) 17.0%; It's Showtime (ABS-CBN) 7.7%; Sine Ko 5ingko: A Ring of Endless Light (TV5) 3.8%
Villa Quintana (GMA-7) 10.5%; Magkano Ba Ang Pag-ibig (GMA-7) 9.5%; Kapamilya Blockbusters: RPG Metanoia (ABS-CBN) 5.3%; Sine Ko 5ingko: The Grinch (TV5) 4.4%
GMA Blockbusters: Crying Ladies (GMA-7) 8.8%; Galema: Anak ni Zuma (ABS-CBN) 4.6%; My Puhunan (ABS-CBN) 4.1%; Princess Hours (ABS-CBN) 6.3%; Face The People (TV5) 4.4%; T3 Reload (TV5) 4.7%
Evening:
Prinsesa ng Buhay Ko (GMA-7) 10.0%; Annaliza (ABS-CBN) 9.6%; Aksyon (TV5) 5.6%
24 Oras (GMA-7) 17.7%; TV Patrol (ABS-CBN) 14.6%; Let's Ask Pilipinas (TV5) 4.1%; Madam Chairman (TV5) 4.6%
Adarna (GMA-7) 16.7%; Honesto (ABS-CBN) 18.3%
Genesis (GMA-7) 16.2%; Got To Believe (ABS-CBN) 18.2%; MyDSL PBA 2014 Philippine Cup: Brgy. Ginebra San Miguel Kings vs. Petron Blaze Boosters (TV5) 9.7%
Akin Pa Rin Ang Bukas (GMA-7) 15.4%; Maria Mercedes (ABS-CBN) 14.1%
A 100-Year Legacy (GMA-7) 11.9%; When A Man Falls In Love (ABS-CBN) 9.3%; History With Lourd: Tsismis Noon Kasaysayan Ngayon (TV5) 5.1%
Saksi (GMA-7) 7.5%; Bandila (ABS-CBN) 6.3%; Pilipinas News (TV5) 2.2%; Reaksyon (TV5) 1.3%
Born To Be Wild (GMA-7) 4.9%; Banana Nite (ABS-CBN) 4.6%; MyDSL PBA 2014 Philippine Cup: Air21 Express vs. Global Port Batang Pier (TV5) 0.8%
TYS: Tim Yap Show (GMA-7) 2.4%; Midnight Mass & Christmas Message of Pope Francis (GMA-7) 1.0%; O Shopping (ABS-CBN) 2.0%
ADVERTISEMENT - CONTINUE READING BELOW
December 26, 2013 (Thursday)
Morning:
Born To Be Wild - Replay (GMA-7) 0.4%; TNT: Tapatan Ni Tunying - Replay (ABS-CBN) 0.2%
Unang Hirit (GMA-7) 3.0%; Umagang Kay Ganda (ABS-CBN) 2.4%; Reaksyon - Replay (TV5) 0.1%; Good Morning Club (TV5) 0.5%
Dragon Ball(GMA-7) 5.9%; Pokemon (GMA-7) 7.8%; Kris TV (ABS-CBN) 4.7%; Jungle Junction (TV5) 2.6%; Phineas and Ferb (TV5) 3.9%
Doraemon (GMA7) 11.0%; Bleach (GMA-7) 9.4%; Flame of Recca (GMA-7) 12.0%; Shaman King (GMA-7) 11.4%;Kusina Master – Sikreto ng Experto (GMA-7) 7.8%; Tunay na Buhay (GMA-7) 8.6%; NBA 2013-2014 Season: LA Lakers vs. Miami Heat (ABS-CBN) 5.9%; Gargoyles (TV5) 3.0%; Oggy and the Cockroaches (TV5) 4.9%; Johnny Bravo (TV5) 4.4%; Adventure Time with Finn & Jake (TV5) 5.6%; Ben 10 - Ultimate Alien (TV5) 5.1%
Afternoon:
Ryzza: The Ryzza Mae Show (GMA-7) 16.7%; Be Careful With My Heart (ABS-CBN) 13.6%;Likeable or Not (TV5) 2.6%;
Eat Bulaga (GMA-7) 19.2%; It's Showtime (ABS-CBN) 12.2%; Sine ko 5ingko: The Flying Scotsman (TV5) 4.3%
Villa Quintana (GMA-7) 10.9%; Magkano Ba Ang Pag-ibig? (GMA-7) 10.8%; Kapamilya Blockbusters: Darna (ABS-CBN) 8.4%; Sine ko 5ingko: 17 Again (TV5) 6.3%
GMA Blockbusters: Super Noypi (GMA-7) 10.6%; Galema: Anak ni Zuma (ABS-CBN) 6.7%; TNT-Tapatan Ni Tunying (ABS-CBN) 6.1%; Princess Hours (ABS-CBN) 8.5%;Face The People (TV5) 5.8%; T3 Reload (TV5) 6.4%
Evening:
Prinsesa ng Buhay Ko (GMA-7) 11.1%; Annaliza (ABS-CBN) 13.9%; Aksyon (TV5) 9.0%
24 Oras (GMA-7) 21.5%; TV Patrol (ABS-CBN) 19.3%; Let's Ask Pilipinas (TV5) 6.3%; Madam Chairman (TV5) 6.4%
Adarna (GMA-7) 20.1%; Honesto (ABS-CBN) 22.8%; For Love Or Money (TV5) 5.1%
Genesis (GMA-7) 21.7%; Got To Believe (ABS-CBN) 23.9%
Akin Pa Rin Ang Bukas (GMA-7) 23.3%; Maria Mercedes (ABS-CBN) 19.4%; Posi+ive (TV5) 2.6%
A 100-Year Legacy (GMA-7) 15.3%; When A Man Falls in Love (ABS-CBN) 12.1%;Dayo (TV5) 1.6%; Pilipinas News (TV5) 1.2%
Saksi (GMA-7) 9.7%; Bandila (ABS-CBN) 5.3%; Reaksyon (TV5) 1.0%; Crime Klasik (TV5) 1.3%
Alisto! (GMA-7) 6.7%; Banana Nite (ABS-CBN) 3.9%
ADVERTISEMENT - CONTINUE READING BELOW
TYS: Tim Yap Show (GMA-7) 2.9%; O Shopping (ABS-CBN) 1.6%
December 27, 2013 (Friday)
Morning:
Born Impact BTBW Weekend Edition - Replay (GMA-7) 1.1%; Matanglawin - Replay (ABS-CBN) 0.4%
Unang Hirit (GMA-7) 3.5%; Umagang Kay Ganda (ABS-CBN) 3.0%; Reaksyon - Replay (TV5) 0.0%; Good Morning Club (TV5) 0.6%
Dragon Ball(GMA-7) 4.6%; Pokemon (GMA-7) 7.9%; Kris TV (ABS-CBN) 5.4%; Jungle Junction (TV5) 2.3%; Phineas and Ferb (TV5) 3.2%
Doraemon (GMA7) 11.3%; Ultraman Mebius (ABS-CBN) 4.3%; Domo (ABS-CBN) 4.4%; Gargoyles (TV5) 2.2%
Bleach (GMA-7) 9.8%; Kuroko's Basketball (ABS-CBN) 4.5%; Domo (ABS-CBN) 4.1%; Oggy and the Cockroaches (TV5) 4.1%
Flame of Recca (GMA-7) 11.5%; Naruto Shippuuden (ABS-CBN) 3.7%; Johnny Bravo (TV5) 4.4%
Shaman King (GMA-7) 10.9%; Kusina Master – Sikreto ng Experto (GMA-7) 8.2%; Crazy Love (ABS-CBN) 4.5%; Adventure Time with Finn & Jake (TV5) 6.3%
Tunay na Buhay (GMA-7) 7.8%; Minute To Win It (ABS-CBN) 10.1%; Ben 10 - Ultimate Alien (TV5) 5.7%
Afternoon:
Ryzza: The Ryzza Mae Show (GMA-7) 11.8%; Be Careful With My Heart (ABS-CBN) 18.2%; Likeable or Not (TV5) 3.3%
Eat Bulaga (GMA-7) 17.6%; It's Showtime (ABS-CBN) 11.6%; Sine Ko 5ingko: Hoosiers (TV5) 4.9%
Villa Quintana (GMA-7) 11.5%; Magkano Ba Ang Pag-ibig (GMA-7) 10.5%; Kapamilya Blockbusters: Shake, Rattle & Roll 8 (ABS-CBN) 10.1%; Sine Ko 5ingko: Flubber (TV5) 7.0%
GMA Blockbusters: Mano Po – Gua Ai Di (GMA-7) 12.5%; Galema: Anak ni Zuma (ABS-CBN) 7.8%; Tuklasin ang Katotohanan: Hiwaga (ABS-CBN) 7.3%; Princess Hours (ABS-CBN) 9.2%; Face The People (TV5) 5.8%; T3 Reload (TV5) 5.4%
Evening:
Prinsesa ng Buhay Ko (GMA-7) 13.0%; Annaliza (ABS-CBN) 14.7%; Aksyon (TV5) 8.5%
24 Oras (GMA-7) 21.5%; TV Patrol (ABS-CBN) 19.5%; Let's Ask Pilipinas (TV5) 6.7%; Madam Chairman (TV5) 7.1%
Adarna (GMA-7) 20.3%; Honesto (ABS-CBN) 23.1%
Genesis (GMA-7) 22.1%; Got To Believe (ABS-CBN) 23.0%; MyDSL PBA 2014 Philippine Cup: Alaska Aces vs. San Mig Coffee Mixers (TV5) 7.2%
Akin Pa Rin Ang Bukas (GMA-7) 25.0%;Maria Mercedes (ABS-CBN) 18.0%
Bubble Gang (GMA-7) 16.9%; When A Man Falls In Love (ABS-CBN) 12.0%; Bandila (ABS-CBN) 6.6%; The 39TH MMFF Gabi ng Parangal (TV5) 5.9%
ADVERTISEMENT - CONTINUE READING BELOW
Saksi (GMA-7) 8.7%; Banana Nite (ABS-CBN) 4.0%
TYS: Tim Yap Show (GMA-7) 3.8%; O Shopping (ABS-CBN) 1.8%; Pilipinas News (TV5) 1.9%; Reaksyon (TV5) 1.2%; Astig: Sa Sports Walang Tsamba (TV5) 0.9%
December 28, 2013 (Saturday)
Morning:
PJM Forum (GMA-7) 0.4%; Adyenda (GMA-7) 1.1%; Kapwa Ko, Mahal Ko (GMA-7) 1.5%;Sa Kabukiran (ABS-CBN) 0.6%; Family Matters (TV5) 0.3%
Pinoy MD (GMA-7) 1.9%; Salamat Dok (ABS-CBN) 1.6%; Imagination Movers (TV5) 0.5%
Cinderella (GMA-7) 3.2%; Kabuhayang Swak na Swak (ABS-CBN) 2.2%; Ying Yang Yo! (TV5) 1.4%
Super Book (GMA-7) 5.9%; Honey, Watch Out! (ABS-CBN) 1.5%; Kick Buttowski! Suburban Daredevil (TV5) 2.0%
Paddle Pop Elemagika (GMA-7) 6.9%; Angry Birds Toons (GMA-7) 8.3%; Why Not? (ABS-CBN) 1.8%; The Marvelous Misadventures of Flapjack (TV5) 3.0%
Pororo (GMA-7) 8.5%; Avatar: The Legend of Aang (ABS-CBN) 2.4%; The Amazing World of Gumball (TV5) 3.5%
Toriko (GMA-7) 8.4%; Teenage Mutant Ninja Turtles (ABS-CBN) 4.4%; Regular Show (TV5) 4.6%
Tropang Potchi (GMA-7) 5.2%; Spongebob Squarepants (ABS-CBN) 5.8%; Powerpuff Girls Z (TV5) 4.8%
Everyday Easy (GMA-7) 4.8%; Sarap Diva (GMA-7) 7.2%; Maynila 14 (GMA-7%) 11.5%; Del Monte Kitchenomics (GMA-7) 12.9%; NBA 2013-2014 Season: Denver Nuggets vs. New Orleans Pelicans (ABS-CBN) 4.6%; Sym-Bionic Titan (TV5) 4.7%; TV5 Kids Movie Special: Thor Tales of Asgard (TV5) 5.6%
Afternoon:
Eat Bulaga (GMA-7) 17.8%; It's Showtime (ABS-CBN) 9.9%; Sabado Sinerama: Agent Cody Banks (TV5) 9.2%
Startalk (GMA-7) 11.3%; The Singing Bee (ABS-CBN) 11.1%; MyDSL PBA 2014 Philippine Cup: Barako Bull Energy Cola vs. Rain or Shine Elasto Painters (TV5) 3.5%
Out of Control (GMA-7) 9.1%; SOCO (ABS-CBN) 9.8%
Wish Ko Lang (GMA-7) 9.0%; Everyday Easy (GMA-7) 8.9%; Failon Ngayon (ABS-CBN) 6.9%; MyDSL PBA 2014 Philippine Cup: Brgy. Ginebra San Miguel Kings vs. Meralco Bolts (TV5) 6.1%
24 Oras Weekend (GMA-7) 11.2%; TV Patrol Weekend (ABS-CBN) 9.4%; Aksyon Weekend (TV5) 4.9%
Evening:
Picture! Picture! (GMA-7) 17.7%;Bet On Your Baby (ABS-CBN) 14.4%; Showbiz Police Intriga Under Arrest (TV5) 4.1%
Vampire Ang Daddy Ko (GMA-7) 21.6%; Wansapanataym (ABS-CBN) 16.4%; Pinoy Explorer (TV5) 5.2%
ADVERTISEMENT - CONTINUE READING BELOW
Magpakailanman (GMA-7) 22.3%; MMK: Ang Tahanan Mo (ABS-CBN) 16.0%; Tropa Mo 'Ko Unli (TV5) 8.8%
Celebrity Bluff (GMA-7) 24.5%;I Dare You (ABS-CBN) 8.6%; Killer Karaoke - Pinoy Naman (TV5) 7.2%
Katipunan (GMA-7) 13.4%; Banana Split Extra Scoop (ABS-CBN) 7.6%; Juan Direction (TV5) 4.6%; Spinnation (TV5) 2.0%
Sabado Horror Night: The Detective (GMA-7) 8.8%; The Bottomline (ABS-CBN) 3.3%; Pilipinas News Weekend (TV5) 1.5%
Walang Tulugan With Master Showman (GMA-7) 2.2%; Sports Unlimited (ABS-CBN) 1.6%; O Shopping (ABS-CBN) 1.0%; MyDSL PBA 2014 Philippine Cup: Petron Blaze Boosters vs. Talk n' Text Tropang Texters (TV5) 1.4%
December 29, 2013 (Sunday)
Morning:
Jesus The Healer (GMA-7) 0.5%; In Touch With Dr. Charles Stanley (GMA-7) 0.5%; The Healing Eucharist (ABS-CBN) 3.0%;Balitang 60 (TV5) 0.9%; Misa Nazareno (TV5) 2.0%
Scooby-Doo! Mystery Incorporated (GMA-7) 2.2%; Kabuhayang Swak na Swak (ABS-CBN) 2.2%;Power To Unite With Elvira (TV5) 1.1%
Super Book(GMA-7) 5.1%; Paddle Pop Elemagika (GMA-7) 5.4%; Pororo (GMA-7) 6.1%;
Salamat Dok (ABS-CBN) 2.4%; Yin Yang Yo! (TV5) 1.3%;Kick Buttowski! Suburban Daredevil (TV5) 3.0%
Toriko (GMA-7) 6.4%;X-Men (ABS-CBN) 1.8%; The Marvelous Misadventures of Flapjack (TV5) 4.3%
Aha! (GMA-7) 7.5%;Marvel Blade (ABS-CBN) 2.4%; Regular Show (TV5) 4.7%
Born Impact - Weekend Edition (GMA-7) 8.3%;Matanglawin (ABS-CBN) 4.8%; Powerpuff Girls Z (TV5) 4.7%
Kapuso Movie Festival: Miss Congeniality – Armed & Fabulous (GMA-7) 10.4%; Everyday Easy (GMA-7) 9.6%; FPJ – Da King on ABS-CBN: Isang bala Ka Lang Part 2 (ABS-CBN) 11.7%; Sym-Bionic Titan (TV5) 4.0%; Generator Rex (TV5) 3.6%; Philip Lifestyle Guy (TV5) 1.2%;
Afternoon:
Sunday All Stars (GMA-7) 12.3%; True Horror Stories(GMA-7) 13.2%;ASAP 18 (ABS-CBN) 8.4%; Sunday Sineplex: The Indian in the Cupboard(TV5) 7.9%; Video Incredible (ABS-CBN) 5.4%
GMA Blockbusters: Andre (GMA-7) 10.6%; iBilib (GMA-7) 7.7%;Luv U (ABS-CBN) 7.0%; Buzz ng Bayan (ABS-CBN) 7.3%; MyDSL PBA 2014 Philippine Cup: Barako Bull Energy Cola vs. Global Port Batang Pier (TV5) 3.2%
24 Oras Weekend(GMA-7) 10.2%;TV Patrol Weekend (ABS-CBN) 9.5%
ADVERTISEMENT - CONTINUE READING BELOW
Evening:
Kap's Amazing Stories (GMA-7) 17.6%; Goin' Bulilit (ABS-CBN) 11.3%; MyDSL PBA 2014 Philippine Cup: Rain or Shine Elasto Painters vs. San Mig Coffee Mixers (TV5) 6.2%
Pepito Manaloto: Ang Tunay Na Kuwento(GMA-7) 24.8%;Rated K: Handa Na Ba Kayo? (ABS-CBN) 14.1%
Kapuso Mo, Jessica Soho (GMA-7) 28.9%; Star Cinema Originals: Kimmy Dora & The Temple of Kiyeme (ABS-CBN) 14.8%; Who Wants To Be A Millionaire (TV5) 6.6%; Wow Mali Pa Rin! (TV5) 7.5%
Look Up! Look Up!(GMA-7) 18.8%; Gandang Gabi Vice (ABS-CBN) 18.5%; The Mega And The Song Writer (TV5) 2.9%
Sunday Night Box Office: Prankista (GMA-7) 12.6%; Sunday's Best: Ulo ng mga Balita 2013 (ABS-CBN) 6.5%; Sunday Sineplex: The Reaping (TV5) 3.5%; Pilipinas News Weekend (TV5) 1.9%
Diyos at Bayan (GMA-7) 1.9%; O Shopping (ABS-CBN) 2.0%
December 30, 2013 (Monday)
Morning:
Aha! - Replay (GMA-7) 0.5%; Sports Unlimited - Replay (ABS-CBN) 0.4%
Unang Hirit (GMA-7) 2.9%; Umagang Kay Ganda (ABS-CBN) 2.8%; Reaksyon - Replay (TV5) 0.3%; Good Morning Club (TV5) 0.6%
Detective Conan(GMA-7) 6.4%; Pokemon (GMA-7) 9.0%; Kris TV (ABS-CBN) 5.0%; Jungle Junction (TV5) 2.6%; Phineas and Ferb (TV5) 3.5%
Doraemon (GMA7) 13.4%; Ultraman Mebius (ABS-CBN) 3.4%; Domo (ABS-CBN) 4.2%; Gargoyles (TV5) 2.0%
Bleach (GMA-7) 11.8%; Kuroko's Basketball (ABS-CBN) 4.2%; Domo (ABS-CBN) 4.5%; Oggy and the Cockroaches (TV5) 3.9%
Flame of Recca (GMA-7) 11.2%; Naruto Shippuuden (ABS-CBN) 3.8%; Johnny Bravo (TV5) 4.3%
Shaman King (GMA-7) 11.8%; Kusina Master – Sikreto ng Experto (GMA-7) 8.9%; Crazy Love (ABS-CBN) 3.9%; Adventure Time with Finn & Jake (TV5) 6.0%
Tunay na Buhay (GMA-7) 10.9%; Minute To Win It (ABS-CBN) 9.4%; Ben 10 - Ultimate Alien (TV5) 5.4%
Afternoon:
Ryzza - The Ryzza Mae Show (GMA-7) 13.4%; Be Careful With My Heart (ABS-CBN) 17.3%; Likeable or Not (TV5) 2.9%
Eat Bulaga (GMA-7) 16.1%; It's Showtime (ABS-CBN) 13.1%; Sine ko 5ingko: Half Past Dead 2 (TV5) 5.8%
Villa Quintana (GMA-7) 10.6%; Magkano Ba Ang Pag-ibig (GMA-7)10.0%; Kapamilya Blockbusters: Pak! Pak! My Dr. Kwak (ABS-CBN) 12.7%; Sine ko 5ingko: Cast Away (TV5) 6.0%
ADVERTISEMENT - CONTINUE READING BELOW
GMA Blockbusters: Pasukob (GMA-7) 12.9%; Galema: Anak ni Zuma (ABS-CBN) 7.6%; Bistado (ABS-CBN) 5.7%; Princess Hours (ABS-CBN) 8.2%; Face The People (TV5) 3.4%; T3 Reload (TV5) 3.7%
Evening:
Prinsesa ng Buhay Ko (GMA-7) 11.9%;Annaliza (ABS-CBN) 12.3%; Aksyon (TV5) 7.6%
24 Oras (GMA-7) 20.0%; TV Patrol (ABS-CBN) 18.4%; Let's Ask Pilipinas (TV5) 5.2%; Madam Chairman (TV5) 6.2%
Adarna (GMA-7) 18.4%; Honesto (ABS-CBN) 22.5%
Kapuso Primetime Cinema: Fantastic 4 – Rise of the Silver Surfer (GMA-7) 20.0%; Got To Believe (ABS-CBN) 21.8%; Maria Mercedes (ABS-CBN) 17.7%;Monday Night Blockbusters: Face Off (TV5) 9.0%
A 100-Year Legacy (GMA-7) 14.3%; When A Man Falls in Love (ABS-CBN) 12.9%;Demolition Job (TV5) 5.1%; Pilipinas News (TV5) 3.7%
Saksi (GMA-7) 11.1%; Bandila (ABS-CBN) 7.8%; Reaksyon (TV5) 2.2%
i-Witness (GMA-7) 6.4%; TYS: Tim Yap Show (GMA-7) 3.4%;O Shopping (ABS-CBN) 3.3%
December 31, 2013 (Tuesday)
Morning:
i-Witness Replay (GMA-7) 0.5%; Mutya ng Masa - Replay (ABS-CBN) 0.3%
Unang Hirit (GMA-7) 3.2%; Umagang Kay Ganda (ABS-CBN) 2.8%; Reaksyon - Replay (TV5) 0.0%; Good Morning Club (TV5) 0.7%
Detective Conan (GMA-7) 6.3%; Pokemon (GMA-7) 9.2%; Kris TV (ABS-CBN) 4.9%; Jungle Junction (TV5) 3.3%; Phineas and Ferb (TV5) 4.0%
Doraemon (GMA7) 12.8%; Ultraman Mebius (ABS-CBN) 3.2%; Domo (ABS-CBN) 3.5%; Gargoyles (TV5) 2.3%
Bleach (GMA-7) 10.4%; Kuroko's Basketball (ABS-CBN) 3.1%; Domo (ABS-CBN) 3.1%; Oggy and the Cockroaches (TV5) 4.1%
Flame of Recca (GMA-7) 11.3%; Naruto Shippuuden (ABS-CBN) 3.1%; Johnny Bravo (TV5) 4.3%
Shaman King (GMA-7) 11.5%; Kusina Master – Sikreto ng Experto (GMA-7) 8.4%; Crazy Love (ABS-CBN) 3.9%; Adventure Time with Finn & Jake (TV5) 5.5%
Tunay na Buhay (GMA-7) 7.7%; Minute To Win It (ABS-CBN) 8.5%; Ben 10 - Ultimate Alien (TV5) 5.5%
Afternoon:
Ryzza - The Ryzza Mae Show (GMA-7) 12.2%; Be Careful With My Heart (ABS-CBN) 14.4%; Likeable or Not (TV5) 3.4%
Eat Bulaga (GMA-7) 14.9%; It's Showtime (ABS-CBN) 12.0%; Sine Ko 5ingko: Max Payne (TV5) 5.2%
Villa Quintana (GMA-7) 8.9%; Magkano Ba Ang Pag-ibig (GMA-7) 8.6%; Kapamilya Blockbusters: 24/7 In Love (ABS-CBN) 11.1%; Sine Ko 5ingko: The Bucket List (TV5) 5.4%
ADVERTISEMENT - CONTINUE READING BELOW
GMA Blockbusters: Joey Gosiengfiao's Temptation Island (GMA-7) 8.5%; Galema: Anak ni Zuma (ABS-CBN) 7.1%; Mutya ng Masa (ABS-CBN) 6.2%; Princess Hours (ABS-CBN) 8.1%; Face The People (TV5) 3.5%; T3 Reload (TV5) 3.2%
Evening:
Prinsesa ng Buhay Ko (GMA-7) 8.3%; Annaliza (ABS-CBN) 11.2%; Aksyon (TV5) 4.9%
24 Oras (GMA-7) 15.1%; TV Patrol (ABS-CBN) 13.4%; Let's Ask Pilipinas (TV5) 4.4%; Madam Chairman (TV5) 4.5%
Adarna (GMA-7) 13.6%; Honesto (ABS-CBN) 17.3%
Kapuso Primetime Cinema: Alvin & The Chipmunks - Chipwrecked (GMA-7) 17.1%; Got To Believe (ABS-CBN) 17.5%; Maria Mercedes (ABS-CBN) 13.2%; 27TH FIBA Asia Semifinals: Philippines vs. Korea (TV5) 5.9%
Saksi (GMA-7) 17.7%; When A Man Falls In Love (ABS-CBN) 9.9%; Lima sa 2013 (TV5) 1.0%;
Countdown to 2014 (GMA-7) 16.5%; Bandila (ABS-CBN) 9.9%; Salubong sa 2014 (ABS-CBN) 11.1%; Pilipinas News (TV5) 1.6%
TYS: Tim Yap Show (GMA-7) 8.6%; New Year's Eve Mass (ABS-CBN)8.9%; O Shopping (ABS-CBN) 2.3%
Here are the Top 10 daytime and primetime programs from December 19 to 31, 2013 among Mega Manila households (Household Ratings):
TOP TEN PROGRAMS:
December 19, 2013 (Thursday)
DAYTIME:
Eat Bulaga (GMA-7) – 18.2%
Be Careful With My Heart(ABS-CBN) – 16.2%
Villa Quintana (GMA-7) – 13.3%
It's Showtime (ABS-CBN) – 13.2%
Ryzza: The Ryzza Mae Show (GMA-7) – 12.8%
Magkano ba ang Pag-ibig? (GMA-7) – 12.5%
GMA Blockbusters: Sosy Problems (GMA-7) – 12.2%
Doraemon (GMA-7) – 12%
Shaman King (GMA-7) – 10.7%
Flame of Recca (GMA-7) – 10%
PRIMETIME:
Got To Believe (ABS-CBN) – 23.6%
Honesto (ABS-CBN) – 22.7%
Akin Pa Rin Ang Bukas (GMA-7) – 22.5%
Maria Mercedes (ABS-CBN) – 20.7%
Adarna (GMA-7) – 20.4%
Genesis (GMA-7) – 20.3%
24 Oras (GMA-7) – 20.1%
TV Patrol (ABS-CBN) – 18.4%
A 100-Year Legacy (GMA-7) – 16.1%
Annaliza (ABS-CBN) – 14.8%
December 20, 2013 (Friday)
DAYTIME:
Be Careful With My Heart(ABS-CBN) – 18.8%
Eat Bulaga (GMA-7) – 18.6%
GMA Blockbusters: Shake, Rattle & Roll X (GMA-7) – 15.1%
It's Showtime (ABS-CBN) – 14.9%
Villa Quintana (GMA-7) – 12.5%
Doraemon (GMA-7) – 12.4%
Magkano Ba Ang Pag-ibig? (GMA-7) – 12.3%
Ryzza: The Ryzza Mae Show (GMA-7) – 11.6%
Flame of Recca (GMA-7) – 11.3%
Bleach (GMA-7) – 10.8%
PRIMETIME:
Honesto (ABS-CBN) – 22.4%
Got To Believe (ABS-CBN) – 21.5%
Akin Pa Rin Ang Bukas (GMA-7) – 20.8%
24 Oras (GMA-7) – 19.8%
Adarna (GMA-7) – 19.2%
TV Patrol (ABS-CBN) – 18.9%
Genesis (GMA-7) – 18.7%
Maria Mercedes (ABS-CBN) – 17.4%
Bubble Gang (GMA-7) – 16.9%
Prinsesa ng Buhay Ko (GMA-7) – 15.1%
December 21, 2013 (Saturday)
DAYTIME:
Eat Bulaga (GMA-7) – 21.1%
Startalk (GMA-7) – 14.1%
24 Oras Weekend (GMA-7) – 12.8%
Wish Ko Lang (GMA-7) – 11.7%
Out of Control (GMA-7) – 10.4%
It's Showtime (ABS-CBN) – 10.2%
Angry Birds Toons (GMA-7) – 9.7% / Pororo (GMA-7) – 9.7%
Toriko (GMA-7) – 9.2% / Maynila 14 (GMA-7) – 9.2%
TV Patrol Weekend (ABS-CBN) – 8.7%
The Singing Bee (ABS-CBN) – 8.5%
PRIMETIME:
Celebrity Bluff (GMA-7) – 24.1%
Vampire Ang Daddy Ko (GMA-7) – 23.3%
Magpakailanman (GMA-7) – 22.7%
MMK: Ang Tahanan Mo (ABS-CBN) – 17.3%
Picture! Picture! (GMA-7) – 17.2%
Wansapanataym (ABS-CBN) – 15.6%
Bet On Your Baby (ABS-CBN) – 15.3%
Katipunan (GMA-7) – 11.4%
I Dare You (ABS-CBN) – 9.5%
Killer Karaoke – Pinoy Naman! (TV5) – 7.2%
December 22, 2013 (Sunday)
DAYTIME:
GMA Blockbusters: Mr. Bean's Holiday (GMA-7) – 13.6%
Kapuso Movie Festival: Bean (GMA-7) – 12.9%
FPJ – Da King on ABS-CBN: Isusumbong Kita Sa Tatay Ko (ABS-CBN) – 11.3%
ASAP 18 (ABS-CBN) – 11.3%
24 Oras Weekend (GMA-7) – 10.9%
Sunday All Stars (GMA-7) – 10.8%
Dormitoryo (GMA-7) – 9.6%
iBilib (GMA-7) – 8.6%
TV Patrol Weekend (ABS-CBN) – 8.2%
Luv U (ABS-CBN) – 7.7%
PRIMETIME:
Kapuso Mo, Jessica Soho (GMA-7) – 26.8%
Pepito Manaloto: Ang Tunay na Kuwento (GMA-7) – 21.3%
Imbestigador (GMA-7) – 21.0%
Gandang Gabi Vice (ABS-CBN) – 18.7%
Kaps's Amazing Stories (GMA-7) – 16.3%
Star Cinema Originals: The Reunion (ABS-CBN) – 15.1%
Sunday Night Box Office: Die Hard (GMA-7) – 14.9%
Rated K: Handa Na Ba Kayo? (ABS-CBN) – 14.6%
Goin' Bulilit (ABS-CBN) – 11.7%
Wow Mali Pa Rin! (TV5) – 8.1%
December 23, 2013 (Monday)
DAYTIME:
Eat Bulaga (GMA-7) – 18.6%
Be Careful With My Heart(ABS-CBN) – 17.3%
Doraemon (GMA-7) – 13.9%
Ryzza: The Ryzza Mae Show (GMA-7) – 13.4%
Flame of Recca (GMA-7) – 12.3% / Shaman King (GMA-7) – 12.3%
Bleach (GMA-7) – 11.8% / Villa Quintana (GMA-7) – 11.8% / GMA Blockbusters: Enteng Kabisote 4 (GMA-7) - 11.8% / It's Showtime (ABS-CBN) – 11.8%
Pokemon (GMA-7) – 10.9%
Tunay na Buhay (GMA-7) – 10.7%
Magkano Ba Ang Pag-ibig? (GMA-7) – 10.2%
Minute To Win It (ABS-CBN) – 9.7%
PRIMETIME:
Got To Believe (ABS-CBN) – 20.5%
Honesto (ABS-CBN) – 20.2%
24 Oras (GMA-7) – 19.8%
Akin Pa Rin Ang Bukas (GMA-7) – 18.6%
Maria Mercedes (ABS-CBN) – 17.7%
TV Patrol (ABS-CBN) – 17.3%
Adarna (GMA-7) – 17%
Genesis (GMA-7) – 16.1%
A 100-Year Legacy (GMA-7) – 14.9%
Annaliza (ABS-CBN) – 13.9%
December 24, 2013 (Tuesday)
DAYTIME:
Eat Bulaga (GMA-7) – 18.1%
Be Careful With My Heart (ABS-CBN) – 14.9%
Ryzza: The Ryzza Mae Show (GMA-7) – 14.8%
Doraemon (GMA-7) – 12.2% / It's Showtime (ABS-CBN) – 12.2%
Villa Quintana (GMA-7) – 11.7%
GMA Blockbusters: My Househusband, Ikaw Na! (GMA-7) - 11.1%
Shaman King (GMA-7) – 10.3%
Minute To Win It (ABS-CBN) – 10.2%
Flame of Recca (GMA-7) – 10.1%
Bleach (GMA-7) – 9.6%
PRIMETIME:
Got To Believe (ABS-CBN) – 17.8%
Akin Pa Rin Ang Bukas (GMA-7) – 17.6%
Honesto (ABS-CBN) – 17.4%
24 Oras (GMA-7) – 16.6%
TV Patrol (ABS-CBN) – 15.7%
Genesis (GMA-7) – 14.9%
Maria Mercedes (ABS-CBN) – 14.1%
A 100-Year Legacy (GMA-7) – 14%
Adarna (GMA-7) – 13.7%
Annaliza (ABS-CBN) – 12%
December 25, 2013 (Wednesday)
DAYTIME:
Eat Bulaga (GMA-7) – 17%
Ryzza: The Ryzza Mae Show (GMA-7) – 12.3%
Villa Quintana (GMA-7) – 10.5%
Be Careful With My Heart (ABS-CBN) – 10%
Magkano Ba Ang Pag-ibig? (GMA-7) – 9.5%
GMA Blockbusters: Crying Ladies (GMA-7) – 8.8%
It's Showtime (ABS-CBN) – 7.7%
Shaman King (GMA-7) – 7.5%
Flame of Recca (GMA-7) – 7.2%
Doraemon (GMA-7) – 6.9%
PRIMETIME:
Honesto (ABS-CBN) – 18.3%
Got To Believe (ABS-CBN) – 18.2%
24 Oras (GMA-7) – 17.7%
Adarna (GMA-7) – 16.7%
Genesis (GMA-7) – 16.2%
Akin Pa Rin Ang Bukas (GMA-7) – 15.4%
TV Patrol (ABS-CBN) – 14.6%
Maria Mercedes (ABS-CBN) – 14.1%
A 100-Year Legacy (GMA-7) – 11.9%
Prinsesa Ng Buhay Ko (ABS-CBN) – 10%



December 26, 2013 (Thursday)
DAYTIME:
Eat Bulaga (GMA-7) – 19.2%
Ryzza: The Ryzza Mae Show (GMA-7) – 16.7%
Be Careful With My Heart(ABS-CBN) – 13.6%
It's Showtime (ABS-CBN) – 12.2%
Flame of Recca (GMA-7) – 12%
Shaman King (GMA-7) – 11.4%
Doraemon (GMA-7) – 11%
Villa Quintana (GMA-7) – 10.9%
Magkano ba ang Pag-ibig? (GMA-7) – 10.8%
GMA Blockbusters: Super Noypi (GMA-7) – 10.6%
PRIMETIME:
Got To Believe (ABS-CBN) – 23.9%
Akin Pa Rin Ang Bukas (GMA-7) – 23.3%
Honesto (ABS-CBN) – 22.8%
Genesis (GMA-7) – 21.7%
24 Oras (GMA-7) – 21.5%
Adarna (GMA-7) – 20.1%
Maria Mercedes (ABS-CBN) – 19.4%
TV Patrol (ABS-CBN) – 19.3%
A 100-Year Legacy (GMA-7) – 15.3%
Annaliza (ABS-CBN) – 13.9%
December 27, 2013 (Friday)
DAYTIME:
Be Careful With My Heart (ABS-CBN) – 18.2%
Eat Bulaga (GMA-7) – 17.6%
GMA Blockbusters: Mano Po 5 – Gua Ai Di (GMA-7) – 12.5%
Ryzza: The Ryzza Mae Show (GMA-7) – 11.8%
It's Showtime (ABS-CBN) – 11.6%
Flame of Recca (GMA-7) – 11.5% / Villa Quintana (GMA-7) – 11.5%
Doraemon (GMA-7) – 11.3%
Shaman King (GMA-7) – 10.9%
Magkano Ba Ang Pag-ibig? (GMA-7) – 10.5%
Minute To Win It (GMA-7) – 10.1% / Kapamilya Blockbusters: Shake, Rattle & Roll 8 (ABS-CBN) – 10%
PRIMETIME:
Akin Pa Rin Ang Bukas (GMA-7) – 25%
Honesto (ABS-CBN) – 23.1%
Got To Believe (ABS-CBN) – 23%
Genesis (GMA-7) – 22.1%
24 Oras (GMA-7) – 21.5%
Adarna (GMA-7) – 20.3%
TV Patrol (ABS-CBN) – 19.5%
Maria Mercedes (ABS-CBN) – 18%
Bubble Gang (GMA-7) – 16.9%
Annaliza (ABS-CBN) – 14.7%
December 28, 2013 (Saturday)
DAYTIME:
Eat Bulaga (GMA-7) – 17.8%
Maynila 14 (GMA-7) – 11.5%
Startalk (GMA-7) – 11.3%
24 Oras Weekend (GMA-7) – 11.2%
The Singing Bee (ABS-CBN) – 11.1%
It's Showtime (ABS-CBN) – 9.9%
SOCO (ABS-CBN) – 9.8%
TV Patrol Weekend (ABS-CBN) – 9.4%
Sabado Sinerama: Agent Cody Banks (TV5) – 9.2%
Out of Control (GMA-7) – 9.1%
PRIMETIME:
Celebrity Bluff (GMA-7) – 24.5%
Magpakailanman (GMA-7) – 22.3%
Vampire Ang Daddy Ko (GMA-7) – 21.6%
Picture! Picture! (GMA-7) – 17.7%
Wansapanataym (ABS-CBN) – 16.4%
MMK: Ang Tahanan Mo (ABS-CBN) – 16%
Bet On Your Baby (ABS-CBN) – 14.4%
Katipunan (GMA-7) – 13.4%
Sabado Horror Night: The Detective (GMA-7) – 8.8% / Tropa Mo 'Ko Unli (TV5) – 8.8%
I Dare You (ABS-CBN) – 8.6%
December 29, 2013 (Sunday)
DAYTIME:
True Horror Stories (GMA-7) – 13.2%
2. Sunday All Stars (GMA-7) – 12.3%
3. FPJ – Da King on ABS-CBN: Isang Bala Ka Lang Part 2 (ABS-CBN) – 11.7%
GMA Blockbusters: Andre (GMA-7) – 10.6%
Kapuso Movie Festival: Miss Congeniality – Armed & Fabulous (GMA-7) – 10.4%
24 Oras Weekend (GMA-7) – 10.2%
TV Patrol Weekend (ABS-CBN) – 9.5%
ASAP 18 (ABS-CBN) – 8.4%
9. Born Impact Weekend (GMA-7) – 8.3%
Sunday Sineplex: The Indian in the Cupboard (TV5) – 7.9%
PRIMETIME:
Kapuso Mo, Jessica Soho (GMA-7) – 28.9%
Pepito Manaloto: Ang Tunay na Kuwento (GMA-7) – 24.8%
Look Up! Look Up! (GMA-7) – 18.8%
Gandang Gabi Vice (ABS-CBN) – 18.5%
Kaps's Amazing Stories (GMA-7) – 17.6%
Star Cinema Originals: Kimmy Dora & The Temple of Kiyeme (ABS-CBN) – 14.8%
Rated K: Handa Na Ba Kayo? (ABS-CBN) – 14.1%
Sunday Night Box Office: Prankista (GMA-7) – 12.6%
Goin' Bulilit (ABS-CBN) – 11.3%
Wow Mali Pa Rin! (TV5) – 7.5%
December 30, 2013 (Monday)
DAYTIME:
Be Careful With My Heart(ABS-CBN) – 16.9%
Eat Bulaga (GMA-7) – 16.1%
Ryzza: The Ryzza Mae Show (GMA-7) – 14.4%
Doraemon (GMA-7) – 13.4%
It's Showtime (ABS-CBN) – 13.1%
GMA Blockbusters: Pasukob (GMA-7) – 12.7%
Kapamilya Blockbusters: Pak! Pak! My Dr. Kwak (ABS-CBN) – 12.7%
Bleach (GMA-7) – 11.8% / Shaman King (GMA-7) – 11.8%
Flame of Recca (GMA-7) – 11.2%
Tunay na Buhay (GMA-7) – 10.9%
PRIMETIME:
Honesto (ABS-CBN) – 22.5%
Got To Believe (ABS-CBN) – 21.8%
24 Oras (GMA-7) – 20%
Kapuso Primetime Cinema: Fantastic Four – Rise of the Silver Surfer (GMA-7) – 20%
Adarna (GMA-7) – 18.4% / TV Patrol (ABS-CBN) – 18.4%
Maria Mercedes (ABS-CBN) – 17.7%
A 100-Year Legacy (GMA-7) – 14.3%
Annaliza (ABS-CBN) – 12.3%
Prinsesa ng Buhay Ko (GMA-7) – 11.9%
Saksi (GMA-7) – 11.1%
December 31, 2013 (Tuesday)
DAYTIME:
Eat Bulaga (GMA-7) – 14.9%
Be Careful With My Heart (ABS-CBN) – 14.4%
Doraemon (GMA-7) – 12.8%
Ryzza: The Ryzza Mae Show (GMA-7) – 12.2%
It's Showtime (ABS-CBN) – 12%
Shaman King (GMA-7) – 11.5%
Flame of Recca (GMA-7) – 11.3%
Kapamilya Blockbusters: 24/7 In Love (ABS-CBN) - 11.1%
Bleach (GMA-7) – 10.4%
Pokemon (GMA-7) – 9.2%
PRIMETIME:
Saksi (GMA-7) – 17.7%
Got To Believe (ABS-CBN) – 17.5%
Honesto (ABS-CBN) – 17.3%
Kapuso Primetime Cinema: Alvin & The Chipmunks - Chipwrecked (GMA-7) – 17.1%
Countdown to 2014 (GMA-7) – 16.5%
24 Oras (GMA-7) – 15.1%
Adarna (GMA-7) – 13.6%
TV Patrol (ABS-CBN) – 13.4%
Maria Mercedes (ABS-CBN) – 13.2%
Annaliza (ABS-CBN) – 11.2%

Source: AGB Nielsen Philippines

t