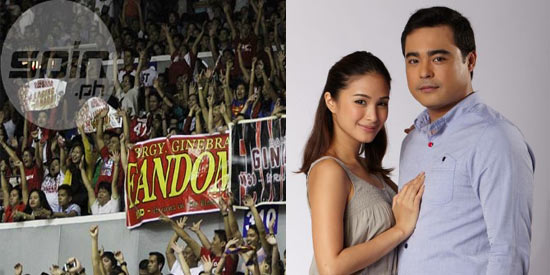 ---
Game 7 of the PLDT myDSL PBA Philippine Cup Finals was not only a big deal for basketball fans but also for TV5.

The Kapatid Network's coverage of the basketball match between San Mig and Barangay Ginebra emerged as the most-watched primetime program last February 12, according to ratings data from AGB Nielsen Philippines from Mega Manila households.

The said PBA game, which registered a rating of 22.4%, was able to beat ABS-CBN's popular teleserye Honesto, which registered 22.2%.

TV5's coverage of the Sochi Winter Olympics also attracted more viewers. On February 10, a 10-minute Sochi.Ru 2014 Update (aired in the middle of a PBA game) registered 15.7% rating, allowing it to tie in the No. 9 slot with Annaliza (ABS-CBN).

The Kapatid Network also debuted new shows during the period of February 8 to 14, 2014: Kaya on February 8 with 2.7% and Bigtime on February 13 with 2.3%.

Meanwhile, top-rating afternoon weekday drama Magkano Ba Ang Pag-ibig ended on a high note with 15.7% on February 14. It emerged as the 3rd most-watched program on the daytime block that day. The Heart Evangelista-Sid Lucero starrer has always been a ratings winner for GMA-7.
ABS-CBN welcomed the return of Boy Abunda and Kris Aquino on February 10. The 15-minute show Aquino & Abunda Tonight aired its pilot episode with 11% rating.


GMA-7's premiere documentary program i-Witness transfered to Saturday nights on February 8 with a 20.2% rating, doing very well against Banana Split's 10.1%.
Front Row replaced i-Witness on February 10 with 5.5%, against Banana Nite's 4.3%.
Power House premiered in GMA-7 on February 12 with 8.1%, against Banana Nite's 3.6%.

PRIMETIME NEWSCAST UPDATES. 24 Oras is slowly gaining back its place as the top-rating newscast in primetime.
ADVERTISEMENT - CONTINUE READING BELOW
This is according to AGB Nielsen data from Mega Manila households from February 8 to 14, 2014.
24 Oras was the top news program on primetime for several months until January 27, when TV Patrol, its competing show, gained a ratings boost for its extended coverage of the Vhong Navarro-Deniece Cornejo controversy. TV Patrol maintained the lead many days after that.
TV Patrol is still the winner for the period of February 8 to 14, but its lead is diminishing. The table below represents the average ratings for every week 24 Oras and TV Patrol are on-air.
Jan 13 to 17

Jan 20 to 24

Jan 27 to 31

Feb 3 to 7

Feb 10 to 14

24 Oras

22.04%

22.14%

20.56%

19.84%

20.18%

TV Patrol

18.7%

20.06%

25.58%

22.84%

21.12%
The first two columns, January 13 to 17 and January 20 to 24, represent the periods when 24 Oras is the leading newscast. January 27 to 31 is the period when TV Patrol jumped in the ratings, due to the Vhong Navarro coverage. The Kapamilya show maintained its lead for the next weeks, but its ratings are diminishing.
Here it is again in chart format: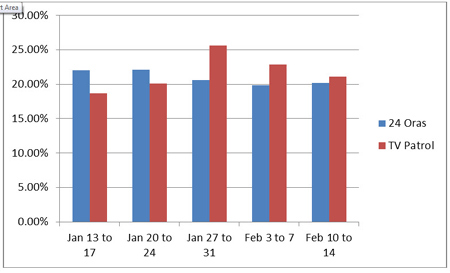 It remains to be seen if 24 Oras takes its lead back from TV Patrol in the coming weeks.
OTHER PRIMETIME SHOWS. It is not only TV Patrol that is experiencing a dip in the ratings.
Other Kapamilya primetime shows have lowered average ratings by two to three points. The table below illustrates it clearly:
Feb 3 to 7 average

Feb 10 to 14 average

Annaliza

14.16%

15.72%

Honesto

26.06%

23.98%

Got to Believe

26.68%

23.8%

The Legal Wife

19.2%

17.24%

The Biggest Loser

12.06%

8.58%
Of the five shows, only Annaliza gained ratings.
And despite the dip in the ratings for Honesto and Got to Believe, the two shows are still the primetime leaders, beating its rival Kapuso primetime shows by at least five points.
These Kapuso primetime shows also received a dip of around one point in its average ratings.
ADVERTISEMENT - CONTINUE READING BELOW
Feb 3 to 7 average

Feb 10 to 14 average

Paraiso Ko'y Ikaw

10.46%

10.08%

Adarna

18.68%

18.44%

Carmela

19.16%

18.3%

Rhodora X

17.3%

16.1%

A 100-Year Legacy

15.25%

14.725%
Note: The Koreanovela A 100-Year Legacy only airs from Monday to Thursday, so its average ratings counts only for four days.
Here is the comparative Rating Performance of GMA-7, ABS-CBN and TV5 programs from February 8 to 14, 2014, derived from AGB Nielsen Philippines from Mega Manila households:
February 8, 2014 (Saturday)
Morning:
PJM Forum (GMA-7) 0.2%; Adyenda (GMA-7) 0.5%
Kapwa Ko Mahal Ko (GMA-7) .6%; Sa Kabukiran (ABS-CBN) .5%; Family Matters (TV5) 0.2%
Pinoy MD (GMA-7) 2.3%; Salamat Dok (ABS-CBN) 1.8%; Imagination Movers (TV5) 0.8%
Scooby-Doo! Mystery Inc. (GMA-7) 3.4%; Swak na Swak (ABS-CBN) 3%; Yin Yang Yo! (TV5) 1.8%
Super Book (GMA-7) 5.7%; Honey Watch Out! (ABS-CBN) 1.6%; Kick Buttowski (TV5) 3%
Paddle Pop Kombatei (GMA-7) 6.3%; Angry Birds Toons (GMA-7) 7.9%; Sineskwela (ABS-CBN) 1.7%; The Marvelous Misadventures of Flapjack (TV5) 4.3%
Pororo (GMA-7) 8.7%; Toriko (GMA-7) 7.6%; Avatar: The Legend of Aang (ABS-CBN) 2.5%; Teenage Mutant Ninja Turtles (ABS-CBN) 3.9%; The Amazing World of Gumball (TV5) 4.7%
Tropang Potchi (GMA-7) 6.7%; Spongebob Squarepants (ABS-CBN) 5.6%; Regular Show (TV5) 5.1%
Sarap Diva (GMA-7) 7.5%; Maynila 15 (GMA-7) 12%; NBA 2013-2014 Season: Indiana Pacers vs Portland Trailblazers (ABS-CBN) 5.3%; Powerpuff Girls Z (TV5) 6.7%; Sym-Bionic Titan (TV5) 7.5%; Powerpuff Girls Z (TV5) 6.8%; TV5 Kids Movie Special: Ultimate Avengers II (TV5) 7.3%
Afternoon:
Eat Bulaga! (GMA-7) 23.6%; It's Showtime (ABS-CBN) 13.7%; Sochi.Ru Opening Ceremonies (TV5) 2.8%
GMA Blockbusters: Elektra (GMA-7) 13.1%; The Singing Bee (ABS-CBN) 9.2%
Wish Ko Lang! (GMA-7) 9.1%; SOCO (ABS-CBN) 9.8%; Failon Ngayon (ABS-CBN) 8.6%; PLDT MyDSL PBA 2014 Philippine Cup: Ginebra vs San Mig Coffee (TV5) 10.7%
24 Oras Weekend (GMA-7) 9.8%; TV Patrol Weekend (ABS-CBN) 12.5%; Aksyon Weekend (TV5) 5.2%
Evening:
Picture! Picture! (GMA-7) 13.7%; Bet On Your Baby (ABS-CBN) 16.6%; Magik Gimik Revealed! (TV5) 6.9%; Pinoy Explorer (TV5) 7.1%
Vampire Ang Daddy Ko (GMA-7) 21%; Wansapanataym (ABS-CBN) 17.5%; Tropa Mo Ko Unli (TV5) 7.4%
ADVERTISEMENT - CONTINUE READING BELOW
Magpakailanman (GMA-7) 24.8%; MMK: Ang Tahanan Mo (ABS-CBN) 18.6%; Killer Karaoke: Pinoy Naman (TV5) 6.8%
Celebrity Bluff (GMA-7) 26.6%; The Biggest Loser: Pinoy Edition Doubles (ABS-CBN) 13.4%; Juan Direction (TV5) 3.1%
I-Witness (GMA-7) 20.2%; Banana Split: Extra Scoop (ABS-CBN) 10.1%; 2014 Ronda Pilipinas International (TV5) 3.8%
Kapuso Movie Night: Angel Terminators (GMA-7) 9%; The Bottom Line (ABS-CBN) 4.7%; Sports Unlimited (ABS-CBN) 2.3%; Kaya (TV5) 2.7%; SpinNation (TV5) 1.2%
Walang Tulugan (GMA-7) 2.6%; O Shopping (ABS-CBN) 1%; Pilipinas News Weekend (TV5) 0.8%; Sochi.Ru 2014 (TV5) 0.6%
---
February 9, 2014 (Sunday)
Morning:
Jesus The Healer (GMA-7) .3%; Balitang 60 (TV5) 1.4%;
In Touch with Dr. Charles Stanley (GMA-7) 0.7%; The Healing Eucharist (ABS-CBN) 3.6%; Sunday Mass on TV5 (TV5) 2.1%
The Batman (GMA-7) 3.1%; Swak na Swak (ABS-CBN) 1.8%; Power to Unite with Elvira (TV5) 1.3%
Super Book (GMA-7) 6.8%; Paddle Pop Kombatei (GMA-7) 6.3%; Pororo (GMA-7) 7.2%; Salamat Dok (ABS-CBN) 2.3%; Yin Yang Yo! (TV5) 1.4%; Kick Buttowski (TV5) 3.3%
Toriko (GMA-7) 7.8%; X-Men (ABS-CBN) 1.3%; The Marvelous Misadventures of Flapjack (TV5) 4.2%
Aha! (GMA-7) 7.7%; Marvel Blade (ABS-CBN) 2%; Regular Show (TV5) 5.3%
Born To Be Wild (GMA-7) 9.7%; Matanglawin (ABS-CBN) 4.6%; Powerpuff Girls Z (TV5) 5.4%
Kapuso Movie Festival: Spy Kids 2: Island of Lost Dreams (GMA-7) 15.5%; NBA 2013-2014 Season: Atlanta Hawks vs Memphis Grizzlies (ABS-CBN) 3.4%; Sym-Bionic Titan (TV5) 5.3%; Generator Rex (TV5) 4%; Philip Lifestyle Guy (TV5) 1.4%
Afternoon:
Sunday All Stars (GMA-7) 13%; ASAP 19 (ABS-CBN) 9.8%; Sunday Sineplex: Open Season 2 (TV5) 6.3%; Video Incredible (TV5) 5.3%
True Horror Stories (GMA-7) 13.2%; iBilib (GMA-7) 9.6%; Luv U (ABS-CBN) 8.4%;
Startalk (GMA-7) 10.4%; Buzz ng Bayan (ABS-CBN) 11.1%; Sochi.Ru 2014 (TV5) 4.5%
24 Oras Weekend (GMA-7) 12.7%; TV Patrol Weekend (ABS-CBN) 13.5%
Evening:
Kap's Amazing Stories (GMA-7) 15.2%; Goin' Bulilit (ABS-CBN) 13.1%
Pepito Manaloto: Ang Tunay na Kuwento (GMA-7) 23.6%; Home Sweetie Home (ABS-CBN) 16%; Who Wants to be a Millionaire (TV5) 7.6%
Kapuso Mo, Jessica Soho (GMA-7) 28.6%; Rated K: Handa na ba Kayo? (ABS-CBN) 14.7%; Wow Mali Pa Rin! (TV5) 8.3%
ADVERTISEMENT - CONTINUE READING BELOW
Imbestigador (GMA-7) 19.3%; Gandang Gabi Vice (ABS-CBN) 18.3%; The Hills Have Eyes II (TV5) 6.7%
Sunday Night Box Office: Alien vs Predator (GMA-7) 12.5%; Sunday's Best: King of the Gil (ABS-CBN) 10.6%; Ronda Pilipinas (TV5) 2.4%; Pilipinas News Weekend (TV5) 1.6%
Diyos at Bayan (GMA-7) 1.6%; O Shopping (ABS-CBN) 1.1%; Sochi.Ru 2014 (TV5) 0.8%
--
February 10, 2014 (Monday)
Morning:
Aha! Replay (GMA-7) 0.8%; Sports Unlimited Replay (ABS-CBN) 0.8%; Word of the Lourd (TV5) 0.7%; Reaksyon Replay (TV5) 0.7%
Unang Hirit! (GMA-7) 4.5%; Umagang Kay Ganda (ABS-CBN) 4.4%; Good Morning Club (TV5) 1.3%
Doraemon (GMA-7) 5.8%; Pokemon (GMA-7) 7.4%; Kris TV (ABS-CBN) 7.2 %; Jungle Junction (TV5) 1.8%
Detective Conan (GMA-7) 8.4%; Ultraman Mebius (ABS-CBN) 3.6%; Domo (ABS-CBN) 3.3%; Phineas and Ferb (TV5) 2.2%
Inuyasha (GMA-7) 7.6%; Kuroko's Basketball (ABS-CBN) 3.7%; Domo (ABS-CBN) 3.2%; Gargoyles (TV5) 2.1%; Oggy and the Cockroaches (TV5) 2.7%; Johnny Bravo (TV5) 3.5%
Flame of Recca (GMA-7) 7.6%; Dragon Ball Z Kai (GMA-7) 7.7%; Naruto Shippuuden (ABS-CBN) 3.2%; Adventure Time (TV5) 4.7%
Kusina Master (GMA-7) 5.6%; Crazy Love (ABS-CBN) 4.9%
Tunay Na Buhay (GMA-7) 8.8%; Minute To Win It (ABS-CBN) 9.7%; Ben 10 Ultimate Alien (TV5) 4.7%
The Ryzza Mae Show (GMA-7) 12.4%; Be Careful With My Heart (ABS-CBN) 16.5%; Likeable Or Not (TV5) 3.4%
Afternoon:
Eat Bulaga! (GMA-7) 20.7%; It's Showtime (ABS-CBN) 10.5%; Sochi.Ru 2014 (TV5) 3.8%
Villa Quintana (GMA-7) 14.7%; Magkano Ba Ang Pag-ibig (GMA-7) 13.8%; Kapamilya Blockbusters: This Guy's in Love With U Mare! (ABS-CBN) 8.9%; The Eagle (TV5) 5.3%
The Borrowed Wife (GMA-7) 12.1%; Galema: Anak ni Zuma (ABS-CBN) 7.7%; Showbiz Police: Una sa Eksena (TV5) 3.5%; Face the People (TV5) 5.8%
Tale of Arang (GMA-7) 9.7%; Bistado (ABS-CBN) 8.4%; Princess Hours (ABS-CBN) 9.2%; T3 Reload (TV5) 7.2%
Evening:
Paraiso Ko'y Ikaw (GMA-7) 10%; Annaliza (ABS-CBN) 15.7%; Aksyon (TV5) 9.6%
24 Oras (GMA-7) 20.6%; TV Patrol (ABS-CBN) 21.9%; Let's Ask Pilipinas (TV5) 7.5%; Madam Chairman (TV5) 9.9%
Adarna (GMA-7) 17%; Honesto (ABS-CBN) 23.4%; PLDT MyDSL PBA 2014 Philippine Cup: Bgy. Ginebra vs San Mig Coffee Mixers (TV5) 20.2%
ADVERTISEMENT - CONTINUE READING BELOW
Carmela (GMA-7) 16.3%; Got to Believe (ABS-CBN) 22.7%; Sochi.Ru 2014 Update (TV5) 15.7%
Rhodora X (GMA-7) 14.4%; The Legal Wife (ABS-CBN) 16.2%; Ronda Pilipinas (TV5) 8.2%
A 100-Year Legacy (GMA-7) 12.1%; Aquino & Abunda Tonight (ABS-CBN) 11%; The Biggest Loser: Pinoy Doubles (ABS-CBN) 8.1%; Demolition Job (TV5) 4.2%
Saksi (GMA-7) 10%; Bandila (ABS-CBN) 5.7%; Pilipinas News (TV5) 2.3%
Front Row (GMA-7) 5.5%; Banana Nite (ABS-CBN) 4.3%; Reaksyon (TV5) 1.7%
The Medyo Late Night Show with Jojo A. (GMA-7) 2.8%; O Shopping (ABS-CBN) 1%; Sochi.Ru 2014 (TV5) 1.5%
----
February 11, 2014 (Tuesday)
Morning:
I-Witness Replay (GMA-7) 0.7%; Mutya ng Masa Replay (ABS-CBN) 0.9%; Reaksyon Replay (TV5) 0.4%
Unang Hirit! (GMA-7) 4.1%; Umagang Kay Ganda (ABS-CBN) 4.5%; Good Morning Club (TV5) 1.2%
Doraemon (GMA-7) 6.7%; Pokemon (GMA-7) 7.8%; Kris TV (ABS-CBN) 5.4%; Jungle Junction (TV5) 1.5%
Detective Conan (GMA-7) 9.4%; Ultraman Mebius (ABS-CBN) 2.8%; Domo (ABS-CBN) 2.8%; Phineas and Ferb (TV5) 2.2%
Inuyasha (GMA-7) 8%; Kuroko's Basketball (ABS-CBN) 4%; Domo (ABS-CBN) 4%; Gargoyles (TV5) 1.5%
Flame of Recca (GMA-7) 8.3%; Naruto Shippuden (ABS-CBN) 4.5%; Oggy and the Cockroaches (TV5) 2.8%
Dragon Ball Z Kai (GMA-7) 8.7%; Kusina Master (GMA-7) 7.5%; Crazy Love (ABS-CBN) 5.6%; Johnny Bravo (TV5) 3%; Adventure Time (TV5) 4.3%
Tunay Na Buhay (GMA-7) 8.6%; Minute To Win It (ABS-CBN) 8.5%; Ben 10 Ultimate Alien (TV5) 5.3%
The Ryzza Mae Show (GMA-7) 12.1%; Be Careful With My Heart (ABS-CBN) 15.5%; Likeable Or Not (TV5) 3.9%
Afternoon:
Eat Bulaga! (GMA-7) 18.9%; It's Showtime (ABS-CBN) 10.9%; Sochi.Ru 2014 (TV5) 2.6%
Villa Quintana (GMA-7) 12.5%; Magkano Ba Ang Pag-ibig (GMA-7) 11.5%; Kapamilya Blockbusters: Love on Line (ABS-CBN) 8.5%; Sine Ko 5ingko: Virtuosity (TV5) 3.8%
The Borrowed Wife (GMA-7) 10%; Galema: Anak ni Zuma (ABS-CBN) 6.3%; Showbiz Police: Una sa Eksena (TV5) 3.2%; Face The People (TV5) 5.6%
Tale of Arang (GMA-7) 9.8%; Mutya ng Masa (ABS-CBN) 6.7%; Princess Hours (ABS-CBN) 9.3%; T3 Reload (TV5) 5.3%
Evening:
Paraiso Ko'y Ikaw (GMA-7) 10.8%; Annaliza (ABS-CBN) 16.4%; Aksyon (TV5) 7.6%
ADVERTISEMENT - CONTINUE READING BELOW
24 Oras (GMA-7) 20.6%; TV Patrol (ABS-CBN) 21.3%; Let's Ask Pilipinas (TV5) 6.9%; Madam Chairman (TV5) 7.4%
Adarna (GMA-7) 19.4%; Honesto (ABS-CBN) 26.5%; Studio 5 Original Movies: When I Fall in Love (TV5) 3.2%
Carmela (GMA-7) 20%; Got to Believe (ABS-CBN) 27.5%
Rhodora X (GMA-7) 18.3%; The Legal Wife (ABS-CBN) 19.7%; Aquino & Abunda Tonight (ABS-CBN) 14.8%; Ronda Pilipinas (TV5) 1.7%
A 100-Year Legacy (GMA-7) 15%; The Biggest Loser: Pinoy Doubles (ABS-CBN) 9.6%; Numero (TV5) 2.4%
Saksi (GMA-7) 9.2%; Bandila (ABS-CBN) 5.4%; Pilipinas News (TV5) 1.8%
Reporter's Notebook (GMA-7) 5.1%; Banana Nite (ABS-CBN) 3%; Reaksyon (TV5) 1.3%
The Medyo Late Night Show with Jojo A. (GMA-7) 2%; O Shopping (ABS-CBN) 0.7%; Sochi.Ru 2014 (TV5) 1.9%
---
February 12, 2014 (Wednesday)
Morning:
Reporter's Notebook (GMA-7) 0.8%; My Puhunan Replay (ABS-CBN) 0.9%; Reaksyon Replay (TV5) 0.6%
Unang Hirit! (GMA-7) 4.1%; Umagang Kay Ganda (ABS-CBN) 4.1%; Good Morning Club (TV5) 1%
Doraemon (GMA-7) 6.5%; Pokemon (GMA-7) 7.9%; Kris TV (ABS-CBN) 5.8%; Jungle Junction (TV5) 1.4%
Detective Conan (GMA-7) 9.2%; Ultraman Mebius (ABS-CBN) 2.9%; Domo (ABS-CBN) 3.3%; Phineas and Ferb (TV5) 3.1%
Inuyasha (GMA-7) 8.7%; Kuroko's Basketball (ABS-CBN) 2.6%; Domo (ABS-CBN) 3%; Gargoyles (TV5) 2.7%
Flame of Recca (GMA-7) 8.3%; Naruto Shippuden (ABS-CBN) 3.9%; Oggy and the Cockroaches (TV5) 3.5%
Dragon Ball Z Kai (GMA-7) 9.8%; Kusina Master (GMA-7) 6.8%; Crazy Love (ABS-CBN) 5.7%; Johnny Bravo (TV5) 3.5%; Adventure Time (TV5) 5%
Tunay Na Buhay (GMA-7) 8.2%; Minute To Win It (ABS-CBN) 9.6%; Ben 10 Ultimate Alien (TV5) 5.2%
The Ryzza Mae Show (GMA-7) 11.7%; Be Careful With My Heart (ABS-CBN) 16.5%; Likeable Or Not (TV5) 3.9%
Afternoon:
Eat Bulaga! (GMA-7) 20.6%; It's Showtime (ABS-CBN) 11.3%; Sochi.Ru 2014 (TV5) 3.2%
Villa Quintana (GMA-7) 14.2%; Magkano Ba Ang Pag-ibig (GMA-7) 13.3%; Kapamilya Blockbusters: Won't Last a Day Without You (ABS-CBN) 8%; Sine Ko 5ingko: The Expendables (TV5) 6%
The Borrowed Wife (GMA-7) 11.1%; Galema: Anak ni Zuma (ABS-CBN) 8.1%; Showbiz Police: Una sa Eksena (TV5) 3.6%; Face The People (TV5) 5.5%
ADVERTISEMENT - CONTINUE READING BELOW
Tale of Arang (GMA-7) 8.7%; My Puhunan (ABS-CBN) 6.6%; Princess Hours (ABS-CBN) 9%; T3 Reload (TV5) 6.4%
Evening:
Paraiso Ko'y Ikaw (GMA-7) 10.2%; Annaliza (ABS-CBN) 16.4%; Aksyon (TV5) 8.8%
24 Oras (GMA-7) 20.5%; TV Patrol (ABS-CBN) 21.7%; Let's Ask Pilipinas (TV5) 6.4%; Madam Chairman (TV5) 7.9%
Adarna (GMA-7) 17.5%; Honesto (ABS-CBN) 22.2%; PLDT MyDSL PBA 2014 Philippine Cup: Brgy Ginebra vs San Mig Coffee (TV5) 22.4%
Carmela (GMA-7) 16.2%; Got to Believe (ABS-CBN) 20.1%
Rhodora X (GMA-7) 12.8%; The Legal Wife (ABS-CBN) 14.5%; Aquino & Abunda Tonight (ABS-CBN) 9.1%
A 100-Year Legacy (GMA-7) 15.3%; The Biggest Loser: Pinoy Doubles (ABS-CBN) 9.6%; Ronda Pilipinas (TV5) 7.4%; History with Lourd (TV5) 3.4%
Saksi (GMA-7) 11%; Bandila (ABS-CBN) 5.9%; Pilipinas News (TV5) 2.4%
Power House (GMA-7) 8.1%; Banana Nite (ABS-CBN) 3.6%; Reaksyon (TV5) 1.9%
The Medyo Late Night Show with Jojo A. (GMA-7) 3%; O Shopping (ABS-CBN) 0.9%; Sochi.Ru 2014 (TV5) 1.5%
---
February 13, 2014 (Thursday)
Morning:
Born To Be Wild Replay (GMA-7) 0.6%; Tapatan Ni Tunying Replay (ABS-CBN) 0.7%; Astig (TV5) 0.6%; Reaksyon Replay (TV5) 0.9%
Unang Hirit! (GMA-7) 4.5%; Umagang Kay Ganda (ABS-CBN) 4.4%; Good Morning Club (TV5) 1.4%
Doraemon (GMA-7) 7.5%; Pokemon (GMA-7) 8.6%; Kris TV (ABS-CBN) 5.1%; Jungle Junction (TV5) 2.6%
Detective Conan (GMA-7) 9.9%; Ultraman Mebius (ABS-CBN) 3.1%; News Patrol (ABS-CBN) 2.6%; Domo (ABS-CBN) 3.7%; Phineas and Ferb (TV5) 3.1%; News 5 Live (TV5) 2.1%
Inuyasha (GMA-7) 9.3%; Kuroko's Basketball (ABS-CBN) 3.5%
Flame of Recca (GMA-7) 10.2%; Naruto Shippuden (ABS-CBN) 4.4%
Dragon Ball Z Kai (GMA-7) 12%; Kusina Master (GMA-7) 9.4%; Crazy Love (ABS-CBN) 6.8%
Tunay Na Buhay (GMA-7) 8.8%; Minute To Win It (ABS-CBN) 11%
The Ryzza Mae Show (GMA-7) 12.4%; Be Careful With My Heart (ABS-CBN) 15.3%
Afternoon:
Eat Bulaga! (GMA-7) 19.6%; It's Showtime (ABS-CBN) 11.7%; Sochi.Ru 2014 (TV5) 3.1%
Villa Quintana (GMA-7) 15.9%; Magkano Ba Ang Pag-ibig (GMA-7) 14.6%; Kapamilya Blockbusters: I Do (ABS-CBN) 7.3%; End of the World (TV5) 4.8%
The Borrowed Wife (GMA-7) 12%; Galema: Anak ni Zuma (ABS-CBN) 7.1%; Showbiz Police: Una sa Eksena (TV5) 4%; Face The People (TV5) 5.5%
ADVERTISEMENT - CONTINUE READING BELOW
Tale of Arang (GMA-7) 10.1%; Tapatan Ni Tunying (ABS-CBN) 6.5%; Princess Hours (ABS-CBN) 8.7%; T3 Reload (TV5) 5.4%
Evening:
Paraiso Ko'y Ikaw (GMA-7) 9.9%; Annaliza (ABS-CBN) 15.1%; Aksyon (TV5) 7.9%
24 Oras (GMA-7) 20%; TV Patrol (ABS-CBN) 19.5%; Let's Ask Pilipinas (TV5) 7%; Sochi.Ru 2014 Update (TV5) 7.9%; Madam Chairman (TV5) 6.6%
Adarna (GMA-7) 20.4%; Honesto (ABS-CBN) 25%; Obsession (TV5) 3.4%
Carmela (GMA-7) 21.6%; Got to Believe (ABS-CBN) 26.6%; Asia's Next Top Model (TV5) 3.4%
Rhodora X (GMA-7) 18.9%; The Legal Wife (ABS-CBN) 20.7%; Aquino & Abunda Tonight (ABS-CBN) 13.5%; Ronda Pilipinas (TV5) 3.1%
A 100-Year Legacy (GMA-7) 16.5%; The Biggest Loser: Pinoy Doubles (ABS-CBN) 8.5%; Bigtime (TV5) 2.3%
Saksi (GMA-7) 9%; Bandila (ABS-CBN) 5%; Pilipinas News (TV5) 2.3%; Reaksyon (TV5) 2.8%
Alisto! (GMA-7) 6.4%; Banana Nite (ABS-CBN) 2.9%; Sochi.Ru 2014 (TV5) 3.4%
The Medyo Late Night Show with Jojo A. (GMA-7) 1.9%; O Shopping (ABS-CBN) .7%
---
February 14, 2014 (Friday)
Morning:
Alisto! Replay (GMA-7) 0.7%; Matanglawin Replay (ABS-CBN) 0.8%; Reaksyon Replay (TV5) 0.7%
Unang Hirit! (GMA-7) 4.7%; Umagang Kay Ganda (ABS-CBN) 4.4%; Good Morning Club (TV5) 1.1%
Doraemon (GMA-7) 6.9%; Pokemon (GMA-7) 8.7%; Kris TV (ABS-CBN) 6.4%; Jungle Junction (TV5) 2.1%
Detective Conan (GMA-7) 10.2%; Ultraman Mebius (ABS-CBN) 3.5%; Domo (ABS-CBN) 4.2%; Phineas and Ferb (TV5) 2.7%
Inuyasha (GMA-7) 8.8%; Kuroko's Basketball (ABS-CBN) 3.5%; Domo (ABS-CBN) 3.1%; Gargoyles (TV5) 2.6%
Flame of Recca (GMA-7) 8.8%; Naruto Shippuden (ABS-CBN) 4%; Oggy and the Cockroaches (TV5) 3.6%
Dragon Ball Z Kai (GMA-7) 9.2%; Kusina Master (GMA-7) 6.9%; Crazy Love (ABS-CBN) 6%; Johnny Bravo (TV5) 3.7%; Adventure Time (TV5) 5.1%
Tunay Na Buhay (GMA-7) 9.9%; Minute To Win It (ABS-CBN) 10.3%; News Patrol (ABS-CBN) 7.1%; Ben 10 Ultimate Alien (TV5) 5%
The Ryzza Mae Show (GMA-7) 12.9%; Be Careful With My Heart (ABS-CBN) 16.7%; Likeable Or Not (TV5) 4.6%
Afternoon:
Eat Bulaga! (GMA-7) 20.2%; It's Showtime (ABS-CBN) 12.6%; Sochi.Ru 2014 (TV5) 3.5%
Villa Quintana (GMA-7) 15.7%; Magkano Ba Ang Pag-ibig (GMA-7) 15.9%; Kapamilya Blockbusters: One More Chance (ABS-CBN) 9%; Sine Ko 5ingko: Icarus (TV5) 4.6%
ADVERTISEMENT - CONTINUE READING BELOW
The Borrowed Wife (GMA-7) 11.9%; Galema: Anak ni Zuma (ABS-CBN) 8.1%; Showbiz Police: Una sa Eksena (TV5) 3.1%; Face The People (TV5) 5.9%
Tale of Arang (GMA-7) 8.7%; Hiwaga (ABS-CBN) 7.5%; Princess Hours (ABS-CBN) 8.6%; T3 Reload (TV5) 6%
Evening:
Paraiso Ko'y Ikaw (GMA-7) 9.5%; Annaliza (ABS-CBN) 15%; Aksyon (TV5) 8.5%
24 Oras (GMA-7) 19.2%; TV Patrol (ABS-CBN) 21.2%; Let's Ask Pilipinas (TV5) 6%; Madam Chairman (TV5) 6.5%
Adarna (GMA-7) 17.9%; Honesto (ABS-CBN) 22.8%; PLDT MyDSL PBA 2014 Philippine Cup: Rain or Shine vs San Mig Coffee (TV5) 16.2%
Carmela (GMA-7) 17.4%; Got to Believe (ABS-CBN) 22.1%
Rhodora X (GMA-7) 16.1%; The Legal Wife (ABS-CBN) 15.1%; Aquino & Abunda Tonight (ABS-CBN) 9.5%; Astig (TV5) 4.2%
Bubble Gang (GMA-7) 15.8%; The Biggest Loser: Pinoy Doubles (ABS-CBN) 7.1%; Ronda Pilipinas (TV5) 8.5%
Saksi (GMA-7) 7.3%; Bandila (ABS-CBN) 5.1%; Banana Nite (ABS-CBN) 4.2%; Pilipinas News (TV5) 6.2%; Reaksyon (TV5) 5.1%
The Medyo Late Night Show with Jojo A. (GMA-7) 3.2%; O Shopping (ABS-CBN) 0.9%; Sochi.Ru 2014 (TV5) 5.4%
---
TOP TEN PROGRAMS:
February 8, 2014 (Saturday)
DAYTIME:
Eat Bulaga! (GMA-7) - 23.6%
It's Showtime (ABS-CBN) - 13.7%
GMA Blockbusters: Elektra (GMA-7) 13.1%
TV Patrol Weekend (ABS-CBN) - 12.5%
Maynila 15 (GMA-7) - 12%
PLDT MyDSL PBA 2014 Philippine Cup: Brgy Ginebra vs San Mig Coffee (TV5) - 10.7%
24 Oras Weekend (GMA-7) / SOCO (ABS-CBN) - 9.8%
The Singing Bee (ABS-CBN) - 9.2%
Wish Ko Lang! (GMA-7) - 9.1%
Pororo (GMA-7) - 8.7%
PRIMETIME:
Celebrity Bluff (GMA-7) - 26.6%
Magpakailanman (GMA-7) - 24.8%
Vampire Ang Daddy Ko (GMA-7) - 21%
i-Witness (GMA-7) - 20.2%
MMK: Ang Tahanan Mo (ABS-CBN) - 18.6%
Wansapanataym (ABS-CBN) - 17.5%
Bet On Your Baby (ABS-CBN) - 16.6%
Picture! Picture! (GMA-7) - 15.6%
The Biggest Loser: Pinoy Edition Primer (ABS-CBN) - 13.4%
Banana Split: Extra Scoop (ABS-CBN) - 10.1%
February 9, 2014 (Sunday)
DAYTIME:
Kapuso Movie Festival: Spy Kids 2: Island of Lost Dreams (GMA-7) - 15.5%
TV Patrol Weekend (ABS-CBN) - 14.5%
True Horror Stories (GMA-7) - 13.2%
Sunday All Stars (GMA-7) - 13%
24 Oras Weekend (GMA-7) - 12.7%
Buzz ng Bayan (ABS-CBN) - 11.1%
Startalk (GMA-7) - 10.4%
ASAP 19 (ABS-CBN) - 9.8%
Born To Be Wild (GMA-7) - 9.7%
iBilib (GMA-7) - 9.6%
PRIMETIME:
Kapuso Mo, Jessica Soho (GMA-7) - 28.6%
Pepito Manaloto: Ang Tunay na Kuwento (GMA-7) - 23.6%
Imbestigador (GMA-7) - 19.3%
Gandang Gabi Vice (ABS-CBN) - 18.3%
Home Sweetie Home (ABS-CBN) - 16%
Kap's Amazing Stories (GMA-7) - 15.2%
Rated K: Handa Na Ba Kayo? (ABS-CBN ) - 14.7%
Goin' Bulilit (ABS-CBN) - 13.1%
Sunday Night Box Office: Alien vs Predator (GMA-7) - 12.5%
Sunday's Best: King of the Gil (ABS-CBN) - 10.6%
February 10, 2014 (Monday)
DAYTIME:
Eat Bulaga! (GMA-7) - 20.7%
Be Careful With My Heart (ABS-CBN) - 16.5%
Villa Quintana (GMA-7) - 14.7%
Magkano Ba Ang Pag-ibig? (GMA-7) - 13.8%
The Ryzza Mae Show (GMA-7) - 12.4%
The Borrowed Wife (GMA-7) - 12.1%
It's Showtime (ABS-CBN) - 10.5%
Tale of Arang (GMA-7) / Minute To Win It (ABS-CBN) - 9.7%
Princess Hours (ABS-CBN) - 9.2%
Kapamilya Blockbusters: This Guy's In Love With U Mare (ABS-CBN) - 8.9%
PRIMETIME:
Honesto (ABS-CBN) - 23.4%
Got to Believe (ABS-CBN) - 22.7%
TV Patrol (ABS-CBN) - 21.9%
24 Oras (GMA-7) - 20.6%
PLDT MyDSL PBA 2014 Philippine Cup: Brgy Ginebra vs San Mig Coffee (TV5) - 20.2%
Adarna (GMA-7) - 17%
Carmela (GMA-7) - 16.3%
The Legal Wife (ABS-CBN) - 16.2%
Annaliza (ABS-CBN) / Sochi.Ru 2014 Update (TV5) - 15.7%
Rhodora X (GMA-7) - 14.4%
February 11, 2014 (Tuesday)
DAYTIME:
Eat Bulaga! (GMA-7) - 18.9%
Be Careful With My Heart (ABS-CBN) - 15.5%
Villa Quintana (GMA-7) - 12.5%
The Ryzza Mae Show (GMA-7) - 12.1%
Magkano Ba Ang Pag-ibig? (GMA-7) - 11.5%
It's Showtime (ABS-CBN) - 10.9%
The Borrowed Wife (GMA-7) - 10%
Tale of Arang (GMA-7) - 9.8%
Detective Conan (GMA-7) - 9.4%
Princess Hours (ABS-CBN) - 9.3%
PRIMETIME:
Got to Believe (ABS-CBN) - 27.5%
Honesto (ABS-CBN) - 26.5%
TV Patrol (ABS-CBN) - 21.3%
24 Oras (GMA-7) - 20.6%
Carmela (GMA-7) - 20%
The Legal Wife (ABS-CBN) - 19.7%
Adarna (GMA-7) - 19.4%
Rhodora X (GMA-7) - 18.3%
Annaliza (ABS-CBN) - 16.4%
A 100-Year Legacy (GMA-7) - 15%
February 12, 2014 (Wednesday)
DAYTIME:
Eat Bulaga! (GMA-7) - 20.6%
Be Careful With My Heart (ABS-CBN) - 16.5%
Villa Quintana (GMA-7) - 14.2%
Magkano Ba Ang Pag-ibig? (GMA-7) - 13.3%
The Ryzza Mae Show (GMA-7) - 11.7%
It's Showtime (ABS-CBN) - 11.3%
The Borrowed Wife (GMA-7) - 11.1%
Dragon Ball Z Kai (GMA-7) - 9.8%
Minute To Win It (ABS-CBN) - 9.6%
Detective Conan (GMA-7) - 9.2%
PRIMETIME:
PLDT MyDSL PBA 2014 Philippine Cup: Brgy Ginebra vs San Mig Coffee (TV5) - 22.4%
Honesto (ABS-CBN) - 22.2%
TV Patrol (ABS-CBN) - 21.7%
24 Oras (GMA-7) - 20.5%
Got to Believe (ABS-CBN) - 20.1%
Adarna (GMA-7) - 17.5%
Annaliza (ABS-CBN) - 16.4%
Carmela (GMA-7) - 16.2%
A 100-Year Legacy (GMA-7) - 15.3%
The Legal Wife (ABS-CBN) 14.5%
February 13, 2014 (Thursday)
DAYTIME:
Eat Bulaga! (GMA-7) - 19.6%
Villa Quintana (GMA-7) - 15.9%
Be Careful With My Heart (ABS-CBN) - 15.3%
Magkano Ba Ang Pag-ibig? (GMA-7) - 14.6%
The Ryzza Mae Show (GMA-7) - 12.4%
Dragon Ball Z Kai (GMA-7) / The Borrowed Wife (GMA-7) - 12%
It's Showtime (ABS-CBN) - 11.7%
Minute To Win It (ABS-CBN) - 11%
Flame of Recca (GMA-7) - 10.2%
Tale of Arang (GMA-7) - 10.1%
PRIMETIME:
Got to Believe (ABS-CBN) - 26.6%
Honesto (ABS-CBN) - 25%
Carmela (GMA-7) - 21.6%
The Legal Wife (ABS-CBN) - 20.7%
Adarna (GMA-7) - 20.4%
24 Oras (GMA-7) - 20%
TV Patrol (ABS-CBN) - 19.5%
Rhodora X (GMA-7) - 18.9%
A 100-Year Legacy (GMA-7) - 16.5%
Annaliza (ABS-CBN) - 15.1%
February 14, 2014 (Friday)
DAYTIME:
Eat Bulaga! (GMA-7) - 20.2%
Be Careful With My Heart (ABS-CBN) - 16.7%
Magkano Ba Ang Pag-ibig? (GMA-7) - 15.9%
Villa Quintana (GMA-7) - 15.7%
The Ryzza Mae Show (GMA-7) - 12.9%
It's Showtime (ABS-CBN) - 12.6%
The Borrowed Wife (GMA-7) - 11.9%
Minute to Win It (ABS-CBN) - 10.3%
Detective Conan (GMA-7) - 10.2%
Tunay na Buhay (GMA-7) - 9.9%

PRIMETIME:
Honesto (ABS-CBN) - 22.8%
Got to Believe (ABS-CBN) - 22.1%
TV Patrol (ABS-CBN) - 21.2%
24 Oras (GMA-7) - 19.2%
Adarna (GMA-7) - 17.9%
Carmela (GMA-7) - 17.4%
PLDT MyDSL PBA 2014 Philippine Cup: Brgy Ginebra vs San Mig Coffee (TV5) - 16.2%
Rhodora X (GMA-7) - 16.1%
Bubble Gang (GMA-7) - 15.8%
The Legal Wife (ABS-CBN) - 15.1%
Source: AGB Nielsen Philippines