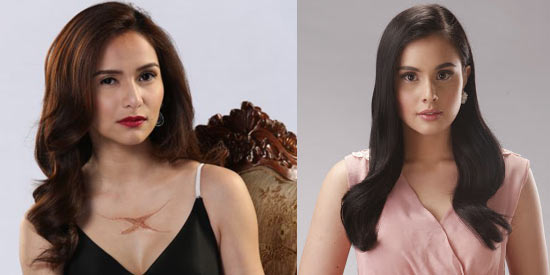 ---
GMA-'s weekday primetime offerings are finally giving a good fight against ABS-CBN's ratings juggernauts.
This is according to ratings data from AGB Nielsen Philippines from Mega Manila households from February 15 to 21, 2014.
The biggest winner is the psychological thriller Rhodora X, which stars Jennylyn Mercado, Yasmien Kurdi and Mark Herras. Rhodora X finally edged out its competing show, ABS-CBN's The Legal Wife, since its debut on January 27.
The average rating for the Kapuso primetime series for the period of February 17 to 21 is 17.3%, partially higher than The Legal Wife's 17.26%.
Rhodora X started beating the Angel Locsin-starrer on Friday, February 14, with 16.1% over the latter's 15.1%.
The following week, Rhodora X beat The Legal Wife again on February 19 and 21.
This doesn't mean that Rhodora X is gaining ratings or viewership, because its daily ratings points have been consistent from its debut. Instead, it owes its victory from The Legal Wife's steadily decreasing ratings week-to-week.
The Legal Wife debuted with a weekly average rating of 22%, a tad higher than what it gets now. In fact, The Legal Wife completely fell off the list of the top 10 most watched primetime shows for February 21.
ADVERTISEMENT - CONTINUE READING BELOW
These are the average ratings of both The Legal Wife and Rhodora X from week-to-week since both debuted:
Jan 27 to 31

Feb 3 to 7

Feb 10 to 14

Feb 17 to 21

Rhodora X

16.76%

17.3%

16.1%

17.3%

The Legal Wife

22%

19.2%

17.24%

17.26%
Carmela is another show that is gaining ground in GMA-7's primetime block. Its ratings have gradually increased from its February 27 debut. During this period, its highest day rating has been 22.7% on February 20.
Carmela's average rating on its first week (Janury 27 to 31) was 17.82%. Now it is 20.26% from February 17 to 21.
Carmela's ratings gain, however, is still not enough to dislodge the lead of its competing show, Got to Believe. The Daniel Padilla-Kathryn Bernardo vehicle has an average rating of 24.68% for February 17 to 21.
Other Kapamilya primetime shows are also beating GMA-7 shows by a considerable margin. Honesto and TV Patrol always make it to the top five highest-rating shows in primetime day-to-day, and continually beat its rival shows Adarna and 24 Oras.

Speaking of primetime, TV5's coverage of the PLDT MyDSL PBA 2014 Philippine Cup again garnered good ratings for the given period. It entered the Top 10 on the following days: February 16, 19 and 21.
ADVERTISEMENT - CONTINUE READING BELOW
ENDINGS AND BEGINNINGS. GMA-7's Innamorata debuted on the afternoon block last February 17 with 12.2%. It may be lower than the daily ratings of Magkano Ba Ang Pag-Ibig—the show it replaced—but it is enough to beat its rival show Kapamilya Blockbusters. Innamorata also landed in the No. 5 slot among the most-watched daytime programs that day.
ABS-CBN's afternoon Korean series Princess Hours ended on February 21 with 9.4%, higher than Tale of Arang's 8.9%.
Luis Manzano's morning game show Minute to Win It also ended on February 21, with Angel Locsin as his guest. It garnered 12.8% against Tunay Na Buhay's 8%.
TV5 premiered Kwentong Gilas on Monday nights starting on February 17. The show that tells the life stories of basketball players in the country's Gilas basketball team got 6.5% that day.
Here is the comparative Rating Performance of GMA-7, ABS-CBN and TV5 programs from February 15 to 21, 2014, derived from AGB Nielsen Philippines from Mega Manila households:
February 15, 2014 (Saturday)
ADVERTISEMENT - CONTINUE READING BELOW
Morning:
PJM Forum (GMA-7) .3%; Adyenda (GMA-7) .6%; Astig (TV5) .9%
Kapwa Ko Mahal Ko (GMA-7) .9%; Sa Kabukiran (ABS-CBN) .4%; Family Matters (TV5) .8%
Pinoy MD (GMA-7) 2%; Salamat Dok (ABS-CBN) 1.7%; Imagination Movers (TV5) 1.1%
Scooby-Doo! Mystery Inc. (GMA-7) 4.5%; Swak na Swak (ABS-CBN) 2.2%; Yin Yang Yo! (TV5) 2.3%
Super Book (GMA-7) 6.6%; Honey Watch Out! (ABS-CBN) 1.5%; Kick Buttowski (TV5) 3%
Paddle Pop Kombatei (GMA-7) 7.3%; Angry Birds Toons (GMA-7) 7.1%; Sineskwela (ABS-CBN) 1.5%; The Marvelous Misadventures of Flapjack (TV5) 3.8%
Pororo (GMA-7) 7.5%; Toriko (GMA-7) 7.3%; Avatar: The Legend of Aang (ABS-CBN) 1.8%; Teenage Mutant Ninja Turtles (ABS-CBN) 3.7%; The Amazing World of Gumball (TV5) 3.8%
Tropang Potchi (GMA-7) 5.9%; Spongebob Squarepants (ABS-CBN) 5.9%; Regular Show (TV5) 4.9%
Sarap Diva (GMA-7) 6.1%; Maynila 15 (GMA-7) 10.4%; BBVA Compass Rising Stars Challenge: Team Hill vs Team Webber (ABS-CBN) 4.7%; Powerpuff Girls Z (TV5) 4.7%; Sym-Bionic Titan (TV5) 5.8%; TV5 Kids Movie Special: The Invincible Ironman (TV5) 5.9%
Afternoon:
Eat Bulaga! (GMA-7) 20.3%; It's Showtime (ABS-CBN) 11.9%; Starship Troopers 3 (TV5) 6.5%
GMA Blockbusters: The Back-Up Plan (GMA-7) 10.7%; The Singing Bee (ABS-CBN) 9.3%; Hellboy (TV5) 7%
Wish Ko Lang! (GMA-7) 9.3%; SOCO (ABS-CBN) 10.6%; Failon Ngayon (ABS-CBN) 7.7%; Sochi.Ru 2014 (TV5) 3.9%
ADVERTISEMENT - CONTINUE READING BELOW
24 Oras Weekend (GMA-7) 11%; TV Patrol Weekend (ABS-CBN) 13.1%; Aksyon Weekend (TV5) 5%
Evening:
Picture! Picture! (GMA-7) 14.5%; Bet On Your Baby (ABS-CBN) 18.7%; Magik Gimik Revealed! (TV5) 6.9%; Sochi.Ru 2014 Update (TV5) 6%; Pinoy Explorer (TV5) 7.7%
Vampire Ang Daddy Ko (GMA-7) 20.4%; Wansapanataym (ABS-CBN) 19%; Tropa Mo Ko Unli (TV5) 8.2%
Magpakailanman (GMA-7) 24.5%; MMK: Ang Tahanan Mo (ABS-CBN) 20%; Killer Karaoke: Pinoy Naman (TV5) 5.9%
Celebrity Bluff (GMA-7) 25.8%; The Biggest Loser: Pinoy Edition Doubles (ABS-CBN) 10.3%; Juan Direction (TV5) 3.5%
I-Witness (GMA-7) 19.8%; Banana Split: Extra Scoop (ABS-CBN) 7.6%; 2014 Ronda Pilipinas International (TV5) 3.3%
Kapuso Movie Night: Mulan (GMA-7) 12.1%; The Bottom Line (ABS-CBN) 3%; Sports Unlimited (ABS-CBN) 1.8%; Kaya (TV5) 2.7%; SpinNation (TV5) 1.2%
Walang Tulugan (GMA-7) 3.7%; O Shopping (ABS-CBN) .6%; Pilipinas News Weekend (TV5) 1.5%; Sochi.Ru 2014 (TV5) .8%
---
February 16, 2014 (Sunday)
Morning:
In Touch with Dr. Charles Stanley (GMA-7) .1%; Jesus The Healer (GMA-7) .6%; Balitang 60 (TV5) 1%
Mojacko (GMA-7) .7%; Puppy In My Pocket (GMA-7) 1.7%; Scan2Go (GMA-7) 2.6%; The Healing Eucharist (ABS-CBN) 4%; Misa Nazareno (TV5) 1.3%
The Batman (GMA-7) 4.8%; Swak na Swak (ABS-CBN) 2.9%; Power to Unite with Elvira (TV5) .4%
ADVERTISEMENT - CONTINUE READING BELOW
Super Book (GMA-7) 6.7%; Paddle Pop Kombatei (GMA-7) 6.6%; Pororo (GMA-7) 7.5%; Salamat Dok (ABS-CBN) 2.5%; Yin Yang Yo! (TV5) 2.1%; Kick Buttowski (TV5) 3.3%
Toriko (GMA-7) 8%; X-Men (ABS-CBN) 2.3%; The Marvelous Misadventures of Flapjack (TV5) 3.4%
Aha! (GMA-7) 6.9%; Marvel Blade (ABS-CBN) 2.6%; Regular Show (TV5) 3.9%
Born To Be Wild (GMA-7) 6.6%; Matanglawin (ABS-CBN) 4%; Powerpuff Girls Z (TV5) 4.1%
Kapuso Movie Festival: The Chronicles of Narnia: The Voyage of the Dawn Treader (GMA-7) 12.6%; Petrang Kabayo (ABS-CBN) 10.4%; Sym-Bionic Titan (TV5) 3.4%; Generator Rex (TV5) 1.8%; Philip Lifestyle Guy (TV5) .9%
Afternoon:
Sunday All Stars (GMA-7) 11.1%; ASAP 19 (ABS-CBN) 10.6%; Sunday Sineplex: Open Season 3 (TV5) 6.3%
True Horror Stories (GMA-7) 12.4%; iBilib (GMA-7) 9%; Luv U (ABS-CBN) 9.1%; Video Incredible (TV5) 4.8%
Startalk (GMA-7) 8.3%; Buzz ng Bayan (ABS-CBN) 10.7%; Sochi.Ru 2014 (TV5) 3.8%
24 Oras Weekend (GMA-7) 10.2%; TV Patrol Weekend (ABS-CBN) 9.1%; PLDT MyDSL PBA 2014 Philippine Cup Finals: Rain or Shine vs San Mig Coffee (TV5) 10.4%
Evening:
Kap's Amazing Stories (GMA-7) 12.2%; Goin' Bulilit (ABS-CBN) 11.2%; Astig (TV5) 6.9%; Astig (TV5) 6.3%
Pepito Manaloto: Ang Tunay na Kuwento (GMA-7) 25.4%; Home Sweetie Home (ABS-CBN) 14.2%; Who Wants to be a Millionaire (TV5) 7.5%
ADVERTISEMENT - CONTINUE READING BELOW
Kapuso Mo, Jessica Soho (GMA-7) 30%; Rated K: Handa na ba Kayo? (ABS-CBN) 15.6%; Wow Mali Pa Rin! (TV5) 7%
Imbestigador (GMA-7) 21.5%; Gandang Gabi Vice (ABS-CBN) 18.3%; Circle of Eight (TV5) 5.9%
Sunday Night Box Office: Night Watch (GMA-7) 12.7%; Sunday's Best: Lea Salonga Playlist (ABS-CBN) 7.8%; Ronda Pilipinas (TV5) 2.9%; Pilipinas News Weekend (TV5) 1.7%; Astig (TV5) 1.1%
Diyos at Bayan (GMA-7) 2.2%; O Shopping (ABS-CBN) 1.2%; Sochi.Ru 2014 (TV5) 1.5%
--
February 17, 2014 (Monday)
Morning:
Aha! Replay (GMA-7) 1%; Sports Unlimited Replay (ABS-CBN) .6%; Word of the Lourd (TV5) .6%; Reaksyon Replay (TV5) .7%
Unang Hirit! (GMA-7) 4.6%; Umagang Kay Ganda (ABS-CBN) 3.9%; Good Morning Club (TV5) .9%
Doraemon (GMA-7) 6%; Pokemon (GMA-7) 7.8%; Kris TV (ABS-CBN) 4.6%; Jungle Junction (TV5) 2%
Detective Conan (GMA-7) 8.4%; Ultraman Mebius (ABS-CBN) 3%; Domo (ABS-CBN) 3.1%; Phineas and Ferb (TV5) 2.9%
Inuyasha (GMA-7) 6.7%; Kuroko's Basketball (ABS-CBN) 3.6%; Domo (ABS-CBN) 3%; Gargoyles (TV5) 2.3%; Oggy and the Cockroaches (TV5) 3.7%; Johnny Bravo (TV5) 3.8%
Flame of Recca (GMA-7) 8.4%; Dragon Ball Z Kai (GMA-7) 10.4%; Naruto Shippuuden (ABS-CBN) 3.6%
Kusina Master (GMA-7) 7%; Crazy Love (ABS-CBN) 5.4%; Adventure Time (TV5) 4.3%
Tunay Na Buhay (GMA-7) 8.7%; Minute To Win It (ABS-CBN) 9.5%; Ben 10 Ultimate Alien (TV5) 4.1%
ADVERTISEMENT - CONTINUE READING BELOW
The Ryzza Mae Show (GMA-7) 12%; Be Careful With My Heart (ABS-CBN) 17%; Likeable Or Not (TV5) 3.2%
Afternoon:
Eat Bulaga! (GMA-7) 18.6%; It's Showtime (ABS-CBN) 13.6%; Sochi.Ru 2014 (TV5) 3%
Villa Quintana (GMA-7) 14.5%; Innamorata (GMA-7) 12.2%; Kapamilya Blockbusters: Crocodile Jones (ABS-CBN) 9.3%; The Art of War III (TV5) 4.3%
The Borrowed Wife (GMA-7) 11.4%; Galema: Anak ni Zuma (ABS-CBN) 7.6%; Showbiz Police: Una sa Eksena (TV5) 3.5%; Face the People (TV5) 6%
Tale of Arang (GMA-7) 8.9%; Bistado (ABS-CBN) 7.1%; Princess Hours (ABS-CBN) 10.1%; T3 Reload (TV5) 6.1%
Evening:
Paraiso Ko'y Ikaw (GMA-7) 9.3%; Annaliza (ABS-CBN) 15.6%; Aksyon (TV5) 8%
24 Oras (GMA-7) 20.3%; TV Patrol (ABS-CBN) 22.6%; Let's Ask Pilipinas (TV5) 6.7%; Madam Chairman (TV5) 6.3%
Adarna (GMA-7) 20.4%; Honesto (ABS-CBN) 26.6%; Kuwentong Gilas (TV5) 6.5%
Carmela (GMA-7) 20.2%; Got to Believe (ABS-CBN) 26.1%; Up in the Air (TV5) 5.8%
Rhodora X (GMA-7) 17.3%; The Legal Wife (ABS-CBN) 18.6%
A 100-Year Legacy (GMA-7) 14%; Aquino & Abunda Tonight (ABS-CBN) 12.5%; The Biggest Loser: Pinoy Doubles (ABS-CBN) 9.4%; Demolition Job (TV5) 5.3%
Saksi (GMA-7) 8.3%; Bandila (ABS-CBN) 4.9%; Pilipinas News (TV5) 3.1%
Front Row (GMA-7) 5.2%; Banana Nite (ABS-CBN) 3.5%; Reaksyon (TV5) 1.9%
ADVERTISEMENT - CONTINUE READING BELOW
The Medyo Late Night Show with Jojo A. (GMA-7) 2.3%; O Shopping (ABS-CBN) 1%; Sochi.Ru 2014 (TV5) 1.3%
----
February 18, 2014 (Tuesday)
Morning:
I-Witness Replay (GMA-7) .8%; Mutya ng Masa Replay (ABS-CBN) 1%; Reaksyon Replay (TV5) .5%
Unang Hirit! (GMA-7) 4.6%; Umagang Kay Ganda (ABS-CBN) 3.5%; Good Morning Club (TV5) 1.1%
Doraemon (GMA-7) 6.6%; Pokemon (GMA-7) 8%; Kris TV (ABS-CBN) 5.6%; Jungle Junction (TV5) 2.5%
Detective Conan (GMA-7) 8.9%; Ultraman Mebius (ABS-CBN) 3.4%; Domo (ABS-CBN) 2.7%; Phineas and Ferb (TV5) 2.5%
Inuyasha (GMA-7) 8.2%; Kuroko's Basketball (ABS-CBN) 2.8%; Domo (ABS-CBN) 2.9%; Gargoyles (TV5) 1.8%
Flame of Recca (GMA-7) 9.1%; Naruto Shippuden (ABS-CBN) 4.2%; Oggy and the Cockroaches (TV5) 3.2%
Dragon Ball Z Kai (GMA-7) 10.6%; Kusina Master (GMA-7) 7.7%; Crazy Love (ABS-CBN) 5.3%; Johnny Bravo (TV5) 3.5%; Adventure Time (TV5) 4.7%
Tunay Na Buhay (GMA-7) 8.5%; Minute To Win It (ABS-CBN) 11%; Ben 10 Ultimate Alien (TV5) 4.4%
The Ryzza Mae Show (GMA-7) 12.3%; Be Careful With My Heart (ABS-CBN) 16.4%; Likeable Or Not (TV5) 4.1%
Afternoon:
Eat Bulaga! (GMA-7) 19.2%; It's Showtime (ABS-CBN) 11.6%; Sochi.Ru 2014 (TV5) 1.8%
Villa Quintana (GMA-7) 12.4%; Innamorata (GMA-7) 10.3%; Kapamilya Blockbusters: Super Inday and the Golden Bibe (ABS-CBN) 8%; Sine Ko 5ingko: Tears of the Sun (TV5) 6.1%
ADVERTISEMENT - CONTINUE READING BELOW
The Borrowed Wife (GMA-7) 10%; Galema: Anak ni Zuma (ABS-CBN) 7.1%; Showbiz Police: Una sa Eksena (TV5) 2.7%; Face The People (TV5) 5.4%
Tale of Arang (GMA-7) 9.7%; Mutya ng Masa (ABS-CBN) 5.8%; Princess Hours (ABS-CBN) 9%; T3 Reload (TV5) 5.6%
Evening:
Paraiso Ko'y Ikaw (GMA-7) 9.7%; Annaliza (ABS-CBN) 14.6%; Aksyon (TV5) 6.5%
24 Oras (GMA-7) 18.9%; TV Patrol (ABS-CBN) 20.4%; Let's Ask Pilipinas (TV5) 6.7%; Madam Chairman (TV5) 7.6%
Adarna (GMA-7) 20.6%; Honesto (ABS-CBN) 24.6%; Studio 5 Original Movies: The Replacement Bride (TV5) 4.6%
Carmela (GMA-7) 20.6%; Got to Believe (ABS-CBN) 24.6%
Rhodora X (GMA-7) 17.9%; The Legal Wife (ABS-CBN) 18.4%; Aquino & Abunda Tonight (ABS-CBN) 13.6%; Numero (TV5) 3%
A 100-Year Legacy (GMA-7) 14.6%; The Biggest Loser: Pinoy Doubles (ABS-CBN) 9.4%
Saksi (GMA-7) 8.8%; Bandila (ABS-CBN) 5.1%; Pilipinas News (TV5) 1.9%
Reporter's Notebook (GMA-7) 4.5%; Banana Nite (ABS-CBN) 3.3%; Reaksyon (TV5) 1.3%
The Medyo Late Night Show with Jojo A. (GMA-7) 2.2%; O Shopping (ABS-CBN) 1.1%; Sochi.Ru 2014 (TV5) 1.4%
---
February 19, 2014 (Wednesday)
Morning:
Reporter's Notebook (GMA-7) 1%; My Puhunan Replay (ABS-CBN) .6%; Reaksyon Replay (TV5) .5%
Unang Hirit! (GMA-7) 3.9%; Umagang Kay Ganda (ABS-CBN) 3.5%; Good Morning Club (TV5) 1.2%
Doraemon (GMA-7) 5.8%; Pokemon (GMA-7) 7.8%; Kris TV (ABS-CBN) 5.7%; Jungle Junction (TV5) 2.1%
ADVERTISEMENT - CONTINUE READING BELOW
Detective Conan (GMA-7) 9.4%; Ultraman Mebius (ABS-CBN) 3.2%; Domo (ABS-CBN) 3.4%; Phineas and Ferb (TV5) 2.5%
Inuyasha (GMA-7) 7.8%; Kuroko's Basketball (ABS-CBN) 2.6%; Domo (ABS-CBN) 2.4%; Gargoyles (TV5) 2.1%
Flame of Recca (GMA-7) 8.6%; Naruto Shippuden (ABS-CBN) 3.5%; Oggy and the Cockroaches (TV5) 3.2%
Dragon Ball Z Kai (GMA-7) 9.4%; Kusina Master (GMA-7) 6.4%; Crazy Love (ABS-CBN) 6%; Johnny Bravo (TV5) 3.6%; Adventure Time (TV5) 5.8%
Tunay Na Buhay (GMA-7) 8.1%; Del Monte Kitchenomics (GMA-7) 9.1%; Minute To Win It (ABS-CBN) 11.3%; Ben 10 Ultimate Alien (TV5) 5.2%
The Ryzza Mae Show (GMA-7) 13.5%; Be Careful With My Heart (ABS-CBN) 18.2%; Likeable Or Not (TV5) 3.9%
Afternoon:
Eat Bulaga! (GMA-7) 19.7%; It's Showtime (ABS-CBN) 12.2%; Sochi.Ru 2014 (TV5) 2.2%
Villa Quintana (GMA-7) 14.1%; Innamorata (GMA-7) 10.6%; Kapamilya Blockbusters: Bala at Lipstik (ABS-CBN) 8.2%; Sine Ko 5ingko: Urban Justice (TV5) 5.7%
The Borrowed Wife (GMA-7) 10.4%; Galema: Anak ni Zuma (ABS-CBN) 6.4%; Showbiz Police: Una sa Eksena (TV5) 4%; Face The People (TV5) 6.1%
Tale of Arang (GMA-7) 10%; My Puhunan (ABS-CBN) 6.6%; Princess Hours (ABS-CBN) 9.7%; T3 Reload (TV5) 5.8%
Evening:
Paraiso Ko'y Ikaw (GMA-7) 10.4%; Annaliza (ABS-CBN) 15.7%; Aksyon (TV5) 8.2%
ADVERTISEMENT - CONTINUE READING BELOW
24 Oras (GMA-7) 19.1%; TV Patrol (ABS-CBN) 22.4%; Let's Ask Pilipinas (TV5) 6%; Madam Chairman (TV5) 7.3%
Adarna (GMA-7) 17.1%; Honesto (ABS-CBN) 23.8%; PLDT MyDSL PBA 2014 Philippine Cup Finals: San Mig Coffee vs Rain or Shine (TV5) 16.8%
Carmela (GMA-7) 18.5%; Got to Believe (ABS-CBN) 22.4%
Rhodora X (GMA-7) 15.7%; The Legal Wife (ABS-CBN) 14.4%; Aquino & Abunda Tonight (ABS-CBN) 10.8%
A 100-Year Legacy (GMA-7) 15.9%; The Biggest Loser: Pinoy Doubles (ABS-CBN) 11.4%; History with Lourd (TV5) 8.1%
Saksi (GMA-7) 8.8%; Bandila (ABS-CBN) 6.8%; Pilipinas News (TV5) 4.4%
Power House (GMA-7) 5.1%; Banana Nite (ABS-CBN) 5%; Reaksyon (TV5) 3.1%
The Medyo Late Night Show with Jojo A. (GMA-7) 2%; O Shopping (ABS-CBN) .9%; Sochi.Ru 2014 (TV5) 2.2%
---
February 20, 2014 (Thursday)
Morning:
Born To Be Wild Replay (GMA-7) .8%; Tapatan Ni Tunying Replay (ABS-CBN) .6%; Astig (TV5) .3%; Reaksyon Replay (TV5) .4%
Unang Hirit! (GMA-7) 4.2%; Umagang Kay Ganda (ABS-CBN) 3.6%; Good Morning Club (TV5) 1.3%
Doraemon (GMA-7) 5.4%; Pokemon (GMA-7) 7.7%; Kris TV (ABS-CBN) 5.1%; Jungle Junction (TV5) 2.8%
Detective Conan (GMA-7) 9.1%; Ultraman Mebius (ABS-CBN) 3.7%; Domo (ABS-CBN) 3.7%; Phineas and Ferb (TV5) 2.5%
Inuyasha (GMA-7) 8.8%; Kuroko's Basketball (ABS-CBN) 3.8%; Domo (ABS-CBN) 3.6%; Gargoyles (TV5) 2.7%
ADVERTISEMENT - CONTINUE READING BELOW
Flame of Recca (GMA-7) 8.6%; Naruto Shippuden (ABS-CBN) 4.4%; Oggy and Cockroaches (TV5) 3.7%
Dragon Ball Z Kai (GMA-7) 9.8%; Kusina Master (GMA-7) 6.8%; Crazy Love (ABS-CBN) 5.5%; Johnny Bravo (TV5) 4.2%
Tunay Na Buhay (GMA-7) 8.1%; Minute To Win It (ABS-CBN) 11.7%; Adventure Time (TV5) 4%; Ben 10: Ultimate Alien (TV5) 5.3%
The Ryzza Mae Show (GMA-7) 12.4%; Be Careful With My Heart (ABS-CBN) 18.5%; Likeable or Not (TV5) 4.1%
Afternoon:
Eat Bulaga! (GMA-7) 18.4%; It's Showtime (ABS-CBN) 12.3%; Sochi.Ru 2014 (TV5) 2.6%
Villa Quintana (GMA-7) 13.4%; Innamorata (GMA-7) 10.4%; Kapamilya Blockbusters: Pido Dida Sabay Tayo (ABS-CBN) 8.3%; Vampires: The Turning (TV5) 4.7%
The Borrowed Wife (GMA-7) 10.9%; Galema: Anak ni Zuma (ABS-CBN) 7.4%; Showbiz Police: Una sa Eksena (TV5) 3.2%; Face The People (TV5) 5.8%
Tale of Arang (GMA-7) 8.9%; Tapatan Ni Tunying (ABS-CBN) 6.5%; Princess Hours (ABS-CBN) 10%; T3 Reload (TV5) 6.4%
Evening:
Paraiso Ko'y Ikaw (GMA-7) 9.1%; Annaliza (ABS-CBN) 15.6%; Aksyon (TV5) 8.9%
24 Oras (GMA-7) 20.4%; TV Patrol (ABS-CBN) 22%; Let's Ask Pilipinas (TV5) 6.6%; Madam Chairman (TV5) 6.5%
Adarna (GMA-7) 21.3%; Honesto (ABS-CBN) 25.7%; Obsession (TV5) 3.1%
Carmela (GMA-7) 22.7%; Got to Believe (ABS-CBN) 27.2%; Asia's Next Top Model (TV5) 2.9%
ADVERTISEMENT - CONTINUE READING BELOW
Rhodora X (GMA-7) 18.9%; The Legal Wife (ABS-CBN) 20.9%; Aquino & Abunda Tonight (ABS-CBN) 17%
A 100-Year Legacy (GMA-7) 16.5%; The Biggest Loser: Pinoy Doubles (ABS-CBN) 10.6%; Bigtime (TV5) 1.7%
Saksi (GMA-7) 10.9%; Bandila (ABS-CBN) 6.2%; Pilipinas News (TV5) 1.8%; Reaksyon (TV5) 1.6%
Alisto! (GMA-7) 5.3%; Banana Nite (ABS-CBN) 4.7%; Sochi.Ru 2014 (TV5) 1.5%
The Medyo Late Night Show with Jojo A. (GMA-7) 2.1%; O Shopping (ABS-CBN) 1.1%
---
February 21, 2014 (Friday)
Morning:
Alisto! Replay (GMA-7) .8%; Matanglawin Replay (ABS-CBN) .4%; Reaksyon Replay (TV5) .7%
Unang Hirit! (GMA-7) 4.7%; Umagang Kay Ganda (ABS-CBN) 3.8%; Good Morning Club (TV5) 1.2%
Doraemon (GMA-7) 6.4%; Pokemon (GMA-7) 7.7%; Kris TV (ABS-CBN) 5.8%; Jungle Junction (TV5) 2.1%
Detective Conan (GMA-7) 9.5%; Ultraman Mebius (ABS-CBN) 2.9%; Domo (ABS-CBN) 3.6%; Phineas and Ferb (TV5) 2.1%
Inuyasha (GMA-7) 8.4%; Kuroko's Basketball (ABS-CBN) 3.3%; Domo (ABS-CBN) 3.6%; Gargoyles (TV5) 1.9%
Flame of Recca (GMA-7) 9.7%; Naruto Shippuden (ABS-CBN) 3.3%; Oggy and the Cockroaches (TV5) 2.9%
Dragon Ball Z Kai (GMA-7) 11.8%; Kusina Master (GMA-7) 7.3%; Crazy Love (ABS-CBN) 5.7%; Johnny Bravo (TV5) 3.1%; Adventure Time (TV5) 5%
Tunay Na Buhay (GMA-7) 8%; Minute To Win It (ABS-CBN) 12.8%; Ben 10 Ultimate Alien (TV5) 5.8%
The Ryzza Mae Show (GMA-7) 12.3%; Be Careful With My Heart (ABS-CBN) 18.4%; Likeable Or Not (TV5) 3.9%
ADVERTISEMENT - CONTINUE READING BELOW
Afternoon:
Eat Bulaga! (GMA-7) 19.1%; It's Showtime (ABS-CBN) 10.6%; Sochi.Ru 2014 (TV5) 2.2%
Villa Quintana (GMA-7) 13.2%; Innamorata (GMA-7) 12.3%; Kapamilya Blockbusters: Tiyanak (ABS-CBN) 7.3%; Sine Ko 5ingko: Fortress 2 (TV5) 5.1%
The Borrowed Wife (GMA-7) 11.8%; Galema: Anak ni Zuma (ABS-CBN) 6.3%; Showbiz Police: Una sa Eksena (TV5) 2.7%; Face The People (TV5) 5.9%
Tale of Arang (GMA-7) 8.9%; Hiwaga (ABS-CBN) 5.2%; Princess Hours (ABS-CBN) 9.4%; T3 Reload (TV5) 5.5%
Evening:
Paraiso Ko'y Ikaw (GMA-7) 8.9%; Annaliza (ABS-CBN) 15.3%; Aksyon (TV5) 7%
24 Oras (GMA-7) 20.5%; TV Patrol (ABS-CBN) 22.9%; Let's Ask Pilipinas (TV5) 5.6%; Madam Chairman (TV5) 5.8%
Adarna (GMA-7) 19%; Honesto (ABS-CBN) 23.7%; PLDT MyDSL PBA 2014 Philippine Cup: Rain or Shine vs San Mig Coffee (TV5) 17%
Carmela (GMA-7) 19.3%; Got to Believe (ABS-CBN) 23.1%
Rhodora X (GMA-7) 16.7%; The Legal Wife (ABS-CBN) 14%; Aquino & Abunda Tonight (ABS-CBN) 11.2%; Astig (TV5) 6.8%
Bubble Gang (GMA-7) 18%; The Biggest Loser: Pinoy Doubles (ABS-CBN) 7.6%
Saksi (GMA-7) 8.6%; Bandila (ABS-CBN) 4.7%; Banana Nite (ABS-CBN) 4%; Pilipinas News (TV5) 2.7%; Reaksyon (TV5) 1.5%
The Medyo Late Night Show with Jojo A. (GMA-7) 3.6%; O Shopping (ABS-CBN) .9%; Sochi.Ru 2014 (TV5) 1.4%
---
TOP TEN PROGRAMS:
ADVERTISEMENT - CONTINUE READING BELOW
February 15, 2014 (Saturday)
DAYTIME:
Eat Bulaga! (GMA-7) - 20.3%
TV Patrol Weekend (ABS-CBN) - 13.1%
It's Showtime (ABS-CBN) - 11.9%
24 Oras Weekend (GMA-7) - 11%
GMA Blockbusters: The Back-Up Plan(GMA-7) - 10.7%
SOCO (ABS-CBN) - 10.6%
Maynila 15 (GMA-7) - 10.4%
Wish Ko Lang! (GMA-7) / The Singing Bee (ABS-CBN) - 9.3%
Failon Ngayon (ABS-CBN) - 7.7%
Pororo (GMA-7) - 7.5%
PRIMETIME:
Celebrity Bluff (GMA-7) - 25.8%
Magpakailanman (GMA-7) - 24.5%
Vampire Ang Daddy Ko (GMA-7) - 20.4%
MMK: Ang Tahanan Mo (ABS-CBN) - 20%
i-Witness (GMA-7) - 19.8%
Wansapanataym (ABS-CBN) - 19%
Bet On Your Baby (ABS-CBN) - 18.7%
Picture! Picture! (GMA-7) - 14.5%
Kapuso Movie Night: Mulan (GMA-7) - 12.1%
The Biggest Loser: Pinoy Edition (ABS-CBN) - 10.3%
February 16, 2014 (Sunday)
DAYTIME:
Kapuso Movie Festival: The Chronicles of Narnia: The Voyage of Dawn Treader (GMA-7) - 12.6%
True Horror Stories (GMA-7) - 12.4%
Sunday All Stars (GMA-7) - 11.1%
Buzz ng Bayan (ABS-CBN) - 10.7%
ASAP 19 (ABS-CBN) - 10.6%
Petrang Kabayo Movie (ABS-CBN) / PLDT MyDSL PBA 2014 Philippine Cup Finals: San Mig Coffee vs Rain or Shine (TV5) - 20.2%
24 Oras Weekend (GMA-7) - 10.2%
Luv U (ABS-CBN) / TV Patrol Weekend (ABS-CBN) - 14.5%
iBilib (GMA-7) - 9%
Startalk (GMA-7) - 8.3%
PRIMETIME:
Kapuso Mo, Jessica Soho (GMA-7) - 30%
Pepito Manaloto: Ang Tunay na Kuwento (GMA-7) - 25.4%
Imbestigador (GMA-7) - 21.5%
Gandang Gabi Vice (ABS-CBN) - 18.3%
Rated K: Handa Na Ba Kayo? (ABS-CBN ) - 15.6%
Home Sweetie Home (ABS-CBN) - 14.2%
Sunday Night Box Office: Night Watch (GMA-7) - 12.7%
Kap's Amazing Stories (GMA-7) - 12.2%
Goin' Bulilit (ABS-CBN) - 11.2%
Sunday's Best: Lea Salonga Playlist (ABS-CBN) - 7.8%
February 17, 2014 (Monday)
DAYTIME:
Eat Bulaga! (GMA-7) - 18.6%
Be Careful With My Heart (ABS-CBN) - 17%
Villa Quintana (GMA-7) - 14.5%
It's Showtime (ABS-CBN) - 13.6%
Innamorata (GMA-7) - 12.2%
The Ryzza Mae Show (GMA-7) - 12%
The Borrowed Wife (GMA-7) - 11.4%
Dragon Ball Z Kai (GMA-7) - 10.4%
Princess Hours (ABS-CBN) - 10.1%
Minute To Win It (ABS-CBN) - 9.5%
PRIMETIME:
Honesto (ABS-CBN) - 26.6%
Got to Believe (ABS-CBN) - 26.1%
TV Patrol (ABS-CBN) - 22.6%
Adarna (GMA-7) - 20.4%
24 Oras (GMA-7) - 20.3%
Carmela (GMA-7) - 20.2%
The Legal Wife (ABS-CBN) - 18.6%
Rhodora X (GMA-7) - 17.3%
Annaliza (ABS-CBN) - 15.6%
A 100-Year Legacy (GMA-7) - 14%
February 18, 2014 (Tuesday)
DAYTIME:
Eat Bulaga! (GMA-7) - 19.2%
Be Careful With My Heart (ABS-CBN) - 16.4%
Villa Quintana (GMA-7) - 12.4%
The Ryzza Mae Show (GMA-7) - 12.3%
It's Showtime (ABS-CBN) - 11.6%
Magkano Ba Ang Pag-ibig? (GMA-7) - 11%
Dragon Ball Z Kai (GMA-7) - 10.6%
Innamorata (GMA-7) - 10.3%
The Borrowed Wife (GMA-7) - 10%
Tale of Arang (GMA-7) - 9.7%
PRIMETIME:
Got to Believe (ABS-CBN) / Honesto (ABS-CBN) - 27.5%
Adarna (GMA-7) / Carmela (GMA-7) - 20.6%
TV Patrol (ABS-CBN) - 20.4%
24 Oras (GMA-7) - 18.9%
The Legal Wife (ABS-CBN) - 18.4%
Rhodora X (GMA-7) - 17.9%
A 100-Year Legacy (GMA-7) / Annaliza (ABS-CBN) - 14.6%
Aquino & Abunda Tonight (ABS-CBN) - 13.6%
Paraiso Ko'y Ikaw (GMA-7) - 9.7%
The Biggest Loser: Pinoy Edition Doubles (ABS-CBN) - 10.3%
February 19, 2014 (Wednesday)
DAYTIME:
Eat Bulaga! (GMA-7) - 19.7%
Be Careful With My Heart (ABS-CBN) - 18.2%
The Ryzza Mae Show (GMA-7) - 13.5%
Villa Quintana (GMA-7) - 14.1%
It's Showtime (ABS-CBN) - 12.2%
Minute To Win It (ABS-CBN) - 11.3%
Innamorata (GMA-7) - 10.6%
The Borrowed Wife (GMA-7) - 10.4%
Tale of Arang (GMA-7) - 10%
Princess Hours (ABS-CBN) - 9.7%
PRIMETIME:
Honesto (ABS-CBN) - 23.8%
TV Patrol (ABS-CBN) / Got to Believe (ABS-CBN) - 22.4%
24 Oras (GMA-7) - 19.1%
Carmela (GMA-7) - 18.5%
Adarna (GMA-7) - 17.1%
PLDT MyDSL PBA 2014 Philippine Cup Finals: San Mig Coffee vs Rain or Shine (TV5) - 16.8%
A 100-Year Legacy (GMA-7) - 15.9%
Rhodora X (GMA-7) / Annaliza (ABS-CBN) - 15.7%
The Legal Wife (GMA-7) - 14.4%
The Biggest Loser: Pinoy Edition Doubles (ABS-CBN) - 11.4%
February 20, 2014 (Thursday)
DAYTIME:
Be Careful With My Heart (ABS-CBN) - 18.5%
Eat Bulaga! (GMA-7) - 18.4%
Villa Quintana (GMA-7) - 13.4%
The Ryzza Mae Show (GMA-7) - 12.4%
It's Showtime (ABS-CBN) - 12.3%
Minute To Win It (ABS-CBN) - 11.7%
The Borrowed Wife (GMA-7) - 10.9%
Innamorata (GMA-7) - 10.4%
Princess Hours (ABS-CBN) - 10%
Dragon Ball Z Kai (GMA-7) - 9.8%
PRIMETIME:
Got to Believe (ABS-CBN) - 27.2%
Honesto (ABS-CBN) - 25.7%
Carmela (GMA-7) - 22.7%
TV Patrol (ABS-CBN) - 22%
Adarna (GMA-7) - 21.3%
The Legal Wife (ABS-CBN) - 20.9%
24 Oras (GMA-7) - 20.4%
Rhodora X (GMA-7) - 18.9%
Aquino & Abunda Tonight (ABS-CBN) - 17%
A 100-Year Legacy (GMA-7) - 16.5%
February 21, 2014 (Friday)
DAYTIME:
Eat Bulaga! (GMA-7) - 19.1%
Be Careful With My Heart (ABS-CBN) - 18.4%
Villa Quintana (GMA-7) - 13.2%
Minute to Win It (ABS-CBN) - 12.8%
The Ryzza Mae Show (GMA-7) / Innamorata (GMA-7) - 12.3%
Dragon Ball Z Kai (GMA-7) / The Borrowed Wife (GMA-7) - 11.8%
It's Showtime (ABS-CBN) - 10.6%
Flame of Recca (GMA-7) - 9.7%
Detective Conan (GMA-7) - 9.5%
Princess Hours (ABS-CBN) - 9.4%
PRIMETIME:
Honesto (ABS-CBN) - 23.7%
Got to Believe (ABS-CBN) - 23.1%
TV Patrol (ABS-CBN) - 22.9%
24 Oras (GMA-7) - 20.5%
Carmela (GMA-7) - 19.3%
Adarna (GMA-7) - 19%
Bubble Gang (GMA-7) - 18%
PLDT MyDSL PBA 2014 Philippine Cup Finals: San Mig Coffee vs Rain or Shine (TV5) - 17%
Rhodora X (GMA-7) - 16.7%
Annaliza (ABS-CBN) - 15.3%
Source: AGB Nielsen Philippines