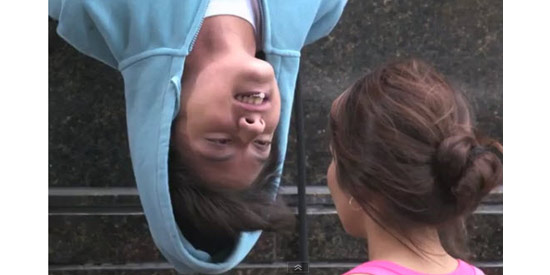 ---
ABS-CBN's Got To Believe set a ratings milestone for 2014 with its finale episode on March 7, 2014.
This is according to ratings data from AGB Nielsen Philippines from Mega Manila households from March 1 to 7, 2014.
The last episode of the top-rating Kapamilya series got a rating of 32.7%, the highest rating any show has received since January 1, 2014.
This high mark is not rare for the Daniel Padilla-Kathryn Bernardo starrer, as it already received a rating of over 30% over its seven-month run. In January 30, for instance, it received 30.2%.
(Only one show from GMA-7 has received ratings higher than 30% this year: the Sunday night news magazine show Kapuso Mo, Jessica Soho, which got 30% on February 16, and 30.6% on February 23.)
Other weekday primetime shows on ABS-CBN are also doing well.
Honesto outperforms its rival show, GMA-7's Adarna, which is topbilled by Kylie Padilla. In fact, the finale episode of Adarna registered 20.8%, much lower compared to Honesto that garnered 28.2%.


Annaliza reigns over Paraiso Ko'y Ikaw by 3 percent to 5 percent daily. And although the margin is small, TV Patrol is still Mega Manila's most-watched primetime news program.
ADVERTISEMENT - CONTINUE READING BELOW
In the primetime block, GMA-7's Rhodora X beat The Legal Wife three times during the given period. The Koreanovela A 100-Year Legacy beats The Biggest Loser: Pinoy Edition Doubles daily, except on Friday when it is Bubble Gang that does the deed.
However, it is the Kapuso station that reigns on weekday afternoons and on weekends.
Eat Bulaga! is still the most-watched noontime variety show, while Villa Quintana and Innamorata are the most-watched weekday afternoon soap operas.
GMA-7's weekend shows are also winners: Kapuso Mo, Jessica Soho leads over Rated K by a sizable margin, and Pepito Manaloto flies high over Home Sweetie Home (with Michael V's comedy show registering 23.8% over its rival that gained 13.1%).
Even Startalk has recovered from its lackluster performance against Buzz ng Bayan. The ratings of their March 2 episodes were tied at 10.7% each.
Here is the comparative Rating Performance of GMA-7, ABS-CBN and TV5 programs from March 1 to 7, 2014, derived from AGB Nielsen Philippines from Mega Manila households:
ADVERTISEMENT - CONTINUE READING BELOW
March 1, 2014 (Saturday)
Morning:
PJM Forum (GMA-7) .1%; Adyenda (GMA-7) .7%
Kapwa Ko Mahal Ko (GMA-7) 1.3%; Sa Kabukiran (ABS-CBN) .5%; Family Matters (TV5) .2%
Pinoy MD (GMA-7) 2.6%; Salamat Dok (ABS-CBN) 1.3%; Imagination Movers (TV5) 1.2%
Scooby-Doo! Mystery Inc. (GMA-7) 4.6%; Swak na Swak (ABS-CBN) 1.9%; Yin Yang Yo! (TV5) 2.2%
Super Book (GMA-7) 7.3%; Honey Watch Out! (ABS-CBN) 1.2%; Kick Buttowski (TV5) 3.1%
Paddle Pop Kombatei (GMA-7) 7.3%; Angry Birds Toons (GMA-7) 8.3%; Sineskwela (ABS-CBN) 2.1%; The Marvelous Misadventures of Flapjack (TV5) 3.2%
Pororo (GMA-7) 8.3%; Toriko (GMA-7) 7.7%; Avatar: The Legend of Aang (ABS-CBN) 3%; Teenage Mutant Ninja Turtles (ABS-CBN) 3.6%; The Amazing World of Gumball (TV5) 4.1%
Tropang Potchi (GMA-7) 6.3%; Spongebob Squarepants (ABS-CBN) 5.5%; Regular Show (TV5) 4.8%
Sarap Diva (GMA-7) 7.6%; Maynila 15 (GMA-7) 11.4%; Del Monte Kitchenomics (GMA-7) 12.6%; NBA 2013-2014 Season: Golden State Warriors vs New York Knicks (ABS-CBN) 4%; Powerpuff Girls Z (TV5) 5.2%; Sym-Bionic Titan (TV5) 5.9%; TV5 Kids Movie Special: Planet Hulk (TV5) 6.6%
Afternoon:
Eat Bulaga! (GMA-7) 23%; It's Showtime (ABS-CBN) 9.9%; The Bank Job (TV5) 6.7%
GMA Blockbusters: Joe's Apartment (GMA-7) 15.9%; ABS-CBN Sabado Specials: Shake, Rattle & Roll (ABS-CBN) 8%; SOCO (ABS-CBN) 7.5%; Hudson Hawk (TV5) 5.6%
ADVERTISEMENT - CONTINUE READING BELOW
Wish Ko Lang! (GMA-7) 9.8%; Failon Ngayon (ABS-CBN) 6.6%; Hardwired (TV5) 4.2%
24 Oras Weekend (GMA-7) 10.5%; TV Patrol Weekend (ABS-CBN) 6.3%; Aksyon Weekend (TV5) 3.1%
Evening:
Picture! Picture! (GMA-7) 14.1%; Bet On Your Baby (ABS-CBN) 13.4%; Hero on Ice (TV5) 3.7%; Pinoy Explorer (TV5) 4.4%
Vampire Ang Daddy Ko (GMA-7) 21.8%; Wansapanataym (ABS-CBN) 18.9%; Tropa Mo Ko Unli (TV5) 7.5%
Magpakailanman (GMA-7) 21.2%; MMK: Ang Tahanan Mo (ABS-CBN) 21.2%; Killer Karaoke: Pinoy Naman (TV5) 5.7%
Celebrity Bluff (GMA-7) 26.4%; The Biggest Loser: Pinoy Edition Doubles (ABS-CBN) 11.1%; Juan Direction (TV5) 2.4%
I-Witness (GMA-7) 18.2%; Banana Split: Extra Scoop (ABS-CBN) 9%; Kaya (TV5) 1.1%
Kapuso Movie Night: Lucky Stars Go Places (GMA-7) 10.8%; The Bottom Line (ABS-CBN) 3.9%; Sports Unlimited (ABS-CBN) 2.1%; SpinNation (TV5) .7%
Walang Tulugan (GMA-7) 3.2%; O Shopping (ABS-CBN) .8%; Pilipinas News Weekend (TV5) .4%
---
March 2, 2014 (Sunday)
Morning:
In Touch with Dr. Charles Stanley (GMA-7) .1%; Jesus The Healer (GMA-7) .7%; Balitang 60 (TV5) .5%
Mojacko (GMA-7) .8%; Puppy In My Pocket (GMA-7) 1.8%; Scan2Go (GMA-7) 3.2%; The Healing Eucharist (ABS-CBN) 3.3%; Misa Nazareno (TV5) 1.3%
The Batman (GMA-7) 5.6%; Swak na Swak (ABS-CBN) 2.4%; Power to Unite with Elvira (TV5) .4%
ADVERTISEMENT - CONTINUE READING BELOW
Super Book (GMA-7) 6.5%; Paddle Pop Kombatei (GMA-7) 7.5%; Pororo (GMA-7) 8.2%; Salamat Dok (ABS-CBN) 2.2%; Yin Yang Yo! (TV5) 2%; Kick Buttowski (TV5) 3.5%
Toriko (GMA-7) 8.3%; X-Men (ABS-CBN) 1.4%; The Marvelous Misadventures of Flapjack (TV5) 4.9%
Aha! (GMA-7) 8.7%; Marvel Blade (ABS-CBN) 2.2%; Regular Show (TV5) 4.2%
Born To Be Wild (GMA-7) 9.9%; Matanglawin (ABS-CBN) 3.4%; Powerpuff Girls Z (TV5) 3.8%
Kapuso Movie Festival: Big Mommas Like Father Like Son (GMA-7) 14.8%; Del Monte Kitchenomics (GMA-7) 15%; Pinoy Pride XXIV: The Future is Now: Albert Pagara vs Isack Junior (ABS-CBN) 8.2%; Sym-Bionic Titan (TV5) 4%; Generator Rex (TV5) 3.4%; Philip Lifestyle Guy (TV5) 1.6%
Afternoon:
Sunday All Stars (GMA-7) 12.2%; ASAP 19 (ABS-CBN) 11.2%; Sunday Sineplex: Herbie Fully Loaded (TV5) 10.3%
True Horror Stories (GMA-7) 13.7%; iBilib (GMA-7) 8.9%; Luv U (ABS-CBN) 8.2%; Video Incredible (TV5) 5.9%
Startalk (GMA-7) 10.7%; Buzz ng Bayan (ABS-CBN) 10.7%; Magic in the Water (TV5) 5.1%
24 Oras Weekend (GMA-7) 8.9%; TV Patrol Weekend (ABS-CBN) 11%; Snow Dogs (TV5) 6%
Evening:
Kap's Amazing Stories (GMA-7) 11.7%; Goin' Bulilit (ABS-CBN) 10.3%
Pepito Manaloto: Ang Tunay na Kuwento (GMA-7) 23.8%; Home Sweetie Home (ABS-CBN) 13.1%; Who Wants to be a Millionaire (TV5) 5.3%
ADVERTISEMENT - CONTINUE READING BELOW
Kapuso Mo, Jessica Soho (GMA-7) 29.6%; Rated K: Handa na ba Kayo? (ABS-CBN) 17.2%; Wow Mali Pa Rin! (TV5) 5.5%
Imbestigador (GMA-7) 22.6%; Gandang Gabi Vice (ABS-CBN) 20.4%; Sunday Sineplex: Priest (TV5) 7%
Sunday Night Box Office: One Missed Call (GMA-7) 14.7%; Sunday's Best: Cheche Lazaro Presents Palibhasa Babae (ABS-CBN) 4.8%; Pilipinas News Weekend (TV5) 2%
Diyos at Bayan (GMA-7) 2%; O Shopping (ABS-CBN) 1.5%
--
March 3, 2014 (Monday)
Morning:
Aha! Replay (GMA-7) 1.2%; Sports Unlimited Replay (ABS-CBN) .6%; Word of the Lourd (TV5) .1%; Reaksyon Replay (TV5) .2%
Unang Hirit! (GMA-7) 4.1%; Umagang Kay Ganda (ABS-CBN) 3.7%; Good Morning Club (TV5) 1%
Doraemon (GMA-7) 5.9%; Pokemon (GMA-7) 7.9%; Kris TV (ABS-CBN) 5%; Jungle Junction (TV5) 2.2%
Detective Conan (GMA-7) 9.7%; Metal Fight Beyblade (ABS-CBN) 1.8%; Domo (ABS-CBN) 1.8%; Phineas and Ferb (TV5) 3%
Inuyasha (GMA-7) 9.6%; Digimon (ABS-CBN) 2%; Domo (ABS-CBN) 1.8%; Gargoyles (TV5) 2.6%; Oggy and the Cockroaches (TV5) 3.6%
Flame of Recca (GMA-7) 10.2%; Dragon Ball Z Kai (GMA-7) 10.7%; Yu-Gi-Oh! (ABS-CBN) 2.6%; Johnny Bravo (TV5) 4%
Kusina Master (GMA-7) 8%; Crazy Love (ABS-CBN) 5.2%; Adventure Time (TV5) 5.4%
Tunay Na Buhay (GMA-7) 9.9%; The Singing Bee (ABS-CBN) 11.1%; Ben 10 (TV5) 5.7%
ADVERTISEMENT - CONTINUE READING BELOW
The Ryzza Mae Show (GMA-7) 12.8%; Be Careful With My Heart (ABS-CBN) 17%; Ben 10 Ultimate Alien (TV5) 4.4%
Afternoon:
Eat Bulaga! (GMA-7) 19.9%; It's Showtime (ABS-CBN) 11.4%; Camel Spiders (TV5) 4.6%
Villa Quintana (GMA-7) 16.6%; Innamorata (GMA-7) 13.2%; Kapamilya Blockbusters: Gawa na ang Bala Para sa Akin (ABS-CBN) 7.8%; Polar Storm (TV5) 5.7%
The Borrowed Wife (GMA-7) 10.9%; Galema: Anak ni Zuma (ABS-CBN) 6.7%; Showbiz Police: Una sa Eksena (TV5) 4.5%; Face the People (TV5) 6.2%
Tale of Arang (GMA-7) 8%; Bistado (ABS-CBN) 6%; Skip Beat (ABS-CBN) 7.5%; T3 Reload (TV5) 5%
Evening:
Paraiso Ko'y Ikaw (GMA-7) 9%; Annaliza (ABS-CBN) 12.6%; Aksyon (TV5) 7.2%
24 Oras (GMA-7) 20.1%; TV Patrol (ABS-CBN) 21.9%; Let's Ask Pilipinas (TV5) 6.7%; Confessions of a Torpe (TV5) 7.2%
Adarna (GMA-7) 21%; Honesto (ABS-CBN) 27.9%; Kuwentong Gilas (TV5) 6.7%
Carmela (GMA-7) 20%; Got to Believe (ABS-CBN) 29.4%; Monday Night Blockbusters: Iron Man 2 (TV5) 9.9%
Rhodora X (GMA-7) 17.4%; The Legal Wife (ABS-CBN) 18.6%
A 100-Year Legacy (GMA-7) 18.6%; Aquino & Abunda Tonight (ABS-CBN) 11.9%; The Biggest Loser: Pinoy Doubles (ABS-CBN) 8.8%; Demolition Job (TV5) 5.2%
Saksi (GMA-7) 9.5%; Bandila (ABS-CBN) 5.9%; Pilipinas News (TV5) 2%
Front Row (GMA-7) 6%; Banana Nite (ABS-CBN) 4.3%; Reaksyon (TV5) 1.3%
ADVERTISEMENT - CONTINUE READING BELOW
The Medyo Late Night Show with Jojo A. (GMA-7) 3%; O Shopping (ABS-CBN) .6%
----
March 4, 2014 (Tuesday)
Morning:
I-Witness Replay (GMA-7) .9%; Mutya ng Masa Replay (ABS-CBN) .5%; Reaksyon Replay (TV5) .6%
Unang Hirit! (GMA-7) 3.9%; Umagang Kay Ganda (ABS-CBN) 3.6%; Good Morning Club (TV5) .9%
Doraemon (GMA-7) 5.2%; Pokemon (GMA-7) 7.7%; Kris TV (ABS-CBN) 4.6%; Jungle Junction (TV5) 1.5%
Detective Conan (GMA-7) 9.6%; Metal Fight Beyblade (ABS-CBN) 2.6%; Domo (ABS-CBN) 2.6%; Phineas and Ferb (TV5) 2.6%
Inuyasha (GMA-7) 9.9%; Digimon Kros Wars (ABS-CBN) 3.1%; Domo (ABS-CBN) 2.7%; Gargoyles (TV5) 2.5%
Flame of Recca (GMA-7) 10.4%; Yu-Gi-Oh! (ABS-CBN) 3.4%; Oggy and the Cockroaches (TV5) 2.8%
Dragon Ball Z Kai (GMA-7) 11.8%; Kusina Master (GMA-7) 8.2%; Crazy Love (ABS-CBN) 6.2%; Johnny Bravo (TV5) 2.7%; Adventure Time (TV5) 4.8%
Tunay Na Buhay (GMA-7) 9.9%; The Singing Bee (ABS-CBN) 11.4%; Ben 10 (TV5) 4.9%
The Ryzza Mae Show (GMA-7) 12.5%; Be Careful With My Heart (ABS-CBN) 18.2%; Ben 10 Unlimited Alien (TV5) 4.5%
Afternoon:
Eat Bulaga! (GMA-7) 19.4%; It's Showtime (ABS-CBN) 11.5%; Sine Ko 5ingko: Outside the Law (TV5) 4.5%
Villa Quintana (GMA-7) 14.1%; Innamorata (GMA-7) 12.9%; Kapamilya Blockbusters: Gorio en Tekla (ABS-CBN) 7.7%; Sine Ko 5ingko: The Terminal (TV5) 5.1%
ADVERTISEMENT - CONTINUE READING BELOW
The Borrowed Wife (GMA-7) 9.9%; Galema: Anak ni Zuma (ABS-CBN) 7.1%; Showbiz Police: Una sa Eksena (TV5) 3.3%; Face The People (TV5) 6.3%
Tale of Arang (GMA-7) 7.3%; Mutya ng Masa (ABS-CBN) 6%; Skip Beat (ABS-CBN) 8.1%; T3 Reload (TV5) 5.8%
Evening:
Paraiso Ko'y Ikaw (GMA-7) 9.2%; Annaliza (ABS-CBN) 14.1%; Aksyon (TV5) 7.7%
24 Oras (GMA-7) 19.2%; TV Patrol (ABS-CBN) 21.5%; Let's Ask Pilipinas (TV5) 6.3%; Confessions of a Torpe (TV5) 6.1%
Adarna (GMA-7) 19.4%; Honesto (ABS-CBN) 28.6%; Puss in Boots (TV5) 9.2%
Carmela (GMA-7) 18.6%; Got to Believe (ABS-CBN) 29.6%
Rhodora X (GMA-7) 17.3%; The Legal Wife (ABS-CBN) 18.4%; Aquino & Abunda Tonight (ABS-CBN) 13.3%; Numero (TV5) 4.1%
A 100-Year Legacy (GMA-7) 17.1%; The Biggest Loser: Pinoy Doubles (ABS-CBN) 9.2%
Saksi (GMA-7) 11.1%; Bandila (ABS-CBN) 6.5%; Pilipinas News (TV5) 2.4%
Reporter's Notebook (GMA-7) 5.7%; Banana Nite (ABS-CBN) 4.6%; Reaksyon (TV5) 1.6%
The Medyo Late Night Show with Jojo A. (GMA-7) 2.7%; O Shopping (ABS-CBN) 1.3%
---
March 5, 2014 (Wednesday)
Morning:
Reporter's Notebook (GMA-7) 1.3%; My Puhunan Replay (ABS-CBN) .8%; Reaksyon Replay (TV5) .2%
Unang Hirit! (GMA-7) 3.6%; Umagang Kay Ganda (ABS-CBN) 3.1%; Good Morning Club (TV5) 1%
Doraemon (GMA-7) 5.5%; Pokemon (GMA-7) 7.3%; Kris TV (ABS-CBN) 4.7%; Jungle Junction (TV5) 1.9%
ADVERTISEMENT - CONTINUE READING BELOW
Detective Conan (GMA-7) 8.8%; Metal Fight Beyblade (ABS-CBN) 3%; Domo (ABS-CBN) 3%; Phineas and Ferb (TV5) 2.9%
Inuyasha (GMA-7) 9.5%; Digimon Kros Wars (ABS-CBN) 2.9%; Domo (ABS-CBN) 2.7%; Gargoyles (TV5) 2.6%
Flame of Recca (GMA-7) 9.7%; Yu-Gi-Oh! (ABS-CBN) 3.7%; Oggy and the Cockroaches (TV5) 3.9%
Dragon Ball Z Kai (GMA-7) 10.8%; Kusina Master (GMA-7) 6.3%; Crazy Love (ABS-CBN) 7%; Johnny Bravo (TV5) 4.1%; Adventure Time (TV5) 5.5%
Tunay Na Buhay (GMA-7) 7.8%; Del Monte Kitchenomics (GMA-7) 8.6%; The Singing Bee (ABS-CBN) 12%; Ben 10 (TV5) 5%
The Ryzza Mae Show (GMA-7) 12%; Be Careful With My Heart (ABS-CBN) 17.6%; Ben 10 Ultimate Alien (TV5) 4%
Afternoon:
Eat Bulaga! (GMA-7) 20.6%; It's Showtime (ABS-CBN) 10.9%; Tropic Thunder (TV5) 4.3%
Villa Quintana (GMA-7) 15.6%; Innamorata (GMA-7) 11.8%; Kapamilya Blockbusters: Boy! Gising! (ABS-CBN) 9.3%; Son of Rambow (TV5) 4.8%
The Borrowed Wife (GMA-7) 10.4%; Galema: Anak ni Zuma (ABS-CBN) 7.4%; Showbiz Police: Una sa Eksena (TV5) 3.9%; Face The People (TV5) 6.1%
Tale of Arang (GMA-7) 8.2%; My Puhunan (ABS-CBN) 6.5%; Skip Beat (ABS-CBN) 8.4%; T3 Reload (TV5) 5.4%
Evening:
Paraiso Ko'y Ikaw (GMA-7) 9.7%; Annaliza (ABS-CBN) 12.1%; Aksyon (TV5) 6.7%
24 Oras (GMA-7) 18.8%; TV Patrol (ABS-CBN) 18.9%; Let's Ask Pilipinas (TV5) 5.4%; Confessions of a Torpe (TV5) 5.4%
ADVERTISEMENT - CONTINUE READING BELOW
Adarna (GMA-7) 18.7%; Honesto (ABS-CBN) 27.1%; PBA 2014 Commisioner's Cup: Alaska vs Talk n Text (TV5) 9.1%
Carmela (GMA-7) 19.4%; Got to Believe (ABS-CBN) 29.5%
Rhodora X (GMA-7) 17.6%; The Legal Wife (ABS-CBN) 17.5%; Aquino & Abunda Tonight (ABS-CBN) 13%
A 100-Year Legacy (GMA-7) 17.9%; The Biggest Loser: Pinoy Doubles (ABS-CBN) 10.3%; History with Lourd (TV5) 4.2%
Saksi (GMA-7) 9.5%; Bandila (ABS-CBN) 7%; Pilipinas News (TV5) 2.1%
Power House (GMA-7) 6.8%; Banana Nite (ABS-CBN) 4.5%; Reaksyon (TV5) 1.2%; PBA 2014 Commisioner's Cup: Alaska vs Talk n Text (TV5) 1.4%
The Medyo Late Night Show with Jojo A. (GMA-7) 2.3%; O Shopping (ABS-CBN) 1.7%
---
March 6, 2014 (Thursday)
Morning:
Born To Be Wild Replay (GMA-7) .9%; Tapatan Ni Tunying Replay (ABS-CBN) .8%; Astig (TV5) 0%; Reaksyon Replay (TV5) .1%
Unang Hirit! (GMA-7) 3.9%; Umagang Kay Ganda (ABS-CBN) 3.8%; Good Morning Club (TV5) 1%
Doraemon (GMA-7) 5.6%; Pokemon (GMA-7) 8.1%; Kris TV (ABS-CBN) 6%; Jungle Junction (TV5) 1.9%
Detective Conan (GMA-7) 10.1%; Metal Fight Beyblade (ABS-CBN) 3.1%; Domo (ABS-CBN) 2.4%; Phineas and Ferb (TV5) 3%
Inuyasha (GMA-7) 10.2%; Digimon (ABS-CBN) 2.4%; Domo (ABS-CBN) 2.7%; Gargoyles (TV5) 3.1%
Flame of Recca (GMA-7) 10.4%; Yu-Gi-Oh! (ABS-CBN) 2.6%; Oggy and Cockroaches (TV5) 4%
ADVERTISEMENT - CONTINUE READING BELOW
Dragon Ball Z Kai (GMA-7) 10.6%; Kusina Master (GMA-7) 7.8%; Crazy Love (ABS-CBN) 5.4%; Johnny Bravo (TV5) 4.4%
Tunay Na Buhay (GMA-7) 8.8%; The Singing Bee (ABS-CBN) 9.8%; Adventure Time (TV5) 4.3%; Ben 10 (TV5) 4.2%
The Ryzza Mae Show (GMA-7) 11.7%; Be Careful With My Heart (ABS-CBN) 17.1%; Ben 10: Ultimate Alien (TV5) 3.9%
Afternoon:
Eat Bulaga! (GMA-7) 20.9%; It's Showtime (ABS-CBN) 11.8%; NCAA89 Cheerleading Competition (TV5) 2.3%
Villa Quintana (GMA-7) 16.6%; Innamorata (GMA-7) 12.9%; Kapamilya Blockbusters: P're Hanggang sa Huli (ABS-CBN) 8.3%; Kuwentong Gilas Replay (TV5) 2.3%; Kuwentong Gilas Replay (TV5) 3%
The Borrowed Wife (GMA-7) 11.4%; Galema: Anak ni Zuma (ABS-CBN) 7.7%; Showbiz Police: Una sa Eksena (TV5) 3%; Face The People (TV5) 6.1%
Tale of Arang (GMA-7) 8.2%; Tapatan Ni Tunying (ABS-CBN) 5.8%; Skip Beat (ABS-CBN) 8%; T3 Reload (TV5) 5.9%
Evening:
Paraiso Ko'y Ikaw (GMA-7) 9.6%; Annaliza (ABS-CBN) 14.3%; Aksyon (TV5) 6.9%
24 Oras (GMA-7) 18%; TV Patrol (ABS-CBN) 22.5%; Let's Ask Pilipinas (TV5) 6.3%; Confessions of a Torpe (TV5) 6.3%
Adarna (GMA-7) 20.2%; Honesto (ABS-CBN) 29%; Obsession (TV5) 3%
Carmela (GMA-7) 21.9%; Got to Believe (ABS-CBN) 31.8%; Asia's Next Top Model (TV5) 3.3%
Rhodora X (GMA-7) 20.2%; The Legal Wife (ABS-CBN) 19%; Aquino & Abunda Tonight (ABS-CBN) 13.1%
ADVERTISEMENT - CONTINUE READING BELOW
A 100-Year Legacy (GMA-7) 19.3%; The Biggest Loser: Pinoy Doubles (ABS-CBN) 10.4%; Bigtime (TV5) 2.8%
Saksi (GMA-7) 11.9%; Bandila (ABS-CBN) 6.1%; Pilipinas News (TV5) 1.5%; Reaksyon (TV5) 1.6%
Alisto! (GMA-7) 6.4%; Banana Nite (ABS-CBN) 4.1%
The Medyo Late Night Show with Jojo A. (GMA-7) 2.6%; O Shopping (ABS-CBN) 1.5%
---
March 7, 2014 (Friday)
Morning:
Alisto! Replay (GMA-7) .9%; Matanglawin Replay (ABS-CBN) .6%; Reaksyon Replay (TV5) .2%
Unang Hirit! (GMA-7) 4.2%; Umagang Kay Ganda (ABS-CBN) 3.7%; Good Morning Club (TV5) .8%
Doraemon (GMA-7) 6.6%; Pokemon (GMA-7) 8.4%; Kris TV (ABS-CBN) 6.1%; Jungle Junction (TV5) 2.2%
Detective Conan (GMA-7) 10%; Metal Fight Beyblade (ABS-CBN) 2.9%; Domo (ABS-CBN) 2.2%; Phineas and Ferb (TV5) 2.9%
Inuyasha (GMA-7) 10.1%; Digimon Kros Wars (ABS-CBN) 3.2%; Domo (ABS-CBN) 3.6%; Gargoyles (TV5) 2.5%
Flame of Recca (GMA-7) 10.4%; Yu-Gi-Oh! (ABS-CBN) 3.7%; Oggy and the Cockroaches (TV5) 3.2%
Dragon Ball Z Kai (GMA-7) 10%; Kusina Master (GMA-7) 8.2%; Crazy Love (ABS-CBN) 6.9%; Johnny Bravo (TV5) 3.5%; Adventure Time (TV5) 4.8%
Tunay Na Buhay (GMA-7) 9.4%; The Singing Bee (ABS-CBN) 12%; Ben 10 (TV5) 4.9%
The Ryzza Mae Show (GMA-7) 12.7%; Be Careful With My Heart (ABS-CBN) 17.9%; Ben 10 Ultimate Alien (TV5) 4.1%
Afternoon:
Eat Bulaga! (GMA-7) 19.5%; It's Showtime (ABS-CBN) 11.2%; Orphan (TV5) 5.5%
ADVERTISEMENT - CONTINUE READING BELOW
Villa Quintana (GMA-7) 15.9%; Innamorata (GMA-7) 13%; Kapamilya Blockbusters: Halimaw (ABS-CBN) 8%; Stonehenge Apocalypse (TV5) 6.3%
The Borrowed Wife (GMA-7) 11.2%; Galema: Anak ni Zuma (ABS-CBN) 7.7%; Showbiz Police: Una sa Eksena (TV5) 6.3%; Face The People (TV5) 5.8%
Tale of Arang (GMA-7) 10.1%; Hiwaga (ABS-CBN) 7.1%; Skip Beat (ABS-CBN) 9%; T3 Reload (TV5) 7.3%
Evening:
Paraiso Ko'y Ikaw (GMA-7) 11.2%; Annaliza (ABS-CBN) 14.5%; Aksyon (TV5) 7%
24 Oras (GMA-7) 19.1%; TV Patrol (ABS-CBN) 21.8%; Let's Ask Pilipinas (TV5) 4.6%; Confessions of a Torpe (TV5) 5.7%
Adarna (GMA-7) 20.8%; Honesto (ABS-CBN) 28.2%; PBA 2014 Commisioner's Cup: Barako Buill vs Ginebra San Miguel (TV5) 10.3%
Carmela (GMA-7) 19.2%; Got to Believe (ABS-CBN) 32.7%
Rhodora X (GMA-7) 18%; The Legal Wife (ABS-CBN) 17.8%; Aquino & Abunda Tonight (ABS-CBN) 11.4%; Astig (TV5) 3.1%
Bubble Gang (GMA-7) 17.4%; The Biggest Loser: Pinoy Doubles (ABS-CBN) 8.4%
Saksi (GMA-7) 8.4%; Bandila (ABS-CBN) 5%; Banana Nite (ABS-CBN) 4.1%; Pilipinas News (TV5) 1.7%; Reaksyon (TV5) 1%
The Medyo Late Night Show with Jojo A. (GMA-7) 3.1%; O Shopping (ABS-CBN) 1.3%; PBA 2014 Commisioner's Cup: Meralco Bolts vs San Miguel Beermen (TV5) .9%
---
TOP TEN PROGRAMS:
March 1, 2014 (Saturday)
DAYTIME:
Eat Bulaga! (GMA-7) - 23%
GMA Blockbusters: Joe's Apartment (GMA-7) - 12.9%
Del Monte Kitchenomics (GMA-7) - 12.6%
Maynila 15 (GMA-7) - 11.4%
24 Oras Weekend (GMA-7) - 10.5%
It's Showtime (ABS-CBN) - 9.9%
Wish Ko Lang! (GMA-7) - 9.8%
Pororo (GMA-7) / Angry Birds Toons (GMA-7) - 8.3%
ABS-CBN Sabado Specials: Shake, Rattle & Roll (ABS-CBN) - 8%
Toriko (ABS-CBN) - 7.7%
PRIMETIME:
ADVERTISEMENT - CONTINUE READING BELOW
Celebrity Bluff (GMA-7) - 26.4%
Vampire Ang Daddy Ko (GMA-7) - 21.8%
Magpakailanman (GMA-7) / MMK: Ang Tahanan Mo (ABS-CBN) - 21.2%
Wansapanataym (ABS-CBN) - 18.9%
i-Witness (GMA-7) - 18.2%
Picture! Picture! (GMA-7) - 14.1%
Bet On Your Baby (ABS-CBN) - 13.4%
The Biggest Loser: Pinoy Edition (ABS-CBN) - 11.1%
Kapuso Movie Night: The Black Sheep Affair (GMA-7) - 10.8%
Banana Split: Extra Scoop (ABS-CBN) - 9%
March 2, 2014 (Sunday)
DAYTIME:
Del Monte Kitchenomics (GMA-7) - 15%
Kapuso Movie Festival: Big Mommas Like Father Like Son (GMA-7) - 14.8%
True Horror Stories (GMA-7) - 13.7%
Sunday All Stars (GMA-7) - 12.2%
ASAP 19 (ABS-CBN) - 11.2%
TV Patrol Weekend (ABS-CBN) - 11%
Startalk (GMA-7) / Buzz ng Bayan (ABS-CBN) - 10.7%
Sunday Sineplex: Herbie Fully Loaded (TV5) - 10.3%
Born To Be Wild (GMA-7) - 9.9%
iBilib (GMA-7) / 24 Oras Weekend (GMA-7) / Luv U (ABS-CBN) - 8.9%
PRIMETIME:
Kapuso Mo, Jessica Soho (GMA-7) - 29.6%
Pepito Manaloto: Ang Tunay na Kuwento (GMA-7) - 23.8%
Imbestigador (GMA-7) - 22.6%
Gandang Gabi Vice (ABS-CBN) - 20.4%
Rated K: Handa Na Ba Kayo? (ABS-CBN ) - 17.2%
Sunday Night Box Office: One Missed Call (GMA-7) - 14.7%
Home Sweetie Home (ABS-CBN) - 13.1%
Kap's Amazing Stories (GMA-7) - 11.7%
Goin' Bulilit (ABS-CBN) - 10.3%
Sunday Sineplex: Priest (TV5) - 7%
March 3, 2014 (Monday)
DAYTIME:
Eat Bulaga! (GMA-7) - 19.9%
Be Careful With My Heart (ABS-CBN) - 17%
Villa Quintana (GMA-7) - 16.6%
Innamorata (GMA-7) - 13.2%
The Ryzza Mae Show (GMA-7) - 12.8%
It's Showtime (ABS-CBN) - 11.4%
The Singing Bee (ABS-CBN) - 11.1%
The Borrowed Wife (GMA-7) - 10.9%
Dragon Ball Z Kai (GMA-7) - 10.7%
Flame of Recca (GMA-7) - 10.2%
PRIMETIME:
Got to Believe (ABS-CBN) - 29.4%
Honesto (ABS-CBN) - 27.9%
TV Patrol (ABS-CBN) - 21.9%
Adarna (GMA-7) - 21%
24 Oras (GMA-7) - 20.1%
Carmela (GMA-7) - 20%
A 100-Year Legacy (GMA-7) / The Legal Wife (ABS-CBN) - 18.6%
Rhodora X (GMA-7) - 17.4%
Annaliza (ABS-CBN) - 12.6%
Aquino & Abunda Tonight (GMA-7) - 11.9%
March 4, 2014 (Tuesday)
DAYTIME:
Eat Bulaga! (GMA-7) - 19.4%
Be Careful With My Heart (ABS-CBN) - 18.2%
Villa Quintana (GMA-7) - 14.1%
The Ryzza Mae Show (GMA-7) - 12.5%
Innamorata (GMA-7) - 12.9%
Dragon Ball Z Kai (GMA-7) - 11.8%
It's Showtime (ABS-CBN) - 11.5%
The Singing Bee (ABS-CBN) - 11.4%
Flame of Recca (GMA-7) - 10.4%
Inuyasha (GMA-7) / Tunay na Buhay (GMA-7) / The Borrowed Wife (GMA-7) - 9.9%
PRIMETIME:
Got to Believe (ABS-CBN) - 29.6%
Honesto (ABS-CBN) - 28.6%
TV Patrol (ABS-CBN) - 21.5%
Adarna (GMA-7) - 19.4%
24 Oras (GMA-7) - 19.2%
Carmela (GMA-7) - 18.6%
The Legal Wife (ABS-CBN) - 18.4%
Rhodora X (GMA-7) - 17.3%
A 100-Year Legacy (GMA-7) - 17.1%
Annaliza (GMA-7) - 14.1%
March 5, 2014 (Wednesday)
DAYTIME:
Eat Bulaga! (GMA-7) - 20.6%
Be Careful With My Heart (ABS-CBN) - 17.6%
Villa Quintana (GMA-7) - 15.6%
The Ryzza Mae Show (GMA-7) / The Singing Bee (ABS-CBN) - 12%
Innamorata (GMA-7) - 11.8%
It's Showtime (ABS-CBN) - 10.9%
Dragon Ball Z Kai (GMA-7) - 10.8%
The Borrowed Wife (GMA-7) - 10.4%
Flame of Recca (GMA-7) - 9.7%
Inuyasha (GMA-7) - 9.5%
PRIMETIME:
Got to Believe (ABS-CBN) - 29.5%
Honesto (ABS-CBN) - 27.1%
Carmela (GMA-7) - 19.4%
TV Patrol (ABS-CBN) - 18.9%
24 Oras (GMA-7) - 18.8%
Adarna (GMA-7) - 18.7%
A 100-Year Legacy (GMA-7) - 17.9%
Rhodora X (GMA-7) - 17.6%
The Legal Wife (GMA-7) - 17.5%
Aquino & Abunda Tonight (GMA-7) - 13%
March 6, 2014 (Thursday)
DAYTIME:
Eat Bulaga! (GMA-7) - 20.9%
Be Careful With My Heart (ABS-CBN) - 17.1%
Villa Quintana (GMA-7) - 16.6%
Innamorata (GMA-7) - 12.9%
It's Showtime (ABS-CBN) - 11.8%
The Ryzza Mae Show (GMA-7) - 11.7%
The Borrowed Wife (GMA-7) - 11.4%
Dragon Ball Z Kai (GMA-7) - 10.6%
Flame of Recca (GMA-7) - 10.4%
Inuyasha (GMA-7) - 10.2%
PRIMETIME:
Got to Believe (ABS-CBN) - 31.8%
Honesto (ABS-CBN) - 29%
TV Patrol (ABS-CBN) - 22.5%
Carmela (GMA-7) - 21.9%
Adarna (GMA-7) / Rhodora X (GMA-7) - 20.2%
A 100-Year Legacy (GMA-7) - 19.3%
The Legal Wife (ABS-CBN) - 18%
24 Oras (GMA-7) - 20.8%
Annaliza (GMA-7) - 14.3%
Aquino & Abunda Tonight (ABS-CBN) - 13.1%
March 7, 2014 (Friday)
DAYTIME:
Eat Bulaga! (GMA-7) - 19.5%
Be Careful With My Heart (ABS-CBN) - 17.9%
Villa Quintana (GMA-7) - 15.9%
Innamorata (GMA-7) - 13%
The Ryzza Mae Show (GMA-7) - 12.7%
The Singing Bee (ABS-CBN) - 12%
The Borrowed Wife (GMA-7) / It's Showtime (ABS-CBN) - 11.2%
Flame of Recca (GMA-7) - 10.4%
Inuyasha (GMA-7) / Tale of Arang (GMA-7) - 10.1%
Detective Conan (GMA-7) / Dragon Ball Z Kai (GMA-7) - 10%
PRIMETIME:
Got to Believe (ABS-CBN) - 32.7%
Honesto (ABS-CBN) - 28.2%
TV Patrol (ABS-CBN) - 21.8%
Adarna (GMA-7) - 20.8%
Carmela (GMA-7) - 19.2%
24 Oras (GMA-7) - 19.1%
Rhodora X (GMA-7) - 18%
The Legal Wife (ABS-CBN) - 17.8%
Bubble Gang (GMA-7) - 17.4%
Annaliza (GMA-7) - 14.5%
Source: AGB Nielsen Philippines