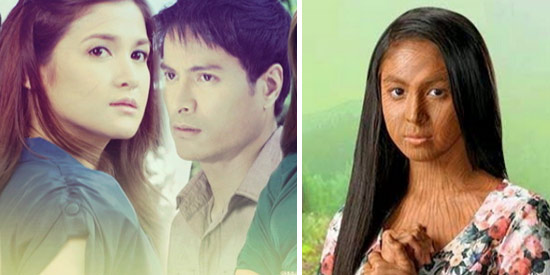 ---
Some of the most important developments in ratings for the period of March 22 to 28 are the following: the weak ending of ABS-CBN's Galema, the good debut of the Julia Barretto-starrer Mira Bella, and the rise of GMA-7's daytime morning slot.

These conclusions can be taken from the latest ratings data from AGB Nielsen Philippines from Mega Manila households from March 22 to 28, 2014.
Paraiso Ko'y Ikaw is GMA-7's early primetime drama series featuring Kristoffer Martin and Kim Rodriguez. Since it started airing on January 27, Paraiso Ko'y Ikaw was constantly being beaten by Annaliza up until March 21, the finale episode of the Andrea Brillantes-starrer Annaliza.

On March 24, the fantaserye Mira Bella aired its pilot episode and got a rating of 14.7%, enough to beat Paraiso Ko'y Ikaw, which got 13.6% that day. This also allowed Mira Bella to land in ninth place in the most-watched shows in weekday primetime.
On this last week, Paraiso Ko'y Ikaw finally outperformed its rival Mira Bella by gettingwinning ratings on its last two days (March 27 and 28).
The Julia Barretto-starrer Mira Bella is shaping up to be a strong ratings earner, though. It remains to be seen if Mira Bella can continue its strong lead in the coming weeks.
The last significant development is the rapid strengthening of GMA-7's weekday daytime shows, particularly the anime shows. A week ago, shows like Pokemon, Inuyasha, Dragon Ball Z Kai, One Piece and Detective Conan only get one digit ratings. Now, these shows get ratings above 10%. Dragon Ball Z Kai, for instance, even places third on the most-watched shows for weekday daytime.
ADVERTISEMENT - CONTINUE READING BELOW
The reason for this rise may be the summer vacation of elementary school students, the target market of these shows.
ENDINGS AND BEGINNINGS. As previously stated, Paraiso Ko'y Ikaw started on January 17, and ended on March 28. It ran for nine weeks with 45 episodes in total. It has an average rating of 10.28% for all those episodes.
ABS-CBN's afternoon drama series Galema: Anak ni Zuma ended on March 28. It started on September 30, and had 130 episodes in total. The fantasy series starred Andi Eigenmann and Matteo Guidicelli.
Galema: Anak ni Zuma is not a strong ratings contender for the Kapamilya station. In fact, GMA-7's The Borrowed Wife overpowered all of Galema's episodes in its last week.
On March 22, the dancing competition Celebrity Dance Battle replaced Aga Muhlach's travel show Pinoy Explorer on Saturday nights in TV5. Celebrity Dance Battle was beaten by GMA-7's Vampire Ang Daddy Ko and ABS-CBN's Wansapanataym.
Two returning shows were added on GMA-7's already strong line-up on weekday mornings: Jackie Chan Adventures and Fairy Tail.
GMA-7's docu show Reporter's Notebook moved to Saturday nights from Tuesday nights.
TV5's Juan Direction moved from Saturday nights to Sunday nights.
Lastly, BBC's Human Planet debuted in GMA-7 on Thursday night.
Here is the comparative Rating Performance of GMA-7, ABS-CBN and TV5 programs from March 22 to 28, 2014, derived from AGB Nielsen Philippines from Mega Manila households:
March 22, 2014 (Saturday)
Morning:
PJM Forum (GMA-7) .5%; Adyenda (GMA-7) 1.2%
Kapwa Ko Mahal Ko (GMA-7) 2%; Sa Kabukiran (ABS-CBN) .4%; Family Matters (TV5) .3%
Pinoy MD (GMA-7) 3.3%; Salamat Dok (ABS-CBN) 2.1%; Imagination Movers (TV5) 1.1%
ADVERTISEMENT - CONTINUE READING BELOW
Scooby-Doo! Mystery Inc. (GMA-7) 5.1%; Swak na Swak (ABS-CBN) 3.5%; Yin Yang Yo! (TV5) 2.2%
Super Book (GMA-7) 7.8%; Honey Watch Out! (ABS-CBN) 1.6%; Kick Buttowski (TV5) 3.6%
Paddle Pop Dinoterra (GMA-7) 9.4%; Sineskwela (ABS-CBN) 2.1%; Dexter's Laboratory (TV5) 3.8%
Angry Birds Toons (GMA-7) 11%; Toriko (GMA-7) 9.5%; Avatar: The Legend of Aang (ABS-CBN) 2.4%; Teenage Mutant Ninja Turtles (ABS-CBN) 3.5%; The Amazing World of Gumball (TV5) 5.1%
Tropang Potchi (GMA-7) 6.9%; Spongebob Squarepants (ABS-CBN) 6.6%; Regular Show (TV5) 4.9%
Sarap Diva (GMA-7) 8.8%; Maynila 15 (GMA-7) 11.8%; Del Monte Kitchenomics (GMA-7) 14.4%; NBA 2013-2014 Season: OKC Thunder vs TOR Raptors (ABS-CBN) 5.9%; PLDT Home Fibr NCAA March Madness: Kansas State vs Kentucky (TV5) 1.6%; Sym-Bionic Titan (TV5) 2.5%
Afternoon:
Eat Bulaga! (GMA-7) 21.1%; It's Showtime (ABS-CBN) 18.7%; XXX State of the Union (TV5) 6%
Laban ng Lahi (GMA-7) 10.1%; One Piece (GMA-7) 6.5%; ABS-CBN Sabado Specials: Shake, Rattle & Roll (ABS-CBN) 11.3%; PBA 2014 Commisioner's Cup: Barako Bull vs San Miguel Beermen (TV5) 4.6%; Aksyon Weekend (TV5) 5.1%
Wish Ko Lang! (GMA-7) 8.9%; SOCO (ABS-CBN) 10.9%; PBA 2014 Commisioner's Cup: Rain or Shine vs San Mig Coffee (TV5) 7.9%
24 Oras Weekend (GMA-7) 13%; Failon Ngayon (ABS-CBN) 12.4%; TV Patrol Weekend (ABS-CBN) 18.2%
Evening:
Picture! Picture! (GMA-7) 16.3%; Bet On Your Baby (ABS-CBN) 21.9%; Tropa Mo Ko Unli (TV5) 6.7%
Vampire Ang Daddy Ko (GMA-7) 21.9%; Wansapanataym (ABS-CBN) 20%; Celebrity Dance Battle (TV5) 6.3%
Magpakailanman (GMA-7) 26.8%; MMK: Ang Tahanan Mo (ABS-CBN) 19.9%; Killer Karaoke: Pinoy Naman (TV5) 4.2%
Celebrity Bluff (GMA-7) 22.3%; The Biggest Loser: Pinoy Edition Doubles (ABS-CBN) 11%; Kaya. (TV5) 2.4%
I-Witness (GMA-7) 14.8%; Reporter's Notebook (GMA-7) 10.4%; Banana Split: Extra Scoop (ABS-CBN) 6.8%; SpinNation (TV5) .6%
Kapuso Movie Night: When Fortune Smiles (GMA-7) 7.6%; The Bottom Line (ABS-CBN) 3.7%; Sports Unlimited (ABS-CBN) 2.2%
Walang Tulugan (GMA-7) 2.8%; O Shopping (ABS-CBN) 1.4%; Pilipinas News Weekend (TV5) .9%
---
March 23, 2014 (Sunday)
ADVERTISEMENT - CONTINUE READING BELOW
Morning:
In Touch with Dr. Charles Stanley (GMA-7) .3%; Jesus The Healer (GMA-7) 1.2%; Balitang 60 (TV5) .3%
Mojacko (GMA-7) 1.5%; Puppy In My Pocket (GMA-7) 1.9%; Scan2Go (GMA-7) 3.9%; The Healing Eucharist (ABS-CBN) 3.7%; Sunday Mass on TV5 (TV5) 1.3%
The Batman (GMA-7) 6.2%; Swak na Swak (ABS-CBN) 2.4%; Power to Unite with Elvira (TV5) .5%
Super Book (GMA-7) 7.7%; Paddle Pop Dinoterra (GMA-7) 9.5%; Salamat Dok (ABS-CBN) 1.6%; Yin Yang Yo! (TV5) 2.1%; Kick Buttowski (TV5) 3.7%
Toriko (GMA-7) 8.8%; X-Men (ABS-CBN) 1.7%; Dexter's Laboratory (TV5) 5.1%
Aha! (GMA-7) 6.8%; Marvel Blade (ABS-CBN) 2.9%; Regular Show (TV5) 4.7%
Born To Be Wild (GMA-7) 7.4%; Matanglawin (ABS-CBN) 4.9%; Powerpuff Girls Z (TV5) 4.6%
Kapuso Movie Festival: Horton (GMA-7) 11.6%; Del Monte Kitchenomics (GMA-7) 12.7%; Kapamilya Sunday Blockbusters: Ratatouille (ABS-CBN) 11.9%; PLDT Home Fibr NCAA March Madness (TV5) 1.5%
Afternoon:
Sunday All Stars (GMA-7) 11.7%; ASAP 19 (ABS-CBN) 12.2%; The Wild (TV5) 6.1%
Asian Horror Stories (GMA-7) 11%; iBilib (GMA-7) 9.5%; Luv U (ABS-CBN) 8.9%; The Smurfs (TV5) 7.3%
Startalk (GMA-7) 8.2%; Buzz ng Bayan (ABS-CBN) 9.7%; PBA 2014 Commisioner's Cup: Air 21 Express vs Meralco Bolts (TV5) 5.6%
24 Oras Weekend (GMA-7) 9%; TV Patrol Weekend (ABS-CBN) 8.7%; PBA 2014 Commisioner's Cup: Barangay Ginebra vs Talk n Text (TV5) 11.9%
Evening:
Kap's Amazing Stories (GMA-7) 13.3%; Goin' Bulilit (ABS-CBN) 10.6%
Pepito Manaloto: Ang Tunay na Kuwento (GMA-7) 23.9%; Home Sweetie Home (ABS-CBN) 12.5%; Who Wants to be a Millionaire (TV5) 9.2%
Kapuso Mo, Jessica Soho (GMA-7) 27%; Rated K: Handa na ba Kayo? (ABS-CBN) 15.4%; Wow Mali Pa Rin! (TV5) 7.3%
Imbestigador (GMA-7) 18.9%; Gandang Gabi Vice (ABS-CBN) 18.4%; Sunday Sineplex: A Better Way To Die (TV5) 6.1%
Sunday Night Box Office: Blitz (GMA-7) 12.8%; Sunday's Best: Binibining Pilipinas 2014: The Road to the Crown (ABS-CBN) 6%; Juan Direction (TV5) 1.2%; Pilipinas News Weekend (TV5) .5%; Demolition Job (TV5) .5%
Diyos at Bayan (GMA-7) 2.8%; O Shopping (ABS-CBN) 1.2%
ADVERTISEMENT - CONTINUE READING BELOW
--
March 24, 2014 (Monday)
Morning:
Aha! Replay (GMA-7) .9%; Sports Unlimited Replay (ABS-CBN) .3%
Unang Hirit! (GMA-7) 4.1%; Umagang Kay Ganda (ABS-CBN) 3.1%; Word of the Lourd (TV5) .2%; Reaksyon Replay (TV5) .2%; Good Morning Club (TV5) .9%
Jackie Chan Adventures (GMA-7) 6.8%; One Piece (GMA-7) 9.2%; Detective Conan (GMA-7) 11.5%; Kris TV (ABS-CBN) 4.9%; Fish Hooks (TV5) 2.9%; Phineas and Ferb (TV5) 4.3%
Pokemon (GMA-7) 13.1%; Mr. Bean (ABS-CBN) 4.7%; Gargoyles (TV5) 2.1%
Inuyasha (GMA-7) 12.8%; Domo (ABS-CBN) 4.9%; Yu-Gi-Oh! 5Ds (ABS-CBN) 3.2%; Oggy and the Cockroaches (TV5) 3.9%
Fairy Tail (GMA-7) 13.6%; Domo (ABS-CBN) 2.7%; Mr. Bean (ABS-CBN) 4%
Dragon Ball Z Kai (GMA-7) 15.2%; Kusina Master (GMA-7) 10.4%; Wansapanasummer (ABS-CBN) 7.6%;
PLDT Home Fibr NCAA March Madness: Arizona Wildcats vs Gonzaga Bulldogs (TV5) 1.4%
Tunay Na Buhay (GMA-7) 11.2%; The Singing Bee (ABS-CBN) 12.4%
The Ryzza Mae Show (GMA-7) 15.6%; Be Careful With My Heart (ABS-CBN) 15.9%
Afternoon:
Eat Bulaga! (GMA-7) 18.8%; It's Showtime (ABS-CBN) 14.5%; Seeds of Destruction (TV5) 4.8%
Villa Quintana (GMA-7) 14.3%; Innamorata (GMA-7) 14.1%; Kapamilya Blockbusters: Mamarazzi (ABS-CBN) 11.4%; Flubber (TV5) 8%
The Borrowed Wife (GMA-7) 14.3%; Galema: Anak ni Zuma (ABS-CBN) 10.9%; Showbiz Police: Una sa Eksena (TV5) 4.6%; Face the People (TV5) 6%
GMA Sinebabad: My Tutor Friend (GMA-7) 12.5%; Bistado (ABS-CBN) 9.5%; My Girlfriend is a Gumiho (ABS-CBN) 11.4%; T3 Reload (TV5) 6.8%
Evening:
Paraiso Ko'y Ikaw (GMA-7) 13.6%; Mira Bella (ABS-CBN) 14.7%; Aksyon (TV5) 9.4%
24 Oras (GMA-7) 22.7%; TV Patrol (ABS-CBN) 21.7%; Let's Ask Pilipinas (TV5) 7.1%; Confessions of a Torpe (TV5) 7.1%
Kambal Sirena (GMA-7) 23.8%; Dyesebel (ABS-CBN) 24%; PBA 2014 Commissioner's Cup: Global Port vs San Miguel Beermen (TV5) --
Carmela (GMA-7) 24.1%; Ikaw Lamang (ABS-CBN) 22.7%
Rhodora X (GMA-7) 21.1%; The Legal Wife (ABS-CBN) 16.7%; Aquino & Abunda Tonight (ABS-CBN) 11.8%; Demolition Job (TV5) 3.5%
A 100-Year Legacy (GMA-7) 18.1%; The Biggest Loser: Pinoy Doubles (ABS-CBN) 8.5%; Pilipinas News (TV5) 2.2%; Reaksyon (TV5) 1%
Saksi (GMA-7) 10.8%; Bandila (ABS-CBN) 5.8%; Showbiz Police: Una sa Eksena (TV5) .8%
ADVERTISEMENT - CONTINUE READING BELOW
Front Row (GMA-7) 6.1%; Banana Nite (ABS-CBN) 4%; T3 Reload Replay (TV5) .9%
The Medyo Late Night Show with Jojo A. (GMA-7) 3.8%; O Shopping (ABS-CBN) 1.4%
----
March 25, 2014 (Tuesday)
Morning:
I-Witness Replay (GMA-7) 1.1%; Mutya ng Masa Replay (ABS-CBN) .6%; Reaksyon Replay (TV5) .3%
Unang Hirit! (GMA-7) 4.7%; Umagang Kay Ganda (ABS-CBN) 3.3%; Good Morning Club (TV5) 1.4%
Jackie Chan Adventures (GMA-7) 8.2%; One Piece (GMA-7) 11.7%; Detective Conan (GMA-7) 13.1%; Kris TV (ABS-CBN) 5.2%; Fish Hooks (TV5) 2%; Phineas and Ferb (TV5) 5%
Pokemon (GMA-7) 14.2%; Mr. Bean (ABS-CBN) 6.3%; Gargoyles (TV5) 3.2%
Inuyasha (GMA-7) 14.5%; Domo (ABS-CBN) 3.8%; Yu-Gi-Oh! 5Ds (ABS-CBN) 4.5%; Oggy and the Cockroaches (TV5) 4.4%
Fairy Tail (GMA-7) 15.9%; Domo (ABS-CBN) 3.1%; Mr. Bean (ABS-CBN) 6.2%; PLDT Home Fibr NCAA March Madness: Louisville Cardinals vs Manhattan Jaspers (TV5) 1.4%
Dragon Ball Z Kai (GMA-7) 16.5%; Kusina Master (GMA-7) 9.8%; Wansapanasummer (ABS-CBN) 10.2%
Tunay Na Buhay (GMA-7) 10%; The Singing Bee (ABS-CBN) 14.7%
The Ryzza Mae Show (GMA-7) 13.1%; Be Careful With My Heart (ABS-CBN) 19.3%
Afternoon:
Eat Bulaga! (GMA-7) 18.4%; It's Showtime (ABS-CBN) 15.2%; Sine Ko 5ingko: Gran Torino (TV5) 4.4%
Villa Quintana (GMA-7) 14.7%; Innamorata (GMA-7) 12.5%; Kapamilya Blockbusters: Kung Kaya Mo Kaya Ko Rin (ABS-CBN) 9.6%; Sine Ko 5ingko: Dinocroc vs Supergator (TV5) 7.1%
The Borrowed Wife (GMA-7) 12.6%; Galema: Anak ni Zuma (ABS-CBN) 10%; Showbiz Police: Una sa Eksena (TV5) 3.2%; Face The People (TV5) 5.4%
GMA Sinebabad: My Tutor Friend (GMA-7) 10.3%; Mutya ng Masa (ABS-CBN) 8%; My Girlfriend is a Gumiho (ABS-CBN) 9.3%; T3 Reload (TV5) 6.4%
Evening:
Paraiso Ko'y Ikaw (GMA-7) 10.9%; Mira Bella (ABS-CBN) 12.9%; Aksyon (TV5) 9%
24 Oras (GMA-7) 21%; TV Patrol (ABS-CBN) 22%; Let's Ask Pilipinas (TV5) 5.8%; Confessions of a Torpe (TV5) 6.9%
Kambal Sirena (GMA-7) 22.4%; Dyesebel (ABS-CBN) 23.6%; PBA 2014 Commissioner's Cup: San Mig Coffee vs Barako Bull (TV5) 11.1%
Carmela (GMA-7) 23.3%; Ikaw Lamang (ABS-CBN) 21.9%
ADVERTISEMENT - CONTINUE READING BELOW
Rhodora X (GMA-7) 20.2%; The Legal Wife (ABS-CBN) 17.8%; Aquino & Abunda Tonight (ABS-CBN) 12.6%
A 100-Year Legacy (GMA-7) 18.6%; The Biggest Loser: Pinoy Doubles (ABS-CBN) 8.8%; Numero (TV5) 3.6%; Pilipinas News (TV5) 2.5%
Saksi (GMA-7) 12.3%; Bandila (ABS-CBN) 5.5%; Reaksyon (TV5) 1.8%; Showbiz Police Replay (TV5) 1%
Alisto! (GMA-7) 7.4%; Banana Nite (ABS-CBN) 4.6%; T3 Reload Replay (TV5) .6%
The Medyo Late Night Show with Jojo A. (GMA-7) 2.9%; O Shopping (ABS-CBN) 1%;
---
March 26, 2014 (Wednesday)
Morning:
Reporter's Notebook Replay (GMA-7) .9%; My Puhunan Replay (ABS-CBN) .2%; Reaksyon Replay (TV5) .4%
Unang Hirit! (GMA-7) 3.7%; Umagang Kay Ganda (ABS-CBN) 3.4%; Good Morning Club (TV5) 1%
Jackie Chan Adventures (GMA-7) 8.8%; One Piece (GMA-7) 10.8%; Detective Conan (GMA-7) 13.4%; Kris TV (ABS-CBN) 5.1%; Fish Hooks (TV5) 3.1%; Phineas and Ferb (TV5) 4.5%
Pokemon (GMA-7) 14.6%; Mr. Bean (ABS-CBN) 5.2%; Gargoyles (TV5) 2.4%
Inuyasha (GMA-7) 13.3%; Domo (ABS-CBN) 5.6%; Yu-Gi-Oh! 5Ds (ABS-CBN) 4.3%; Oggy and the Cockroaches (TV5) 3.6%
Fairy Tail (GMA-7) 14.1%; Domo (ABS-CBN) 4.2%; Mr. Bean (ABS-CBN) 6%; PLDT Home Fibr NCAA March Madness: North Carolina vs Providence (TV5) 1.2%
Dragon Ball Z Kai (GMA-7) 15.9%; Kusina Master (GMA-7) 9.5%; Wansapanasummer (ABS-CBN) 9.9%
Tunay Na Buhay (GMA-7) 10.9%; Del Monte Kitchenomics (GMA-7) 10.7%; The Singing Bee (ABS-CBN) 14.3%
The Ryzza Mae Show (GMA-7) 13.6%; Be Careful With My Heart (ABS-CBN) 18.6%
Afternoon:
Eat Bulaga! (GMA-7) 17.8%; It's Showtime (ABS-CBN) 15.7%; Hollywood Homicide (TV5) 4.3%
Villa Quintana (GMA-7) 15.4%; Innamorata (GMA-7) 12.6%; Kapamilya Blockbusters: Dobol Trobol Lets Get Redi 2 Rambol (ABS-CBN) 9.8%; The Ring (TV5) 6.3%
The Borrowed Wife (GMA-7) 12.7%; Galema: Anak ni Zuma (ABS-CBN) 7.6%; Showbiz Police: Una sa Eksena (TV5) 3.2%; Face The People (TV5) 3.8%
GMA Sinebabad: A Moment To Remember (GMA-7) 9.1%; My Puhunan (ABS-CBN) 5.8%; My Girlfriend is a Gumiho (ABS-CBN) 8.9%; T3 Reload (TV5) 4.5%
Evening:
Paraiso Ko'y Ikaw (GMA-7) 9.9%; Mira Bella (ABS-CBN) 11.3%; Aksyon (TV5) 6.2%
24 Oras (GMA-7) 20.6%; TV Patrol (ABS-CBN) 19.6%; Let's Ask Pilipinas (TV5) 5.3%; Confessions of a Torpe (TV5) 6.2%
ADVERTISEMENT - CONTINUE READING BELOW
Kambal Sirena (GMA-7) 22.1%; Dyesebel (ABS-CBN) 22%; PBA 2014 Commisioner's Cup: Air 21 Express vs Brgy Ginebra San Miguel (TV5) 14%
Carmela (GMA-7) 23.8%; Ikaw Lamang (ABS-CBN) 21%
Rhodora X (GMA-7) 19.4%; The Legal Wife (ABS-CBN) 16.8%; Aquino & Abunda Tonight (ABS-CBN) 12.3%
A 100-Year Legacy (GMA-7) 20%; The Biggest Loser: Pinoy Doubles (ABS-CBN) 8.7%; History with Lourd (TV5) 8.1%; Pilipinas News (TV5) 4.3%
Saksi (GMA-7) 12.6%; Bandila (ABS-CBN) 5.1%; Reaksyon (TV5) 1.9%; PBA 2014 Commisioner's Cup: Meralco vs Rain or Shine (TV5) 1.7%
Power House (GMA-7) 9%; Banana Nite (ABS-CBN) 3.2%
The Medyo Late Night Show with Jojo A. (GMA-7) 3.8%; O Shopping (ABS-CBN) .8%
---
March 27, 2014 (Thursday)
Morning:
Born To Be Wild Replay (GMA-7) .8%; Tapatan Ni Tunying Replay (ABS-CBN) .6%; Astig (TV5) .2%
Unang Hirit! (GMA-7) 3.7%; Umagang Kay Ganda (ABS-CBN) 3.3%; Reaksyon Replay (TV5) .1%; Good Morning Club (TV5) .7%
Jackie Chan Adventures (GMA-7) 7.6%; One Piece (GMA-7) 10.8%; Detective Conan (GMA-7) 12.5%; Kris TV (ABS-CBN) 5.4%; Fish Hooks (TV5) 2.4%; Phineas and Ferb (TV5) 5%
Pokemon (GMA-7) 14.2%; Mr. Bean (ABS-CBN) 6.4%; Domo (ABS-CBN) 6.1%; Gargoyles (TV5) 2.8%
Inuyasha (GMA-7) 13.9%; Yu-Gi-Oh! 5Ds (ABS-CBN) 4.7%; Domo (ABS-CBN) 4.2%; Oggy and the Cockroaches (TV5) 4.3%
Fairy Tail (GMA-7) 15%; Mr. Bean (ABS-CBN) 5.8%; PLDT Home Fibr NCAA March Madness: Tulsa Golden Hurricane vs UCLA Bruins (TV5) 1.5%
Dragon Ball Z Kai (GMA-7) 15.4%; Kusina Master (GMA-7) 9.4%; Wansapanasummer (ABS-CBN) 10.2%
Tunay Na Buhay (GMA-7) 10%; The Singing Bee (ABS-CBN) 15.2%
The Ryzza Mae Show (GMA-7) 13.9%; Be Careful With My Heart (ABS-CBN) 20.1%
Afternoon:
Eat Bulaga! (GMA-7) 18.8%; It's Showtime (ABS-CBN) 14.9%; Hostel: Part III (TV5) 4.7%
Villa Quintana (GMA-7) 15.6%; Innamorata (GMA-7) 13.9%; Kapamilya Blockbusters: Manay Po! (ABS-CBN) 9.3%; Friday the 13th (TV5) 6.8%
The Borrowed Wife (GMA-7) 11.4%; Galema: Anak ni Zuma (ABS-CBN) 10.1%; Showbiz Police: Una sa Eksena (TV5) 2.6%
GMA Sinebabad: A Moment to Remember (GMA-7) 8.5%; Tapatan Ni Tunying (ABS-CBN) 8.2%; My Girlfriend is a Gumiho (ABS-CBN) 9.3%; Face The People (TV5) 4.2%; T3 Reload (TV5) 5.4%
ADVERTISEMENT - CONTINUE READING BELOW
Evening:
Paraiso Ko'y Ikaw (GMA-7) 11.8%; Mira Bella (ABS-CBN) 10.7%; Aksyon (TV5) 7.2%
24 Oras (GMA-7) 20.4%; TV Patrol (ABS-CBN) 19.9%; Let's Ask Pilipinas (TV5) 5.7%; Confessions of a Torpe (TV5) 6.5%
Kambal Sirena (GMA-7) 24.1%; Dyesebel (ABS-CBN) 22.8%; Obsession (TV5) 2.7%
Carmela (GMA-7) 26.1%; Ikaw Lamang (ABS-CBN) 22.2%; Kaya (TV5) 2.3%
Rhodora X (GMA-7) 22.8%; The Legal Wife (ABS-CBN) 19%; Aquino & Abunda Tonight (ABS-CBN) 12.7%
A 100-Year Legacy (GMA-7) 19%; The Biggest Loser: Pinoy Doubles (ABS-CBN) 9.3%; Bigtime (TV5) 2%; Pilipinas News (TV5) 2%; Reaksyon (TV5) 1.7%
Saksi (GMA-7) 10.9%; Bandila (ABS-CBN) 6%; Showbiz Police Replay (TV5) .7%; T3 Reload Replay (TV5) .9%
Human Planet (GMA-7) 7.5%; Banana Nite (ABS-CBN) 3.5%
The Medyo Late Night Show with Jojo A. (GMA-7) 3.3%; O Shopping (ABS-CBN) .8%
---
March 28, 2014 (Friday)
Morning:
Alisto! Replay (GMA-7) 1%; Matanglawin Replay (ABS-CBN) .4%; Reaksyon Replay (TV5) .3%
Unang Hirit! (GMA-7) 3.7%; Umagang Kay Ganda (ABS-CBN) 3.1%; Good Morning Club (TV5) .8%
Jackie Chan Adventures (GMA-7) 8.3%; One Piece (GMA-7) 11.8%; Detective Conan (GMA-7) 13.2%; Kris TV (ABS-CBN) 5.5%; Fish Hooks (TV5) 2.4%; Phineas and Ferb (TV5) 3.9%; Gargoyles (TV5) 2.3%
Pokemon (GMA-7) 14%; Mr. Bean (ABS-CBN) 6.5%
Inuyasha (GMA-7) 14.4%; Domo (ABS-CBN) 7%; Yu-Gi-Oh! 5Ds (ABS-CBN) 5.6%; Astig (TV5) 1.9%
Fairy Tail (GMA-7) 16.7%; Domo (ABS-CBN) 7%; Mr. Bean (ABS-CBN) 6.9%
Dragon Ball Z Kai (GMA-7) 17.4%; Kusina Master (GMA-7) 11.2%; Wansapanasummer (ABS-CBN) 11.1%; PLDT Home Fibr NCAA March Madness: Florida Gators vs UCLA Bruins (TV5) 1.3%
Tunay Na Buhay (GMA-7) 11.2%; The Singing Bee (ABS-CBN) 17.2%
The Ryzza Mae Show (GMA-7) 13.3%; Be Careful With My Heart (ABS-CBN) 21.3%; Ben 10 Ultimate Alien (TV5) 2.6%
Afternoon:
Eat Bulaga! (GMA-7) 17.7%; It's Showtime (ABS-CBN) 15.5%; Arena (TV5) 6.6%; Supershark (TV5) 7.3%
Villa Quintana (GMA-7) 14.8%; Innamorata (GMA-7) 11.5%; Kapamilya Blockbusters: Segunda Mano (ABS-CBN) 7.7%
The Borrowed Wife (GMA-7) 11.1%; Galema: Anak ni Zuma (ABS-CBN) 10.3%; Red Alert (ABS-CBN) 7.4%; Showbiz Police: Una sa Eksena (TV5) 3.6%; Face The People (TV5) 3.8%
ADVERTISEMENT - CONTINUE READING BELOW
GMA Sinebabad: A Moment to Remember (GMA-7) 8.7%; My Girlfriend is a Gumiho (ABS-CBN) 9.1%; T3 Reload (TV5) 4.2%
Evening:
Paraiso Ko'y Ikaw (GMA-7) 12%; Mira Bella (ABS-CBN) 10.4%; Aksyon (TV5) 5.8%
24 Oras (GMA-7) 20.3%; TV Patrol (ABS-CBN) 17.5%; Let's Ask Pilipinas (TV5) 5.1%; Confessions of a Torpe (TV5) 6.1%
Kambal Sirena (GMA-7) 22.2%; Dyesebel (ABS-CBN) 21.2%; Transformers (TV5) 11.3%
Carmela (GMA-7) 22.9%; Ikaw Lamang (ABS-CBN) 19.8%
Rhodora X (GMA-7) 21%; The Legal Wife (ABS-CBN) 16.4%
Bubble Gang (GMA-7) 22.3%; Aquino & Abunda Tonight (ABS-CBN) 11.8%; The Biggest Loser: Pinoy Doubles (ABS-CBN) 7.7%; Astig (TV5) 4.4%; Pilipinas News (TV5) 2.2%
Saksi (GMA-7) 10.7%; Bandila (ABS-CBN) 4.6%; Reaksyon (TV5) 1.5%; Showbiz Police Replay (TV5) 1.2%; T3 Reload Replay (TV5) 1%;
The Medyo Late Night Show with Jojo A. (GMA-7) 4.8%; Banana Nite (ABS-CBN) 3.6%; O Shopping (ABS-CBN) .7%
---
TOP TEN PROGRAMS:
March 22, 2014 (Saturday)
DAYTIME:
Eat Bulaga! (GMA-7) - 21.1%
It's Showtime (ABS-CBN) - 18.7%
TV Patrol World (ABS-CBN) - 18.2%
Del Monte Kitchenomics (GMA-7) - 14.4%
24 Oras Weekend (GMA-7) - 13%
Failon Ngayon (ABS-CBN) - 12.4%
Maynila 15 (GMA-7) - 11.8%
ABS-CBN Sabado Specials: Shake, Rattle & Roll (ABS-CBN) - 11.3%
Angry Bird Toons (GMA-7) - 11%
SOCO (ABS-CBN) - 10.9%
PRIMETIME:
Magpakailanman (GMA-7) - 26.8%
Celebrity Bluff (GMA-7) - 22.3%
Vampire Ang Daddy Ko (GMA-7) / Bet On Your Baby (ABS-CBN) - 21.9%
Wansapanataym (ABS-CBN) - 20%
MMK: Ang Tahanan Mo (ABS-CBN) - 19.9%
Picture! Picture! (GMA-7) - 16.3%
i-Witness (GMA-7) - 14.8%
The Biggest Loser: Pinoy Edition (ABS-CBN) - 11%
Reporter's Notebook (GMA-7) - 10.4%
PBA 2014 Commisioner's Cup: Rain or Shine vs San Mig Coffee (TV5) - 7.9%
March 23, 2014 (Sunday)
DAYTIME:
Del Monte Kitchenomics (GMA-7) - 12.7%
ASAP 19 (ABS-CBN) - 12.2%
Kapamilya Sunday Blockbusters: Ratatouille (ABS-CBN) - 11.9%
Sunday All Stars (GMA-7) - 11.7%
Kapuso Movie Festival: Horton (GMA-7) - 11.6%
Asian Horror Stories (GMA-7) - 11%
Buzz ng Bayan (ABS-CBN) - 9.7%
Paddle Pop Dinoterra (GMA-7) / Toriko (GMA-7) / iBilib (GMA-7) - 9.5%
24 Oras Weekend (GMA-7) - 9%
Luv U (ABS-CBN) - 8.9%
PRIMETIME:
Kapuso Mo, Jessica Soho (GMA-7) - 27%
Pepito Manaloto: Ang Tunay na Kuwento (GMA-7) - 23.9%
Imbestigador (GMA-7) - 18.9%
Gandang Gabi Vice (ABS-CBN) - 18.4%
Rated K: Handa Na Ba Kayo? (ABS-CBN ) - 15.4%
Kap's Amazing Stories (GMA-7) - 13.3%
Sunday Night Box Office: Blitz(GMA-7) - 12.8%
Home Sweetie Home (ABS-CBN) - 12.5%
PBA 2014 Commisioner's Cup: Barangay Ginebra vs Talk n Text (TV5) - 11.9%
Goin' Bulilit (ABS-CBN) - 10.6%
March 24, 2014 (Monday)
DAYTIME:
Eat Bulaga! (GMA-7) - 18.8%
Be Careful With My Heart (ABS-CBN) - 15.9%
The Ryzza Mae Show (GMA-7) - 15.6%
Dragon Ball Z Kai (GMA-7) - 15.2%
It's Showtime (ABS-CBN) - 14.5%
Villa Quintana (GMA-7) / The Borrowed Wife (GMA-7) - 14.3%
Innamorata (GMA-7) - 14.1%
Fairy Tail (GMA-7) - 13.6%
Pokemon (GMA-7) - 13.1%
Inuyasha (GMA-7) - 12.8%
PRIMETIME:
Carmela (GMA-7) - 24.1%
Dyesebel (ABS-CBN) - 24%
Kambal Sirena (GMA-7) - 23.8%
24 Oras (GMA-7) / Ikaw Lamang (ABS-CBN) - 22.7%
TV Patrol (ABS-CBN) - 21.7%
Rhodora X (GMA-7) - 21.1%
A 100-Year Legacy (GMA-7) - 18.1%
The Legal Wife (ABS-CBN) - 16.7%
Mira Bella (ABS-CBN) - 14.7%
Paraiso Ko'y Ikaw (GMA-7) - 13.6%
March 25, 2014 (Tuesday)
DAYTIME:
Be Careful With My Heart (ABS-CBN) - 19.3%
Eat Bulaga! (GMA-7) - 18.4%
Dragon Ball Z Kai (GMA-7) - 16.5%
Fairy Tail (GMA-7) - 15.9%
It's Showtime (ABS-CBN) - 15.2%
Villa Quintana (GMA-7) / The Singing Bee (ABS-CBN) - 14.7%
Inuyasha (GMA-7) - 14.5%
Pokemon (GMA-7) - 14.2%
Detective Conan (GMA-7) / The Ryzza Mae Show (GMA-7) - 13.1%
The Borrowed Wife (GMA-7) - 12.6%
PRIMETIME:
Dyesebel (ABS-CBN) - 23.6%
Carmela (GMA-7) - 23.3%
Kambal Sirena (GMA-7) - 22.4%
TV Patrol (ABS-CBN) - 22%
Ikaw Lamang (ABS-CBN) - 21.9%
24 Oras (GMA-7) - 21%
Rhodora X (GMA-7) - 20.2%
A 100-Year Legacy (GMA-7) - 18.6%
The Legal Wife (ABS-CBN) - 17.8%
Mira Bella (ABS-CBN) - 12.9%
March 26, 2014 (Wednesday)
DAYTIME:
Be Careful With My Heart (ABS-CBN) - 18.6%
Eat Bulaga! (GMA-7) - 17.8%
Dragon Ball Z Kai (GMA-7) - 15.9%
It's Showtime (ABS-CBN) - 15.7%
Villa Quintana (GMA-7) - 15.4%
Pokemon (GMA-7) - 14.6%
The Singing Bee (ABS-CBN) - 14.3%
Fairy Tail (GMA-7) - 14.1%
The Ryzza Mae Show (GMA-7) - 13.6%
Detective Conan (GMA-7) - 13.4%
PRIMETIME:
Carmela (GMA-7) - 23.8%
Kambal Sirena (GMA-7) - 22.1%
Dyesebel (ABS-CBN) - 22%
Ikaw Lamang (ABS-CBN) - 21%
24 Oras (GMA-7) - 20.6%
A 100-Year Legacy (GMA-7) - 20%
TV Patrol (ABS-CBN) - 19.6%
Rhodora X (GMA-7) - 19.4%
The Legal Wife (ABS-CBN) - 16.8%
PBA 2014 Commisioner's Cup: Air 21 Express vs Brgy Ginebra San Miguel (TV5) - 14%
March 27, 2014 (Thursday)
DAYTIME:
Be Careful With My Heart (ABS-CBN) - 20.1%
Eat Bulaga! (GMA-7) - 18.8%
Villa Quintana (GMA-7) - 15.6%
Dragon Ball Z Kai (GMA-7) - 15.4%
The Singing Bee (ABS-CBN) - 15.2%
Fairy Tail (GMA-7) - 15%
It's Showtime (ABS-CBN) - 14.9%
Pokemon (GMA-7) - 14.2%
Inuyasha (GMA-7) / Innamorata (GMA-7) - 13.9%
Detective Conan (GMA-7) - 12.5%
PRIMETIME:
Carmela (GMA-7) - 26.1%
Kambal Sirena (GMA-7) - 24.1%
Rhodora X (GMA-7) / Dyesebel (ABS-CBN) - 22.8%
Ikaw Lamang (ABS-CBN) - 22.2%
24 Oras (GMA-7) - 20.4%
TV Patrol (ABS-CBN) - 19.9%
A 100-Year Legacy (GMA-7) / The Legal Wife (ABS-CBN) - 19%
Aquino & Abunda Tonight (ABS-CBN) - 12.7%
Paraiso Ko'y Ikaw (GMA-7) - 11.8%
Saksi (GMA-7) - 10.9%
March 28, 2014 (Friday)
DAYTIME:
Be Careful With My Heart (ABS-CBN) - 21.3%
Eat Bulaga! (GMA-7) - 17.7%
Dragon Ball Z Kai (GMA-7) - 17.4%
The Singing Bee (ABS-CBN) - 17.2%
Fairy Tail (GMA-7) - 16.7%
It's Showtime (ABS-CBN) - 15.5%
Villa Quintana (GMA-7) - 14.8%
Inuyasha (GMA-7) - 14.4%
Pokemon (GMA-7) - 14%
The Ryzza Mae Show (GMA-7) - 13.3%
PRIMETIME:
Carmela (GMA-7) - 22.9%
Bubble Gang (GMA-7) - 22.3%
Kambal Sirena (GMA-7) - 22.2%
Dyesebel (ABS-CBN) - 21.2%
Rhodora X (GMA-7) - 21%
24 Oras (GMA-7) - 20.3%
Ikaw Lamang (ABS-CBN) - 19.8%
TV Patrol (ABS-CBN) - 17.5%
The Legal Wife (ABS-CBN) - 16.4%
Paraiso Ko'y Ikaw (GMA-7) - 12%
Source: AGB Nielsen Philippines