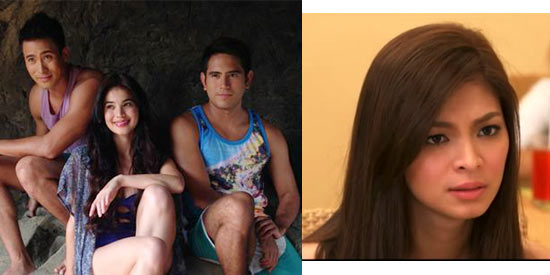 ---
The Philippine TV landscape was busy with changes for the period of May 24-30, 2014. New shows and schedule shuffles made a dent in the ratings, according to the latest ratings data from AGB Nielsen Philippines from Mega Manila households for the given period.
GMA-7 introduced Niño on May 26, as a replacement for Marian Rivera's Carmela. The religion-themed drama series debuted with 21.2%, making it the fifth most-watched show on primetime.
In contrast, ABS-CBN's Dyesebel, Niño's rival show, earned 24.4%, making it the second most-watched primetime show on the same date.
GMA-7 has launched a new Korean series titled Return of the Wife, which now airs on weekday mornings. Return of the Wife is part of the so-called "wife trilogy," which includes the hit drama series Temptation of Wife, shown on the Kapuso station in 2011.
(GMA-7 made a Temptation of Wife remake in 2013 starring Marian Rivera, Dennis Trillo, Rafel Rossell and Glaiza de Castro.)
ADVERTISEMENT - CONTINUE READING BELOW
Return of the Wife earns low ratings when compared to what Temptation of Wife used to get. The latter had an afternoon timeslot.
ABS-CBN also premiered a new Korean series: The Heirs, which stars Korean superstar Lee Min-Ho. The well-hyped series earned 12.3% on its May 26 premiere, making it the most-watched afternoon drama series on that day.
In response, GMA-7 returned its hit series Jewel in the Palace on air, airing it against The Heirs. This gamble seems to be working; Jewel in the Palace earned higher ratings than The Heirs on May 29 and 30.
GMA-7 followed ABS-CBN's lead of airing public service programs in the afternoon with Alisto! (Mondays), Tunay na Buhay (Tuesday), Power House (Wednesday), Reporter's Notebook (Thursday) and Love Hotline (Friday).
Only four shows were able to beat their counterparts; Power House lost to ABS-CBN's My Puhunan.
ABS-CBN's The Voice Kids premiered on May 24 to a large viwership. Its first episode earned 25% rating, making it the most-watched show on Saturday. The reality talent search was able to beat GMA-7's Vampire Ang Daddy Ko, which registered 16%.

The Voice Kids' second episode on Sunday, May 25, earned an impressive 27.9%, which topped the ratings chart on that day. It was able to beat Kapuso Mo, Jessica Soho, which registered 22.4%.
ADVERTISEMENT - CONTINUE READING BELOW
Lastly, Rhodora X ended on May 30. The drama series starring Jennylyn Mercado earned high ratings for GMA-7 last March, at times even topping the primetime ratings chart. Its final episode, however, only managed to land on eighth place with 18.9%, against Angel Locsin's top-rating The Legal Wife that registered 25.5%.
Here is the comparative Rating Performance of GMA-7, ABS-CBN and TV5 programs from May 24 to 30, 2014, derived from AGB Nielsen Philippines from Mega Manila households:
May 24, 2014 (Saturday)
Morning:
PJM Forum (GMA-7) .2%; Adyenda (GMA-7) .5%
Kapwa Ko Mahal Ko (GMA-7) 1.4%; Sa Kabukiran (ABS-CBN) .4%; Family Matters (TV5) .1%
Pinoy MD (GMA-7) 2.7%; Salamat Dok (ABS-CBN) 1.2%; Yin Yang Yo! (TV5) .9%
Scooby-Doo! Mystery Inc. (GMA-7) 3.6%; Swak na Swak (ABS-CBN) 1.9%; Adventure Time (TV5) 2%
Super Book (GMA-7) 6.6%; Honey Watch Out! (ABS-CBN) 1.6%; Dexter's Laboratory (TV5) 2.3%
Angry Birds Toons (GMA-7) 8.2%; Hayate Combat Butler (GMA-7) 8.7%; Sineskwela (ABS-CBN) 2.6%; The Amazing World of Gumball (TV5) 4.1%
Toriko (GMA-7) 8.9%; Teenage Mutant Ninja Turtles (ABS-CBN) 3.2%; Regular Show (TV5) 4.4%; Regular Show (TV5) 5%
ADVERTISEMENT - CONTINUE READING BELOW
Tropang Potchi (GMA-7) 6%; Spongebob Squarepants (ABS-CBN) 6.9%; The Powerpuff Girls (TV5) 5.4%
Sarap Diva (GMA-7) 6.2%; Maynila 15 (GMA-7) 8.6%; Kapamilya Kiddie Blockbusters: The Accidental Spy (ABS-CBN) 11.6%; Johnny Bravo (TV5) 7%; Ben 10 (TV5) 6.5%; Ben 10 Omniverse (TV5) 6.7%; Movie Mix 5: The Suite Life Movie (TV5) 7.1%
Afternoon:
Eat Bulaga! (GMA-7) 18.3%; It's Showtime (ABS-CBN) 14%; Movie Max 5: Star Trek Nemesis (TV5) 4.3%
GMA Blockbusters: Cats and Dogs: The Revenge of Kitty Galore (GMA-7) 13.4%; ABS-CBN Sabado Specials: Shake, Rattle & Roll (ABS-CBN) 9%; Failon Ngayon (ABS-CBN) 6.7%; PBA 2014 Governor's Cup: Air 21 vs Barako Bull (TV5) 3.4%
Wish Ko Lang! (GMA-7) 10%; SOCO (ABS-CBN) 9.9%; Aksyon Weekend (TV5) 4.2%
24 Oras Weekend (GMA-7) 9%; TV Patrol Weekend (ABS-CBN) 9%; PBA 2014 Governor's Cup: Ginebra vs Meralco (TV5) 9%
Evening:
Picture! Picture! (GMA-7) 11%; Home Sweetie Home (ABS-CBN) 10.8%
Vampire Ang Daddy Ko (GMA-7) 16%; The Voice Kids (ABS-CBN) 25%; Tropa Mo Ko Unli (TV5) 6.7%
Magpakailanman (GMA-7) 23.1%; MMK: Ang Tahanan Mo (ABS-CBN) 23.2%; One of the Boys (TV5) 6.6%
Celebrity Bluff (GMA-7) 22%; Pinoy Big Brother All In (ABS-CBN) 17.9%; Celebrity Dance Battle (TV5) 3.4%; Kaya. (TV5) 1.5%
ADVERTISEMENT - CONTINUE READING BELOW
I-Witness (GMA-7) 15.9%; Reporter's Notebook (GMA-7) 11.2%; Banana Split: Extra Scoop (ABS-CBN) 9.3%; SpinNation (TV5) .6%
Walang Tulugan (GMA-7) 2.9%; The Bottom Line (ABS-CBN) 3.4%; Sports Unlimited (ABS-CBN) 1.8%; O Shopping (ABS-CBN) .5%; Pilipinas News Weekend (TV5) .8%
---
May 25, 2014 (Sunday)
Daytime:
In Touch with Dr. Charles Stanley (GMA-7) .1%; Jesus The Healer (GMA-7) .1%; Balitang 60 (TV5) .5%
Kapuso Sine Klasika: Dance-o-Rama (GMA-7) 1.1%; The Healing Eucharist (ABS-CBN) 2.8%; Sunday Mass on TV5 (TV5) 2%
The Batman (GMA-7) 4.2%; Swak na Swak (ABS-CBN) 2%; Power to Unite with Elvira (TV5) .6%
Super Book (GMA-7) 4.8%; Hayate the Combat Butler (GMA-7) 4.8%; Salamat Dok (ABS-CBN) 2.1%; Imagination Movers (TV5) 2%; Combo Ninos (TV5) 3.8%
One Piece Strong World (GMA-7) 7.7%; Matanglawin (ABS-CBN) 4.2%; Stitch! (TV5) 4%; Gravity Falls (TV5) 5.1%
Aha! (GMA-7) 8.4%; Born To Be Wild (GMA-7) 9.3%; iBilib (GMA-7) 8.8%; My Love from the Star: The Kilig Throwback (GMA-7) 15.5%; 2014 NBA Playoffs Eastern Conference Finals: Indiana Pacers vs Miami Heat (ABS-CBN) 10.7%; Dave the Barbarian (TV5) 5.9%; The Replacements (TV5) 6.8%; The Emperor's New School (TV5) 6.6%
Afternoon:
Sunday All Star (GMA-7) 9.8%; ASAP 19 (ABS-CBN) 10.6%; 3 Ninjas High Noon (TV5) 6.2%; Sunday Sineplex: Harry Potter and the Half-Blood Prince (TV5) 5.3%; Meet the Fockers (TV5) 7.1%
ADVERTISEMENT - CONTINUE READING BELOW
Asian Horror Stories: Knock (GMA-7) 10.3%; Luv U (ABS-CBN) 7.8%; PBA 2014 Governor's Cup Game 1: Global Port vs Rain or Shine (TV5) 4.4%
Startalk (GMA-7) 7.4%; The Buzz 15 (ABS-CBN) 9.1%
24 Oras Weekend (GMA-7) 8.2%; TV Patrol Weekend (ABS-CBN) 9.7%; PBA 2014 Commissioner's Cup Finals: San Miguel Beermen vs San Mig Super Coffee (TV5) 9.1%
Evening:
Kap's Amazing Stories (GMA-7) 11.8%; Goin' Bulilit (ABS-CBN) 11.8%
Pepito Manaloto: Ang Tunay na Kuwento (GMA-7) 17.4%; Wansapanataym (ABS-CBN) 17.1%; Who Wants to be a Millionaire (TV5) 5.9%
Kapuso Mo, Jessica Soho (GMA-7) 22.4%; The Voice Kids (ABS-CBN) 27.9%; Rated K: Handa Na Ba Kayo? (ABS-CBN) 22.5%; Wow Mali Pa Rin! (TV5) 5.9%;
Imbestigador (GMA-7) 15.8%; Pinoy Big Brother All In (ABS-CBN) 20.7%; Punisher War Zone (TV5) 5.2%
Sunday Night Box Office: James Bond 007: Tomorrow Never Dies (GMA-7) 9.6%; Gandang Gabi Vice (ABS-CBN) 20%; Sunday's Best: 45th Box Office Entertainment Awards (ABS-CBN) 5.5%; Juan Direction (TV5) 2.4%; Pilipinas News Weekend (TV5) 1.7%; Demolition Job (TV5) .9%
Diyos at Bayan (GMA-7) 1.7%; O Shopping (ABS-CBN) 1.7%
--
May 26, 2014 (Monday)
Morning:
Aha! Replay (GMA-7) .4%; Matanglawin Replay (ABS-CBN) .2%
Unang Hirit! (GMA-7) 2.9%; Umagang Kay Ganda (ABS-CBN) 2.7%; Word of the Lourd (TV5) .2%; Reaksyon Replay (TV5) .3%; Good Morning Club (TV5) 1.1%; Gargoyles (TV5) 1.5%
ADVERTISEMENT - CONTINUE READING BELOW
Jackie Chan Adventures (GMA-7) 7.9%; One Piece (GMA-7) 11.2%; Detective Conan (GMA-7) 11.5%; Inuyasha (GMA-7) 11.6%; Kris TV (ABS-CBN) 5%; Fish Hooks (TV5) 2.4%; Kick Buttowski (TV5) 3.8%; Phineas and Ferb (TV5) 5.6%
Fairy Tail (GMA-7) 13.3%; Mr. Bean (ABS-CBN) 5.8%; Oggy and the Cockroaches (TV5) 5.7%
Slam Dunk (GMA-7) 15.3%; Dragon Ball Z Kai (GMA-7) 14.8%; Return of the Wife (GMA-7) 8.3%; Kapamilya Kiddie Blockbusters: Police Story III: Super Cop (ABS-CBN) 7.8%; Ben 10 Ultimate Alien (TV5) 4.9%; Movie Max 5: No Strings Attached (TV5) 5.7%
Basta Everyday Happy (GMA-7) 8.6%; The Singing Bee (ABS-CBN) 11.5%
The Ryzza Mae Show (GMA-7) 12.6%; Be Careful With My Heart (ABS-CBN) 15.9%; Movie Max 5: Ultraviolet (TV5) 7.4%
Afternoon:
Eat Bulaga! (GMA-7) 16.4%; It's Showtime (ABS-CBN) 12.5%; Movie Max 5: Shaolin Soccer (TV5) 8.7%
Villa Quintana (GMA-7) 11.8%; Moon of Desire (ABS-CBN) 8.6%; Showbiz Police: Una sa Eksena (TV5) 3.1%
Innamorata (GMA-7) 11.5%; Pinoy Big Brother All In Uber (ABS-CBN) 6.3%; Face the People (TV5) 4%
Alisto! (GMA-7) 11.7%; Bistado (ABS-CBN) 7.6%
Jewel in the Palace (GMA-7) 10.9%; The Heirs (ABS-CBN) 12.3%; T3 Reload (TV5) 3.8%
Evening:
My Love From the Star (GMA-7) 21.6%; Mirabella (ABS-CBN) 14.8%; Aksyon (TV5) 5.2%
ADVERTISEMENT - CONTINUE READING BELOW
24 Oras (GMA-7) 21.5%; TV Patrol (ABS-CBN) 20.2%; Beki Boxer (TV5) 5.5%; Confessions of a Torpe (TV5) 7.5%
Niño (GMA-7) 21.2%; Dyesebel (ABS-CBN) 24.4%; PBA 2014 Governor's Cup: Alaska vs Talk n Text (TV5) 8.5%
Kambal Sirena (GMA-7) 19.7%; Ikaw Lamang (ABS-CBN) 25.3%
Rhodora X (GMA-7) 17.3%; The Legal Wife (ABS-CBN) 25.3%; Demolition Job (TV5) 4%
The Master's Sun (GMA-7) 16.2%; Aquino & Abunda Tonight (ABS-CBN) 18.2%; Pinoy Big Brother All In (ABS-CBN) 15%; Pilipinas News (TV5) 1.9%; Reaksyon (TV5) 1.3%
Saksi (GMA-7) 9%; Front Row (GMA-7) 5.2%; Bandila (ABS-CBN) 5.1%; Showbiz Police Replay (TV5) 1.1%; T3 Reload Replay (TV5) 1%
The Medyo Late Night Show (GMA-7) 3%; Banana Nite (ABS-CBN) 3.3%; O Shopping (ABS-CBN) .9%
----
May 27, 2014 (Tuesday)
Morning:
I-Witness Replay (GMA-7) .5%; Mutya ng Masa Replay (ABS-CBN) .1%
Unang Hirit! (GMA-7) 2.5%; Umagang Kay Ganda (ABS-CBN) 2.8%; Reaksyon Replay (TV5) .1%; Good Morning Club (TV5) .9%; Gargoyles (TV5) 2.1%
Jackie Chan Adventures (GMA-7) 7.8%; One Piece (GMA-7) 11.6%; Detective Conan (GMA-7) 11.2%; Kris TV (ABS-CBN) 5.1%; Fish Hooks (TV5) 2.4%; Kick Buttowski (TV5) 3%; Phineas and Ferb (TV5) 4.6%
Inuyasha (GMA-7) 11.2%; Mr. Bean (ABS-CBN) 4.5%; Oggy and the Cockroaches (TV5) 4.8%
ADVERTISEMENT - CONTINUE READING BELOW
Fairy Tail (GMA-7) 12.5%; Slam Dunk (GMA-7) 15.6%; Dragon Ball Z Kai (GMA-7) 15.4%; Return of the Wife (GMA-7) 9.5%; Basta Everyday Happy (GMA-7) 8.4%; Lucky Me NamNam All 3-in-One (GMA-7) 10.1%; Ben 10 Ultimate Alien (TV5) 5%; Movie Max 5: Held Up (TV5) 7%
The Ryzza Mae Show (GMA-7) 13.3%; Be Careful With My Heart (ABS-CBN) 15.1%; Movie Max 5: D-Tox (TV5) 5.8%
Afternoon:
Eat Bulaga (GMA-7) 19.5%; It's Showtime (ABS-CBN) 13%; Movie Max 5: The Accidental Spy (TV5) 6.6%
Villa Quintana (GMA-7) 12.7%; Moon of Desire (ABS-CBN) 9%
Innamorata (GMA-7) 12.6%; Pinoy Big Brother All In (ABS-CBN) 7.5%
Tunay na Buhay (GMA-7) 11.7%; Mutya ng Masa (ABS-CBN) 8.7%; Showbiz Police: Una sa Eksena (TV5) 2.1%
Jewel in the Palace (GMA-7) 12.8%; The Heirs (ABS-CBN) 14.4%; Face The People (TV5) 3%; T3 Reload (TV5) 4.2%
Evening:
My Love from the Star (GMA-7) 21.6%; Mirabella (ABS-CBN) 14.6%; Aksyon (TV5) 5.8%
24 Oras (GMA-7) 22.1%; TV Patrol (ABS-CBN) 17.4%; Beki Boxer (TV5) 5.9%; Confessions of a Torpe (TV5) 7.9%
Niño (GMA-7) 18.3%; Dyesebel (ABS-CBN) 21%; PBA 2014 Commisioner's Cup Finals: Air 21 Express vs Brgy Ginebra (TV5) 10.5%
Kambal Sirena (GMA-7) 18.7%; Ikaw Lamang (ABS-CBN) 23.4%
ADVERTISEMENT - CONTINUE READING BELOW
Rhodora X (GMA-7) 16.5%; The Legal Wife (ABS-CBN) 24.1%; Numero (TV5) 2.7%
The Master's Sun (GMA-7) 18.5%; Aquino & Abunda Tonight (ABS-CBN) 15.9%;Pinoy Big Brother All In (ABS-CBN) 13.7%; Pilipinas News (TV5) 2.1%
Saksi (GMA-7) 9.5%; Serial Killer Earth (GMA-7) 5.5%; Bandila (ABS-CBN) 5.4%; Reaksyon (TV5) 1.6%; PBA 2014 Commisioner's Cup Finals: Meralco Bolts vs San Mig Coffee (TV5) 1.5%
The Medyo Late Night Show (GMA-7) 2.7%; Banana Nite (ABS-CBN) 3.6%; O Shopping (ABS-CBN) 1.3%
---
May 28, 2014 (Wednesday)
Morning:
Reporter's Notebook Replay (GMA-7) .4%; My Puhunan Replay (ABS-CBN) .3%
Unang Hirit! (GMA-7) 3.2%; Umagang Kay Ganda (ABS-CBN) 2.9%; Reaksyon Replay (TV5) .2%; Good Morning Club (TV5) 1.2%; Gargoyles (TV5) 1.9%
Jackie Chan Adventures (GMA-7) 7.7%; One Piece (GMA-7) 11.7%; Detective Conan (GMA-7) 11.5%; Inuyasha (GMA-7) 11.2%; Kris TV (ABS-CBN) 7.2%; Fish Hooks (TV5) 2.7%; Kick Buttowski (TV5) 4.3%; Phineas and Ferb (TV5) 6.1%
Fairy Tail (GMA-7) 13.1%; Mr. Bean (ABS-CBN) 5.5%; Oggy and the Cockroaches (TV5) 6%
Slam Dunk (GMA-7) 14.5%; Dragon Ball Z Kai (GMA-7) 13.9%; Return of the Wife (GMA-7) 7.2%; Kapamilya Kiddie Blockbusters: The Host (ABS-CBN) 8.6%; Ben 10 Ultimate Alien (TV5) 4.9%; Movie Max 5: The Nutty Professor (TV5) 6.6%
ADVERTISEMENT - CONTINUE READING BELOW
Basta Everyday Happy (GMA-7) 7.3%; Del Monte Kitchenomics (GMA-7) 7.9%; The Singing Bee (ABS-CBN) 12.4%
The Ryzza Mae Show (GMA-7) 11.9%; Be Careful With My Heart (ABS-CBN) 17.5%; Movie Max 5: Jennifer's Brody (TV5) 7.4%
Afternoon:
Eat Bulaga! (GMA-7) 18.8%; It's Showtime (ABS-CBN) 13.8%; Movie Max 5: Big Daddy (TV5) 5.5%
Villa Quintana (GMA-7) 13.5%; Moon of Desire (ABS-CBN) 9.1%
Innamorata (GMA-7) 12%; Pinoy Big Brother All In Uber (ABS-CBN) 7.7%; Showbiz Police: Una sa Eksena (TV5) 2.5%
Power House (GMA-7) 14.2%; My Puhunan (ABS-CBN) 14.6%; Face The People (TV5) 3.6%
Jewel in the Palace (GMA-7) 12.6%; The Heirs (ABS-CBN) 14.6%; T3 Reload (TV5) 3%
Evening:
My Love from the Star (GMA-7) 21.1%; Mirabella (ABS-CBN) 13.7%; Aksyon (TV5) 4.7%
24 Oras (GMA-7) 22.1%; TV Patrol (ABS-CBN) 19%; Beki Boxer (TV5) 5.4%; Confessions of a Torpe (TV5) 6.8%
Niño (GMA-7) 21%; Dyesebel (ABS-CBN) 23.4%; PBA 2014 Governor's Cup: Rain or Shine vs Talk n Text (TV5) 8.8%
Kambal Sirena (GMA-7) 21.2%; Ikaw Lamang (ABS-CBN) 24.9%
Rhodora X (GMA-7) 16.6%; The Legal Wife (ABS-CBN) 26.6%; History with Lourd (TV5) 4.8%
The Master's Sun (GMA-7) 18.2%; Aquino & Abunda Tonight (ABS-CBN) 17.8%; Pinoy Big Brother All In (ABS-CBN) 14.7%; Pilipinas News (TV5) 3.3%; Reaksyon (TV5) 2.9%
ADVERTISEMENT - CONTINUE READING BELOW
Saksi (GMA-7) 9.5%; Human Planet (GMA-7) 6.4%; Bandila (ABS-CBN) 5.1%; PBA 2014 Governor's Cup: Barako Bull vs San Miguel Beermen (TV5) 1.5%
The Medyo Late Night Show (GMA-7) 1.8%; Banana Nite (ABS-CBN) 3.2%; O Shopping (ABS-CBN) 1.2%
---
May 29, 2014 (Thursday)
Morning:
Born To Be Wild Replay (GMA-7) .1%; Tapatan Ni Tunying Replay (ABS-CBN) .2%
Unang Hirit! (GMA-7) 2.9%; Umagang Kay Ganda (ABS-CBN) 2.5%; Astig (TV5) .1%; Reaksyon Replay (TV5) .2%; Good Morning Club (TV5) 1.1%; Gargoyles (TV5) 1.9%
Jackie Chan Adventures (GMA-7) 7.6%; One Piece (GMA-7) 10.5%; Detective Conan (GMA-7) 10.1%; Kris TV (ABS-CBN) 6%; Fish Hooks (TV5) 3%; Kick Buttowski (TV5) 3.7%; Phineas and Ferb (TV5) 5.5%
Inuyasha (GMA-7) 10.2%; Mr. Bean (ABS-CBN) 5.2%
Fairy Tail (GMA-7) 12.6 %; Slam Dunk (GMA-7) 15.6%; Dragon Ball Z Kai (GMA-7) 14.8%; Return of the Wife (GMA-7) 7.9%; Basta Everyday Happy (GMA-7) 7.9%; Lucky Me! Namnam Dear Bossing (GMA-7) 9.5%; 2014 NBA Playoffs Eastern Conference Finals: Indiana Pacers vs Miami Heat (ABS-CBN) 10.1%; Oggy and the Cockroaches (TV5) 5.3%; Ben 10 Ultimate Alien (TV5) 4.2%; Movie Max 5: The Parent Trap (TV5) 8.3%
The Ryzza Mae Show (GMA-7) 14.3%; Be Careful With My Heart (ABS-CBN) 15.6%; Movie Max 5: Drag Me to Hell (TV5) 8.4%
ADVERTISEMENT - CONTINUE READING BELOW
Afternoon:
Eat Bulaga! (GMA-7) 18%; It's Showtime (ABS-CBN) 11.9%; Movie Max 5: Flubber (TV5) 6.2%
Villa Quintana (GMA-7) 13.3%; Moon of Desire (ABS-CBN) 9.5%
Innamorata (GMA-7) 13.5%; Pinoy Big Brother All In Uber (ABS-CBN) 6.9%; Showbiz Police: Una sa Eksena (TV5) 3%
Reporter's Notebook (GMA-7) 13.8%; Tapatan Ni Tunying (ABS-CBN) 6.8%; Face The People (TV5) 3.3%
Jewel in the Palace (GMA-7) 15.5%; The Heirs (ABS-CBN) 12.8%; T3 Reload (TV5) 3.6%
Evening:
My Love from the Star (GMA-7) 22.5%; Mirabella (ABS-CBN) 13.4%; Aksyon (TV5) 5.6%; Beki Boxer (TV5) 5.1%
24 Oras (GMA-7) 21.2%; TV Patrol (ABS-CBN) 19.4%; Confessions of a Torpe (TV5) 6.6%
Niño (GMA-7) 21.9%; Dyesebel (ABS-CBN) 22.9%; Iron Man 2 (TV5) 10.1%
Kambal Sirena (GMA-7) 20.5%; Ikaw Lamang (ABS-CBN) 24.6%
Rhodora X (GMA-7) 19.2%; The Legal Wife (ABS-CBN) 28.6%; Kuwentong Gilas (TV5) 3.4%
The Master's Sun (GMA-7) 18.1%; Aquino & Abunda Tonight (ABS-CBN) 18%; Pinoy Big Brother All In (ABS-CBN) 16.1%; Bigtime (TV5) .8; Pilipinas News (TV5) .9%
Saksi (GMA-7) 9.8%; Human Planet (GMA-7) 7.3%; Bandila (ABS-CBN) 5.8%; Reaksyon (TV5) .7%; Showbiz Police Replay (TV5) .5%; T3 Reload Replay (TV5) .2%
The Medyo Late Night Show with Jojo A. (GMA-7) 2.7%; Banana Nite (ABS-CBN) 3.9%; O Shopping (ABS-CBN) 1.5%
ADVERTISEMENT - CONTINUE READING BELOW
---
May 30, 2014 (Friday)
Morning:
Alisto! Replay (GMA-7) .4%; Red Alert Replay (ABS-CBN) .4%
Unang Hirit! (GMA-7) 3%; Umagang Kay Ganda (ABS-CBN) 3.1%; Reaksyon Replay (TV5) .2%; Good Morning Club (TV5) 1.1%; Gargoyles (TV5) 1.3%
Jackie Chan Adventures (GMA-7) 8.7%; One Piece (GMA-7) 12.5%; Detective Conan (GMA-7) 11.6%; Inuyasha (GMA-7) 11.8%; Kris TV (ABS-CBN) 6.4%; Fish Hooks (TV5) 2.8%; Kick Buttowski (TV5) 3.5%; Phineas and Ferb (TV5) 5.1%
Fairy Tail (GMA-7) 13.7%; Mr. Bean (ABS-CBN) 6.3%; Oggy and the Cockroaches (TV5) 5.3%
Slam Dunk (GMA-7) 14.9%; Dragon Ball Z Kai (GMA-7) 14.2%; Return of the Wife (GMA-7) 7.2%; Kapamilya Kiddie Blockbusters: Gorgeous (ABS-CBN) 7.7%; Ben 10 Ultimate Alien (TV5) 4.5%; Movie Max 5: Herbie Fully Loaded (TV5) 8.4%
Basta Everyday Happy (GMA-7) 7.3%; The Singing Bee (ABS-CBN) 11.5%
The Ryzza Mae Show (GMA-7) 11.7%; Be Careful With My Heart (ABS-CBN) 16.5%; Movie Max 5: Carriers (TV5) 8.5%
Afternoon:
Eat Bulaga! (GMA-7) 18.3%; It's Showtime (ABS-CBN) 13.2%; Movie Max 5: Shanghai Knights (TV5) 7.9%
Villa Quintana (GMA-7) 13.7%; Moon of Desire (ABS-CBN) 9.1%
Innamorata (GMA-7) 13.1%; Pinoy Big Brother All In Uber (ABS-CBN) 7.6%; Showbiz Police: Una sa Eksena (TV5) 2.8%
Love Hotline (GMA-7) 11.8%; Red Alert (ABS-CBN) 9%; Face The People (TV5) 2.9%
ADVERTISEMENT - CONTINUE READING BELOW
Jewel in the Palace (GMA-7) 13.7%; The Heirs (ABS-CBN) 13%; T3 Reload (TV5) 3%
Evening:
My Love from the Star (GMA-7) 20.9%; Mirabella (ABS-CBN) 15.3%; Aksyon (TV5) 4.5%
24 Oras (GMA-7) 20.7%; TV Patrol (ABS-CBN) 17.9%; Beki Boxer (TV5) 5.8%; Confessions of a Torpe (TV5) 7.6%
Niño (GMA-7) 19.6%; Dyesebel (ABS-CBN) 21.9%; PBA 2014 Governor's Cup: Global Port vs San Mig Coffee (TV5) 9.7%
Kambal Sirena (GMA-7) 21.1%; Ikaw Lamang (ABS-CBN) 23.9%
Rhodora X (GMA-7) 18.9%; The Legal Wife (ABS-CBN) 25.5%
Bubble Gang (GMA-7) 18.1%; Aquino & Abunda Tonight (ABS-CBN) 17.6%; Pinoy Big Brother All In (ABS-CBN) 14.9%; Astig: Sa Sports (TV5) 3.4%; Pilipinas News (TV5) 1.7%; Reaksyon (TV5) 1.4%
Saksi (GMA-7) 8.5%; Bandila (ABS-CBN) 4.9%; PBA 2014 Governor's Cup: Air 21 Express vs Alaska Aces (TV5) 1.2%
The Medyo Late Night Show with Jojo A. (GMA-7) 2.7%; Banana Nite (ABS-CBN) 2.7%; O Shopping (ABS-CBN) 1%
---
TOP TEN PROGRAMS:
May 24, 2014 (Saturday)
DAYTIME:
Eat Bulaga! (GMA-7) - 18.3%
It's Showtime (ABS-CBN) - 14%
GMA Blockbusters: Cats and Dogs: The Revenge of Kitty Galore (GMA-7) - 13.4%
Kapamilya Kiddie Blockbusters: The Accidental Spy (ABS-CBN) - 11.6%
Wish Ko Lang! (GMA-7) - 10%
SOCO (ABS-CBN) - 9.9%
ABS-CBN Sabado Specials: Shake, Rattle & Roll (ABS-CBN) / TV Patrol World (ABS-CBN) - 9%
24 Oras Weekend (GMA-7) - 9%
Toriko (GMA-7) - 8.9%
Hayate the Combat Butler (GMA-7) - 8.7%
PRIMETIME:
The Voice Kids (GMA-7) - 25%
MMK: Ang Tahanan Mo (ABS-CBN) - 23.2%
Magpakailanman (GMA-7) - 23.1%
Celebrity Bluff (GMA-7) - 22%
Pinoy Big Brother All In (ABS-CBN) - 17.9%
Vampire Ang Daddy Ko (GMA-7) - 16%
i-Witness (GMA-7) - 15.9%
Reporter's Notebook (GMA-7) - 11.2%
Picture! Picture! (GMA-7) - 11%
Home Sweetie Home (ABS-CBN) - 10.8%
May 25, 2014 (Sunday)
DAYTIME:
My Love from the Star: The Kilig Throwback (GMA-7) - 15.5%
2014 NBA Playoffs Eastern Conference Finals: Indiana Pacers vs Miami Heat (ABS-CBN) - 10.7%
ASAP 19 (ABS-CBN) - 10.6%
Asian Horror Stories (GMA-7) - 10.3%
Sunday All Stars (GMA-7) - 9.8%
TV Patrol Weekend (ABS-CBN) - 9.7%
iBilib (GMA-7) - 9.3%
The Buzz 15 (ABS-CBN) / PBA 2014 Commissioner's Cup Finals: San Miguel Beermen vs San Mig Super Coffee (TV5) - 9.1%
iBilib (GMA-7) - 8.8%
Aha! (GMA-7) - 8.4%
PRIMETIME:
The Voice Kids (GMA-7) - 27.9%
Rated K: Handa Na Ba Kayo? (ABS-CBN ) - 22.5%
Kapuso Mo, Jessica Soho (GMA-7) - 22.4%
Pinoy Big Brother All In (ABS-CBN) - 20.7%
Gandang Gabi Vice (ABS-CBN) - 20%
Pepito Manaloto: Ang Tunay na Kuwento (GMA-7) - 17.4%
Wansapanataym (ABS-CBN) - 17.1%
Imbestigador (GMA-7) - 15.8%
Kap's Amazing Stories (GMA-7) / Goin' Bulilit (ABS-CBN) - 11.8%
Sunday Night Box Office: James Bond 007: Tomorrow Never Dies (GMA-7) - 9.6%
May 26, 2014 (Monday)
DAYTIME:
Eat Bulaga! (GMA-7) - 16.4%
Be Careful With My Heart (ABS-CBN) - 15.9%
Slam Dunk (GMA-7) - 15.3%
Dragon Ball Z Kai (GMA-7) - 14.8%
Fairy Tail (GMA-7) - 13.3%
The Ryzza Mae Show (GMA-7) - 12.6%
It's Showtime (ABS-CBN) - 12.5%
The Heirs (ABS-CBN) - 12.3%
Villa Quintana (GMA-7) - 11.8%
Alisto! (GMA-7) - 11.7%
PRIMETIME:
Ikaw Lamang (ABS-CBN) / The Legal Wife (ABS-CBN) - 25.3%
Dyesebel (ABS-CBN) - 24.4%
My Love from the Star (GMA-7) - 21.6%
24 Oras (GMA-7) - 20.5%
Niño (GMA-7) - 21.2%
TV Patrol (ABS-CBN) - 20.2%
Kambal Sirena (GMA-7) - 19.7%
Aquino & Abunda Tonight (ABS-CBN) - 18.2%
Rhodora X (GMA-7) - 17.3%
The Master's Sun (GMA-7) - 16.2%
May 27, 2014 (Tuesday)
DAYTIME:
Eat Bulaga! (GMA-7) - 19.5%
Slam Dunk (GMA-7) - 15.6%
Dragon Ball Z Kai (GMA-7) - 15.4%
Be Careful With My Heart (ABS-CBN) - 15.1%
The Heirs (ABS-CBN) - 14.4%
The Ryzza Mae Show (GMA-7) - 13.3%
It's Showtime (ABS-CBN) - 13%
Jewel in the Palace (GMA-7) - 12.8%
Villa Quintana (GMA-7) - 12.7%
Innamorata (GMA-7) - 12.6%
PRIMETIME:
The Legal Wife (ABS-CBN) - 24.1%
Ikaw Lamang (ABS-CBN) - 23.4%
24 Oras (GMA-7) - 22.1%
My Love from the Star (GMA-7) - 21.6%
Dyesebel (ABS-CBN) - 21%
Kambal Sirena (GMA-7) - 18.7%
The Master's Sun (GMA-7) - 18.5%
Niño (GMA-7) - 18.3%
TV Patrol (ABS-CBN) - 17.4%
Rhodora X (GMA-7) - 16.5%
May 28, 2014 (Wednesday)
DAYTIME:
Eat Bulaga! (GMA-7) - 18.8%
Be Careful With My Heart (ABS-CBN) - 17.5%
The Heirs (ABS-CBN) - 14.6%
Slam Dunk (GMA-7) - 14.5%
Power House (GMA-7) - 14.2%
Dragon Ball Z Kai (GMA-7) - 13.9%
It's Showtime (ABS-CBN) - 13.8%
Villa Quintana (GMA-7) - 13.5%
Fairy Tail (GMA-7) - 13.1%
Jewel in the Palace (GMA-7) - 12.6%
PRIMETIME:
The Legal Wife (ABS-CBN) - 26.6%
Ikaw Lamang (ABS-CBN) - 24.9%
Dyesebel (ABS-CBN) - 23.4%
24 Oras (GMA-7) - 22.1%
Kambal Sirena (GMA-7) - 21.2%
My Love from the Star (GMA-7) - 21.1%
Niño (GMA-7) - 21%
TV Patrol (ABS-CBN) - 19%
The Master's Sun (GMA-7) - 18.2%
Aquino & Abunda Tonight (ABS-CBN) - 17.8%
May 29, 2014 (Thursday)
DAYTIME:
Eat Bulaga! (GMA-7) - 18%
Slam Dunk (GMA-7) / Be Careful With My Heart (ABS-CBN) - 15.6%
Jewel in the Palace (GMA-7) - 15.5%
Dragon Ball Z Kai (GMA-7) - 14.8%
The Ryzza Mae Show (GMA-7) - 14.3%
Reporter's Notebook (GMA-7) 13.8%
Innamorata (GMA-7) - 13.5%
Villa Quintana (GMA-7) - 13.3%
The Singing Bee (GMA-7) - 15.7%
Fairy Tail (GMA-7) - 13.5%
PRIMETIME:
The Legal Wife (ABS-CBN) - 28.6%
Ikaw Lamang (ABS-CBN) - 24.6%
Dyesebel (ABS-CBN) - 22.9%
My Love from the Star (GMA-7) - 22.5%
Niño (GMA-7) - 21.9%
24 Oras (GMA-7) - 21.2%
Kambal Sirena (GMA-7) - 20.5%
TV Patrol (ABS-CBN) - 19.4%
Rhodora X (GMA-7) - 19.2%
The Master's Sun (GMA-7) - 18.1%
May 30, 2014 (Friday)
DAYTIME:
Eat Bulaga! (GMA-7) - 18.3%
Be Careful With My Heart (ABS-CBN) - 16.5%
Slam Dunk (GMA-7) - 14.9%
Dragon Ball Z Kai (GMA-7) - 14.2%
Fairy Tail (GMA-7) / Villa Quintana (GMA-7) / Jewel in the Palace (GMA-7) - 13.7%
It's Showtime (ABS-CBN) - 13.2%
Innamorata (GMA-7) - 13.1%
The Heirs (ABS-CBN) - 13%
One Piece (GMA-7) - 12.5%
Inuyasha (GMA-7) / Innamorata (GMA-7) - 11.8%
PRIMETIME:
The Legal Wife (ABS-CBN) - 25.5%
Ikaw Lamang (ABS-CBN) - 23.9%
Dyesebel (ABS-CBN) - 21.9%
Kambal Sirena (GMA-7) - 21.1%
My Love from the Star (GMA-7) - 20.9%
24 Oras (GMA-7) - 20.7%
Niño (GMA-7) - 19.6%
Rhodora X (GMA-7) - 18.9%
Bubble Gang (GMA-7) - 18.1%
TV Patrol (ABS-CBN) - 17.9%
Source: AGB Nielsen Philippines