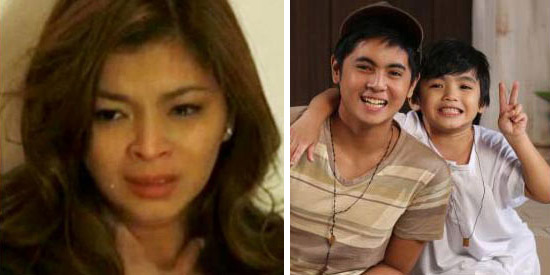 ---
GMA-7's daytime and primetime lineup strengthened during May 31 to June 6, 2014. This according to the latest ratings data from AGB Nielsen Philippines from Mega Manila households for the given period.
Eat Bulaga! has strengthened its dominance on the daytime block. Months ago, ABS-CBN's daytime leader, Be Careful With My Heart, was able to beat the longtime noontime show occassionally.
(For instance, Be Careful With My Heart's 16.5%beat Eat Bulaga!'s 15.8% on May 9.)
But now Be Careful With My Heart's ratings are on a consistent downturn, leaving Eat Bulaga! to occupy the top spot in the daytime block.
In contrast, here are the daily ratings of Be Careful With My Heart on this given period, compared with the daily ratings from a year ago.
Monday

Tuesday

Wednesday

Thursday

Friday

Daily Ratings of BCWMH (2014)

(June 2)

14.8%

(June 3)

13.9%

(June 4)

14.2%

(June 5)

13.7%

(June 6)

13.9%

Daily Ratings of BCWMH (2013)

(June 3)

25.3%

(June 4)

27.5%

(June 5)

26.3%

(June 6)

26.5%

(June 7)

26.3%
On weekday afternoons, GMA-7's re-airing of Jewel in the Palace is now the clear winner against ABS-CBN's The Heirs. ABS-CBN had high hopes for the drama series that stars Asian superstar Lee Min Ho--it even opened on May 26 with high enough ratings for it to be the most-watched series on the afternoon block.
Jewel in the Palace was a big hit for the Kapuso station from 2005-2006, at times getting the top slot on ratings rankings, so it may not be surprising that its replay is also getting good scores.
Another afternoon show made a mark in the ratings game. Villa Quintana's last two episodes, aired on June 5 and 6, were the second most-watched shows on daytime, only behind Eat Bulaga!
Villa Quintana, featuring the tandem of Elmo Magalona and Janine Gutierrez,aired for seven months (November 4, 2013 to June 6, 2014), and occassionally garnered good ratings that made it the most-watched drama on the afternoon block.
ADVERTISEMENT - CONTINUE READING BELOW
GMA-7's primetime block is also improving. On the previous week, ABS-CBN was ruling primetime with The Legal Wife, Ikaw Lamang and Dyesebel.
Now, GMA-7's new show Niño is beating Dyesebel. The religion-themed family drama beat the Anne Curtis-starrer on June 2, 3, and 6.
GMA-7's other primetime shows--My Love from the Star, 24 Oras, and The Master's Sun--are also doing well against their rivals.
Despite this development, the Kapamilya Network has continued to take two top two spots daily with The Legal Wife and Ikaw Lamang.
In fact, GMA-7's new show Ang Dalawang Mrs. Real, which stars Dingdong Dantes, Lovi Poe and Maricel Soriano, only gets almost half of The Legal Wife's rating every night. During its pilot episode, Ang Dalawang Mrs. Real got 18.5% while its counterpart program The Legal Wife got 23.7%.
Here is the comparative Rating Performance of GMA-7, ABS-CBN and TV5 programs from May 31 to June 6, derived from AGB Nielsen Philippines from Mega Manila households:
May 31, 2014 (Saturday)
Morning:
PJM Forum (GMA-7) .1%; Adyenda (GMA-7) .5%
Kapwa Ko Mahal Ko (GMA-7) 1.1%; Sa Kabukiran (ABS-CBN) .6%; Family Matters (TV5) .1%
Pinoy MD (GMA-7) 3.3%; Salamat Dok (ABS-CBN) 1.6%; Yin Yang Yo! (TV5) .8%
Scooby-Doo! Mystery Inc. (GMA-7) 4.4%; Swak na Swak (ABS-CBN) 3%; Adventure Time (TV5) 1.9%
Super Book (GMA-7) 7.5%; Honey Watch Out! (ABS-CBN) 1.8%; Dexter's Laboratory (TV5) 2.6%
Angry Birds Toons (GMA-7) 8.8%; Sineskwela (ABS-CBN) 2.2%; The Amazing World of Gumball (TV5) 3.3%
Hayate Combat Butler (GMA-7) 7.8%; Teenage Mutant Ninja Turtles (ABS-CBN) 3.3%; Regular Show (TV5) 4%
Toriko (GMA-7) 8.9%; Spongebob Squarepants (ABS-CBN) 5.5%; Regular Show (TV5) 3.7%; The Powerpuff Girls (TV5) 4.7%
Tropang Potchi (GMA-7) 6.5%; Sarap Diva (GMA-7) 7.6%; Maynila 15 (GMA-7) 10.4%; Del Monte Kitchenomics (GMA-7) 10.6%; 2014 NBA Eastern Conference Finals: Indiana Pacers vs Miami Heat (ABS-CBN) 11.7%; Johnny Bravo (TV5) 6.1%; Ben 10 (TV5) 5.8%; Ben 10 Omniverse (TV5) 5.7%; Movie Max 5: The Proud Family Movie (TV5) 5.7%
ADVERTISEMENT - CONTINUE READING BELOW
Afternoon:
Eat Bulaga! (GMA-7) 18.5%; It's Showtime (ABS-CBN) 13.7%; Movie Max 5: Star Trek Insurrection (TV5) 3.5%
GMA Tales of Horror: Juhou 2405 (GMA-7) 11.4%; Startalk (GMA-7) 10.3%;ABS-CBN Sabado Specials: Shake, Rattle & Roll (ABS-CBN) 7.7%; Failon Ngayon (ABS-CBN) 6%; PBA 2014 Governor's Cup: Barako Bull vs Rain or Shine (TV5) 2.9%
Wish Ko Lang! (GMA-7) 11%; SOCO (ABS-CBN) 9.1%; Aksyon Weekend (TV5) 3.8%
24 Oras Weekend (GMA-7) 11.7%; TV Patrol Weekend (ABS-CBN) 8.7%; PBA 2014 Governor's Cup: San Miguel Beermen vs Talk n Text (TV5) 6%
Evening:
Vampire Ang Daddy Ko (GMA-7) 14.5%; Home Sweetie Home (ABS-CBN) 12.3%
GMA Blockbusters: Happy Feet 2 (GMA-7) 20.4%; The Voice Kids (ABS-CBN) 25.1%; Tropa Mo Ko Unli (TV5) 4%
Magpakailanman (GMA-7) 28%; MMK: Ang Tahanan Mo (ABS-CBN) 18.6%; One of the Boys (TV5) 6%
Celebrity Bluff (GMA-7) 20.9%; Pinoy Big Brother All In (ABS-CBN) 16.5%; Celebrity Dance Battle (TV5) 2.8%; Yaman ng Bayan (TV5) 1.7%
I-Witness (GMA-7) 11.5%; Banana Split: Extra Scoop (ABS-CBN) 8.4%; SpinNation (TV5) .6%
Walang Tulugan (GMA-7) 3.9%; The Bottom Line (ABS-CBN) 2.4%; Sports Unlimited (ABS-CBN) 1.3%; O Shopping (ABS-CBN) .7%; Pilipinas News Weekend (TV5) .6%
---
June 1, 2014 (Sunday)
Daytime:
In Touch with Dr. Charles Stanley (GMA-7) .2%; Jesus The Healer (GMA-7) .5%; Balitang 60 (TV5) .8%
Kapuso Sine Klasika: Amy Susie & Tessie (GMA-7) 1.3%; The Healing Eucharist (ABS-CBN) 3.3%;Misa Nazareno (TV5) 1.1%
The Batman (GMA-7) 4.2%; Swak na Swak (ABS-CBN) 2.3%; Power to Unite with Elvira (TV5) .6%
Super Book (GMA-7) 6.1%; Hayate the Combat Butler (GMA-7) 6.8%; Salamat Dok (ABS-CBN) 2.5%; Imagination Movers (TV5) 1.7%; Combo Ninos (TV5) 3.7%
One Piece Strong World (GMA-7) 8.7%; Voltron Force (ABS-CBN) 2.4%; Marvel Wolverine (ABS-CBN) 2.6%; Stitch! (TV5) 4.5%; Gravity Falls (TV5) 5%; Dave the Barbarian (TV5) 4.9%
Aha! (GMA-7) 8.5%; Matanglawin (ABS-CBN) 5.1%
Born To Be Wild (GMA-7) 9.9%; iBilib (GMA-7) 10.3%; Kap's Amazing Stories (GMA-7) 10.5%; My Love from the Star: The Kilig Throwback (GMA-7) 15.4%; Simpiwe Vetyeka vs Nonito Donaire (ABS-CBN) 14%; The Replacements (TV5) 4.9%; The Emperor's New School (TV5) 4.9%; Movie Max 5: How to Train Your Dragon (TV5) 7.1%
ADVERTISEMENT - CONTINUE READING BELOW
Afternoon:
Del Monte Kitchenomics (GMA-7) 13.1%; Sunday All Star (GMA-7) 10.6%; ASAP 19 (ABS-CBN) 10%; Movie Max 5: Men in Black (TV5) 8.6%
Asian Horror Stories: The Cat (GMA-7) 10.1%; Luv U (ABS-CBN) 7.5%; The Buzz 15 (ABS-CBN) 8.6%; PBA 2014 Governor's Cup Game 1: Alaska Aces vs Meralco Bolts (TV5) 5.1%
24 Oras Weekend (GMA-7) 8.6%; TV Patrol Weekend (ABS-CBN) 8.6%; PBA 2014 Commissioner's Cup Finals: Brgy Ginebra vs San Mig Super Coffee Mixers (TV5) 12.1%
Evening:
Picture! Picture! (GMA-7) 13.1%; Goin' Bulilit (ABS-CBN) 9.6%
Pepito Manaloto: Ang Tunay na Kuwento (GMA-7) 18.6%; Wansapanataym (ABS-CBN) 14.9%; Who Wants to be a Millionaire (TV5) 4.7%
Kapuso Mo, Jessica Soho (GMA-7) 22.9%; The Voice Kids (ABS-CBN) 27%; Rated K: Handa Na Ba Kayo? (ABS-CBN) 22.2%; Wow Mali Pa Rin! (TV5) 3.2%
Imbestigador (GMA-7) 18.2%; Pinoy Big Brother All In (ABS-CBN) 18.1%; Jasmine (TV5) 2%
Sunday Night Box Office: The Rundown (GMA-7) 11.5%; Gandang Gabi Vice (ABS-CBN) 18.1%; Sunday's Best: Erik Santos Intense (ABS-CBN) 3.5%; Juan Direction (TV5) 1.1%; Slimmers World Miss Bikini Philippines (TV5) .7%; Pilipinas News Weekend (TV5) .9%
Diyos at Bayan (GMA-7) 1.1%; O Shopping (ABS-CBN) 1%
--
June 2, 2014 (Monday)
Morning:
TV5 now
Aha! Replay (GMA-7) .5%; Matanglawin Replay (ABS-CBN) .4%
Unang Hirit! (GMA-7) 3.5%; Umagang Kay Ganda (ABS-CBN) 3.9%; Word of the Lourd (TV5) 0%; Reaksyon Replay (TV5) .1%; Good Morning Club (TV5) .8%; Gargoyles (TV5) 1.1%
Jackie Chan Adventures (GMA-7) 7.3%; One Piece (GMA-7) 11.2%; Detective Conan (GMA-7) 11.5%; Inuyasha (GMA-7) 10.9%; Kris TV (ABS-CBN) 6%; Fish Hooks (TV5) 1.7%; Kick Buttowski (TV5) 2.3%; Phineas and Ferb (TV5) 3.3%
Fairy Tail (GMA-7) 12.7%; Mr. Bean (ABS-CBN) 4.8%; Oggy and the Cockroaches (TV5) 3.6%
Slam Dunk (GMA-7) 12.5%; Dragon Ball Z Kai (GMA-7) 11.7%; Return of the Wife (GMA-7) 6.9%; Kapamilya Kiddie Blockbusters: Arthur and the Minimoys (ABS-CBN) 7.9; Ben 10 Ultimate Alien (TV5) 3.1%; Movie Max 5: Kung Fu Panda (TV5) 6.3%
Basta Everyday Happy (GMA-7) 7.2%; The Singing Bee (ABS-CBN) 10.7%
ADVERTISEMENT - CONTINUE READING BELOW
The Ryzza Mae Show (GMA-7) 11%; Be Careful With My Heart (ABS-CBN) 14.8%; Movie Max 5: The Terminal (TV5) 5.2%
Afternoon:
Eat Bulaga! (GMA-7) 17.5%; It's Showtime (ABS-CBN) 12%; Movie Max 5: Hollywood Homicide (TV5) 5%
Villa Quintana (GMA-7) 11.7%; Moon of Desire (ABS-CBN) 8%; Showbiz Police: Una sa Eksena (TV5) 1.9%
Innamorata (GMA-7) 10.7%; Pinoy Big Brother All In Uber (ABS-CBN) 5.9%; Face the People (TV5) 3.5%
Alisto! (GMA-7) 10.5%; Bistado (ABS-CBN) 7%
Jewel in the Palace (GMA-7) 13.6%; The Heirs (ABS-CBN) 11.8%; T3 Reload (TV5) 3.7%
Evening:
My Love From the Star (GMA-7) 21.4%; Mirabella (ABS-CBN) 13.7%; Aksyon (TV5) 5.2%
24 Oras (GMA-7) 22.8%; TV Patrol (ABS-CBN) 17.9%; Beki Boxer (TV5) 4.9%; Confessions of a Torpe (TV5) 5.9%
Niño (GMA-7) 22.3%; Dyesebel (ABS-CBN) 20%; PBA 2014 Governor's Cup: Air 21 vs Talk n Text (TV5) 7.1%
Kambal Sirena (GMA-7) 21%; Ikaw Lamang (ABS-CBN) 22.4%
Ang Dalawang Mrs. Real (GMA-7) 18.5%; The Legal Wife (ABS-CBN) 23.7%; Aquino & Abunda Tonight (ABS-CBN) 15%
The Master's Sun (GMA-7) 15%; Pinoy Big Brother All In (ABS-CBN) 13.2%; Demolition Job (TV5) 4.3%; Pilipinas News (TV5) 2.5%; Reaksyon (TV5) 1.9%
Saksi (GMA-7) 8.9%; Bandila (ABS-CBN) 5.1%; Showbiz Police Replay (TV5) .8%; T3 Reload Replay (TV5) .6%
Front Row (GMA-7) 5.4%; Banana Nite (ABS-CBN) 3.1%
The Medyo Late Night Show (GMA-7) 2.5%; O Shopping (ABS-CBN) 1%
----
June 3, 2014 (Tuesday)
Morning:
I-Witness Replay (GMA-7) .5%; Mutya ng Masa Replay (ABS-CBN) .5%
Unang Hirit! (GMA-7) 3.4%; Umagang Kay Ganda (ABS-CBN) 3.1%; Reaksyon Replay (TV5) .2%; Good Morning Club (TV5) 1.1%; Gargoyles (TV5) 1.7%
Jackie Chan Adventures (GMA-7) 5.6%; One Piece (GMA-7) 8.6%; Detective Conan (GMA-7) 9.2%; Inuyasha (GMA-7) 9.4%; Kris TV (ABS-CBN) 6%; Fish Hooks (TV5) 1.7%; Kick Buttowski (TV5) 2.4%; Phineas and Ferb (TV5) 2.8%
Fairy Tail (GMA-7) 12.4%; Mr. Bean (ABS-CBN) 4.6%; Oggy and the Cockroaches (TV5) 2.7%
Slam Dunk (GMA-7) 13.4%; Dragon Ball Z Kai (GMA-7) 13.4%; Return of the Wife (GMA-7) 8%; Kapamilya Kiddie Blockbusters: Happily N'ever After (ABS-CBN) 4.6%; Ben 10 Ultimate Alien (TV5) 3.1%; Movie Max 5: Rugrats Go Wild (TV5) 4.2%
ADVERTISEMENT - CONTINUE READING BELOW
Basta Everyday Happy (GMA-7) 6.4%; Lucky Me NamNam All 3-in-One (GMA-7) 7.7%; The Singing Bee (ABS-CBN) 10.7%;
The Ryzza Mae Show (GMA-7) 11.1%; Be Careful With My Heart (ABS-CBN) 13.9%; Movie Max 5: Charlie's Angels (TV5) 6.8%
Afternoon:
Eat Bulaga (GMA-7) 17.2%; It's Showtime (ABS-CBN) 11.4%; Movie Max 5: The Fifth Commandment(TV5) 4.9%
Villa Quintana (GMA-7) 14.4%; Moon of Desire (ABS-CBN) 8.1%
Innamorata (GMA-7) 12.6%; Pinoy Big Brother All In Uber (ABS-CBN) 6.3%
Tunay na Buhay (GMA-7) 11.9%; Mutya ng Masa (ABS-CBN) 7%; Showbiz Police: Una sa Eksena (TV5) 3.1%
Jewel in the Palace (GMA-7) 14.8%; The Heirs (ABS-CBN) 12.5%; Face The People (TV5) 2.9%; T3 Reload (TV5) 3.8%
Evening:
My Love from the Star (GMA-7) 22.6%; Mirabella (ABS-CBN) 13.4%; Aksyon (TV5) 4.8%
24 Oras (GMA-7) 21.6%; TV Patrol (ABS-CBN) 18.1%; Beki Boxer (TV5) 5.6%; Confessions of a Torpe (TV5) 6.9%
Niño (GMA-7) 20.5%; Dyesebel (ABS-CBN) 19.8%; PBA 2014 Commisioner's Cup Finals: Barako Bull vs Brgy Ginebra (TV5) 9.7%
Kambal Sirena (GMA-7) 20.3%; Ikaw Lamang (ABS-CBN) 22.8%
Ang Dalawang Mrs. Real (GMA-7) 16.7%; The Legal Wife (ABS-CBN) 24.9%; Aquino & Abunda Tonight (ABS-CBN) 16.9%; Numero (TV5) 2.1%
The Master's Sun (GMA-7) 16.1%; Pinoy Big Brother All In (ABS-CBN) 14.6%; Pilipinas News (TV5) 1.5%
Saksi (GMA-7) 9.6%; Serial Killer Earth (GMA-7) 6.7%; Bandila (ABS-CBN) 5.6%; Reaksyon (TV5) 1.3%; PBA 2014 Commisioner's Cup Finals: Global Port vs San Miguel Beermen (TV5) .8%
The Medyo Late Night Show (GMA-7) 3.2%; Banana Nite (ABS-CBN) 3.9%; O Shopping (ABS-CBN) .9%
---
June 4, 2014 (Wednesday)
Morning:
Reporter's Notebook Replay (GMA-7) .4%; My Puhunan Replay (ABS-CBN) .5%
Unang Hirit! (GMA-7) 3.6%; Umagang Kay Ganda (ABS-CBN) 2.9%; Reaksyon Replay (TV5) .3%; Good Morning Club (TV5) .9%; Gargoyles (TV5) .8%
Jackie Chan Adventures (GMA-7) 6.3%; One Piece (GMA-7) 8.9%; Detective Conan (GMA-7) 10.5%; Inuyasha (GMA-7) 9.9%; Kris TV (ABS-CBN) 5.6%; Fish Hooks (TV5) .8%; Kick Buttowski (TV5) 2%; Phineas and Ferb (TV5) 2.8%
Fairy Tail (GMA-7) 12%; Mr. Bean (ABS-CBN) 5.1%; Oggy and the Cockroaches (TV5) 3%
ADVERTISEMENT - CONTINUE READING BELOW
Slam Dunk (GMA-7) 13.3%; Dragon Ball Z Kai (GMA-7) 13.2%; Return of the Wife (GMA-7) 7.5%; Kapamilya Kiddie Blockbusters: Penelope (ABS-CBN) 7.3%; Ben 10 Ultimate Alien (TV5) 3.4%; Movie Max 5: Open Season (TV5) 4.3%
Basta Everyday Happy (GMA-7) 6.4%; Del Monte Kitchenomics (GMA-7) 7.1%; The Singing Bee (ABS-CBN) 11.5%
The Ryzza Mae Show (GMA-7) 10.2%; Be Careful With My Heart (ABS-CBN) 14.2%; Movie Max 5: The Tuxedo (TV5) 7.5%
Afternoon:
Eat Bulaga! (GMA-7) 17.2%; It's Showtime (ABS-CBN) 11%; Movie Max 5: City Hunter (TV5) 7.3%
Villa Quintana (GMA-7) 11.2%; Moon of Desire (ABS-CBN) 8%
Innamorata (GMA-7) 10.5%; Pinoy Big Brother All In Uber (ABS-CBN) 6.9%
Power House (GMA-7) 12.6%; My Puhunan (ABS-CBN) 7%; Showbiz Police: Una sa Eksena (TV5) 2.3%
Jewel in the Palace (GMA-7) 13%; The Heirs (ABS-CBN) 12.2%; Face The People (TV5) 3.5%; T3 Reload (TV5) 3.6%
Evening:
My Love from the Star (GMA-7) 20.7%; Mirabella (ABS-CBN) 14.5%; Aksyon (TV5) 5.1%
24 Oras (GMA-7) 21.4%; TV Patrol (ABS-CBN) 16.8%; Beki Boxer (TV5) 4.2%; Confessions of a Torpe (TV5) 6.1%
Niño (GMA-7) 19.5%; Dyesebel (ABS-CBN) 20.8%; PBA 2014 Governor's Cup: Alaska vs Rain or Shine (TV5) 7.7%
Kambal Sirena (GMA-7) 19.3%; Ikaw Lamang (ABS-CBN) 25.6%
Ang Dalawang Mrs. Real (GMA-7) 16.1%; The Legal Wife (ABS-CBN) 27.9%; Aquino & Abunda Tonight (ABS-CBN) 20.5%; History with Lourd (TV5) 3.8%
The Master's Sun (GMA-7) 16.5%; Pinoy Big Brother All In (ABS-CBN) 14.8%; Pilipinas News (TV5) 2%; Reaksyon (TV5) 1.6%
Saksi (GMA-7) 9%; Human Planet (GMA-7) 5.7%; Bandila (ABS-CBN) 6%; PBA 2014 Governor's Cup: Air 21 vs Meralco (TV5) 1.3%
The Medyo Late Night Show (GMA-7) 2.4%; Banana Nite (ABS-CBN) 4.4%; O Shopping (ABS-CBN) 1.2%
---
June 5, 2014 (Thursday)
Morning:
Born To Be Wild Replay (GMA-7) 1.3%; Tapatan Ni Tunying Replay (ABS-CBN) .8%
Unang Hirit! (GMA-7) 3.7%; Umagang Kay Ganda (ABS-CBN) 2.8%; Astig (TV5) .1%; Reaksyon Replay (TV5) .1%; Good Morning Club (TV5) 1%; Gargoyles (TV5) 1.3%
Jackie Chan Adventures (GMA-7) 6.7%; One Piece (GMA-7) 8.5%; Detective Conan (GMA-7) 9.5%; Inuyasha (GMA-7) 9.5%; Kris TV (ABS-CBN) 5.2%; Fish Hooks (TV5) 1.4%; Kick Buttowski (TV5) 2.4%; Phineas and Ferb (TV5) 3.5%
ADVERTISEMENT - CONTINUE READING BELOW
Fairy Tail (GMA-7) 11.3%; Mr. Bean (ABS-CBN) 5.5%; Oggy and the Cockroaches (TV5) 3.8%
Slam Dunk (GMA-7) 13.2%; Dragon Ball Z Kai (GMA-7) 12.9%; Return of the Wife (GMA-7) 6.8%; Kapamilya Kiddie Blockbusters: Once Upon in a Time in China & America (ABS-CBN) 7.4%; Ben 10 Ultimate Alien (TV5) 3.7%; Movie Max 5: Open Season 2 (TV5) 4.6%
Basta Everyday Happy (GMA-7) 6.4%; Lucky Me! Namnam Dear Bossing (GMA-7) 7.5%; The Singing Bee (ABS-CBN) 9.9%
The Ryzza Mae Show (GMA-7) 9.7%; Be Careful With My Heart (ABS-CBN) 13.7%; Movie Max 5: Euro Trip (TV5) 5.5%
Afternoon:
Eat Bulaga! (GMA-7) 16.7%; It's Showtime (ABS-CBN) 11.4%; Movie Max 5: Kung Fu Hustle (TV5) 6.5%
Villa Quintana (GMA-7) 15.2%; Moon of Desire (ABS-CBN) 8.3%
Innamorata (GMA-7) 12.8%; Pinoy Big Brother All In Uber (ABS-CBN) 6.6%; Showbiz Police: Una sa Eksena (TV5) 3.5%
Reporter's Notebook (GMA-7) 12%; Tapatan Ni Tunying (ABS-CBN) 8.9%; Face The People (TV5) 4.4%
Jewel in the Palace (GMA-7) 14.4%; The Heirs (ABS-CBN) 13.5%; T3 Reload (TV5) 4.3%
Evening:
My Love from the Star (GMA-7) 21.9%; Mirabella (ABS-CBN) 13.1%; Aksyon (TV5) 5.6%; Beki Boxer (TV5) 4.7%
24 Oras (GMA-7) 22%; TV Patrol (ABS-CBN) 18.6%; Confessions of a Torpe (TV5) 6.4%
Niño (GMA-7) 20.5%; Dyesebel (ABS-CBN) 20.6%; Movie Max 5: Captain America: The First Avenger (TV5) 10.4%
Kambal Sirena (GMA-7) 19.3%; Ikaw Lamang (ABS-CBN) 23.2%
Ang Dalawang Mrs. Real (GMA-7) 15.8%; The Legal Wife (ABS-CBN) 24.2%; Aquino & Abunda Tonight (ABS-CBN) 17.2%; Kuwentong PBA (TV5) 4.7%
The Master's Sun (GMA-7) 16.9%; Pinoy Big Brother All In (ABS-CBN) 13.7%; Bigtime (TV5) 1.4%; Pilipinas News (TV5) 1.2%
Saksi (GMA-7) 10.1%; Bandila (ABS-CBN) 4.8%; Reaksyon (TV5) 1%
Human Planet (GMA-7) 5.3%; Banana Nite (ABS-CBN) 3.5%
The Medyo Late Night Show with Jojo A. (GMA-7) 1.7%; O Shopping (ABS-CBN) 1.1%
---
June 6, 2014 (Friday)
Morning:
Alisto! Replay (GMA-7) .7%; Red Alert Replay (ABS-CBN) .8%
Unang Hirit! (GMA-7) 3.8%; Umagang Kay Ganda (ABS-CBN) 3.3%; Reaksyon Replay (TV5) .3%; Good Morning Club (TV5) 1.3%; Gargoyles (TV5) 1.5%
ADVERTISEMENT - CONTINUE READING BELOW
Jackie Chan Adventures (GMA-7) 6.6%; One Piece (GMA-7) 9%; Detective Conan (GMA-7) 11.3%; Kris TV (ABS-CBN) 5.6%; Fish Hooks (TV5) 1.7%; Kick Buttowski (TV5) 2.6%; Phineas and Ferb (TV5) 3.1%
Inuyasha (GMA-7) 11.4%; Mr. Bean (ABS-CBN) 5.9%; Oggy and the Cockroaches (TV5) 3.6%
Fairy Tail (GMA-7) 11.9%; Slam Dunk (GMA-7) 13.1%; Dragon Ball Z Kai (GMA-7) 11.6%; Return of the Wife (GMA-7) 7.1%; Basta Everyday Happy (GMA-7) 7%; 2014 NBA The Finals: Miami Heat vs San Antonio Spurs (ABS-CBN) 13.9%; Ben 10 Ultimate Alien (TV5) 3.4%; Movie Max 5: Open Season 3 (TV5) 4.6%
The Ryzza Mae Show (GMA-7) 11.7%; Be Careful With My Heart (ABS-CBN) 13.9%; Movie Max 5: Hotel for Dogs (TV5) 6.5%
Afternoon:
Eat Bulaga! (GMA-7) 18.1%; It's Showtime (ABS-CBN) 10.2%; Movie Max 5: The Marc Pease Experience (TV5) 3.7%
Villa Quintana (GMA-7) 15.1%; Moon of Desire (ABS-CBN) 8.2%
Innamorata (GMA-7) 13.2%; Pinoy Big Brother All In Uber (ABS-CBN) 6.8%; Showbiz Police: Una sa Eksena (TV5) 1.8%
Love Hotline (GMA-7) 11.7%; Red Alert (ABS-CBN) 8%; Face The People (TV5) 2.7%
Jewel in the Palace (GMA-7) 14.7%; The Heirs (ABS-CBN) 13.9%; T3 Reload (TV5) 3.6%
Evening:
My Love from the Star (GMA-7) 21.4%; Mirabella (ABS-CBN) 13.9%; Aksyon (TV5) 5%
24 Oras (GMA-7) 20.3%; TV Patrol (ABS-CBN) 17%; Beki Boxer (TV5) 5.2%; Confessions of a Torpe (TV5) 7.3%
Niño (GMA-7) 19.5%; Dyesebel (ABS-CBN) 18.9%; PBA 2014 Governor's Cup: Global Port vs San Mig Super Coffee (TV5) 8.9%
Kambal Sirena (GMA-7) 19.1%; Ikaw Lamang (ABS-CBN) 21.5%
Ang Dalawang Mrs. Real (GMA-7) 15.3%; The Legal Wife (ABS-CBN) 22%
Bubble Gang (GMA-7) 16.9%; Aquino & Abunda Tonight (ABS-CBN) 15.4%; Pinoy Big Brother All In (ABS-CBN) 12%; Astig: Sa Sports (TV5) 3.5%; Pilipinas News (TV5) 2.4%; Reaksyon (TV5) 1.6%
Saksi (GMA-7) 8.5%; Bandila (ABS-CBN) 5.1%; PBA 2014 Governor's Cup: Global Port vs Talk n Text (TV5) 1.2%
The Medyo Late Night Show with Jojo A. (GMA-7) 2.6%; Banana Nite (ABS-CBN) 3.1%; O Shopping (ABS-CBN) 1%
ADVERTISEMENT - CONTINUE READING BELOW
---
TOP TEN PROGRAMS:
May 31, 2014 (Saturday)
DAYTIME:
Eat Bulaga! (GMA-7) - 18.5%
It's Showtime (ABS-CBN) - 13.7%
24 Oras Weekend (GMA-7) / 2014 NBA Eastern Conference Finals: Indiana Pacers vs Miami Heat (ABS-CBN) - 11.7%
GMA Horror Stories: Juhou 2405 (GMA-7) - 11.4%
Wish Ko Lang! (GMA-7) - 11%
Del Monte Kitchenomics (GMA-7) - 10.6%
Maynila 15 (GMA-7) - 10.4%
iBilib (GMA-7) - 10.3%
SOCO (ABS-CBN) - 9.1%
Toriko (GMA-7) - 8.9%
PRIMETIME:
Magpakailanman (GMA-7) - 28%
The Voice Kids (GMA-7) - 25.1%
Celebrity Bluff (GMA-7) - 20.9%
GMA Blockbusters: Happy Feet 2 (GMA-7) - 20.4%
MMK: Ang Tahanan Mo (ABS-CBN) - 18.6%
Pinoy Big Brother All In (ABS-CBN) - 16.5%
Vampire Ang Daddy Ko (GMA-7) - 14.5%
Home Sweetie Home (ABS-CBN) - 12.3%
i-Witness (GMA-7) - 11.5%
Banana Split: Extra Scoop (ABS-CBN) - 8.4%
June 1, 2014 (Sunday)
DAYTIME:
My Love from the Star: The Kilig Throwback (GMA-7) - 15.4%
Simpiwe Vetyeka vs Nonito Donaire (ABS-CBN) - 14%
Del Monte Kitchenomics (GMA-7) - 13.1%
PBA 2014 Commissioner's Cup Finals: Brgy Ginebra vs San Mig Super Coffee Mixers (TV5) - 12.1%
Sunday All Stars (GMA-7) - 10.6%
Kap's Amazing Stories (GMA-7) - 10.5%
iBilib (GMA-7) - 10.3%
Asian Horror Stories (GMA-7) - 10.1%
ASAP 19 (ABS-CBN) - 10%
Born to be Wild (GMA-7) - 9.9%
PRIMETIME:
The Voice Kids (ABS-CBN) - 27%
Kapuso Mo, Jessica Soho (GMA-7) - 22.9%
Rated K: Handa Na Ba Kayo? (ABS-CBN ) - 22%
Pepito Manaloto: Ang Tunay na Kuwento (GMA-7) - 18.6%
Imbestigador (GMA-7) - 18.2%
Pinoy Big Brother All In (ABS-CBN) / Gandang Gabi Vice (ABS-CBN) - 18.1%
Wansapanataym (ABS-CBN) - 14.9%
Picture! Picture! (GMA-7) - 13.1%
Sunday Night Box Office: The Rundown (GMA-7) - 11.5%
Goin' Bulilit (ABS-CBN) - 9.6%
June 2, 2014 (Monday)
DAYTIME:
Eat Bulaga! (GMA-7) - 17.5%
Be Careful With My Heart (ABS-CBN) - 14.8%
Jewel in the Palace (GMA-7) - 13.6%
Fairy Tail (GMA-7) - 12.7%
Slam Dunk (GMA-7) - 12.5%
It's Showtime (ABS-CBN) - 12%
The Heirs (ABS-CBN) - 11.8%
Dragon Ball Z Kai (GMA-7) / Villa Quintana (GMA-7) - 11.7%
Detective Conan (GMA-7) - 11.5%
One Piece (GMA-7) - 11.2%
PRIMETIME:
The Legal Wife (ABS-CBN) - 23.7%
24 Oras (GMA-7) - 22.8%
3. Ikaw Lamang (ABS-CBN) - 22.4%
Niño (GMA-7) - 22.3%
My Love from the Star (GMA-7) - 21.4%
Kambal Sirena (GMA-7) - 21%
Dyesebel (ABS-CBN) - 20%
Ang Dalawang Mrs. Real (GMA-7) - 18.5%
TV Patrol (ABS-CBN) - 17.9%
The Master's Sun (GMA-7) / Aquino & Abunda Tonight (ABS-CBN) - 15%
June 3, 2014 (Tuesday)
DAYTIME:
Eat Bulaga! (GMA-7) - 17.2%
Jewel in the Palace (GMA-7) - 14.8%
Villa Quintana (GMA-7) - 14.4%
Be Careful With My Heart (ABS-CBN) - 13.9%
Slam Dunk (GMA-7) / Dragon Ball Z Kai (GMA-7) - 13.4%
Innamorata (GMA-7) - 12.6%
The Heirs (ABS-CBN) - 12.5%
Fairy Tail (GMA-7) - 12.4%
Tunay na Buhay (GMA-7) - 11.9%
It's Showtime (ABS-CBN) - 11.4%
PRIMETIME:
The Legal Wife (ABS-CBN) - 24.9%
Ikaw Lamang (ABS-CBN) - 22.8%
My Love from the Star (GMA-7) - 22.6%
24 Oras (GMA-7) - 21.6%
Niño (GMA-7) - 20.5%
Kambal Sirena (GMA-7) - 20.3%
Dyesebel (ABS-CBN) - 19.8%
TV Patrol (ABS-CBN) - 18.1%
Aquino & Abunda Tonight (ABS-CBN) - 16.9%
Ang Dalawang Mrs. Real (GMA-7) - 16.7%
June 4, 2014 (Wednesday)
DAYTIME:
Eat Bulaga! (GMA-7) - 17.2%
Be Careful With My Heart (ABS-CBN) - 14.2%
Slam Dunk (GMA-7) - 13.3%
Jewel in the Palace (GMA-7) - 13%
Dragon Ball Z Kai (GMA-7) - 13.2%
Power House (GMA-7) - 12.6%
The Heirs (ABS-CBN) - 12.2%
Fairy Tail (GMA-7) - 12%
The Singing Bee (ABS-CBN) - 11.5%
Villa Quintana (GMA-7) - 11.2%
PRIMETIME:
The Legal Wife (ABS-CBN) - 27.9%
Ikaw Lamang (ABS-CBN) - 25.6%
24 Oras (GMA-7) - 21.4%
Dyesebel (ABS-CBN) - 20.8%
My Love from the Star (GMA-7) - 20.7%
Aquino & Abunda Tonight (ABS-CBN) - 20.5%
Niño (GMA-7) - 19.5%
Kambal Sirena (GMA-7) - 19.3%
TV Patrol (ABS-CBN) - 16.8%
The Master's Sun (GMA-7) - 16.5%
June 5, 2014 (Thursday)
DAYTIME:
Eat Bulaga! (GMA-7) - 16.7%
Villa Quintana (GMA-7) - 15.2%
Jewel in the Palace (GMA-7) - 14.4%
Be Careful With My Heart (ABS-CBN) - 13.7%
The Heirs (ABS-CBN) - 13.5%
Slam Dunk (GMA-7) - 13.2%
Dragon Ball Z Kai (GMA-7) - 12.9%
Innamorata (GMA-7) - 12.8%
Reporter's Notebook (GMA-7) 12%
It's Showtime (ABS-CBN) - 11.4%
PRIMETIME:
The Legal Wife (ABS-CBN) - 24.2%
Ikaw Lamang (ABS-CBN) - 23.2%
24 Oras (GMA-7) - 22%
My Love from the Star (GMA-7) - 21.9%
Dyesebel (ABS-CBN) - 20.6%
Niño (GMA-7) - 20.5%
Kambal Sirena (GMA-7) - 19.3%
TV Patrol (ABS-CBN) - 18.6%
Aquino & Abunda Tonight (ABS-CBN) - 17.2%
The Master's Sun (GMA-7) - 16.9%
June 6, 2014 (Friday)
DAYTIME:
Eat Bulaga! (GMA-7) - 18.1%
Villa Quintana (GMA-7) - 15.1%
Jewel in the Palace (GMA-7) - 14.7%
Be Careful With My Heart (ABS-CBN) / 2014 NBA The Finals: Miami Heat vs San Antonio Spurs (ABS-CBN) / The Heirs (ABS-CBN) - 13.9%
Innamorata (GMA-7) - 13.2%
Slam Dunk (GMA-7) - 13.1%
Fairy Tail (GMA-7) - 11.9%
The Ryzza Mae Show (GMA-7) / Love Hotline (GMA-7) - 11.7%
Dragon Ball Z Kai (GMA-7) - 11.6%
Inuyasha (GMA-7) - 11.4%
PRIMETIME:
The Legal Wife (ABS-CBN) - 22%
Ikaw Lamang (ABS-CBN) - 21.5%
My Love from the Star (GMA-7) - 21.4%
24 Oras (GMA-7) - 20.3%
Niño (GMA-7) - 19.5%
Kambal Sirena (GMA-7) - 19.1%
Dyesebel (ABS-CBN) - 18.9%
TV Patrol (ABS-CBN) - 17.9%
Bubble Gang (GMA-7) - 16.9%
Aquino & Abunda Tonight (ABS-CBN) - 15.4%
Source: AGB Nielsen Philippines