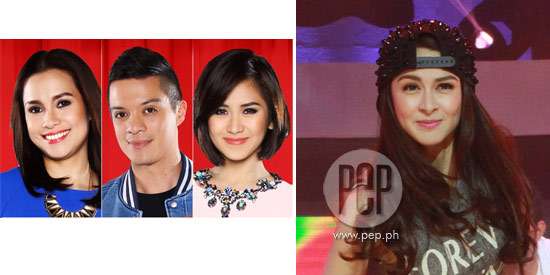 ---
Two new GMA-7 shows were beaten during their pilot episodes. This is according to latest ratings data from AGB Nielsen Philippines from Mega Manila households for June 21 to 22, 2014.
GMA-7 has more higher rating shows versus ABS-CBN, as attested by the comparative rating performance below that shows more Kapuso programs have higher ratings compared to those from the Kapamilya channel.
GMA-7 also has the most-watched shows on the weekend, like Eat Bulaga!, Magpakailanman and My Love from the Star: The Kilig Throwback.
But ABS-CBN still has an ace up its sleeve. In fact, two of its top-rating shows beat two new Kapuso programs.
On Saturday, June 21, ABS-CBN's The Voice Kids outperformed Marian Rivera's new dance show, Marian, by 1.6%. ABS-CBN's reality talent search registered 23.1% while the pilot episode of Marian registered 21.5%.
On Sunday, June 22, Wansapanataym earned 0.2% higher ratings than the sitcom Ismol Family, which stars Ryan Agoncillo and Carla Abellana. Wansapanataym Presents Witch-A-Makulit (starring Miles Ocampo, Inah Estrada, and Alyanna Angeles) registered 17.6% while Ismol Family registered 17.4%.
ADVERTISEMENT - CONTINUE READING BELOW
Here is the comparative rating performance of GMA-7, ABS-CBN and TV5 programs from June 21-22, derived from AGB Nielsen Philippines from Mega Manila households:
June 21, 2014 (Saturday)
Morning:
PJM Forum (GMA-7) .2%; Adyenda (GMA-7) .8%; Kapwa Ko Mahal Ko (GMA-7) 1.3%; Sa Kabukiran (ABS-CBN) .8%; Family Matters (TV5) .5%
Pinoy MD (GMA-7) 3.5%; Salamat Dok (ABS-CBN) 2.3%; Yin Yang Yo! (TV5) 1.6%
Scooby-Doo! Mystery Inc. (GMA-7) 4.3%; Swak na Swak (ABS-CBN) 2.8%; Adventure Time (TV5) 2.9%
Super Book (GMA-7) 7.5%; Honey Watch Out! (ABS-CBN) 2%; Dexter's Laboratory (TV5) 3.7%
Angry Birds Toons (GMA-7) 9.4%; Sineskwela (ABS-CBN) 1.7%; The Amazing World of Gumball (TV5) 4.5%
Hayate Combat Butler (GMA-7) 7.5%; Teenage Mutant Ninja Turtles (ABS-CBN) 2.8%; Regular Show (TV5) 4.7%
Toriko (GMA-7) 7.2%; Spongebob Squarepants (ABS-CBN) 5.5%; Regular Show (TV5) 4.6%; The Powerpuff Girls (TV5) 4.9%
Tropang Potchi (GMA-7) 5.1%; Sarap Diva (GMA-7) 5.2%; Maynila 15 (GMA-7) 6.9%; Del Monte Kitchenomics (GMA-7) 9.2%; Kapamilya Blockbusters: Chinese Zodiac (ABS-CBN) 13.1%; Johnny Bravo (TV5) 5.5%; Ben 10 (TV5) 5.1%; Movie Max 5: Shrek 2 (TV5) 7%
Afternoon:
Eat Bulaga! (GMA-7) 20.1%; It's Showtime (ABS-CBN) 11.3%; Movie Max 5: Wanted (TV5) 8.3%; Movie Max 5: Ultraviolet (TV5) 6.3%
ADVERTISEMENT - CONTINUE READING BELOW
GMA Tales of Horror: Juhou 2405 (GMA-7) 10.3%; Ipaglaban Mo (ABS-CBN) 9.2%
Startalk (GMA-7) 7.9%; Failon Ngayon (ABS-CBN) 7%; Aksyon Weekend (TV5) 6.3%
Wish Ko Lang! (GMA-7) 8.9%; SOCO (ABS-CBN) 8%; PBA 2014 Governor's Cup Semifinals: San Mig Coffee vs Talk n Text (TV5) 8.3%
24 Oras Weekend (GMA-7) 10.7%; TV Patrol Weekend (ABS-CBN) 7.1%
Evening:
Pepito Manaloto: Ang Tunay na Kuwento (GMA-7) 17%; Home Sweetie Home (ABS-CBN) 8.3%
Marian (GMA-7) 21.5%; The Voice Kids (ABS-CBN) 23.1%; Tropa Mo Ko Unli (TV5) 5.5%
Magpakailanman (GMA-7) 27.8%; MMK: Ang Tahanan Mo (ABS-CBN) 22.8%; Master Game Face Challenge: Team Chris vs Team Marc (TV5) 7.6%
Celebrity Bluff (GMA-7) 25.6%; Pinoy Big Brother All In (ABS-CBN) 18%; Celebrity Dance Battle (TV5) 1.9%
I-Witness (GMA-7) 15.2%; Banana Split Extra Scoop (ABS-CBN) 9.7%; Kaya. (TV5) 1.1%; Numero (TV5) 1.1%
Walang Tulugan (GMA-7) 3.8%; The Bottom Line (ABS-CBN) 3.1%; Sports Unlimited (ABS-CBN) 1.9%; O Shopping (ABS-CBN) .7%; Bigtime (TV5) 1.5%; Shop Japan (TV5) .7%
---
June 22, 2014 (Sunday)
Daytime:
In Touch with Dr. Charles Stanley (GMA-7) .2%; Jesus The Healer (GMA-7) .6%; Balitang 60 (TV5) .6%
Kapuso Sine Klasika: James Bone Agent 001 (GMA-7) 1.8%; The Healing Eucharist (ABS-CBN) 4.8%; Sunday Mass on TV5 (TV5) 1.7%
ADVERTISEMENT - CONTINUE READING BELOW
The Batman (GMA-7) 4.6%; Swak na Swak (ABS-CBN) 3%; Power to Unite with Elvira (TV5) .8%
Super Book (GMA-7) 6.4%; Hayate the Combat Butler (GMA-7) 6.6%; Salamat Dok (ABS-CBN) 3.4%; Imagination Movers (TV5) 1.4%; Combo Ninos (TV5) 3.5%
One Piece: The Last Stage (GMA-7) 8.7%; Voltron Force (ABS-CBN) 2.2%; Stitch! (TV5) 4.6%
Aha! (GMA-7) 7.8%; Marvel Wolverine (ABS-CBN) 2.6%; Gravity Falls (TV5) 5.8%
Born To Be Wild (GMA-7) 9.7%; Matanglawin (ABS-CBN) 5.6%; Dave the Barbarian (TV5) 5.4%
iBilib (GMA-7) 10.2%; Kap's Amazing Stories (GMA-7) 11.7%; Pinoy Pride 26 (ABS-CBN) 9%; The Replacements (TV5) 5.8%; The Emperor's New School (TV5) 5.8%; Movie Max 5: Chicken Run (TV5) 6.6%
Afternoon:
My Love from the Star: The Kilig Throwback (GMA-7) 19.6%; Del Monte Kitchenomics (GMA-7) 18.7%; Sunday All Star (GMA-7) 11.9%; ASAP 19 (ABS-CBN) 8.9%; Movie Max 5: Bad Boys (TV5) 7.9%
Asian Horror Stories: February 29 (GMA-7) 12%; Luv U (ABS-CBN) 8.2%; The Buzz 15 (ABS-CBN) 9.6%; Movie Max 5: The Replacement Killers (TV5) 6.5%; Jasmine (TV5) 3.2%
24 Oras Weekend (GMA-7) 12.1%; TV Patrol Weekend (ABS-CBN) 10.4%; PBA 2014 Governor's Cup Semifinals: Alaska Aces vs Rain or Shine (TV5) 9.8%
Evening:
Vampire Ang Daddy Ko (GMA-7) 15.1%; Goin' Bulilit (ABS-CBN) 12.5%
ADVERTISEMENT - CONTINUE READING BELOW
Ismol Family (GMA-7) 17.4%; Wansapanataym (ABS-CBN) 17.6%; Who Wants to be a Millionaire (TV5) 7.1%
GMA Blockbusters: Spy Kids All The Time in the World (GMA-7) 21%; The Voice Kids (ABS-CBN) 26.7%
Kapuso Mo, Jessica Soho (GMA-7) 24.4%; Rated K: Handa Na Ba Kayo? (ABS-CBN) 20%; Pinoy Big Brother All In (ABS-CBN) 17.6%; Wow Mali Lakas ng Tama (TV5) 5.6%; Jasmine (TV5) 1.1%
Imbestigador (GMA-7) 15.9%; Gandang Gabi Vice (ABS-CBN) 16.7%; Juan Direction (TV5) .7%
Sunday Night Box Office: Out & Proud (GMA-7) 7%; Sunday's Best: Cheche Lazaro Presents (ABS-CBN) 3.5%; Pilipinas News Weekend (TV5) .9%; Demolition Job (TV5) .7%; History with Lourd (TV5) .5%
Diyos at Bayan (GMA-7) 1.8%; O Shopping (ABS-CBN) .6%; Shop Japan (TV5) .5%
---
TOP TEN PROGRAMS:
June 21, 2014 (Saturday)
DAYTIME:
Eat Bulaga! (GMA-7) - 20.1%
Kapamilya Blockbusters: Chinese Zodiac (ABS-CBN) - 13.1%
It's Showtime (ABS-CBN) - 11.3%
24 Oras Weekend (GMA-7) - 10.7%
GMA Tales of Horror: Juhou 2405 (GMA-7) - 10.3%
Angry Birds Toons (GMA-7) - 9.4%
Del Monte Kitchenomics (GMA-7) / Ipaglaban Mo (ABS-CBN) - 9.2%
Wish Ko Lang! (GMA-7) - 8.9%
Movie Max 5: Wanted (TV5) / PBA 2014 Governor's Cup Semifinals: San Mig Coffee vs Talk n Text (TV5) 8.3%
SOCO (ABS-CBN) - 8%
PRIMETIME:
Magpakailanman (GMA-7) - 27.8%
Celebrity Bluff (GMA-7) - 25.6%
The Voice Kids (ABS-CBN) - 23.1%
MMK: Ang Tahanan Mo (ABS-CBN) - 22.8%
Marian (GMA-7) - 21.5%
Pinoy Big Brother All In (ABS-CBN) - 18%
Pepito Manaloto: Ang Tunay na Kuwento (GMA-7) - 17%
i-Witness (GMA-7) - 15.2%
Banana Split Extra Scoop (ABS-CBN) - 9.7%
Home Sweetie Home (ABS-CBN) - 8.3%
June 22, 2014 (Sunday)
DAYTIME:
My Love from the Star: The Kilig Throwback (GMA-7) - 19.6%
Del Monte Kitchenomics (GMA-7) - 18.7%
24 Oras Weekend (GMA-7) - 12.1%
Kap's Amazing Stories (GMA-7) / Asian Horror Stories (GMA-7) - 12%
Sunday All Stars (GMA-7) - 11.9%
TV Patrol Weekend (ABS-CBN) - 10.4%
iBilib (GMA-7) - 10.2%
PBA 2014 Governor's Cup Semifinals: Alaska Aces vs Rain or Shine (TV5) - 9.8%
Born to be Wild (GMA-7) - 9.7%
The Buzz (ABS-CBN) - 9.6%
PRIMETIME:
The Voice Kids (ABS-CBN) - 26.7%
Kapuso Mo, Jessica Soho (GMA-7) - 24.4%
GMA Blockbusters: Spy Kids All The Time in the World (GMA-7) - 21%
Rated K: Handa Na Ba Kayo? (ABS-CBN ) - 20%
Wansapanataym (ABS-CBN) / Pinoy Big Brother All In (ABS-CBN) - 17.6%
Ismol Family (GMA-7) - 17.4%
Gandang Gabi Vice (ABS-CBN) - 16.7%
Imbestigador (GMA-7) - 15.9%
Vampire Ang Daddy Ko (GMA-7) - 15.1%
Goin' Bulilit (GMA-7) - 12.5%
Source: AGB Nielsen Philippines