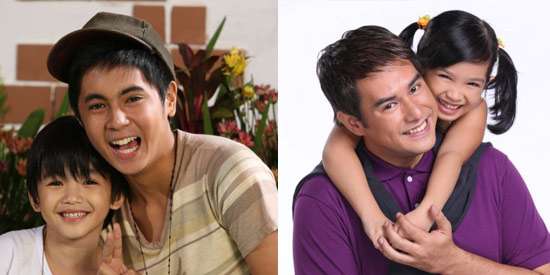 ---
GMA-7's Niño is now the leader among locally produced primetime teleseryes. This is according to the latest ratings data from AGB Nielsen Philippines from Mega Manila households for June 23 to 26, 2014.
The Kapuso Network's return to primetime dominance comes after the exit of ABS-CBN's phenomenal The Legal Wife, which swept primetime ratings for weeks.
GMA also benefited from the strong ratings received by the hit Korean series My Love From the Star, which airs in the early primetime slot. In fact, My Love From the Star landed as the No. 1 most-watched primetime show on June 25.
The Korean comedy-drama's ratings win helped increase the scores of the shows that airs around it. The ratings of Jewel in the Palace, which airs before My Love from the Star, has jumped to 18% from last week's 14% average. 24 Oras also increased ratings to as high as 27.6%.
The religion-themed Niño, which airs after 24 Oras, is a ratings winner as well. It has outperformed Dyesebel, ABS-CBN's fantasy series starring Anne Curtis, from Monday to Thursday. Niño, starring Miguel Tanfelix and David Remo, consistently landed among the Top 3 most-watched programs during this period.
ADVERTISEMENT - CONTINUE READING BELOW
The adultery-themed Ang Dalawang Mrs. Real is also performing better in the ratings game. It has finally won a ratings bout with an airtime rival, ABS-CBN's Sana Bukas Pa Ang Kahapon, on June 24.
Ang Dalawang Mrs. Real, which stars Dingdong Dantes, Lovi Poe and Maricel Soriano, started airing on June 2 and was never able to defeat The Legal Wife.
Eat Bulaga! is now the preferred noontime show versus It's Showtime, which has dropped from the top 10 list. The Half Sisters is getting almost double the ratings of Moon of Desire.


New series Dading, which stars Gabby Eigenmann, registered 11.6% on its pilot episode last June 23. ABS-CBN's Pinoy Big Brother All In Uber registered 6% while TV5's Star Confessions got 4.2%. During its pilot week, Dading got almost double the ratings of Pinoy Big Brother All In Uber.
But not all Kapuso shows are doing well. Kambal Sirena, which was on its finale week during this given period, lost to ABS-CBN's Ikaw Lamang from Monday to Thursday.
ADVERTISEMENT - CONTINUE READING BELOW
Here is the comparative rating performance of GMA-7, ABS-CBN and TV5 programs from June 23-26, 2014 derived from AGB Nielsen Philippines from Mega Manila households:
--
June 23, 2014 (Monday)
Morning:
Aha! Replay (GMA-7) .8%; Matanglawin Replay (ABS-CBN) .3%
Unang Hirit! (GMA-7) 4.4%; Umagang Kay Ganda (ABS-CBN) 3.7%; Word of the Lourd (TV5) 0%; Reaksyon Replay (TV5) .2%; Good Morning Club (TV5) 1%; Gargoyles (TV5) 1.1%
Jackie Chan Adventures (GMA-7) 6.1%; One Piece (GMA-7) 8.3%; Detective Conan (GMA-7) 8.6%; Inuyasha (GMA-7) 10.5%; Kris TV (ABS-CBN) 5.5%; Fish Hooks (TV5) 1.9%; Kick Buttowski (TV5) 2.5%; Phineas and Ferb (TV5) 2.5%
Fairy Tail (GMA-7) 11.2%; Mr. Bean (ABS-CBN) 5.4%; Oggy and the Cockroaches (TV5) 2.9%
Slam Dunk (GMA-7) 12.7%; Dragon Ball Z Kai (GMA-7) 10.6%; Return of the Wife (GMA-7) 6.1%; Kapamilya Kiddie Blockbusters: Bulletproof Monk (ABS-CBN) 8.5%; Ben 10 Ultimate Alien (TV5) 2.6%; Movie Max 5: Are We There Yet? (TV5) 5.7%
Basta Everyday Happy (GMA-7) 6.8%; The Singing Bee (ABS-CBN) 10.9%
The Ryzza Mae Show (GMA-7) 9.7%; Be Careful With My Heart (ABS-CBN) 11.9%; Movie Max 5: The Bank Job (TV5) 7.5%; Aksyon Breaking: Camp Crame Napalibutan ng mga Pulis (TV5) 6.1%
ADVERTISEMENT - CONTINUE READING BELOW
Afternoon:
Eat Bulaga! (GMA-7) 17.2%; It's Showtime (ABS-CBN) 9.9%; Movie Max 5: Jennifer's Body (TV5) 7.3%
The Half Sisters (GMA-7) 12%; Moon of Desire (ABS-CBN) 7%
Dading (GMA-7) 11.6%; Pinoy Big Brother All In Uber (ABS-CBN) 6%; Star Confessions (TV5) 4.2%
Alisto! (GMA-7) 11.5%; Bistado (ABS-CBN) 6.8%; Star Confessions (TV5) 4.4%
Jewel in the Palace (GMA-7) 13.9%; The Heirs (ABS-CBN) 11.7%; T3 Reload (TV5) 3.4%
Evening:
My Love From the Star (GMA-7) 21.7%; Mirabella (ABS-CBN) 12.1%; Aksyon (TV5) 4.6%
24 Oras (GMA-7) 23.9%; TV Patrol (ABS-CBN) 19.4%; Beki Boxer (TV5) 5.3%; Juan Direction (TV5) 5.4%
Niño (GMA-7) 23.6%; Dyesebel (ABS-CBN) 21.2%; PBA 2014 Governor's Cup Semis: San Mig Super Coffee Mixers vs Talk n Text (TV5) 12.1%
Kambal Sirena (GMA-7) 19.7%; Ikaw Lamang (ABS-CBN) 22.3%
Ang Dalawang Mrs. Real (GMA-7) 18.1%; Sana Bukas Pa Ang Kahapon (ABS-CBN) 19.7%
The Master's Sun (GMA-7) 17.5%; Aquino & Abunda Tonight (ABS-CBN) 16.6%; Pinoy Big Brother All In (ABS-CBN) 15.1%; Demolition Job (TV5) 5.6%; Pilipinas News (TV5) 3.3%; Reaksyon (TV5) 1.7%
Saksi (GMA-7) 8.7Bandila (ABS-CBN) 6.6%; T3 Reload Replay (TV5) 1.4%
Front Row (GMA-7) 4.7%; Banana Nite (ABS-CBN) 3.4%; Face the People (TV5) 1.3%
%;
The Medyo Late Night Show (GMA-7) 2.6%; O Shopping (ABS-CBN) .8%; Shop Japan (TV5) .7%
ADVERTISEMENT - CONTINUE READING BELOW
----
June 24, 2014 (Tuesday)
Morning:
I-Witness Replay (GMA-7) .7%; Mutya ng Masa Replay (ABS-CBN) .2%
Unang Hirit! (GMA-7) 3.9%; Umagang Kay Ganda (ABS-CBN) 3.1%; Reaksyon Replay (TV5) .3%; Good Morning Club (TV5) 1.1%; Gargoyles (TV5) 1.1%
Jackie Chan Adventures (GMA-7) 5.9%; One Piece (GMA-7) 7.2%; Detective Conan (GMA-7) 8.2%; Kris TV (ABS-CBN) 5.1%; Fish Hooks (TV5) 1.4%; Kick Buttowski (TV5) 1.7%; Phineas and Ferb (TV5) 2.9%
Inuyasha (GMA-7) 8.7%; Fairy Tail (GMA-7) 10.4%; Mr. Bean (ABS-CBN) 4.3%; Oggy and the Cockroaches (TV5) 3.5%
Slam Dunk (GMA-7) 12.1%; Dragon Ball Z Kai (GMA-7) 10.3%; Return of the Wife (GMA-7) 6.3%; Kapamilya Blockbusters: Attack the Block (ABS-CBN) 6.3%; Ben 10 Ultimate Alien (TV5) 2.7%; Movie Max 5: Are We Done Yet? (TV5) 5%
Basta Everyday Happy (GMA-7) 6.3%; Lucky Me NamNam All 3-in-One (GMA-7) 7.8%; The Singing Bee (ABS-CBN) 9.4%
The Ryzza Mae Show (GMA-7) 11.1%; Be Careful With My Heart (ABS-CBN) 12.5%; Movie Max 5: Termination Point (TV5) 4.9%
Afternoon:
Eat Bulaga (GMA-7) 18.5%; It's Showtime (ABS-CBN) 10%; Movie Max 5: The Hills Have Eyes (TV5) 7%
The Half Sisters (GMA-7) 11.8%; Moon of Desire (ABS-CBN) 7.1%
Dading (GMA-7) 11.8%; Pinoy Big Brother All In Uber (ABS-CBN) 4.9%
ADVERTISEMENT - CONTINUE READING BELOW
Tunay na Buhay (GMA-7) 11.3%; Mutya ng Masa (ABS-CBN) 5.6%; Star Confessions (TV5) 5.2%
Jewel in the Palace (GMA-7) 15.6%; The Heirs (ABS-CBN) 10.5%; Star Confessions (TV5) 3.5%; T3 Reload (TV5) 3%
Evening:
My Love from the Star (GMA-7) 22.9%; Mirabella (ABS-CBN) 9.9%; Aksyon (TV5) 4%
24 Oras (GMA-7) 22%; TV Patrol (ABS-CBN) 17.1%; Beki Boxer (TV5) 4.2%; Juan Direction (TV5) 4.3%
Niño (GMA-7) 23.9%; Dyesebel (ABS-CBN) 20.5%; PBA 2014 Governor's Cup Semis: Alaska Aces vs Rain or Shine (TV5) 10.1%
Kambal Sirena (GMA-7) 21.4%; Ikaw Lamang (ABS-CBN) 23.1%
Ang Dalawang Mrs. Real (GMA-7) 19.2%; Sana Bukas Pa Ang Kahapon (ABS-CBN) 18.9%
The Master's Sun (GMA-7) 16.1%; Aquino & Abunda Tonight (ABS-CBN) 14.7%; Pinoy Big Brother All In (ABS-CBN) 14.6%; Miss Manila 2014 (TV5) 2.3%
Saksi (GMA-7) 8.9%; Bandila (ABS-CBN) 5.4%; Reaksyon (TV5) .8%
Serial Killer Earth (GMA-7) 5.7%; Banana Nite (ABS-CBN) 2.5%
The Medyo Late Night Show (GMA-7) 2.8%; O Shopping (ABS-CBN) .7%; Pilipinas News (TV5) 1.3%; Shop Japan (TV5) .5%
---
June 25, 2014 (Wednesday)
Morning:
Reporter's Notebook Replay (GMA-7) .6%; My Puhunan Replay (ABS-CBN) .3%
Unang Hirit! (GMA-7) 4.1%; Umagang Kay Ganda (ABS-CBN) 3.1%; Reaksyon Replay (TV5) .6%; Good Morning Club (TV5) 1.2%; Gargoyles (TV5) 1%
ADVERTISEMENT - CONTINUE READING BELOW
Jackie Chan Adventures (GMA-7) 5.3%; One Piece (GMA-7) 6.5%; Detective Conan (GMA-7) 8.3%; Inuyasha (GMA-7) 9.3%; Kris TV (ABS-CBN) 5.3%; Fish Hooks (TV5) 1.7%; Kick Buttowski (TV5) 2.7%; Phineas and Ferb (TV5) 2.7%
Fairy Tail (GMA-7) 10.6%; Mr. Bean (ABS-CBN) 5%; Oggy and the Cockroaches (TV5) 2.8%
Slam Dunk (GMA-7) 11.4%; Dragon Ball Z Kai (GMA-7) 10.1%; Return of the Wife (GMA-7) 6.1%; Kapamilya Blockbusters: So Close (ABS-CBN) 8.5%; Ben 10 Ultimate Alien (TV5) 3%; Movie Max 5: Final Fantasy: The Spirits Within (TV5) 4%
Basta Everyday Happy (GMA-7) 6.9%; Del Monte Kitchenomics (GMA-7) 7.8%; The Singing Bee (ABS-CBN) 11%
The Ryzza Mae Show (GMA-7) 12%; Be Careful With My Heart (ABS-CBN) 13.3%; Movie Max 5: The Box (TV5) 5.4%
Afternoon:
Eat Bulaga! (GMA-7) 18.6%; It's Showtime (ABS-CBN) 11.4%; Movie Max 5: The Hills Have Eyes II (TV5) 8%
The Half Sisters (GMA-7) 12.7%; Moon of Desire (ABS-CBN) 7.2%
Dading (GMA-7) 12.1%; Pinoy Big Brother All In Uber (ABS-CBN) 6.1%
Power House (GMA-7) 12.6%; My Puhunan (ABS-CBN) 6.5%; Star Confessions (TV5) 4.3%
Jewel in the Palace (GMA-7) 14.7%; The Heirs (ABS-CBN) 11.1%; Star Confessions (TV5) 3.5%; T3 Reload (TV5) 2.8%
Evening:
ADVERTISEMENT - CONTINUE READING BELOW
My Love from the Star (GMA-7) 22.6%; Mirabella (ABS-CBN) 10.9%; Aksyon (TV5) 4.4%
24 Oras (GMA-7) 22.4%; TV Patrol (ABS-CBN) 18.1%; Beki Boxer (TV5) 4.9%; Juan Direction (TV5) 5.1%
Niño (GMA-7) 22.5%; Dyesebel (ABS-CBN) 21%; PBA 2014 Governor's Cup Semifinals: San Mig Coffee vs Talk n Text (TV5) 14.5%
Kambal Sirena (GMA-7) 20.2%; Ikaw Lamang (ABS-CBN) 22.7%
Ang Dalawang Mrs. Real (GMA-7) 17.6%; Sana Bukas Pa Ang Kahapon (ABS-CBN) 19.7%; History with Lourd (TV5) 3.9%
The Master's Sun (GMA-7) 17%; Aquino & Abunda Tonight (ABS-CBN) 12.5%; Pinoy Big Brother All In (ABS-CBN) 13.5%; Pilipinas News (TV5) 2.3%
Saksi (GMA-7) 10.4%; Bandila (ABS-CBN) 6%; Reaksyon (TV5) 1.2%; T3 Reload Replay (TV5) 1.1%
Mankind (GMA-7) 6.3%; Banana Nite (ABS-CBN) 3.4%; Face the People (TV5) 1.1%
The Medyo Late Night Show (GMA-7) 3%; O Shopping (ABS-CBN) .5%; Shop Japan (TV5) .5%
---
June 26, 2014 (Thursday)
Morning:
Born To Be Wild Replay (GMA-7) .9%; Tapatan Ni Tunying Replay (ABS-CBN) .4%
Unang Hirit! (GMA-7) 4.1%; Umagang Kay Ganda (ABS-CBN) 3.9%; Astig (TV5) 0%; Reaksyon Replay (TV5) .2%; Good Morning Club (TV5) .9%; Gargoyles (TV5) 1.1%
Jackie Chan Adventures (GMA-7) 5.5%; One Piece (GMA-7) 7.2%; Detective Conan (GMA-7) 8.2%; Inuyasha (GMA-7) 8.6%; Kris TV (ABS-CBN) 5.7%; Fish Hooks (TV5) 1.4%; Kick Buttowski: Suburban Devil (TV5) 1.8%; Phineas and Ferb (TV5) 2.6%
ADVERTISEMENT - CONTINUE READING BELOW
Fairy Tail (GMA-7) 10.1%; Mr. Bean (ABS-CBN) 5.3%; Oggy and the Cockroaches (TV5) 2.8%
Slam Dunk (GMA-7) 11.2%; Dragon Ball Z Kai (GMA-7) 11.2%; Return of the Wife (GMA-7) 7.8%; Kapamilya Blockbusters: The Warrior's Way (ABS-CBN) 8.1%; Ben 10 Ultimate Alien (TV5) 2.4%; Movie Max 5: Jumanji (TV5) 5.9%; Aksyon Alert (TV5) 4.8%
Basta Everyday Happy (GMA-7) 7.3%; Lucky Me! Namnam Dear Bossing (GMA-7) 7.7%; The Singing Bee (ABS-CBN) 11.6%
The Ryzza Mae Show (GMA-7) 10.3%; Be Careful With My Heart (ABS-CBN) 14.7%; Movie Max 5: Blood: The Last Vampire (TV5) 6.6%
Afternoon:
Eat Bulaga! (GMA-7) 18.4%; It's Showtime (ABS-CBN) 10%; Movie Max 5: The Frighteners (TV5) 8.2%
The Half Sisters (GMA-7) 12.9%; Moon of Desire (ABS-CBN) 6.7%
Dading (GMA-7) 12.4%; Pinoy Big Brother All In Uber (ABS-CBN) 6.7%
Reporter's Notebook (GMA-7) 12.3%; Tapatan Ni Tunying (ABS-CBN) 8.8%; Star Confessions (TV5) 5.4%
Jewel in the Palace (GMA-7) 18.6%; The Heirs (ABS-CBN) 14%; Star Confessions (TV5) 4%; T3 Reload (TV5) 4.6%
Evening:
My Love from the Star (GMA-7) 27.4%; Mirabella (ABS-CBN) 13.5%; Aksyon (TV5) 6.5%
24 Oras (GMA-7) 27.6%; TV Patrol (ABS-CBN) 19.8%; Beki Boxer (TV5) 5.4%; Juan Direction (TV5) 5.6%
Niño (GMA-7) 24.6%; Dyesebel (ABS-CBN) 21.3%; PBA 2014: Governor's Cup Semis: Alaska vs Rain or Shine (TV5) 12.9%
ADVERTISEMENT - CONTINUE READING BELOW
Kambal Sirena (GMA-7) 21.2%; Ikaw Lamang (ABS-CBN) 22.5%
Ang Dalawang Mrs. Real (GMA-7) 18.2%; Sana Bukas Pa Ang Kahapon (ABS-CBN) 19.4%
The Master's Sun (GMA-7) 16.4%; Aquino & Abunda Tonight (ABS-CBN) 12.7%; Pinoy Big Brother All In (ABS-CBN) 11.2%; Kuwentong Gilas (TV5) 3.9%
Saksi (GMA-7) 9.7%; Bandila (ABS-CBN) 5.5%; Bigtime (TV5) 1.3%
Mankind (GMA-7) 6.3%; Banana Nite (ABS-CBN) 3.6%; Pilipinas News (TV5) 1%
The Medyo Late Night Show with Jojo A. (GMA-7) 3.2%; O Shopping (ABS-CBN) 1%; Reaksyon (TV5) 1.2%; T3 Reload Replay (TV5) 1.2%; Face the People (TV5) 1.2%; Shop Japan (TV5) .8%
---
TOP TEN PROGRAMS:
June 23, 2014 (Monday)
DAYTIME:
Eat Bulaga! (GMA-7) - 17.2%
Jewel in the Palace (GMA-7) - 13.9%
Slam Dunk (GMA-7) - 12.7%
Dading (GMA-7) - 12.5%
The Half Sisters (GMA-7) - 12%
Be Careful With My Heart (ABS-CBN) - 11.9%
The Heirs (ABS-CBN) - 11.7%
Alisto! (GMA-7) - 11.5%
Fairy Tail (GMA-7) - 11.2%
The Singing Bee (ABS-CBN) - 10.9%
PRIMETIME:
24 Oras (GMA-7) - 23.9%
Niño (GMA-7) - 23.6%
3. Ikaw Lamang (ABS-CBN) - 22.3%
My Love from the Star (GMA-7) - 21.7%
Dyesebel (ABS-CBN) - 21.2%
Kambal Sirena (GMA-7) / Sana Bukas Pa Ang Kahapon (ABS-CBN) - 19.7%
TV Patrol (ABS-CBN) - 19.4%
Ang Dalawang Mrs. Real (GMA-7) - 18.1%
The Master's Sun (GMA-7) - 17.5%
Aquino & Abunda Tonight (ABS-CBN) - 16.6%
June 24, 2014 (Tuesday)
DAYTIME:
Eat Bulaga! (GMA-7) - 18.5%
Jewel in the Palace (GMA-7) - 15.6%
Be Careful With My Heart (ABS-CBN) - 12.5%
Slam Dunk (GMA-7) - 12.1%
The Half Sisters (GMA-7) / Dading (GMA-7) - 11.8%
Tunay na Buhay (GMA-7) - 11.3%
The Ryzza Mae Show (GMA-7) - 11.1%
The Heirs (ABS-CBN) - 10.5%
Fairy Tail (GMA-7) - 10.4%
Dragon Ball Z Kai (GMA-7) - 10.3%
PRIMETIME:
Niño (GMA-7) - 23.9%
Ikaw Lamang (ABS-CBN) - 23.1%
My Love from the Star (GMA-7) - 22.9%
24 Oras (GMA-7) - 22%
Kambal Sirena (GMA-7) - 21.4%
Dyesebel (ABS-CBN) - 20.5%
Ang Dalawang Mrs. Real (GMA-7) - 19.2%
Sana Bukas Pa Ang Kahapon (ABS-CBN) - 18.9%
TV Patrol (ABS-CBN) - 17.1%
The Master's Sun (GMA-7) - 16.1%
June 25, 2014 (Wednesday)
DAYTIME:
Eat Bulaga! (GMA-7) - 18.6%
Jewel in the Palace (GMA-7) - 14.7%
Be Careful With My Heart (ABS-CBN) - 13.3%
The Half Sisters (GMA-7) - 12.7%
Power House (GMA-7) - 12.6%
Dading (GMA-7) - 12.1%
The Ryzza Mae Show (GMA-7) - 12%
Slam Dunk (GMA-7) / It's Showtime (ABS-CBN) - 11.4%
The Heirs (ABS-CBN) - 11.1%
The Singing Bee (ABS-CBN) - 11%
PRIMETIME:
My Love from the Star (GMA-7) - 22.6%
Niño (GMA-7) - 22.5%
24 Oras (GMA-7) - 22.4%
Ikaw Lamang (ABS-CBN) - 22.7%
Dyesebel (ABS-CBN) - 21%
Kambal Sirena (GMA-7) - 20.2%
Sana Bukas Pa Ang Kahapon (ABS-CBN) - 19.7%
TV Patrol (ABS-CBN) - 18.1%
Ang Dalawang Mrs. Real (GMA-7) - 17.6%
The Master's Sun (GMA-7) - 17%
June 26, 2014 (Thursday)
DAYTIME:
Jewel in the Palace (GMA-7) - 18.6%
Eat Bulaga! (GMA-7) - 18.4%
Be Careful With My Heart (ABS-CBN) - 14.7%
The Heirs (ABS-CBN) - 14%
The Half Sisters (GMA-7) - 12.9%
Dading (GMA-7) - 12.4%
Reporter's Notebook (GMA-7) - 12.3%
The Singing Bee (ABS-CBN) - 11.6%
Slam Dunk (GMA-7) / Dragon Ball Z Kai (GMA-7) - 11.2%
The Ryzza Mae Show (GMA-7) - 10.3%
PRIMETIME:
24 Oras (GMA-7) - 27.6%
My Love from the Star (GMA-7) - 27.4%
Niño (GMA-7) - 24.6%
Ikaw Lamang (ABS-CBN) - 22.5%
Dyesebel (ABS-CBN) - 21.3%
Kambal Sirena (GMA-7) - 21.2%
TV Patrol (ABS-CBN) - 19.8%
Sana Bukas Pa Ang Kahapon (ABS-CBN) - 19.4%
Ang Dalawang Mrs. Real (GMA-7) - 18.2%
The Master's Sun (GMA-7) - 16.4%
Source: AGB Nielsen Philippines