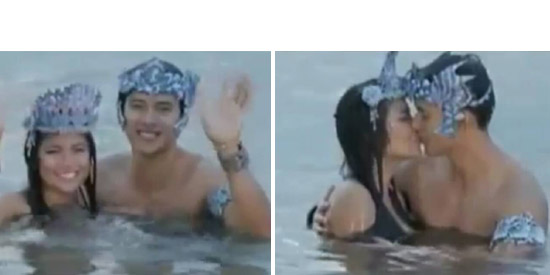 ---
GMA-7 still dominates weekends. This according to the latest ratings data from AGB Nielsen Philippines from Mega Manila households for June 27 to 29, 2014.
Five of the Kapuso station's shows made it to the top in the six top 10 ratings charts for the period.
On Friday, the top-rating shows were the noontime show Eat Bulaga! for daytime, and 24 Oras for primetime.
Eat Bulaga! was also the top-rater for Saturday daytime. The Magpakailanman episode starring Sunshine Dizon and Mark Anthony Fernandez placed first for primetime on the same day.
On Sunday, the recap episodes of the hit Korean series My Love from the Star took the lead on daytime. ABS-CBN's The Voice Kids was victorious on primetime.
GMA-7's fantasy teleserye Kambal Sirena ended on June 27 (Friday). The mermaid-themed series, which starred Louise delos Reyes and Aljur Abrenica, ended with high ratings, even beating perennial ratings winner Ikaw Lamang on ABS-CBN for the first time.
ADVERTISEMENT - CONTINUE READING BELOW
Kambal Sirena was not originally aired against Ikaw Lamang. It previously aired against Dyesebel but its timeslot was moved when Carmela ended on May 23.
Kambal Sirena aired 78 episodes from March 10 to June 27, 2014. It debuted with 23.6% against Honesto's 27.3%. Kambal Sirena wasn't able to beat Honesto's last two weeks.
Kambal Sirena started getting better ratings when ABS-CBN aired Dyesebel as its counterpart show. Kambal Sirena was even able to get better ratings on several days on Dyesebel's first week.
Kambal Sirena (GMA-7)

According to data from AGB Nielsen Philippines from Mega Manila households

Rating of pilot episode (March 10)

23.6%

Rating of finale episode (June 27)

23.7%

Total number of episodes

78

Show average

20.78%

Highest rating

25.1% (March 13)

Lowest rating

16.9% (May 13)
Here is the comparative rating performance of GMA-7, ABS-CBN and TV5 programs from June 27-29, derived from AGB Nielsen Philippines from Mega Manila households:
June 27, 2014 (Friday)
Morning:
Alisto! Replay (GMA-7) .8%; Red Alert Replay (ABS-CBN) .5%
Unang Hirit! (GMA-7) 4.7%; Umagang Kay Ganda (ABS-CBN) 3.8%; Reaksyon Replay (TV5) .1%; Good Morning Club (TV5) 1.4%; Gargoyles (TV5) 1.4%
Jackie Chan Adventures (GMA-7) 5%; One Piece (GMA-7) 7%; Detective Conan (GMA-7) 8.5%; Inuyasha (GMA-7) 9.2%; Kris TV (ABS-CBN) 5.5%; Fish Hooks (TV5) 2.3%; Kick Buttowski (TV5) 3.1%; Phineas and Ferb (TV5) 3%
ADVERTISEMENT - CONTINUE READING BELOW
Fairy Tail (GMA-7) 10.3%; Mr. Bean (ABS-CBN) 5.2%; Oggy and the Cockroaches (TV5) 3.1%
Slam Dunk (GMA-7) 11.4%; Dragon Ball Z Kai (GMA-7) 10.6%; Return of the Wife (GMA-7) 6%; Kapamilya Kiddie Blockbusters: Bandidas (ABS-CBN) 7.5%; Ben 10 Ultimate Alien (TV5) 2.7%; Movie Max 5: Last Action (TV5) 4.9%
Basta Everyday Happy (GMA-7) 6.7%; The Singing Bee (ABS-CBN) 10.4%
The Ryzza Mae Show (GMA-7) 9.3%; Be Careful With My Heart (ABS-CBN) 13.8%; Movie Max 5: Vampires: The Turning (TV5) 7%
Afternoon:
Eat Bulaga! (GMA-7) 17.9%; It's Showtime (ABS-CBN) 10.7%; Movie Max 5: Land of the Dead (TV5) 6.7%
The Half Sisters (GMA-7) 13.7%; Moon of Desire (ABS-CBN) 7.3%
Dading (GMA-7) 13.1%; Pinoy Big Brother All In Uber (ABS-CBN) 5.7%; Star Confessions (TV5) 4%
Love Hotline (GMA-7) 11%; Red Alert (ABS-CBN) 6.9%; Star Confessions (TV5) 3.7%
Jewel in the Palace (GMA-7) 15%; The Heirs (ABS-CBN) 11.5%; T3 Reload (TV5) 3.2%
Evening:
My Love from the Star (GMA-7) 24.3%; Mirabella (ABS-CBN) 10.7%; Aksyon (TV5) 3.9%
24 Oras (GMA-7) 25.2%; TV Patrol (ABS-CBN) 16.2%; Beki Boxer (TV5) 5.4%; Juan Direction (TV5) 6.5%
Niño (GMA-7) 25%; Dyesebel (ABS-CBN) 19.2%; PBA 2014 Governor's Cup: San Mig Super Coffee vs Talk n Text (TV5) 16.6%
ADVERTISEMENT - CONTINUE READING BELOW
Kambal Sirena (GMA-7) 23.7%; Ikaw Lamang (ABS-CBN) 20.7%
Ang Dalawang Mrs. Real (GMA-7) 17.7%; Sana Bukas Pa Ang Kahapon (ABS-CBN) 18.5%
Bubble Gang (GMA-7) 16.7%; Aquino & Abunda Tonight (ABS-CBN) 12.1%; Pinoy Big Brother All In (ABS-CBN) 12.4%; Astig: Sa Sports (TV5) 4.9%; Pilipinas News (TV5) 2.2%
Saksi (GMA-7) 9.3%; Bandila (ABS-CBN) 5.8%; Reaksyon (TV5) 1.1%; T3 Reload Replay (TV5) .9%
The Medyo Late Night Show with Jojo A. (GMA-7) 4.3%; Banana Nite (ABS-CBN) 4.4%; O Shopping (ABS-CBN) .9%; Face the People (TV5) 1.5%; Shop Japan (TV5) .7%
---
June 28, 2014 (Saturday)
Morning:
PJM Forum (GMA-7) .5%; Adyenda (GMA-7) 1.2%; Kapwa Ko Mahal Ko (GMA-7) 1.8%; Sa Kabukiran (ABS-CBN) .3%; Family Matters (TV5) .2%
Pinoy MD (GMA-7) 3.2%; Salamat Dok (ABS-CBN) 1.7%; Yin Yang Yo! (TV5) 1.2%
Scooby-Doo! Mystery Inc. (GMA-7) 4.6%; Swak na Swak (ABS-CBN) 3.1%; Adventure Time (TV5) 2.8%; Dexter's Laboratory (TV5) 3.6%
Super Book (GMA-7) 8.7%; Honey Watch Out! (ABS-CBN) 1.8%; The Amazing World of Gumball (TV5) 3.2%
Angry Birds Toons (GMA-7) 10.6%; Sineskwela (ABS-CBN) 2.6%; Regular Show (TV5) 3.7%
Hayate Combat Butler (GMA-7) 7.7%; Toriko (GMA-7) 7.6%; Tuff Puppy (ABS-CBN) 3.8%; Regular Show (TV5) 4.8%; The Powerpuff Girls (TV5) 4.5%
ADVERTISEMENT - CONTINUE READING BELOW
Tropang Potchi (GMA-7) 6.1%; Spongebob Squarepants (ABS-CBN) 5.6%; Ben 10 (TV5) 5.2%; Movie Max 5: Shrek Forever After (TV5) 8.9%
Sarap Diva (GMA-7) 6.6%; Promil I Shine! Camp 3 (ABS-CBN) 3.7%
Maynila 15 (GMA-7) 7.4%; Del Monte Kitchenomics (GMA-7) 8.7%; Kapamilya Blockbusters: The Sorcerer and the White Snake (ABS-CBN) 9.4%; NCAA 90 Opening Ceremony (TV5) 3.6%;
Afternoon:
Eat Bulaga! (GMA-7) 20.4%; It's Showtime (ABS-CBN) 13%; Movie Max 5: Wanted (TV5) 8.3%; NCAA 90 Game 1: JRU Heavy Bombers vs SBC Red Lions (TV5) 2.1%
GMA Tales of Horror: Juhou 2405 (GMA-7) 11.4%; Ipaglaban Mo (ABS-CBN) 9.1%; NCAA 90 Game 2: CSJL Knights vs SSC-R Stags (TV5) 2.3%
Startalk (GMA-7) 8.1%; Failon Ngayon (ABS-CBN) 7.2%; Aksyon Weekend (TV5) 6.3%
Wish Ko Lang! (GMA-7) 8.5%; SOCO (ABS-CBN) 8.4%; PBA 2014 Governor's Cup Semifinals: Alaska vs Rain or Shine (TV5) 8.9%
24 Oras Weekend (GMA-7) 9.3%; TV Patrol Weekend (ABS-CBN) 7.6%
Evening:
Pepito Manaloto: Ang Tunay na Kuwento (GMA-7) 14.8%; Home Sweetie Home (ABS-CBN) 9.3%
Marian (GMA-7) 19%; The Voice Kids (ABS-CBN) 23.7%; Tropa Mo Ko Nice Di Ba?! (TV5) 5.3%
Magpakailanman (GMA-7) 25.6%; MMK: Ang Tahanan Mo (ABS-CBN) 20.5%; One of the Boys (TV5) 4.7%
Celebrity Bluff (GMA-7) 21.6%; Pinoy Big Brother All In (ABS-CBN) 16.5%; Celebrity Dance Battle (TV5) 3.9%
ADVERTISEMENT - CONTINUE READING BELOW
I-Witness (GMA-7) 15%; Banana Split Extra Scoop (ABS-CBN) 10.8%; Yaman ng Bayan (TV5) 1.5%; Numero (TV5) 1.4%
Walang Tulugan (GMA-7) 3.5%; The Bottom Line (ABS-CBN) 3.7%; Sports Unlimited (ABS-CBN) 1.7%; O Shopping (ABS-CBN) .9%; Bigtime (TV5) 1.4%; Shop Japan (TV5) .5%
---
June 29, 2014 (Sunday)
Daytime:
In Touch with Dr. Charles Stanley (GMA-7) .3%; Jesus The Healer (GMA-7) .6%; Balitang 60 (TV5) .8%
Kapuso Sine Klasika: Parrot Unit (GMA-7) 2.2%; The Healing Eucharist (ABS-CBN) 4%; Misa Nazareno (TV5) 1.5%
The Batman (GMA-7) 5%; Swak na Swak (ABS-CBN) 3.2%; Power to Unite with Elvira (TV5) .7%
Super Book (GMA-7) 6.7%; Hayate the Combat Butler (GMA-7) 7.2%; Salamat Dok (ABS-CBN) 3.4%; Imagination Movers (TV5) 1.7%; Combo Ninos (TV5) 3.4%
One Piece: The Last Stage (GMA-7) 7.9%; Voltron Force (ABS-CBN) 2.2%; Stitch! (TV5) 4.6%
Aha! (GMA-7) 7.3%; One Clear Goal: The United Way (ABS-CBN) 1.8%; Gravity Falls (TV5) 5.9%
Born To Be Wild (GMA-7) 9.2%; Matanglawin (ABS-CBN) 5.2%; Dave the Barbarian (TV5) 5.6%
iBilib (GMA-7) 10.1%; Kap's Amazing Stories (GMA-7) 10.7%; The Heirs Royal Rewind (ABS-CBN) 9.4%; The Replacements (TV5) 4.9%; The Emperor's New School (TV5) 4.4%; Movie Max 5: Surf's Up (TV5) 5.2%
Afternoon:
ADVERTISEMENT - CONTINUE READING BELOW
My Love from the Star: The Kilig Throwback (GMA-7) 18.5%; Del Monte Kitchenomics (GMA-7) 16.3%; Sunday All Stars (GMA-7) 10.2%; ASAP 19 (ABS-CBN) 8.8%; Movie Max 5: Bad Boys II (TV5) 6.7%
Asian Horror Stories: Nang Nak (GMA-7) 9.8%; Luv U (ABS-CBN) 7%; The Buzz 15 (ABS-CBN) 9.1%; Movie Max 5: Universal Soldier (TV5) 6.8%; Jasmine (TV5) 2%
24 Oras Weekend (GMA-7) 10.9%; TV Patrol Weekend (ABS-CBN) 10.1%; Movie Max 5: Spider-Man 3 (TV5) 8.4%
Evening:
Vampire Ang Daddy Ko (GMA-7) 13.4%; Goin' Bulilit (ABS-CBN) 9.4%
Ismol Family (GMA-7) 16.9%; Wansapanataym (ABS-CBN) 17.6%; Who Wants to be a Millionaire (TV5) 5.2%
GMA Blockbusters: Garfield (GMA-7) 19.5%; The Voice Kids (ABS-CBN) 26.9%
Kapuso Mo, Jessica Soho (GMA-7) 22.7%; Rated K: Handa Na Ba Kayo? (ABS-CBN) 21%; Pinoy Big Brother All In (ABS-CBN) 17.1%; Wow Mali Lakas ng Tama (TV5) 5.5%; Jasmine Replay (TV5) 1.3%
Imbestigador (GMA-7) 13.2%; Gandang Gabi Vice (ABS-CBN) 17.2%; Juan Direction (TV5) .7%
Sunday Night Box Office: The Transporter (GMA-7) 9.1%; Sunday's Best: Sarah Geronimo 24 (ABS-CBN) 6.3%; Pilipinas News Weekend (TV5) 1%; Demolition Job (TV5) .4%
Diyos at Bayan (GMA-7) 1.7%; O Shopping (ABS-CBN) 1.7%; Shop Japan (TV5) .1%
---
ADVERTISEMENT - CONTINUE READING BELOW
TOP TEN PROGRAMS:
June 27, 2014 (Friday)
DAYTIME:
Eat Bulaga! (GMA-7) - 17.9%
Jewel in the Palace (GMA-7) - 15%
Be Careful With My Heart (ABS-CBN) - 13.8%
The Half Sisters (GMA-7) - 13.7%
Dading (GMA-7) - 13.1%
The Heirs (ABS-CBN) - 11.5%
Slam Dunk (GMA-7) - 11.4%
Love Hotline (GMA-7) - 11%
It's Showtime (ABS-CBN) - 10.7%
Dragon Ball Z Kai (GMA-7) - 10.6%
PRIMETIME:
24 Oras (GMA-7) - 25.2%
My Love from the Star (GMA-7) - 24.3%
Kambal Sirena (GMA-7) - 23.7%
Ikaw Lamang (ABS-CBN) - 20.7%
Dyesebel (ABS-CBN) - 19.2%
Sana Bukas Pa Ang Kahapon (ABS-CBN) - 18.5%
Ang Dalawang Mrs. Real (GMA-7) - 17.7%
Bubble Gang (GMA-7) - 16.7%
PBA 2014 Governor's Cup: San Mig Super Coffee vs Talk n Text (TV5) - 16.6%
TV Patrol (ABS-CBN) - 16.2%
June 28, 2014 (Saturday)
DAYTIME:
Eat Bulaga! (GMA-7) - 20.4%
It's Showtime (ABS-CBN) - 13%
GMA Tales of Horror: Juhou 2405 (GMA-7) - 11.4%
Angry Birds Toons (GMA-7) - 10.6%
Kapamilya Blockbusters: The Sorcerer and the White Snake (ABS-CBN) - 9.4%
24 Oras Weekend (GMA-7) - 9.3%
Ipaglaban Mo (ABS-CBN) - 9.1%
Del Monte Kitchenomics (GMA-7) / Super Book (GMA-7) - 8.7%
Wish Ko Lang! (GMA-7) - 8.5%
SOCO (ABS-CBN) - 8.4%
PRIMETIME:
Magpakailanman (GMA-7) - 25.6%
The Voice Kids (GMA-7) - 23.7%
Celebrity Bluff (GMA-7) - 21.6%
MMK: Ang Tahanan Mo (ABS-CBN) - 20.5%
Marian (GMA-7) - 19%
Pinoy Big Brother All In (ABS-CBN) - 16.5%
i-Witness (GMA-7) - 15%
Pepito Manaloto: Ang Tunay na Kuwento (GMA-7) - 14.8%
Banana Split Extra Scoop (ABS-CBN) - 10.8%
Home Sweetie Home (ABS-CBN) - 9.3%
June 29, 2014 (Sunday)
DAYTIME:
My Love from the Star: The Kilig Throwback (GMA-7) - 18.5%
Del Monte Kitchenomics (GMA-7) - 16.3%
24 Oras Weekend (GMA-7) - 10.9%
Kap's Amazing Stories (GMA-7) - 10.7%
Sunday All Stars (GMA-7) - 10.2%
iBilib (GMA-7) / TV Patrol Weekend (ABS-CBN) - 10.1%
Asian Horror Stories (GMA-7) - 9.8%
The Heirs Royal Rewind (ABS-CBN) - 9.4%
Born to be Wild (GMA-7) - 9.2%
The Buzz (ABS-CBN) - 9.1%
PRIMETIME:
The Voice Kids (ABS-CBN) - 26.9%
Kapuso Mo, Jessica Soho (GMA-7) - 22.7%
Rated K: Handa Na Ba Kayo? (ABS-CBN ) - 21%
GMA Blockbusters: Garfield (GMA-7) - 19.5%
Gandang Gabi Vice (ABS-CBN) - 17.2%
Pinoy Big Brother All In (ABS-CBN) - 17.1%
Ismol Family (GMA-7) - 16.9%
Wansapanataym (ABS-CBN) - 14.4%
Vampire Ang Daddy Ko (GMA-7) - 13.4%
Imbestigador (GMA-7) - 13.2%
Source: AGB Nielsen Philippines