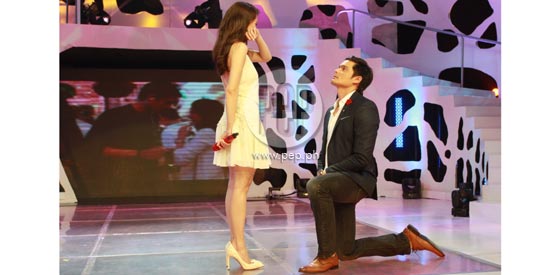 ---
GMA-7 is still the over-all winner on weekends. This is according to the latest ratings data from AGB Nielsen Philippines from Mega Manila households for August 8 to 10, 2014.
The much-talked about wedding proposal of Dingdong Dantes to Marian Rivera was aired during the August 9 episode of Marian. This allowed the Kapuso network's musical dance show to register 27.1%, making it the most-watched primetime program on that Saturday.
The news magazine show Kapuso Mo, Jessica Soho topped the ratings chart on Sunday, August 10. The episode featured old bakeries in the Philippines, DongYan's engagement and the lovelife of Mommy Dionisia, mother of boxing champ Manny Pacquiao.
It is interesting to note that the pilot episode of Quiet Please! Bawal Ang Maingay landed on the No. 10 slot last August 10. The TV5 game show hosted by Richard Gomez was able to register 5.9% that day.
Here is the comparative rating performance of GMA-7, ABS-CBN and TV5 programs from August 8-10, derived by AGB Nielsen Philippines from Mega Manila households:
ADVERTISEMENT - CONTINUE READING BELOW
August 8, 2014 (Friday)
Morning:
Alisto! Replay (GMA-7) 1.3%; Red Alert Replay (ABS-CBN) .5%
Unang Hirit! (GMA-7) 4.7%; Umagang Kay Ganda (ABS-CBN) 3.6%; Aksyon sa Umaga (TV5) .7%; Mickey Mouse Clubhouse (TV5) 2.1%
One Piece (GMA-7) 6.6%; Jackie Chan Adventures (GMA-7) 6.8%; Detective Conan (GMA-7) 8.5%; Inuyasha (GMA-7) 9.4%; Kris TV (ABS-CBN) 7.6%; Handy Manny (TV5) 2.7%; Lloyd in Space (TV5) 2.4%; The Replacements (TV5) 2.5%
Fairy Tail (GMA-7) 9.8%; Spongebob Squarepants (ABS-CBN) 6.6%; Johnny Bravo (TV5) 2.6%
Slam Dunk (GMA-7) 10.2%; Kuroko's Basketball (ABS-CBN) 6.5%; Oggy and the Cockroaches (TV5) 3%; Ben 10 Ultimate Alien (TV5) 2.9%
Dragon Ball Z Kai (GMA-7) 10.4%; Naruto Shippuuden (ABS-CBN) 6.4%
Return of the Wife (GMA-7) 9.7%; Lovers in Paris (ABS-CBN) 5.9%; Face the People (TV5) 2.7%
Basta Everyday Happy (GMA-7) 9.4%; The Singing Bee (ABS-CBN) 11.4%; Let's Ask Pilipinas (TV5) 1.7%
The Ryzza Mae Show (GMA-7) 13.1%; Be Careful With My Heart (ABS-CBN) 13.8%; Aksyon sa Tanghali (TV5) 3.1%
Afternoon:
Eat Bulaga! (GMA-7) 19.1%; The Half Sisters (GMA-7) 18%; It's Showtime (ABS-CBN) 9.9%; T3 Enforced (TV5) 3.1%; Movie Max 5: Seeds of Destruction (TV5) 3.8%
Dading (GMA-7) 14.6%; Moon of Desire (ABS-CBN) 6.6%; Movie Max 5: The Philadelphia Experiment (TV5) 4.4%
ADVERTISEMENT - CONTINUE READING BELOW
Love Hotline (GMA-7) 11.7%; Pinoy Big Brother All In Uber (ABS-CBN) 5.7%; Red Alert (ABS-CBN) 5.2%; NCAA Season 90: AU Chiefs vs CSB Blazers (TV5) 1.2%
Jewel in the Palace (GMA-7) 15.3%; My Girl (ABS-CBN) 7.1%
Evening:
My BFF (GMA-7) 10.3%; Pure Love (ABS-CBN) 13.3%; Aksyon (TV5) 2.8%
24 Oras (GMA-7) 20.7%; TV Patrol (ABS-CBN) 18.3%; Bride of the Century (TV5) 3.1%; Cool Guys Hot Ramen (TV5) 3.3%
Niño (GMA-7) 25.3%; Hawak-Kamay (ABS-CBN) 19.5%; 2014 FIBA U-17 World Championship: Philippines vs Angola (TV5) 5.1%
My Destiny (GMA-7) 24.6%; Ikaw Lamang (ABS-CBN) 21.4%
Ang Dalawang Mrs. Real (GMA-7) 23.7%; Sana Bukas Pa Ang Kahapon (ABS-CBN) 19.2%; Aksyon Tonite (TV5) 2.3%
Bubble Gang (GMA-7) 17.4%; Aquino & Abunda Tonight (ABS-CBN) 13.7%; Pinoy Big Brother All In (ABS-CBN) 12.3%; T3 Enforced Replay (TV5) 1.5%
Saksi (GMA-7) 8.6%; Bandila (ABS-CBN) 5.1%; Face the People Replay (TV5) 1%
The Tim Yap Show (GMA-7) 3.6%; Banana Nite (ABS-CBN) 3.4%; O Shopping (ABS-CBN) 1.1%; Shop Japan (TV5) .3%
---
August 9, 2014 (Saturday)
Morning:
PJM Forum (GMA-7) .2%; Adyenda (GMA-7) .4%; Kapwa Ko Mahal Ko (GMA-7) .9%; Sa Kabukiran (ABS-CBN) .5%; Family Matters (TV5) .2%
Pinoy MD (GMA-7) 2.8%; Salamat Dok (ABS-CBN) 1.8%; Stitch! (TV5) 1.4%
ADVERTISEMENT - CONTINUE READING BELOW
Puppy in My Pocket (GMA-7) 4.2%; Swak na Swak (ABS-CBN) 2.3%; Gravity Falls (TV5) 3.1%
Hayate the Combat Butler (GMA-7) 5.4%; Honey Watch Out! (ABS-CBN) 1.4%; The Emperor's New School (TV5) 3.9%
Larva (GMA-7) 6.6%; Math Tinik (ABS-CBN) 2%; Dave the Barbarian (TV5) 3.6%
Angry Birds Toons (GMA-7) 7.1%; Tuff Puppy (ABS-CBN) 2.3%; Regular Show (TV5) 3.5%
Monsuno (GMA-7) 6.1%; Spongebob Squarepants (ABS-CBN) 5.3%; Regular Show (TV5) 4.1%; The Powerpuff Girls (TV5) 3.7%
Tropang Potchi (GMA-7) 4.9%; Super Book (ABS-CBN) 8%; Ben 10 (TV5) 4.3%
Sarap Diva (GMA-7) 5.4%; Promil I Shine! Camp 3 (ABS-CBN) 4.6%; Ben 10 Omniverse (TV5) 6.1%
Maynila 15 (GMA-7) 9.4%; Kapamilya Blockbusters: G-Force (ABS-CBN) 7.9%; Movie Max 5: Can of Worms (TV5) 5.9%
Afternoon:
Eat Bulaga! (GMA-7) 19.2%; It's Showtime (ABS-CBN) 10.8%; Movie Max 5: Vampires: Frost Giant (TV5) 5.5%; NCAA Season 90: CSJL Knights vs UPHSD Altas (TV5) 2.1%
GMA Tales of Horror: The Legend of Paranormal Story (GMA-7) 12%; Startalk (GMA-7) 7.4%; Ipaglaban Mo (ABS-CBN) 8.5%
Wish Ko Lang! (GMA-7) 9.6%; Failon Ngayon (ABS-CBN) 6.9%; Kuwentong Gilas (TV5) 1.7%
Imbestigador (GMA-7) 13.1%; SOCO (ABS-CBN) 8.1%; Movie Max 5: Spider-man (TV5) 4.4%
24 Oras Weekend (GMA-7) 11.9%; TV Patrol Weekend (ABS-CBN) 8.4%
Evening:
ADVERTISEMENT - CONTINUE READING BELOW
Pepito Manaloto: Ang Tunay na Kuwento (GMA-7) 16.7%; Mga Kwento ni Marc Logan (ABS-CBN) 11.8%; Home Sweetie Home (ABS-CBN) 13.1%; Tropa Mo Ko Nice Di Ba?! (TV5) 5%
Marian (GMA-7) 27.1%; Wansapanataym (ABS-CBN) 14.4%
Magpakailanman (GMA-7) 26.5%; MMK: Ang Tahanan Mo (ABS-CBN) 20.2%; It Takes Gutz to be a Gutierrez (TV5) 4.2%; Kuwentong Gilas (TV5) 2.3%
Celebrity Bluff (GMA-7) 22.7%; Pinoy Big Brother All In (ABS-CBN) 15.4%; Kaya. (TV5) 1.5%; 2014 FIBA U-17 World Championship: Philippines vs Greece (TV5) 2.3%
I-Witness (GMA-7) 11.1%; Banana Split Extra Scoop (ABS-CBN) 9.4%
Walang Tulugan (GMA-7) 3.9%; The Bottom Line (ABS-CBN) 2.6%; Sports Unlimited (ABS-CBN) 1.3%; O Shopping (ABS-CBN) .7%; Astig (ABS-CBN) 1.4%; Shop Japan (TV5) .5%
---
August 10, 2014 (Sunday)
Daytime:
In Touch with Dr. Charles Stanley (GMA-7) .3%; Jesus The Healer (GMA-7) .6%
Family TV Mass (GMA-7) 1.2%; The Healing Eucharist (ABS-CBN) 3.1%; Misa Nazareno (TV5) 1.5%
Grimm's Fairy Tales (GMA-7) 4%; Swak na Swak (ABS-CBN) 2.9%; Power to Unite with Elvira (TV5) 1%
Hayate the Combat Butler (GMA-7) 5.9%; Tom & Jerry Kids Show (GMA-7) 6.7%; Salamat Dok (ABS-CBN) 3.2%; Stitch! (TV5) 2.5%; Gravity Falls (TV5) 2.5%
Bleach Hell Verse (GMA-7) 7.5%; Voltron Force (ABS-CBN) 2.4%; The Emperor's New School (TV5) 4.3%
ADVERTISEMENT - CONTINUE READING BELOW
Aha! (GMA-7) 7.9%; Max Steel (ABS-CBN) 3.8%; Super Book (ABS-CBN) 5.3%; Dave the Barbarian (TV5) 4.3%; The Powerpuff Girls (TV5) 4.2%
Born To Be Wild (GMA-7) 7.9%; iBilib (GMA-7) 8.3%; Matanglawin (ABS-CBN) 7.9%; Ben 10 (TV5) 4.3%; Ben 10 Omniverse (TV5) 4.6%
Superhero Sunday: Superman/Batman (GMA-7) 10.7%; The Heirs Royal Rewind (ABS-CBN) 9.4%; Movie Max 5: How to Train Your Dragon (TV5) 9.2%
Afternoon:
Mutya ng Pilipinas (GMA-7) 9.5%; ASAP 19 (ABS-CBN) 10.6%; Movie Max 5: Hellboy (TV5) 9.5%
Sunday All Stars (GMA-7) 8.6%; Luv U (ABS-CBN) 7.3%; Movie Max 5: Charlie's Angels: Full Throttle (TV5) 8.6%
Asian Horror Stories: Dark Forest (GMA-7) 7.7%; The Buzz (ABS-CBN) 8.3%; Movie Max 5: Leatherheads (TV5) 3.7%
24 Oras Weekend (GMA-7) 10%; TV Patrol Weekend (ABS-CBN) 8.3%
Evening:
Vampire Ang Daddy Ko (GMA-7) 13.5%; Goin' Bulilit (ABS-CBN) 11.3%
Ismol Family (GMA-7) 18.4%; Wansapanataym (ABS-CBN) 16.4%; Who Wants to be a Millionaire (TV5) 4.7%
Kapuso Mo, Jessica Soho (GMA-7) 27.4%; Rated K: Handa Na Ba Kayo? (ABS-CBN) 18.1%; Pinoy Big Brother All In (ABS-CBN) 16.7%; Quiet Please! Bawal Ang Maingay (TV5) 5.9%; Wow Mali Lakas ng Tama (TV5) 4.9%
Sunday Night Box Office: Hellboy II The Golden Army (GMA-7) 14.4%; Gandang Gabi Vice (ABS-CBN) 24.4%; Sunday's Best: Pangarap Kong World Cup (ABS-CBN) 2.7%; Numero (TV5) 1.6%; Demolition Job (TV5) 1.7%; History with Lourd (TV5) 1%; Astig: Sa Sports (TV5) .3%; Shop Japan (TV5) .6%
ADVERTISEMENT - CONTINUE READING BELOW
Diyos at Bayan (GMA-7) 1.5%; O Shopping (ABS-CBN) .5%
---
TOP TEN PROGRAMS:
August 8, 2014 (Friday)
DAYTIME:
Eat Bulaga! (GMA-7) - 19.1%
The Half Sisters (GMA-7) - 18%
Jewel in the Palace (GMA-7) - 15.3%
Dading (GMA-7) - 14.6%
Be Careful With My Heart (ABS-CBN) - 13.8%
The Ryzza Mae Show (GMA-7) - 13.1%
Love Hotline (GMA-7) - 11.7%
The Singing Bee (ABS-CBN) - 11.4%
Dragon Ball Z Kai (GMA-7) - 10.4%
Slam Dunk (GMA-7) - 10.2%
PRIMETIME:
Niño (GMA-7) - 25.3%
My Destiny (GMA-7) - 24.6%
Ang Dalawang Mrs. Real (GMA-7) - 23.7%
Ikaw Lamang (ABS-CBN) - 21.4%
24 Oras (GMA-7) - 20.7%
Hawak-Kamay (ABS-CBN) - 19.5%
Sana Bukas Pa Ang Kahapon (ABS-CBN) - 19.2%
TV Patrol (ABS-CBN) - 18.3%
Bubble Gang (GMA-7) - 17.4%
Aquino & Abunda Tonight (ABS-CBN) - 13.7%
August 9, 2014 (Saturday)
DAYTIME:
Eat Bulaga! (GMA-7) - 19.2%
Imbestigador (GMA-7) - 13.1%
GMA Tales of Horror (GMA-7) - 12%
24 Oras Weekend (GMA-7) - 11.9%
Mga Kwento ni Marc Logan (ABS-CBN) - 11.8%
It's Showtime (ABS-CBN) - 10.8%
Wish Ko Lang! (GMA-7) - 9.6%
Maynila (GMA-7) - 9.4%
Ipaglaban Mo (ABS-CBN) - 8.5%
TV Patrol Weekend (ABS-CBN) - 8.4%
PRIMETIME:
Marian (GMA-7) - 27.1%
Magpakailanman (GMA-7) - 26.5%
Celebrity Bluff (GMA-7) - 22.7%
MMK: Ang Tahanan Mo (ABS-CBN) - 20.2%
Pepito Manaloto: Ang Tunay na Kuwento (GMA-7) - 16.7%
Pinoy Big Brother All In (ABS-CBN) - 15.4%
Wansapanataym (ABS-CBN) - 14.4%
Home Sweetie Home (ABS-CBN) - 13.1%
i-Witness (GMA-7) - 11.1%
Banana Split Extra Scoop (ABS-CBN) - 9.4%
August 10, 2014 (Sunday)
DAYTIME:
Superhero Sunday (GMA-7) - 10.7%
ASAP (ABS-CBN) - 10.6%
24 Oras Weekend (GMA-7) - 10%
Mutya ng Pilipinas (GMA-7) / Movie Max 5: Hellboy (TV5) - 9.5%
The Heirs Royal Rewind (ABS-CBN) - 9.4%
Movie Max 5: How to Train Your Dragon (TV5) - 9.2%
Sunday All Stars (GMA-7) - 8.6%
iBilib (GMA-7) / TV Patrol Weekend (ABS-CBN) / The Buzz (ABS-CBN) - 8.3%
Aha! (GMA-7) / Born to be Wild (GMA-7) / Matanglawin (ABS-CBN) - 9.4%
Asian Horror Stories (GMA-7) - 7.7%
PRIMETIME:
Kapuso Mo, Jessica Soho (GMA-7) - 27.4%
Gandang Gabi Vice (ABS-CBN) - 24.4%
Ismol Family (GMA-7) - 18.4%
Rated K: Handa Na Ba Kayo? (ABS-CBN ) - 18.1%
Pinoy Big Brother All In (ABS-CBN) - 16.7%
Wansapanataym (ABS-CBN) - 16.4%
Sunday Night Box Office: Hellboy II The Golden Army (GMA-7) - 14.4%
Vampire Ang Daddy Ko (GMA-7) - 13.5%
Goin' Bulilit (ABS-CBN) - 11.3%
Quiet Please! Bawal Ang Maingay (TV5) - 5.9%
Source: AGB Nielsen Philippines