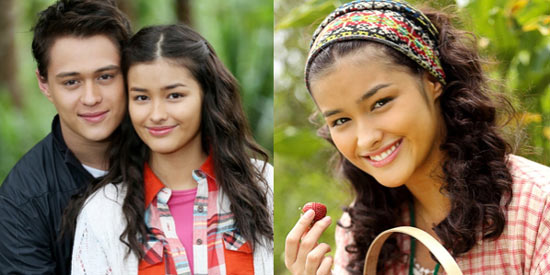 ---
ABS-CBN continues to perform better on primetime. This is according to the latest ratings data from AGB Nielsen Philippines from Mega Manila households from October 27 to 30, 2014.
The Kapamilya Network's new show Forevermore performed well in the ratings, beating GMA-7's Hiram na Alaala every airing time.
Forevermore stars Enrique Gil as a rich hotel heir who falls in love with a poor girl played by Liza Soberano.
Its debut episode on October 27 placed third on the top ten ratings chart with 19.6%, against Hiram's 16.8%. The show featuring the new Enrique-Liza tandem was able to climb up the No. 2 slot last October 30.
But the Kapuso station still has the most-watched shows on primetime: 24 Oras (October 27-29) and Strawberry Lane (October 30).
GMA-7 also wins daytime with the afternoon drama series The Half Sisters and the long-running noontime show Eat Bulaga!

During this period, ABS-CBN's Be Careful With My Heart continued to experience a decline in viewership as it approaches its finale slated for November 28.

The daytime teleserye used to Last October 27, the daytime teleserye of Jodi Sta. Maria and Richard Yap landed on the No. 5 slot and it slid further down to the No. 6 slot last October 29.

Here is the comparative rating performance of GMA-7, ABS-CBN and TV5 programs from October 27-30, 2014, derived from AGB Nielsen Philippines from Mega Manila households:
October 27, 2014 (Monday)
Morning:
Power House Replay (GMA-7) .9%; Matanglawin Replay (ABS-CBN) .8%
Unang Hirit! (GMA-7) 4.4%; Umagang Kay Ganda (ABS-CBN) 3.4%; Aksyon sa Umaga (TV5) 1.2%; Mickey Mouse Clubhouse (TV5) 2.6%
Doraemon (GMA-7) 6%; Ghost Fighter (GMA-7) 6.5%; Shaman King (GMA-7) 6.7%; Bleach (GMA-7) 7.6%; Kris TV (ABS-CBN) 4.8%; Handy Manny (TV5) 2.9%; Lloyd in Space (TV5) 3.9%; The Replacements (TV5) 4.3%
ADVERTISEMENT - CONTINUE READING BELOW
Hunter X Hunter (GMA-7) 9.9%; Spongebob Squarepants (ABS-CBN) 5.9%; Johnny Bravo (TV5) 3%
Dragon Ball Z Kai (GMA-7) 9.6%; Princess Sarah (ABS-CBN) 6.9%; Oggy and the Cockroaches (TV5) 3.8%
Return of the Wife (GMA-7) 7.8%; Marcelino Pan Y Vino (ABS-CBN) 7.6%; Ben 10 Ultimate Alien (TV5) 3.8%
Basta Everyday Happy (GMA-7) 6.5%; Komiks: Da Adventures of Pedro Penduko (ABS-CBN) 7.2%; Face the People (TV5) 3.5%
Don't Lose the Money (GMA-7) 7.2%; The Singing Bee (ABS-CBN) 11.1%; Let's Ask Pilipinas (TV5) 2.6%
The Ryzza Mae Show (GMA-7) 11.2%; Be Careful With My Heart (ABS-CBN) 12.3%; Aksyon sa Tanghali (TV5) 3.3%
Afternoon:
Eat Bulaga! (GMA-7) 17.8%; It's Showtime (ABS-CBN) 11.3%; T3 Enforced (TV5) 2.9%; Movie Max 5: Blood The Last Vampire (TV5) 3.5%
The Half Sisters (GMA-7) 19.1%; Yagit (GMA-7) 14.2%; Ang Lihim ni Annasandra (GMA-7) 11.9%; Kapamilya Blockbusters: Bromance (ABS-CBN) 10.4%; Marvel Avengers Assemble (TV5) 2.4%; X-Men (TV5) 2.1%
Alisto! (GMA-7) 10.9%; Bistado (ABS-CBN) 6.1%; Movie Max 5: Land of the Dead (TV5) 4%
May Queen (GMA-7) 11.4%; Full House (GMA-7) 12.6%; Bet On Your Baby (ABS-CBN) 6.9%
Evening:
Seasons of Love Presents: BF For Hire GF For Life (GMA-7) 15.6%; Pure Love (ABS-CBN) 13.7%
24 Oras (GMA-7) 20.1%; TV Patrol (ABS-CBN) 19.5%; Aksyon (TV5) 5.6%
Strawberry Lane (GMA-7) 19.9%; Hawak-Kamay (ABS-CBN) 18.4%; Movie Max 5: X-Men The Last Stand (TV5) 7.7%
Hiram na Alaala (GMA-7) 16.8%; Forevermore (ABS-CBN) 19.6%; The Amazing Race Philippines (TV5) 3.9%
Ilustrado (GMA-7) 15.3%; Bet ng Bayan (GMA-7) 13.3%; Two Wives (ABS-CBN) 15%; Wattpad Presents: The Savage Casanova (TV5) 2.8%
Empress Ki (GMA-7) 12.5%; Aquino & Abunda Tonight (ABS-CBN) 12.1%; Angel Eyes (ABS-CBN) 8.7%; Aksyon Tonite (TV5) 2.5%; Demolition Job (TV5) 2%
Saksi (GMA-7) 7.2%; Bandila (ABS-CBN) 4.2%; T3 Enforced Replay (TV5) 1.1%; Face the People Replay (TV5) .9%
Front Row (GMA-7) 4.2%; Mukha (ABS-CBN) 2.2%
The Tim Yap Show (GMA-7) 2.4%; The Medyo Late Night Show (GMA-7) 1.2%; O Shopping (ABS-CBN) .6%; Shop Japan (TV5) .5%
ADVERTISEMENT - CONTINUE READING BELOW
----
October 28, 2014 (Tuesday)
Morning:
I-Witness Replay (GMA-7) 1.1%; Red Alert Replay (ABS-CBN) .5%
Unang Hirit! (GMA-7) 4.2%; Umagang Kay Ganda (ABS-CBN) 2.6%; Aksyon sa Umaga (TV5) .8%; Mickey Mouse Clubhouse (TV5) 1.9%
Doraemon (GMA-7) 5.3%; Ghost Fighter (GMA-7) 5.8%; Shaman King (GMA-7) 6.4%; Bleach (GMA-7) 6.9%; Kris TV (ABS-CBN) 4%; Handy Manny (TV5) 3%; Lloyd in Space (TV5) 3.2%; The Replacements (TV5) 3.6%
Hunter X Hunter (GMA-7) 8.3%; Spongebob Squarepants (ABS-CBN) 5.4%; Johnny Bravo (TV5) 3%
Dragon Ball Z Kai (GMA-7) 9.7%; Princess Sarah (ABS-CBN) 6.2%; Oggy and the Cockroaches (TV5) 3.2%
Return of the Wife (GMA-7) 8.9%; Marcelino Pan Y Vino (ABS-CBN) 6.9%; Ben 10 Ultimate Alien (TV5) 3.3%
Basta Everyday Happy (GMA-7) 7.6%; Komiks: Da Adventures of Pedro Penduko (ABS-CBN) 7.2%; Face the People (TV5) 3.9%
Don't Lose the Money (GMA-7) 9.2%; The Singing Bee (ABS-CBN) 9.9%
The Ryzza Mae Show (GMA-7) 12.8%; Be Careful With My Heart (ABS-CBN) 11.8%; Let's Ask Pilipinas (TV5) 2%
Afternoon:
Eat Bulaga (GMA-7) 19.2%; It's Showtime (ABS-CBN) 9.6%; Aksyon sa Tanghali (TV5) 3%; T3 Enforced (TV5) 2.9%; Movie Max 5: The League of Gentleman's Apocalypse (TV5) 3.1%
The Half Sisters (GMA-7) 20.1%; Yagit (GMA-7) 13.6%; Ang Lihim ni Annasandra (GMA-7) 11%; Kapamilya Blockbusters: Flight Plan (ABS-CBN) 10.2%; Marvel Avengers Asemble (TV5) 2.1%; X-Men (TV5) 2.4%
Tunay na Buhay (GMA-7) 9.6%; Mutya ng Masa (ABS-CBN) 7.1%; PBA 2015 Philippine Cup Game 1: Blackwater Elite vs Meralco Bolts (TV5) 3.7%
May Queen (GMA-7) 11%; Full House (GMA-7) 13.9%; Bet On Your Baby (ABS-CBN) 8.2%
Evening:
Seasons of Love Presents: BF For Hire GF For Life (GMA-7) 15.8%; Pure Love (ABS-CBN) 14.7%
24 Oras (GMA-7) 25.5%; TV Patrol (ABS-CBN) 15.6%; Aksyon (TV5) 6%
Strawberry Lane (GMA-7) 21.7%; Hawak-Kamay (ABS-CBN) 18.5%; PBA 2015 Philippine Cup Game 1: Alaska Aces vs Talk N Text (TV5) 7.4%
Hiram na Alaala (GMA-7) 16.7%; Forevermore (ABS-CBN) 18.7%
Ilustrado (GMA-7) 13.2%; Two Wives (ABS-CBN) 16.4%; The Amazing Race Philippines (TV5) 4.5%
ADVERTISEMENT - CONTINUE READING BELOW
Bet ng Bayan (GMA-7) 12.4%; Aquino & Abunda Tonight (ABS-CBN) 12.7%; Wattpad Presents: The Savage Casanova (TV5) 2.5%
Empress Ki (GMA-7) 11.1%; Angel Eyes (ABS-CBN) 9%; Aksyon Tonite (TV5) 1.5%
Saksi (GMA-7) 6.4%; Bandila (ABS-CBN) 3.8%; Numero (TV5) 1%; T3 Enforced Replay (TV5) .8%
The Blue Planet (GMA-7) 4%; Banana Nite (ABS-CBN) 2.2%; Face the People Replay (TV5) .9%
The Tim Yap Show (GMA-7) 2.3%; The Medyo Late Night Show (GMA-7) 1.2%; O Shopping (ABS-CBN) .6%; Shop Japan (TV5) .3%
---
October 29, 2014 (Wednesday)
Morning:
Tunay na Buhay Replay (GMA-7) 1.4%; My Puhunan Replay (ABS-CBN) .6%
Unang Hirit! (GMA-7) 5%; Umagang Kay Ganda (ABS-CBN) 3.4%; Aksyon sa Umaga (TV5) 1.2%; Mickey Mouse Clubhouse (TV5) 2.9%
Doraemon (GMA-7) 7.6%; Ghost Fighter (GMA-7) 7.7%; Shaman King (GMA-7) 7.7%; Bleach (GMA-7) 8.1%; Kris TV (ABS-CBN) 4.2%; Handy Manny (TV5) 4.2%; Lloyd in Space (TV5) 4.8%; The Replacements (TV5) 4.8%
Hunter X Hunter (GMA-7) 10.4%; Spongebob Squarepants (ABS-CBN) 4%; Johnny Bravo (TV5) 3.8%
Dragon Ball Z Kai (GMA-7) 12%; Princess Sarah (ABS-CBN) 6%; Oggy and the Cockroaches (TV5) 4.1%
Return of the Wife (GMA-7) 8.8%; Marcelino Pan Y Vino (ABS-CBN) 7%; Ben 10 Ultimate Alien (TV5) 4.3%
Basta Everyday Happy (GMA-7) 7.8%; Komiks: Da Adventures of Pedro Penduko (ABS-CBN) 8.4%; Face the People (TV5) 4.7%
Don't Lose the Money (GMA-7) 9.1%; Del Monte Kitchenomics (GMA-7) 10.7%; The Singing Bee (ABS-CBN) 12.3%; Let's Ask Pilipinas (TV5) 2.8%
The Ryzza Mae Show (GMA-7) 13%; Be Careful With My Heart (ABS-CBN) 13.3%
Afternoon:
Eat Bulaga (GMA-7) 20.7%; It's Showtime (ABS-CBN) 10.5%; Aksyon sa Tanghali (TV5) 3%; T3 Enforced (TV5) 3%; Movie Max 5: Vampires: The Turning (TV5) 3.8%
The Half Sisters (GMA-7) 20.9%; Yagit (GMA-7) 15.3%; Ang Lihim ni Annasandra (GMA-7) 13.5%; Kapamilya Blockbusters: Labs Kita Okey Lang? (ABS-CBN) 7.5%; Marvel Avengers Asemble (TV5) 3.7%; X-Men (TV5) 3%
Power House (GMA-7) 12%; My Puhunan (ABS-CBN) 5.9%; PBA 2015 Philippine Cup Game 1: Kia vs Rain or Shine (TV5) 3.3%
ADVERTISEMENT - CONTINUE READING BELOW
May Queen (GMA-7) 13%; Full House (GMA-7) 15.2%; Bet On Your Baby (ABS-CBN) 8.9%
Evening:
Seasons of Love Presents: BF For Hire GF For Life (GMA-7) 16.1%; Pure Love (ABS-CBN) 16%
24 Oras (GMA-7) 22.1%; TV Patrol (ABS-CBN) 18.7%; Aksyon (TV5) 5.5%
Strawberry Lane (GMA-7) 21.1%; Hawak-Kamay (ABS-CBN) 17.7%; PBA 2015 Philippine Cup Game 1: Brgy Ginebra vs NLEX (TV5) 8.8%
Hiram na Alaala (GMA-7) 18.4%; Forevermore (ABS-CBN) 19.9%; The Amazing Race Philippines (TV5) 5.1%
Ilustrado (GMA-7) 14%; Two Wives (ABS-CBN) 17.5%; Wattpad Presents: The Savage Casanova (TV5) 3.7%
Bet ng Bayan (GMA-7) 13.9%; Aquino & Abunda Tonight (ABS-CBN) 12.9%; Aksyon Tonite (TV5) 2.8%
Empress Ki (GMA-7) 12.8%; Angel Eyes (ABS-CBN) 9.1%; History with Lourd (TV5) 2.2%
Saksi (GMA-7) 7.2%; Bandila (ABS-CBN) 5%; T3 Enforced Replay (TV5) 1.4%
Planet Earth (GMA-7) 4.8%; Banana Nite (ABS-CBN) 3.1%; Face the People Replay (TV5) 1.1%
The Tim Yap Show (GMA-7) 2.5%; The Medyo Late Night Show (GMA-7) 1.6%; O Shopping (ABS-CBN) 1.1%; Shop Japan (TV5) .4%
---
October 30, 2014 (Thursday)
Morning:
Born To Be Wild Replay (GMA-7) .8%; Tapatan Ni Tunying Replay (ABS-CBN) .6%
Unang Hirit! (GMA-7) 4%; Umagang Kay Ganda (ABS-CBN) 2.7%; Aksyon sa Umaga (TV5) .9%; Mickey Mouse Clubhouse (TV5) 2.4%
Doraemon (GMA-7) 6.5%; Ghost Fighter (GMA-7) 7%; Shaman King (GMA-7) 7.8%; Bleach (GMA-7) 8.1%; Kris TV (ABS-CBN) 4.8%; Handy Manny (TV5) 3.6%; Lloyd in Space (TV5) 4.8%; The Replacements (TV5) 4.9%
Hunter X Hunter (GMA-7) 10.2%; Spongebob Squarepants (ABS-CBN) 5.2%; Johnny Bravo (TV5) 3.5%
Dragon Ball Z Kai (GMA-7) 11.2%; Princess Sarah (ABS-CBN) 6.1%; Oggy and the Cockroaches (TV5) 3.6%
Return of the Wife (GMA-7) 8.3%; Marcelino Pan Y Vino (ABS-CBN) 7.5%; Ben 10 Ultimate Alien (TV5) 3%
Basta Everyday Happy (GMA-7) 7.3%; Komiks: Da Adventures of Pedro Penduko (ABS-CBN) 8.5%; Face The People (TV5) 3.4%
Don't Lose the Money (GMA-7) 8.9%; The Singing Bee (ABS-CBN) 12%; Let's Ask Pilipinas (TV5) 2.1%
The Ryzza Mae Show (GMA-7) 12.2%; Be Careful With My Heart (ABS-CBN) 12.6%; Aksyon sa Tanghali (TV5) 2.2%
ADVERTISEMENT - CONTINUE READING BELOW
Afternoon:
Eat Bulaga! (GMA-7) 18.6%; It's Showtime (ABS-CBN) 10.5%; T3 Enforced (TV5) 2.1%; Movie Max 5: The Return (TV5) 2.9%
The Half Sisters (GMA-7) 19.2%; Yagit (GMA-7) 14.9%; Ang Lihim ni Annasandra (GMA-7) 11.6%; Kapamilya Blockbusters: Signs (ABS-CBN) 8.8%; Marvel Avengers Assemble (TV5) 1.8%; X-Men (TV5) 2%
Reporter's Notebook (GMA-7) 10.4%; Tapatan Ni Tunying (ABS-CBN) 4.7%; Movie Max 5: Altered (TV5) 4.4%
May Queen (GMA-7) 10.4%; Full House (GMA-7) 12.6%; Bet On Your Baby (ABS-CBN) 7.2%
Evening:
Seasons of Love Presents: BF For Hire GF For Life (GMA-7) 14.7%; Pure Love (ABS-CBN) 14.1%; Aksyon (TV5) 4.8%
24 Oras (GMA-7) 20.8%; TV Patrol (ABS-CBN) 18.5%; Studio 5 Original Movies: Halik sa Dilim (TV5) 4.5%
Strawberry Lane (GMA-7) 21.8%; Hawak-Kamay (ABS-CBN) 18.3%
Hiram na Alaala (GMA-7) 18.2%; Forevermore (ABS-CBN) 20.9%; The Amazing Race Philippines (TV5) 3.9%
Ilustrado (GMA-7) 13.7%; Two Wives (ABS-CBN) 18.6%; Wattpad Presents: The Savage Casanova (TV5) 3.3%
Bet ng Bayan (GMA-7) 13.2%; Aquino & Abunda Tonight (ABS-CBN) 13.4%; Aksyon Tonite (TV5) 2.4%
Empress Ki (GMA-7) 12.8%; Angel Eyes (ABS-CBN) 8.6%; Unang Tikim (TV5) 1.6%
Saksi (GMA-7) 8.1%; Bandila (ABS-CBN) 3.7%; T3 Enforced Replay (TV5) 1.4%; Face the People Replay (TV5) 1.2%
Planet Earth (GMA-7) 5.4%; Banana Nite (ABS-CBN) 2.1%
The Tim Yap Show (GMA-7) 2.9%; The Medyo Late Night Show (GMA-7) 1.7%; O Shopping (ABS-CBN) .8%; Shop Japan (TV5) .6%
--
TOP TEN PROGRAMS:
October 27, 2014 (Monday)
DAYTIME:
The Half Sisters (GMA-7) – 19.1%
Eat Bulaga! (GMA-7) – 17.8%
Yagit (GMA-7) – 14.2%
Full House (GMA-7) – 12.6%
Be Careful With My Heart (ABS-CBN) – 12.3%
Ang Lihim ni Annasandra (GMA-7) – 11.6%
May Queen (GMA-7) - 11.4%
It's Showtime (ABS-CBN) – 11.3%
The Ryzza Mae Show (GMA-7) – 11.2%
The Singing Bee (ABS-CBN) – 11.1%
PRIMETIME:
1. 24 Oras (GMA-7) – 20.1%
2. Strawberry Lane (GMA-7) – 19.9%
3. Forevermore(ABS-CBN) – 19.6%
TV Patrol (ABS-CBN) – 19.5%
5. Hawak-Kamay (ABS-CBN) – 18.4%
Hiram na Alaala (GMA-7) – 16.8%
Seasons of Love: BF For Hire GF For Life (GMA-7) – 15.6%
Ilustrado (GMA-7) - 15.3%
Two Wives (ABS-CBN) – 15%
Pure Love (ABS-CBN) – 13.7%
October 28, 2014 (Tuesday)
DAYTIME:
The Half Sisters (GMA-7) – 20.1%
Eat Bulaga! (GMA-7) – 19.2%
Full House (GMA-7) – 13.9%
Yagit (GMA-7) - 13.6%
The Ryzza Mae Show (GMA-7) – 12.8%
Be Careful With My Heart (ABS-CBN) – 11.8%
Ang Lihim ni Annasandra (GMA-7) / May Queen (GMA-7) - 11%
Kapamilya Blockbusters (GMA-7) - 10.2%
The Singing Bee (ABS-CBN) – 9.9%
Dragon Ball Z Kai (GMA-7) - 9.7%
PRIMETIME:
1. 24 Oras (GMA-7) - 25.5%
2. Strawberry Lane (GMA-7) – 21.7%
3. Forevermore (ABS-CBN) – 18.7%
4. Hawak-Kamay (ABS-CBN) – 18.5%
5. Hiram na Alaala (GMA-7) – 16.7%
6. Two Wives (ABS-CBN) - 16.4%
7. Seasons of Love: BF For Hire GF For Life (GMA-7) – 15.8%
8. TV Patrol (ABS-CBN) - 15.6%
9. Pure Love (ABS-CBN) – 14.7%
10. Ilustrado (GMA-7) - 13.2%
October 29, 2014 (Wednesday)
DAYTIME:
The Half Sisters (GMA-7) – 20.9%
Eat Bulaga! (GMA-7) – 20.7%
Yagit (GMA-7) - 15.3%
Full House (GMA-7) – 15.2%
Ang Lihim ni Annasandra (GMA-7) - 13.5%
Be Careful With My Heart (ABS-CBN) – 13.3%
The Ryzza Mae Show (GMA-7) / May Queen (GMA-7) – 13%
The Singing Bee (ABS-CBN) – 12.3%
Dragon Ball Z Kai (GMA-7) / Power House (GMA-7) - 12%
Del Monte Kitchenomics (GMA-7) – 10.7%
PRIMETIME:
1. 24 Oras (GMA-7) – 22.1%
2. Strawberry Lane (GMA-7) – 21.1%
3. Forevermore(ABS-CBN) – 19.9%
TV Patrol (ABS-CBN) – 18.7%
5. Hiram na Alaala (GMA-7) – 18.4%
Hawak-Kamay (ABS-CBN) – 17.7%
Two Wives (ABS-CBN) - 17.5%
8. Seasons of Love: BF For Hire GF For Life (GMA-7) – 16.1%
9. Pure Love (ABS-CBN) – 16%
10. Ilustrado (GMA-7) – 14%
October 30, 2014 (Thursday)
DAYTIME:
The Half Sisters (GMA-7) – 19.2%
Eat Bulaga! (GMA-7) – 18.6%
Yagit (GMA-7) - 14.9%
Full House (GMA-7) / Be Careful With My Heart (ABS-CBN) – 12.6%
The Ryzza Mae Show (GMA-7) – 12.2%
The Singing Bee (ABS-CBN) – 12%
Ang Lihim ni Annasandra (GMA-7) - 11.6%
Dragon Ball Z Kai (GMA-7) – 11.2%
It's Showtime (ABS-CBN) – 10.5%
Reporter's Notebook (GMA-7) / May Queen (GMA-7) – 10.4%
PRIMETIME:
Strawberry Lane (GMA-7) – 21.8%
Forevermore(ABS-CBN) – 20.9%
24 Oras (GMA-7) - 20.8%
4. Two Wives (ABS-CBN) - 18.6%
TV Patrol (ABS-CBN) – 18.5%
Hawak-Kamay (ABS-CBN) – 18.3%
Hiram na Alaala (GMA-7) – 18.2%
Seasons of Love: BF For Hire GF For Life (GMA-7) – 14.7%
Pure Love (ABS-CBN) – 14.1%
Ilustrado (GMA-7) – 13.7%
Source: AGB Nielsen Philippines