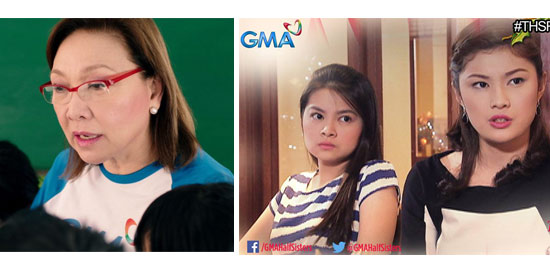 ---
GMA-7 ended 2014 on top of the TV ratings charts. This is according to the latest ratings data from AGB Nielsen Philippines from Mega Manila households between December 15 to 31, 2014.
GMA-7's shows topped the TV ratings charts on both daytime and primetime, on the last weeks of 2014.
The most-watched show on daytime was still The Half Sisters, an afternoon drama that stars Barbie Forteza and Thea Tolentino.
Other Kapuso shows such as Eat Bulaga! and Yagit follow The Half Sisters.
On weekday primetime, the most-watched show was 24 Oras, GMA-7's primetime newscast anchored by Mike Enriquez, Mel Tiangco and Vicky Morales.
The only exceptions were ABS-CBN's Dream Dad (top 1 on December 19) and Hiram na Alaala (top 1 on December 23).
ABS-CBN's primetime programs performed well on the week before Christmas, December 15-19. Kapamilya shows like Dream Dad, Forevermore and Two Wives were able to get better ratings than their Kapuso counterparts.
ADVERTISEMENT - CONTINUE READING BELOW
But GMA-7's primetime dramas outperformed these Kapamilya offerings on the following week. For instance, 24 Oras, Strawberry Lane, More Than Words and Hiram na Alaala formed the top four primetime shows on December 30.
(It must be noted that a significant drop of TV ratings were recorded on these last weeks of 2014 for all networks. One can assume that this is because less people were at home to watch television during the holiday season.)
GMA-7 also dominated the weekends with its shows Magpakailanman, Kapuso Mo, Jessica Soho and Kapuso Movie Festival.
GMA-7's talent search Bet ng Bayan aired its finale episode on December 28 with 14.3% rating, lower than the 16% rating received by ABS-CBN's Gandang Gabi Vice.
Here is the comparative rating performance of GMA-7, ABS-CBN and TV5 programs from December 15 to 31, 2014 derived from AGB Nielsen Philippines from Mega Manila households:
-----
December 15, 2014 (Monday)
Morning:
Power House Replay (GMA-7) 1.4%; Matanglawin Replay (ABS-CBN) 1%
ADVERTISEMENT - CONTINUE READING BELOW
Unang Hirit! (GMA-7) 5.9%; Umagang Kay Ganda (ABS-CBN) 3.1%; Aksyon sa Umaga (TV5) .9%; Sofia the First (TV5) 1.7%
Doraemon (GMA-7) 6.3%; Ghost Fighter (GMA-7) 7.1%; GMA Christmas Cartoon Festival Presents:Postman Pat (GMA-7) 7.9%; Bleach (GMA-7) 7.5%; Kris TV (ABS-CBN) 4.6%; Henry the Huggle Monster (TV5) 3%; Lloyd in Space (TV5) 3.2%; The Replacements (TV5) 3.6%
One Piece (GMA-7) 8.1%; Spongebob Squarepants (ABS-CBN) 5.2%; Johnny Bravo (TV5) 2.6%
Miss World London 2014 (GMA-7) 11.7%; Santa Apprentice (ABS-CBN) 6.5%; Adventures of Tom Sawyer (ABS-CBN) 7%; Komiks: Da Adventures of Pedro Penduko (ABS-CBN) 7.5%; The Singing Bee (ABS-CBN) 8.7%; Infinity Nado (TV5) 2.5%;Movie Max 5: Star Trek V The Final Frontier (TV5) 1.7%
The Ryzza Mae Show (GMA-7) 14.7%; Give Love on Christmas: The Gift Giver (ABS-CBN) 10.1%
Afternoon:
Eat Bulaga! (GMA-7) 18.4%; It's Showtime (ABS-CBN) 10.3%; Aksyon sa Tanghali (TV5) 1.9%; T3 Enforced (TV5) 2.4%; Movie Max 5: Caved In (TV5) 2.7%
The Half Sisters (GMA-7) 21.2%;Yagit (GMA-7) 15.5%; Ang Lihim ni Annasandra (GMA-7) 12.9%; Kapamilya Blockbusters: Praybeyt Benjamin (ABS-CBN) 9.6%; Marvel Hulk and the Agents of Smash (TV5) 1.6%; X-Men (TV5) 1%
Alisto! (GMA-7) 11.4%; Bistado (ABS-CBN) 5.7%; Movie Max 5: 30 Minutes or Less (TV5) 3.1%
ADVERTISEMENT - CONTINUE READING BELOW
May Queen (GMA-7) 13.6%; Bet On Your Baby (ABS-CBN) 7.1%
Evening:
Prime Minister and I (GMA-7) 17.2%; Bagito (ABS-CBN) 12.1%; Aksyon (TV5) 4.3%
24 Oras (GMA-7) 22%; TV Patrol (ABS-CBN) 19%; Movie Max 5: The Green Hornet (TV5) 6.2%
More Than Words (GMA-7) 19.6%; Dream Dad (ABS-CBN) 20.2%
Strawberry Lane (GMA-7) 20%; Forevermore (ABS-CBN) 20.2%; Wattpad Presents: Game of Love (TV5) 2.9%
Hiram na Alaala (GMA-7) 16.8%; Two Wives (ABS-CBN) 19.1%; Confessions of a Torpe (TV5) 1.9%
Bet ng Bayan (GMA-7) 15.6%;Aquino & Abunda Tonight (ABS-CBN) 12.4%; Aksyon Tonite (TV5) 1.6%
Empress Ki (GMA-7) 14%; Faith (ABS-CBN) 8%; Reaksyon (TV5) .9%
Saksi (GMA-7) 8.9%; Bandila (ABS-CBN) 4.6%; Demolition Job (TV5) 1.5%; T3 Enforced Replay (TV5) 1.3%
Front Row (GMA-7) 5.2%; Mukha (ABS-CBN) 2.1%; Shop Japan (TV5) .3%
The Tim Yap Show (GMA-7) 2.4%; O Shopping (ABS-CBN) .8%
----
December 16, 2014 (Tuesday)
Morning:
I-Witness Replay (GMA-7) 1%; Kapamilya Simbang Gabi (ABS-CBN) 1.1%
Unang Hirit! (GMA-7) 4.5%; Umagang Kay Ganda (ABS-CBN) 3.5%; Aksyon sa Umaga (TV5) .9%; Sofia the First (TV5) 2.1%
Doraemon (GMA-7) 5.8%; Ghost Fighter (GMA-7) 6.6%; GMA Christmas Cartoon Festival Presents (GMA-7) 7.1%; Shaman King (GMA-7) 7.4%; Kris TV (ABS-CBN) 4.7%; Henry Huggle Monster (TV5) 2.5%; Lloyd in Space (TV5) 2.8%; The Replacements (TV5) 2.4%
ADVERTISEMENT - CONTINUE READING BELOW
Bleach (GMA-7) 7%;Spongebob Squarepants (ABS-CBN) 4.6%; Johnny Bravo (TV5) 2.3%
One Piece (GMA-7) 8.2%; Santa Apprentice (ABS-CBN) 4.1%; Ben 10 Ultimate Alien (TV5) 2.3%
Hunter X Hunter (GMA-7) 7.9%; Adventures of Tom Sawyer (ABS-CBN) 5%; Infinity Nado (TV5) 1.6%
Basta Everyday Happy (GMA-7) 5.5%; Komiks: Da Adventures of Pedro Penduko (ABS-CBN) 7.3%
Don't Lose the Money (GMA-7) 7.6%; The Singing Bee (ABS-CBN) 9.7%; Movie Max 5: Star Trek VI The Unidscovered Country (TV5) 1.6%
The Ryzza Mae Show (GMA-7) 11.4%; Give Love on Christmas: The Gift Giver (ABS-CBN) 11.5%
Afternoon:
Eat Bulaga (GMA-7) 18.6%; It's Showtime (ABS-CBN) 9.6%; Aksyon sa Tanghali (TV5) 1.8%; T3 Enforced (TV5) 1.9%; Movie Max 5: Shockwave (TV5) 3.3%
The Half Sisters (GMA-7) 21.1%; Yagit (GMA-7) 17%; Ang Lihim ni Annasandra (GMA-7) 13.9%; Kapamilya Blockbusters: School for Scoundrels (ABS-CBN) 6.7%; Marvel Hulk and the Agents of Smash (TV5) 2.3%; X-Men (TV5) 1.6%
Tunay na Buhay (GMA-7) 12.1%; Mutya ng Masa (ABS-CBN) 4.4%; Movie Max 5: Shoot to Kill (TV5) 4.7%
May Queen (GMA-7) 14.3%; Bet On Your Baby (ABS-CBN) 7.5%
Evening:
Prime Minister and I (GMA-7) 15.9%; Bagito (ABS-CBN) 12.6%; Aksyon (TV5) 6%
ADVERTISEMENT - CONTINUE READING BELOW
24 Oras (GMA-7) 20.6%; TV Patrol (ABS-CBN) 16.5%; PBA 2015 Philippine Cup Quarterfinals: Brgy Ginebra vs Talk n Text (TV5) 9%
More Than Words (GMA-7) 17.9%; Dream Dad (ABS-CBN) 18.4%
Strawberry Lane (GMA-7) 18.5%; Forevermore (ABS-CBN) 20%; Wattpad Presents:Game of Love (TV5) 2.3%
Hiram na Alaala (GMA-7) 16.8%; Two Wives (ABS-CBN) 19.7%; Confessions of a Torpe (TV5) 1.7%
Bet ng Bayan (GMA-7) 15.5%; Aquino & Abunda Tonight (ABS-CBN) 14%; Aksyon Tonite (TV5) 1.4%
Empress Ki (GMA-7) 15%; Faith (ABS-CBN) 9.1%; Reaksyon (TV5) 1.1%
Saksi (GMA-7) 9%; Bandila (ABS-CBN) 5.6%; Numero (TV5) .8%; T3 Enforced Replay (TV5) .6%
The Blue Planet (GMA-7) 5.8%; Banana Nite (ABS-CBN) 4%; Shop Japan (TV5) .1%
The Tim Yap Show (GMA-7) 2.7%; O Shopping (ABS-CBN) 1.3%
---
December 17, 2014 (Wednesday)
Morning:
Tunay na Buhay Replay (GMA-7) 1.4%;Kapamilya Simbang Gabi (ABS-CBN) 1.4%
Unang Hirit! (GMA-7) 5.3%; Umagang Kay Ganda (ABS-CBN) 3.2%; Aksyon sa Umaga (TV5) .9%; Sofia the First (TV5) 1.7%
Doraemon (GMA-7) 5.5%; Ghost Fighter (GMA-7) 6.5%; GMA Christmas Cartoon Festival Presents (GMA-7) 7.6%; Shaman King (GMA-7) 8.1%; Kris TV (ABS-CBN) 4.9%; Henry Huggle Monster (TV5) 2.8%; Lloyd in Space (TV5) 3.1%; The Replacements (TV5) 3.1%
Bleach (GMA-7) 8.2%;Spongebob Squarepants (ABS-CBN) 4.8%; Johnny Bravo (TV5) 2.7%
ADVERTISEMENT - CONTINUE READING BELOW
One Piece (GMA-7) 9%; Santa Apprentice (ABS-CBN) 4.8%; Ben 10 Ultimate Alien (TV5) 2.4%
Hunter X Hunter (GMA-7) 9.7%; Adventures of Tom Sawyer (ABS-CBN) 5.5%
Basta Everyday Happy (GMA-7) 6%; Komiks: Da Adventures of Pedro Penduko (ABS-CBN) 6.7%; Infinity Nado (TV5) 2.5%
Don't Lose the Money (GMA-7) 7.1%; The Singing Bee (ABS-CBN) 7.8%; Movie Max 5: Star Trek Generations (TV5) 2.1%
The Ryzza Mae Show (GMA-7) 12.6%; Give Love on Christmas: The Gift Giver (ABS-CBN) 9.5%
Afternoon:
Eat Bulaga (GMA-7) 18.4%; It's Showtime (ABS-CBN) 9.5%; Aksyon sa Tanghali (TV5) 2.2%; T3 Enforced (TV5) 2.2%; Movie Max 5: Ice Twisters (TV5) 1.8%
The Half Sisters (GMA-7) 19.7%; Yagit (GMA-7) 14.3%; Ang Lihim ni Annasandra (GMA-7) 11.6%; Kapamilya Blockbusters: It Takes a Man and a Woman (ABS-CBN) 7.9%; Marvel Hulk and the Agents of Smash (TV5) 1.2%; X-Men (TV5) 1.6%
Power House (GMA-7) 11.6%; My Puhunan (ABS-CBN) 5.3%; Movie Max 5: Femme Fatale (TV5) 2.3%
May Queen (GMA-7) 12.7%; Bet On Your Baby (ABS-CBN) 6.5%
Evening:
Prime and Minister and I (GMA-7) 14.8%; Bagito (ABS-CBN) 12.4%; Aksyon (TV5) 3.7%
24 Oras (GMA-7) 20.5%; TV Patrol (ABS-CBN) 17.1%; Movie Max 5: Mystery Men (TV5) 4.4%
ADVERTISEMENT - CONTINUE READING BELOW
More Than Words (GMA-7) 17.5%; Dream Dad (ABS-CBN) 20.4%
Strawberry Lane (GMA-7) 18.4%; Forevermore (ABS-CBN) 19.5%; Wattpad Presents: Game of Love (TV5) 1.7%
Hiram na Alaala (GMA-7) 18%; Two Wives (ABS-CBN) 18.4%; Confessions of a Torpe (TV5) 1%
Bet ng Bayan (GMA-7) 16.9%; Aquino & Abunda Tonight (ABS-CBN) 13.1%; Aksyon Tonite (TV5) .9%
Empress Ki (GMA-7) 15.1%; Faith (ABS-CBN) 8.4%; Reaksyon (TV5) .5%
Saksi (GMA-7) 9.9%; Bandila (ABS-CBN) 4.9%;History with Lourd (TV5) .6%; T3 Enforced Replay (TV5) .4%
Frozen Planet (GMA-7) 5.9%; Banana Nite (ABS-CBN) 2.5%; Shop Japan (TV5) .1%
The Tim Yap Show (GMA-7) 3.1%; O Shopping (ABS-CBN) .5%
---
December 18, 2014 (Thursday)
Morning:
Born To Be Wild Replay (GMA-7) 1.2%; Kapamilya Simbang Gabi (ABS-CBN) .6%
Unang Hirit! (GMA-7) 4.8%; Umagang Kay Ganda (ABS-CBN) 3.4%; Aksyon sa Umaga (TV5) .6%; Sofia the First (TV5) 1.8%
Doraemon (GMA-7) 5.9%; Ghost Fighter (GMA-7) 5.5%; GMA Christmas Cartoon Festival Presents (GMA-7) 5.7%; Shaman King (GMA-7) 6.7%; Kris TV (ABS-CBN) 4.9%; Henry Huggle Monster (TV5) 2.1%; Lloyd in Space (TV5) 2.9%; The Replacements (TV5) 2.5%
Bleach (GMA-7) 7.3%;Spongebob Squarepants (ABS-CBN) 5.2%; Johnny Bravo (TV5) 1.8%
One Piece (GMA-7) 8.5%; Santa Apprentice (ABS-CBN) 5.8%; Ben 10 Ultimate Alien (TV5) 1.7%
ADVERTISEMENT - CONTINUE READING BELOW
Hunter X Hunter (GMA-7) 9.1%; Adventures of Tom Sawyer (ABS-CBN) 6.4%
Basta Everyday Happy (GMA-7) 7.2%; Komiks: Da Adventures of Pedro Penduko (ABS-CBN) 7.5%; Infinity Nado (TV5) 1.4%
Don't Lose the Money (GMA-7) 7.8%; The Singing Bee (ABS-CBN) 10.4%; Movie Max 5: Star Trek First Contact (TV5) 1.1%
The Ryzza Mae Show (GMA-7) 13%; Give Love on Christmas: The Gift Giver (ABS-CBN) 10.9%
Afternoon:
Eat Bulaga! (GMA-7) 17.7%; It's Showtime (ABS-CBN) 11.6%; Aksyon sa Tanghali (TV5) 1.7%; T3 Enforced (TV5) 1.5%; Movie Max 5: Earth's Final Hours (TV5) 1.9%
The Half Sisters (GMA-7) 21.5%; Yagit (GMA-7) 15.9%; Ang Lihim ni Annasandra (GMA-7) 13%; Kapamilya Blockbusters: MAID (ABS-CBN) 7.1%; Marvel Hulk and the Agents of Smash (TV5) 1.3%; X-Men (TV5) 1.3%
Reporter's Notebook (GMA-7) 10%; Tapatan Ni Tunying (ABS-CBN) 4.7%; Movie Max 5: Storm Cell (TV5) 2.2%
May Queen (GMA-7) 12.2%; Bet On Your Baby (ABS-CBN) 6.5%
Evening:
Prime and Mnister and I (GMA-7) 16.2%; Bagito (ABS-CBN) 12.6%; Aksyon (TV5) 3.6%
24 Oras (GMA-7) 19.3%; TV Patrol (ABS-CBN) 17%; PBA 2015 Philippine Cup Semis: Alaska vs Rain or Shine (TV5) 6.4%
More Than Words (GMA-7) 18.1%; Dream Dad (ABS-CBN) 20.4%
ADVERTISEMENT - CONTINUE READING BELOW
Strawberry Lane (GMA-7) 19.9%;Forevermore (ABS-CBN) 20%; Wattpad Presents: Game of Love (TV5) 1.9%
Hiram na Alaala (GMA-7) 18.4%; Two Wives (ABS-CBN) 19.4%; Confessions of a Torpe (TV5) 1.3%
Bet ng Bayan (GMA-7) 16.9%; Aquino & Abunda Tonight (ABS-CBN) 14.4%; Aksyon Tonite (TV5) 1.2%
Empress Ki (GMA-7) 15.9%; Faith (ABS-CBN) 9.5%; Reaksyon (TV5) 1%
Saksi (GMA-7) 10.6%; Bandila (ABS-CBN) 5%; Unang Tikim (TV5) .6%; T3 Enforced Replay (TV5) .6%
Frozen Planet (GMA-7) 6.5%; Banana Nite (ABS-CBN) 2.9%; Shop Japan (TV5) .1%
The Tim Yap Show (GMA-7) 3.5%; O Shopping (ABS-CBN) .8%
--
December 19, 2014 (Friday)
Morning:
Alisto! Replay (GMA-7) 1%; Kapamilya Simbang Gabi (ABS-CBN) .8%
Unang Hirit! (GMA-7) 3.8%; Umagang Kay Ganda (ABS-CBN) 2.7%; Aksyon sa Umaga (TV5) .8%; Sofia the First (TV5) 2.3%
Doraemon (GMA-7) 6.7%; Ghost Fighter (GMA-7) 6.1%; GMA Christmas Cartoon Festival Presents (GMA-7) 7%; Shaman King (GMA-7) 7.2%; Kris TV (ABS-CBN) 4%; Henry Huggle Monster (TV5) 3.6%; Lloyd in Space (TV5) 4.3%; The Replacements (TV5) 3.9%
Bleach (GMA-7) 7.7%;Spongebob Squarepants (ABS-CBN) 5.4%; Johnny Bravo (TV5) 3%
One Piece (GMA-7) 8.1%; Santa Apprentice (ABS-CBN) 5.3%; Ben 10 Ultimate Alien (TV5) 2.5%
Hunter X Hunter (GMA-7) 9.2%; Adventures of Tom Sawyer (ABS-CBN) 5.9%; Infinity Nado (TV5) 2.5%
ADVERTISEMENT - CONTINUE READING BELOW
Basta Everyday Happy (GMA-7) 6.1%; Komiks: Da Adventures of Pedro Penduko (ABS-CBN) 6.7%
Don't Lose the Money (GMA-7) 7.9%; The Singing Bee (ABS-CBN) 9%; Movie Max 5: Star Trek Insurrection (TV5) 1.9%
The Ryzza Mae Show (GMA-7) 12.8%; Give Love on Christmas: The Gift Giver (ABS-CBN) 9.9%
Afternoon:
Eat Bulaga! (GMA-7) 18.4%; It's Showtime (ABS-CBN) 8.8%; Aksyon sa Tanghali(TV5) 1.7%; T3 Enforced (TV5) 1.7%; Movie Max 5: End of the World (TV5) 2.1%
The Half Sisters (GMA-7) 21.5%; Yagit (GMA-7) 16.3%; Ang Lihim ni Annasandra (GMA-7) 14.4%;Kapamilya Blockbusters: Call Center Girl (ABS-CBN) 7.6%; Marvel Hulk and the Agents of Smash (TV5) 1.7%; X-Men (TV5) 1.4%
Love Hotline (GMA-7) 11%; Red Alert (ABS-CBN) 5.3%; Movie Max 5: Maximum Risk (TV5) 2.7%
May Queen (GMA-7) 13.2%; Bet On Your Baby (ABS-CBN) 8.2%
Evening:
Prime Minister and I (GMA-7) 16.1%; Bagito (ABS-CBN) 12%; Aksyon (TV5) 4.6%
24 Oras (GMA-7) 18.6%; TV Patrol (ABS-CBN) 16.9%
More Than Words (GMA-7) 16.9%; Dream Dad (ABS-CBN) 18.9%; PBA 2015 Philippines Cup Semis: San Miguel Beermen vs Talk n Text (TV5) 7.1%
Strawberry Lane (GMA-7) 18.2%; Forevermore (ABS-CBN) 18.5%
Hiram na Alaala (GMA-7) 16.6%; Two Wives (ABS-CBN) 17.4%; Wattpad Presents: Game of Love (TV5) 2.6%; Confessions of a Torpe (TV5) 2.3%
ADVERTISEMENT - CONTINUE READING BELOW
Bet ng Bayan (GMA-7) 14.8%; Aquino & Abunda Tonight (ABS-CBN) 11.4%
Bubble Gang (GMA-7) 13.7%; Faith (ABS-CBN) 7.7%; Aksyon Tonite (TV5) 1.3%; Bandila (ABS-CBN) 3.5%; Reaksyon (TV5) .5%
Saksi (GMA-7) 7.7%; Banana Nite (ABS-CBN) 2.2%; Shop Japan (TV5) .2%
The Tim Yap Show (GMA-7) 3.4%; O Shopping (ABS-CBN) .8%
--
December 20, 2014 (Saturday)
Morning:
PJM Forum (GMA-7) .6%; Adyenda (GMA-7) .6%; Kapwa Ko Mahal Ko (GMA-7) 1.5%; Kapamilya Simbang Gabi (ABS-CBN) 1.1%; Shop Japan (TV5) 0%; Family Matters (TV5) .1%
Pinoy MD (GMA-7) 3.2%; Salamat Dok (ABS-CBN) 1.7%; Stitch! (TV5) .8%
Puppy in My Pocket (GMA-7) 4.1%; Swak na Swak (ABS-CBN) 1.9%; Gravity Falls (TV5) 2.1%
Kamen Rider Ooo (GMA-7) 6.1%; Honey Watch Out! (ABS-CBN) 1%; The Emperor's New School (TV5) 3%
Tom & Jerry Kids Show (GMA-7) 7.6%; Math Tinik (ABS-CBN) .9%; The Legend of Tarzan (TV5) 2.7%
Angry Birds Toons (GMA-7) 7.6%; The Adventures of Jimmy Neutron ABS-CBN) 1.7%; Combo Ninos (TV5) 2.7%
Monsuno (GMA-7) 6.9%; Spongebob Squarepants (ABS-CBN) 3.4%; The Powerpuff Girls (TV5) 3.9%
Tropang Potchi (GMA-7) 5.5%; Super Book (ABS-CBN) 5.4%; Dexter's Laboratory (TV5) 4.7%
Sarap Diva (GMA-7) 6.2%; Maynila 15 (GMA-7) 10.1%; Del Monte Kitchenomics (GMA-7) 11.8%; NBA 2014-2015: Chicago vs Memphis (TV5) 3.2%; Ben 10 Omniverse (TV5) 4.4%; Ben 10 Omniverse (TV5) 4.5%; Movie Max:Star Trek Nemesis (TV5) 3.3%
ADVERTISEMENT - CONTINUE READING BELOW
Afternoon:
Eat Bulaga! (GMA-7) 18.3%; GMA Tales of Horror (GMA-7) 10.7%; It's Showtime (ABS-CBN) 10.2%; Movie Max 5: Ghost Rider (TV5) 4%
Wish Ko Lang! (GMA-7) 9.4%; Ipaglaban Mo (ABS-CBN) 9.3%; Movie Max 5: Imagine That (TV5) 3.6%
Startalk (GMA-7) 9.4%; Failon Ngayon (ABS-CBN) 6.3%
Imbestigador (GMA-7) 12.8%; SOCO (ABS-CBN) 6.6%; PBA 2015 Philippines Cup Semis: Alaska vs Rain or Shine (TV5) 4.8%
24 Oras Weekend (GMA-7) 13.4%; TV Patrol Weekend (ABS-CBN) 9.6%
Evening:
Pepito Manaloto: Ang Tunay na Kuwento (GMA-7) 19.5%; Mga Kwento ni Marc Logan (ABS-CBN) 12%; Home Sweetie Home (ABS-CBN) 13.3%
Magpakailanman (GMA-7) 26%; MMK: Ang Tahanan Mo (ABS-CBN) 17.9%; Talentadong Pinoy 2014 (TV5) 2.8%
Himig ng Pasko (GMA-7) 18.3%; The Voice of the Philippines (ABS-CBN) 20.4%; Tropa Mo Ko Nice Di Ba?! (TV5) 3.3%; Trenderas Mga Tindera Today (TV5) 1.5%
Celebrity Bluff (GMA-7) 18.3%; I-Witness (GMA-7) 10.9%; Banana Split Extra Scoop (ABS-CBN) 9.3%; Yaman ng Bayan (TV5) 1.8%
Walang Tulugan (GMA-7) 3%; The Bottom Line (ABS-CBN) 3.6%; Sports Unlimited (ABS-CBN) 1.7%; O Shopping (ABS-CBN) .7%; Bigtime (TV5) .5%; Shop Japan (TV5) .2%
--
December 21, 2014 (Sunday)
Daytime:
In Touch with Dr. Charles Stanley (GMA-7) .5%; Jesus The Healer (GMA-7) .5%; Kapamilya Simbang Gabi (ABS-CBN) 1.2%; Shop Japan (TV5) .2%
ADVERTISEMENT - CONTINUE READING BELOW
Family TV Mass (GMA-7) 1.6%; The Healing Eucharist (ABS-CBN) 2.6%; Misa Nazareno (TV5) .9%
Grimm's Fairy Tales (GMA-7) 4.5%; Swak na Swak (ABS-CBN) 2.5%; Power to Unite with Elvira (TV5) .4%
Kamen Rider Ooo (GMA-7) 6.7%; Tom & Jerry Kids Show (GMA-7) 7.6%; Salamat Dok (ABS-CBN) 2.5%; Stitch! (TV5) 1.3%; Gravity Falls (TV5) 2.8%
Monsuno (GMA-7) 6.6%; My Giant Friend (ABS-CBN) 2.6%; The Emperor's New School (TV5) 3.3%
Aha! (GMA-7) 6.8%; Max Steel (ABS-CBN) 3.9%; Superbook (ABS-CBN) 4.2%; The Legend of Tarzan (TV5) 4%; The Powerpuff Girls (TV5) 4.2%
Born To Be Wild (GMA-7) 7%;iBilib (GMA-7) 7.6%; Matanglawin (GMA-7) 5.1%; Dexter's Laboratory (TV5) 4.6%; Ben 10 Omniverse (TV5) 4%
Superhero Sunday: Dragon Ball Z (GMA-7) 10.9%; Kapuso Movie Festival: Tiktik the Aswang Chronicles (GMA-7) 18.2%; Kapamilya Blockbusters: Bratz (ABS-CBN) 7%; Movie Max 5: Beethoven's 5th (TV5) 3%
Afternoon:
Del Monte Kitchenomics (GMA-7) 13.7%; Sunday All Stars (ABS-CBN) 11.3%; ASAP 19 (ABS-CBN) 7.4%; Movie Max 5: Katy Perry Part of Me (TV5) 2.4%
GMA Blockbusters: Home Alone 2 (GMA-7) 15%; Luv U (ABS-CBN) 4.8%; The Buzz (ABS-CBN) 5.5%; Movie Max 5: Man of the Year (TV5) 1.7%
24 Oras Weekend (GMA-7) 14%; TV Patrol Weekend (ABS-CBN) 9%; PBA 2015 Philippine Cup Semis: San Miguel Beermen vs Talk n Text (TV5) 7.7%
ADVERTISEMENT - CONTINUE READING BELOW
Evening:
Vampire Ang Daddy Ko (GMA-7) 16.3%; Goin' Bulilit (ABS-CBN) 9.9%
Ismol Family (GMA-7) 18.1%; Wansapanataym (ABS-CBN) 11.6%; Who Wants to be a Millionaire (TV5) 7.3%
Kapuso Mo, Jessica Soho (GMA-7) 21.4%; Rated K: Handa Na Ba Kayo? (ABS-CBN) 14%; The Voice of the Philippines (ABS-CBN) 19.1%; Quiet Please! Bawal Ang Maingay (TV5) 3.1%; Wow Mali Lakas ng Tama! (TV5) 3.5%
Bet ng Bayan (GMA-7) 11.7%; Gandang Gabi Vice (ABS-CBN) 17.9%; Wattpad Presents(TV5) 1.7%
MP Featuring Sport Science (GMA-7) 6.1%; Sunday's Best: Hari The Making of Da King (ABS-CBN) 6%; Shop Japan (TV5) .4%
Diyos at Bayan (GMA-7) 1.3%; O Shopping (ABS-CBN) 1.4%
-
December 22, 2014 (Monday)
Morning:
Power House Replay (GMA-7) 1%; Kapamilya Simbang Gabi (ABS-CBN) .9%
Unang Hirit! (GMA-7) 3.6%; Umagang Kay Ganda (ABS-CBN) 3.1%; Aksyon sa Umaga (TV5) 1.2%; Sofia the First (TV5) 2.8%
Doraemon (GMA-7) 6.7%; Ghost Fighter (GMA-7) 7%; GMA Christmas Cartoon Festival Presents:Postman Pat (GMA-7) 7.6%; Shaman King (GMA-7) 8.1%; Kris TV (ABS-CBN) 5.8%; Henry the Huggle Monster (TV5) 3.4%; Lloyd in Space (TV5) 4.1%; The Replacements (TV5) 4.7%
Bleach (GMA-7) 6.9%; Spongebob Squarepants (ABS-CBN) 6%; Johnny Bravo (TV5) 3.8%
ADVERTISEMENT - CONTINUE READING BELOW
One Piece (GMA-7) 8.7%; Santa Apprentice (ABS-CBN) 5.6%; Ben 10 Ultimate Alien (TV5) 2.9%
Hunter X Hunter (GMA-7) 9.8%; Adventures of Tom Sawyer (ABS-CBN) 6%; Johnny Bravo (TV5) 3.8%
Basta Everyday Happy (GMA-7) 6.7%;Komiks: Da Adventures of Pedro Penduko (ABS-CBN) 6.7%; Infinity Nado (TV5) 2.3%
Don't Lose the Money (GMA-7) 7.9%; The Singing Bee (ABS-CBN) 8.7%;Movie Max 5: The Mighty Ducks (TV5) 2.9%
The Ryzza Mae Show (GMA-7) 12.5%; Give Love on Christmas: The Gift Giver (ABS-CBN) 8.7%
Afternoon:
Eat Bulaga! (GMA-7) 18.8%; It's Showtime (ABS-CBN) 10.3%; Aksyon sa Tanghali (TV5) 2.5%; T3 Enforced (TV5) 1.7%; Movie Max 5: Undercover Brother (TV5) 2.8%
The Half Sisters (GMA-7) 19.9%;Yagit (GMA-7) 16.4%; Ang Lihim ni Annasandra (GMA-7) 14%; Kapamilya Blockbusters: 10000 Hours (ABS-CBN) 6.1%; Marvel Hulk and the Agents of Smash (TV5) 1.8%; X-Men (TV5) 1.9%
Alisto! (GMA-7) 11.3%; Bistado (ABS-CBN) 4.2%; Movie Max 5: Rat (TV5) 3%
May Queen (GMA-7) 13.5%; Bet On Your Baby (ABS-CBN) 6.6%
Evening:
Prime Minister and I (GMA-7) 17.4%; Bagito (ABS-CBN) 11.8%; Aksyon (TV5) 4.2%
24 Oras (GMA-7) 19.8%; TV Patrol (ABS-CBN) 16.8%; PBA 2015 Philippine Cup Semis: Alaska vs Rain or Shine (TV5) 7.3%
ADVERTISEMENT - CONTINUE READING BELOW
More Than Words (GMA-7) 16.9%; Dream Dad (ABS-CBN) 19.5%
Strawberry Lane (GMA-7) 18.3%; Forevermore (ABS-CBN) 18.8%
Hiram na Alaala (GMA-7) 17.7%; Aquino & Abunda Tonight (ABS-CBN) 12.8%;Two Wives (ABS-CBN) 17.1%; Wattpad Presents: My Tag Boyfriend (TV5) 3%; Confessions of a Torpe (TV5) 2%
Bet ng Bayan (GMA-7) 16.3%; Faith (ABS-CBN) 7.9%;Aksyon Tonite (TV5) 1%
Empress Ki (GMA-7) 15.6%;Saksi (GMA-7) 10.6%; Bandila (ABS-CBN) 4.5%; Reaksyon (TV5) .7%; Demolition Job (TV5) 1%; T3 Enforced Replay (TV5) 1%
Front Row (GMA-7) 6.8%; Mukha (ABS-CBN) 2.7%; Shop Japan (TV5) .5%
The Tim Yap Show (GMA-7) 3%; O Shopping (ABS-CBN) .6%
----
December 23, 2014 (Tuesday)
Morning:
I-Witness Replay (GMA-7) .4%; Kapamilya Simbang Gabi (ABS-CBN) .8%
Unang Hirit! (GMA-7) 3.7%; Umagang Kay Ganda (ABS-CBN) 2.9%; Aksyon sa Umaga (TV5) .7%; Sofia the First (TV5) 2.2%
Doraemon (GMA-7) 6.1%; Pokemon (GMA-7) 7.5%; GMA Christmas Cartoon Festival Presents (GMA-7) 7.7%; One Piece (GMA-7) 9.4%; Kris TV (ABS-CBN) 5.6%; Henry Huggle Monster (TV5) 2.6%; Lloyd in Space (TV5) 4%; The Replacements (TV5) 5%
Bleach (GMA-7) 8.4%;Spongebob Squarepants (ABS-CBN) 6.6%; Johnny Bravo (TV5) 3.7%
Ghost Fighter (GMA-7) 10%; Santa Apprentice (ABS-CBN) 6.7%; Adventures of Tom Sawyer (ABS-CBN) 6.7%; Ben 10 Ultimate Alien (TV5) 2.6%
ADVERTISEMENT - CONTINUE READING BELOW
Shaman King (GMA-7) 10.2%; Hunter X Hunter (GMA-7) 10.1%;Komiks: Da Adventures of Pedro Penduko (ABS-CBN) 6.4%; Infinity Nado (TV5) 1.9%; Movie Max 5: The Hitchhiker's Guide to the Galaxy (TV5) 3.5%
Basta Everyday Happy (GMA-7) 8.2%; The Singing Bee (ABS-CBN) 8.7%
The Ryzza Mae Show (GMA-7) 11.6%; Give Love on Christmas (ABS-CBN) 9%
Afternoon:
Eat Bulaga (GMA-7) 18.7%; It's Showtime (ABS-CBN) 10.3%; Aksyon sa Tanghali (TV5) 2.6%; T3 Enforced (TV5) 1.8%; Movie Max 5: The Parole Officer (TV5) 2.9%
The Half Sisters (GMA-7) 20%; Yagit (GMA-7) 14.6%; Ang Lihim ni Annasandra (GMA-7) 11.7%; Kapamilya Blockbusters: Kimmy Dora Prequel (ABS-CBN) 7.9%; Marvel Hulk and the Agents of Smash (TV5) 1.8%; X-Men (TV5) 1.6%
Tunay na Buhay (GMA-7) 10.9%; Mutya ng Masa (ABS-CBN) 3.8%; Movie Max 5: Ghost Town (TV5) 2.3%
May Queen (GMA-7) 12.4%; Bet On Your Baby (ABS-CBN) 6.6%
Evening:
Prime Minister and I (GMA-7) 15.2%; Bagito (ABS-CBN) 12.1%; Aksyon (TV5) 4.1%
24 Oras (GMA-7) 19.3%; TV Patrol (ABS-CBN) 16.3%; PBA 2015 Philippine Cup Semis: San Miguel Beermen vs Talk n Text (TV5) 7.7%
More Than Words (GMA-7) 17.1%; Dream Dad (ABS-CBN) 18.7%
Strawberry Lane (GMA-7) 19.1%; Forevermore (ABS-CBN) 16.9%
ADVERTISEMENT - CONTINUE READING BELOW
Hiram na Alaala (GMA-7) 19.6%; Two Wives (ABS-CBN) 16.7%; Wattpad Presents: My Tag Boyfriend (TV5) 3.2%; Confessions of a Torpe (TV5) 1.8%
Bet ng Bayan (GMA-7) 17.6%; Aquino & Abunda Tonight (ABS-CBN) 12.8%
Empress Ki (GMA-7) 16.2%; Faith (ABS-CBN) 9%;Aksyon Tonite (TV5) .9%
Saksi (GMA-7) 10.6%; Bandila (ABS-CBN) 4.8%; Reaksyon (TV5) .4%; Numero (TV5) .4%; T3 Enforced Replay (TV5) .6%
The Blue Planet (GMA-7) 6.4%; Banana Nite (ABS-CBN) 3.4%; Shop Japan (TV5) .4%
The Tim Yap Show (GMA-7) 2.8%; O Shopping (ABS-CBN) 1.3%
---
December 24, 2014 (Wednesday)
Morning:
Tunay na Buhay Replay (GMA-7) .8%; Kapamilya Simbang Gabi (ABS-CBN) .9%
Unang Hirit! (GMA-7) 5.3%; Umagang Kay Ganda (ABS-CBN) 3.2%; Aksyon sa Umaga (TV5) .9%; Sofia the First (TV5) 2.7%
Doraemon (GMA-7) 7.7%; Pokemon (GMA-7) 8.2%; GMA Christmas Cartoon Festival Presents (GMA-7) 8.7%; One Piece (GMA-7) 11.1%; Kris TV (ABS-CBN) 9.1%; Henry Huggle Monster (TV5) 3.3%; Lloyd in Space (TV5) 4%; The Replacements (TV5) 4.7%
Bleach (GMA-7) 10.1%;Spongebob Squarepants (ABS-CBN) 7.8%; Johnny Bravo (TV5) 3.5%
Ghost Fighter (GMA-7) 11.6%; Santa Apprentice (ABS-CBN) 7.5%; Adventures of Tom Sawyer (ABS-CBN) 7.4%; Ben 10 Ultimate Alien (TV5) 3.7%
Shaman King (GMA-7) 11.7%; Komiks: Da Adventures of Pedro Penduko (ABS-CBN) 7.8%; Infinity Nado (TV5) 3.2%; Movie Max 5: The Hitchhiker's Guide to the Galaxy (TV5) 3.5%
ADVERTISEMENT - CONTINUE READING BELOW
Hunter X Hunter (GMA-7) 12.2%;Basta Everyday Happy (GMA-7) 9%; Del Monte Kitchenomics (GMA-7) 10.1%; The Singing Bee (ABS-CBN) 10%; Movie Max 5: Dudley Do-Right (TV5) 4.6%
The Ryzza Mae Show (GMA-7) 12.9%; Give Love on Christmas (ABS-CBN) 9.4%
Afternoon:
Eat Bulaga (GMA-7) 21.3%; It's Showtime (ABS-CBN) 11.1%; Aksyon sa Tanghali (TV5) 3.4%; T3 Enforced (TV5) 2%; Movie Max 5: Big Fat Liar (TV5) 4.1%
The Half Sisters (GMA-7) 21.7%; Yagit (GMA-7) 15.3%; Ang Lihim ni Annasandra (GMA-7) 13.2%; Kapamilya Blockbusters: Girl Boy Bakla Tomboy (ABS-CBN) 13.4%; Marvel Hulk and the Agents of Smash (TV5) 2.4%; X-Men (TV5) 2.1%
Power House (GMA-7) 11.4%; My Puhunan (ABS-CBN) 6.1%; Movie Max 5: Role Models (TV5) 3.2%
May Queen (GMA-7) 12.3%; Bet On Your Baby (ABS-CBN) 6.6%
Evening:
Prime and Minister and I (GMA-7) 15.8%; Bagito (ABS-CBN) 10.1%; Aksyon (TV5) 2.8%
24 Oras (GMA-7) 19.5%; TV Patrol (ABS-CBN) 15.3%; Movie Max 5: Father of the Bride (TV5) 2.8%
More Than Words (GMA-7) 16.7%; Dream Dad (ABS-CBN) 16.8%
Strawberry Lane (GMA-7) 18.5%; Forevermore (ABS-CBN) 16.4%; Wattpad Presents: My Tag Boyfriend (TV5) 2%
Hiram na Alaala (GMA-7) 16.6%; Two Wives (ABS-CBN) 14.8%; Aquino & Abunda Tonight (ABS-CBN) 11.9%; Confessions of a Torpe (TV5) 2%; Aksyon Tonite (TV5) 2%
ADVERTISEMENT - CONTINUE READING BELOW
Bet ng Bayan (GMA-7) 15.1%; Empress Ki (GMA-7) 15.1%; Faith (ABS-CBN) 7.4%; Reaksyon (TV5) 1.1%
Saksi (GMA-7) 12.2%; Bandila (ABS-CBN) 6.4%;History with Lourd (TV5) 1.4%; UST Christmas Concert 2014 (TV5) .7%
Frozen Planet (GMA-7) 8.4%; 2014 Christmas Eve Mass (ABS-CBN) 5.2%; Shop Japan (TV5) .4%
The Tim Yap Show (GMA-7) 4.4%; O Shopping (ABS-CBN) 1.3%
---
December 25, 2014 (Thursday)
Morning:
Born To Be Wild Replay (GMA-7) .4%; TNT Replay (ABS-CBN) .3%
Unang Hirit! (GMA-7) 2.6%; Umagang Kay Ganda (ABS-CBN) 1.9%; Aksyon sa Umaga (TV5) .5%; Sofia the First (TV5) 1.2%
Doraemon (GMA-7) 4.1%; Pokemon (GMA-7) 4.8%; GMA Christmas Cartoon Festival Presents (GMA-7) 5.6%; One Piece (GMA-7) 6.9%; Kris TV (ABS-CBN) 5%; Henry Huggle Monster (TV5) 1.5%; Lloyd in Space (TV5) 1.7%; The Replacements (TV5) 2.3%
Bleach (GMA-7) 6.6%;Spongebob Squarepants (ABS-CBN) 2.8%; Johnny Bravo (TV5) 1.5%
Ghost Fighter (GMA-7) 7.5%; Santa Apprentice (ABS-CBN) 3%; Adventures of Tom Sawyer (ABS-CBN) 3.1%; Ben 10 Ultimate Alien (TV5) .9%
Shaman King (GMA-7) 7.4%; Komiks: Da Adventures of Pedro Penduko (ABS-CBN) 4%; Infinity Nado (TV5) .8%
Hunter X Hunter (GMA-7) 7.3%;Basta Everyday Happy (GMA-7) 5.4%; The Singing Bee (ABS-CBN) 5.2%; Movie Max 5: Six Days Seven Nights (TV5) 2.3%
ADVERTISEMENT - CONTINUE READING BELOW
The Ryzza Mae Show (GMA-7) 10.1%; Give Love on Christmas (ABS-CBN) 5%
Afternoon:
Eat Bulaga! (GMA-7) 15.8%; It's Showtime (ABS-CBN) 7%; Aksyon sa Tanghali (TV5) 2.2%; T3 Enforced (TV5) 2.1%; Movie Max 5: 3 Ninjas Kick Back (TV5) 3.1%
The Half Sisters (GMA-7) 15.7%; Yagit (GMA-7) 12.9%; Ang Lihim ni Annasandra (GMA-7) 11.3%; Kapamilya Blockbusters: The Reunion (ABS-CBN) 6.2%; Marvel Hulk and the Agents of Smash (TV5) 2.9%; X-Men (TV5) 2.2%
Reporter's Notebook (GMA-7) 10.9%; Tapatan Ni Tunying (ABS-CBN) 4.8%; PBA 2015 Philippine Cup Semis: Alaska vs Rain or Shine (TV5) 5.1%
May Queen (GMA-7) 11.6%; Bet On Your Baby (ABS-CBN) 6%
Evening:
Prime and Minister and I (GMA-7) 13.8%; Bagito (ABS-CBN) 9%
24 Oras (GMA-7) 19.7%; TV Patrol (ABS-CBN) 15.4%; Aksyon (TV5) 3.3%; Movie Max 5: Father of the Bride Part II (TV5) 2.8%
More Than Words (GMA-7) 18%; Dream Dad (ABS-CBN) 17.8%
Strawberry Lane (GMA-7) 18.7%; Forevermore (ABS-CBN) 16.7%; Wattpad Presents: My tag Boyfriend (TV5) 1.7%
Hiram na Alaala (GMA-7) 16.8%; Two Wives (ABS-CBN) 13.4%; Confessions of a Torpe (TV5) 1%
Bet ng Bayan (GMA-7) 14.9%; Aquino & Abunda Tonight (ABS-CBN) 10.2%; Aksyon Tonite (TV5) .8%
Empress Ki (GMA-7) 15.2%; Faith (ABS-CBN) 6.7%; Reaksyon (TV5) .6%
ADVERTISEMENT - CONTINUE READING BELOW
Saksi (GMA-7) 8.2%; Bandila (ABS-CBN) 3.8%; Unang Tikim (TV5) .3%; T3 Enforced Replay (TV5) .1%
Frozen Planet (GMA-7) 5.5%; Banana Nite (ABS-CBN) 2.1%; Shop Japan (TV5) .1%
The Tim Yap Show (GMA-7) 2.7%;Midnight Mass and Christmas Message (GMA-7) 1.5%; O Shopping (ABS-CBN) .6%
--
December 26, 2014 (Friday)
Morning:
Alisto! Replay (GMA-7) .5%; Mga Kwento ni Marc Logan Replay (ABS-CBN) .4%
Unang Hirit! (GMA-7) 3.2%; Umagang Kay Ganda (ABS-CBN) 2%; Aksyon sa Umaga (TV5) .5%; Sofia the First (TV5) 1.5%
Doraemon (GMA-7) 4.5%; Pokemon (GMA-7) 5%; GMA Christmas Cartoon Festival Presents (GMA-7) 6.5%; Kris TV (ABS-CBN) 4.9%; Henry Huggle Monster (TV5) 2%; Lloyd in Space (TV5) 3.1%; The Replacements (TV5) 3.2%
One Piece (GMA-7) 8%; Spongebob Squarepants (ABS-CBN) 4%; Johnny Bravo (TV5) 2.5%
Bleach (GMA-7) 7.8%; Santa Apprentice (ABS-CBN) 3.8%; Ben 10 Ultimate Alien (TV5) 2.7%
Ghost Fighter (GMA-7) 8.7%; Adventures of Tom Sawyer (ABS-CBN) 4.4%
Shaman King (GMA-7) 8.9%; Komiks: Da Adventures of Pedro Penduko (ABS-CBN) 5.5%; Infinity Nado (TV5) 2.1%
Hunter X Hunter (GMA-7) 9.7%;Basta Everyday Happy (GMA-7) 7.2%; The Singing Bee(ABSCBN) 7.9%; Movie Max 5: Euro Trip (TV5) 3.9%
The Ryzza Mae Show (GMA-7) 11.5%; Give Love on Christmas (ABS-CBN) 8.5%
ADVERTISEMENT - CONTINUE READING BELOW
Afternoon:
Eat Bulaga! (GMA-7) 16.9%; It's Showtime (ABS-CBN) 10.2%; Aksyon sa Tanghali(TV5) 3.3%; T3 Enforced (TV5) 2.4%; Movie Max 5: The Burbs (TV5) 2.9%
The Half Sisters (GMA-7) 19.1%; Yagit (GMA-7) 15%; Ang Lihim ni Annasandra (GMA-7) 11.8%;Kapamilya Blockbusters: Father Jejemon (ABS-CBN) 7%; Marvel Hulk and the Agents of Smash (TV5) 1.6%; X-Men (TV5) 1.7%
Love Hotline (GMA-7) 10.5%; Red Alert (ABS-CBN) 4.3%; Movie Max 5: Two Brothers (TV5) 3.5%
May Queen (GMA-7) 11.7%; Bet On Your Baby (ABS-CBN) 5.1%
Evening:
Prime Minister and I (GMA-7) 15.2%; Bagito (ABS-CBN) 9.8%; Aksyon (TV5) 4.8%
24 Oras (GMA-7) 20.8%; TV Patrol (ABS-CBN) 14.7%
More Than Words (GMA-7) 18.3%; Dream Dad (ABS-CBN) 18.5%; PBA 2015 Philippines Cup Semis: San Miguel Beermen vs Talk n Text (TV5) 7.5%
Strawberry Lane (GMA-7) 20.5%; Forevermore (ABS-CBN) 17.4%
Hiram na Alaala (GMA-7) 18.4%; Two Wives (ABS-CBN) 17.1%; Aquino & Abunda Tonight (ABS-CBN) 13%; Wattpad Presents: My Tag Boyfriend (TV5) 2.6%; Confessions of a Torpe (TV5) 2.1%
Bet ng Bayan (GMA-7) 17%; Faith (ABS-CBN) 8.2%; Aksyon Tonite (TV5) 1.3%
Bubble Gang (GMA-7) 14.3%; Bandila (ABS-CBN) 4.9%; Reaksyon (TV5) .6%; Astig (TV5) .7%; T3 Enforced Replay (TV5) .7%
Saksi (GMA-7) 7.3%; Banana Nite (ABS-CBN) 3.2%; Shop Japan (TV5) .2%
ADVERTISEMENT - CONTINUE READING BELOW
The Tim Yap Show (GMA-7) 3.2%; O Shopping (ABS-CBN) .8%
--
December 27, 2014 (Saturday)
Morning:
PJM Forum (GMA-7) .2%; Adyenda (GMA-7) .5%; Kapwa Ko Mahal Ko (GMA-7) 1.2%; Sa Kabukiran (ABS-CBN) .5%; Shop Japan (TV5) .1%; Family Matters (TV5) .1%
Pinoy MD (GMA-7) 3.2%; Salamat Dok (ABS-CBN) 1%; Stitch! (TV5) .8%
Puppy in My Pocket (GMA-7) 2.9%; Swak na Swak (ABS-CBN) 1.3%; Gravity Falls (TV5) 1.9%
Kamen Rider Ooo (GMA-7) 4.4%; Honey Watch Out! (ABS-CBN) .6%; The Emperor's New School (TV5) 2.6%
Tom & Jerry Kids Show (GMA-7) 6.1%; Math Tinik (ABS-CBN) .7%; The Adventures of Jimmy Neutron ABS-CBN) 1.3%;The Legend of Tarzan (TV5) 2.8%
Angry Birds Toons (GMA-7) 7.1%;Monsuno (GMA-7) 5.9%;Spongebob Squarepants (ABS-CBN) 2.6%; Combo Ninos (TV5) 3.4%
Tropang Potchi (GMA-7) 4.9%; Super Book (ABS-CBN) 4.5%; The Powerpuff Girls (TV5) 3.9%; Dexter's Laboratory (TV5) 4.8%
Sarap Diva (GMA-7) 7.2%; Maynila 15 (GMA-7) 8.5%; Del Monte Kitchenomics (GMA-7) 10.4%; NBA 2014-2015: New Orleans Pelicans vs San Antonio(TV5) 4.1%; Ben 10 Omniverse (TV5) 4.9%; Ben 10 Omniverse (TV5) 4.7%; Movie Max:Disney's the Kid (TV5) 4.5%
Afternoon:
Eat Bulaga! (GMA-7) 14.5%; GMA Tales of Horror (GMA-7) 9.4%; It's Showtime (ABS-CBN) 8.7%; Movie Max 5:Con Air(TV5) 5.7%
ADVERTISEMENT - CONTINUE READING BELOW
Wish Ko Lang! (GMA-7) 10.2%; Ipaglaban Mo (ABS-CBN) 6%; Movie Max 5: Uncle Buck (TV5) 4.4%
Startalk (GMA-7) 8.9%; Failon Ngayon (ABS-CBN) 5.5%
Imbestigador (GMA-7) 13.1%; SOCO (ABS-CBN) 6.2%; PBA 2015 Philippines Cup Semis: Alaska vs Rain or Shine (TV5) 5.9%
24 Oras Weekend (GMA-7) 14.1%; TV Patrol Weekend (ABS-CBN) 7%
Evening:
Pepito Manaloto: Ang Tunay na Kuwento (GMA-7) 16.9%; Mga Kwento ni Marc Logan (ABS-CBN) 10.8%; Home Sweetie Home (ABS-CBN) 12.6%; Tropa Mo Ko Nice Di Ba?! (TV5) 5%
Magpakailanman (GMA-7) 22.9%; MMK: Ang Tahanan Mo (ABS-CBN) 14.9%; Iskul Bukol Eskwelang-Kwela 'To (TV5) 4.1%
Hashtag Throwback 2014 (GMA-7) 18%; The Voice of the Philippines (ABS-CBN) 18%; Everybody Hapi (TV5) 4.1%
Celebrity Bluff (GMA-7) 17.4%; I-Witness (GMA-7) 10.3%; 40th Metro Manila Film Festival (ABS-CBN) 12.2%; Trenderas Mga Tindera Today (TV5) 2.1%; Kaya. (TV5) 1.2%; History with Lourd (TV5) .9%; Bigtime (TV5) .7%
Walang Tulugan (GMA-7) 3.4%; The Bottom Line (ABS-CBN) 4.4%; Sports Unlimited (ABS-CBN) 2.3%; O Shopping (ABS-CBN) 1.2%; Shop Japan (TV5) .4%
--
December 28, 2014 (Sunday)
Daytime:
In Touch with Dr. Charles Stanley (GMA-7) .3%; Jesus The Healer (GMA-7) .8%; Shop Japan (TV5) .2%
Family TV Mass (GMA-7) 1.1%; The Healing Eucharist (ABS-CBN) 3.4%; Misa Nazareno (TV5) .6%
ADVERTISEMENT - CONTINUE READING BELOW
Grimm's Fairy Tales (GMA-7) 4%; Swak na Swak (ABS-CBN) 2.1%; Power to Unite with Elvira (TV5) .3%
Kamen Rider Ooo (GMA-7) 5.2%; Tom & Jerry Kids Show (GMA-7) 6.1%; Salamat Dok (ABS-CBN) 2.1%; Stitch! (TV5) .9%; Gravity Falls (TV5) 2.5%
Monsuno (GMA-7) 6.3%; My Giant Friend (ABS-CBN) 2.8%; The Emperor's New School (TV5) 2.3%
Aha! (GMA-7) 6.8%; Max Steel (ABS-CBN) 3%; Superbook (ABS-CBN) 3.9%; The Legend of Tarzan (TV5) 3.8%; The Powerpuff Girls (TV5) 3.5%
Born To Be Wild (GMA-7) 7.1%; iBilib (GMA-7) 6.2%; Matanglawin (GMA-7) 5.5%; Dexter's Laboratory (TV5) 3.8%; Ben 10 Omniverse (TV5) 3.5%
Kapuso Movie Festival: Barbie a Perfect Christmas (GMA-7) 9.1%; Kapuso Movie Festival: Elf (GMA-7) 13.7%; Kapamilya Blockbusters: Gnomeo & Juliet (ABS-CBN) 6.5%; Movie Max 5: Beethoven's Big Break (TV5) 4.5%
Afternoon:
Del Monte Kitchenomics (GMA-7) 12.2%; Sunday All Stars (ABS-CBN) 10.7%; ASAP 19 (ABS-CBN) 8.1%; Movie Max 5: Footloose (TV5) 4.3%
GMA Blockbusters: Diary of a Wimpy Kid (GMA-7) 10.6%; Luv U (ABS-CBN) 6.3%; The Buzz (ABS-CBN) 7.1%; Movie Max 5: A Thousand Words (TV5) 3.5%
24 Oras Weekend (GMA-7) 10.7%; TV Patrol Weekend (ABS-CBN) 10%; Movie Max 5: Dante's Peak(TV5) 4.1%
Evening:
Vampire Ang Daddy Ko (GMA-7) 16.7%; Goin' Bulilit (ABS-CBN) 12%
ADVERTISEMENT - CONTINUE READING BELOW
Ismol Family (GMA-7) 20.7%; Wansapanataym (ABS-CBN) 12.5%; Who Wants to be a Millionaire (TV5) 6.7%
Kapuso Mo, Jessica Soho (GMA-7) 25.1%; Rated K: Handa Na Ba Kayo? (ABS-CBN) 14.4%; The Voice of the Philippines (ABS-CBN) 15.1%; Quiet Please! Bawal Ang Maingay (TV5) 4%; Wow Mali Lakas ng Tama! (TV5) 5.6%
Bet ng Bayan (GMA-7) 14.3%; Gandang Gabi Vice (ABS-CBN) 16%; Wattpad Presents(TV5) 3%
Sunday Night Box Office: Highlander Endgame (GMA-7) 9.3%; Sunday's Best: Trending 2014 (ABS-CBN) 4.7%; Shop Japan (TV5) .6%
Diyos at Bayan (GMA-7) 1.9%; O Shopping (ABS-CBN) 1%
---
December 29, 2014 (Monday)
Morning:
Power House Replay (GMA-7) .4%; Matanglawin Replay (ABS-CBN) .3%
Unang Hirit! (GMA-7) 3%; Umagang Kay Ganda (ABS-CBN) 2.6%; Aksyon sa Umaga (TV5) .7%; Sofia the First (TV5) 1.2%
Doraemon (GMA-7) 6.2%; Pokemon (GMA-7) 6.9%; GMA Christmas Cartoon Festival Presents (GMA-7) 8.1%;Kris TV (ABS-CBN) 5.1%; Henry the Huggle Monster (TV5) 1.7%; Lloyd in Space (TV5)2.3%; The Replacements (TV5) 3%
One Piece (GMA-7) 9.7%;Spongebob Squarepants (ABS-CBN) 5.6%; Johnny Bravo (TV5) 2.4%
Bleach (GMA-7) 10.1%; Santa Apprentice (ABS-CBN) 5.8%; Ben 10 Ultimate Alien (TV5) 2.7%
Ghost Fighter (GMA-7) 9.2%;Adventures of Tom Sawyer (ABS-CBN) 6.8%
ADVERTISEMENT - CONTINUE READING BELOW
Shaman King (GMA-7) 9.7%;Komiks: Da Adventures of Pedro Penduko (ABS-CBN) 6.4%; Infinity Nado (TV5) 2.1%
Hunter X Hunter (GMA-7) 10.9%; Basta Everyday Happy (GMA-7) 6.5%; The Singing Bee (ABS-CBN) 8.2%;Movie Max 5: The Smurfs(TV5)4.4%
The Ryzza Mae Show (GMA-7) 11.9%; Give Love on Christmas (ABS-CBN) 8.7%
Afternoon:
Eat Bulaga! (GMA-7) 17.5%; It's Showtime (ABS-CBN) 9%; Aksyon sa Tanghali (TV5) 3.3%; T3 Enforced (TV5) 2.4%; Movie Max 5:Congo(TV5) 4.2%
The Half Sisters (GMA-7) 18.8%;Yagit (GMA-7) 13.2%; Ang Lihim ni Annasandra (GMA-7) 11.3%; Kapamilya Blockbusters:Every Breath You Take(ABS-CBN) 7.7%; Marvel Hulk and the Agents of Smash (TV5) 3%; X-Men (TV5) 2.4%
Alisto! (GMA-7) 9.2%; Bistado (ABS-CBN) 6.5%; Movie Max 5: Hancock(TV5) 4.1%
May Queen (GMA-7) 11%; Bet On Your Baby (ABS-CBN) 7.1%
Evening:
Prime Minister and I (GMA-7) 15%; Bagito (ABS-CBN) 12.1%; Aksyon (TV5) 4.4%
24 Oras (GMA-7) 22%; TV Patrol (ABS-CBN) 16.7%; Movie Max 5: Billy Madison(TV5) 4.1%
More Than Words (GMA-7) 19.6%; Dream Dad (ABS-CBN) 19.5%
Strawberry Lane (GMA-7) 20.4%; Forevermore (ABS-CBN) 19.8%
Hiram na Alaala (GMA-7) 18%; Two Wives (ABS-CBN) 17.3%; Aquino & Abunda Tonight (ABS-CBN) 12.3%; Wattpad Presents (TV5) 1.8%; Confessions of a Torpe (TV5) 1.7%
ADVERTISEMENT - CONTINUE READING BELOW
Empress Ki (GMA-7) 16.4%; Faith (ABS-CBN) 7.6%;Aksyon Tonite (TV5) 1.6%; Reaksyon (TV5) .7%
Saksi (GMA-7) 10.8%; Bandila (ABS-CBN) 4.3%; Demolition Job (TV5) .9%; T3 Enforced Replay (TV5).5%
Front Row (GMA-7) 6.8%; Mukha (ABS-CBN) 2.7%; Shop Japan (TV5) .2%
The Tim Yap Show (GMA-7) 2.9%; O Shopping (ABS-CBN) .7%
----
December 30, 2014 (Tuesday)
Morning:
I-Witness Replay (GMA-7) .6%; Red Alert Replay (ABS-CBN) .1%
Unang Hirit! (GMA-7) 3.8%; Umagang Kay Ganda (ABS-CBN)1.9%; Aksyon sa Umaga (TV5) .6%; Sofia the First (TV5) 1.7%
Doraemon (GMA-7) 6%; Pokemon (GMA-7) 7.2%; GMA Christmas Cartoon Festival Presents (GMA-7) 7.3%; Kris TV (ABS-CBN) 5.1%; Henry Huggle Monster (TV5) 2%; Lloyd in Space (TV5) 2.3%; The Replacements (TV5) 2.6%
One Piece (GMA-7) 8.4%; Bleach (GMA-7) 8.2%;Spongebob Squarepants (ABS-CBN) 4.9%; Johnny Bravo (TV5) 2.7%
Ghost Fighter (GMA-7) 7.9%; Santa Apprentice (ABS-CBN)5.1%; Adventures of Tom Sawyer (ABS-CBN) 5.1%; Ben 10 Ultimate Alien (TV5) 2.8%
Shaman King (GMA-7) 8.5%; Komiks: Da Adventures of Pedro Penduko (ABS-CBN) 4.8%; Infinity Nado (TV5) 2.2%
Hunter X Hunter (GMA-7) 8.9%;Basta Everyday Happy (GMA-7) 7.2%; The Singing Bee (ABS-CBN) 7.3%; Movie Max 5: Puss in Boots(TV5) 5.6%
The Ryzza Mae Show (GMA-7) 11.7%; Give Love on Christmas (ABS-CBN) 6.8%
ADVERTISEMENT - CONTINUE READING BELOW
Afternoon:
Eat Bulaga (GMA-7) 17.8%; It's Showtime (ABS-CBN) 7.1%; Aksyon sa Tanghali (TV5) 3.9%; T3 Enforced (TV5) 2.2%; Movie Max 5:Deep Rising (TV5) 4%
The Half Sisters (GMA-7) 17.7%; Yagit (GMA-7) 14.1%; Ang Lihim ni Annasandra (GMA-7) 10.7%; Kapamilya Blockbusters(ABS-CBN) 6.3%; Marvel Hulk and the Agents of Smash (TV5) 2.4%; X-Men (TV5) 2.1%
Tunay na Buhay (GMA-7) 10.6%; Mutya ng Masa (ABS-CBN) 4.5%; Movie Max 5: Frost Giant(TV5) 2.8%
May Queen (GMA-7) 12.5%; Bet On Your Baby (ABS-CBN) 6.6%
Evening:
Prime Minister and I (GMA-7) 16.2%; Bagito (ABS-CBN) 11.8%; Aksyon (TV5) 3.2%
24 Oras (GMA-7) 24.8%; TV Patrol (ABS-CBN) 15%; Movie Max 5: Shanghai Noon(TV5) 5.9%
More Than Words (GMA-7) 19.1%; Dream Dad (ABS-CBN) 17.9%
Strawberry Lane (GMA-7) 19.5%; Forevermore (ABS-CBN) 17.3%; Wattpad Presents (TV5) 2.1%
Hiram na Alaala (GMA-7) 18.5%; Two Wives (ABS-CBN) 16.1%; Aquino & Abunda Tonight (ABS-CBN) 12.3%; Confessions of a Torpe (TV5) 1.6%
Empress Ki (GMA-7) 16.3%; Faith (ABS-CBN) 8.2%;Aksyon Tonite (TV5) 1.3%; Reaksyon (TV5) .5%
Saksi (GMA-7) 12.1%; Bandila (ABS-CBN) 4.5%; Numero (TV5) .7%; T3 Enforced Replay (TV5) .4%
The Blue Planet (GMA-7) 7.4%; Banana Nite (ABS-CBN) 3.3%; Shop Japan (TV5) .1%
The Tim Yap Show (GMA-7) 2.8%; O Shopping (ABS-CBN) 1.1%
ADVERTISEMENT - CONTINUE READING BELOW
---
December 31, 2014 (Wednesday)
Morning:
Tunay na Buhay Replay (GMA-7) .9%; My Puhunan Replay (ABS-CBN) .3%
Unang Hirit! (GMA-7) 3.9%; Umagang Kay Ganda (ABS-CBN) 1.8%; Aksyon sa Umaga (TV5) .6%; Sofia the First (TV5) 1.5%
Doraemon (GMA-7) 5.5%; Pokemon (GMA-7) 6.2%;GMA Christmas Cartoon Festival Presents (GMA-7) 7.2%; Kris TV (ABS-CBN) 4.3%; Henry Huggle Monster (TV5) 1.7%; Lloyd in Space (TV5) 2%; The Replacements (TV5) 2.6%
One Piece (GMA-7) 7.6%; Spongebob Squarepants (ABS-CBN) 4.1%; Johnny Bravo (TV5) 2.7%
Bleach (GMA-7) 6.8%; Santa Apprentice (ABS-CBN)4.1%; Ben 10 Ultimate Alien (TV5) 3.3%
Ghost Fighter (GMA-7) 6.8%; Adventures of Tom Sawyer (ABS-CBN) 3.8%
Shaman King (GMA-7) 7.9%; Komiks: Da Adventures of Pedro Penduko (ABS-CBN) 4.3%; Infinity Nado (TV5) 2.3%
Hunter X Hunter (GMA-7) 9.2%;Basta Everyday Happy (GMA-7) 6%; The Singing Bee (ABS-CBN) 6.5%; Movie Max 5: Rugrats Go Wild (TV5) 3.2%
The Ryzza Mae Show (GMA-7) 9.4%; Give Love on Christmas (ABS-CBN) 6.9%
Afternoon:
Eat Bulaga (GMA-7)15%; It's Showtime (ABS-CBN) 7.8%; Aksyon sa Tanghali (TV5) 2.4%; T3 Enforced (TV5) 2.7%; Movie Max 5: Bugs (TV5) 3.7%
The Half Sisters (GMA-7) 15.8%; Yagit (GMA-7) 12.4%; Ang Lihim ni Annasandra (GMA-7) 9.8%; Kapamilya Blockbusters: 24/7 In Love(ABS-CBN) 6.7%; Marvel Hulk and the Agents of Smash (TV5) 1.7%; X-Men (TV5) 1%
ADVERTISEMENT - CONTINUE READING BELOW
Power House (GMA-7) 8%; My Puhunan (ABS-CBN) 4.2%; Movie Max 5: The Replacement Killers (TV5) 2.5%
May Queen (GMA-7) 9%; Bet On Your Baby (ABS-CBN)5.2%
Evening:
Prime and Minister and I (GMA-7) 12%; Bagito (ABS-CBN) 8.7%; Aksyon (TV5) 2.5%
24 Oras (GMA-7) 16.5%; TV Patrol (ABS-CBN) 11.7%; Movie Max 5: Kicking & Screaming (TV5) 2.1%
More Than Words (GMA-7) 13.4%; Dream Dad (ABS-CBN) 13%
Strawberry Lane (GMA-7) 14.1%; Forevermore (ABS-CBN) 12.3%; Wattpad Presents (TV5) 1.3%
Hiram na Alaala (GMA-7) 14.2%; Two Wives (ABS-CBN) 12%; Confessions of a Torpe (TV5) 1.6%
Saksi (GMA-7) 14%;Aquino & Abunda Tonight (ABS-CBN) 9.8%
Countdown to 2015 (GMA-7) 15.6%; Faith (ABS-CBN) 7.4%;Bandila (ABS-CBN) 7.7%;Salubong 2015 (ABS-CBN) 8.5%; 2015 New Year's Eve Mass (ABS-CBN) 7.1%; Aksyon Tonite (TV5) 2.2%; Happy sa 2015 (TV5) 2%; Shop Japan (TV5) .6%
The Tim Yap Show (GMA-7) 6.6%; O Shopping (ABS-CBN) 1.2%; Feast of the Solemnity of the Motherhood (TV5) .8%
---
TOP TEN PROGRAMS:
December 15, 2014 (Monday)
DAYTIME:
The Half Sisters (GMA-7) – 21.2%
Eat Bulaga! (GMA-7) – 18.4%
Yagit (GMA-7) – 15.5%
The Ryzza Mae Show (GMA-7) - 14.7%
May Queen (GMA-7) - 13.6%
Ang Lihim ni Annasandra (GMA-7) – 12.9%
Miss World London 2014 (GMA-7) - 11.7%
Alisto! (GMA-7) - 11.4%
It's Showtime (ABS-CBN) – 10.3%
Give Love on Christmas (ABS-CBN)- 10.1%
PRIMETIME:
1. 24 Oras (GMA-7) - 22%
2. Dream Dad (ABS-CBN) / Forevermore (ABS-CBN) – 20.2%
3. Strawberry Lane (GMA-7) – 20%
4. More Than Words (GMA-7) – 19.6%
Two Wives (ABS-CBN) – 19.1%
6. TV Patrol (ABS-CBN) – 19%
7. Prime Minister and I (GMA-7) – 17.2%
Hiram na Alaala (GMA-7) - 16.8%
Bet ng Bayan (GMA-7) - 15.6%
Empress Ki (GMA-7) - 14%
December 16, 2014 (Tuesday)
DAYTIME:
The Half Sisters (GMA-7) – 21.1%
Eat Bulaga! (GMA-7) – 18.6%
Yagit (GMA-7) - 17%
May Queen (GMA-7) - 14.3%
Ang Lihim ni Annasandra (GMA-7) - 13.9%
Tunay na Buhay (GMA-7) – 12.1%
Give Love on Christmas(ABS-CBN)- 11.5%
The Ryzza Mae Show (GMA-7) – 11.4%
The Singing Bee (ABS-CBN) – 9.7%
It's Showtime (ABS-CBN) – 9.6%
PRIMETIME:
1. 24 Oras (GMA-7) - 20.6%
2. Forevermore(ABS-CBN) – 20%
3. Two Wives (ABS-CBN) – 19.7%
4. Strawberry Lane (GMA-7)- 18.5%
5. Dream Dad (ABS-CBN) – 18.4%
6. More Than Words (GMA-7) – 17.9%
7. TV Patrol (ABS-CBN) - 16.5%
8. Hiram na Alaala (GMA-7) – 16.8%
9. Prime Minister and I (GMA-7) – 15.9%
10. Bet ng Bayan(GMA-7) - 15.5%
December 17, 2014 (Wednesday)
DAYTIME:
The Half Sisters (GMA-7) – 19.7%
Eat Bulaga! (GMA-7) – 18.4%
Yagit (GMA-7) - 14.3%
May Queen (GMA-7) - 12.7%
The Ryzza Mae Show (GMA-7) – 12.6%
Ang Lihim ni Annasandra (GMA-7) / Power House (GMA-7)- 11.6%
Hunter X Hunter (GMA-7) - 9.7%
Give Love on Christmas(ABS-CBN)/ It's Showtime (ABS-CBN) - 9.5%
One Piece (GMA-7) - 9%
Bleach (GMA-7) / Del Monte Kitchenomics(GMA-7) - 8.2%
PRIMETIME:
1. 24 Oras (GMA-7) – 20.5%
2. Dream Dad (ABS-CBN) – 20.4%
3. Forevermore (ABS-CBN) – 19.5%
4. Strawberry Lane (GMA-7) / Two Wives (ABS-CBN) - 18.4%
5. Hiram na Alaala (GMA-7) – 18%
6. More Than Words(GMA-7) - 17.5%
TV Patrol (ABS-CBN) – 17.1%
Bet ng Bayan(GMA-7) - 16.9%
Empress Ki(GMA-7) – 15.1%
Prime Minister and I(GMA-7) – 14.8%
December 18, 2014 (Thursday)
DAYTIME:
The Half Sisters (GMA-7) – 21.5%
Eat Bulaga! (GMA-7) – 17.7%
Yagit (GMA-7) - 15.9%
The Ryzza Mae Show (GMA-7)/ Ang Lihim ni Annasandra (GMA-7) - 13%
May Queen (GMA-7) - 12.2%
It's Showtime (ABS-CBN)– 11.6%
Give Love on Christmas(ABS-CBN) - 10.9%
The Singing Bee (ABS-CBN) – 10.4%
Reporter's Notebook (GMA-7)– 10%
Hunter X Hunter(GMA-7) - 9.1%
PRIMETIME:
Dream Dad (ABS-CBN) - 22.4%
Forevermore(ABS-CBN) – 20%
Strawberry Lane (GMA-7) – 19.9%
4. Two Wives (ABS-CBN) - 19.4%
24 Oras (GMA-7) - 19.3%
Hiram na Alaala (GMA-7) – 18.4%
More Than Words(GMA-7) – 18.1%
TV Patrol (ABS-CBN) – 17%
Bet ng Bayan(GMA-7) - 16.9%
Prime Minister and I(GMA-7) – 16.2%
December 19, 2014 (Friday)
DAYTIME:
The Half Sisters (GMA-7) – 21.5%
Eat Bulaga! (GMA-7) – 18.4%
Yagit (GMA-7) - 16.3%
Ang Lihim ni Annasandra (GMA-7) - 14.4%
May Queen (GMA-7) - 13.2%
The Ryzza Mae Show (GMA-7) - 12.8%
Love Hotline (GMA-7) - 11%
Give Love on Christmas: The Gift Giver(ABS-CBN)- 9.9%
Hunter X Hunter(GMA-7) - 9.2%
The Singing Bee (ABS-CBN) – 9%
PRIMETIME:
Dream Dad (ABS-CBN) - 18.9%
24 Oras (GMA-7) - 18.6%
Forevermore (ABS-CBN) - 18.5%
Strawberry Lane (GMA-7) - 18.2%
Two Wives (ABS-CBN) - 17.4%
More Than Words(GMA-7) / TV Patrol (ABS-CBN) – 16.9%
Hiram na Alaala (GMA-7) - 16.6%
Prime Minister and I(GMA-7) – 16.1%
Bet ng Bayan (GMA-7) – 14.8%
Bubble Gang (GMA-7) – 13.7%
December 20, 2014 (Saturday)
DAYTIME:
Eat Bulaga! (GMA-7) – 18.3%
24 Oras Weekend (GMA-7) – 13.4%
Imbestigador (GMA-7) – 12.8%
Del Monte Kitchenomics (GMA-7) - 11.8%
GMA Tales of Horror (GMA-7) - 10.7%
It's Showtime (ABS-CBN) - 10.2%
Maynila (GMA-7) - 10.1%
TV Patrol Weekend (ABS-CBN) – 9.6%
Startalk (GMA-7) / Wish Ko Lang! (GMA-7) - 9.4%
Ipaglaban Mo (ABS-CBN) - 9.3%
PRIMETIME:
Magpakailanman (GMA-7) – 26%
The Voice of the Philippines (ABS-CBN) – 20.4%
Pepito Manaloto: Ang Tunay na Kuwento (GMA-7) – 19.5%
Himig ng Pasko(GMA-7) / Celebrity Bluff (GMA-7) – 18.3%
MMK: Ang Tahanan Mo (ABS-CBN) – 17.9%
Home Sweetie Home (ABS-CBN) – 13.3%
Mga Kwento ni Marc Logan (ABS-CBN) – 12%
I-Witness (GMA-7) - 10.9%
Banana Split Extra Scoop (ABS-CBN) - 9.3%
PBA 2015 Philippines Cup Semis: Alaska vs Rain or Shine (TV5) - 4.8%
December 21, 2014 (Sunday)
DAYTIME:
Kapuso Movie Festival (GMA-7) - 18.2%
GMA Blockbusters (GMA-7) - 15%
24 Oras Weekend (GMA-7) - 14%
Del Monte Kitchenomics (GMA-7) - 13.7%
Sunday All Stars (GMA-7) - 11.3%
Superhero Sunday (GMA-7) - 10.9%
TV Patrol Weekend (ABS-CBN) -9%
The Tom & Jerry Kids Show (GMA-7) / iBilib (GMA-7) - 7.6%
ASAP(ABS-CBN) -7.4%
Kapamilya Blockbusters (ABS-CBN) / Born to be Wild (GMA-7) - 7%
PRIMETIME:
1. Kapuso Mo, Jessica Soho (GMA-7) - 21.4%
2. Ismol Family (GMA-7) - 18.1%
3. The Voice Philippines(ABS-CBN) – 17.9%
Vampire Ang Daddy Ko (GMA-7) – 16.3%
Rated K: Handa Na Ba Kayo? (ABS-CBN) – 14%
Bet ng Bayan (GMA-7) - 11.7%
Wansapanataym (ABS-CBN) – 11.6%
Goin' Bulilit (ABS-CBN) – 9.9%
PBA 2015 Philippine Cup Semis: San Miguel Beermen vs Talk n Text (TV5) - 7.7%
10. Who Wants to be a Millionaire(TV5) – 7.3%
December 22, 2014 (Monday)
DAYTIME:
The Half Sisters (GMA-7) – 19.9%
Eat Bulaga! (GMA-7) – 18.8%
Yagit (GMA-7) – 16.4%
Ang Lihim ni Annasandra (GMA-7) – 14%
May Queen (GMA-7) - 13.5%
The Ryzza Mae Show (GMA-7) - 12.5%
Alisto! (GMA-7) - 11.3%
It's Showtime (ABS-CBN) – 10.3%
Hunter X Hunter(GMA-7) - 9.8%
One Piece(GMA-7) / The Singing Bee (ABS-CBN) / Give Love on Christmas (ABS-CBN) - 8.7%
PRIMETIME:
ADVERTISEMENT - CONTINUE READING BELOW
1. 24 Oras (GMA-7) - 19.8%
2. Dream Dad (ABS-CBN) - 19.5%
3. Forevermore (ABS-CBN)– 18.8%
4. Strawberry Lane (GMA-7) – 18.3%
Hiram na Alaala (GMA-7) - 17.7%
6. Prime Minister and I (GMA-7) – 17.4%
Two Wives (ABS-CBN) – 17.1%
8. More Than Words(GMA-7) – 16.9%
9. TV Patrol (ABS-CBN) – 16.8%
Bet ng Bayan (GMA-7) - 16.3%
December 23, 2014 (Tuesday)
DAYTIME:
The Half Sisters (GMA-7) – 20%
Eat Bulaga! (GMA-7) – 18.7%
Yagit (GMA-7) - 14.6%
May Queen (GMA-7) - 12.4%
Ang Lihim ni Annasandra (GMA-7) - 11.7%
The Ryzza Mae Show (GMA-7) – 11.6%
Tunay na Buhay (GMA-7) – 10.9%
It's Showtime (ABS-CBN) – 10.3%
Shaman King(GMA-7) – 10.2%
Hunter X Hunter(GMA-7) – 10.1%
PRIMETIME:
1. Hiram na Alaala (GMA-7) – 19.6%
2. 24 Oras (GMA-7) - 19.3%
3. Strawberry Lane (GMA-7)- 19.1%
4. Dream Dad (ABS-CBN) – 18.7%
5. Bet ng Bayan(GMA-7) - 17.6%
6. More Than Words(GMA-7) – 17.1%
7. Forevermore(ABS-CBN) – 16.9%
8. Two Wives (ABS-CBN) – 16.7%
9. TV Patrol (ABS-CBN) - 16.3%
10. Empress Ki (GMA-7) – 16.2%
December 24, 2014 (Wednesday)
DAYTIME:
The Half Sisters (GMA-7) – 21.7%
Eat Bulaga! (GMA-7) – 21.3%
Yagit (GMA-7) - 15.3%
Kapamilya Blockbusters: Girl Boy Bakla Tomboy(ABS-CBN) - 13.4%
Ang Lihim ni Annasandra (GMA-7) - 13.2%
The Ryzza Mae Show (GMA-7) – 12.9%
May Queen (GMA-7) - 12.3%
Hunter X Hunter (GMA-7) - 12.2%
Shaman King (GMA-7) – 11.7%
Ghost Fighter (GMA-7) – 11.6%
PRIMETIME:
1. 24 Oras (GMA-7) – 19.5%
2. Strawberry Lane (GMA-7) - 18.5%
3. Dream Dad (ABS-CBN) – 16.8%
4. More Than Words(GMA-7) - 16.7%
5. Hiram na Alaala (GMA-7) – 16.6%
6. Forevermore(ABS-CBN) – 16.4%
Prime Minister and I(GMA-7) – 15.8%
TV Patrol (ABS-CBN) – 15.3%
Bet ng Bayan(GMA-7) / Empress Ki(GMA-7) – 15.1%
10. Two Wives (ABS-CBN) - 14.9%
December 25, 2014 (Thursday)
DAYTIME:
Eat Bulaga! (GMA-7) – 15.8%
The Half Sisters (GMA-7) – 15.7%
Yagit (GMA-7) - 12.9%
May Queen (GMA-7) - 11.6%
Ang Lihim ni Annasandra (GMA-7) - 11.3%
Reporter's Notebook (GMA-7)– 10.9%
The Ryzza Mae Show (GMA-7)- 10.1%
Ghost Fighter(GMA-7) – 7.5%
Shaman King(GMA-7) – 7.4%
Hunter X Hunter(GMA-7) - 7.3%
PRIMETIME:
24 Oras (GMA-7) - 19.7%
Strawberry Lane (GMA-7) – 18.7%
More Than Words(GMA-7) – 18%
Dream Dad (ABS-CBN) - 17.8%
Hiram na Alaala (GMA-7) – 16.8%
Forevermore(ABS-CBN) – 16.7%
TV Patrol (ABS-CBN) – 15.4%
Empress Ki(GMA-7) – 15.2%
Bet ng Bayan(GMA-7) - 14.9%
Prime Minister and I(GMA-7) – 13.8%
December 26, 2014 (Friday)
DAYTIME:
The Half Sisters (GMA-7) – 19.1%
Eat Bulaga! (GMA-7) – 16.9%
Yagit (GMA-7) - 15%
Ang Lihim ni Annasandra (GMA-7) - 11.8%
May Queen (GMA-7) - 11.7%
The Ryzza Mae Show (GMA-7) - 11.5%
Love Hotline (GMA-7) - 10.5%
It's Showtime (ABS-CBN) – 10.2%
Hunter X Hunter(GMA-7) - 9.7%
Shaman King(GMA-7) – 8.9%
PRIMETIME:
24 Oras (GMA-7) - 20.8%
Strawberry Lane (GMA-7) - 20.5%
Dream Dad (ABS-CBN) - 18.5%
Hiram na Alaala (GMA-7) - 18.4%
More Than Words(GMA-7) - 18.3%
Forevermore (ABS-CBN) - 17.4%
Two Wives (ABS-CBN) - 17.1%
Bet ng Bayan (GMA-7) – 17%
Prime Minister and I(GMA-7) – 15.2%
TV Patrol (ABS-CBN) – 14.7%
December 27, 2014 (Saturday)
DAYTIME:
Eat Bulaga! (GMA-7) – 14.5%
24 Oras Weekend (GMA-7) – 14.1%
Imbestigador (GMA-7) – 13.1%
Del Monte Kitchenomics (GMA-7) - 10.4%
Wish Ko Lang! (GMA-7) - 10.2%
GMA Tales of Horror (GMA-7) - 9.4%
Startalk (GMA-7) - 8.9%
It's Showtime (ABS-CBN) - 8.7%
Maynila (GMA-7) - 8.5%
Sarap Diva (GMA-7) -7.2%
PRIMETIME:
Magpakailanman (GMA-7) – 22.9%
Hashtag Throwback 2014(GMA-7) / The Voice of the Philippines(ABS-CBN) – 18%
Celebrity Bluff (GMA-7) – 17.4%
Pepito Manaloto: Ang Tunay na Kuwento (GMA-7) – 16.9%
MMK: Ang Tahanan Mo (ABS-CBN) – 14.9%
Home Sweetie Home (ABS-CBN) – 12.6%
40th Metro Manila Film Festival (ABS-CBN) - 12.2%
Mga Kwento ni Marc Logan(ABS-CBN) – 10.8%
I-Witness (GMA-7) - 10.3%
Tropa Mo Ko Nice Di Ba?! (TV5) - 5%
December 28, 2014 (Sunday)
DAYTIME:
Kapuso Movie Festival: Elf (GMA-7) - 13.7%
Del Monte Kitchenomics (GMA-7) - 12.2%
Sunday All Stars (GMA-7)/ 24 Oras Weekend (GMA-7) - 10.7%
GMA Blockbusters (GMA-7) - 10.6%
TV Patrol Weekend (ABS-CBN) -10%
Kapuso Movie Festival: Barbie a Perfect Christmas(GMA-7) -9.1%
ASAP(ABS-CBN) -8.1%
Born to be Wild (GMA-7)/ The Buzz (ABS-CBN) 7.1%
Aha! (GMA-7) - 6.8%
Kapamilya Blockbusters: Gnomeo & Juliet(ABS-CBN) - 6.5%
PRIMETIME:
1. Kapuso Mo, Jessica Soho (GMA-7) - 25.1%
2. Ismol Family (GMA-7) - 20.7%
Vampire Ang Daddy Ko (GMA-7) – 16.7%
Gandang Gabi Vice (ABS-CBN) – 16%
5. The Voice Philippines(ABS-CBN) – 15.1%
Bet ng Bayan (GMA-7) - 14.3%
Rated K: Handa Na Ba Kayo? (ABS-CBN) – 14.4%
Wansapanataym (ABS-CBN) – 12.5%
Goin' Bulilit (ABS-CBN) – 12%
Sunday Night Box Office: Highlander Endgame (GMA-7) - 9.3%
December 29, 2014 (Monday)


DAYTIME:
The Half Sisters (GMA-7) – 18.8%
Eat Bulaga! (GMA-7) – 17.5%
Yagit (GMA-7) – 13.2%
The Ryzza Mae Show (GMA-7) - 11.9%
Ang Lihim ni Annasandra (GMA-7) – 11.3%
May Queen(GMA-7) - 11%
Hunter X Hunter(GMA-7) - 10.9%
Bleach(GMA-7) - 10.1%
One Piece(GMA-7) / Shaman King (GMA-7) - 9.7%
Ghost Fighter (GMA-7) / Alisto! (GMA-7) - 9.2%
PRIMETIME:
1. 24 Oras (GMA-7) - 22%
2. Strawberry Lane (GMA-7) – 20.4%
3. Forevermore (ABS-CBN)– 19.8%
4. More Than Words(GMA-7) – 19.6%
5. Dream Dad (ABS-CBN) - 19.5%
Hiram na Alaala (GMA-7) - 18%
Two Wives (ABS-CBN) – 17.3%
8. TV Patrol (ABS-CBN) – 16.7%
9. Empress Ki (ABS-CBN) – 16.4%
10. Prime Minister and I(GMA-7) – 15.1%
December 30, 2014 (Tuesday)
DAYTIME:
Eat Bulaga! (GMA-7) – 17.8%
The Half Sisters (GMA-7) – 17.7%
Yagit (GMA-7) - 14.1%
May Queen (GMA-7) - 12.5%
The Ryzza Mae Show (GMA-7) – 11.7%
Ang Lihim ni Annasandra (GMA-7) - 10.7%
Tunay na Buhay(GMA-7) – 10.6%
Hunter X Hunter(GMA-7) – 8.9%
Shaman King(GMA-7) – 8.5%
One Piece(GMA-7) – 8.4%
PRIMETIME:
1. 24 Oras (GMA-7) - 24.8%
2. Strawberry Lane (GMA-7)- 19.5%
3. More Than Words(GMA-7) – 19.1%
4. Hiram na Alaala (GMA-7) – 18.5%
5. Dream Dad (ABS-CBN) – 17.9%
6. Forevermore(ABS-CBN) – 17.3%
7. Empress Ki(GMA-7) – 16.3%
8. Prime Minister and I(GMA-7) – 16.2%
9. Two Wives (ABS-CBN) – 16.1%
10. TV Patrol (ABS-CBN) - 15%
December 31, 2014 (Wednesday)
DAYTIME:
The Half Sisters (GMA-7) – 15.8%
Eat Bulaga! (GMA-7) – 15%
Yagit (GMA-7) - 12.4%
Ang Lihim ni Annasandra (GMA-7) - 9.8%
The Ryzza Mae Show (GMA-7) – 9.4%
Hunter X Hunter(GMA-7) - 9.2%
May Queen (GMA-7) - 9%
Power House (GMA-7) - 8%
Shaman King(GMA-7) – 7.9%
It's Showtime(ABS-CBN) - 7.8%
PRIMETIME:
1. 24 Oras (GMA-7) – 16.5%
2. Countdown to 2015(GMA-7) - 15.6%
3. Hiram na Alaala (GMA-7) – 14.2%
4. Strawberry Lane (GMA-7) - 14.1%
5. Saksi (GMA-7) - 14%
6. More Than Words(GMA-7) - 13.4%
7. Dream Dad (ABS-CBN) – 13%
8. Forevermore(ABS-CBN) – 12.3%
Prime Minister and I (GMA-7) / Two Wives (ABS-CBN) – 12%
TV Patrol (ABS-CBN) – 11.7%
Source: AGB Nielsen Philippines