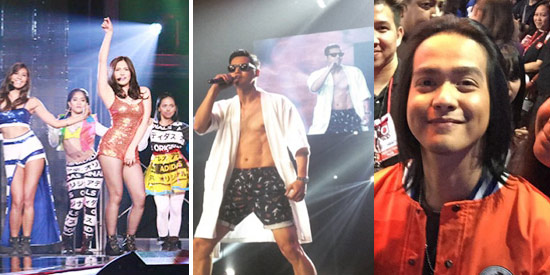 ---
GMA-7 is still the ratings leader in Mega Manila, according to the latest ratings data gathered by AGB Nielsen Philippines from Mega Manila households from February 22 to March 4, 2015.
The Kapuso Network's programs beat even ABS-CBN's most buzzed shows.
Case in point: GMA-7's Sunday All Stars got a higher TV rating in Mega Manila than the live telecast of ASAP's 20th anniversary concert on February 22.

The Kapuso variety show still got higher ratings despite management's cost-cutting measures--removing almost half of its featured performers and reducing its airing time. In fact, the actual noontime slot is occupied by Kapuso Movie Festival while Sunday All Stars starts after the movie.
On February 22, Kapuso Movie Festival (featuring the hit cartoon film Despicable Me) registered a TV rating of 18.4% and Sunday All Stars got 11.5%.

On the other hand, the ASAP 20th anniversary concert got a TV rating of 11.3% for its entire three-hour run in Mega Manila. The show was aired live from the MOA Arena and brought together past and current hosts of All-Star Sunday Afternoon Party.
GMA-7 also won against the second part of the ASAP 20 concert on March 1. Kapuso Movie Festival (The Incredible Hulk) got 15.9% and Sunday All Stars earned 11.9%, higher than ASAP 20's 10.7%.
The Kapuso Network also outperformed the two-part finale of The Voice of the Philippines Season 2. On February 28, Celebrity Bluff got 22.4%, better than The Voice PH's 21.3%. On March 1, Kapuso Mo, Jessica Soho received 25.5% against The Voice PH's 23%.
All is not lost for ABS-CBN, however, as the Kapamilya Network was still the weekday top-rater, winning primetime with its hit shows Forevermore and Dream Dad, both of which defeated GMA-7's More Than Words and Once Upon A Kiss daily. Two Wives also won over Second Chances.
The only real competition the Kapuso Network has against these Kapamilya heavyweights is the Korean drama Empress Ki, which is getting the highest ratings on its Telebabad line-up. In fact, Empress Ki was No. 1 on February 24.
ADVERTISEMENT - CONTINUE READING BELOW
GMA-7's daytime programming also performed well during this period. The Half Sisters remained the most-watched daytime show. Fall in Love With Me, a new Taiwanese drama, also performed well, scoring 10% on its February 23 pilot episode against Kapamilya Deal or No Deal's 7.7%.
Here is the comparative rating performance of GMA-7, ABS-CBN and TV5 programs from February 22 to March 4, 2015 derived by AGB Nielsen Philippines from Mega Manila households:
--
February 22, 2015 (Sunday)
Daytime:
In Touch with Dr. Charles Stanley (GMA-7) .3%; Jesus The Healer (GMA-7) .6%; Shop Japan (TV5) .2%
Kapuso Sine Klasika: Ano Ba Yan (GMA-7) 2.8%; The Healing Eucharist (ABS-CBN) 3.4%; Misa Nazareno (TV5) .8%
Grimm's Fairy Tales (GMA-7) 6.8%; Swak na Swak (ABS-CBN) 2.8%; Power to Unite with Elvira (TV5) .6%
Kamen Rider Ooo (GMA-7) 7.9%; Tom & Jerry Kids Show (GMA-7) 8.4%; Salamat Dok (ABS-CBN) 2.3%; Kim Possible (TV5) 1.4%; Little Einsteins (TV5) 1.7%
Monsuno (GMA-7) 6.7%; My Giant Friend (ABS-CBN) 2.6%; The Powerpuff Girls (TV5) 2.4%
Aha! (GMA-7) 8.3%;Superbook (ABS-CBN) 4.1%; Ben 10 Omniverse (TV5) 2.7%
Born To Be Wild (GMA-7) 10.4%; Matanglawin (ABS-CBN) 5.2%; Sword Art Online (TV5) 2.3%; Fushigi Yuugi (TV5) 2.4%
iBilib (ABS-CBN) 8.8%; Superhero Sunday: Stan Lee's Mighty 7 (GMA-7) 10.2%; Kapamilya Blockbusters: The Hunger Games (ABS-CBN) 9.1%; Movie Max 5: Transformers Revenge of the Fallen (TV5) 6.9%
Afternoon:
Kapuso Movie Festival: Despicable Me (GMA-7) 18.4%; Del Monte Kitchenomics (GMA-7) 15.6%; Sunday All Stars (GMA-7) 11.5%; ASAP 20 (ABS-CBN) 11.3%; Movie Max 5: Terminator 3 (TV5) 6.9%; Sports 360 (TV5) 1.2%
GMA Blockbusters: Look Who's Talking (GMA-7) 9.9%; Luv U (ABS-CBN) 7.3%; The Buzz (ABS-CBN) 6.9%; PBA 2015 Commissioner's Cup: Blackwater Elite vs Global Port (TV5) 3.1%
24 Oras Weekend (GMA-7) 7.9%; TV Patrol Weekend (ABS-CBN) 7.1%; PBA 2015 Commissioner's Cup: Bgy Ginebra vs Purefoods Star Hotshots (TV5) 10.1%
Evening:
Vampire Ang Daddy Ko (GMA-7) 11.3%; Goin' Bulilit (ABS-CBN) 9.9%
Ismol Family (GMA-7) 17.5%; Wansapanataym (ABS-CBN) 12.6%; Move It (TV5) 3.8%
Kapuso Mo, Jessica Soho (GMA-7) 25.6%; Rated K: Handa Na Ba Kayo? (ABS-CBN) 16%; The Voice of the Philippines (ABS-CBN) 17.8%; Mac & Chiz (TV5) 2.6%; Wow Mali Lakas ng Tama (TV5) 2.7%
Sunday Night Box Office: Oo Na (GMA-7) 14.2%; Gandang Gabi Vice (ABS-CBN) 15.5%; Wattpad Presents (TV5) 1.6%
ADVERTISEMENT - CONTINUE READING BELOW
Top 20 Funniest (GMA-7) 7%; Sunday's Best: Fusion (ABS-CBN) 4%; LBC Ronda Pilipinas (TV5) 1%
Diyos at Bayan (GMA-7) 1.8%; O Shopping (ABS-CBN) 1.1%; Shop Japan (TV5) .3%
---
February 23, 2015 (Monday)
Morning:
Power House Replay (GMA-7) 1.2%; Maniwala Ka Kaya Mo Replay (ABS-CBN) .5%
Unang Hirit! (GMA-7) 4%; Umagang Kay Ganda (ABS-CBN) 2.3%; Aksyon sa Umaga (TV5) .8%; Sofia the First (TV5) 1.7%; Sofia the First (TV5) 2.7%
One Piece (GMA-7) 4.9%; Pokemon (GMA-7) 5.3%; Dragon Ball (GMA-7) 6%; Detective Conan (GMA-7) 6.7%; Kris TV (ABS-CBN) 4.6%; Henry the Huggle Monster (TV5) 2.3%; Phineas and Ferb (TV5) 1.8%; Hi-5 (TV5) 1.5%
Fairy Tail (GMA-7) 7.7%; Spongebob Squarepants (ABS-CBN) 3.6%; Remi (ABS-CBN) 4.1%; Rockman Exe Excess (TV5) 1%
Slam Dunk (GMA-7) 8.1%; Cedie (ABS-CBN) 4.1%; Rockman Exe Excess (TV5) .6%
Knock Out (GMA-7) 9.9%; Corazon Indomable (GMA-7) 8.5%; Women in the Sun (GMA-7) 9.4%; Kapamilya Blockbusters: Enteng ng Ina Mo (ABS-CBN) 8%; Healing Galing sa TV5 (TV5) .7%; Happy Wife Happy Life (TV5) .6%; Solved na Solved (TV5) .7%
The Ryzza Mae Show (GMA-7) 12.6%; Oh My G! (GMA-7) 10.3%; Aksyon sa Tanghali (TV5) 1.7%
Afternoon:
Eat Bulaga! (GMA-7) 18.5%; It's Showtime (ABS-CBN) 9.6%; T3 Enforced (TV5) 2%; Movie Max 5: The Scorpion King (TV5) 3.3%
The Half Sisters (GMA-7) 19.1%; Flordeliza (ABS-CBN) 6.4%; Movie Max 5: Cerberus (TV5) 3.6%
Yagit (GMA-7) 17%; Nasaan Ka Nang Kailangan Kita (ABS-CBN) 7.1%
Kailan Ba Tama Ang Mali? (GMA-7) 11%; Fated to Love You (ABS-CBN) 6.2%
Alisto! (GMA-7) 9.8%; Maniwala Ka Kaya Mo (ABS-CBN) 5.6%; Movie Max 5: Internal Affairs (TV5) 3.2%
Fall in Love With Me (GMA-7) 10%; Kapamilya Deal or No Deal (ABS-CBN) 7.7%
Evening:
Future's Choice (GMA-7) 11.8%; Bagito (ABS-CBN) 9.6%; Aksyon (TV5) 3.6%
24 Oras (GMA-7) 19.3%; TV Patrol (ABS-CBN) 16.8%; Movie Max 5: Charlie's Angels: Full Throttle (TV5) 7.5%
More Than Words (GMA-7) 19.4%; Dream Dad (ABS-CBN) 21.3%
Once Upon a Kiss (GMA-7) 18.2%; Forevermore (ABS-CBN) 22.5%; Wattpad Presents (TV5) 3.4%
Second Chances (GMA-7) 18.6%; Two Wives (ABS-CBN) 18%; Marvel Agents of SHIELD (TV5) 3.4%
Empress Ki (GMA-7) 21.3%; Aquino & Abunda Tonight (ABS-CBN) 12.2%; Unforgettable Love (ABS-CBN) 9.5%; Extreme Series (TV5) 1.6%; Aksyon Tonite (TV5) .9%
Saksi (GMA-7) 10.1%; Bandila (ABS-CBN) 4.5%; Reaksyon (TV5) .6%; LBC Ronda Pilipinas (TV5) .4%
Front Row (GMA-7) 6.6%; Demolition Job (TV5) .2%
The Tim Yap Show (GMA-7) 3.1%; Mukha (ABS-CBN) 2.8%; O Shopping (ABS-CBN) .7%; hop Japan (TV5) .1%
ADVERTISEMENT - CONTINUE READING BELOW
----
February 24, 2015 (Tuesday)
Morning:
I-Witness Replay (GMA-7) 1.1%; 3-in-1 Replay (ABS-CBN) .5%
Unang Hirit! (GMA-7) 4.5%; Umagang Kay Ganda (ABS-CBN) 2.4%; Aksyon sa Umaga (TV5) .7%; Sofia the First (TV5) 1.2%; Sofia the First (TV5) 1.7%
One Piece (GMA-7) 4.9%; Pokemon (GMA-7) 6.2%; Dragon Ball (GMA-7) 7.3%; Detective Conan (GMA-7) 8.1%; Kris TV (ABS-CBN) 4.8%; Henry the Huggle Monster (TV5) 1.9%; Phineas and Ferb (TV5) 2.1%; Hi-5 (TV5) 1.2%
Fairy Tail (GMA-7) 8.8%; Spongebob Squarepants (ABS-CBN) 4.3%; Remi (ABS-CBN) 3.4%; Rockman Exe Excess (TV5) .8%
Slam Dunk (GMA-7) 10.2%; Cedie (ABS-CBN) 4.1%; Rockman Exe Excess (TV5) 1.1%
Knock Out (GMA-7) 10.4%; Corazon Indomable (GMA-7) 10.2%; Women in the Sun (GMA-7) 11.4%; Kapamilya Blockbusters: Bakit Hindi Ka Crush ng Crush Mo? (ABS-CBN) 8%; Healing Galing sa TV5 (TV5) 1%; Happy Wife Happy Life (TV5) 1.2%
The Ryzza Mae Show (GMA-7) 13%; Oh My G! (ABS-CBN) 9.7%; Solved na Solved (TV5) .9%
Afternoon:
Eat Bulaga! (GMA-7) 17.6%; It's Showtime (ABS-CBN) 10%; Aksyon sa Tanghali (TV5) 1.6%; T3 Enforced (TV5) 2.4%; Movie Max 5: Bulletproof (TV5) 3%
The Half Sisters (GMA-7) 17.8%; Flordeliza (ABS-CBN) 7.4%; Movie Max 5: Fire Serpent (TV5) 3.5%
Yagit (GMA-7) 15%; Nasaan Ka Nang Kailangan Kita (ABS-CBN) 6.2%
Kailan Ba Tama Ang Mali? (GMA-7) 11.7%; Fated to Love You (ABS-CBN) 5.9%; PBA 2015 Commissioner's Cup: NLEX vs San Miguel Beermen (TV5) 2.7%
Tunay na Buhay (GMA-7) 12.1%; 3-in-1 (ABS-CBN) 4.3%
Fall in Love With Me (GMA-7) 10.4%; Kapamilya Deal or No Deal (ABS-CBN) 8%
Evening:
Future's Choice (GMA-7) 12.6%; Bagito (ABS-CBN) 10.5%; Aksyon (TV5) 4.1%
24 Oras (GMA-7) 19%; TV Patrol (ABS-CBN) 15.6%; PBA 2015 Commissioner's Cup: Alaska vs Barako Bull (TV5) 6.4%
More Than Words (GMA-7) 19.8%; Dream Dad (ABS-CBN) 20.4%
Once Upon a Kiss (GMA-7) 19.3%; Forevermore (ABS-CBN) 20.1%
Second Chances (GMA-7) 18.4%; Two Wives (ABS-CBN) 18.3%; Wattpad Presents (TV5) 3.9%; Marvel Agents of SHIELD (TV5) 3.7%
Empress Ki (GMA-7) 20.6%; Aquino & Abunda Tonight (ABS-CBN) 12.5%; Unforgettable Love (ABS-CBN) 9.3%; Extreme Series (TV5) 2.3%
Saksi (GMA-7) 11.5%; Stan Lee's Superhumans (GMA-7) 7%; Bandila (ABS-CBN) 5%; Aksyon Tonite (TV5) 1%; Reaksyon (TV5) .5%
The Tim Yap Show (GMA-7) 3.4%; Banana Nite (ABS-CBN) 2.9%; O Shopping (ABS-CBN) 1.3%; LBC Ronda Pilipinas 2015 (TV5) .4%; Shop Japan (TV5) .2%
---
February 25, 2015 (Wednesday)
Morning:
Tunay na Buhay Replay (GMA-7) .6%; RealiTV Replay (ABS-CBN) .1%
ADVERTISEMENT - CONTINUE READING BELOW
Unang Hirit! (GMA-7) 3%; Umagang Kay Ganda (ABS-CBN) 2.2%; Aksyon sa Umaga (TV5) .5%; Sofia the First (TV5) 1.4%; Sofia the First (TV5) 3.8%
One Piece (GMA-7) 6.1%; Pokemon (GMA-7) 7.8%; Dragon Ball (GMA-7) 10.2%; Detective Conan (GMA-7) 11.9%; Kris TV (ABS-CBN) 4.2%; Henry the Huggle Monster (TV5) 4.3%; Phineas and Ferb (TV5) 4.7%; Hi-5 (TV5) 3.7%
Fairy Tail (GMA-7) 12.5%; Spongebob Squarepants (ABS-CBN) 5.2%; Remi (ABS-CBN) 5.6%; Rockman Exe Excess (TV5) 2.3%
Slam Dunk (GMA-7) 12.3%; Cedie (ABS-CBN) 6.4%; Rockman Exe Excess (TV5) 2.3%
Knock Out (GMA-7) 14.1%; Corazon Indomable (GMA-7) 9.3%; Women in the Sun (GMA-7) 10.4%; Kapamilya Blockbusters: Momzillas (ABS-CBN) 10.3%; Healing Galing sa TV5 (TV5) 1.5%; Happy Wife Happy Life (TV5) 1.4%
The Ryzza Mae Show (GMA-7) 13.4%; Oh My G! (ABS-CBN) 10.6%; Solved na Solved (TV5) 1.2%; Aksyon sa Tanghali (TV5) 1.4%
Afternoon:
Eat Bulaga! (GMA-7) 18.5%; It's Showtime (ABS-CBN) 12.1%; T3 Enforced (TV5) 1.8%; Movie Max 5: Darkman (TV5) 4.6%
The Half Sisters (GMA-7) 18.7%; Flordeliza (ABS-CBN) 7.6%; Movie Max 5: Shockwave (TV5) 4.4%
Yagit (GMA-7) 15.9%; Nasaan Ka Nang Kailangan Kita (ABS-CBN) 7.2%
Kailan Ba Tama Ang Mali? (GMA-7) 12.6%; Fated to Love You (ABS-CBN) 7.4%; PBA 2015 Commissioner's Cup: Kia Carnival vs Talk n Text (TV5) 3.8%
Power House (GMA-7) 11.3%; RealiTV (ABS-CBN) 6.1%
Fall in Love With Me (GMA-7) 10.3%; Kapamilya Deal or No Deal (ABS-CBN) 8.8%
Evening:
Future's Choice (GMA-7) 13%; Bagito (ABS-CBN) 11%; Aksyon (TV5) 5.5%
24 Oras (GMA-7) 19.8%; TV Patrol (ABS-CBN) 15.9%; PBA 2015 Commissioner's Cup: Bgy Ginebra vs Blackwater Elite (TV5) 9.3%
More Than Words (GMA-7) 18.2%; Dream Dad (ABS-CBN) 20.7%
Once Upon a Kiss (GMA-7) 19.2%; Forevermore (ABS-CBN) 21.2%; Wattpad Presents (TV5) 3.8%
Second Chances (GMA-7) 17.9%; Two Wives (ABS-CBN) 18.2%; Marvel Agents of SHIELD (TV5) 4.5%
Empress Ki (GMA-7) 19.8%; Aquino & Abunda Tonight (ABS-CBN) 12.1%; Unforgettable Love (ABS-CBN) 9.1%; Extreme Series (TV5) 2.1%; Aksyon Tonite (TV5) 1.4%
Saksi (GMA-7) 9.3%; Earth Flight (GMA-7) 5.8%; Bandila (ABS-CBN) 4%; Reaksyon (TV5) .5%; LBC Ronda Pilipinas 2015 (TV5) .6%; History with Lourd (TV5) .3%
The Tim Yap Show (GMA-7) 2.8%; Banana Nite (ABS-CBN) 2.7%; O Shopping (ABS-CBN) .8%; Shop Japan (TV5) .2%
---
February 26, 2015 (Thursday)
Morning:
Born to be Wild Replay (GMA-7) 1%; Sports U Replay (ABS-CBN) .4%
Unang Hirit! (GMA-7) 4.3%; Umagang Kay Ganda (ABS-CBN) 2.4%; Aksyon sa Umaga (TV5) .5%; Sofia the First (TV5) 1.1%; Sofia the First (TV5) 1.8%
ADVERTISEMENT - CONTINUE READING BELOW
One Piece (GMA-7) 5.8%; Pokemon (GMA-7) 6.5%; Dragon Ball (GMA-7) 7.7%; Kris TV (ABS-CBN) 4.1%; Henry the Huggle Monster (TV5) 2.4%; Phineas and Ferb (TV5) 2.4%; Hi-5 (TV5) 1.9%
Detective Conan (GMA-7) 9.7%; Spongebob Squarepants (ABS-CBN) 4.1%; Rockman Exe Excess (TV5) .9%
Fairy Tail (GMA-7) 10.4%; Remi (ABS-CBN) 4.5%; Rockman Exe Excess (TV5) 1.4%
Slam Dunk (GMA-7) 11.5%; Cedie (ABS-CBN) 5.4%
Knock Out (GMA-7) 12.6%; Corazon Indomable (GMA-7) 9.8%; Women in the Sun (GMA-7) 12%; Kapamilya Blockbusters: Manay Po 2 (ABS-CBN) 8.4%; Healing Galing sa TV5 (TV5) 1.6%; Happy Wife Happy Life (TV5) 1.6%; Solved na Solved (TV5) 1.6%
The Ryzza Mae Show (GMA-7) 13.6%; Oh My G! (ABS-CBN) 9.5%; Aksyon sa Tanghali (TV5) 2.3%
Afternoon:
Eat Bulaga! (GMA-7) 18.2%; It's Showtime (ABS-CBN) 11%; T3 Enforced (TV5) 2.7%; Movie Max 5: D-Tox (TV5) 3%
The Half Sisters (GMA-7) 18.1%; Flordeliza (ABS-CBN) 7.6%; Movie Max 5: Species the Awakening (TV5) 3.6%
Yagit (GMA-7) 16.7%; Nasaan Ka Nang Kailangan Kita (ABS-CBN) 7.6%
Kailan Ba Tama Ang Mali? (GMA-7) 12.1%; Fated to Love You (ABS-CBN) 6.1%
Reporter's Notebook (GMA-7) 8.8%; Sports U Ikaw Ang Panalo (ABS-CBN) 4.2%; Movie Max 5: Escape from LA (TV5) 4.4%
Fall in Love With Me (GMA-7) 9.6%; Kapamilya Deal or No Deal (ABS-CBN) 6.4%
Evening:
Future's Choice (GMA-7) 12.5%; Bagito (ABS-CBN) 10.5%; Aksyon (TV5) 5%
24 Oras (GMA-7) 19.8%; TV Patrol (ABS-CBN) 15.3%; Movie Max 5: Resident Evil Retribution (TV5) 9.6%
More Than Words (GMA-7) 17.5%; Dream Dad (ABS-CBN) 19.4%
Once Upon a Kiss (GMA-7) 18%; Forevermore (ABS-CBN) 20.9%; Wattpad Presents (TV5) 4.9%
Second Chances (GMA-7) 16.6%; Two Wives (ABS-CBN) 17.5%; Marvel Agents of SHIELD (TV5) 4.4%
Empress Ki (GMA-7) 19.1%; Aquino & Abunda Tonight (ABS-CBN) 11.4%; Unforgettable Love (ABS-CBN) 9.4%; Extreme Series Kaya Mo Ba To (TV5) 2.8%; Aksyon Tonite (TV5) 1.8%
Saksi (GMA-7) 9.4%; Earth Flight (GMA-7) 5%; Bandila (ABS-CBN) 4.9%; Reaksyon (TV5) .9%; LBC Ronda Pilipinas (TV5) 1%; Unang Tikim (TV5) .6%
The Tim Yap Show (GMA-7) 2.1%; Banana Nite (ABS-CBN) 3%; O Shopping (ABS-CBN) 1.3%; Shop Japan (TV5) .4%
----
February 27, 2015 (Friday)
Morning:
Alisto! Replay (GMA-7) 1.2%; TNT Replay (ABS-CBN) .5%
Unang Hirit! (GMA-7) 3.5%; Umagang Kay Ganda (ABS-CBN) 2.3%; Aksyon sa Umaga (TV5) .7%; Sofia the First (TV5) 1.6%; Sofia the First (TV5) 2.2%
One Piece (GMA-7) 5.3%; Pokemon (GMA-7) 6.9%; Dragon Ball (GMA-7) 8.9%; Kris TV (ABS-CBN) 4.4%; Henry the Huggle Monster (TV5) 2.6%; Phineas and Ferb (TV5) 3%; Hi-5 (TV5) 1.6%
ADVERTISEMENT - CONTINUE READING BELOW
Detective Conan (GMA-7) 10.8%; Spongebob Squarepants (ABS-CBN) 3.7%; Rockman Exe Axess (TV5) .7%
Fairytail (GMA-7) 11.3%; Remi (GMA-7) 4.3%; Rockman Exe Axess (TV5) 1%
Slam Dunk (GMA-7) 12.3%; Cedie (ABS-CBN) 4.7%
Knock Out (GMA-7) 12.3%; Corazon Indomable (GMA-7) 8.7%; Women in the Sun (GMA-7) 9.4%; Kapamilya Blockbusters: Bulong (ABS-CBN) 9%; Healing Galing sa TV5 (TV5) .9%; Happy Wife Happy Life (TV5) .9%; Solved na Solved (TV5) 1.4%
The Ryzza Mae Show (GMA-7) 12.9%; Oh My G! (ABS-CBN) 10.7%; Aksyon sa Tanghali (TV5) 1.7%
Afternoon:
Eat Bulaga! (GMA-7) 17.9%; It's Showtime (ABS-CBN) 11%; T3 Enforced (TV5) 2.3%; Movie Max 5: Reign of the Gargoyles (TV5) 3.1%
The Half Sisters (GMA-7) 18.9%; Flordeliza (ABS-CBN) 7.5%; Movie Max 5: Dragon Waps (TV5) 5.5%
Yagit (GMA-7) 16.6%; Nasaan Ka Nang Kailangan Kita (ABS-CBN) 6.7%
Kailan Ba Tama Ang Mali? (GMA-7) 11.6%; Fated to Love You (ABS-CBN) 6.3%; PBA 2015 Commisioner's Cup: Barako Bull vs Rain or Shine (TV5) 3.4%
Love Hotline (GMA-7) 10.3%; TNT (ABS-CBN) 4.4%
Fall in Love With Me (GMA-7) 9.6%; Kapamilya Deal or No Deal (ABS-CBN) 7.7%
Evening:
Future's Choice (GMA-7) 11%; Bagito (ABS-CBN) 9.5%
24 Oras (GMA-7) 18.8%; TV Patrol (ABS-CBN) 14.1%; Aksyon (TV5) 4.6%; PBA 2015 Commissioner's Cup: Meralco vs NLEX (TV5) 6.9%
More Than Words (GMA-7) 17.9%; Dream Dad (ABS-CBN) 18.9%
Once Upon a Kiss (GMA-7) 18.4%; Forevermore (ABS-CBN) 19.6%; Wattpad Presents (TV5) 3.5%
Second Chances (GMA-7) 16.7%; Two Wives (ABS-CBN) 17.5%; Marvel Agents of SHIELD (TV5) 4.3%
Bubble Gang (GMA-7) 17.4%; Aquino & Abunda Tonight (ABS-CBN) 11.4%; Unforgettable Love (ABS-CBN) 9.2%; Extreme Series Kaya Mo Ba To (TV5) 3%; Aksyon Tonite (TV5) 1.2%
Saksi (GMA-7) 8.7%; Bandila (ABS-CBN) 5.2%; Reaksyon (TV5) .4%; LBC Ronda Pilipinas (TV5) .4%
The Tim Yap Show (GMA-7) 3.6%; Banana Nite (ABS-CBN) 3%; O Shopping (ABS-CBN) 1.3; Shop Japan (TV5) .3%
--
February 28, 2015 (Saturday)
Morning:
PJM Forum (GMA-7) .4%; Adyenda (GMA-7) 1%; Shop Japan (TV5) .1%
Kapwa Ko Mahal Ko (GMA-7) 1.9%; Sa Kabukiran (ABS-CBN) .7%; Family Matters (TV5) .3%
Pinoy MD (GMA-7) 3.8%; Salamat Dok (ABS-CBN) 1.5%; Kakaibang Lunas (TV5) .4%
Puppy in My Pocket (GMA-7) 5.4%; Swak na Swak (ABS-CBN) 2.5%; Kim Possible (TV5) 1.6%
Kamen Rider Ooo (GMA-7) 6.8%; Angel Wings (ABS-CBN) 1.8%; Little Einsteins (TV5) 2.8%
Tom & Jerry Kids Show (GMA-7) 8.7%; Math Tinik (ABS-CBN) 1.7%; The Powerpuff Girls (TV5) 3.1%
ADVERTISEMENT - CONTINUE READING BELOW
Angry Birds Toons (GMA-7) 8.7%; The Adventures of Jimmy Neutron (ABS-CBN) 3.1%; Ben 10 Omniverse (TV5) 2.5%
Monsuno (GMA-7) 8.2%; Spongebob Squarepants (ABS-CBN) 5.3%
Magic Kaito (GMA-7) 9.4%; Superbook (ABS-CBN) 5.6%; Magical Do Re Mi (TV5) 2.3%; Sword Art Online (TV5) 3%
Sarap Diva (GMA-7) 7.9%; Maynila (GMA-7) 12%; Del Monte Kitchenomics (GMA-7) 13.9%; NBA 2014-2015 Season: LA Clippers vs Memphis Grizzlies (ABS-CBN) 3.8%; Fushigi Yuugi (TV5) 3.6%; Street Fighter II (TV5) 3.3%; Movie Max 5: Twitches Too (TV5) 4.4%
Afternoon:
Eat Bulaga! (GMA-7) 19.2%; It's Showtime (ABS-CBN) 11.5%; Movie Max 5: The Bone Collector (TV5) 3.7%
GMA Tales of Horror (GMA-7) 10.9%; Wish Ko Lang! (GMA-7) 9.7%; Ipaglaban Mo (ABS-CBN) 9.4%; Movie Max 5: The Ice Harvest (TV5) 2.5%
Startalk 19 (GMA-7) 9.7%; Failon Ngayon (ABS-CBN) 3.9%
Imbestigador (GMA-7) 12.9%; SOCO (ABS-CBN) 5.8%; PBA 2015 Commisioner's Cup: Blackwater Elite vs Kia Carnival (TV5) 4.2%
24 Oras Weekend (GMA-7) 10.8%; TV Patrol Weekend (ABS-CBN) 6.4%
Evening:
Pepito Manaloto: Ang Tunay na Kuwento (GMA-7) 17.6%; Mga Kwento ni Marc Logan (ABS-CBN) 9%; Home Sweetie Home (ABS-CBN) 9.7%
Magpakailanman (GMA-7) 24.3%; MMK: Ang Tahanan Mo (ABS-CBN) 15.2%; Tropa Mo Ko Unli Spoof (TV5) 3.8%
Celebrity Bluff (GMA-7) 22.4%; I-Witness (GMA-7) 15.3%; The Voice of the Philippines (ABS-CBN) 21.3%; 2 1/2 Daddies (TV5) 3.4%; Everybody Hapi (TV5) 2.8%; Call Me Papa Jack (TV5) 1.5%
Kapuso Movie Night: Magic to Win (GMA-7) 13.8%; Banana Split Extra Scoop (TV5) 8.8%; The Bottom Line (ABS-CBN) 2.5%; Yaman ng Bayan (TV5) .8%
Walang Tulugan (GMA-7) 3.1%; O Shopping (ABS-CBN) .6%; Shop Japan (TV5) .3%
--
March 1, 2015 (Sunday)
Daytime:
In Touch with Dr. Charles Stanley (GMA-7) .2%; Jesus The Healer (GMA-7) .7%; Shop Japan (TV5) .2%
Kapuso Sine Klasika: Lalaki Babae Kami (GMA-7) 2.2%; The Healing Eucharist (ABS-CBN) 3.7%; Misa Nazareno (TV5) .8%
Grimm's Fairy Tales (GMA-7) 5.2%; Swak na Swak (ABS-CBN) 2.3%; Power to Unite with Elvira (TV5) .6%
Kamen Rider Ooo (GMA-7) 6.8%; Tom & Jerry Kids Show (GMA-7) 8.9%; Salamat Dok (ABS-CBN) 2.2%; Kim Possible (TV5) 1.8%; Little Einsteins (TV5) 2.5%
Monsuno (GMA-7) 7.9%; My Giant Friend (ABS-CBN) 2.4%; The Powerpuff Girls (TV5) 2.9%
Aha! (GMA-7) 8%; Max Steel (ABS-CBN) 3.7%; Superbook (ABS-CBN) 4.1%; Ben 10 Omniverse (TV5) 3.1%; Sword Art Online (TV5) 2.8%
Born To Be Wild (GMA-7) 10.9%; Matanglawin (ABS-CBN) 4.8%; Fushigi Yuugi (TV5) 2.4%
iBilib (ABS-CBN) 10%; Superhero Sunday: Justice League Crisis on Two Earths (GMA-7) 10.2%; Kapamilya Blockbusters: Breaking Dawn Part 1 (ABS-CBN) 9.4%; Street Fighter II (TV5) 2.4%; Movie Max 5: Vertical Limit (TV5) 2.9%
ADVERTISEMENT - CONTINUE READING BELOW
Afternoon:
Kapuso Movie Festival: The Incredible Hulk (GMA-7) 15.9%; Del Monte Kitchenomics (GMA-7) 14%; Sunday All Stars (GMA-7) 11.9%; ASAP 20 Part 2 (ABS-CBN) 10.7%; Movie Max 5: Hancock (TV5) 4.2%; Sports 360 (TV5) 1.5%
GMA Blockbusters: Twister (GMA-7) 10.1%; Luv U (ABS-CBN) 7.7%; The Buzz (ABS-CBN) 7.4%; PBA 2015 Commissioner's Cup: Purefoods Star Hotshots vs San Miguel Beermen (TV5) 8.3%
24 Oras Weekend (GMA-7) 9.9%; TV Patrol Weekend (ABS-CBN) 7.1%
Evening:
Vampire Ang Daddy Ko (GMA-7) 13.2%; Goin' Bulilit (ABS-CBN) 8.9%
Ismol Family (GMA-7) 17.5%; Wansapanataym (ABS-CBN) 9.8%
Kapuso Mo, Jessica Soho (GMA-7) 25.5%; Rated K: Handa Na Ba Kayo? (ABS-CBN) 15.1%; The Voice of the Philippines (ABS-CBN) 23%; Move It (TV5) 2.8%; Mac & Chiz (TV5) 2.7%; Wow Mali Lakas ng Tama (TV5) 3%
Chiz & Heart: Love, Finally (GMA-7) 13.5%; Gandang Gabi Vice (ABS-CBN) 16.5%; Wattpad Presents (TV5) 1.2%
Top 20 Funniest (GMA-7) 7.8%; Sunday's Best: Pamilya Lakwatsero sa Hokkaido (ABS-CBN) 5%
Diyos at Bayan (GMA-7) 1.8%; O Shopping (ABS-CBN) 1.3%; Shop Japan (TV5) .2%
---
March 2, 2015 (Monday)
Morning:
Power House Replay (GMA-7) .9%; Maniwala Ka Kaya Mo Replay (ABS-CBN) .6%
Unang Hirit! (GMA-7) 3.9%; Umagang Kay Ganda (ABS-CBN) 2.9%; Aksyon sa Umaga (TV5) .9%; Sofia the First (TV5) .8%; Sofia the First (TV5) 1.9%
One Piece (GMA-7) 4.5%; Pokemon (GMA-7) 5.2%; Dragon Ball (GMA-7) 7.3%; Detective Conan (GMA-7) 8.8%; Kris TV (ABS-CBN) 4.4%; Henry the Huggle Monster (TV5) 2.3%; Phineas and Ferb (TV5) 2.4%; Hi-5 (TV5) 1.5%
Fairy Tail (GMA-7) 8.7%; Spongebob Squarepants (ABS-CBN) 4.2%; Remi (ABS-CBN) 4.3%; Rockman Exe Excess (TV5) 1.2%
Slam Dunk (GMA-7) 10.3%; Cedie (ABS-CBN) 5.1%; Rockman Exe Excess (TV5) 1.3%
Knock Out (GMA-7) 11.7%; Corazon Indomable (GMA-7) 8.7%; Women in the Sun (GMA-7) 10.4%; Kapamilya Blockbusters: This Guy's In Love With You Mare! (ABS-CBN) 8.5%; Healing Galing sa TV5 (TV5) 1%; Happy Wife Happy Life (TV5) 1.2%; Solved na Solved (TV5) 1.8%
The Ryzza Mae Show (GMA-7) 13.7%; Oh My G! (GMA-7) 9.6%; Aksyon sa Tanghali (TV5) 2.9%
Afternoon:
Eat Bulaga! (GMA-7) 17.8%; It's Showtime (ABS-CBN) 10.4%; T3 Enforced (TV5) 3.6%; Movie Max 5: Once a Thief (TV5) 4.3%
The Half Sisters (GMA-7) 18.3%; Flordeliza (ABS-CBN) 7.9%; Movie Max 5: Independence Day-saster (TV5) 3.8%
Yagit (GMA-7) 15.8%; Nasaan Ka Nang Kailangan Kita (ABS-CBN) 7.1%
Kailan Ba Tama Ang Mali? (GMA-7) 10.9%; Fated to Love You (ABS-CBN) 6.7%
ADVERTISEMENT - CONTINUE READING BELOW
Alisto! (GMA-7) 8.5%; Maniwala Ka Kaya Mo (ABS-CBN) 5%; Movie Max 5: The Shadow (TV5) 3.7%
Fall in Love With Me (GMA-7) 9.3%; Kapamilya Deal or No Deal (ABS-CBN) 7.3%
Evening:
Future's Choice (GMA-7) 11.2%; Bagito (ABS-CBN) 9.6%; Aksyon (TV5) 3.8%
24 Oras (GMA-7) 18.6%; TV Patrol (ABS-CBN) 16.4%; Movie Max 5: John Carter (TV5) 8.6%
More Than Words (GMA-7) 18.3%; Dream Dad (ABS-CBN) 19.6%
Once Upon a Kiss (GMA-7) 17.9%; Forevermore (ABS-CBN) 21.4%; Wattpad Presents (TV5) 3.7%
Second Chances (GMA-7) 17.9%; Two Wives (ABS-CBN) 18%; Marvel Agents of SHIELD (TV5) 3.5%
Empress Ki (GMA-7) 19.8%; Aquino & Abunda Tonight (ABS-CBN) 12.8%; Unforgettable Love (ABS-CBN) 8.4%; Extreme Series (TV5) 1.6%; Aksyon Tonite (TV5) 1.1%
Saksi (GMA-7) 10.2%; Bandila (ABS-CBN) 5.2%; Reaksyon (TV5) .5%
Front Row (GMA-7) 5.3%; Demolition Job (TV5) .2%
The Tim Yap Show (GMA-7) 2.6%; Mukha (ABS-CBN) 2.1%; O Shopping (ABS-CBN) .5%; hop Japan (TV5) 0%
----
March 3, 2015 (Tuesday)
Morning:
I-Witness Replay (GMA-7) .6%; 3-in-1 Replay (ABS-CBN) .2%; Shop Japan (TV5) 0%
Unang Hirit! (GMA-7) 4.2%; Umagang Kay Ganda (ABS-CBN) 2.9%; Aksyon sa Umaga (TV5) 1%; Sofia the First (TV5) 1.1%; Sofia the First (TV5) 2%
One Piece (GMA-7) 5.6%; Pokemon (GMA-7) 6.6%; Dragon Ball (GMA-7) 8.9%; Detective Conan (GMA-7) 9.7%; Kris TV (ABS-CBN) 4.6%; Henry the Huggle Monster (TV5) 2.4%; Phineas and Ferb (TV5) 2.6%; Hi-5 (TV5) 1.9%
Fairy Tail (GMA-7) 9.5%; Spongebob Squarepants (ABS-CBN) 4.1%; Remi (ABS-CBN) 4.7%; Rockman Exe Excess (TV5) 1.1%
Slam Dunk (GMA-7) 10.5%; Cedie (ABS-CBN) 5.4%; Rockman Exe Excess (TV5) 1.3%
Knock Out (GMA-7) 10.4%; Corazon Indomable (GMA-7) 8.7%; Women in the Sun (GMA-7) 10.1%; Kapamilya Blockbusters: Gagamboy (ABS-CBN) 8.1%; Healing Galing sa TV5 (TV5) 1.5%; Happy Wife Happy Life (TV5) 1.5%
The Ryzza Mae Show (GMA-7) 12.6%; Oh My G! (ABS-CBN) 10.1%; Solved na Solved (TV5) 1.5%
Afternoon:
Eat Bulaga! (GMA-7) 17%; It's Showtime (ABS-CBN) 10.7%; Aksyon sa Tanghali (TV5) 2.3%; T3 Enforced (TV5) 2.7%; Movie Max 5: The God of Cookery (TV5) 3.9%
The Half Sisters (GMA-7) 17.7%; Flordeliza (ABS-CBN) 7.1%; Movie Max 5: LA Apocalypse (TV5) 4.8%
Yagit (GMA-7) 15.7%; Nasaan Ka Nang Kailangan Kita (ABS-CBN) 6%
Kailan Ba Tama Ang Mali? (GMA-7) 11%; Fated to Love You (ABS-CBN) 6.1%; PBA 2015 Commissioner's Cup: Alaska Aces vs Kia Carnival (TV5) 3.5%
Tunay na Buhay (GMA-7) 9.1%; 3-in-1 (ABS-CBN) 5.1%
Fall in Love With Me (GMA-7) 9.1%; Kapamilya Deal or No Deal (ABS-CBN) 7.7%
ADVERTISEMENT - CONTINUE READING BELOW
Evening:
Future's Choice (GMA-7) 10.8%; Bagito (ABS-CBN) 10.6%; Aksyon (TV5) 5.5%
24 Oras (GMA-7) 18.4%; TV Patrol (ABS-CBN) 15.1%; PBA 2015 Commissioner's Cup: Barako Bull vs San Miguel Beermen (TV5) 8.1%
More Than Words (GMA-7) 17%; Dream Dad (ABS-CBN) 20.5%
Once Upon a Kiss (GMA-7) 18.2%; Forevermore (ABS-CBN) 21%
Second Chances (GMA-7) 18.7%; Two Wives (ABS-CBN) 17.2%; Wattpad Presents (TV5) 4%; Marvel Agents of SHIELD (TV5) 2.7%
Empress Ki (GMA-7) 19.8%; Aquino & Abunda Tonight (ABS-CBN) 11.3%; Unforgettable Love (ABS-CBN) 7.8%; Extreme Series (TV5) 1.6%
Saksi (GMA-7) 9.9%; Stan Lee's Superhumans (GMA-7) 6%; Bandila (ABS-CBN) 4.4%; Aksyon Tonite (TV5) 1.1%; Reaksyon (TV5) .5%
The Tim Yap Show (GMA-7) 2.7%; Banana Nite (ABS-CBN) 2.4%; O Shopping (ABS-CBN) .7%; Shop Japan (TV5) .1%
---
March 4, 2015 (Wednesday)
Morning:
Tunay na Buhay Replay (GMA-7) 1.2%; RealiTV Replay (ABS-CBN) .6%; Shop Japan (TV5) 0%
Unang Hirit! (GMA-7) 4.2%; Umagang Kay Ganda (ABS-CBN) 2.4%; Aksyon sa Umaga (TV5) .8%; Sofia the First (TV5) .7%; Sofia the First (TV5) 1.9%
One Piece (GMA-7) 5.4%; Pokemon (GMA-7) 5.8%; Dragon Ball (GMA-7) 7.1%; Detective Conan (GMA-7) 7.6%; Kris TV (ABS-CBN) 4.1%; Henry the Huggle Monster (TV5) 2.2%; Phineas and Ferb (TV5) 1.9%; Hi-5 (TV5) 1.3%
Fairy Tail (GMA-7) 7.6%; Spongebob Squarepants (ABS-CBN) 4.4%; Remi (ABS-CBN) 5.1%; Rockman Exe Excess (TV5) 1.1%
Slam Dunk (GMA-7) 9.2%; Cedie (ABS-CBN) 5.7%; Rockman Exe Excess (TV5) 1%
Knock Out (GMA-7) 9.8%; Corazon Indomable (GMA-7) 8.9%; Women in the Sun (GMA-7) 9.3%; Kapamilya Blockbusters: Who's That Girl? (ABS-CBN) 1%; Healing Galing sa TV5 (TV5) 1.5%; Happy Wife Happy Life (TV5) 1.5%; Solved na Solved (TV5) 1.3%
The Ryzza Mae Show (GMA-7) 10.2%; Oh My G! (ABS-CBN) 10.2%; Solved na Solved (TV5) 1.3%; Aksyon sa Tanghali (TV5) 2.4%
Afternoon:
Eat Bulaga! (GMA-7) 16%; It's Showtime (ABS-CBN) 10.7%; T3 Enforced (TV5) 2.4%; Movie Max 5: Twin Dragons (TV5) 4.6%
The Half Sisters (GMA-7) 18.4%; Flordeliza (ABS-CBN) 6.9%; Movie Max 5: Miami Magma (TV5) 3.9%
Yagit (GMA-7) 15.4%; Nasaan Ka Nang Kailangan Kita (ABS-CBN) 5.9%
Kailan Ba Tama Ang Mali? (GMA-7) 11%; Fated to Love You (ABS-CBN) 5.5%
Power House (GMA-7) 10.8%; RealiTV (ABS-CBN) 4.5%; Movie Max 5: Switchback (TV5) 4.2%
Fall in Love With Me (GMA-7) 9.4%; Kapamilya Deal or No Deal (ABS-CBN) 6.8%
Evening:
Future's Choice (GMA-7) 11.4%; Bagito (ABS-CBN) 10%; Aksyon (TV5) 5%
24 Oras (GMA-7) 19.7%; TV Patrol (ABS-CBN) 15.8%; Movie Max 5: The Jackal (TV5) 7.9%
ADVERTISEMENT - CONTINUE READING BELOW
More Than Words (GMA-7) 18.3%; Dream Dad (ABS-CBN) 19.6%
Once Upon a Kiss (GMA-7) 18.4%; Forevermore (ABS-CBN) 21.6%; Wattpad Presents (TV5) 4.2%
Second Chances (GMA-7) 18.4%; Two Wives (ABS-CBN) 17.5%; Marvel Agents of SHIELD (TV5) 4.3%
Empress Ki (GMA-7) 19.7%; Aquino & Abunda Tonight (ABS-CBN) 12.3%; Unforgettable Love (ABS-CBN) 8.9%; Extreme Series (TV5) 2.3%; Aksyon Tonite (TV5) 1.2%
Saksi (GMA-7) 11.8%; Earth Flight (GMA-7) 6%; Bandila (ABS-CBN) 5.2%; Reaksyon (TV5) .4%; History with Lourd (TV5) .4%
The Tim Yap Show (GMA-7) 3.2%; Banana Nite (ABS-CBN) 3.1%; O Shopping (ABS-CBN) 1%; Shop Japan (TV5) .1%
--
TOP TEN PROGRAMS:
February 22, 2015 (Sunday)
DAYTIME:
Kapuso Movie Festival (GMA-7) - 18.4%
Del Monte Kitchenomics (GMA-7) – 15.6%
Sunday All Stars (GMA-7) - 11.5%
ASAP 20 (ABS-CBN) – 11.3%
Born to be Wild (GMA-7) - 10.4%
Superhero Sunday (GMA-7) - 10.2%
GMA Blockbusters (GMA-7) - 9.9%
Kapamilya Blockbusters (ABS-CBN) - 9.1%
iBilib (GMA-7) - 8.8%
Tom & Jerry Kids Show (GMA-7) - 8.4%
PRIMETIME:
1. Kapuso Mo, Jessica Soho (GMA-7) - 25.6%
2. Ismol Family (GMA-7) - 17.5%
3. The Voice Philippines(ABS-CBN) – 17.8%
Rated K: Handa Na Ba Kayo? (ABS-CBN) – 16%
Gandang Gabi Vice (ABS-CBN) – 15.5%
Sunday Night Box Office (GMA-7) – 14.2%
Wansapanataym (ABS-CBN) – 12.6%
Vampire Ang Daddy Ko (GMA-7) – 11.3%
PBA 2015 Commissioner's Cup: Bgy Ginebra vs Purefoods Star Hotshots (TV5) - 10.1%
Goin' Bulilit (ABS-CBN) – 9.9%
February 23, 2015 (Monday)
DAYTIME:
The Half Sisters (GMA-7) – 19.1%
Eat Bulaga! (GMA-7) – 18.5%
Yagit (GMA-7) – 17%
The Ryzza Mae Show (GMA-7) - 12.6%
Kailan Ba Tama Ang Mali?(GMA-7) – 11%
Oh My G! (ABS-CBN) - 10.3%
Fall in Love With Me(GMA-7) – 10%
Knock Out(GMA-7) - 9.9%
Alisto! (GMA-7) - 9.8%
It's Showtime (ABS-CBN) - 9.6%
PRIMETIME:
1. Forevermore (ABS-CBN) – 22.5%
Empress Ki (ABS-CBN) / Dream Dad (ABS-CBN) – 21.3%
3. More Than Words (GMA-7) – 19.4%
4. 24 Oras (GMA-7) - 19.3%
5. Second Chances (GMA-7) - 18.6%
6. Once Upon a Kiss (GMA-7) - 18.2%
Two Wives (ABS-CBN) – 18%
8. TV Patrol (ABS-CBN) – 16.8%
9. Aquino & Abunda Tonight (ABS-CBN) – 12.2%
10. Future's Choice(GMA-7) - 11.8%
February 24, 2015 (Tuesday)
DAYTIME:
The Half Sisters (GMA-7) – 17.8%
Eat Bulaga! (GMA-7) – 17.6%
Yagit (GMA-7) - 15%
The Ryzza Mae Show (GMA-7) - 13%
Tunay na Buhay(GMA-7) – 12.1%
Kailan Ba Tama Ang Mali?(GMA-7) – 11.7%
Women in the Sun(GMA-7) – 11.4%
Knock Out(GMA-7) / Fall in Love With Me(GMA-7) – 10.4%
Slam Dunk(GMA-7) / Corazon Indomable(GMA-7) - 10.2%
It's Showtime (ABS-CBN) - 10%
PRIMETIME:
1. Empress Ki(GMA-7) - 20.6%
2. Dream Dad (ABS-CBN) – 20.4%
3. Forevermore(ABS-CBN) – 20.1%
4. More Than Words (GMA-7) – 19.8%
5. Once Upon a Kiss (GMA-7) - 19.3%
6. 24 Oras (GMA-7) - 19%
7. Second Chances (GMA-7) – 18.4%
8. Two Wives (ABS-CBN) – 18.3%
9. TV Patrol (ABS-CBN) - 15.6%
10. Future's Choice(GMA-7) - 12.6%
February 25, 2015 (Wednesday)
DAYTIME:
The Half Sisters (GMA-7) – 18.7%
Eat Bulaga! (GMA-7) – 18.5%
Yagit (GMA-7) - 15.9%
Knock Out(GMA-7) - 14.1%
The Ryzza Mae Show(GMA-7) - 13.4%
Kailan Ba Tama Ang Mali?(GMA-7) – 12.6%
Fairy Tail(GMA-7) - 12.5%
Slam Dunk(GMA-7) - 12.3%
It's Showtime (ABS-CBN) - 12.1%
Detective Conan(GMA-7) - 11.9%
PRIMETIME:
1. Forevermore (ABS-CBN) – 21.2%
2. Dream Dad (ABS-CBN) - 20.7%
3. 24 Oras (GMA-7) / Empress Ki(GMA-7) - 19.8%
4. Once Upon a Kiss (GMA-7) - 19.2%
5. More Than Words (GMA-7) / Two Wives (ABS-CBN) – 18.2%
6. Second Chances (GMA-7) - 17.9%
7. TV Patrol (ABS-CBN) – 15.9%
8. Future's Choice(GMA-7) - 13%
9. Aquino & Abunda Tonight (ABS-CBN) - 12.1%
10. Bagito (ABS-CBN) - 11%
February 26, 2015 (Thursday)
DAYTIME:
Eat Bulaga! (GMA-7) – 18.2%
The Half Sisters (GMA-7) – 18.1%
Yagit (GMA-7) - 16.7%
The Ryzza Mae Show (GMA-7) - 13.6%
Knock Out(GMA-7) - 12.6%
Kailan Ba Tama Ang Mali?(GMA-7) - 12.1%
Women in the Sun(GMA-7) - 12%
Slam Dunk(GMA-7) - 11.5%
It's Showtime (ABS-CBN) – 11%
Fairy Tail(GMA-7) - 10.4%
PRIMETIME:
1. Forevermore(ABS-CBN) – 20.9%
2. 24 Oras (GMA-7) - 19.8%
3. Dream Dad (ABS-CBN) – 21.1%
4. Empress Ki(GMA-7) - 19.1%
5. Once Upon a Kiss (GMA-7) - 18%
6. More Than Words (GMA-7) - 17.5%
7. Two Wives (ABS-CBN) – 17.4%
8. Second Chances (GMA-7) – 16.6%
9. TV Patrol (ABS-CBN) - 15.3%
10. Future's Choice(GMA-7) – 12.5%
February 27, 2015 (Friday)
DAYTIME:
The Half Sisters (GMA-7) – 18.9%
Eat Bulaga! (GMA-7) – 17.9%
Yagit (GMA-7) - 16.6%
The Ryzza Mae Show(GMA-7) - 12.9%
Knock Out(GMA-7) / Slam Dunk(GMA-7) - 12.3%
Kailan Ba Tama Ang Mali?(GMA-7) – 11.6%
Fairy Tail(GMA-7) - 11.3%
It's Showtime (ABS-CBN) – 11%
Detective Conan(GMA-7) - 10.8%
Oh My G! (ABS-CBN) – 10.7%
PRIMETIME:
Forevermore (ABS-CBN) – 19.6%
Dream Dad (ABS-CBN) - 18.9%
24 Oras (GMA-7) - 18.8%
Once Upon a Kiss (GMA-7) - 18.4%
More Than Words (GMA-7) - 17.9%
Two Wives (ABS-CBN) – 17.5%
Bubble Gang (GMA-7) – 17.4%
Second Chances (GMA-7) – 16.7%
TV Patrol (ABS-CBN) – 14.1%
Aquino & Abunda Tonight (ABS-CBN) – 11.4%
February 28, 2015 (Saturday)
DAYTIME:
Eat Bulaga! (GMA-7) – 19.2%
Del Monte Kitchenomics (GMA-7) – 13.9%
Imbestigador (GMA-7) – 12.9%
Maynila (GMA-7) - 12%
It's Showtime (ABS-CBN) - 11.5%
GMA Tales of Horror (GMA-7) - 10.9%
24 Oras Weekend (GMA-7) – 10.8%
Wish Ko Lang! (GMA-7) / Startalk (GMA-7) - 9.7%
Magic Kaito (GMA-7) / Ipaglaban Mo (ABS-CBN) - 9.4%
Tom & Jerry Kids Show / Angry Birds Toons (GMA-7) - 8.7%
PRIMETIME:
Magpakailanman (GMA-7) – 24.3%
Celebrity Bluff (GMA-7) – 22.4%
The Voice of the Philippines(ABS-CBN) – 21.3%
Pepito Manaloto: Ang Tunay na Kuwento (GMA-7) – 17.6%
I-Witness (GMA-7) - 15.3%
MMK: Ang Tahanan Mo (ABS-CBN) – 15.2%
Kapuso Movie Night (GMA-7) - 13.8%
Home Sweetie Home (ABS-CBN) – 9.7%
Mga Kwento ni Marc Logan(ABS-CBN) – 9%
Banana Split Extra Scoop (ABS-CBN) – 8.8%
March 1, 2015 (Sunday)
DAYTIME:
Kapuso Movie Festival (GMA-7) - 15.9%
Del Monte Kitchenomics (GMA-7) – 14%
Sunday All Stars (GMA-7) - 11.9%
Born to be Wild (GMA-7) - 10.9%
ASAP 20 (ABS-CBN) – 10.7%
Superhero Sunday (GMA-7) - 10.2%
GMA Blockbusters (GMA-7) - 10.1%
iBilib (GMA-7) - 10%
24 Oras Weekend (GMA-7) – 9.9%
Kapamilya Blockbusters (ABS-CBN) - 9.4%
PRIMETIME:
Kapuso Mo, Jessica Soho (GMA-7) - 25.5%
The Voice Philippines(ABS-CBN) – 23%
Ismol Family (GMA-7) - 17.5%
Gandang Gabi Vice (ABS-CBN) – 16.5%
Rated K: Handa Na Ba Kayo? (ABS-CBN) – 15.1%
Chiz & Heart: Love, Finally(GMA-7) - 13.5%
Vampire Ang Daddy Ko (GMA-7) – 13.2%
Wansapanataym (ABS-CBN) – 9.8%
Goin' Bulilit (ABS-CBN) – 8.9%
PBA 2015 Commissioner's Cup: Purefoods Star Hotshots vs San Miguel Beermen (TV5) - 8.3%
March 2, 2015 (Monday)
DAYTIME:
The Half Sisters (GMA-7) – 18.3%
Eat Bulaga! (GMA-7) – 17.8%
Yagit (GMA-7) – 15.8%
The Ryzza Mae Show (GMA-7) - 13.7%
Knock Out(GMA-7) - 11.7%
Kailan Ba Tama Ang Mali?(GMA-7) – 10.9%
Women in the Sun(GMA-7) / It's Showtime (ABS-CBN) - 10.4%
Slam Dunk(GMA-7) - 10.3%
Oh My G! (ABS-CBN) - 9.6%
Fall in Love With Me(GMA-7) – 9.3%
PRIMETIME:
Forevermore (ABS-CBN) – 21.4%
Empress Ki (ABS-CBN) - 19.8%
Dream Dad (ABS-CBN) – 19.6%
24 Oras (GMA-7) - 18.6%
More Than Words (GMA-7) – 18.3%
Two Wives (ABS-CBN) – 18%
Once Upon a Kiss (GMA-7) / Second Chances (GMA-7) - 17.9%
TV Patrol (ABS-CBN) – 16.4%
Aquino & Abunda Tonight (ABS-CBN) – 12.8%
Future's Choice(GMA-7) - 11.2%
March 3, 2015 (Tuesday)
DAYTIME:
The Half Sisters (GMA-7) – 17.7%
Eat Bulaga! (GMA-7) – 17%
Yagit (GMA-7) – 15.7%
The Ryzza Mae Show (GMA-7) - 12.6%
Kailan Ba Tama Ang Mali?(GMA-7) – 11%
It's Showtime (ABS-CBN) - 10.7%
Slam Dunk(GMA-7) - 10.5%
Knock Out(GMA-7) - 10.4%
Women in the Sun(GMA-7) / Oh My G! (ABS-CBN) - 10.1%
Detective Conan(GMA-7) – 9.7%
PRIMETIME:
Forevermore (ABS-CBN) – 21%
Dream Dad (ABS-CBN) – 20.5%
Empress Ki (ABS-CBN) - 19.8%
Second Chances (GMA-7) - 18.7%
24 Oras (GMA-7) - 18.4%
Once Upon a Kiss (GMA-7) - 18.2%
Two Wives (ABS-CBN) – 17.2%
More Than Words (GMA-7) – 18%
TV Patrol (ABS-CBN) – 15.1%
Aquino & Abunda Tonight (ABS-CBN) – 11.3%
March 4, 2015 (Wednesday)
DAYTIME:
The Half Sisters (GMA-7) – 18.4%
Eat Bulaga! (GMA-7) – 16%
Yagit (GMA-7) - 15.4%
Kailan Ba Tama Ang Mali?(GMA-7) – 11%
Power House(GMA-7) – 10.8%
It's Showtime (ABS-CBN) - 10.7%
The Ryzza Mae Show(GMA-7) / Oh My G! (ABS-CBN) - 10.2%
Knock Out(GMA-7) - 9.8%
Fall in Love With Me(GMA-7) - 9.4%
Women in the Sun(GMA-7) - 9.3%
PRIMETIME:
Forevermore (ABS-CBN) – 21.6%
24 Oras (GMA-7) / Empress Ki(GMA-7) - 19.7%
Dream Dad (ABS-CBN) - 19.6%
Second Chances (GMA-7) - 18.4%
More Than Words (GMA-7) / Once Upon a Kiss (GMA-7) - 18.3%
Two Wives (ABS-CBN) – 17.5%
TV Patrol (ABS-CBN) – 15.8%
Aquino & Abunda Tonight (ABS-CBN) - 12.3%
Saksi(GMA-7) - 11.8%
Future's Choice(GMA-7) - 11.4%
Source: AGB Nielsen Philippines