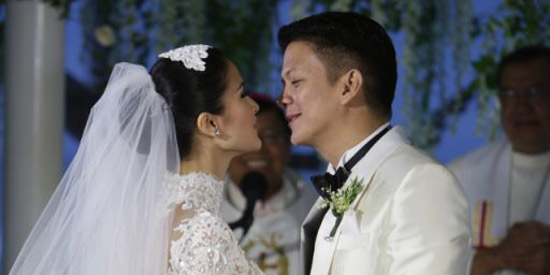 ---
ABS-CBN is still the primetime leader on weekdays, according to the latest ratings data from AGB Nielsen Philippines from Mega Manila households from March 5 to 8, 2015.

The Kapamilya Network's Forevermore landed on the No. 1 slot on March 5 and 6, Thursday and Friday. The family drama that stars the up-and-rising Enrique Gil-Liza Soberano loveteam continues to gain new viewers day after day.
Another Kapamilya primetime drama that got good TV ratings during the given period is Dream Dad, which stars Zanjoe Marudo, Beauty Gonzales and child actress Jana Agoncillo. In fact, Dream Dad defeated the finale of GMA-7's More Than Words on March 6.
On that day, Dream Dad scored 21.3% while More Than Words ended with a TV rating of 19.1%.
More Than Words is a romantic comedy that featured Kapuso stars Elmo Magalona and Janine Gutierrez. It started airing on November 17, 2014 as a replacement for Ilustrado.
More Than Words(GMA-7)

According to data from AGB Nielsen Philippines from Mega Manila households

Rating at pilot (November 14, 2014)

21.6%

Rating at finale (March 6, 2015)

19.1%

Total number of episodes

80

Show average

19.255%

Highest rating

22.2% (January 13, 2015)

Lowest rating

13.4% (December 31, 2014)
In contrast, GMA-7 shows continued to lead weekday daytime. The most-watched daytime show is still The Half Sisters, the hit afternoon drama starring Barbie Forteza and Thea Tolentino.
The Kapuso network is also the winner on weekends, with its shows Magpakailanman, Kapuso Movie Festival and Kapuso Mo, Jessica Soho.
The March 7 episode of Magpakailanman featured Louise delos Reyes and Yasmien Kurdi as sisters who meet different tragedies. It registered a TV rating of 24.3% against Maalaala Mo Kaya's 15.2%.

GMA-7's coverage of the Heart Evangelista-Chiz Escudero wedding landed on the No. 5 slot among top-watched programs of March 8.

The top five most-watched programs that day were Kapuso Mo, Jessica Soho (29.3%), Ismol Family (20.2%), Gandang Gabi Vice (16.1%), Ang Tinig Natin (14.8%) and Chiz & Heart: Love, Finally (13.2%).
ADVERTISEMENT - CONTINUE READING BELOW
Here is the comparative rating performance of GMA-7, ABS-CBN and TV5 programs from March 5 to 8, 2015 derived by AGB Nielsen Philippines from Mega Manila households:
--
March 5, 2015 (Thursday)
Morning:
Born to be Wild Replay (GMA-7) 1%; Sports U Replay (ABS-CBN) .5%; Shop Japan (TV5) .1%
Unang Hirit! (GMA-7) 4.1%; Umagang Kay Ganda (ABS-CBN) 2.9%; Aksyon sa Umaga (TV5) .8%; Sofia the First (TV5) 1%; Sofia the First (TV5) 1.5%
One Piece (GMA-7) 6.3%; Pokemon (GMA-7) 7.3%; Dragon Ball (GMA-7) 8.4%; Kris TV (ABS-CBN) 4.4%; Henry the Huggle Monster (TV5) 1.4%; Phineas and Ferb (TV5) 1.9%; Hi-5 (TV5) 1.8%
Detective Conan (GMA-7) 10.1%; Spongebob Squarepants (ABS-CBN) 5.1%; Rockman Exe Excess (TV5) 1.1%
Fairy Tail (GMA-7) 9.5%; Remi (ABS-CBN) 5.2%; Rockman Exe Excess (TV5) 1.3%
Slam Dunk (GMA-7) 10.9%; Cedie (ABS-CBN) 6%
Knock Out (GMA-7) 11.8%; Corazon Indomable (GMA-7) 11%; Women in the Sun (GMA-7) 11.4%; Kapamilya Blockbusters: Bekikang (ABS-CBN) 11.1%; Healing Galing sa TV5 (TV5) 1.2%; Happy Wife Happy Life (TV5) 1.9%; Solved na Solved (TV5) 1.7%
The Ryzza Mae Show (GMA-7) 13.2%; Oh My G! (ABS-CBN) 12.3%; Aksyon sa Tanghali (TV5) 2.6%
Afternoon:
Eat Bulaga! (GMA-7) 18.9%; It's Showtime (ABS-CBN) 10.2%; T3 Enforced (TV5) 2.9%; Movie Max 5: Let the Bullets Fly (TV5) 3.6%
The Half Sisters (GMA-7) 19.3%; Flordeliza (ABS-CBN) 7%; Movie Max 5: Zodiac (TV5) 4%
Yagit (GMA-7) 17.4%; Nasaan Ka Nang Kailangan Kita (ABS-CBN) 7.7%
Kailan Ba Tama Ang Mali? (GMA-7) 12%; Fated to Love You (ABS-CBN) 7.2%
Reporter's Notebook (GMA-7) 8%; Sports U Ikaw Ang Panalo (ABS-CBN) 4.4%; Movie Max 5: Ninja (TV5) 5.1%
Fall in Love With Me (GMA-7) 8.6%; Kapamilya Deal or No Deal (ABS-CBN) 8.8%
Evening:
Future's Choice (GMA-7) 10.8%; Bagito (ABS-CBN) 12.3%; Aksyon (TV5) 5.2%
24 Oras (GMA-7) 19.8%; TV Patrol (ABS-CBN) 16.5%; Movie Max 5: The Expendables (TV5) 10.2%
More Than Words (GMA-7) 18%; Dream Dad (ABS-CBN) 20.2%
Once Upon a Kiss (GMA-7) 18.5%; Forevermore (ABS-CBN) 21.6%; Wattpad Presents (TV5) 3.5%
ADVERTISEMENT - CONTINUE READING BELOW
Second Chances (GMA-7) 18.2%; Two Wives (ABS-CBN) 17.2%; Marvel Agents of SHIELD (TV5) 4.1%
Empress Ki (GMA-7) 20.7%; Aquino & Abunda Tonight (ABS-CBN) 12%; Unforgettable Love (ABS-CBN) 9.2%; Extreme Series Kaya Mo Ba To (TV5) 1.9%; Aksyon Tonite (TV5) 1.3%
Saksi (GMA-7) 11%; Bandila (ABS-CBN) 5.1%; Reaksyon (TV5) .6%; Unang Tikim (TV5) .3%
Earth Flight (GMA-7) 5.9%; Banana Nite (ABS-CBN) 2.7%
The Tim Yap Show (GMA-7) 2.4%; O Shopping (ABS-CBN) .9%; Shop Japan (TV5) .1%
----
March 6, 2015 (Friday)
Morning:
Alisto! Replay (GMA-7) .5%; TNT Replay (ABS-CBN) .8%
Unang Hirit! (GMA-7) 4.5%; Umagang Kay Ganda (ABS-CBN) 3.1%; Aksyon sa Umaga (TV5) .5%; Sofia the First (TV5) 1.2%; Sofia the First (TV5) 1.5%
One Piece (GMA-7) 5.1%; Pokemon (GMA-7) 6.9%; Dragon Ball (GMA-7) 9%; Kris TV (ABS-CBN) 5.1%; Henry the Huggle Monster (TV5) 2.3%; Phineas and Ferb (TV5) 2.1%; Hi-5 (TV5) 1.9%
Detective Conan (GMA-7) 9.7%; Spongebob Squarepants (ABS-CBN) 4.3%; Rockman Exe Axess (TV5) 1.2%
Fairytail (GMA-7) 9.7%; Remi (GMA-7) 4.9%; Rockman Exe Axess (TV5) 1.2%
Slam Dunk (GMA-7) 12.1%; Cedie (ABS-CBN) 5.9%
Knock Out (GMA-7) 12.7%; Corazon Indomable (GMA-7) 11%; Women in the Sun (GMA-7) 12.5%; Kapamilya Blockbusters: Third Eye (ABS-CBN) 9%; Healing Galing sa TV5 (TV5) 1.5%; Happy Wife Happy Life (TV5) 1.6%; Solved na Solved (TV5) 1.4%
The Ryzza Mae Show (GMA-7) 13.3%; Oh My G! (ABS-CBN) 10.6%; Aksyon sa Tanghali (TV5) 3.1%
Afternoon:
Eat Bulaga! (GMA-7) 18.4%; It's Showtime (ABS-CBN) 10.9%; T3 Enforced (TV5) 3.4%; Movie Max 5: Fight Back to School (TV5) 3.8%
The Half Sisters (GMA-7) 20%; Flordeliza (ABS-CBN) 6.7%; Movie Max 5: Swamp Shark (TV5) 5.8%
Yagit (GMA-7) 16.6%; Nasaan Ka Nang Kailangan Kita (ABS-CBN) 6.5%
Kailan Ba Tama Ang Mali? (GMA-7) 11.4%; Fated to Love You (ABS-CBN) 6.4%; TNT (ABS-CBN) 4.5%; Smart PBA All-Star Palawan 2015 (TV5) 6.1%
Love Hotline (GMA-7) 9.9%; Fall in Love With Me (GMA-7) 9.7%; Kapamilya Deal or No Deal (ABS-CBN) 6.9%
Evening:
Future's Choice (GMA-7) 11.2%; Bagito (ABS-CBN) 9.4%
ADVERTISEMENT - CONTINUE READING BELOW
24 Oras (GMA-7) 17.8%; TV Patrol (ABS-CBN) 15.3%; Aksyon (TV5) 4.7%; Smart PBA All-Star Palawan 2015: Rookies vs Sophomores (TV5) 7.8%
More Than Words (GMA-7) 19.1%; Dream Dad (ABS-CBN) 21.3%
Once Upon a Kiss (GMA-7) 20.9%; Forevermore (ABS-CBN) 22.8%; Wattpad Presents (TV5) 3.1%
Second Chances (GMA-7) 16.8%; Two Wives (ABS-CBN) 17.8%; The Vampire Diaries (TV5) 3.8%
Bubble Gang (GMA-7) 18%; Aquino & Abunda Tonight (ABS-CBN) 12.2%; Unforgettable Love (ABS-CBN) 9.2%; Extreme Series Kaya Mo Ba To (TV5) 2.5%; Aksyon Tonite (TV5) 1.5%
Saksi (GMA-7) 9.1%; Bandila (ABS-CBN) 4.6%; Reaksyon (TV5) 1%; Astig (TV5) .6%
The Tim Yap Show (GMA-7) 3.5%; Banana Nite (ABS-CBN) 3%; O Shopping (ABS-CBN) .9%; Shop Japan (TV5) .3%
--
March 7, 2015 (Saturday)
Morning:
PJM Forum (GMA-7) .5%; Adyenda (GMA-7) 1%; Shop Japan (TV5) .1%
Kapwa Ko Mahal Ko (GMA-7) 1.9%; Sa Kabukiran (ABS-CBN) .4%; Family Matters (TV5) .3%
Pinoy MD (GMA-7) 3.7%; Salamat Dok (ABS-CBN) 1.1%; Kakaibang Lunas (TV5) .5%
The Smurfs (GMA-7) 5.7%; Swak na Swak (ABS-CBN) 1.9%; Kim Possible (TV5) 1.7%
Kamen Rider Ooo (GMA-7) 7.9%; Angel Wings (ABS-CBN) 1.7%; Little Einsteins (TV5) 2.2%
Tom & Jerry Kids Show (GMA-7) 9.4%; Math Tinik (ABS-CBN) 2%; The Powerpuff Girls (TV5) 2.5%
Angry Birds Toons (GMA-7) 9.5%; The Adventures of Jimmy Neutron (ABS-CBN) 2.9%
Crossfight B-Daman (GMA-7) 9.1%; Spongebob Squarepants (ABS-CBN) 5.1%; Ben 10 Omniverse (TV5) 1.9%
Magic Kaito (GMA-7) 9.3%; Superbook (ABS-CBN) 5.3%; Magical Do Re Mi (TV5) 2.5%; Sword Art Online (TV5) 3.6%
Sarap Diva (GMA-7) 8.6%; Maynila (GMA-7) 11.3%; Del Monte Kitchenomics (GMA-7) 12.8%; NBA 2014-2015 Season: Atlanta Hawks vs Cleveland Cavaliers (ABS-CBN) 4.8%; Fushigi Yuugi (TV5) 4.4%; Street Fighter II (TV5) 3.9%; Movie Max 5: Sofia the First (TV5) 6.1%
Afternoon:
Eat Bulaga! (GMA-7) 19.2%; It's Showtime (ABS-CBN) 11.2%; Movie Max 5: Footloose (TV5) 5.1%
GMA Tales of Horror (GMA-7) 12.5%; Wish Ko Lang! (GMA-7) 11%; Ipaglaban Mo (ABS-CBN) 8.2%; Movie Max 5: Imagine That (TV5) 3.8%
Startalk 19 (GMA-7) 10.1%; Failon Ngayon (ABS-CBN) 7%; YH Tube (TV5) 2.1%
Imbestigador (GMA-7) 11.6%; SOCO (ABS-CBN) 8.3%; Movie Max 5: Derailed (TV5) 3.6%
ADVERTISEMENT - CONTINUE READING BELOW
24 Oras Weekend (GMA-7) 10.9%; TV Patrol Weekend (ABS-CBN) 7.5%
Evening:
Pepito Manaloto: Ang Tunay na Kuwento (GMA-7) 17.7%; Mga Kwento ni Marc Logan (ABS-CBN) 9.3%; Home Sweetie Home (ABS-CBN) 11.2%
Magpakailanman (GMA-7) 24.3%; MMK: Ang Tahanan Mo (ABS-CBN) 15.2%; Tropa Mo Ko Unli Spoof (TV5) 4.1%; 2 1/2 Daddies (TV5) 3.8%
Celebrity Bluff (GMA-7) 24.6%; Ang Tinig Natin (ABS-CBN) 14.2%; Everybody Hapi (TV5) 3.9%
I-Witness (GMA-7) 17.6%; Kapuso Movie Night: Season of the Witch (GMA-7) 14.6%; Banana Split Extra Scoop (TV5) 9%; The Bottom Line (ABS-CBN) 2.4%; Call Me Papa Jack (TV5) 1.5%; Kaya. (TV5) .6%
Walang Tulugan (GMA-7) 3%; O Shopping (ABS-CBN) .8%; Shop Japan (TV5) .2%
--
March 8, 2015 (Sunday)
Daytime:
In Touch with Dr. Charles Stanley (GMA-7) .3%; Jesus The Healer (GMA-7) .7%; Shop Japan (TV5) .3%
Kapuso Sine Klasika: Mong (GMA-7) 3%; The Healing Eucharist (ABS-CBN) 3.3%; Misa Nazareno (TV5) 1.1%
Grimm's Fairy Tales (GMA-7) 6.4%; Swak na Swak (ABS-CBN) 1.9%; Power to Unite with Elvira (TV5) .5%
Kamen Rider Ooo (GMA-7) 7.8%; Tom & Jerry Kids Show (GMA-7) 9.5%; Salamat Dok (ABS-CBN) 2.7%; Kim Possible (TV5) 1.5%; Little Einsteins (TV5) 1.7%
Monsuno (GMA-7) 7.9%; My Giant Friend (ABS-CBN) 2.2%; The Powerpuff Girls (TV5) 3%
Aha! (GMA-7) 8.2%; Max Steel (ABS-CBN) 3.3%; Superbook (ABS-CBN) 4.1%; Ben 10 Omniverse (TV5) 2.7%; Sword Art Online (TV5) 2.5%
Born To Be Wild (GMA-7) 10.7%; iBilib (ABS-CBN) 10.3%; Matanglawin (ABS-CBN) 6.1%; Fushigi Yuugi (TV5) 2.3%
Superhero Sunday: Dragon Ball Z (GMA-7) 13.9%; Fight Review Donnie Nietes (ABS-CBN) 4.7%; Street Fighter II (TV5) 2.5%; Movie Max 5: Zathura (TV5) 5.1%
Afternoon:
Kapuso Movie Festival: The Ant Bully (GMA-7) 18.2%; Del Monte Kitchenomics (GMA-7) 16.6%; Sunday All Stars (GMA-7) 11.7%; ASAP 20 (ABS-CBN) 8.3%; Luv U (ABS-CBN) 6.3%; Movie Max 5: The Rookie (TV5) 4.3%; Sports 360 (TV5) 3.8%
GMA Blockbusters: Eye of the Beast (GMA-7) 10.8%; The Buzz (ABS-CBN) 6.5%; TV Patrol Weekend (ABS-CBN) 6.3%; Smart PBA All-Star Palawan 2015: North All-Stars vs South All-Stars (TV5) 8.2%
ADVERTISEMENT - CONTINUE READING BELOW
Evening:
24 Oras Weekend (GMA-7) 8.8%; Goin' Bulilit (ABS-CBN) 6.2%
Vampire Ang Daddy Ko (GMA-7) 12.8%; Wansapanataym (ABS-CBN) 8.6%
Ismol Family (GMA-7) 20.2%; Rated K: Handa Na Ba Kayo? (ABS-CBN) 14.3%; Mac & Chiz (TV5) 4.5%
Kapuso Mo, Jessica Soho (GMA-7) 29.3%; Ang Tinig Natin (ABS-CBN) 14.8%; Gandang Gabi Vice (ABS-CBN) 16.1%; Move It (TV5) 2.2%; Wow Mali Lakas ng Tama (TV5) 3.3%
Chiz & Heart: Love, Finally (GMA-7) 13.2%; Top 20 Funniest (GMA-7) 7.1%; Sunday's Best: Binibining Pilipinas 2015 The Road to the Crown (ABS-CBN) 5.5%; Wattpad Presents (TV5) 2.2%
Diyos at Bayan (GMA-7) 1.9%; O Shopping (ABS-CBN) .7%; Shop Japan (TV5) .4%
--
TOP TEN PROGRAMS:
March 5, 2015 (Thursday)
DAYTIME:
The Half Sisters (GMA-7) – 19.3%
Eat Bulaga! (GMA-7) – 18.9%
Yagit (GMA-7) - 17.4%
The Ryzza Mae Show (GMA-7) - 13.2%
Oh My G! (ABS-CBN) – 12.3%
Kailan Ba Tama Ang Mali?(GMA-7) - 12%
Knock Out(GMA-7) - 11.8%
Women in the Sun(GMA-7) - 11.4%
Kapamilya Blockbusters (ABS-CBN) – 11.1%
Corazon Indomable(GMA-7) - 11%
PRIMETIME:
Forevermore(ABS-CBN) – 21.6%
24 Oras (GMA-7) - 20.8%
Empress Ki (GMA-7) - 20.7%
Dream Dad (ABS-CBN) – 20.2%
Once Upon a Kiss (GMA-7) - 18.5%
Second Chances (GMA-7) – 18.2%
More Than Words (GMA-7) - 18%
Two Wives (ABS-CBN) – 17.2%
TV Patrol (ABS-CBN) - 16.5%
Bagito (ABS-CBN) - 12.3%
March 6, 2015 (Friday)
DAYTIME:
The Half Sisters (GMA-7) – 20%
Eat Bulaga! (GMA-7) – 18.4%
Yagit (GMA-7) - 16.6%
The Ryzza Mae Show(GMA-7) - 13.3%
Knock Out(GMA-7) - 12.7%
Women in the Sun(GMA-7) - 12.5%
Slam Dunk(GMA-7) - 12.1%
Kailan Ba Tama Ang Mali?(GMA-7) – 11.4%
Corazon Indomable(GMA-7) - 11%
It's Showtime (ABS-CBN) – 10.9%
PRIMETIME:
Forevermore (ABS-CBN) – 22.8%
Dream Dad (ABS-CBN) - 21.3%
Once Upon a Kiss (GMA-7) - 20.9%
More Than Words (GMA-7) - 19.1%
Bubble Gang (GMA-7) – 18%
24 Oras (GMA-7) / Two Wives (ABS-CBN) – 17.8%
Second Chances (GMA-7) – 16.8%
TV Patrol (ABS-CBN) – 15.3%
Aquino & Abunda Tonight (ABS-CBN) – 12.2%
Future's Choice(GMA-7) - 11.2%
March 7, 2015 (Saturday)
DAYTIME:
Eat Bulaga! (GMA-7) – 19.2%
Del Monte Kitchenomics (GMA-7) – 12.8%
GMA Tales of Horror (GMA-7) - 12.5%
Imbestigador (GMA-7) – 11.6%
Maynila (GMA-7) - 11.3%
It's Showtime (ABS-CBN) - 11.2%
Wish Ko Lang! (GMA-7) - 11%
24 Oras Weekend (GMA-7) – 10.9%
Startalk (GMA-7) - 10.1%
Angry Birds Toons (GMA-7) - 9.5%
PRIMETIME:
Magpakailanman (GMA-7) – 25.2%
Celebrity Bluff (GMA-7) – 24.6%
Pepito Manaloto: Ang Tunay na Kuwento (GMA-7) – 17.7%
I-Witness (GMA-7) - 17.6%
MMK: Ang Tahanan Mo (ABS-CBN) – 16.3%
Kapuso Movie Night (GMA-7) - 14.6%
Ang Tinig Natin (ABS-CBN) – 14.2%
Home Sweetie Home (ABS-CBN) – 11.2%
Mga Kwento ni Marc Logan(ABS-CBN) – 9.3%
Banana Split Extra Scoop (ABS-CBN) – 9%
March 8, 2015 (Sunday)
DAYTIME:
Kapuso Movie Festival (GMA-7) - 18.2%
Del Monte Kitchenomics (GMA-7) – 16.6%
Superhero Sunday (GMA-7) - 13.9%
Sunday All Stars (GMA-7) - 11.7%
GMA Blockbusters (GMA-7) - 10.8%
Born to be Wild (GMA-7) - 10.7%
iBilib (GMA-7) - 10.3%
Tom & Jerry Kids Show (GMA-7) - 9.5%
ASAP 20 (ABS-CBN) – 8.3%
Aha! (GMA-7) – 8.2%
PRIMETIME:
Kapuso Mo, Jessica Soho (GMA-7) - 29.3%
Ismol Family (GMA-7) - 20.2%
Gandang Gabi Vice (ABS-CBN) – 16.1%
Ang Tinig Natin(ABS-CBN) – 14.8%
Chiz & Heart: Love, Finally(GMA-7) - 13.2%
Vampire Ang Daddy Ko (GMA-7) – 12.8%
24 Oras Weekend(GMA-7) – 8.8%
Wansapanataym (ABS-CBN) – 8.6%
Smart PBA All-Star Palawan 2015: North All-Stars vs South All-Stars (TV5) - 8.2%
Ang Tinig Natin (GMA-7) – 7.1%
Source: AGB Nielsen Philippines