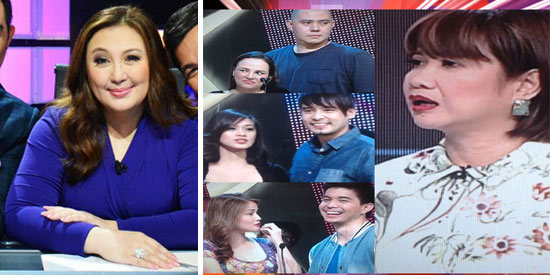 ---
GMA-7 is poised to make its way to take back the lead on primetime. This is according to the latest ratings data from AGB Nielsen Philippines from Mega Manila households from March 9 to 15, 2015.
For weeks, ABS-CBN has stayed on top of weekday primetime with its top-rated shows Dream Dad and Forevermore.
Forevermore is still the number one primetime show on weekdays. The romance drama that features the Liza Soberano-Enrique Gil loveteam ends up at number one every night, defeating GMA-7's Once Upon a Kiss each time.
Dream Dad, a lighthearted family drama that stars Zanjoe Marudo and child actress Jana Agoncillo, also performed brilliantly in the previous weeks, beating More Than Words and occasionally landing at first place.
But More Than Words has ended and has been replaced by Pari 'Koy on March 9. The new Kapuso teleserye is a vehicle for primetime king Dingdong Dantes, who plays the parish priest of a community.
Pari 'Koy had a great first week in the ratings game, and it outperformed Dream Dad on Monday to Friday.
It remains to be seen if Pari 'Koy can continue its good performance in the upcoming weeks.
Three shows ended during this given period.
ABS-CBN's Two Wives aired its last episode on March 13. The infidelity-themed drama, which started airing on October 13, 2014, featured Jason Abalos, Kaye Abad and Erich Gonzales.
Two Wives got a good viewer count during its run, triumphing over two Kapuso shows: Hiram na Alaala and Second Chances.
Two Wives(ABS-CBN)

According to data from AGB Nielsen Philippines from Mega Manila households

Rating at premiere (October 13, 2014)

15.4%

Rating at finale (March 13, 2015)

20.6%

Total number of episodes

110

Show average

17.89%

Highest rating

21.9% (November 20, 2014)

Lowest rating

12% (December 31, 2014)
ABS-CBN's Bagito and GMA-7's Future's Choice also ended on March 13. The two aired against each other, and they were at even odds.
Bagito started on November 17, 2014, and starred Nash Aguas, Alexa Ilacad and Ella Cruz.
Bagito (ABS-CBN)

According to data from AGB Nielsen Philippines from Mega Manila households

Rating at premiere (November 17, 2014)

14.6%

Rating at finale (March 13, 2015)

12.8%

Total number of episodes

83 (January 15 and 16 pre-empted for Pope visit)

Show average

11.59%

Highest rating
17.4% (November 27, 2014)
Lowest rating
8.3% (January 19, 2014)
Fans of Korean drama protested when GMA-7 ended Future's Choice prematurely, cutting out a lot of episodes so it can end on March 13. This is so that the Kapuso network can re-air the hit series My Love from the Star against ABS-CBN's new fantasy series Inday Bote on March 16.
ADVERTISEMENT - CONTINUE READING BELOW
Weekends also had interesting developments in the TV industry.
Sabado Badoo premiered on March 14 as the Kapuso network's answer to Mga Kwento ni Marc Logan. Hosted by Betong Sumaya and Sef Cadayona, the funny video clip show got a TV rating of 13.1% against the ABS-CBN program's 8.8%.
Your Face Sounds Familiar is ABS-CBN's replacement to The Voice of the Philippines. The weekly contest that makes celebrities impersonate famous singers did not do well on its March 14 debut, registering only a TV rating of 18.2% against Celebrity Bluff's 23%.

This franchise game show marks the TV comeback of Sharon Cuneta. It will be recalled that the Megastar left TV5 in August 2014 and by March 2015, it was confirmed that she would return to ABS-CBN as a jury member in this game show hosted by Billy Crawford.
However, it is interesting to note that Your Face Sounds Familiar was able to land in the No. 4 most-slot among the most watched programs last March 14. The Top Four shows that day were Kapuso Mo, Jessica Soho (29%), Saturday Night Box Office: The Expendables 2 (20.2%), Ismol Family (18.6%) and Your Face Sounds Familiar (16.8%).


The 2015 coronation night of Binibing Pilipinas aired on ABS-CBN on March 15, getting 9.9% and landing on 8th place on primetime. In contrast, GMA-7's Sunday Night Box Office: The Expendables 2 ended on second place with 20.2%.
Here is the comparative rating performance of GMA-7, ABS-CBN and TV5 programs from March 9 to 15, 2015 derived from AGB Nielsen Philippines from Mega Manila households:
March 9, 2015 (Monday)
Morning:
Power House Replay (GMA-7) 1.3%; Maniwala Ka Kaya Mo Replay (ABS-CBN) .2%
Unang Hirit! (GMA-7) 5.1%; Umagang Kay Ganda (ABS-CBN) 2.6%; Aksyon sa Umaga (TV5) .8%; Sofia the First (TV5) 1.3%; Sofia the First (TV5) 2%
One Piece (GMA-7) 4.9%; Pokemon (GMA-7) 5.8%; Dragon Ball (GMA-7) 6.7%; Detective Conan (GMA-7) 8.8%; Kris TV (ABS-CBN) 4.9%; Henry the Huggle Monster (TV5) 2.4%; Phineas and Ferb (TV5) 2.4%; Hi-5 (TV5) 1.9%
ADVERTISEMENT - CONTINUE READING BELOW
Fairy Tail (GMA-7) 9.6%; Spongebob Squarepants (ABS-CBN) 4.5%; Remi (ABS-CBN) 5.5%; Rockman Exe Excess (TV5) 1.1%; Rockman Exe Excess (TV5) 1.1%
Slam Dunk (GMA-7) 10.4%; Cedie (ABS-CBN) 6%
Knock Out (GMA-7) 11.6%; Corazon Indomable (GMA-7) 9.6%; Women in the Sun (GMA-7) 10.2%; Kapamilya Blockbusters: Dobol Trobol (ABS-CBN) 9.2%; Happy Wife Happy Life (TV5) .8%; Healing Galing sa TV5 (TV5) 1.4%; Solved na Solved (TV5) 1.1%
The Ryzza Mae Show (GMA-7) 12.1%; Oh My G! (GMA-7) 11.8%; Aksyon sa Tanghali (TV5) 2.1%
Afternoon:
Eat Bulaga! (GMA-7) 18.4%; It's Showtime (ABS-CBN) 10.4%; T3 Enforced (TV5) 2.9%; Movie Max 5: Undercover Brother (TV5) 2.9%
The Half Sisters (GMA-7) 17.8%; Flordeliza (ABS-CBN) 6.6%; Movie Max 5: Return to Oz (TV5) 3.1%
Yagit (GMA-7) 15.4%; Nasaan Ka Nang Kailangan Kita (ABS-CBN) 7.6%
Kailan Ba Tama Ang Mali? (GMA-7) 10%; Fated to Love You (ABS-CBN) 7.3%
Alisto! (GMA-7) 8%; Maniwala Ka Kaya Mo (ABS-CBN) 6%; Movie Max 5: Serial Mom (TV5) 4.2%
Fall in Love With Me (GMA-7) 8.6%; Kapamilya Deal or No Deal (ABS-CBN) 9%
Evening:
Future's Choice (GMA-7) 10.6%; Bagito (ABS-CBN) 11%; Aksyon (TV5) 4%
24 Oras (GMA-7) 18.5%; TV Patrol (ABS-CBN) 17%; Movie Max 5: Shaft (TV5) 7.4%
Pari 'Koy (GMA-7) 22.4%; Dream Dad (ABS-CBN) 21.7%
Once Upon a Kiss (GMA-7) 20.5%; Forevermore (ABS-CBN) 25.3%; Wattpad Presents (TV5) 3.2%
Second Chances (GMA-7) 18.7%; Two Wives (ABS-CBN) 18.5%; The Vampire Diaries (TV5) 2.9%
Empress Ki (GMA-7) 18.9%; Aquino & Abunda Tonight (ABS-CBN) 11.8%; Unforgettable Love (ABS-CBN) 9.5%; Extreme Series (TV5) 1.3%; Aksyon Tonite (TV5) .5%
Saksi (GMA-7) 10.1%; Front Row (GMA-7) 4.9%; Bandila (ABS-CBN) 4.3%; Reaksyon (TV5) .4%; Demolition Job (TV5) .4%
The Tim Yap Show (GMA-7) 1.7%; Mukha (ABS-CBN) 2.1%; O Shopping (ABS-CBN) .9%; Shop Japan (TV5) .1%
----
March 10, 2015 (Tuesday)
Morning:
I-Witness Replay (GMA-7) 1.1%; 3-in-1 Replay (ABS-CBN) .3%; Shop Japan (TV5) .1%
Unang Hirit! (GMA-7) 3.7%; Umagang Kay Ganda (ABS-CBN) 2.7%; Aksyon sa Umaga (TV5) .9%; Sofia the First (TV5) 1.1%; Sofia the First (TV5) 2.2%
One Piece (GMA-7) 6%; Pokemon (GMA-7) 7.1%; Dragon Ball (GMA-7) 8.3%; Detective Conan (GMA-7) 10.2%; Kris TV (ABS-CBN) 5.1%; Henry the Huggle Monster (TV5) 2.4%; Phineas and Ferb (TV5) 2.4%; Hi-5 (TV5) 1.7%
Fairy Tail (GMA-7) 10.3%; Spongebob Squarepants (ABS-CBN) 5.2%; Rockman Exe Excess (TV5) .7%
Slam Dunk (GMA-7) 11.8%; Remi (ABS-CBN) 5.5%; Cedie (ABS-CBN) 5.9%; Rockman Exe Excess (TV5) .8%
Knock Out (GMA-7) 12.9%; Corazon Indomable (GMA-7) 11.7%; Women in the Sun (GMA-7) 12.6%; Kapamilya Blockbusters: Mamarazzi (ABS-CBN) 9.4%; Happy Wife Happy Life (TV5) .8%; Healing Galing sa TV5 (TV5) 1.8%;
ADVERTISEMENT - CONTINUE READING BELOW
The Ryzza Mae Show (GMA-7) 12.8%; Oh My G! (ABS-CBN) 11.2%; Solved na Solved (TV5) 1.7%
Afternoon:
Eat Bulaga! (GMA-7) 18.5%; It's Showtime (ABS-CBN) 11.5%; Aksyon sa Tanghali (TV5) 2.3%; T3 Enforced (TV5) 2.7%; 90th NCAA Cheerleading (TV5) 1.9%
The Half Sisters (GMA-7) 19.7%; Flordeliza (ABS-CBN) 7.1%
Yagit (GMA-7) 16.9%; Nasaan Ka Nang Kailangan Kita (ABS-CBN) 7.4%
Kailan Ba Tama Ang Mali? (GMA-7) 12.1%; Fated to Love You (ABS-CBN) 7.2%; Movie Max 5: The General's Daughter (TV5) 3.5%
Tunay na Buhay (GMA-7) 9.1%; 3-in-1 (ABS-CBN) 5%
Fall in Love With Me (GMA-7) 9.3%; Kapamilya Deal or No Deal (ABS-CBN) 7.7%
Evening:
Future's Choice (GMA-7) 11.1%; Bagito (ABS-CBN) 11.1%; Aksyon (TV5) 4.3%
24 Oras (GMA-7) 18.7%; TV Patrol (ABS-CBN) 17.1%; Movie Max 5: Black Hawk Down (TV5) 7.4%
Pari 'Koy (GMA-7) 21.8%; Dream Dad (ABS-CBN) 21.2%
Once Upon a Kiss (GMA-7) 21.5%; Forevermore (ABS-CBN) 22.7%; Wattpad Presents (TV5) 3.3%
Second Chances (GMA-7) 19%; Two Wives (ABS-CBN) 19.8%; The Vampire Diaries (TV5) 3.5%
Empress Ki (GMA-7) 19.5%; Aquino & Abunda Tonight (ABS-CBN) 13.6%; Unforgettable Love (ABS-CBN) 10%; Extreme Series (TV5) 1.8%
Saksi (GMA-7) 10.5%; Stan Lee's Superhumans (GMA-7) 7.3%; Bandila (ABS-CBN) 4.8%; Aksyon Tonite (TV5) 1.2%; Reaksyon (TV5) .5%; Numero (TV5) .6%
The Tim Yap Show (GMA-7) 3.3%; Banana Nite (ABS-CBN) 3.1%; O Shopping (ABS-CBN) 1.4%; Shop Japan (TV5) .4%
---
March 11, 2015 (Wednesday)
Morning:
Tunay na Buhay Replay (GMA-7) .7%; RealiTV Replay (ABS-CBN) .5%; Shop Japan (TV5) 0%
Unang Hirit! (GMA-7) 4.3%; Umagang Kay Ganda (ABS-CBN) 2.6%; Aksyon sa Umaga (TV5) .7%; Sofia the First (TV5) 2%; Sofia the First (TV5) 3.2%
One Piece (GMA-7) 5.4%; Pokemon (GMA-7) 6.9%; Dragon Ball (GMA-7) 9.4%; Detective Conan (GMA-7) 10.5%; Kris TV (ABS-CBN) 5.2%; Henry the Huggle Monster (TV5) 2.9%; Phineas and Ferb (TV5) 2.7%; Hi-5 (TV5) 1.9%
Fairy Tail (GMA-7) 10.2%; Spongebob Squarepants (ABS-CBN) 5%; Rockman Exe Excess (TV5) 1.5%
Slam Dunk (GMA-7) 11.6%; Remi (ABS-CBN) 5.1%; Cedie (ABS-CBN) 6.4%; Rockman Exe Excess (TV5) 1.7%
Knock Out (GMA-7) 12.9%; Corazon Indomable (GMA-7) 10.7%; Women in the Sun (GMA-7) 11.3%; Kapamilya Blockbusters: Tulak ng Bibig Kabig ng Dibdib (ABS-CBN) 9.7%; Happy Wife Happy Life (TV5) 1.4%; Healing Galing sa TV5 (TV5) 2%; Solved na Solved (TV5) 2.1%
The Ryzza Mae Show (GMA-7) 13.9%; Oh My G! (ABS-CBN) 10.8%; Aksyon sa Tanghali (TV5) 2.7%
Afternoon:
Eat Bulaga! (GMA-7) 21.1%; It's Showtime (ABS-CBN) 11.7%; T3 Enforced (TV5) 3.3%; Movie Max 5: Major Payne (TV5) 3.5%
ADVERTISEMENT - CONTINUE READING BELOW
The Half Sisters (GMA-7) 21.9%; Flordeliza (ABS-CBN) 7.7%; Movie Max 5: Shoot to Kill (TV5) 4.8%
Yagit (GMA-7) 18.8%; Nasaan Ka Nang Kailangan Kita (ABS-CBN) 7.5%
Kailan Ba Tama Ang Mali? (GMA-7) 13.1%; Fated to Love You (ABS-CBN) 7.6%; PBA 2015 Commissioner's Cup: Alaska vs Blackwater Elite (TV5) 3.2%
Power House (GMA-7) 12.8%; RealiTV (ABS-CBN) 6.8%
Fall in Love With Me (GMA-7) 11.7%; Kapamilya Deal or No Deal (ABS-CBN) 10.3%
Evening:
Future's Choice (GMA-7) 13.9%; Bagito (ABS-CBN) 13.3%; Aksyon (TV5) 5.2%
24 Oras (GMA-7) 20%; TV Patrol (ABS-CBN) 16.7%; PBA 2015 Commissioner's Cup: Bgy Ginebra vs NLEX (TV5) 8.9%
Pari 'Koy (GMA-7) 21.9%; Dream Dad (ABS-CBN) 21.2%
Once Upon a Kiss (GMA-7) 21.3%; Forevermore (ABS-CBN) 23.2%; Wattpad Presents (TV5) 2.9%
Second Chances (GMA-7) 19.3%; Two Wives (ABS-CBN) 19.1%; The Vampire Diaries (TV5) 2.7%
Empress Ki (GMA-7) 19.6%; Aquino & Abunda Tonight (ABS-CBN) 13.2%; Unforgettable Love (ABS-CBN) 9.5%; Extreme Series (TV5) 1.8%; Aksyon Tonite (TV5) 1%
Saksi (GMA-7) 9.8%; Bandila (ABS-CBN) 4.8%; Reaksyon (TV5) .4%; History with Lourd (TV5) .4%
Earth Flight (GMA-7) 5.4%; Banana Nite (ABS-CBN) 2.7%; Shop Japan (TV5) .2%
The Tim Yap Show (GMA-7) 3%; O Shopping (ABS-CBN) 1%
---
March 12, 2015 (Thursday)
Morning:
GMA Flash Report (GMA-7) 1.1%; Mayweather vs Pacquiao the Fight of the Century (ABS-CBN) .4%; Shop Japan (TV5) .2%
Unang Hirit! (GMA-7) 4.2%; Umagang Kay Ganda (ABS-CBN) 2.9%; Aksyon sa Umaga (TV5) .8%; Sofia the First (TV5) 2%; Sofia the First (TV5) 3.7%
One Piece (GMA-7) 5.9%; Pokemon (GMA-7) 7.1%; Dragon Ball (GMA-7) 9.4%; Detective Conan (GMA-7) 10.9%; Kris TV (ABS-CBN) 4.5%; Henry the Huggle Monster (TV5) 3.7%; Phineas and Ferb (TV5) 2.8%; Hi-5 (TV5) 1.8%
Fairy Tail (GMA-7) 10.5%; Spongebob Squarepants (ABS-CBN) 5.6%; Rockman Exe Excess (TV5) 1.1%
Slam Dunk (GMA-7) 10.9%; Remi (ABS-CBN) 6%; Cedie (ABS-CBN) 6.7%; Rockman Exe Excess (TV5) 1.2%
Knock Out (GMA-7) 12.5%; Corazon Indomable (GMA-7) 11.3%; Women in the Sun (GMA-7) 11.2%; Kapamilya Blockbusters: Here Comes the Bride (ABS-CBN) 10.1%; Happy Wife Happy Life (TV5) .7%; Healing Galing sa TV5 (TV5) 1.3%; Solved na Solved (TV5) 1.7%
The Ryzza Mae Show (GMA-7) 13.5%; Oh My G! (ABS-CBN) 10.5%; Aksyon sa Tanghali (TV5) 2.1%
Afternoon:
Eat Bulaga! (GMA-7) 19.8%; It's Showtime (ABS-CBN) 11%; T3 Enforced (TV5) 2%; Movie Max 5: Mystery Men (TV5) 2.8%
The Half Sisters (GMA-7) 21.7%; Flordeliza (ABS-CBN) 8.2%; Movie Max 5: The Adventures of Tintin (TV5) 4.7%
ADVERTISEMENT - CONTINUE READING BELOW
Yagit (GMA-7) 18.8%; Nasaan Ka Nang Kailangan Kita (ABS-CBN) 7.4%
Kailan Ba Tama Ang Mali? (GMA-7) 11.5%; Fated to Love You (ABS-CBN) 6.8%
Reporter's Notebook (GMA-7) 9%; Sports U Ikaw Ang Panalo (ABS-CBN) 4.6%; Movie Max 5: End of Days (TV5) 4.7%
Fall in Love With Me (GMA-7) 8.6%; Kapamilya Deal or No Deal (ABS-CBN) 7.7%
Evening:
Future's Choice (GMA-7) 10.6%; Bagito (ABS-CBN) 11.6%; Aksyon (TV5) 4.7%
24 Oras (GMA-7) 20.3%; TV Patrol (ABS-CBN) 17.7%; Movie Max 5: The Mechanic (TV5) 7.8%
Pari 'Koy (GMA-7) 22.3%; Dream Dad (ABS-CBN) 22.1%
Once Upon a Kiss (GMA-7) 21.8%; Forevermore (ABS-CBN) 22.7%; Wattpad Presents (TV5) 3.1%
Second Chances (GMA-7) 18.8%; Two Wives (ABS-CBN) 19.5%; The Vampire Diaries (TV5) 3.2%
Empress Ki (GMA-7) 19.3%; Aquino & Abunda Tonight (ABS-CBN) 11.4%; Unforgettable Love (ABS-CBN) 8.1%; Extreme Series Kaya Mo Ba To (TV5) 1.5%; Aksyon Tonite (TV5) 1%
Saksi (GMA-7) 9.1%; Bandila (ABS-CBN) 4.2%; Reaksyon (TV5) .6%; Unang Tikim (TV5) .4%
Human Planet (GMA-7) 6.2%; Banana Nite (ABS-CBN) 2.2%; Shop Japan (TV5) .3%
The Tim Yap Show (GMA-7) 2.2%; O Shopping (ABS-CBN) .8%
----
March 13, 2015 (Friday)
Morning:
Alisto! Replay (GMA-7) 1.1%; TNT Replay (ABS-CBN) .3%; Shop Japan (TV5) .1%
Unang Hirit! (GMA-7) 4%; Umagang Kay Ganda (ABS-CBN) 2.7%; Aksyon sa Umaga (TV5) .8%; Sofia the First (TV5) 2.1%; Sofia the First (TV5) 2.9%
One Piece (GMA-7) 5.7%; Pokemon (GMA-7) 6.4%; Dragon Ball (GMA-7) 8.7%; Detective Conan (GMA-7) 9.8%; Kris TV (ABS-CBN) 4%; Henry the Huggle Monster (TV5) 2.6%; Phineas and Ferb (TV5) 2.3%; Hi-5 (TV5) 2%
Fairytail (GMA-7) 10.2%; Spongebob Squarepants (ABS-CBN) 4.6%; Rockman Exe Axess (TV5) 1.3%
Slam Dunk (GMA-7) 10.7%; Remi (GMA-7) 4.7%; Cedie (ABS-CBN) 5.5%; Rockman Exe Axess (TV5) 1.4%
Knock Out (GMA-7) 12.8%; Corazon Indomable (GMA-7) 12.1%; Women in the Sun (GMA-7) 12.7%; Kapamilya Blockbusters: The Strangers (ABS-CBN) 8.9%; Happy Wife Happy Life (TV5) .6%; Healing Galing sa TV5 (TV5) 1.3%; Solved na Solved (TV5) 1.7%
The Ryzza Mae Show (GMA-7) 13.7%; Oh My G! (ABS-CBN) 9.6%; Aksyon sa Tanghali (TV5) 2%
Afternoon:
Eat Bulaga! (GMA-7) 19.2%; It's Showtime (ABS-CBN) 10.7%; T3 Enforced (TV5) 2.1%; Movie Max 5: Screwed (TV5) 2.5%
The Half Sisters (GMA-7) 23.6%; Flordeliza (ABS-CBN) 7.6%; Movie Max 5: Race to Witch Mountain (TV5) 4.1%
Yagit (GMA-7) 18.1%; Nasaan Ka Nang Kailangan Kita (ABS-CBN) 7.3%
Kailan Ba Tama Ang Mali? (GMA-7) 11.4%; Fated to Love You (ABS-CBN) 6.7%; TNT (ABS-CBN) 5.2%; PBA 2015 Commissioner's Cup: Barako Bull vs Meralco (TV5) 2.4%
ADVERTISEMENT - CONTINUE READING BELOW
Love Hotline (GMA-7) 9.1%; Fall in Love With Me (GMA-7) 8.9%; Kapamilya Deal or No Deal (ABS-CBN) 8.1%
Evening:
Future's Choice (GMA-7) 11.2%; Bagito (ABS-CBN) 12.8%; Aksyon (TV5) 3.7%
24 Oras (GMA-7) 17.9%; TV Patrol (ABS-CBN) 15.4%; PBA 2015 Commissioner's Cup: Rain or Shine vs San Miguel Beermen (TV5) 6.3%
Pari 'Koy (GMA-7) 21.6%; Dream Dad (ABS-CBN) 20.9%
Once Upon a Kiss (GMA-7) 21.3%; Forevermore (ABS-CBN) 21.8%; Wattpad Presents (TV5) 2.5%
Second Chances (GMA-7) 17.5%; Two Wives (ABS-CBN) 20.6%; The Vampire Diaries (TV5) 3.1%
Bubble Gang (GMA-7) 16.7%; Aquino & Abunda Tonight (ABS-CBN) 12.7%; Unforgettable Love (ABS-CBN) 10.2%; Extreme Series Kaya Mo Ba To (TV5) 1.2%; Aksyon Tonite (TV5) .8%
Saksi (GMA-7) 8.6%; Bandila (ABS-CBN) 4.9%; Reaksyon (TV5) .5%; Astig (TV5) .3%
The Tim Yap Show (GMA-7) 4%; Banana Nite (ABS-CBN) 2.8%; O Shopping (ABS-CBN) .6%; Shop Japan (TV5) .2%
--
March 14, 2015 (Saturday)
Morning:
PJM Forum (GMA-7) .4%; Adyenda (GMA-7) 1%; Shop Japan (TV5) .3%
Kapwa Ko Mahal Ko (GMA-7) 1.7%; Sa Kabukiran (ABS-CBN) .5%; Family Matters (TV5) .4%
Pinoy MD (GMA-7) 3.6%; Salamat Dok (ABS-CBN) 1.5%; Kakaibang Lunas (TV5) .7%
The Smurfs (GMA-7) 6.2%; Swak na Swak (ABS-CBN) 2.1%; Kim Possible (TV5) 1.8%
Kamen Rider Ooo (GMA-7) 7.8%; Angel Wings (ABS-CBN) 1.7%; Little Einsteins (TV5) 2.8%
Tom & Jerry Kids Show (GMA-7) 8.4%; Math Tinik (ABS-CBN) 1.9%; The Powerpuff Girls (TV5) 2.8%
Angry Birds Toons (GMA-7) 9%; The Adventures of Jimmy Neutron (ABS-CBN) 3.1%; Ben 10 Omniverse (TV5) 2.5%
Crossfight B-Daman (GMA-7) 8.8%; Spongebob Squarepants (ABS-CBN) 5.4%
Magic Kaito (GMA-7) 9.1%; Superbook (ABS-CBN) 6.4%; Magical Do Re Mi (TV5) 2.3%
Sarap Diva (GMA-7) 8.2%; Maynila (GMA-7) 11.4%; Del Monte Kitchenomics (GMA-7) 13.3%; NBA 2014-2015 Season: Dallas vs LA Clippers (ABS-CBN) 3.6%; Sword Art Online (TV5) 2.9%; Fushigi Yuugi (TV5) 3.4%; Street Fighter II (TV5) 3.7%; Movie Max 5: Skyrunners (TV5) 6.8%
Afternoon:
Eat Bulaga! (GMA-7) 19.7%; It's Showtime (ABS-CBN) 14.7%; Movie Max 5: One Direction The Inside Story (TV5) 1.6%
GMA Tales of Horror (GMA-7) 11.6%; Wish Ko Lang! (GMA-7) 11.4%; Startalk 19 (GMA-7) 10.3%; Imbestigador (GMA-7) 12.5%; UAAP77 Women's Volleyball Finals: ADMU vs DLSU (ABS-CBN) 8.2%; Movie Max 5: Naked Gun 33 1/3 (TV5) 3.4%; YH Tube (TV5) 2.3%
24 Oras Weekend (GMA-7) 12%; TV Patrol Weekend (ABS-CBN) 6.5%; PBA 2015 Commissioner's Cup: Purefoods Star Hotshots vs Talk n Text (TV5) 8.1%
Evening:
Sabado Badoo (GMA-7) 13.1%; Mga Kwento ni Marc Logan (ABS-CBN) 8.8%
ADVERTISEMENT - CONTINUE READING BELOW
Pepito Manaloto: Ang Tunay na Kuwento (GMA-7) 18.9%; Home Sweetie Home (ABS-CBN) 9.9%
Magpakailanman (GMA-7) 25.7%; MMK: Ang Tahanan Mo (ABS-CBN) 14%; Tropa Mo Ko Unli Spoof (TV5) 4.9%
Celebrity Bluff (GMA-7) 23%; Your Face Sounds Familiar (ABS-CBN) 18.2%; 2 1/2 Daddies (TV5) 3.8%
I-Witness (GMA-7) 15.4%; Kapuso Movie Night: Happy Ghost III (GMA-7) 11.1%; Banana Split Extra Scoop (TV5) 8.3%; The Bottom Line (ABS-CBN) 2.1%; Rising Stars on Stage Auditions (TV5) 1.8%; Kaya. (TV5) .9%
Walang Tulugan (GMA-7) 2.5%; O Shopping (ABS-CBN) .6%; Shop Japan (TV5) .4%
--
March 15, 2015 (Sunday)
Daytime:
In Touch with Dr. Charles Stanley (GMA-7) .2%; Jesus The Healer (GMA-7) .6%; Shop Japan (TV5) .4%
Kapuso Sine Klasika: Huli Huli 'Yan (GMA-7) 2.9%; The Healing Eucharist (ABS-CBN) 3.1%; Misa Nazareno (TV5) 1.1%
Grimm's Fairy Tales (GMA-7) 7.2%; Swak na Swak (ABS-CBN) 2%; Power to Unite with Elvira (TV5) .6%
Kamen Rider Ooo (GMA-7) 8.4%; Tom & Jerry Kids Show (GMA-7) 9.1%; Salamat Dok (ABS-CBN) 2.4%; Kim Possible (TV5) 1.7%; Little Einsteins (TV5) 2.2%
Monsuno (GMA-7) 8.3%; My Giant Friend (ABS-CBN) 2.5%; The Powerpuff Girls (TV5) 2.9%
Aha! (GMA-7) 9.5%; Max Steel (ABS-CBN) 3.5%; Superbook (ABS-CBN) 3.6%; Ben 10 Omniverse (TV5) 2.4%; Sword Art Online (TV5) 2.9%
Born To Be Wild (GMA-7) 10%; iBilib (ABS-CBN) 9.7%; Matanglawin (ABS-CBN) 5.3%; Fushigi Yuugi (TV5) 2.6%
Superhero Sunday: The Batman vs Dracula (GMA-7) 10.5%; Kapamilya Blockbusters: The Game Plan (ABS-CBN) 7.9%; Street Fighter II (TV5) 2.5%; Movie Max 5: The Adventures of Sharkboy and Lavagirl (TV5) 4.2%
Afternoon:
Kapuso Movie Festival: Nanny McPhee & The Big Bang (GMA-7) 17%; Del Monte Kitchenomics (GMA-7) 15.7%; Sunday All Stars (GMA-7) 10.9%; ASAP 20 (ABS-CBN) 9.2%; Luv U (ABS-CBN) 6.5%; Movie Max 5: Gladiator (TV5) 3.7%; Sports 360 (TV5) 1.8%
GMA Blockbusters: Eight Legged Freaks (GMA-7) 12.5%; The Buzz (ABS-CBN) 5.7%; TV Patrol Weekend (ABS-CBN) 5.6%; PBA 2015 Commissioner's Cup: Brgy Ginebra vs Rain or Shine (TV5) 9%
Evening:
24 Oras Weekend (GMA-7) 9.7%; Goin' Bulilit (ABS-CBN) 5.3%
Vampire Ang Daddy Ko (GMA-7) 12.4%; Wansapanataym (ABS-CBN) 6.7%
Ismol Family (GMA-7) 18.6%; Rated K: Handa Na Ba Kayo? (ABS-CBN) 10.7%
Kapuso Mo, Jessica Soho (GMA-7) 29%; Your Face Sounds Familiar (ABS-CBN) 16.8%; Mac & Chiz (TV5) 3.8%; Gandang Gabi Vice (ABS-CBN) 15.2%; Move It (TV5) 1.6%
Sunday Night Box Office: The Expendables 2 (GMA-7) 20.2%; Top 20 Funniest (GMA-7) 7.5%; Sunday's Best: Binibining Pilipinas 2015 The Coronation Night (ABS-CBN) 9.9%; Wow Mali Lakas ng Tama (TV5) 2.3%; Call Me Papa Jack (TV5) .5%; Extreme Series (TV5) .8%
ADVERTISEMENT - CONTINUE READING BELOW
Diyos at Bayan (GMA-7) 1.2%; O Shopping (ABS-CBN) .7%; Shop Japan (TV5) .3%
--
TOP TEN PROGRAMS:
March 9, 2015 (Monday)
DAYTIME:
Eat Bulaga! (GMA-7) – 18.4%
The Half Sisters (GMA-7) – 17.8%
Yagit (GMA-7) – 15.4%
The Ryzza Mae Show (GMA-7) - 12.1%
Oh My G! (ABS-CBN) - 11.8%
Knock Out (GMA-7) - 11.6%
Slam Dunk (GMA-7) / It's Showtime (ABS-CBN) - 10.4%
Women in the Sun (GMA-7) – 10.2%
Kailan Ba Tama Ang Mali? (GMA-7) – 10%
Fairy Tail (GMA-7) / Corazon Indomable (GMA-7) - 9.6%
PRIMETIME:
Forevermore (ABS-CBN) – 24.3%
Pari 'Koy (GMA-7) – 22.4%
Dream Dad (ABS-CBN) – 21.7%
Once Upon a Kiss (GMA-7) - 20.5%
Empress Ki (ABS-CBN) - 18.9%
Second Chances (GMA-7) - 18.7%
24 Oras (GMA-7) / Two Wives (ABS-CBN) – 18.5%
TV Patrol (ABS-CBN) – 17%
Aquino & Abunda Tonight (ABS-CBN) – 11.8%
Bagito (ABS-CBN) – 11%
March 10, 2015 (Tuesday)
DAYTIME:
The Half Sisters (GMA-7) – 19.7%
Eat Bulaga! (GMA-7) – 18.5%
Yagit (GMA-7) - 16.9%
Knock Out(GMA-7) - 12.9%
The Ryzza Mae Show (GMA-7) - 12.8%
Women in the Sun (GMA-7) – 12.6%
Kailan Ba Tama Ang Mali? (GMA-7) – 12.1%
Slam Dunk (GMA-7) - 11.8%
Corazon Indomable (GMA-7) - 11.7%
It's Showtime (ABS-CBN) - 10.5%
PRIMETIME:
Forevermore (ABS-CBN) – 22.7%
Pari 'Koy (GMA-7) – 21.8%
Once Upon a Kiss (GMA-7) - 21.5%
Dream Dad (ABS-CBN) – 21.2%
Two Wives (ABS-CBN) – 19.8%
Empress Ki (GMA-7) - 19.5%
Second Chances (GMA-7) – 19%
24 Oras (GMA-7) - 18.7%
TV Patrol (ABS-CBN) - 19.1%
Aquino & Abunda Tonight (ABS-CBN) – 13.6%
March 11, 2015 (Wednesday)
DAYTIME:
The Half Sisters (GMA-7) – 21.9%
Eat Bulaga! (GMA-7) – 21.1%
Yagit (GMA-7) - 18.8%
The Ryzza Mae Show (GMA-7) - 13.9%
Kailan Ba Tama Ang Mali? (GMA-7) – 13.1%
Knock Out (GMA-7) - 12.9%
Power House (GMA-7) - 12.8%
Fall in Love With You (GMA-7) / It's Showtime (ABS-CBN) - 11.7%
Slam Dunk (GMA-7) - 11.6%
Women in the Sun (GMA-7) – 11.3%
PRIMETIME:
Forevermore (ABS-CBN) – 23.2%
Pari 'Koy(GMA-7) – 21.9%
Once Upon a Kiss (GMA-7) - 21.3%
Dream Dad (ABS-CBN) - 21.2%
24 Oras (GMA-7) - 20%
Empress Ki(GMA-7) - 19.6%
Second Chances (GMA-7) - 19.3%
Two Wives (ABS-CBN) – 19.1%
TV Patrol (ABS-CBN) – 16.7%
Future's Choice(GMA-7) - 13.9%
March 12, 2015 (Thursday)
DAYTIME:
The Half Sisters (GMA-7) – 21.7%
Eat Bulaga! (GMA-7) – 19.8%
Yagit (GMA-7) - 18.8%
The Ryzza Mae Show (GMA-7) - 13.5%
Knock Out(GMA-7) - 12.5%
Kailan Ba Tama Ang Mali?(GMA-7) - 11.5%
Corazon Indomable(GMA-7) - 11.3%
Women in the Sun(GMA-7) - 11.2%
It's Showtime (ABS-CBN) – 11%
Slam Dunk(GMA-7) / Detective Conan(GMA-7) - 10.9%
PRIMETIME:
Forevermore(ABS-CBN) – 22.7%
Pari 'Koy(GMA-7) – 22.3%
Dream Dad (ABS-CBN) – 22.1%
Once Upon a Kiss (GMA-7) - 21.8%
24 Oras (GMA-7) - 20.3%
Two Wives (ABS-CBN) – 19.5%
Empress Ki(GMA-7) - 19.3%
Second Chances (GMA-7) – 18.8%
TV Patrol (ABS-CBN) - 17.7%
Bagito (ABS-CBN) – 11.6%
March 13, 2015 (Friday)
DAYTIME:
The Half Sisters (GMA-7) – 23.6%
Eat Bulaga! (GMA-7) – 19.2%
Yagit (GMA-7) - 18.1%
The Ryzza Mae Show(GMA-7) - 13.7%
Knock Out(GMA-7) - 12.8%
Women in the Sun(GMA-7) - 12.7%
Corazon Indomable(GMA-7) - 12.1%
Kailan Ba Tama Ang Mali?(GMA-7) – 11.4%
Slam Dunk(GMA-7) / It's Showtime (ABS-CBN) – 10.7%
Fairy Tail(GMA-7) - 10.2%
PRIMETIME:
Forevermore (ABS-CBN) – 21.8%
Pari 'Koy (GMA-7) – 21.6%
Once Upon a Kiss (GMA-7) - 21.3%
Dream Dad (ABS-CBN) - 20.9%
Two Wives (ABS-CBN) – 20.6%
24 Oras (GMA-7) - 17.9%
Second Chances (GMA-7) – 17.5%
Bubble Gang (GMA-7) – 16.7%
TV Patrol (ABS-CBN) – 15.4%
Bagito (ABS-CBN) – 12.8%
March 14, 2015 (Saturday)
DAYTIME:
Eat Bulaga! (GMA-7) – 19.7%
It's Showtime (ABS-CBN) - 14.7%
Del Monte Kitchenomics (GMA-7) – 13.3%
Imbestigador (GMA-7) – 12.5%
24 Oras Weekend (GMA-7) – 12%
GMA Tales of Horror (GMA-7) - 11.6%
Maynila (GMA-7) / Wish Ko Lang! (GMA-7) - 11.4%
Startalk (GMA-7) - 10.3%
Magic Kaito (GMA-7) - 9.1%
Angry Birds Toons (GMA-7) - 9%
PRIMETIME:
Magpakailanman (GMA-7) – 25.7%
Celebrity Bluff (GMA-7) – 23%
Pepito Manaloto: Ang Tunay na Kuwento (GMA-7) – 18.9%
Your Face Sounds Familiar(ABS-CBN) – 18.2%
I-Witness (GMA-7) - 15.4%
MMK: Ang Tahanan Mo (ABS-CBN) – 14%
Sabado Badoo (GMA-7) - 13.1%
Kapuso Movie Night (GMA-7) - 11.1%
Home Sweetie Home (ABS-CBN) – 9.9%
Mga Kwento ni Marc Logan(ABS-CBN) – 8.8%
March 15, 2015 (Sunday)
DAYTIME:
Kapuso Movie Festival (GMA-7) - 17%
Del Monte Kitchenomics (GMA-7) – 15.7%
GMA Blockbusters (GMA-7) - 12.5%
Sunday All Stars (GMA-7) - 10.9%
Superhero Sunday (GMA-7) - 10.5%
Born to be Wild (GMA-7) - 10%
iBilib (GMA-7) / 24 Oras Weekend (GMA-7) – 9.7%
Aha! (GMA-7) – 9.5%
ASAP 20 (ABS-CBN) – 9.2%
Tom & Jerry Kids Show (GMA-7) – 9.1%
PRIMETIME:
Kapuso Mo, Jessica Soho (GMA-7) - 29%
Saturday Night Box Office: The Expendables 2 (GMA-7) – 20.2%
Ismol Family (GMA-7) - 18.6%
Your Face Sounds Familiar (ABS-CBN) – 16.8%
Gandang Gabi Vice (ABS-CBN) – 15.2%
Vampire Ang Daddy Ko (GMA-7) – 12.4%
Rated K: Handa Na Ba Kayo? (ABS-CBN) – 10.7%
Sunday's Best: Binibining Pilipinas 2015 The Coronation Night (ABS-CBN) - 9.9%
PBA 2015 Commissioner's Cup: Brgy Ginebra vs Rain or Shine (TV5) - 9%
Top 20 Funniest (GMA-7) - 7.5%
Source: AGB Nielsen Philippines