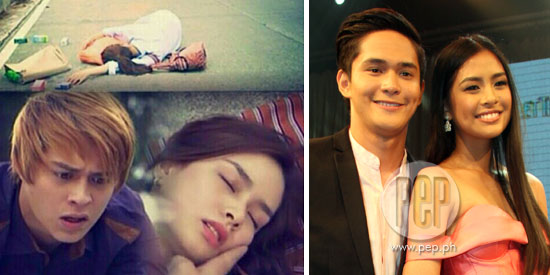 ---

ABS-CBN has taken back primetime ratings. This is according to the latest ratings data from AGB Nielsen Philippines from Mega Manila households from May 4-6, 2015.
The Kapamilya Network's primetime shows got the highest viewership during the given period.
The most-watched program last Tuesday, May 5, was Forevermore, the Kapamilya Network's romantic series that stars Enrique Gil and Liza Soberano. It defeated GMA-7's new series Let the Love Begin, which features the young Kapuso loveteam Ruru Madrid and Gabbi Garcia, and comedy queen Ai-Ai delas Alas.
When the character of Erich Gonzales was introduced on Forevermore last May 4, the ABS-CBN show was able to get a TV rating of21.3%. Her character named Alexandra/Alex was almost hit by Enrique's character who was driving a car.
Let the Love Begin is the replacement for Once Upon a Kiss, which previously got higher ratings than Forevermore.
Let the Love Begin is not as victorious; its pilot episode only got a TV rating of 19.7% versus Forevermore's 21.3%. The Ruru-Gabbi starrer landed on the No. 5 slot while its counterpart program featuring the LizQuen tandem emerged as the second most-watched primetime show that day.
On May 6, Wednesday, the winner was ABS-CBN's religion-themed series Nathaniel. The fairly new program got higher TV ratings than GMA-7's Pari 'Koy, topbilled by Dingdong Dantes.
Primetime is not an overall loss for GMA-7, however, since its other programs--My Love from the Star, 24 Oras and Second Chances--did better than their Kapamilya counterparts.
The leading show on weekday daytime was still The Half Sisters, GMA-7's hit afternoon drama that stars Barbie Forteza and Thea Tolentino.
ADVERTISEMENT - CONTINUE READING BELOW
Here is the comparative rating performance of GMA-7, ABS-CBN and TV5 programs from May 4-6, 2015 derived from AGB Nielsen Philippines from Mega Manila households:
May 4, 2015 (Monday)
�
Morning:
�
Power House Replay (GMA-7) .6%; Maniwala Ka Kaya Mo Replay (ABS-CBN) .2%; Shop Japan (TV5) .1%
�
Unang Hirit! (GMA-7) 3.4%; Umagang Kay Ganda (ABS-CBN) 2.8%; Aksyon sa Umaga (TV5) .7%; Higglytown Heroes (TV5) 1.1%; Higglytown Heroes (TV5) 2.5%
�
Time Quest (GMA-7) 6.8%; Martin Mystery (GMA-7) 9.2%; Magi the Labyrinth of Magic (GMA-7) 11.1%; Kris TV (ABS-CBN) 3.9%; Doc Mcstuffins (TV5) 3.1%; Phineas ands Ferb (TV5) 3%; Hi-5 (TV5) 2.3%
�
Fairy Tail (GMA-7) 12.1%; Naruto Shippuuden (ABS-CBN) 3.3%; Movie Max 5: Beethoven (TV5) 2.3%
�
Slam Dunk (GMA-7) 12.1%; Knock Out (GMA-7) 11.7%; Two Mothers (GMA-7) 8.5%; Corazon Indomable (GMA-7) 11%; Summer Kapamilya Blockbusters: Sky HIGH (ABS-CBN) 9.3%; Happy Wife Happy Life (TV5) 1.7%; Showbiz Konek na Konek (TV5) 1%
�
The Ryzza Mae Show (GMA-7) 12.8%; Oh My G! (ABS-CBN) 11.3%; Aksyon sa Tanghali (TV5) 2.1%
�
Afternoon:
�
Eat Bulaga!(GMA-7) 18.2%; It's Showtime (ABS-CBN) 11.4%; Movie Max 5: The Chaos Factor (TV5) 3.4%; Kenichi the Mightiest DiscipIe (TV5) 2.8%; Transformers Animated (TV5) 3.4%
�
The Half Sisters (GMA-7) 19.8%; Flordeliza (ABS-CBN) 9.2%; Marvel Avengers Assemble (TV5) 3.2%
�
Yagit (GMA-7) 16.7%; Nasaan Ka Nang Kailangan Kita (ABS-CBN) 9.4%; X-Men (TV5) 2.7%
�
Kailan Ba Tama Ang Mali? (GMA-7) 13.9%; Let's Get Married (ABS-CBN) 6.1%; Hi-5 (TV5) 2.1%
�
Alisto! (GMA-7) 11.9%; The Mermaid (GMA-7) 10.6%; Mission Impossible (ABS-CBN) 5.1%; Kapamilya Deal or No Deal (ABS-CBN) 10.6%; Rebisco Asian Women's Volleyball U23: Philippines vs Japan (TV5) 3.9%
�
Evening:
�
My Love from the Star (GMA-7) 14.6%; Inday Bote (ABS-CBN) 11.7%; Aksyon (TV5) 4.2%
�
24 Oras (GMA-7) 22.8%; TV Patrol (ABS-CBN) 17%; Movie Max 5: Star Wars Episode I: The Phantom Menace (TV5) 6.2%
�
Pari 'Koy (GMA-7) 20.2%; Nathaniel (ABS-CBN) 20.4%
�
Let the Love Begin (GMA-7) 19.7%; Forevermore (ABS-CBN) 21.3%; Wattpad Presents (TV5) 3%
ADVERTISEMENT - CONTINUE READING BELOW
�
Second Chances (GMA-7) 17.8%; Bridges of Love (ABS-CBN) 15.6%; Supernatural (TV5) 4.1%
�
King of Ambition (GMA-7) 14.9%; Aquino & Abunda Tonight (ABS-CBN) 10.5%; My Lovely Girl (ABS-CBN) 7.2%; Aksyon Tonite (TV5) 2.1%
�
Saksi (GMA-7) 8.7%; Bandila (ABS-CBN) 4%; Reaksyon (TV5) .7%; Demolition Job (TV5) .7%
�
Front Row (GMA-7) 4.6%; Mukha (ABS-CBN) 2.6%; �Shop Japan (TV5) .2%
�
The Tim Yap Show (GMA-7) 2.2%; O Shopping (ABS-CBN) 1.3%
�
--
�
May 5, 2015 (Tuesday)
�
Morning:
�
I-Witness Replay (GMA-7) .5%; 3-in-1 Replay (ABS-CBN) .4%; Shop Japan (TV5) 0%
�
Unang Hirit! (GMA-7) 3.1%; Umagang Kay Ganda (ABS-CBN) 2.3%; Aksyon sa Umaga (TV5) .6%; Higglytown Heroes (TV5) 1.8%; Higglytown Heroes (TV5) 2.3%
�
Time Quest �(GMA-7) 6.7%; Martin Mystery (GMA-7) 9.4%; Magi the Labyrinth of Magic (GMA-7) 10.3%; Fairy Tail (GMA-7) 11.2%; Kris TV (ABS-CBN) 3.8%; Doc Mcstuffins (TV5) 3.1%; Phineas and Ferb (TV5) 3.3%; Hi-5 (TV5) 2.9%
�
Fairytail (GMA-7) 11.2%; Naruto Shippuuden (ABS-CBN) 3.5%; Movie Max 5: Beethoven's Big Break (TV5) 3.4%
�
Slam Dunk (GMA-7) 11.6%; Knock Out (GMA-7) 12.4%; Two Mothers (GMA-7) 9.3%; Corazon Indomable (GMA-7) 11.8%; Summer Kapamilya Blockbusters: The Accidental Spy (ABS-CBN) 9.4%; Happy Wife Happy Life (TV5) 1.6%; Showbiz Konek na Konek (TV5) 1.2%
�
The Ryzza Mae Show (GMA-7) 14.2%; Oh My G! (ABS-CBN) 12%; Aksyon sa Tanghali (TV5) 1.9%
�
Afternoon:
�
Eat Bulaga! (GMA-7) 17.9%; It's Showtime (ABS-CBN) 10.8%; Movie Max 5: Judgment Day (TV5) 4.4%; Kenichi the Mightiest Disciple (TV5) 3%
�
The Half Sisters (GMA-7) 20.4%; Flordeliza (ABS-CBN) 8.3%; Transformers Animated (TV5) 2.3%; Marvel Avengers Assemble (TV5) 2.2%
�
Yagit (GMA-7) 19.4%; Nasaan Ka Nang Kailangan Kita (ABS-CBN) 8.1%; X-Men (TV5) 2.3%
�
Kailan Ba Tama Ang Mali? (GMA-7) 14.9%; Let's Get Married (ABS-CBN) 7.6%; Hi-5 (TV5) 1.3%
�
Tunay na Buhay (ABS-CBN) 10.3%; 3-in-1 (ABS-CBN) 5.4%; PBA 2015 Governor's Cup: Alaska vs Blackwater Elite (TV5) 1.9%
�
The Mermaid (GMA-7) 9.6%; Kapamilya Deal or No Deal (ABS-CBN) 8.4%
Evening:
�
My Love from the Star (GMA-7) 12.9%; Inday Bote (ABS-CBN) 11.4%; Aksyon (TV5) 3.2%
�
24 Oras (GMA-7) 19.6%; TV Patrol (ABS-CBN) 15.3%; PBA 2015 Governor's Cup: Global Port vs Meralco (TV5) 4.9%
ADVERTISEMENT - CONTINUE READING BELOW
�
Pari 'Koy (GMA-7) 19.3%; Nathaniel (ABS-CBN) 20.5%
�
Let the Love Begin (GMA-7) 19.4%; Forevermore (ABS-CBN) 22%; Wattpad Presents (TV5) 2.7%
�
Second Chances (GMA-7) 18.2%; Bridges of Love (ABS-CBN) 17%; Supernatural (TV5) 5.1%
�
King of Ambition (GMA-7) 17.3%; Aquino & Abunda Tonight (ABS-CBN) 11%; My Lovely Girl (ABS-CBN) 8.6%; Aksyon Tonite (TV5) 2%
�
Saksi (GMA-7) 11.5%; Bandila (ABS-CBN) 4.9%; Reaksyon (TV5) 1.2%
�
Stan Lee's Superhumans (GMA-7) 8.3%; Banana Nite (ABS-CBN) 2.5%; Numero (TV5) .6%
�
The Tim Yap Show (GMA-7) 3.2%; O Shopping (ABS-CBN) .9%; Shop Japan (TV5) .2%
�
--
�
May 6, 2015 (Wednesday)
�
Morning:
�
Tunay na Buhay Replay (GMA-7) .9%; RealiTV Replay (ABS-CBN) .2%; Shop Japan (TV5) 0%
�
Unang Hirit! (GMA-7) 2.9%; Umagang Kay Ganda (ABS-CBN) 2.2%; Aksyon sa Umaga (TV5) .6%; Higglytown Heroes (TV5) 1.7%; Higglytown Heroes (TV5) 3.1%
�
Time Quest (GMA-7) 6.2%; Martin Mystery (GMA-7) 9.3%; Magi the Labyrinth of Magic (GMA-7) 10.1%; Kris TV (ABS-CBN) 3.2%; Doc Mcstuffins (TV5) 3.1%; Phineas and Ferb (TV5) 2.6%; Hi-5 (TV5) 2.8%
�
Fairy Tail (GMA-7) 12.1%; Naruto Shippuuden (ABS-CBN) 2.6%; Movie Max 5: Beverly Hills Chihuahua (TV5) 3.9%
�
Slam Dunk (GMA-7) 12%; Knock Out (GMA-7) 11.1%; Two Mothers (GMA-7) 10.5%; Corazon Indomable (GMA-7) 12%; Summer Kapamilya Blockbusters: The Chronicles of Narnia: Prince Caspian (ABS-CBN) 8.8%; Happy Wife Happy Life (TV5) 1.2%; Showbiz Konek na Konek (TV5) 1.3%
�
The Ryzza Mae Show (GMA-7) 14.1%; Oh My G! (ABS-CBN) 11.5%; Aksyon sa Tanghali (TV5) 2%
�
Afternoon:
�
Eat Bulaga!(GMA-7) 18.2%; It's Showtime (ABS-CBN) 12.9%; Movie Max 5: Scorcher (TV5) 3.6%; Kenichi the Mightiest Discipline (TV5) 2.6%; Transformers Animated (TV5) 2.1%
�
The Half Sisters (GMA-7) 21.9%; Flordeliza (ABS-CBN) 9.3%; Marvel Avengers Assemble (TV5) 1.7%
�
Yagit (GMA-7) 18.8%; Nasaan Ka Nang Kailangan Kita (ABS-CBN) 9.2%; X-Men (TV5) 2.1%;� Hi-5 (TV5) 1.8%
�
Kailan Ba Tama Ang Mali? (GMA-7) 15.1%; Let's Get Married! (ABS-CBN) 7.5%; RealiTV (ABS-CBN) 6.2%; PBA 2015 Governor's Cup: Barako Bull vs NLEX (TV5) 2.2%
�
Power House (GMA-7) 14%; The Mermaid (GMA-7) 11.7%; Kapamilya Deal or No Deal (ABS-CBN) 8.7%
ADVERTISEMENT - CONTINUE READING BELOW
�
Evening:
�
My Love from the Star (GMA-7) 14.9%; Inday Bote (ABS-CBN) 11.8%
�
24 Oras (GMA-7) 21%; TV Patrol (ABS-CBN) 17.2%; Aksyon (TV5) 3.4%
�
Pari 'Koy (GMA-7) 19%; Nathaniel (ABS-CBN) 21.2%; PBA 2015 Governor's Cup: Kia Carnival vs San Miguel Beermen (TV5) 6.5%
�
Let the Love Begin (GMA-7) 18.4%; Forevermore (ABS-CBN) 20.6%
�
Second Chances (GMA-7) 17.3%; Bridges of Love (ABS-CBN) 16.2%; Aquino & Abunda Tonight (ABS-CBN) 11.4%; Wattpad Presents (TV5) 4.5%; Supernatural (TV5) 5.3%
�
King of Ambition (GMA-7) 14.9%; My Lovely Girl (ABS-CBN) 9.2%; Aksyon Tonite (TV5) 1.8%
�
Saksi (GMA-7) 9.1%; Bandila (ABS-CBN) 4.5%; Reaksyon (TV5) .6%; History with Lourd (TV5) .9%
�
Human Planet (GMA-7) 6.3%; Banana Nite (ABS-CBN) 3%; Shop Japan (TV5) .3%
�
The Tim Yap Show (GMA-7) 2.5%; O Shopping (ABS-CBN) 1.5%
�
�
TOP TEN PROGRAMS:
�
May 4, 2015 (Monday)
�
DAYTIME:
�
The Half Sisters (GMA-7) – 19.8%
Yagit (GMA-7) - 18.2%
Eat Bulaga! (GMA-7) – 16.7%
Kailan Ba Tama Ang Mali?(GMA-7) – 13.9%
The Ryzza Mae Show(GMA-7) - 12.8%
Fairy Tail(GMA-7) / Slam Dunk(GMA-7) - 12.1%
Alisto!(GMA-7) - 11.9%
Knock Out(GMA-7) - 11.7%
It's Showtime(ABS-CBN) – 11.4%
Oh My G! (ABS-CBN) - 11.3%
�
PRIMETIME:
�
24 Oras(GMA-7) – 22.8%
Forevermore (ABS-CBN) – 21.3%
Nathaniel (ABS-CBN) - 20.4%
Pari 'Koy(GMA-7) – 20.2%
Let the Love Begin (GMA-7) - 19.7%
Second Chances (GMA-7) - 17.8%
TV Patrol (ABS-CBN) – 17%
Bridges of Love (ABS-CBN) – 15.6%
King of Ambition (GMA-7) - 14.9%
My Love from the Star(GMA-7) – 14.6%
�
May 5, 2015 (Tuesday)
�
DAYTIME:
�
The Half Sisters (GMA-7) – 20.4%
Yagit (GMA-7) - 19.4%
Eat Bulaga! (GMA-7) – 17.9%
Kailan Ba Tama Ang Mali?(GMA-7) – 14.9%
The Ryzza Mae Show(GMA-7) - 14.2%
Knock Out(GMA-7) - 12.4%
Oh My G! (ABS-CBN) - 12%
Corazon Indomable(GMA-7) - 11.8%
Slam Dunk(GMA-7) - 11.6%
Fairy Tail(GMA-7) - 11.2%
�
PRIMETIME:
�
Forevermore (ABS-CBN) – 22%
Nathaniel (ABS-CBN) - 20.5%
24 Oras(GMA-7) – 19.6%
Let the Love Begin (GMA-7) - 19.4%
Pari 'Koy(GMA-7) – 19.3%
Second Chances (GMA-7) - 18.2%
King of Ambition (GMA-7) - 17.3%
Bridges of Love (ABS-CBN) – 17%
TV Patrol (ABS-CBN) – 15.3%
My Love from the Star(GMA-7) – 12.9%
�
May 6, 2015 (Wednesday)
�
DAYTIME:
�
The Half Sisters (GMA-7) – 21.9%
Yagit (GMA-7) - 18.8%
Eat Bulaga! (GMA-7) – 18.2%
Kailan Ba Tama Ang Mali?(GMA-7) – 14.1%
The Ryzza Mae Show(GMA-7) - 14.1%
Power House(GMA-7) - 14%
It's Showtime(ABS-CBN) – 12.9%
Fairy Tail(GMA-7) - 12.9%
Slam Dunk(GMA-7) / Corazon Indomable(GMA-7) - 12%
The Mermaid(GMA-7) - 11.7%
�
PRIMETIME:
�
Nathaniel (ABS-CBN) - 21.2%
24 Oras(GMA-7) – 21%
Forevermore (ABS-CBN) – 20.6%
Pari 'Koy(GMA-7) – 19%
Let the Love Begin (GMA-7) – 18.4%
Second Chances (GMA-7) - 17.3%
TV Patrol (ABS-CBN) – 17.2%
Bridges of Love (ABS-CBN) – 16.2%
My Love from the Star(GMA-7) / King of Ambition (GMA-7) – 14.9%
Inday Bote (ABS-CBN) – 11.8%
�
Source: AGB Nielsen Philippines