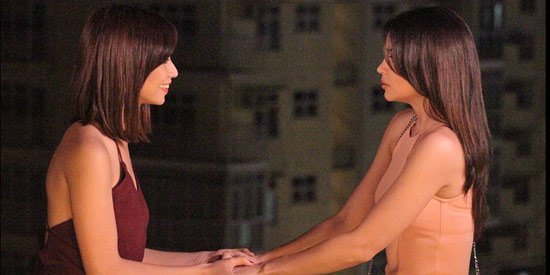 ---

The much-anticipated lesbian-themed series The Rich Man's Daughter is doing very well in its timeslot. This is according to the latest ratings data from AGB Nielsen Philippines from Mega Manila households from May 11-14, 2015.
GMA-7 is also recovering its lead on primetime during this period. Most of the Kapuso primetime programs get better ratings than their Kapamilya counterparts.
Even Let the Love Begin had rising TV ratings, even beating Forevermore on May 11, Monday.

Starring Gabbi Garcia and Ruru Madrid, Let the Love Begin premiered in the previous week, and its first five episodes lost to the hit Kapamilya romantic drama topbilled by Enrique Gil and Liza Soberano.
The pilot episode of GMA-7's The Rich Man's Daughter got a good debut on May 11. It got 20.7%, against the 15.8% earned by ABS-CBN's Bridges of Love, which stars Maja Salvador, Jericho Rosales and Paulo Avelino.
The next three episodes of TRMD also got higher ratings than Bridges of Love.
ADVERTISEMENT - CONTINUE READING BELOW
The Rich Man's Daughter is a drama that stars Rhian Ramos as a young woman torn between her fiance Luis Alandy and Glaiza de Castro, her close lesbian friend. This show that was supposed to star Marian Rivera emerged as the No. 3 most-watched primetime show, next only to 24 Oras (with 21%) and Let the Love Begin (with 20.8%).
The leading show on weekday daytime was still The Half Sisters, GMA-7's hit afternoon drama that stars Barbie Forteza and Thea Tolentino.



Here is the comparative rating performance of GMA-7, ABS-CBN and TV5 programs from May 11-14, 2015 derived from AGB Nielsen Philippines from Mega Manila households:
�
May 11, 2015 (Monday)
�
Morning:
�
Power House Replay (GMA-7) .6%; Maniwala Ka Kaya Mo Replay (ABS-CBN) .6%; Shop Japan (TV5) .1%
�
Unang Hirit! (GMA-7) 3.4%; Umagang Kay Ganda (ABS-CBN) 2.4%; Aksyon sa Umaga (TV5) .4%; Higglytown Heroes (TV5) 1.1%; Higglytown Heroes (TV5) 2.3%
�
Time Quest (GMA-7) 6.7%; Martin Mystery (GMA-7) 8.8%; Magi the Labyrinth of Magic (GMA-7) 10%; Kris TV (ABS-CBN) 4.3%; Doc Mcstuffins (TV5) 3.2%; Phineas and Ferb (TV5) 3.2%; Hi-5 (TV5) 2.6%
ADVERTISEMENT - CONTINUE READING BELOW
�
Fairy Tail (GMA-7) 11.2%; Naruto Shippuuden (ABS-CBN) 2.9%; Movie Max 5: Hocus Pocus (TV5) 3.8%
�
Slam Dunk (GMA-7) 10.5%; Knock Out (GMA-7) 9.7%; Two Mothers (GMA-7) 9.2%; Corazon Indomable (GMA-7) 11.7%; Summer Kapamilya Blockbusters: Police Story II: Super Cop (ABS-CBN) 8.5%; Happy Wife Happy Life (TV5) 1.8%; Showbiz Konek na Konek (TV5) 1.3%
�
The Ryzza Mae Show (GMA-7) 14.1%; Oh My G! (ABS-CBN) 11%; Aksyon sa Tanghali (TV5) 2.2%
�
Afternoon:
�
Eat Bulaga!(GMA-7) 19.8%; It's Showtime (ABS-CBN) 10.8%; Movie Max 5: Beyond Loch Ness (TV5) 3.6%; Kenichi the Mightiest DiscipIe (TV5) 2.5%; Transformers Animated (TV5) 1.8%
�
The Half Sisters (GMA-7) 20.5%; Flordeliza (ABS-CBN) 9.7%; Marvel Avengers Assemble (TV5) 2.1%
�
Yagit (GMA-7) 19.3%; Nasaan Ka Nang Kailangan Kita (ABS-CBN) 10.1%; Let's Get Married (ABS-CBN) 7.5%; X-Men (TV5) 2.4%; Hi-5 (TV5) 1.2%
�
Healing Hearts (GMA-7) 12.7%; Mission Impossible (ABS-CBN) 5.6%; PSL Philippine Super Liga All Finals (TV5) 1.6%
�
Alisto! (GMA-7) 9.5%;The Mermaid (GMA-7) 9.8%; Kapamilya Deal or No Deal (ABS-CBN) 7.2%
�
Evening:
�
My Love from the Star (GMA-7) 12.9%; Inday Bote (ABS-CBN) 9.1%; Aksyon (TV5) 2.7%
�
24 Oras (GMA-7) 21%; TV Patrol (ABS-CBN) 14.3%; Movie Max 5: Star Wars Episode II: Attack of the Clones (TV5) 5.2%
ADVERTISEMENT - CONTINUE READING BELOW
�
Pari 'Koy (GMA-7) 20.5%; Nathaniel (ABS-CBN) 17.8%
�
Let the Love Begin (GMA-7) 20.8%; Forevermore (ABS-CBN) 20.5%; Wattpad Presents (TV5) 3.1%
�
The Rich Man's Daughter (GMA-7) 20.7%; Bridges of Love (ABS-CBN) 15.8%; Aquino & Abunda Tonight (ABS-CBN) 11.1%; Teen Wolf (TV5) 4.8%
�
King of Ambition (GMA-7) 16.5%; My Lovely Girl (ABS-CBN) 7.8%; Aksyon Tonite (TV5) 2.6%
�
Saksi (GMA-7) 9.9%; Bandila (ABS-CBN) 5.1%; Reaksyon (TV5) 1.3%
�
Front Row (GMA-7) 6.5%; Mukha (ABS-CBN) 3%; The Medyo Late Night Show (TV5) .6%
�
The Tim Yap Show (GMA-7) 3.1%; O Shopping (ABS-CBN) .9%;Shop Japan (TV5) .2%
�
�
May 12, 2015 (Tuesday)
�
Morning:
�
I-Witness Replay (GMA-7) .4%; 3-in-1 Replay (ABS-CBN) .3%; Shop Japan (TV5) 0%
�
Unang Hirit! (GMA-7) 2.6%; Umagang Kay Ganda (ABS-CBN) 2.1%; Aksyon sa Umaga (TV5) .2%; Higglytown Heroes (TV5) 1.1%; Higglytown Heroes (TV5) 2.4%
�
Time Quest �(GMA-7) 5.9%; Martin Mystery (GMA-7) 8.3%; Magi the Labyrinth of Magic (GMA-7) 9.3%; Fairy Tail (GMA-7) 10.4%; Kris TV (ABS-CBN) 3.7%; Doc Mcstuffins (TV5) 2.8%; Phineas and Ferb (TV5) 2.7%; Hi-5 (TV5) 1.8%
�
Slam Dunk (GMA-7) 10.1%; Naruto Shippuuden (ABS-CBN) 4.4%; Movie Max 5: The Hitchhiker's Guide to the Galaxy (TV5) 2%
�
Knock Out (GMA-7) 11.2%; Two Mothers (GMA-7) 9.8%; Corazon Indomable (GMA-7) 12.8%; Summer Kapamilya Blockbusters: The Sorcerer's Apprentice (ABS-CBN) 10.3%; Happy Wife Happy Life (TV5) 1.8%; Showbiz Konek na Konek (TV5) 1.5%
ADVERTISEMENT - CONTINUE READING BELOW
�
The Ryzza Mae Show (GMA-7) 12.7%; Oh My G! (ABS-CBN) 12%; Aksyon sa Tanghali (TV5) 2.3%
�
Afternoon:
�
Eat Bulaga! (GMA-7) 17%; It's Showtime (ABS-CBN) 12%; Movie Max 5: Snakehead Terror (TV5) 4.8%; Kenichi the Mightiest Disciple (TV5) 3.3%; Transformers Animated (TV5) 1.8%
�
The Half Sisters (GMA-7) 19.9%; Flordeliza (ABS-CBN) 10%; Marvel Avengers Assemble (TV5) 2.1%
�
Yagit (GMA-7) 17.7%; Nasaan Ka Nang Kailangan Kita (ABS-CBN) 10%; X-Men (TV5) 1.7%
�
Healing Hearts (GMA-7) 11.7%; Let's Get Married (ABS-CBN) 8.8%; 3-in-1 (ABS-CBN) 5.6%; Hi-5 (TV5) 1.5%; �PBA 2015 Governor's Cup: Global Port vs Purefoods Star Hotshots (TV5) 3.9%
�
Tunay na Buhay (ABS-CBN) 10.3%; The Mermaid (GMA-7) 9.5%; Kapamilya Deal or No Deal (ABS-CBN) 7.7%
�
Evening:
�
My Love from the Star (GMA-7) 12.3%; Inday Bote (ABS-CBN) 9.7%; Aksyon (TV5) 4.1%
�
24 Oras (GMA-7) 20.1%; TV Patrol (ABS-CBN) 15.2%; PBA 2015 Governor's Cup: Rain or Shine vs San Miguel Beermen (TV5) 6.3%
�
Pari 'Koy (GMA-7) 20.9%; Nathaniel (ABS-CBN) 19.5%
�
Let the Love Begin (GMA-7) 18.9%; Forevermore (ABS-CBN) 21.1%
�
The Rich Man's Daughter (GMA-7) 18.3%; Bridges of Love (ABS-CBN) 16%; Wattpad Presents (TV5) 3.3%
�
King of Ambition (GMA-7) 16.2%; Aquino & Abunda Tonight (ABS-CBN) 9.5%; My Lovely Girl (ABS-CBN) 7%; Teen Wolf (TV5) 3.9%; Aksyon Tonite (TV5) 2.2%
ADVERTISEMENT - CONTINUE READING BELOW
�
Saksi (GMA-7) 9.1%; Bandila (ABS-CBN) 4.5%; Reaksyon (TV5) 1.3%
�
Stan Lee's Superhumans (GMA-7) 6.8%; Banana Nite (ABS-CBN) 3.2%; The Medyo Late Night Show (TV5) .7%
�
The Tim Yap Show (GMA-7) 2.8%; O Shopping (ABS-CBN) 1.6%; Shop Japan (TV5) .2%
�
�
May 13, 2015 (Wednesday)
�
Morning:
�
Tunay na Buhay Replay (GMA-7) .5%; GMA Flash Report: Welcome Home Manny (GMA-7) .2%; RealiTV Replay (ABS-CBN) .5%; Shop Japan (TV5) 0%
�
Unang Hirit! (GMA-7) 2.8%; Umagang Kay Ganda (ABS-CBN) 2.2%; Aksyon sa Umaga (TV5) .4%; Higglytown Heroes (TV5) 1.1%; Higglytown Heroes (TV5) 1.9%
�
Time Quest (GMA-7) 5.8%; Martin Mystery (GMA-7) 8.6%; Magi the Labyrinth of Magic (GMA-7) 9.8%; Kris TV (ABS-CBN) 4.1%; Doc Mcstuffins (TV5) 2.7%; Phineas and Ferb (TV5) 2.9%; Hi-5 (TV5) 1.9%
�
Fairy Tail (GMA-7) 9.4%; Naruto Shippuuden (ABS-CBN) 3.2%; Movie Max 5: The Invention of Lying (TV5) 1.6%
�
Slam Dunk (GMA-7) 8.5%; Knock Out (GMA-7) 9.2%; Two Mothers (GMA-7) 9.1%; Corazon Indomable (GMA-7) 11.3%; Summer Kapamilya Blockbusters: Prince of Persia: The Sounds of Time (ABS-CBN) 9%; Happy Wife Happy Life (TV5) 1.6%; Showbiz Konek na Konek (TV5) 1%
�
The Ryzza Mae Show (GMA-7) 12.9%; Oh My G! (ABS-CBN) 13.4%; Aksyon sa Tanghali (TV5) 1.9%
ADVERTISEMENT - CONTINUE READING BELOW
�
Afternoon:
�
Eat Bulaga!(GMA-7) 16.8%; It's Showtime (ABS-CBN) 11.5%; Movie Max 5: Dinocroc vs Supergator (TV5) 4.4%; Kenichi the Mightiest Discipline (TV5) 3.8%; Transformers Animated (TV5) 2.7%
�
The Half Sisters (GMA-7) 19.7%; Flordeliza (ABS-CBN) 9.9%; Marvel Avengers Assemble (TV5) 2.4%
�
Yagit (GMA-7) 16.9%; Nasaan Ka Nang Kailangan Kita (ABS-CBN) 9.3%; X-Men (TV5) 1.7%;� Hi-5 (TV5) 1.3%
�
Healing Hearts (GMA-7) 11.2%; Let's Get Married! (ABS-CBN) 7.8%; RealiTV (ABS-CBN) 6.9%; PBA 2015 Governor's Cup: Meralco vs NLEX (TV5) 1.9%
�
Power House (GMA-7) 7.9%; The Mermaid (GMA-7) 7.4%; Kapamilya Deal or No Deal (ABS-CBN) 9.3%
�
Evening:
�
My Love from the Star (GMA-7) 10.4%; Inday Bote (ABS-CBN) 10.8%
�
24 Oras (GMA-7) 17.7%; TV Patrol (ABS-CBN) 15.4%; Aksyon (TV5) 3%
�
Pari 'Koy (GMA-7) 19.9%; Nathaniel (ABS-CBN) 19.4%; PBA 2015 Governor's Cup: Brgy Ginebra vs Kia Carnival (TV5) 8.4%
�
Let the Love Begin (GMA-7) 17.9%; Forevermore (ABS-CBN) 18.8%
�
The Rich Man's Daughter (GMA-7) 17.6%; Bridges of Love (ABS-CBN) 15%; Wattpad Presents (TV5) 4.5%; Teen Wolf (TV5) 4.6%
�
King of Ambition (GMA-7) 15.4%; Aquino & Abunda Tonight (ABS-CBN) 10.3%; My Lovely Girl (ABS-CBN) 7.2%; Aksyon Tonite (TV5) 2.3%
�
Saksi (GMA-7) 9.9%; Bandila (ABS-CBN) 5.1%; Reaksyon (TV5) .9%; The Medyo Late Night Show (TV5) 1%
ADVERTISEMENT - CONTINUE READING BELOW
�
Ancient Aliens the Series (GMA-7) 6.8%; Banana Nite (ABS-CBN) 2.8%; Shop Japan (TV5) .2%
�
The Tim Yap Show (GMA-7) 3.7%; O Shopping (ABS-CBN) 1.4%
�
�
May 14, 2015 (Thursday)
�
Morning:
�
Born to be Wild Replay (GMA-7) .7%; Sports U Replay (ABS-CBN) .2%; Shop Japan (TV5) 0%
�
Unang Hirit! (GMA-7) 3.2%; Umagang Kay Ganda (ABS-CBN) 2.3%; Aksyon sa Umaga (TV5) .3%; Higglytown Heroes (TV5) 1.7%; Higglytown Heroes (TV5) 2.8%
�
Time Quest (GMA-7) 6.6%; Martin Mystery (GMA-7) 8.8%; Magi the Labyrinth of Magic (GMA-7) 10.6%; Kris TV (ABS-CBN) 3.5%; Doc Mcstuffins (TV5) 3.6%; Phineas and Ferb (TV5) 3.7%; Hi-5 (TV5) 2.7%
�
Fairy Tail (GMA-7) 11.7%; Naruto Shippuuden (ABS-CBN) 4.6%; Movie Max 5: Ghost Town (TV5) 1.7%
�
Slam Dunk (GMA-7) 12.9%; Knock Out (GMA-7) 11.9%; Two Mothers (GMA-7) 9.3%; Corazon Indomable (GMA-7) 11.3%; Summer Kapamilya Blockbusters: The Princess Diaries 2 (ABS-CBN) 9%; Happy Wife Happy Life (TV5) 1.5%; Showbiz Konek na Konek (TV5) 1.5%
�
The Ryzza Mae Show (GMA-7) 11.9%; Oh My G! (ABS-CBN) 12%; Aksyon sa Tanghali (TV5) 2.4%
�
Afternoon:
�
Eat Bulaga!(GMA-7) 17.4%; It's Showtime (ABS-CBN) 12.9%; Movie Max 5: Deadly Swarm (TV5) 4.5%; Kenichi the Mightiest Discipline (TV5) 3.3%
�
The Half Sisters (GMA-7) 21.3%; Flordeliza (ABS-CBN) 10.7%; Transformers Animated (TV5) 2.2%; Marvel Avengers Assemble (TV5) 2.1%
ADVERTISEMENT - CONTINUE READING BELOW
�
Yagit (GMA-7) 17.9%; Nasaan Ka Nang Kailangan Kita (ABS-CBN) 9.8%; X-Men (TV5) 2%;� Hi-5 (TV5) 1%
�
Healing Hearts (GMA-7) 11.7%; Let's Get Married! (ABS-CBN) 8.7%; Sports U (ABS-CBN) 6.2%; Philippine Super Liga Finals: Game 2 Petron vs Shopinas.com (TV5) 1.6%
�
Reporter's Notebook (GMA-7) 8.7%; The Mermaid (GMA-7) 8.7%; Kapamilya Deal or No Deal (ABS-CBN) 8.9%
�
Evening:
�
My Love from the Star (GMA-7) 12.3%; Inday Bote (ABS-CBN) 10.2%
�
24 Oras (GMA-7) 19.2%; TV Patrol (ABS-CBN) 15.5%; Aksyon (TV5) 2.7%
�
Pari 'Koy (GMA-7) 19.7%; Nathaniel (ABS-CBN) 17.3%; Movie Max 5: Hansel & Gretel (TV5) 7.6%
�
Let the Love Begin (GMA-7) 19.9%; Forevermore (ABS-CBN) 20.1%;Wattpad Presents (TV5) 3.1%
�
The Rich Man's Daughter (GMA-7) 18.2%; Bridges of Love (ABS-CBN) 14.8%; Teen Wolf (TV5) 4.7%
�
King of Ambition (GMA-7) 16.4%; Aquino & Abunda Tonight (ABS-CBN) 11.3%; My Lovely Girl (ABS-CBN) 8%; Aksyon Tonite (TV5) 2.6%
�
Saksi (GMA-7) 11.3%; Bandila (ABS-CBN) 5%; Reaksyon (TV5) 1%; The Medyo Late Night Show (TV5) .5%
�
Ancient Aliens the Series (GMA-7) 7.3%; Banana Nite (ABS-CBN) 3%; Shop Japan (TV5) .2%
�
The Tim Yap Show (GMA-7) 3.6%; O Shopping (ABS-CBN) 1.2%
�
�
TOP TEN PROGRAMS:
�
May 11, 2015 (Monday)
�
DAYTIME:
�
The Half Sisters (GMA-7) – 20.5%
Eat Bulaga! (GMA-7) – 19.8%
Yagit (GMA-7) - 19.3%
The Ryzza Mae Show(GMA-7) - 14.1%
Healing Hearts(GMA-7) – 12.7%
Corazon Indomable(GMA-7) - 11.7%
Fairy Tail(GMA-7) - 11.2%
Oh My G! (ABS-CBN) - 11%
It's Showtime(ABS-CBN) – 10.8%
Slam Dunk(GMA-7) - 10.5%
�
PRIMETIME:
�
24 Oras(GMA-7) – 21%
Let the Love Begin (GMA-7) - 20.8%
The Rich Man's Daughter (GMA-7) - 20.7%
Pari 'Koy(GMA-7) / Forevermore (ABS-CBN) – 20.5%
Nathaniel (ABS-CBN) - 17.8%
King of Ambition (GMA-7) - 16.5%
Bridges of Love (ABS-CBN) – 15.8%
TV Patrol (ABS-CBN) – 14.3%
My Love from the Star(GMA-7) – 12.9%
Aquino & Abunda Tonight (ABS-CBN) – 11.1%
�
May 12, 2015 (Tuesday)
ADVERTISEMENT - CONTINUE READING BELOW
�
DAYTIME:
�
The Half Sisters (GMA-7) – 19.9%
Yagit (GMA-7) - 17.7%
Eat Bulaga! (GMA-7) – 17%
Corazon Indomable(GMA-7) - 12.8%
The Ryzza Mae Show(GMA-7) - 12.7%
Oh My G! (ABS-CBN) / It's Showtime(ABS-CBN) – 12%
Knock Out(GMA-7) - 11.2%
Fairy Tail(GMA-7) - 10.4%
Tunay na Buhay(GMA-7) / Summer Kapamilya Blockbusters: The Sorcerer's Apprentice (ABS-CBN) - 10.3%
Flordeliza(ABS-CBN) / Nasaan Ka Nang Kailangan Kita (ABS-CBN) - 10%
�
PRIMETIME:
�
Forevermore (ABS-CBN) – 21.1%
Pari 'Koy(GMA-7) – 20.9%
24 Oras(GMA-7) – 20.1%
Nathaniel (ABS-CBN) - 19.5%
Let the Love Begin (GMA-7) - 18.9%
The Rich Man's Daughter (GMA-7) - 18.3%
King of Ambition (GMA-7) - 16.2%
Bridges of Love (ABS-CBN) – 16%
TV Patrol (ABS-CBN) – 15%
My Love from the Star(GMA-7) – 12.3%
�
May 13, 2015 (Wednesday)
�
DAYTIME:
�
The Half Sisters (GMA-7) – 19.7%
Yagit (GMA-7) - 16.9%
Eat Bulaga! (GMA-7) – 16.8%
Oh My G! (ABS-CBN) - 13.4%
The Ryzza Mae Show(GMA-7) - 12.9%
It's Showtime(ABS-CBN) – 11.5%
Corazon Indomable(GMA-7) - 11.3%
Healing Hearts(GMA-7) – 11.2%
Flordeliza(ABS-CBN) - 9.9%
Magi the Labyrinth of Magic(GMA-7) – 9.8%
�
PRIMETIME:
�
Pari 'Koy(GMA-7) – 19.9%
Nathaniel (ABS-CBN) - 19.4%
Forevermore (ABS-CBN) – 18.8%
Let the Love Begin(GMA-7) – 17.9%
24 Oras(GMA-7) – 17.7%
The Rich Man's Daughter (GMA-7) - 17.6%
King of Ambition (GMA-7) / TV Patrol (ABS-CBN) – 15.4%
Bridges of Love (ABS-CBN) – 15%
Inday Bote (ABS-CBN) – 10.8%
My Love from the Star(GMA-7) – 10.4%
�
May 14, 2015 (Thursday)
�
DAYTIME:
�
The Half Sisters (GMA-7) – 21.3%
Yagit (GMA-7) - 17.9%
Eat Bulaga! (GMA-7) – 17.4%
Slam Dunk(GMA-7) / It's Showtime(ABS-CBN) – 12.9%
Oh My G! (ABS-CBN) - 12%
The Ryzza Mae Show(GMA-7) / Knock Out(GMA-7) - 11.9%
Fairy Tail(GMA-7) / Healing Hearts(GMA-7) – 11.7%
Corazon Indomable(GMA-7) - 11.3%
Flordeliza(ABS-CBN) - 10.7%
Magi the Labyrinth of Magic(GMA-7) – 10.6%
�
PRIMETIME:
�
Forevermore (ABS-CBN) – 20.1%
Let the Love Begin(GMA-7) – 19.9%
Pari 'Koy(GMA-7) – 19.7%
24 Oras(GMA-7) – 19.2%
The Rich Man's Daughter (GMA-7) - 18.2%
Nathaniel (ABS-CBN) - 17.3%
King of Ambition (GMA-7) - 16.4%
TV Patrol (ABS-CBN) – 15.5%
Bridges of Love (ABS-CBN) – 14.8%
My Love from the Star(GMA-7) – 12.3%
Source: AGB Nielsen Philippines