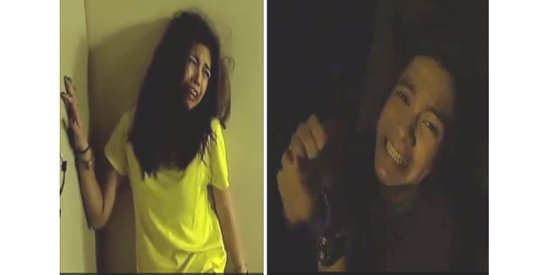 ---
Here are the significant events in the ratings game on July 28- August 2, 2015 according to the latest data gathered by AGB Nielsen Philippines from Mega Manila households.
Eat Bulaga! continues to dominate daytime during the given period, due to the public's interest in its new loveteam AlDub, the tandem of Alden Richards and Maine Mendoza.

(View photos: AlDub timeline: Alden Richards and Yaya Dub get first KalyeSerye on TV)
http://www.pep.ph/guide/photos/7497/aldub-timeline-alden-richards-and-yaya-dub-get-first-kalyeserye-on-tv
In fact, the noontime show airing on GMA-7 is getting TV ratings above 20% daily. This is an improvement over daily ratings of 15% to 19% from January to June 2015.
Eat Bulaga! even got 28.1% on August 1, Saturday. This is the highest rating that the TAPE production has registered for 2015.
The Ryzza Mae Show, another TAPE program, also continued to do well. The talk show, led by popular child star Ryzza Mae Dizon, got higher ratings than ABS-CBN's new drama series Ningning during the given period.
ADVERTISEMENT - CONTINUE READING BELOW
Other Kapuso daytime shows also performed well during this period. The new afternoon drama program Buena Familia had a strong debut on July 28, Tuesday. It scored 14.6% against ABS-CBN's Nasaan Ka Nang Kailangan Kita, which received 9.4%.
Buena Familia is a family drama that stars Kylie Padilla, Martin del Rosario, Julie Anne San Jose, Jake Vargas, and Julian Trono. Its pilot episode was moved to give way to the airing of President Noynoy Aquino's State of the Nation Address.
GMA-7 also seemed to be recovering on weekday primetime. Although the KathNiel-led series Pangako Sa 'Yo remained as the leading primetime program, other Kapuso shows have begun defeating their Kapamilya counterparts.
For instance, Dingdong Dantes' Pari 'Koy used to get lower ratings compared to the similarly religion-themed Nathaniel on ABS-CBN. For the given period, however, Pari 'Koy (which is slated to end by August 21) was the winner for four straight days.
ADVERTISEMENT - CONTINUE READING BELOW
The Kapuso channel also did well on the weekend. The final episode of Sunday All Stars got a TV rating of 13.7%. This marked the end of the variety show that has been airing for two years. It will be replaced by Sunday PINASaya that will air on the noontime block starting August 9.

Kapuso Movie Festival featuring Dark Shadows was the most-watched daytime program on Sunday with its TV rating of 21%.

This movie aired at around the same time as ABS-CBN's noontime show, ASAP, which registered a TV rating of 10.4%.
ABS-CBN, meanwhile, continued to take the lead on weekend primetime with its hit singing competition for children, The Voice Kids Season 2.

Last August 1, the Kapamilya show, Pinoy Big Brother 737, also defeated GMA-7's To The Top. PBB 737 got almost double the ratings of the Kapuso talent competition for aspiring boy band singers.

The following day, Kapamilya shows Rated K (18.5%) and PBB 737 (16.9%) also got higher ratings than To The Top.
ADVERTISEMENT - CONTINUE READING BELOW
Here is the comparative rating performance of GMA-7, ABS-CBN and TV5 programs from July 28-August 2, 2015 derived from AGB Nielsen Philippines from Mega Manila households:
--
July 28, 2015 (Tuesday)
Morning:
i-Witness Replay (GMA-7) 1.1%; O Shopping (ABS-CBN) .3%; Shop Japan (TV5) .1%
Unang Hirit! (GMA-7) 5.2%; Umagang Kay Ganda (ABS-CBN) 3.2%; Aksyon sa Umaga (TV5) .9%; Teacher's Pet (TV5) 1.1%; Teacher's Pet (TV5) 2.1%
One Piece (GMA-7) 5%; Fairytail (GMA-7) 6.3%; Bleach (GMA-7) 5.9%; Kris TV (ABS-CBN) 4.6%; Kim Possible (TV5) 2.2%; Phineas and Ferb (TV5) 3.2%; Hi-5 (TV5) 2.7%
Magi the Kingdom of Magic (GMA-7) 6.1%; Naruto Shippuuden (ABS-CBN) 4%; Movie Max 5: Rat (TV5) 3.2%
Secret Garden (GMA-7) 7.8%; Two Mothers (GMA-7) 11%; The King's Doctor (GMA-7) 12.5%; Kapamilya Blockbusters: Police Story II (ABS-CBN) 9.5%; Happy Wife Happy Life (TV5) 1.5%; Showbiz Konek na Konek (TV5) 1.2%
The Ryzza Mae Show (GMA-7) 14.2%; Ningning (ABS-CBN) 10.6%; Aksyon sa Tanghali (TV5) 2.3%
Afternoon:
Eat Bulaga!(GMA-7) 24.6%; It's Showtime (ABS-CBN) 10.1%; Movie Max 5: Sand Sharks (TV5) 3.6%; Kenichi the Mightiest DiscipIe (TV5) 2.3%; Transformers Animated (TV5) 2%
The Half Sisters (GMA-7) 20%; Flordeliza (ABS-CBN) 8.9%; Marvel Avengers Assemble (TV5) 1.9%
ADVERTISEMENT - CONTINUE READING BELOW
Buena Familia (GMA-7) 14.6%; Nasaan Ka Nang Kailangan Kita (ABS-CBN) 9.4%; Pinoy Big Brother 737 Gold (ABS-CBN) 7.4%; X-Men (TV5) 2.1%; Hi-5 (TV5) 1.9%
Healing Hearts (GMA-7) 12.7%; My Puhunan (ABS-CBN) 6.4%; Movie Max 5: Death Becomes Her (TV5) 4.1%
Tunay na Buhay (GMA-7) 10.2%; Birth of a Beauty (GMA-7) 9.3%; Kapamilya Deal or No Deal (ABS-CBN) 10.8%
Evening:
My Mother's Secret (GMA-7) 13.2%; Pasion de Amor (ABS-CBN) 12.1%; Aksyon (TV5) 4.7%
24 Oras (GMA-7) 21.3%; TV Patrol (ABS-CBN) 17.6%; Movie Max 5: Face Off (TV5) 7.6%
Pari 'Koy (GMA-7) 21.9%; Nathaniel (ABS-CBN) 20.9%
Let the Love Begin (GMA-7) 19.5%; Pangako Sa 'Yo (ABS-CBN) 22.7%; Wattpad Presents (TV5) 4.1%
The Rich Man's Daughter (GMA-7) 15.2%; Bridges of Love (ABS-CBN) 18.4%; Baker King (TV5) 4.3%
Pinocchio (GMA-7) 11.1%; Pinoy Big Brother 737 (ABS-CBN) 14%; Teen Wolf (TV5) 4.3%
Saksi (GMA-7) 7.5%; Aquino & Abunda Tonight (ABS-CBN) 7.9%; Bandila (ABS-CBN) 4.1%; Aksyon Tonite (TV5) 1.9%; Reaksyon (TV5) .8%; The Medyo Late Night Show (TV5) .5%
Stan Lee's Superhumans (GMA-7) 4.9%; Banana Nite (ABS-CBN) 2.5%; O Shopping (ABS-CBN) .9%; Shop Japan (TV5) .1%
--
July 29, 2015 (Wednesday)
Morning:
Tunay na Buhay Replay (GMA-7) 1%; O Shopping (ABS-CBN) .2%; Shop Japan (TV5) 2%
ADVERTISEMENT - CONTINUE READING BELOW
Unang Hirit! (GMA-7) 5.2%; Umagang Kay Ganda (ABS-CBN) 2.7%; Aksyon sa Umaga (TV5) .7%; Teacher's Pet (TV5) 1.7%; Teacher's Pet (TV5) 2.4%
One Piece (GMA-7) 4.1%; Fairytail (GMA-7) 5.4%; Bleach (GMA-7) 6.3%; Kris TV (ABS-CBN) 4.8%; Kim Possible (TV5) 3.1%; Phineas and Ferb (TV5) 3.1%; Hi-5 (TV5) 2.9%
Magi the Kingdom of Magic (GMA-7) 7.2%; Naruto Shippuuden (ABS-CBN) 4.2%; Movie Max 5: Bowfinger (TV5) 2%
Knock Out (GMA-7) 8.2%; Secret Garden (GMA-7) 7.9%; Two Mothers (GMA-7) 11.9%; The King's Doctor (GMA-7) 13%; Kapamilya Blockbusters: Henry's Crime (ABS-CBN) 8.1%; Happy Wife Happy Life (TV5) 1.6%; Showbiz Konek na Konek (TV5) 1.5%
The Ryzza Mae Show (GMA-7) 14%; Oh My G! (ABS-CBN) 10.2%; Aksyon sa Tanghali (TV5) 2.1%
Afternoon:
Eat Bulaga!(GMA-7) 25%; It's Showtime (ABS-CBN) 9.9%; Movie Max 5: Wolf Town (TV5) 4%; Kenichi the Mightiest DiscipIe (TV5) 2.2%; Transformers Animated (TV5) 2.3%
The Half Sisters (GMA-7) 20.1%; Flordeliza (ABS-CBN) 8.3%; Marvel Avengers Assemble (TV5) 2.1%
Buena Familia (GMA-7) 16.7%; Nasaan Ka Nang Kailangan Kita (ABS-CBN) 10%; X-Men (TV5) 2.4%; Hi-5 (TV5) 2.3%
Healing Hearts (GMA-7) 16.7%; Pinoy Big Brother 737 Gold (ABS-CBN) 6.8%; Red Alert (ABS-CBN) 5.9%; Movie Max 5: Mystery Man (TV5) 3.9%
ADVERTISEMENT - CONTINUE READING BELOW
Power House (GMA-7) 13.7%; Birth of a Beauty (GMA-7) 10.3%; Kapamilya Deal or No Deal (ABS-CBN) 9.4%
Evening:
My Mother's Secret (GMA-7) 11.3%; Pasion de Amor (ABS-CBN) 12.2%; Aksyon (TV5) 3.8%
24 Oras (GMA-7) 19.6%; TV Patrol (ABS-CBN) 17.8%; Movie Max 5: The Green Hornet (TV5) 6.1%
Pari 'Koy (GMA-7) 22.2%; Nathaniel (ABS-CBN) 21.1%
Let the Love Begin (GMA-7) 20.8%; Pangako Sa 'Yo (ABS-CBN) 23.1%; Wattpad Presents (TV5) 2.8%
The Rich Man's Daughter (GMA-7) 17.1%; Bridges of Love (ABS-CBN) 18.1%; Baker King (TV5) 3.7%
Pinocchio (GMA-7) 11.6%; Pinoy Big Brother 737 (ABS-CBN) 14.4%; Aquino & Abunda Tonight (ABS-CBN) 8.7%; Teen Wolf (TV5) 3.5%; Aksyon Tonite (TV5) 1.1%
Saksi (GMA-7) 6.6%; Bandila (ABS-CBN) 4.4%; Reaksyon (TV5) .2%; The Medyo Late Night Show (TV5) .3%
Planet Earth (GMA-7) 4.2%; Banana Nite (ABS-CBN) 2.1%; O Shopping (ABS-CBN) .8%; Shop Japan (TV5) .1%
--
July 30, 2015 (Thursday)
Morning:
Born to be Wild Replay (GMA-7) 1.2%; O Shopping (ABS-CBN) .2%; Shop Japan (TV5) 0%
Unang Hirit! (GMA-7) 5.2%; Umagang Kay Ganda (ABS-CBN) 3.1%; Aksyon sa Umaga (TV5) .8%; Teacher's Pet (TV5) 1.3%; Teacher's Pet (TV5) 1.8%
One Piece (GMA-7) 5.3%; Fairytail (GMA-7) 6.1%; Bleach (GMA-7) 6.5%; Kris TV (ABS-CBN) 5.2%; Kim Possible (TV5) 2.6%; Phineas and Ferb (TV5) 3.2%; Hi-5 (TV5) 3%
ADVERTISEMENT - CONTINUE READING BELOW
Magi the Kingdom of Magic (GMA-7) 7.1%; Naruto Shippuuden (ABS-CBN) 3.7%; Movie Max 5: Man of the Year (TV5) 2.2%
Knock Out (GMA-7) 8%; Secret Garden (GMA-7) 8%; Two Mothers (GMA-7) 10.6%; The King's Doctor (GMA-7) 12.2%; Kapamilya Blockbusters (ABS-CBN) 9.1%; News Patrol: Metro Manila Shake Drill (ABS-CBN) 11.2%; Happy Wife Happy Life (TV5) 1.8%; Showbiz Konek na Konek (TV5) 2%
The Ryzza Mae Show (GMA-7) 14.4%; Ningning (ABS-CBN) 11.7%; Aksyon sa Tanghali (TV5) 2.8%
Afternoon:
Eat Bulaga!(GMA-7) 24.7%; It's Showtime (ABS-CBN) 10.9%; Movie Max 5: Zodiac Signs of the Apocalypse (TV5) 3.8%; Kenichi the Mightiest DiscipIe (TV5) 2.3%; Transformers Animated (TV5) 2.5%
The Half Sisters (GMA-7) 19.4%; Flordeliza (ABS-CBN) 9.8%; Marvel Avengers Assemble (TV5) 2.3%
Buena Familia (GMA-7) 15.7%; Nasaan Ka Nang Kailangan Kita (ABS-CBN) 10.1%; X-Men (TV5) 1.8%; Hi-5 (TV5) 1.4%
Healing Hearts (GMA-7) 14.9%; Pinoy Big Brother 737 Gold (ABS-CBN) 6.8%; Sports U (ABS-CBN) 5.5%; Movie Max 5: Disney's the Kid (TV5) 3.2%
Reporter's Notebook (GMA-7) 10.6%; Birth of a Beauty (GMA-7) 9.7%; Kapamilya Deal or No Deal (ABS-CBN) 9.4%
Evening:
My Mother's Secret (GMA-7) 11.9%; Pasion de Amor (ABS-CBN) 10.9%; Aksyon (TV5) 3.8%
ADVERTISEMENT - CONTINUE READING BELOW
24 Oras (GMA-7) 19.8%; TV Patrol (ABS-CBN) 15.8%; Movie Max 5: Mission Impossible Ghost Protocol (TV5) 8.8%
Pari 'Koy (GMA-7) 21.1%; Nathaniel (ABS-CBN) 20%
Let the Love Begin (GMA-7) 20.2%; Pangako Sa 'Yo (ABS-CBN) 22.4%; Wattpad Presents (TV5) 3.4%
The Rich Man's Daughter (GMA-7) 16.6%; Bridges of Love (ABS-CBN) 18.8%; Baker King (TV5) 3.9%
Pinocchio (GMA-7) 11.4%; Pinoy Big Brother 737 (ABS-CBN) 14%; Aquino & Abunda Tonight (ABS-CBN) 9.6%; Teen Wolf (TV5) 3.8%; Aksyon Tonite (TV5) 1.1%
Saksi (GMA-7) 7.3%; Bandila (ABS-CBN) 5%; Reaksyon (TV5) .7%; The Medyo Late Night Show (TV5) .4%
Planet Earth (GMA-7) 4.8%; Banana Nite (ABS-CBN) 3.8%; O Shopping (ABS-CBN) 1.7%; Shop Japan (TV5) .1%
--
July 31, 2015 (Friday)
Morning:
Alisto! Replay (GMA-7) 1.1%; O Shopping (ABS-CBN) .3%; Shop Japan (TV5) .1%
Unang Hirit! (GMA-7) 5.1%; Umagang Kay Ganda (ABS-CBN) 3%; Aksyon sa Umaga (TV5) .8%; Teacher's Pet (TV5) 1.5%; Teacher's Pet (TV5) 2.6%
One Piece (GMA-7) 5%; Fairytail (GMA-7) 4.9%; Bleach (GMA-7) 5.8%; Kris TV (ABS-CBN) 5.7%; Kim Possible (TV5) 3.2%; Phineas and Ferb (TV5) 3.5%; Hi-5 (TV5) 3%
Magi the Labyrinth of Magic (GMA-7) 6.4%; Naruto Shippuuden (ABS-CBN) 4.8%; Movie Max 5: Dance Flick (TV5) 2.5%
Knock Out (GMA-7) 7.4%; Secret Garden (GMA-7) 8.3%; Two Mothers (GMA-7) 11.1%; The King's Doctor (GMA-7) 12.1%; Kapamilya Blockbusters: Adele and the Rise of the Mummy (ABS-CBN) 9.8%; Happy Wife Happy Life (TV5) 1.6%; Showbiz Konek na Konek (TV5) 1.6%
ADVERTISEMENT - CONTINUE READING BELOW
The Ryzza Mae Show (GMA-7) 13.5%; Ningning (ABS-CBN) 11.3%; Aksyon sa Tanghali (TV5) 1.8%
Afternoon:
Eat Bulaga! (GMA-7) 24.7%; It's Showtime (ABS-CBN) 12.2%; Movie Max 5: Once Upon a Time in China V (TV5) 3.7%; Kenichi the Mightiest Disciple (TV5) 1.9%; Transformers Animated (TV5) 2.4%
The Half Sisters (GMA-7) 20.8%; Flordeliza (ABS-CBN) 11%; Marvel Avengers Assemble (TV5) 2.2%
Buena Familia (GMA-7) 15.8%; Nasaan Ka Nang Kailangan Kita (ABS-CBN) 10.8%; X-Men (TV5) 1.8%; Hi-5 (TV5) 1.5%
Healing Hearts (GMA-7) 12.9%; Pinoy Big Brother 737 Gold (ABS-CBN) 7.6%; TNT (ABS-CBN) 6.7%; Movie Max 5: Epicenter (TV5) 3.8%
Love Hotline (GMA-7) 9.3%; Birth of a Beauty (GMA-7) 8.1%; Kapamilya Deal or No Deal (ABS-CBN) 9.6%
Evening:
My Mother's Secret (GMA-7) 9.9%; Pasion de Amor (ABS-CBN) 10.6%; Aksyon (TV5) 3.8%
24 Oras (GMA-7) 19.2%; TV Patrol (ABS-CBN) 14%; Movie Max 5: Con Air (TV5) 8.5%
Pari 'Koy (GMA-7) 19.3%; Nathaniel (ABS-CBN) 18.4%
Let the Love Begin (GMA-7) 19.7%; Pangako Sa 'Yo (ABS-CBN) 22.4%; Wattpad Presents (TV5) 4.1%
The Rich Man's Daughter (GMA-7) 16.5%; Bridges of Love (ABS-CBN) 19.3%; Baker King (TV5) 4.7%
Bubble Gang (GMA-7) 14%; Pinoy Big Brother 737 (ABS-CBN) 15.1%; Aquino & Abunda Tonight (ABS-CBN) 9.6%; Supernatural (TV5) 3.7%; Aksyon Tonite (TV5) 1.7%
ADVERTISEMENT - CONTINUE READING BELOW
Saksi (GMA-7) 8.1%; Bandila (ABS-CBN) 5.1%; Banana Nite (ABS-CBN) 3.3%; O Shopping (ABS-CBN) 1.3%; Reaksyon (TV5) .7%; The Medyo Late Night Show (TV5) .7%; Shop Japan (TV5) .4%
--
August 1, 2015 (Saturday)
Morning:
PJM Forum (GMA-7) .2%; Adyenda (GMA-7) .6%; O Shopping (ABS-CBN) .2%; Shop Japan (TV5) .1%
Kapwa Ko Mahal Ko (GMA-7) 1.4%; Sa Kabukiran (ABS-CBN) .3%; Family Matters (TV5) .6%
Pinoy MD (GMA-7) 4.5%; Salamat Dok (ABS-CBN) 2.2%; Kakaibang Lunas (TV5) .6%
The Smurfs (GMA-7) 7.2%; Swak na Swak (ABS-CBN) 2.5%; Henry Huggle Monster (TV5) 2.1%
Kamen Rider Ooo (GMA-7) 8.4%; Angel Wings (ABS-CBN) 1.6%; Sofia the First (TV5) 3.4%
Pac-Man and the Ghostly Adventures (GMA-7) 9%; Why Not? (ABS-CBN) 1.7%; Stitch (TV5) 3.4%
Angry Birds Toons (GMA-7) 9.9%; Kung Fu Panda Legends (ABS-CBN) 3.5%; Johnny Bravo (TV5) 3.4%
Crossfight B-Daman (GMA-7) 6.8%; Spongebob Squarepants (ABS-CBN) 6.2%; Ben 10 (TV5) 3.3%
Dragon Ball Fight! (GMA-7) 7.6%; The Flying House (ABS-CBN) 5.8%; Magical Do Re Mi (TV5) 3.2%
Sarap Diva (GMA-7) 8.1%; Maynila (GMA-7) 11.5%; Del Monte Kitchenomics (GMA-7) 13.8%; Kapamilya Blockbusters: In the Name of the King (ABS-CBN) 11.3%; Sword Art Online II (TV5) 2.9%; Fushigi Yuugi (TV5) 2.1%; Movie Max 5: A Knight in Camelot (TV5) 3.2%
ADVERTISEMENT - CONTINUE READING BELOW
Afternoon:
Eat Bulaga! (GMA-7) 28.1%; It's Showtime (ABS-CBN) 11.1%; Movie Max 5: Into the Blue 2 (TV5) 3.4%; DTY (TV5) .8%; PSL Beach Volleyball Cup 2015 (TV5) 1.1%
Karelasyon (GMA-7) 20.9%; Wish Ko Lang! (GMA-7) 14.2%; Ipaglaban Mo (ABS-CBN) 10.8%; PSL Beach Volleyball Cup 2015 (TV5) 1.6%
Startalk 19 (GMA-7) 11.5%; Failon Ngayon (ABS-CBN) 8.2%; T3 Alliance (TV5) 2.1%
Imbestigador (GMA-7) 13.7%; SOCO (ABS-CBN) 9.9%; Movie Max 5:A Bug's Life (TV5) 5.1%
24 Oras Weekend (GMA-7) 15.7%; TV Patrol Weekend (ABS-CBN) 9.4%
Evening:
Pepito Manaloto: Ang Tunay na Kuwento (GMA-7) 19%; Mga Kwento ni Marc Logan (GMA-7) 10.3%; Home Sweetie Home (ABS-CBN) 12%; Lola Basyang.com (TV5) 5.4%
Magpakailanman (GMA-7) 21.1%; The Voice Kids (TV5) 26.4%; Parangnormal Activity (TV5) 5.2%
Celebrity Bluff (GMA-7) 19.5%; MMK: Ang Tahanan Mo (ABS-CBN) 23.9%; Movie Max 5: GI Joe: The Rise of Cobra (TV5) 5.7%
To the Top (GMA-7) 9%; Pinoy Big Brother 737 (ABS-CBN) 15.8%; History with Lourd (TV5) 2.9%
i-Witness (GMA-7) 7.6%; Banana Split Extra Scoop (ABS-CBN) 8.7%; Kaya. (TV5) 1.2%
Walang Tulugan (GMA-7) 3.4%; The Bottom Line (ABS-CBN) 2.1%; O Shopping (ABS-CBN) .8%; Shop Japan (TV5) .4%
--
August 2, 2015 (Sunday)
Daytime:
In Touch with Dr. Charles Stanley (GMA-7) .3%; Jesus The Healer (GMA-7) .6%; O Shopping (ABS-CBN) .5%; Shop Japan (TV5) .4%
ADVERTISEMENT - CONTINUE READING BELOW
Kapuso Sine Klasika: Darna and the Giants (GMA-7) 3.6%; The Healing Eucharist (ABS-CBN) 3.1%; Misa Nazareno (TV5) 1.5%
Grimm's Fairy Tales (GMA-7) 8.4%; Swak na Swak (ABS-CBN) 2.6%; Power to Unite with Elvira (TV5) .5%
Kamen Rider Ooo (GMA-7) 8.5%; Pac-Man and the Ghostly Adventures (GMA-7) 9.2%; Salamat Dok (ABS-CBN) 3.5%; Henry Huggle Monster (TV5) 1.5%; Sofia the First (TV5) 3.5%
Dragon Ball Fight! (GMA-7) 8.7%; Kuroko's Basketball (ABS-CBN) 4.1%; Stitch! (TV5) 4.5%
Aha! (GMA-7) 9.7%; Haikyu!! (ABS-CBN) 4.7%; Johnny Bravo (TV5) 3.3%
Born To Be Wild (GMA-7) 10.3%; Super Book (ABS-CBN) 4.8%; Ben 10 (TV5) 4.2%
iBilib (ABS-CBN) 11.9%; Matanglawin (ABS-CBN) 6.7%; Sword Art Online (TV5) 3%
Kapuso Movie Festival: Ted (GMA-7) 15.7%; Kapamilya Kiddie Blockbusters: The Shaggy Dog (ABS-CBN) 9.3%; Fushigi Yuugi TV5) 2%
Afternoon:
Del Monte Kitchenomics (GMA-7) 17.7%; Kapuso Movie Festival: Dark Shadows (GMA-7) 21%; Sunday All Stars (GMA-7) 13.7%; ASAP 20 (ABS-CBN) 10.4%; Happy Truck ng Bayan (TV5) 1.6%; FIBA 3X3 Manila (TV5) 3.6%
Wowowin (GMA-7) 13.6%; Kapamilya Mega Blockbusters: Sisterakas (ABS-CBN) 12.2%
Alamat (GMA-7) 13.7%; Luv U (ABS-CBN) 7.8%
24 Oras Weekend (GMA-7) 12.9%; TV Patrol Weekend (ABS-CBN) 8.6%
Evening:
Vampire Ang Daddy Ko (GMA-7) 15%; Goin' Bulilit (ABS-CBN) 10%; Rise (TV5) 2.6%; Extra Rise Live (TV5) 1.9%
ADVERTISEMENT - CONTINUE READING BELOW
Ismol Family (GMA-7) 19.3%; Wansapanataym (ABS-CBN) 16.7%; No Harm No Foul (TV5) 3.1%
Kapuso Mo, Jessica Soho (GMA-7) 25%; The Voice Kids (ABS-CBN) 27.3%; Who Wants to be a Millionaire (TV5) 2.9%
To The Top (GMA-7) 12.3%; Rated K: Handa Na Ba Kayo? (ABS-CBN) 18.5%; Pinoy Big Brother 737 (ABS-CBN) 16.9%; Movie Max 5: M. (TV5) 2.9%
MP Featuring Sport Science (GMA-7) 6.1%; Gandang Gabi Vice (ABS-CBN) 16.1%; Sunday's Best: Mutya ng Pilipinas 2015 (ABS-CBN) 5%; Sports 360 (TV5) .7%
Diyos at Bayan (GMA-7) 1.5%; O Shopping (ABS-CBN) 2%; Shop Japan (TV5) .4%
----
TOP TEN PROGRAMS:
July 28, 2015 (Tuesday)
DAYTIME:
Eat Bulaga! (GMA-7) – 24.6%
The Half Sisters (GMA-7) – 20%
Buena Familia(GMA-7) – 14.6%
The Ryzza Mae Show(GMA-7) - 14.2%
Healing Hearts(GMA-7) – 12.7%
The King's Doctor(GMA-7) - 12.5%
Two Mothers(GMA-7) - 11%
Kapamilya Deal or No Deal (ABS-CBN) - 10.8%
Ningning (ABS-CBN) - 10.6%
Tunay na Buhay(GMA-7) - 10.2%
PRIMETIME:
Pangako Sa 'Yo (ABS-CBN) – 22.7%
Pari 'Koy(GMA-7) – 21.9%
24 Oras(GMA-7) - 21.3%
Nathaniel (ABS-CBN) - 20.9%
Let the Love Begin (GMA-7) - 19.5%
Bridges of Love (ABS-CBN) – 18.4%
TV Patrol (ABS-CBN) – 17.6%
The Rich Man's Daughter (GMA-7) - 15.2%
Pinoy Big Brother 737 (ABS-CBN) - 14%
My Mother's Secret (GMA-7) - 13.2%
July 29, 2015 (Wednesday)
DAYTIME:
Eat Bulaga! (GMA-7) – 25%
The Half Sisters (GMA-7) - 20.1%
Healing Hearts(GMA-7) / Buena Familia(GMA-7) – 16.7%
The Ryzza Mae Show(GMA-7) - 14%
Power House(GMA-7) - 13.7%
The King's Doctor(GMA-7) - 13%
Two Mothers(GMA-7) - 11.9%
Birth of a Beauty(GMA-7) - 10.3%
Ningning (ABS-CBN) - 10.2%
Nasaan Ka Nang Kailangan Kita (ABS-CBN) - 10%
PRIMETIME:
Pangako Sa 'Yo (ABS-CBN) – 23.1%
Pari 'Koy(GMA-7) – 22.2%
Nathaniel (ABS-CBN) - 21.1%
Let the Love Begin (GMA-7) - 20.8%
24 Oras(GMA-7) – 19.6%
Bridges of Love (ABS-CBN) – 18.1%
TV Patrol (ABS-CBN) – 17.8%
The Rich Man's Daughter (GMA-7) - 17.1%
Pinoy Big Brother 737 (ABS-CBN) - 14.4%
Pasion De Amor (ABS-CBN) - 12.2%
July 30, 2015 (Thursday)
DAYTIME:
Eat Bulaga! (GMA-7) – 24.7%
The Half Sisters (GMA-7) - 19.4%
Buena Familia(GMA-7) – 15.7%
Healing Hearts(GMA-7) – 14.9%
The Ryzza Mae Show(GMA-7) - 14.4%
The King's Doctor(GMA-7) - 12.2%
Ningning (ABS-CBN) - 11.7%
News Patrol (ABS-CBN) - 11.2%
It's Showtime(ABS-CBN) - 10.9%
Two Mothers(GMA-7) / Reporter's Notebook(GMA-7) - 10.6%
PRIMETIME:
Pangako Sa 'Yo (ABS-CBN) – 22.4%
Pari 'Koy(GMA-7) – 21.1%
Let the Love Begin (GMA-7) - 20.2%
Nathaniel (ABS-CBN) - 20%
24 Oras (GMA-7) - 19.8%
Bridges of Love (ABS-CBN) – 18.8%
The Rich Man's Daughter (GMA-7) - 16.6%
TV Patrol (ABS-CBN) – 15.8%
Pinoy Big Brother 737 (ABS-CBN) - 14%
My Mother's Secret (GMA-7) - 11.9%
July 31, 2015 (Friday)
DAYTIME:
Eat Bulaga! (GMA-7) – 24.7%
The Half Sisters (GMA-7) – 20.8%
Buena Familia(GMA-7) – 15.8%
The Ryzza Mae Show(GMA-7) - 13.5%
Healing Hearts(GMA-7) - 12.9%
It's Showtime (ABS-CBN) – 12.2%
The King's Doctor(GMA-7) - 12.1%
Ningning (ABS-CBN) - 11.3%
Two Mothers(GMA-7) - 11.1%
Flordeliza (ABS-CBN) - 11%
PRIMETIME:
Pangako Sa 'Yo (ABS-CBN) – 22.4%
Let the Love Begin (GMA-7) - 19.7%
Pari 'Koy (GMA-7) / Bridges of Love (ABS-CBN) – 19.3%
24 Oras(GMA-7) - 19.2%
Nathaniel (ABS-CBN) - 18.4%
The Rich Man's Daughter (GMA-7) - 16.5%
Pinoy Big Brother 737 (ABS-CBN) - 15.1%
Bubble Gang (GMA-7) / TV Patrol (ABS-CBN) – 14%
Pasion de Amor (ABS-CBN) - 10.6%
My Mother's Secret (GMA-7) - 9.6%
August 1, 2015 (Saturday)
DAYTIME:
Eat Bulaga! (GMA-7) – 28.1%
Karelasyon (GMA-7) - 20.9%
24 Oras Weekend (GMA-7) - 15.7%
Wish Ko Lang!(GMA-7) - 14.2%
Del Monte Kitchenomics (GMA-7) - 13.8%
Imbestigador (GMA-7) – 13.7%
Maynila (GMA-7) / Startalk(GMA-7) - 11.5%
Kapamilya Blockbusters (ABS-CBN) - 11.3%
It's Showtime (ABS-CBN) - 11.1%
Ipaglaban Mo (ABS-CBN) - 10.8%
PRIMETIME:
The Voice Kids (ABS-CBN) – 26.4%
MMK: Ang Tahanan Mo (ABS-CBN) – 23.9%
Magpakailanman (GMA-7) - 21.1%
Celebrity Bluff (GMA-7) – 19.5%
Pepito Manaloto: Ang Tunay na Kuwento (GMA-7) - 19%
Pinoy Big Brother 737 (ABS-CBN) - 15.8%
Home Sweetie Home (ABS-CBN) – 12%
Mga Kwento ni Marc Logan (ABS-CBN) – 10.3%
To The Top(GMA-7) - 9%
Banana Split Extra Scoop (ABS-CBN) - 8.7%
August 2, 2015 (Sunday)
DAYTIME:
Kapuso Movie Festival: Dark Shadows (GMA-7) - 21%
Del Monte Kitchenomics (GMA-7) - 17.7%
Kapuso Movie Festival: Ted (GMA-7) - 15.7%
Sunday All Stars (GMA-7) / Alamat (GMA-7) - 13.7%
Wowowin (GMA-7) - 13.6%
24 Oras Weekend (GMA-7) - 12.9%
Kapamilya Mega Blockbusters: Sisterakas (ABS-CBN) – 12.2%
iBilib (GMA-7) - 11.9%
ASAP (ABS-CBN) – 10.4%
Born to be Wild (GMA-7) - 10.3%
PRIMETIME:
The Voice Kids (ABS-CBN) – 27.3%
Kapuso Mo, Jessica Soho (GMA-7) - 25%
Ismol Family (GMA-7) - 19.3%
Rated K(ABS-CBN) – 18.5%
Pinoy Big Brother 737 (ABS-CBN) - 16.9%
Wansapanataym (ABS-CBN) - 16.7%
Gandang Gabi Vice (ABS-CBN) – 16.1%
Vampire Ang Daddy Ko (GMA-7) - 15%
To The Top (GMA-7) - 12.3%
Goin' Bulilit (ABS-CBN) – 10%
Source: AGB Nielsen Philippines