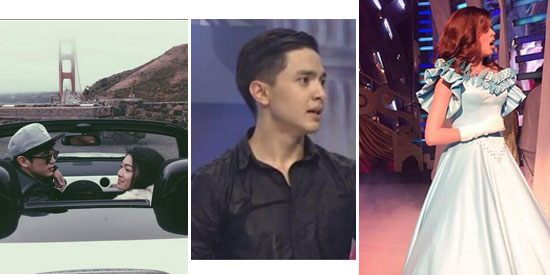 ---
Here are the significant events in the ratings game from August 9-12, 2015, according to the latest data gathered by AGB Nielsen Philippines from Mega Manila households.
Eat Bulaga! continued to break records during the given period. In fact, it has now scored the highest rating for 2015 with its August 12 episode, which featured the AlDub tandem's near-meeting. Alden Richards almost saw Maine Mendoza (Yaya Dub) when she performed in the studio of Eat Bulaga.
The episode got 36.1%, higher than GMA-7's special Lenten presentation of The Ten Commandments.
Top 10 highest ratings for 2015 (single episodes)

According to data from AGB Nielsen Philippines from Mega Manila households

Covers January 1 to August 12, 2015 only

1

Eat Bulaga! (GMA-7)

August 12

36.1%

2

The Ten Commandments(GMA-7)

April 2

34.8%

3

Eat Bulaga! (GMA-7)

August 8

32.4%

4

Eat Bulaga! (GMA-7)

August 11

31.6%

5

Kapuso Mo, Jessica Soho (GMA-7)

April 12

31.2%

6

Kapuso Mo, Jessica Soho (GMA-7) /

Eat Bulaga! (GMA-7)

March 22

August 10

30.7%

7

Magpakailanman (GMA-7)

March 21

29.7%

8

Kapuso Mo, Jessica Soho (GMA-7)

March 8

29.3%

9

Eat Bulaga! (GMA-7)

August 7

29.2%

10

Kapuso Mo, Jessica Soho (GMA-7)

March 15

29%

The high rating of Eat Bulaga (36.1%) was more than four times the rating of It's Showtime for the day: 8.8%.
The other episodes of Eat Bulaga during the given period also ranked high. The August 10 episode placed on sixth place, while the August 11 episode was in the No. 4 slot.
GMA-7 also led primetime with Pari 'Koy, its religion-themed drama starring Dingdong Dantes. This was after several weeks when ABS-CBN's Nathaniel and Pangako Sa 'Yo alternated on top of the charts.
Pari 'Koy will end on August 21 and will be replaced by Marimar, featuring Megan Young and Tom Rodriguez.
The Kapuso Network was also successful on August 9, Sunday, with the pilot of its variety program Sunday Pinasaya. The new Sunday noontime show got a rating of 22.7%, much higher than ASAP's 11.5%.
Sunday Pinasaya, which replaced Sunday All Stars, features Marian Rivera, Ai-Ai delas Alas, Alden Richards, Jose Manalo, Wally Bayola, Julie Ann San Jose and other comedians.
Wowowin also performed well in its earlier timeslot, as the Kapuso show hosted by Willie Revillame registered 22.3%.
Four new primetime programs debuted on the given period. Three were from GMA-7: Reply 1997, Beautiful Strangers and My Faithful Husband. ABS-CBN also aired the pilot of its new show: On the Wings of Love.
Reply 1997 is a nostalgic Korean drama that airs on early primetime. Its August 10 episode got 12.6%, higher than Pasion de Amor's 10.1%.
ADVERTISEMENT - CONTINUE READING BELOW
Beautiful Strangers was the replacement for Let the Love Begin. The pilot episode of the heavy drama that stars Lovi Poe and Heart Evangelista scored a TV rating of 21.4%, slightly lower than Pangako Sa 'Yo's 22.1%.
Lastly, My Faithful Husband's pilot episode earned 17.6%, against On the Wings of Love's 19.3%.
My Faithful Husband is an infidelity-themed drama that stars Jennylyn Mercado and Dennis Trillo. It is the replacement for The Rich Man's Daughter.
On the Wings of Love is also a new show. The Kapamilya romantic series that stars James Reid and Nadine Lustre replaced Bridges of Love.
Here are the comparative ratings of GMA-7, ABS-CBN, and TV5 programs from August 9-12,2015, according to AGB Nielsen Philippines survey of Mega Manila households:
--
August 9, 2015 (Sunday)
Daytime:
In Touch with Dr. Charles Stanley (GMA-7) .4%; Jesus The Healer (GMA-7) 1.2%; O Shopping (ABS-CBN) .5%; Shop Japan (TV5) .3%
Kapuso Sine Klasika: Andres de Saya (GMA-7) 4%; The Healing Eucharist (ABS-CBN) 4%; Misa Nazareno (TV5) 1.4%
Grimm's Fairy Tales (GMA-7) 7.3%; Swak na Swak (ABS-CBN) 2.8%; Power to Unite with Elvira (TV5) .7%
Kamen Rider Ooo (GMA-7) 8.8%; Pac-Man and the Ghostly Adventures (GMA-7) 9.3%; Dragon Ball Fight! (GMA-7) 10%; Salamat Dok (ABS-CBN) 3.2%; Henry Huggle Monster (TV5) 2%; Sofia the First (TV5) 4.3%
Aha! (GMA-7) 10.4%; Haikyu!! (ABS-CBN) 3.2%; Stitch! (TV5) 5.5%
Born To Be Wild (GMA-7) 10.2%; Super Book (ABS-CBN) 4.3%; Johnny Bravo (TV5) 3.7%
iBilib (ABS-CBN) 12.8%; Matanglawin (ABS-CBN) 6.8%; Ben 10 (TV5) 4.1%; Sword Art Online (TV5) 2.3%
Kapuso Movie Festival: Journey 2 the Mysterious Island (GMA-7) 21.3%; Pinoy Pride 32 Pagara Brother (ABS-CBN) 8.8%; Fushigi Yuugi TV5) 1.3%
Afternoon:
Del Monte Kitchenomics (GMA-7) 24.1%; Sunday Pinasaya (GMA-7) 22.7%; Wowowin (GMA-7) 22.3%; ASAP 20 (ABS-CBN) 11.5%; Happy Truck ng Bayan (TV5) 1.8%; Movie Max 5: Megamind (TV5) 4.8%
GMA Blockbusters: Superman Returns (GMA-7) 15.3%; Kapamilya Mega Blockbusters: My Little Bossings (ABS-CBN) 11.2%; Movie Max 5: Against the Dark (TV5) 4.6%
Alamat (GMA-7) 14.6%; Luv U (ABS-CBN) 9%; Movie Max 5: House of the Dead 2 (TV5) 5.6%
24 Oras Weekend (GMA-7) 18.8%; TV Patrol Weekend (ABS-CBN) 9.8%
ADVERTISEMENT - CONTINUE READING BELOW
Evening:
Vampire Ang Daddy Ko (GMA-7) 22.9%; Goin' Bulilit (ABS-CBN) 13.8%; Rise (TV5) 2.8%; Extra Rise Live (TV5) 1.8%
Ismol Family (GMA-7) 24.2%; Wansapanataym (ABS-CBN) 18.1%; No Harm No Foul (TV5) 3.5%
Kapuso Mo, Jessica Soho (GMA-7) 27.6%; The Voice Kids (ABS-CBN) 27.4%; Rated K: Handa Na Ba Kayo? (ABS-CBN) 15.5%; Who Wants to be a Millionaire (TV5) 2.2%; Misterless Misis (TV5) 1.1%
To The Top (GMA-7) 9.7%; Pinoy Big Brother 737 (ABS-CBN) 19.2%; Sports 360 (TV5) .5%
Sunday Night Box Office: URCC Domination (GMA-7) 4%; Gandang Gabi Vice (ABS-CBN) 16.9%; Sunday's Best: Vice GGSS (ABS-CBN) 8.5%; Demolition Job (TV5) .6%; History with Lourd (TV5) .4%
Diyos at Bayan (GMA-7) .7%; O Shopping (ABS-CBN) 2.1%; Shop Japan (TV5) .1%
--
August 10, 2015 (Monday)
Morning:
Power House Replay (GMA-7) 1.2%; O Shopping (ABS-CBN) .2%; Shop Japan (TV5) 0%
Unang Hirit! (GMA-7) 6.4%; San Miguel Pure Foods Home Foodie (GMA-7) 5.2%; Umagang Kay Ganda (ABS-CBN) 4%; Aksyon sa Umaga (TV5) .8%; Teacher's Pet (TV5) 1.1%; Teacher's Pet (TV5) 1.4%
One Piece (GMA-7) 5%; Fairytail (GMA-7) 5.5%; Bleach (GMA-7) 6.4%; Magi the Kingdom of Magic (GMA-7) 7.5%; Kris TV (ABS-CBN) 6.3%; Jake and the Neverland Pirates (TV5) 2.1%; Phineas and Ferb (TV5) 3%; Hi-5 (TV5) 2.5%
Knock Out (GMA-7) 8.1%; Naruto Shippuuden (ABS-CBN) 4.2%; Movie Max 5: The Parent Trap II (TV5) 2.2%
The Master's Sun (GMA-7) 8.6%; Two Mothers (GMA-7) 11.8%; The King's Doctor (GMA-7) 13%; Kapamilya Blockbusters: Tekken (ABS-CBN) 9.6%; Happy Wife Happy Life (TV5) 1.6%; Showbiz Konek na Konek (TV5) 1.5%
The Ryzza Mae Show (GMA-7) 15.9%; Ningning (ABS-CBN) 11.1%; Aksyon sa Tanghali (TV5) 2.8%
Afternoon:
Eat Bulaga!(GMA-7) 30.7%; It's Showtime (ABS-CBN) 11.1%; Movie Max 5: The Animal (TV5) 3%; Hi-5 (TV5) 1.1%; Kenichi the Mightiest DiscipIe (TV5) 1.7%
The Half Sisters (GMA-7) 22%; Flordeliza (ABS-CBN) 10%; Transformers Animated (TV5) 1.8%
Buena Familia (GMA-7) 15.6%; Nasaan Ka Nang Kailangan Kita (ABS-CBN) 9.7%; Marvel Hulk and the Agents of Smash (TV5) 2.1%; X-Men (TV5) 2.3%
Healing Hearts (GMA-7) 15.1%; Pinoy Big Brother 737 Gold (ABS-CBN) 6.6%; Mission Possible (ABS-CBN) 5.1%; Movie Max 5: Crystal Skulls (TV5) 4.2%
Alisto! (GMA-7) 12.9%; Birth of a Beauty (GMA-7) 10.3%; Kapamilya Deal or No Deal (ABS-CBN) 7.5%
Evening:
Reply 1997 (GMA-7) 12.6%; Pasion de Amor (ABS-CBN) 10.1%; Aksyon (TV5) 4%
24 Oras (GMA-7) 22.1%; TV Patrol (ABS-CBN) 15.2%; Movie Max 5: The Bourne Supremacy (TV5) 6.2%
ADVERTISEMENT - CONTINUE READING BELOW
Pari 'Koy (GMA-7) 23.4%; Nathaniel (ABS-CBN) 19.3%
Beautiful Strangers (GMA-7) 21.4%; Pangako Sa 'Yo (ABS-CBN) 22.1%; Wattpad Presents (TV5) 3.4%
My Faithful Husband (GMA-7) 17.6%; On the Wings of Love (ABS-CBN) 19.3%; Baker King (TV5) 3.8%
Pinocchio (GMA-7) 11.6%; Pinoy Big Brother 737 (ABS-CBN) 12.7%; Aquino & Abunda Tonight (ABS-CBN) 7.6%; Supernatural (TV5) 4%; Aksyon Tonite (TV5) 2.4%
Saksi (GMA-7) 8.2%; Bandila (ABS-CBN) 4.5%; Reaksyon (TV5) 1.5%; The Medyo Late Night Show (TV5) .8%
Front Row (GMA-7) 5%; Mukha (ABS-CBN) 2.3%; O Shopping (ABS-CBN) 1%; Shop Japan (TV5) .1%
--
August 11, 2015 (Tuesday)
Morning:
i-Witness Replay (GMA-7) 1%; O Shopping (ABS-CBN) .1%; Shop Japan (TV5) .1%
Unang Hirit! (GMA-7) 5%; Umagang Kay Ganda (ABS-CBN) 3%; Aksyon sa Umaga (TV5) .8%; Teacher's Pet (TV5) .9%; Teacher's Pet (TV5) 1.6%
San Miguel Pure Foods Home Foodie (GMA-7) 5.9%; One Piece (GMA-7) 5.9%; Fairytail (GMA-7) 6%; Bleach (GMA-7) 7.1%; Kris TV (ABS-CBN) 5.1%; Jake and the Neverland Pirates (TV5) 2.2%; Phineas and Ferb (TV5) 3.4%; Hi-5 (TV5) 2.8%
Magi the Kingdom of Magic (GMA-7) 7.2%; Knock Out (GMA-7) 8.2%; Naruto Shippuuden (ABS-CBN) 3.9%; Movie Max 5: Zenon: Z3 (TV5) 2.1%
The Master's Sun (GMA-7) 9%; Two Mothers (GMA-7) 12.3%; The King's Doctor (GMA-7) 13%; Kapamilya Blockbusters: Abduction (ABS-CBN) 9.4%; Happy Wife Happy Life (TV5) 1.5%; Showbiz Konek na Konek (TV5) 1.8%
The Ryzza Mae Show (GMA-7) 16.5%; Ningning (ABS-CBN) 11.3%; Aksyon sa Tanghali (TV5) 2.4%
Afternoon:
Eat Bulaga!(GMA-7) 31.6%; It's Showtime (ABS-CBN) 9%; Movie Max 5: The Addams Family (TV5) 2%; Hi-5 (TV5) .8%; Kenichi the Mightiest DiscipIe (TV5) 1.8%
The Half Sisters (GMA-7) 22.8%; Flordeliza (ABS-CBN) 8.9%; Transformers Animated (TV5) 1.5%
Buena Familia (GMA-7) 16.6%; Nasaan Ka Nang Kailangan Kita (ABS-CBN) 8.9%; Pinoy Big Brother 737 Gold (ABS-CBN) 6.6%; Marvel Hulk and the Agents of Smash (TV5) 2.3%; X-Men (TV5) 2.1%
Healing Hearts (GMA-7) 14.6%; My Puhunan (ABS-CBN) 5.7%; Movie Max 5: Deadly Descent (TV5) 3.5%
Tunay na Buhay (GMA-7) 11.1%; Birth of a Beauty (GMA-7) 10.1%; Kapamilya Deal or No Deal (ABS-CBN) 8.6%
Evening:
Reply 1997 (GMA-7) 10.9%; Pasion de Amor (ABS-CBN) 10.1%; Aksyon (TV5) 4.3%
24 Oras (GMA-7) 23%; TV Patrol (ABS-CBN) 15.3%; Movie Max 5: Vampires: Los Muertos (TV5) 6.5%
Pari 'Koy (GMA-7) 24.5%; Nathaniel (ABS-CBN) 20.1%
Beautiful Strangers (GMA-7) 20.6%; Pangako Sa 'Yo (ABS-CBN) 22%; Wattpad Presents (TV5) 4.2%
My Faithful Husband (GMA-7) 17.4%; On the Wings of Love (ABS-CBN) 18.6%; Baker King (TV5) 4.1%
ADVERTISEMENT - CONTINUE READING BELOW
Pinocchio (GMA-7) 11.1%;Pinoy Big Brother 737 (ABS-CBN) 13%; Aquino & Abunda Tonight (ABS-CBN) 7.1%; Supernatural (TV5) 3.8%; Aksyon Tonite (TV5) 1.6%
Saksi (GMA-7) 7.7%; Bandila (ABS-CBN) 4.1%; Reaksyon (TV5) .8%; The Medyo Late Night Show (TV5) .7%
Stan Lee's Superhumans (GMA-7) 4.2%; Banana Nite (ABS-CBN) 2.9%; O Shopping (ABS-CBN) 1.4%; Shop Japan (TV5) .2%
--
August 12, 2015 (Wednesday)
Morning:
Tunay na Buhay Replay (GMA-7) 1.4%; O Shopping (ABS-CBN) .3%; Shop Japan (TV5) .1%
Unang Hirit! (GMA-7) 4.7%; San Miguel Pure Foods Home Foodie (GMA-7) 4.2%; Umagang Kay Ganda (ABS-CBN) 3%; Aksyon sa Umaga (TV5) .6%; Teacher's Pet (TV5) 1.5%; Teacher's Pet (TV5) 2%
One Piece (GMA-7) 4.2%; Fairytail (GMA-7) 5.4%;Bleach (GMA-7) 5.9%; Kris TV (ABS-CBN) 4.4%; Jake and the Neverland Pirates (TV5) 3.1%; Phineas and Ferb (TV5) 3.6%; Hi-5 (TV5) 3.9%
Magi the Kingdom of Magic (GMA-7) 8.6%; Knock Out (GMA-7) 9.4%; Naruto Shippuuden (ABS-CBN) 4%; Movie Max 5: Don't Look Under the Bed (TV5) 3.2%
The Master's Sun (GMA-7) 9.9%; Two Mothers (GMA-7) 13%; The King's Doctor (GMA-7) 14.1%; Kapamilya Blockbusters: Once Upon a Time in China & America (ABS-CBN) 8%; Happy Wife Happy Life (TV5) 1.4%; Showbiz Konek na Konek (TV5) 1.6%
The Ryzza Mae Show (GMA-7) 16.7%; Ningning (ABS-CBN) 11.3%; Aksyon sa Tanghali (TV5) 2.5%
Afternoon:
Eat Bulaga!(GMA-7) 36.1%; It's Showtime (ABS-CBN) 8.8%; Movie Max 5: Red Dragon (TV5) 2.5%; Hi-5 (TV5) .9%; Kenichi the Mightiest DiscipIe (TV5) 1.5%
The Half Sisters (GMA-7) 23.5%; Flordeliza (ABS-CBN) 9.7%; Transformers Animated (TV5) 2.6%
Buena Familia (GMA-7) 18%; Nasaan Ka Nang Kailangan Kita (ABS-CBN) 9.1%; Marvel Hulk and the Agents of Smash (TV5) 2.5%; X-Men (TV5) 2.1%
Healing Hearts (GMA-7) 17%; Pinoy Big Brother 737 Gold (ABS-CBN) 6.7%; Red Alert (ABS-CBN) 5.6%; Movie Max 5: Firequake (TV5) 3.6%
Power House (GMA-7) 12.7%; Birth of a Beauty (GMA-7) 11%; Kapamilya Deal or No Deal (ABS-CBN) 8.9%
Evening:
Reply 1997 (GMA-7) 12.3%; Pasion de Amor (ABS-CBN) 11%; Aksyon (TV5) 4.5%
24 Oras (GMA-7) 23.8%; TV Patrol (ABS-CBN) 15.8%; Movie Max 5: Mercury Rising (TV5) 7.2%
Pari 'Koy (GMA-7) 25.1%; Nathaniel (ABS-CBN) 19.7%
Beautiful Strangers (GMA-7) 21%; Pangako Sa 'Yo (ABS-CBN) 22.1%; Wattpad Presents (TV5) 3.5%
My Faithful Husband (GMA-7) 17%;On the Wings of Love (ABS-CBN) 17.8%; Baker King (TV5) 3.8%
Pinocchio (GMA-7) 10.8%;Pinoy Big Brother 737 (ABS-CBN) 11.9%; Aquino & Abunda Tonight (ABS-CBN) 6.8%; Supernatural (TV5) 4%; Aksyon Tonite (TV5) 1.9%
ADVERTISEMENT - CONTINUE READING BELOW
Saksi (GMA-7) 7.7%; Bandila (ABS-CBN) 4.1%; Reaksyon (TV5) .7%; The Medyo Late Night Show (TV5) .4%
Planet Earth (GMA-7) 5.4%; Banana Nite (ABS-CBN) 2%; O Shopping (ABS-CBN) 1.1%; Shop Japan (TV5) .2%
--
TOP TEN PROGRAMS:
August 9, 2015 (Sunday)
DAYTIME:
Del Monte Kitchenomics (GMA-7) - 24.1%
Sunday Pinasaya (GMA-7) - 22.7%
Wowowin (GMA-7) - 22.3%
Kapuso Movie Festival (GMA-7) - 21.3%
24 Oras Weekend (GMA-7) - 18.8%
GMA Blockbusters (GMA-7) - 15.3%
Alamat (GMA-7) - 14.6%
iBilib (GMA-7) - 12.8%
ASAP (ABS-CBN) – 11.5%
Kapamilya Mega Blockbusters: Sisterakas (ABS-CBN) – 11.2%
PRIMETIME:
Kapuso Mo, Jessica Soho (GMA-7) - 27.6%
The Voice Kids (ABS-CBN) – 27.4%
Ismol Family (GMA-7) - 24.2%
Vampire Ang Daddy Ko (GMA-7) - 22.9%
Pinoy Big Brother 737 (ABS-CBN) - 19.2%
Wansapanataym (ABS-CBN) - 18.1%
Gandang Gabi Vice (ABS-CBN) – 16.9%
Rated K(ABS-CBN) – 15.5%
Goin' Bulilit (ABS-CBN) – 13.8%
To The Top(GMA-7) - 9.7%
August 10, 2015 (Monday)
DAYTIME:
Eat Bulaga! (GMA-7) – 30.7%
The Half Sisters (GMA-7) - 22%
The Ryzza Mae Show(GMA-7) - 15.9%
Buena Familia(GMA-7) – 15.6%
Healing Hearts(GMA-7) – 15.1%
The King's Doctor(GMA-7) - 13%
Alisto!(GMA-7) - 12.9%
Two Mothers(GMA-7) -11.8%
Ningning (ABS-CBN) / It's Showtime(ABS-CBN) - 11.1%
Birth of a Beauty(GMA-7) - 10.3%
PRIMETIME:
Pari 'Koy(GMA-7) – 23.4%
24 Oras(GMA-7) /Pangako Sa 'Yo (ABS-CBN) – 22.1%
Beautiful Strangers (GMA-7) - 21.4%
Nathaniel (ABS-CBN) / On the Wings of Love (ABS-CBN) - 19.3%
My Faithful Husband (GMA-7) - 17.6%
TV Patrol (ABS-CBN) – 15.2%
Pinoy Big Brother 737 (ABS-CBN) - 12.7%
Reply 1997 (GMA-7) - 12.6%
Pinocchio (GMA-7) - 11.6%
Pasion de Amor (ABS-CBN) – 10.1%
August 11, 2015 (Tuesday)
DAYTIME:
Eat Bulaga! (GMA-7) – 31.6%
The Half Sisters (GMA-7) – 22.8%
Buena Familia(GMA-7) – 16.6%
The Ryzza Mae Show(GMA-7) - 16.5%
Healing Hearts(GMA-7) – 14.6%
The King's Doctor(GMA-7) - 13%
Two Mothers(GMA-7) - 12.3%
Ningning (ABS-CBN) - 11.3%
Tunay na Buhay(GMA-7) - 11.1%
Birth of a Beauty(GMA-7) - 10.1%
PRIMETIME:
Pari 'Koy (GMA-7) – 24.5%
24 Oras(GMA-7) - 23%
Pangako Sa 'Yo (ABS-CBN) – 22%
Beautiful Strangers (GMA-7) - 20.6%
Nathaniel (ABS-CBN) - 20.1%
On the Wings of Love (ABS-CBN) - 18.6%
TV Patrol (ABS-CBN) – 15.3%
Pinoy Big Brother 737 (ABS-CBN) - 13%
My Faithful Husband (GMA-7) - 11.4%
Pinocchio (GMA-7) - 11.1%
August 12, 2015 (Wednesday)
DAYTIME:
Eat Bulaga! (GMA-7) – 36.1%
The Half Sisters (GMA-7) - 23.5%
Buena Familia(GMA-7) – 18%
Healing Hearts(GMA-7) - 17%
The Ryzza Mae Show(GMA-7) - 16.7%
The King's Doctor(GMA-7) - 14.1%
Two Mothers(GMA-7) - 13%
Power House(GMA-7) - 12.7%
Ningning (ABS-CBN) - 11.3%
Birth of a Beauty(GMA-7) - 11%
PRIMETIME:
Pari 'Koy (GMA-7) – 25.1%
24 Oras(GMA-7) – 23.8%
Pangako Sa 'Yo (ABS-CBN) – 22.1%
Beautiful Strangers (GMA-7) - 21%
Nathaniel (ABS-CBN) - 19.7%
On the Wings of Love (ABS-CBN) - 17.8%
My Faithful Husband (GMA-7) - 17%
TV Patrol (ABS-CBN) – 15.8%
Reply 1997 (GMA-7) - 12.3%
Pinoy Big Brother 737 (ABS-CBN) - 11.9%
Source: AGB Nielsen Philippines