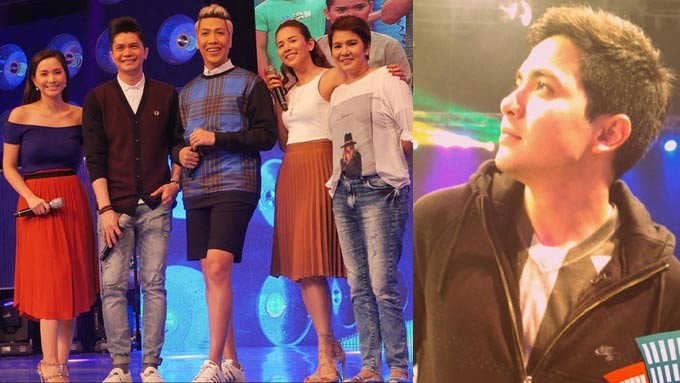 ---

Here are the highlights of the comparative ratings of GMA-7, ABS-CBN and TV5 programs from January 18-24, 2016 in Mega Manila.
Several shows premiered during the given period.
ABS-CBN had two: Be My Lady and Pilipinas Got Talent.
Be My Lady debuted on January 18 as the replacement to Ningning. The daytime romantic drama features real-life couple Daniel Matsunaga and Erich Gonzales.
The pilot episode rated 11.3%, a few points lower than the 11.9% scored by GMA-7's The Ryzza Mae Show: Princess in the Palace. Be My Lady also lost to the Kapuso family drama until Thursday, and only gained the lead on Friday: 13.1% to 12%.
The fifth season of ABS-CBN's talent search Pilipinas Got Talent opened on January 23 with a new set of judges: Vice Ganda, Robin Padilla, Angel Locsin, and Freddie Garcia. The first episode got a Mega Manila TV rating of 18.3%, beating Celebrity Bluff's 17.5%.
The second episode of PGT5 on Sunday, January 24, received 20.4%, defeating GMA-7's Wanted: President, which only earned 15.9%.
Wanted: President is a special news and public affairs series that features interviews with presidential candidates in the next elections. The January 24 episode, the first in the series, aired an interview with Vice President Jejomar Binay.
Another Kapuso show that started during the given period was Wish I May, a romantic family drama that replaced The Half Sisters. It stars Miguel Tanfelix and Bianca Umali.
The first episode on January 18 rated 17.1%, almost double the 9% rating of ABS-CBN's Doble Kara.
GMA-7 continued to be the leading network for daytime, on both weekdays and weekends. The leading show was still Eat Bulaga from Monday to Saturday, while Sunday Pinasaya was number one on Sunday.
ADVERTISEMENT - CONTINUE READING BELOW
It should be noted that this given period was good for It's Showtime because it is the week when they have double-digit ratings for the whole week. This has never happened since the AlDub love team on Eat Bulaga! became popular on July 2015.
ABS-CBN performed well on weekday primetime. Last week, FPJ's Ang Probinsyano only ranked as the third most-watched show on primetime. It jumped to No. 1 this week, perhaps due to the popularity of Paloma, Coco Martin's female disguise in the show.
FPJ's Ang Probinsyano was the No. 1 most-watched program in Mega Manila on January 18, 20, 21 and 22. It also got a good lead against GMA-7's Little Nanay, which stars Kris Bernal and Nora Aunor. The January 18 ratings, for instance, were 23.2% for FPJ's Ang Probinsyano, a 2-point lead against Little Nanay's 21.2%.
Here are comparative ratings of GMA-7, ABS-CBN and TV5 programs from January 18-24, 2016, according to AGB Nielsen Philippines from Mega Manila households.
--
January 18, 2015 (Monday)
Morning:
Power House Replay (GMA-7) 1%; O Shopping (ABS-CBN) .2%; Shop Japan (TV5) .1%
Unang Hirit! (GMA-7) 4.6%; San Miguel Pure Foods Home Foodie (GMA-7) 5.1%; Umagang Kay Ganda (ABS-CBN) 3.1%; Aksyon sa Umaga (TV5) .7%; Handy Manny (TV5) 1.5%; Handy Manny (TV5) 2%
Doraemon (GMA-7) 5.3%; Pokemon XY (GMA-7) 6%; Ring ni Kakero (GMA-7) 5.7%; Kris TV (ABS-CBN) 4.1%; Jake and the Neverland Pirates (TV5) 2.1%; Fish Hooks (TV5) 2.3%; Hi-5 (TV5) 1.7%
Detective Conan (GMA-7) 6.8%; Mr. Bean (ABS-CBN) 3.8%; The Looney Tunes Show (TV5) 1.9%
Dragon Ball Z (GMA-7) 7.6%; Someone Like You (GMA-7) 6.3%; Ice Adonis (GMA-7) 7.3%; Dangwa (GMA-7) 7.9%; Kapamilya Blockbusters: The Amazing Praybeyt Benjamin (ABS-CBN) 8.6%; The Tom & Jerry Show (TV5) 2.3%; Scooby-Doo! Mystery Inc. (TV5) 1.9%; Madam Chairman (TV5) 1.3%; Amachan (TV5) 1.1%; Hallo2 Cafe (TV5) 1.1%
ADVERTISEMENT - CONTINUE READING BELOW
The Ryzza Mae Show: Princess in the Palace (GMA-7) 11.9%; Be My Lady (ABS-CBN) 11.3%; Aksyon sa Tanghali (TV5) 2.1%
Afternoon:
Eat Bulaga! (GMA-7) 23.7%; It's Showtime (ABS-CBN) 10%; Movie Max 5: Balls of Fury (TV5) 3.1%; Star Wars the Clone Wars (TV5) 2%; X-Men (TV5) 1.9%
Wish I May (GMA-7) 17.1%; Doble Kara (ABS-CBN) 9%; Transformers Prime (TV5) 1.9%
Buena Familia (GMA-7) 15.4%; All Of Me (ABS-CBN) 6.8%; Supernatural (TV5) 2.3%
Destiny Rose (GMA-7) 14.8%; And I Love You So (ABS-CBN) 6.1%; UFC Fight Night (TV5) 2.6%
Alisto! (GMA-7) 11.5%; Kapamilya Deal or No Deal (ABS-CBN) 8.4%
Evening:
The Producers (GMA-7) 13.7%; Pasion de Amor (ABS-CBN) 11.5%; Aksyon (TV5) 3.2%
24 Oras (GMA-7) 22.7%; TV Patrol (ABS-CBN) 17%; Movie Max 5: Walking Tall (TV5) 5.2%
Little Nanay (GMA-7) 21.2%; FPJ's Ang Probinsyano (ABS-CBN) 23.2%
Because of You (GMA-7) 21%; Pangako Sa 'Yo (ABS-CBN) 19.3%
Kapuso Primetime Cinema: The Road (GMA-7) 16.5%; On the Wings of Love (ABS-CBN) 12.8%; You're My Home (ABS-CBN) 8%; Wattpad Presents (TV5) 1.5%; Wattpad Presents (TV5) 1.4%; Amachan (TV5) 1%; Hallo2 Cafe (TV5) .8%
Temptation (GMA-7) 11.9%; Tonight with Boy Abunda (ABS-CBN) 5%; Aksyon Tonite (TV5) 1%
Saksi (GMA-7) 8%; Front Row (GMA-7) 5%; Bandila (ABS-CBN) 3%; Reaksyon (TV5) .6%; Demolition Job (TV5) .7%
The 700 Club Asia (GMA-7) 2.9%; Mission Possible (ABS-CBN) 2%; Shop Japan (TV5) .1%
Shop TV (GMA-7) 1.5%; O Shopping (ABS-CBN) .9%
--
January 19, 2015 (Tuesday)
Morning:
i-Witness Replay (GMA-7) .9%; O Shopping (ABS-CBN) .4%; Shop Japan (TV5) 0%
Unang Hirit! (GMA-7) 5.3%; San Miguel Pure Foods Home Foodie (GMA-7) 4.2%; Umagang Kay Ganda (ABS-CBN) 2.9%; Aksyon sa Umaga (TV5) .4%; Handy Manny (TV5) .8%; Handy Manny (TV5) 1.5%
Doraemon (GMA-7) 4.2%; Pokemon Black and White (GMA-7) 5.6%; Ring ni Kakero (GMA-7) 6.8%; Kris TV (ABS-CBN) 4.8%; Jake and the Neverland Pirates (TV5) 2.5%; Fish Hooks (TV5) 2.7%; Hi-5 (TV5) 2.4%
Detective Conan (GMA-7) 7.7%; Mr. Bean (ABS-CBN) 4.2%; The Looney Tunes Show (TV5) 2.7%
ADVERTISEMENT - CONTINUE READING BELOW
Dragon Ball Z (GMA-7) 9.1%; Someone Like You (GMA-7) 7.8%; Ice Adonis (GMA-7) 8.9%; Dangwa (GMA-7) 9.2%; Kapamilya Blockbusters: Shake Rattle and Roll XIV (ABS-CBN) 9.3%; The Tom & Jerry Show (TV5) 3.3%; Scooby-Doo! Mystery Inc. (TV5) 2.8%; Madam Chairman (TV5) 1.7%; Amachan (TV5) 1.4%; Hallo2 Cafe (TV5) .9%
The Ryzza Mae Show: Princess in the Palace (GMA-7) 12.3%; Be My Lady (ABS-CBN)11.4%; Aksyon sa Tanghali (TV5) 2.1%
Afternoon:
Eat Bulaga! (GMA-7) 22.6%; It's Showtime (ABS-CBN) 10.7%; Movie Max 5: In the Line of Fire (TV5) 3.3%; Star Wars the Clone Wars (TV5) 1.9%; X-Men (TV5) 1.7%
Wish I May (GMA-7) 15.9%; Doble Kara (ABS-CBN) 9.6%; Transformers Prime (TV5) 1.9%
Buena Familia (GMA-7) 14%; All Of Me (ABS-CBN) 7.2%; Supernatural (TV5) 2%
Destiny Rose (GMA-7) 12.9%; And I Love You So (ABS-CBN) 6.3%; Movie Max 5: The Day the Earth Stopped (TV5) 3.4%
Tunay na Buhay (GMA-7) 10%; Kapamilya Deal or No Deal (ABS-CBN) 8.4%
Evening:
The Producers (GMA-7) 13%; Pasion de Amor (ABS-CBN) 10.9%; Aksyon (TV5) 4.5%
24 Oras (GMA-7) 21.5%; TV Patrol (ABS-CBN) 16%; Smart Bro PBA 2016 Philippine Cup Finals: Alaska vs San Miguel Beermen (TV5) 9.3%
Little Nanay (GMA-7) 19.9%; FPJ's Ang Probinsyano (ABS-CBN) 20.8%
Because of You (GMA-7) 18.3%; Pangako Sa 'Yo (ABS-CBN) 16.3%
Kapuso Primetime Cinema: Love on Line (GMA-7) 18.6%; On the Wings of Love (ABS-CBN) 13.1%; You're My Home (ABS-CBN) 8.3%; Wattpad Presents (TV5) 2.2%; Wattpad Presents (TV5) 1%; Amachan (TV5) 1.3%; Hallo2 Cafe (TV5) 1%
Temptation (GMA-7) 12.7%; Tonight with Boy Abunda (ABS-CBN) 4.9%; Aksyon Tonite (TV5) 1.6%
Saksi (GMA-7) 9.1%; Stan Lee's Superhumans (GMA-7) 5.7%; Bandila (ABS-CBN) 3.4%; Reaksyon (TV5) .9%
The 700 Club Asia (GMA-7) 2.9%; My Puhunan (ABS-CBN) 2.2%; Shop Japan (TV5) .3%
Shop TV (GMA-7) 1%; O Shopping (ABS-CBN) .9%
--
January 20, 2015 (Wednesday)
Morning:
Tunay na Buhay Replay (GMA-7) .9%; O Shopping (ABS-CBN) .2%; Shop Japan (TV5) 0%
Unang Hirit! (GMA-7) 5.2%; San Miguel Pure Foods Home Foodie (GMA-7) 6.1%; Umagang Kay Ganda (ABS-CBN) 3.1%; Aksyon sa Umaga (TV5) .9%; Handy Manny (TV5) 1.3%; Handy Manny (TV5) 2%
ADVERTISEMENT - CONTINUE READING BELOW
Doraemon (GMA-7) 5.9%; Pokemon Black and White (GMA-7) 7.7%; Ring ni Kakero (GMA-7) 7.5%; Kris TV (ABS-CBN) 4.9%; Jake and the Neverland Pirates (TV5) 2.6%; Fish Hooks (TV5) 2.1%; Hi-5 (TV5) 2%
Detective Conan (GMA-7) 8.5%; Mr. Bean (ABS-CBN) 5%; The Looney Tunes Show (TV5) 2.3%
Dragon Ball Z (GMA-7) 8.9%; Someone Like You (GMA-7) 7.2%; Ice Adonis (GMA-7) 8.4%; Dangwa (GMA-7) 9.4%; Kapamilya Blockbusters: She's Dating the Gangster (ABS-CBN) 9.4%; The Tom & Jerry Show (TV5) 2.8%; Scooby-Doo! Mystery Inc. (TV5) 2.8%; Madam Chairman (TV5) 1.3%; Amachan (TV5) 1.5%; Hallo2 Cafe (TV5) 1.1%
The Ryzza Mae Show: Princess in the Palace (GMA-7) 12.4%; Be My Lady (ABS-CBN) 10.9%; Aksyon sa Tanghali (TV5) 1.6%
Afternoon:
Eat Bulaga! (GMA-7) 22.6%; It's Showtime (ABS-CBN) 11.4%; Movie Max 5: I Still Know What You Did Last Summer (TV5) 2.3%; Star Wars the Clone Wars (TV5) 1.6%; X-Men (TV5) 1.4%
Wish I May (GMA-7) 16.9%; Doble Kara (ABS-CBN) 10.5%; Transformers Prime (TV5) 1.8%
Buena Familia (GMA-7) 14.7%; All Of Me (ABS-CBN) 8.8%; Supernatural (TV5) 2.3%
Destiny Rose (GMA-7) 12.8%; And I Love You So (ABS-CBN) 7.5%; Movie Max 5: Super Cyclone (TV5) 2.7%
Power House (GMA-7) 8.3%; Kapamilya Deal or No Deal (ABS-CBN) 9%
Evening:
The Producers (GMA-7) 11.4%; Pasion de Amor (ABS-CBN) 11.9%; Aksyon (TV5) 4.8%
24 Oras (GMA-7) 20.2%; TV Patrol (ABS-CBN) 16.2%; Movie Max 5: The Fast and the Furious Tokyo Drift (TV5) 5.3%
Little Nanay (GMA-7) 21.2%; FPJ's Ang Probinsyano (ABS-CBN) 22.6%
Because of You (GMA-7) 21.1%; Pangako Sa 'Yo (ABS-CBN) 18.3%; Wattpad Presents (TV5) 2.1%
Kapuso Primetime Cinema: Instant Mommy (GMA-7) 14.4%; On the Wings of Love (ABS-CBN) 13.8%; You're My Home (ABS-CBN) 8.6%; Wattpad Presents (TV5) 1.4%; Amachan (TV5) 1%; Hallo2 Cafe (TV5) .6%
Temptation (GMA-7) 9.9%; Tonight with Boy Abunda (ABS-CBN) 5.7%; Aksyon Tonite (TV5) 1.4%; Reaksyon (TV5) .9%
Saksi (GMA-7) 6.4%; Serial Killer Earth (GMA-7) 4.9%; Bandila (ABS-CBN) 3.9%; History with Lourd (TV5) .6%
ADVERTISEMENT - CONTINUE READING BELOW
The 700 Club Asia (GMA-7) 2.4%; Red Alert (ABS-CBN) 2%; Shop Japan (TV5) .2%
Shop TV (GMA-7) 1.1%; O Shopping (ABS-CBN) .5%
--
January 21, 2015 (Thursday)
Morning:
Born to be Wild Replay (GMA-7) .9%; O Shopping (ABS-CBN) .2%; Shop Japan (TV5) 0%
Unang Hirit! (GMA-7) 5%; Umagang Kay Ganda (ABS-CBN) 3.3%; Aksyon sa Umaga (TV5) .7%; Handy Manny (TV5) 1.7%; Handy Manny (TV5) 2.5%
Doraemon (GMA-7) 6.4%; Pokemon Black and White (GMA-7) 6.9%; Ring ni Kakero (GMA-7) 6.5%; Kris TV (ABS-CBN) 5.1%; Jake and the Neverland Pirates (TV5) 2.7%; Fish Hooks (TV5) 2.3%; Hi-5 (TV5) 1.9%
Detective Conan (GMA-7) 8.1%; Mr. Bean (ABS-CBN) 4.1%; The Looney Tunes Show (TV5) 1.8%
Dragon Ball Z (GMA-7) 9.1%; Someone Like You (GMA-7) 7.8%; Ice Adonis (GMA-7) 8.5%; Dangwa (GMA-7) 8.6%; Kapamilya Blockbusters: Diary ng Panget (ABS-CBN) 10%; The Tom & Jerry Show (TV5) 2.8%; Scooby-Doo! Mystery Inc. (TV5) 2.4%; Madam Chairman (TV5) 1.5%; Amachan (TV5) 1.3%; Hallo2 Cafe (TV5) 1%
The Ryzza Mae Show: Princess in the Palace (GMA-7) 12.1%; Be My Lady (ABS-CBN) 11.6%; Aksyon sa Tanghali (TV5) 1.8%
Afternoon:
Eat Bulaga! (GMA-7) 23.1%; It's Showtime (ABS-CBN) 10.4%; Movie Max 5: Crash Landing (TV5) 3.2%; Star Wars the Clone Wars (TV5) 1.4%; X-Men (TV5) 1.3%
Wish I May (GMA-7) 17.3%; Doble Kara (ABS-CBN) 9.9%; Transformers Prime (TV5) 1.9%
Buena Familia (GMA-7) 14.9%; All Of Me (ABS-CBN) 8.6%; Supernatural (TV5) 2.8%
Destiny Rose (GMA-7) 13.6%; And I Love You So (ABS-CBN) 6.4%; Movie Max 5: Special Ops (TV5) 3.6%
Reporter's Notebook (GMA-7) 9.4%; Kapamilya Deal or No Deal (ABS-CBN) 7.2%
Evening:
The Producers (GMA-7) 11.1%; Pasion de Amor (ABS-CBN) 9.9%; Aksyon (TV5) 4.4%
24 Oras (GMA-7) 21.1%; TV Patrol (ABS-CBN) 16.8%; Movie Max 5: Con Air (TV5) 4.3%
Little Nanay (GMA-7) 22.3%; FPJ's Ang Probinsyano (ABS-CBN) 23.9%
Because of You (GMA-7) 22.8%; Pangako Sa 'Yo (ABS-CBN) 18.7%; Wattpad Presents (TV5) 1.5%; Wattpad Presents (TV5) 1.2%
Kapuso Primetime Cinema: Kubot the Aswang Chronicles 2 (GMA-7) 17.6%; On the Wings of Love (ABS-CBN) 13.3%; You're My Home (ABS-CBN) 7.7%; Amachan (TV5) 1%; Hallo2 Cafe (TV5) .8%
ADVERTISEMENT - CONTINUE READING BELOW
Temptation (GMA-7) 11.6%; Tonight with Boy Abunda (ABS-CBN) 5.2%; Aksyon Tonite (TV5) 1.1%; Reaksyon (TV5) 1.1%
Saksi (GMA-7) 8.2%; Big History (ABS-CBN) 5%; Bandila (ABS-CBN) 3%; Unang Tikim (TV5) .5%; Unang Tikim (TV5) .5%
The 700 Club Asia (GMA-7) 2.7%; Sports U (ABS-CBN) 1.9%; Shop Japan (TV5) .1%
Shop TV (GMA-7) 1.4%; O Shopping (ABS-CBN) .7%
--
January 22, 2015 (Friday)
Morning:
Alisto! Replay (GMA-7) 1.3%; O Shopping (ABS-CBN) .2%; Shop Japan (TV5) 0%
Unang Hirit! (GMA-7) 4.8%; Umagang Kay Ganda (ABS-CBN) 3.2%; Aksyon sa Umaga (TV5) .7%; Handy Manny (TV5) 1.3%; Handy Manny (TV5) 1.6%
Doraemon (GMA-7) 5.9%; Pokemon Black and White (GMA-7) 6.5%; Ring ni Kakero (GMA-7) 6.6%; Kris TV (ABS-CBN) 5.4%; Jake and the Neverland Pirates (TV5) 1.9%; Fish Hooks (TV5) 2.6%; Hi-5 (TV5) 2.1%
Detective Conan (GMA-7) 7.8%; Mr. Bean (ABS-CBN) 4.8%; The Looney Tunes Show (TV5) 2.5%
Dragon Ball Z (GMA-7) 8.7%; Someone Like You (GMA-7) 7.6%; Ice Adonis (GMA-7) 8.3%; Dangwa (GMA-7) 9%; Kapamilya Blockbusters: Dilim (ABS-CBN) 10.4%; The Tom & Jerry Show (TV5) 3%; Scooby-Doo! Mystery Inc (TV5) 2.3%; Madam Chairman (TV5) 1.4%; Amachan (TV5) 1.6%; Hallo2 Cafe (TV5) 1.5%
The Ryzza Mae Show: Princess in the Palace (GMA-7) 12%; Be My Lady (ABS-CBN) 13.1%; Aksyon sa Tanghali (TV5) 2.1%
Afternoon:
Eat Bulaga! (GMA-7) 22.8%; It's Showtime (ABS-CBN) 11.7%; Movie Max 5: Airport 77 (TV5) 2.4%; Star Wars the Clone Wars (TV5) 2%; X-Men (TV5) 2.2%
Wish I May (GMA-7) 16.7%; Doble Kara (ABS-CBN) 10.4%; Transformers Prime (TV5) 2.3%
Buena Familia (GMA-7) 14.9%; All Of Me (ABS-CBN) 9%; Supernatural (TV5) 2.1%
Destiny Rose (GMA-7) 12.4%; And I Love You So (ABS-CBN) 6.7%; Movie Max 5: Airplane vs Volcano (TV5) 3.5%
Love Hotline (GMA-7) 10.5%; Kapamilya Deal or No Deal (ABS-CBN) 7.7%
Evening:
The Producers (GMA-7) 12%; Pasion de Amor (ABS-CBN) 10.2%; Aksyon (TV5) 4.8%
24 Oras (GMA-7) 21.5%; TV Patrol (ABS-CBN) 16.3%; Smart Bro PBA 2016 Philippine Cup Finals: Alaska vs San Miguel Beermen (TV5) 9.5%
Little Nanay (GMA-7) 19.6%; FPJ's Ang Probinsyano (ABS-CBN) 22.7%
ADVERTISEMENT - CONTINUE READING BELOW
Because of You (GMA-7) 20.6%; Pangako Sa 'Yo (ABS-CBN) 19.1%
Temptation (GMA-7) 16.3%; On the Wings of Love (ABS-CBN) 14.5%; Wattpad Presents (TV5) 2.3%
Bubble Gang (GMA-7) 15.7%; You're My Home (ABS-CBN) 8.7%; Tonight with Boy Abunda (ABS-CBN) 4.8%; Wattpad Presents (TV5) 1.6%; Amachan (TV5) 1.3%; Hallo2 Cafe (TV5) .5%; Aksyon Tonite (TV5) .9%
Saksi (GMA-7) 9.3%; Bandila (ABS-CBN) 3.3%; Reaksyon (TV5) .8%; Bigtime (TV5) .5%
The 700 Club Asia (GMA-7) 3.7%; TNT (ABS-CBN) 2%; Shop Japan (TV5) .2%
Shop TV (GMA-7) 1.5%; O Shopping (ABS-CBN) .5%
--
January 23, 2015 (Saturday)
Morning:
PJM Forum (GMA-7) .3%; Adyenda (GMA-7) .8%; O Shopping (ABS-CBN) .2%; Shop Japan (TV5) .3%
Kapwa Ko Mahal Ko (GMA-7) 1.1%; Sa Kabukiran (ABS-CBN) .4%; Family Matters (TV5) .4%
Pinoy MD (GMA-7) 2.9%; Salamat Dok (ABS-CBN) 1.5%; Kakaibang Lunas (TV5) .7%
The Smurfs (GMA-7) 8.1%; Swak na Swak (ABS-CBN) 2.3%; CCF (TV5) .2%
Hayate the Combat Butler (GMA-7) 10.5%; Angel Wings (ABS-CBN) 1.5%
Pac-Man and the Ghostly Adventures (GMA-7) 11%; Why Not? (ABS-CBN) 1.2%; Higglytown Heroes (TV5) 1.1%
Angry Birds Toons (GMA-7) 9.4%; Crossfight B-Daman (GMA-7) 7.8%; Magic Kaito (GMA-7) 10.1%; Maynila (GMA-7) 9.9%; NBA 2015-2016 Season: Boston vs Chicago (ABS-CBN) 3.5%; Doc McStuffins (TV5) 2.8%; Little Einsteins (TV5) 4.4%; Stitch! (TV5) 4%; Hi-5 (TV5) 3.3%; Scooby-Do! Mystery Inc. (TV5) 4.3%
Sarap Diva (GMA-7) 11.5%; Del Monte Kitchenomics (TV5) 13.6%; Kapamilya Blockbusters: The Secret of Moonacre (ABS-CBN) 7.6%; Scooby-Do! Mystery Inc. (TV5) 4.3%; Star Wars Rebels (TV5) 2.7%; Movie Max 5: Motocrossed (TV5) 2.7%
Afternoon:
Eat Bulaga! (GMA-7) 27.3%; Karelasyon (GMA-7) 16.7%; It's Showtime (ABS-CBN) 10.9%; Movie Max 5: Bats: Sniper Reloaded (TV5) 4.1%
Wish Ko Lang! (GMA-7) 13.4%; Ipaglaban Mo (ABS-CBN) 10.7%; SOCO (ABS-CBN) 10.5%; Movie Max 5: Hardwired (TV5) 3.6%
Celebri TV (GMA-7) 10.4%; Celebrity Playtime (ABS-CBN) 9.2%
Imbestigador (GMA-7) 11.9%; Mga Kwento ni Marc Logan (ABS-CBN) 10.1%; Movie Max 5: Crawl (TV5) 3.3%
24 Oras Weekend (GMA-7) 20.3%; TV Patrol Weekend (ABS-CBN) 13.9%
Evening:
Pepito Manaloto: Ang Tunay na Kuwento (GMA-7) 26.4%; Home Sweetie Home (ABS-CBN) 14.1%; Dance Kids (ABS-CBN) 17.5%; Lola Basyang.com (TV5) 2.9%
ADVERTISEMENT - CONTINUE READING BELOW
Magpakailanman (GMA-7) 25.1%; MMK Ang Tahanan Mo (ABS-CBN) 18.3%; Parangnormal Activity (TV5) 3.4%; Movie Max 5: The Eagle (TV5) 2.4%
Celebrity Bluff (GMA-7) 17.5%; Pilipinas Got Talent (ABS-CBN) 18.3%; History with Lourd (TV5) 1.5%
i-Witness (GMA-7) 15.1%; Failon Ngayon (GMA-7) 6.9%; Kaya. (TV5) 1.2%
Kapuso Movie Night: The Haunting in Connecticut (GMA-7) 8.9%; The Bottom Line (ABS-CBN) 2.5%
Walang Tulugan (GMA-7) 2.9%; O Shopping (ABS-CBN) .5%; Shop Japan (TV5) .2%
--
January 24, 2015 (Sunday)
Daytime:
In Touch with Dr. Charles Stanley (GMA-7) .1%; Jesus The Healer (GMA-7) .4%; O Shopping (ABS-CBN) .2%; Shop Japan (TV5) .2%
Kapuso Sine Klasika: Tansan vs Tarsan (GMA-7) 1.8%; The Healing Eucharist (ABS-CBN) 2.5%; Sambuhay TV Mass (TV5) .8%
Grimm's Fairy Tales (GMA-7) 5.9%; Swak na Swak (ABS-CBN) 2.8%; Power to Unite with Elvira (TV5) .4%
Hayate the Combat Butler (GMA-7) 8.4%; Larva (GMA-7) 9.5%; Aha! (GMA-7) 10%; Salamat Dok (ABS-CBN) 3.4%; Spongebob Squarepants (ABS-CBN) 2.8%; Healing Galing sa TV5 (TV5) 1.6%; Higglytown Heroes (TV5) 3.2%
Born To Be Wild (GMA-7) 9.1%; Teenage Mutant Ninja Turtles (ABS-CBN) 3.5%; Kuroko's Basketball (ABS-CBN) 3.8%; Doc McStuffins (TV5) 4.2%; Stitch! (TV5) 4.6%
iBilib (ABS-CBN) 8.4%; Superbook (TV5) 4.3%; Hi-5 (TV5) 2.3%
Kapuso Movie Festival: Garfield (GMA-7) 12.7%; Matanglawin (ABS-CBN) 5.7%; Kapamilya Kiddie Blockbusters: Superhero Movie (ABS-CBN) 8.7%; BTS: Everything About Her (ABS-CBN) 9.6%; The Tom & Jerry Show (TV5) 2.2%; The Tom & Jerry Show (TV5) 2.5%; Happy Truck ng Bayan (TV5) 1.4%
Afternoon:
Del Monte Kitchenomics (GMA-7) 17.3%; Sunday Pinasaya (GMA-7) 20%; ASAP 20 (ABS-CBN) 10.2%; Alagang Kapatid (TV5) 1.2%; T3 Alliance (TV5) 1.7%
GMA Blockbusters: Man of Steel (GMA-7) 16%; Banana Sundae (ABS-CBN) 9.7%; Manny Pacquiao Presents (TV5) 1.5%
Juan Tamad (GMA-7) 9.6%; Kapamilya Mega Blockbusters: When the Love is Gone (ABS-CBN) 7.8%; Celebrity Playtime (GMA-7) 8.1%; Movie Max 5: Enemies Closer (TV5) 2.3%
24 Oras Weekend (GMA-7) 10.4%; TV Patrol Weekend (ABS-CBN) 8.8%; Smart Bro PBA 2016 Philippine Cup Finals: Alaska vs San Miguel Beermen (TV5) 10.2%
ADVERTISEMENT - CONTINUE READING BELOW
Evening:
Vampire Ang Daddy Ko (GMA-7) 13.8%; Goin' Bulilit (ABS-CBN) 9.8%
Ismol Family (GMA-7) 18%; Dance Kids (ABS-CBN) 14.1%
Kapuso Mo, Jessica Soho (GMA-7) 25.8%; Wansapanataym (ABS-CBN) 13.1%; Rated K: Handa Na Ba Kayo? (ABS-CBN) 16.4%; Barangay Utakan (TV5) 1.5%
Wanted: President (GMA-7) 15.9%; Pilipinas Got Talent (ABS-CBN) 20.4%; Masterchef Asia (TV5) .6%
SNBO: Police Story 2013 (GMA-7) 10.9%; Gandang Gabi Vice (ABS-CBN) 14.5%; Cool Guys Hot Ramen (TV5) .3%; Sports 360 (TV5) .5%
Diyos at Bayan (GMA-7) 2.4%; Sunday's Best: Teen Power (ABS-CBN) 5.6%; O Shopping (ABS-CBN) 1; Countdown to Rio (TV5) .5%; Shop Japan (TV5) .1%
--
TOP TEN PROGRAMS:
January 18, 2015 (Monday)
DAYTIME:
Eat Bulaga! (GMA-7) - 23.7%
Wish I May (GMA-7) - 17.1%
Buena Familia (GMA-7) - 15.4%
Destiny Rose (GMA-7) - 14.8%
The Ryzza Mae Show: Princess in the Palace (GMA-7) - 11.9%
Alisto! (GMA-7) - 11.5%
Be My Lady (ABS-CBN) - 11.3%
It's Showtime (ABS-CBN) - 10%
Doble Kara (ABS-CBN) - 9%
Kapamilya Blockbusters (ABS-CBN) - 8.6%
PRIMETIME:
FPJ's Ang Probinsyano (ABS-CBN) - 23.2%
24 Oras (GMA-7) - 22.7%
Little Nanay (GMA-7) - 21.2%
Because of You (GMA-7) - 21%
Pangako Sa 'Yo (ABS-CBN) - 19.3%
TV Patrol (ABS-CBN) – 17%
Kapuso Primetime Cinema (GMA-7) - 16.5%
The Producers (GMA-7) - 13.7%
On the Wings of Love (ABS-CBN) - 12.8%
Temptation (GMA-7) - 11.9%
January 19, 2015 (Tuesday)
DAYTIME:
Eat Bulaga! (GMA-7) - 22.6%
Wish I May (GMA-7) - 15.9%
Buena Familia (GMA-7) - 14%
Destiny Rose (GMA-7) - 12.9%
The Ryzza Mae Show: Princess in the Palace (GMA-7) - 12.3%
Be My Lady (ABS-CBN) - 11.4%
It's Showtime (ABS-CBN) - 10.7%
Tunay na Buhay (GMA-7) - 10%
Doble Kara (ABS-CBN) - 9.6%
Kapamilya Blockbusters (ABS-CBN) - 9.3%
PRIMETIME:
24 Oras (GMA-7) - 21.5%
FPJ's Ang Probinsyano (ABS-CBN) - 20.8%
Little Nanay (GMA-7) - 19.9%
Kapuso Primetime Cinema (GMA-7) - 18.6%
Because of You (GMA-7) - 18.3%
Pangako Sa 'Yo (ABS-CBN) - 16.3%
TV Patrol (ABS-CBN) – 16%
On the Wings of Love (ABS-CBN) - 13.1%
The Producers (GMA-7) - 13%
Temptation (GMA-7) - 12.7%
January 20, 2015 (Wednesday)
DAYTIME:
Eat Bulaga! (GMA-7) - 22.6%
Wish I May (GMA-7) - 16.9%
Buena Familia (GMA-7) - 14.7%
Destiny Rose (GMA-7) - 12.8%
The Ryzza Mae Show: Princess in the Palace (GMA-7) - 12.4%
It's Showtime (ABS-CBN) - 11.4%
Be My Lady (ABS-CBN) - 10.9%
Doble Kara (ABS-CBN) - 10.5%
Kapamilya Blockbusters (ABS-CBN) / Dangwa (GMA-7) - 9.4%
Kapamilya Deal or No Deal (ABS-CBN) - 9%
PRIMETIME:
FPJ's Ang Probinsyano (ABS-CBN) - 22.6%
Little Nanay (GMA-7) - 21.2%
Because of You (GMA-7) - 21.1%
24 Oras (GMA-7) - 20.2%
Pangako Sa 'Yo (ABS-CBN) - 18.3%
TV Patrol (ABS-CBN) - 16.2%
Kapuso Primetime Cinema (GMA-7) - 14.4%
On the Wings of Love (ABS-CBN) - 13.8%
Pasion de Amor (ABS-CBN) - 11.9%
The Producers (GMA-7) - 11.4%
January 21, 2015 (Thursday)
DAYTIME:
Eat Bulaga! (GMA-7) - 23.1%
Wish I May (GMA-7) - 17.3%
Buena Familia (GMA-7) - 14.9%
Destiny Rose (GMA-7) - 13.6%
The Ryzza Mae Show: Princess in the Palace (GMA-7) - 12.1%
Be My Lady (ABS-CBN) - 11.6%
It's Showtime (ABS-CBN) - 10.4%
Kapamilya Blockbusters (ABS-CBN) - 10%
Doble Kara (ABS-CBN) - 9.9%
Reporter's Notebook (GMA-7) - 9.4%
PRIMETIME:
FPJ's Ang Probinsyano (ABS-CBN) - 23.9%
Because of You (GMA-7) - 22.8%
Little Nanay (GMA-7) - 23.3%
24 Oras (GMA-7) - 21.1%
Pangako Sa 'Yo (ABS-CBN) - 18.7%
Kapuso Primetime Cinema (GMA-7) - 17.6%
TV Patrol (ABS-CBN) - 16.8%
On the Wings of Love (ABS-CBN) - 13.3%
Temptation (GMA-7) - 11.6%
The Producers (GMA-7) - 11.1%
January 22, 2015 (Friday)
DAYTIME:
Eat Bulaga! (GMA-7) - 25.8%
Wish I May (GMA-7) - 16.7%
Buena Familia (GMA-7) - 14.9%
Be My Lady (ABS-CBN) - 13.1%
Destiny Rose (GMA-7) - 12.4%
The Ryzza Mae Show: Princess in the Palace (GMA-7) - 12%
It's Showtime (ABS-CBN) - 11.7%
Love Hotline (GMA-7) - 10.5%
Kapamilya Blockbusters (ABS-CBN) / Doble Kara (ABS-CBN) - 10.4%
All of Me (GMA-7) / Dangwa (GMA-7) - 9%
PRIMETIME:
FPJ's Ang Probinsyano (ABS-CBN) - 22.7%
24 Oras (GMA-7) - 21.5%
Because of You (GMA-7) - 20.6%
Little Nanay (GMA-7) - 19.6%
Pangako Sa 'Yo (ABS-CBN) – 19.1%
Temptation (GMA-7) / TV Patrol (ABS-CBN) - 16.3%
Bubble Gang (GMA-7) - 15.7%
On the Wings of Love (ABS-CBN) - 14.5%
The Producers (GMA-7) - 12%
Pasion de Amor (ABS-CBN) - 10.2%
January 23, 2015 (Saturday)
DAYTIME:
Eat Bulaga! (GMA-7) - 27.3%
24 Oras Weekend (GMA-7) - 20.3%
Karelasyon (GMA-7) - 16.7%
TV Patrol Weekend (ABS-CBN) - 13.9%
Del Monte Kitchenomics (GMA-7) - 13.6%
Wish Ko Lang! (GMA-7) - 14%
Imbestigador (GMA-7) - 11.9%
Sarap Diva (GMA-7) - 11.5%
Pac-Man and the Ghostly Adventures (GMA-7) - 11%
It's Showtime (ABS-CBN) - 10.9%
PRIMETIME:
Pepito Manaloto: Ang Tunay na Kuwento (GMA-7) - 26.4%
Magpakailanman (GMA-7) - 25.1%
MMK: Ang Tahanan Mo (ABS-CBN) / Pilipinas Got Talent (ABS-CBN) - 18.3%
Celebrity Bluff (GMA-7) / Dance Kids (ABS-CBN) - 17.5%
I-Witness (GMA-7) - 15.1%
Home Sweetie Home (ABS-CBN) - 14.1%
Kapuso Movie Night (GMA-7) - 8.9%
Failon Ngayon (ABS-CBN) - 6.9%
Parangnormal Activity (TV5) -3.4%
Lola Basyang.com (TV5) - 2.9%
January 24, 2015 (Sunday)
DAYTIME:
Sunday Pinasaya (GMA-7) - 20%
Del Monte Kitchenomics (GMA-7) - 17.3%
GMA Blockbusters (GMA-7) - 16%
Kapuso Movie Festival (GMA-7) - 12.7%
24 Oras Weekend (GMA-7) - 10.4%
ASAP (GMA-7) - 10.2%
Aha! (GMA-7) - 10%
Banana Sundae (ABS-CBN) - 9.7%
Juan Tamad (GMA-7) / BTS: Everything About Her (ABS-CBN) - 9.6%
Larva (GMA-7) - 9.5%
PRIMETIME:
Kapuso Mo, Jessica Soho (GMA-7) - 25.8%
Pilipinas Got Talent (ABS-CBN) - 20.4%
Ismol Family (GMA-7) - 18%
Rated K (ABS-CBN) - 16.4%
Wanted: President (GMA-7) - 15.9%
Gandang Gabi Vice (ABS-CBN) - 14.5%
Dance Kids (ABS-CBN) - 14.1%
Vampire Ang Daddy Ko (GMA-7) - 13.8%
Wansapanataym (ABS-CBN) - 15.9%
SNBO (GMA-7) - 10.9%
Source: AGB Nielsen Philippines