Here are the highlights of the comparative ratings of GMA-7, ABS-CBN, and TV5 programs from February 1-14, 2016 in Mega Manila.
Several shows premiered and ended during the given period.
The biggest finale was of Pangako Sa 'Yo, ABS-CBN's hit primetime series that starred Jodi Sta. Maria, Ian Veneracion, Angelica Panganiban, Kathryn Bernardo, and Daniel Padilla.
The heavy drama series ended on February 12, after 190 episodes. This last episode was the highest-rated show for the day. It had a score of 27.5%, much higher than That's My Amboy's 18.3%.
Pangako Sa 'Yo had good ratings on its primetime slot, defeating a string of Kapuso shows, including Let the Love Begin, Beautiful Strangers, Little Nanay, and Because of You.
There was a moment in January 2016 when the Mega Manila TV ratings of PSY dipped against Little Nanay, but news of its upcoming finale kicked up its ratings again.



Pangako Sa 'Yo (ABS-CBN)

According to data from AGB Nielsen Philippines from Mega Manila households

Rating at premiere (May 25, 2015)

22.8%

Rating at finale (February 12, 2016)

27.5%

Total number of episodes

190

Show average

21.633%

Highest rating

27.5% (February 12, 2015 - finale)

Lowest rating

14.3% (December 31, 2015)

Another Kapamilya show ended in the given period. Dance Kids, a talent competition, aired its last episode on February 7, getting a 17.1% rating. It was lower than Ismol Family's 19.6%.
ABS-CBN also had new shows that aired pilot episodes during the two-week period.
The first was Tubig at Langis, an afternoon drama that replaced All of Me. The February 1 pilot episode got 8.7%, about only half of Buena Familia's 15.9% rating.
Tubig at Langis stars Zanjoe Marudo, Isabelle Daza, and Cristine Reyes.
The second was the fifth season of Pilipinas Got Talent, featuring the judges Freddie Garcia, Vice Ganda, Angel Locsin, and Robin Padilla.
The February 6 pilot episode scored 16.4%, slightly lower than Celebrity Bluff's 16.6%.
The third was I Love OPM, a singing competition for foreigners. The February 13 pilot episode got 16.8%, defeating Celebrity Bluff's 13.1%.
GMA-7 also had several new shows.

Willie Revillame can once again be seen daily on television. His game show/variety show Wowowin used to air every Sunday on GMA-7. However, the Kapuso show was moved to the weekday block, pitting it against Pasion de Amor during this ratings period.
The first weekday episode of Wowowin aired on February 1, with a 15.5% rating against Pasion de Amor's 10.4%.

Wowowin also entered the Top 10 most-watched programs. It landed on the No. 8 slot last February 1 and peaked at No. 6 on February 3.

From February 1-14, Wowowin consistently beat the Kapamilya show featuring the love teams of Jake Cuenca & Arci Munoz, Joseph Marco & Coleen Garcia, and Ejay Falcon & Ellen Adarna.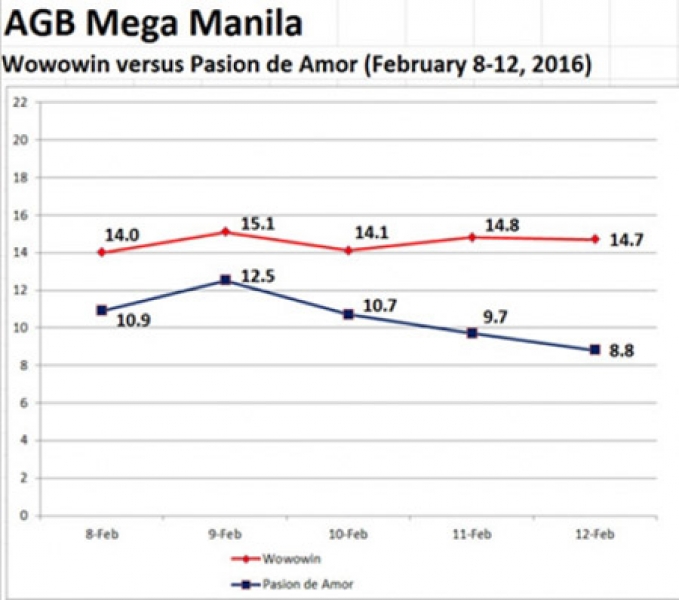 View: See how Wowowin fared against ABS-CBN shows (based on AGB and Kantar)


Another new show was Dear Uge, a romantic comedy anthology hosted by Eugene Domingo. The February 14 pilot episode got 15%, beating Banana Sundae's 9.1%.
TV5 aired three new shows on February 6, Saturday.
The first was Born to be a Star, a talent search. Its first episode registered 2.2%, against Pepito Manaloto: Ang Tunay na Kuwento's 26.4% and Home Sweetie Home's 14.8%.
The second was Tasya Fantasya, a romantic comedy series that stars Shy Carlos and Mark Neumann. The first episode got 3.8%, against Magpakailanman's 27.5%, Dance Kids's 19% and Maalaala Mo Kaya's 15.4%.
The last is a music show, MTV Top 20 Pilipinas. Its .6% rating was much lower than Celebrity Bluff's 16.6% and Pilipinas Got Talent's 16.4%.
ABS-CBN continued to top primetime with its hit dramas FPJ's Ang Probinsyano, which stars Coco Martin.
Meanwhile, Eat Bulaga! continued to be No. 1 on daytime.
Here are comparative ratings of GMA-7, ABS-CBN and TV5 programs from February 1-14, 2016, according to AGB Nielsen Philippines survey among Mega Manila households.
--
February 1, 2015 (Monday)
Morning:
Power House Replay (GMA-7) 1%; O Shopping (ABS-CBN) .2%; Shop Japan (TV5) 0%
Unang Hirit! (GMA-7) 5.4%; Umagang Kay Ganda (ABS-CBN) 3%; Aksyon sa Umaga (TV5) .8%; Handy Manny (TV5) .9%; Mickey Mouse Clubhouse (TV5) 1.1%
Doraemon (GMA-7) 5.7%; Pokemon Black & White (GMA-7) 6.8%; Ring ni Kakero (GMA-7) 6.4%; Kris TV (ABS-CBN) 4.1%; Jake and the Neverland Pirates (TV5) 1.4%; Fish Hooks (TV5) 1.5%; Hi-5 (TV5) 1.4%
Detective Conan (GMA-7) 7.5%; Mr. Bean (ABS-CBN) 3.3%; The Looney Tunes Show (TV5) 2.3%
Dragon Ball Z (GMA-7) 8.1%; Someone Like You (GMA-7) 7.7%; Ice Adonis (GMA-7) 8.9%; Carmina (GMA-7) 9.7%; Kapamilya Blockbusters: Da Possessed (ABS-CBN) 9.3%; The Tom & Jerry Show (TV5) 2.8%; Scooby-Doo! Mystery Inc. (TV5) 2.4%; Madam Chairman (TV5) 1.4%; Amachan (TV5) 1.6%; Hallo2 Cafe (TV5) 1.1%
The Ryzza Mae Show: Princess in the Palace (GMA-7) 13.2%; Be My Lady (ABS-CBN) 12.6%; Aksyon sa Tanghali (TV5) 2.1%
Afternoon:
Eat Bulaga! (GMA-7) 24.6%; It's Showtime (ABS-CBN) 11.4%; Movie Max 5: Fire Twister (TV5) 3.1%; Star Wars the Clone Wars (TV5) 1.8%; X-Men (TV5) 2.1%
Wish I May (GMA-7) 17.5%; Doble Kara (ABS-CBN) 10%; Transformers Prime (TV5) 2.3%
Buena Familia (GMA-7) 15.9%; Tubig at Langis (ABS-CBN) 8.7%; Supernatural (TV5) 2.9%
Destiny Rose (GMA-7) 13.7%; And I Love You So (ABS-CBN) 7.4%; Movie Max 5: Avalanche Sharks (TV5) 3%
Alisto! (GMA-7) 11%; Kapamilya Deal or No Deal (ABS-CBN) 8.3%
Evening:
Wowowin (GMA-7) 15.5%; Pasion de Amor (ABS-CBN) 10.4%; Aksyon (TV5) 3.1%
24 Oras (GMA-7) 24.4%; TV Patrol (ABS-CBN) 17.6%; Movie Max 5: Like Crazy (TV5) 2.4%
Little Nanay (GMA-7) 22.9%; FPJ's Ang Probinsyano (ABS-CBN) 27.2%
That's My Amboy! (GMA-7) 21.2%; Pangako Sa 'Yo (ABS-CBN) 24.4%; The Accidental Couple (TV5) 1.8%
Because of You (GMA-7) 20%; On the Wings of Love (ABS-CBN) 16.2%; Amachan (TV5) 1%
Temptation (GMA-7) 13.6%; You're My Home (ABS-CBN) 10.2%; Hallo2 Cafe (TV5) 1.2%; Aksyon Tonite (TV5) 1.4%
Saksi (GMA-7) 9.6%; Front Row (GMA-7) 6.8%; Tonight with Boy Abunda (ABS-CBN) 5.5%; Bandila (ABS-CBN) 3.5%; Reaksyon (TV5) 1%; Demolition Job (TV5) .5%
The 700 Club Asia (GMA-7) 3%; Mission Possible (ABS-CBN) 2.6%; Shop Japan (TV5) .2%
Shop TV (GMA-7) 1.2%; O Shopping (ABS-CBN) .6%
--
February 2, 2015 (Tuesday)
Morning:
i-Witness Replay (GMA-7) .7%; O Shopping (ABS-CBN) .5%; Shop Japan (TV5) .1%
Unang Hirit! (GMA-7) 4.4%; Umagang Kay Ganda (ABS-CBN) 3.3%; Aksyon sa Umaga (TV5) .7%; Mickey House Clubhouse (TV5) 1.4%; Mickey House Clubhouse (TV5) 1.9%
Doraemon (GMA-7) 6.4%; Pokemon Black and White (GMA-7) 6.3%; Ring ni Kakero (GMA-7) 7.1%; Kris TV (ABS-CBN) 3.2%; Jake and the Neverland Pirates (TV5) 2.4%; Fish Hooks (TV5) 2.3%; Hi-5 (TV5) 2.1%
Detective Conan (GMA-7) 8.9%; Mr. Bean (ABS-CBN) 3.6%; The Looney Tunes Show (TV5) 2.4%
Dragon Ball Z (GMA-7) 10.5%; Someone Like You (GMA-7) 8.2%; Ice Adonis (GMA-7) 9.9%; Carmina (GMA-7) 10.6%; Kapamilya Blockbusters: And I Love You So (ABS-CBN) 7.9%; The Tom & Jerry Show (TV5) 3.4%; Scooby-Doo! Mystery Inc. (TV5) 4%; Madam Chairman (TV5) 2.3%; Amachan (TV5) 1.5%; Hallo2 Cafe (TV5) 1.6%
The Ryzza Mae Show: Princess in the Palace (GMA-7) 11.8%; Be My Lady (ABS-CBN) 11.5%; Aksyon sa Tanghali (TV5) 2%
Afternoon:
Eat Bulaga! (GMA-7) 22.6%; It's Showtime (ABS-CBN) 11.9%; Movie Max 5: Funny People (TV5) 2.2%; Star Wars the Clone Wars (TV5) 1.4%; X-Men (TV5) 2.2%
Wish I May (GMA-7) 15.2%; Doble Kara (ABS-CBN) 9.3%; Transformers Prime (TV5) 2.5%
Buena Familia (GMA-7) 13.1%;Tubig at Langis (ABS-CBN) 7.7%; Supernatural (TV5) 2.7%
Destiny Rose (GMA-7) 13.4%; And I Love You So (ABS-CBN) 6.7%; Movie Max 5: Piranha (TV5) 3.8%
Tunay na Buhay (GMA-7) 10.8%; Kapamilya Deal or No Deal (ABS-CBN) 8.6%
Evening:
Wowowin (GMA-7) 14.2%; Pasion de Amor (ABS-CBN) 10.9%; Aksyon (TV5) 3.4%
24 Oras (GMA-7) 22.6%; TV Patrol (ABS-CBN) 18.2%; Movie Max 5: Morning Glory (TV5) 2.2%
Little Nanay (GMA-7) 22.4%; FPJ's Ang Probinsyano (ABS-CBN) 26.6%
That's My Amboy! (GMA-7) 21.9%; Pangako Sa 'Yo (ABS-CBN) 25%; The Accidental Couple (TV5) 1.6%
Because of You (GMA-7) 21.5%; On the Wings of Love (ABS-CBN) 14.9%; Amachan (TV5) .9%
Temptation (GMA-7) 13.8%; You're My Home (ABS-CBN) 9.9%; Hallo2 Cafe (TV5) .5%; Aksyon Tonite (TV5) .9%
Saksi (GMA-7) 9.8%; Tonight with Boy Abunda (ABS-CBN) 5.6%; Reaksyon (TV5) .6%; Numero (TV5) .7%
Stan Lee's Superhumans (GMA-7) 5.9%; Bandila (ABS-CBN) 3.7%; Numero (TV5) .6%
The 700 Club Asia (GMA-7) 3.4%; My Puhunan (ABS-CBN) 2.7%; Shop Japan (TV5) .2%
Shop TV (GMA-7) 1.2%; O Shopping (ABS-CBN) .7%
--
February 3, 2015 (Wednesday)
Morning:
Tunay na Buhay Replay (GMA-7) .8%; O Shopping (ABS-CBN) 0%; Shop Japan (TV5) 0%
Unang Hirit! (GMA-7) 4.5%; Umagang Kay Ganda (ABS-CBN) 2.9%; Aksyon sa Umaga (TV5) .4%; Mickey Mouse Clubhouse (TV5) 1.2%; Mickey Mouse Clubhouse (TV5) 2.3%
Doraemon (GMA-7) 5.6%; Pokemon Black and White (GMA-7) 6.8%; Ring ni Kakero (GMA-7) 7.2%; Kris TV (ABS-CBN) 4.3%; Jake and the Neverland Pirates (TV5) 2.4%; Fish Hooks (TV5) 2.4%; Hi-5 (TV5) 2%
Detective Conan (GMA-7) 8.1%; Mr. Bean (ABS-CBN) 4.1%; The Looney Tunes Show (TV5) 2.2%
Dragon Ball Z (GMA-7) 8.1%; Someone Like You (GMA-7) 7.6%; Ice Adonis (GMA-7) 9.4%; Carmina (GMA-7) 9.8%; Kapamilya Blockbusters: Pagpag (ABS-CBN) 9.2%; The Tom & Jerry Show (TV5) 3.1%; Scooby-Doo! Mystery Inc. (TV5) 3.2%; Madam Chairman (TV5) 1.5%; Amachan (TV5) 1.6%; Hallo2 Cafe (TV5) 1.2%
The Ryzza Mae Show: Princess in the Palace (GMA-7) 12.8%; Be My Lady (ABS-CBN) 12.8%; Aksyon sa Tanghali (TV5) 2.2%
Afternoon:
Eat Bulaga! (GMA-7) 21.4%; It's Showtime (ABS-CBN) 12.8%; Movie Max 5: Mega Piranha (TV5) 3.5%; Star Wars the Clone Wars (TV5) 1.8%; X-Men (TV5) 2.1%
Wish I May (GMA-7) 14.9%; Doble Kara (ABS-CBN) 10.1%; Transformers Prime (TV5) 2.5%
Buena Familia (GMA-7) 13.6%; Tubig at Langis (ABS-CBN) 8.5%; Supernatural (TV5) 2.2%
Destiny Rose (GMA-7) 13.9%; And I Love You So (ABS-CBN) 7.8%; Movie Max 5: Wolftown (TV5) 3.7%
Power House (GMA-7) 9.9%; Kapamilya Deal or No Deal (ABS-CBN) 9.4%
Evening:
Wowowin (GMA-7) 15.7%; Pasion de Amor (ABS-CBN) 11.6%; Aksyon (TV5) 5.4%
24 Oras (GMA-7) 21.7%; TV Patrol (ABS-CBN) 18.1%; Smart Bro PBA 2016 Philippine Cup Finals Game 7 Alaska vs San Miguel Beermen (TV5) 16.3%
Little Nanay (GMA-7) 19.2%; FPJ's Ang Probinsyano (ABS-CBN) 25.5%
That's My Amboy! (GMA-7) 16.9%; Pangako Sa 'Yo (ABS-CBN) 21.7%
Because of You (GMA-7) 15.7%; On the Wings of Love (ABS-CBN) 12.6%
Temptation (GMA-7) 13.7%; You're My Home (ABS-CBN) 9.2%; The Accidental Couple (TV5) 2.8%
Saksi (GMA-7) 9.6%; Tonight with Boy Abunda (ABS-CBN) 5%; Amachan (TV5) 1.5%
Serial Killer Earth (GMA-7) 6.5%; Bandila (ABS-CBN) 3.4%; Hallo2 Cafe (TV5) 1.4%; Aksyon Tonite (TV5) 1.3%; Reaksyon (TV5) 1%
The 700 Club Asia (GMA-7) 3.2%; Red Alert (ABS-CBN) 2.4%; History with Lourd (TV5) .6%
Shop TV (GMA-7) 1.2%; O Shopping (ABS-CBN) .9%
--
February 4, 2015 (Thursday)
Morning:
Born to be Wild Replay (GMA-7) .8%; O Shopping (ABS-CBN) .2%; Shop Japan (TV5) 0%
Unang Hirit! (GMA-7) 4.7%; Umagang Kay Ganda (ABS-CBN) 2.8%; Aksyon sa Umaga (TV5) .8%; Mickey Mouse Clubhouse (TV5) 1.4%; Mickey Mouse Clubhouse (TV5) 2.5%
Doraemon (GMA-7) 6.5%; Pokemon Black and White (GMA-7) 6.9%; Ring ni Kakero (GMA-7) 6.5%; Kris TV (ABS-CBN) 4.8%; Jake and the Neverland Pirates (TV5) 2.3%; Fish Hooks (TV5) 2.7%; Hi-5 (TV5) 2.3%
Detective Conan (GMA-7) 7.7%; Mr. Bean (ABS-CBN) 4.2%; The Looney Tunes Show (TV5) 3%
Dragon Ball Z (GMA-7) 7.9%; Someone Like You (GMA-7) 8.1%; Ice Adonis (GMA-7) 9.8%; Carmina (GMA-7) 10.3%; Kapamilya Blockbusters: My Cactus Heart (ABS-CBN) 8.4%; The Tom & Jerry Show (TV5) 3.6%; Scooby-Doo! Mystery Inc. (TV5) 3.5%; Madam Chairman (TV5) 2.1%; Amachan (TV5) 1.9%; Hallo2 Cafe (TV5) 1.4%
The Ryzza Mae Show: Princess in the Palace (GMA-7) 12.6%; Be My Lady (ABS-CBN) 12.3%; Aksyon sa Tanghali (TV5) 2.7%
Afternoon:
Eat Bulaga! (GMA-7) 22.7%; It's Showtime (ABS-CBN) 11.9%; Movie Max 5: Reality Bites (TV5) 2.1%; Star Wars the Clone Wars (TV5) 1.8%; X-Men (TV5) 2.1%
Wish I May (GMA-7) 15.3%; Doble Kara (ABS-CBN) 10.2%; Transformers Prime (TV5) 2.8%
Buena Familia (GMA-7) 14%; Tubig at Langis (ABS-CBN) 8.6%; Supernatural (TV5) 3%
Destiny Rose (GMA-7) 13.4%; And I Love You So (ABS-CBN) 7.7%; Movie Max 5: Monsterwolf (TV5) 3.9%
Reporter's Notebook (GMA-7) 10.4%; Kapamilya Deal or No Deal (ABS-CBN) 9.4%
Evening:
Wowowin (GMA-7) 15.8%; Pasion de Amor (ABS-CBN) 10.7%; Aksyon (TV5) 3.8%
24 Oras (GMA-7) 23%; TV Patrol (ABS-CBN) 19.1%; Movie Max 5: The Perfect Man (TV5) 2.9%
Little Nanay (GMA-7) 22.9%; FPJ's Ang Probinsyano (ABS-CBN) 27.2%
That's My Amboy! (GMA-7) 20.4%; Pangako Sa 'Yo (ABS-CBN) 25.6%; The Accidental Couple (TV5) 1.1%
Because of You (GMA-7) 19.4%; On the Wings of Love (ABS-CBN) 15.7%; Amachan (TV5) 1.1%
Temptation (GMA-7) 12.5%; You're My Home (ABS-CBN) 9%; Hallo2 Cafe (TV5) 1%; Aksyon Tonite (TV5) 1%
Saksi (GMA-7) 8.7%; Tonight with Boy Abunda (ABS-CBN) 5.3%; Reaksyon (TV5) .5%
Big History (ABS-CBN) 6.4%; Bandila (ABS-CBN) 3.5%; Unang Tikim (TV5) .4%
The 700 Club Asia (GMA-7) 3.7%; Sports U (ABS-CBN) 2.4%; Shop Japan (TV5) .2%
Shop TV (GMA-7) 1.5%; O Shopping (ABS-CBN) .9%
--
February 5, 2015 (Friday)
Morning:
Alisto! Replay (GMA-7) .5%; O Shopping (ABS-CBN) .4%; Shop Japan (TV5) 0%
Unang Hirit! (GMA-7) 4.6%; Umagang Kay Ganda (ABS-CBN) 3.5%; Aksyon sa Umaga (TV5) .8%; Mickey Mouse Clubhouse (TV5) 1.7%; Mickey Mouse Clubhouse (TV5) 2.3%
Doraemon (GMA-7) 6.2%; Pokemon Black and White (GMA-7) 7.7%; Ring ni Kakero (GMA-7) 7.7%; Kris TV (ABS-CBN) 4.5%; Jake and the Neverland Pirates (TV5) 2.3%; Fish Hooks (TV5) 2.4%; Hi-5 (TV5) 2.3%
Detective Conan (GMA-7) 8.4%; Mr. Bean (ABS-CBN) 4.1%; The Looney Tunes Show (TV5) 2.6%
Dragon Ball Z (GMA-7) 9.1%; Someone Like You (GMA-7) 8.6%; Ice Adonis (GMA-7) 9.5%; Carmina (GMA-7) 10.3%; Kapamilya Blockbusters: Feng Shui 2 (ABS-CBN) 9.7%; The Tom & Jerry Show (TV5) 3.8%; Scooby-Doo! Mystery Inc (TV5) 3.8%; Madam Chairman (TV5) 2.2%; Amachan (TV5) 1.4%; Hallo2 Cafe (TV5) 1.1%
The Ryzza Mae Show: Princess in the Palace (GMA-7) 12.8%; Be My Lady (ABS-CBN) 12.3%; Aksyon sa Tanghali (TV5) 2.5%
Afternoon:
Eat Bulaga! (GMA-7) 23.6%; It's Showtime (ABS-CBN) 11.5%; Movie Max 5: Crystal Skulls (TV5) 2.3%; Star Wars the Clone Wars (TV5) 1.6%; X-Men (TV5) 1.8%
Wish I May (GMA-7) 17.6%; Doble Kara (ABS-CBN) 10.1%; Transformers Prime (TV5) 2%
Buena Familia (GMA-7) 15.2%; Tubig at Langis (ABS-CBN) 8.5%; Supernatural (TV5) 3%
Destiny Rose (GMA-7) 13.9%; And I Love You So (ABS-CBN) 8.3%; Meet the Presidentiables Series (TV5) 2.6%
Love Hotline (GMA-7) 11.1%; Kapamilya Deal or No Deal (ABS-CBN) 9.1%
Evening:
Wowowin (GMA-7) 16.3%; Pasion de Amor (ABS-CBN) 11%; Aksyon (TV5) 3.5%
24 Oras (GMA-7) 23.9%; TV Patrol (ABS-CBN) 19.3%; Movie Max 5: Leap Year (TV5) 3.4%
Little Nanay (GMA-7) 22.9%; FPJ's Ang Probinsyano (ABS-CBN) 25.4%
That's My Amboy! (GMA-7) 21.5%; Pangako Sa 'Yo (ABS-CBN) 22.9%; The Accidental Couple (TV5) 1.8%
Because of You (GMA-7) 21.2%; On the Wings of Love (ABS-CBN) 14.4%; Amachan (TV5) 1.6%
Bubble Gang (GMA-7) 16.2%; You're My Home (ABS-CBN) 9.2%; Tonight with Boy Abunda (ABS-CBN) 4.9%; Hallo2 Cafe (TV5) .8%; Aksyon Tonite (TV5) 1%; Reaksyon (TV5) .9%
Saksi (GMA-7) 8.7%; Bandila (ABS-CBN) 3.4%; UFC Fight Night (TV5) .4%
The 700 Club Asia (GMA-7) 3.7%; TNT (ABS-CBN) 3%; Shop Japan (TV5) .2%
Shop TV (GMA-7) 1.1%; O Shopping (ABS-CBN) 1.2%
--
February 6, 2015 (Saturday)
Morning:
PJM Forum (GMA-7) .4%; Adyenda (GMA-7) .9%; O Shopping (ABS-CBN) .3%; Shop Japan (TV5) 0.1%
Kapwa Ko Mahal Ko (GMA-7) 1.9%; Sa Kabukiran (ABS-CBN) .5%; Family Matters (TV5) .2%
Pinoy MD (GMA-7) 4.5%; Salamat Dok (ABS-CBN) 1.5%; Kakaibang Lunas (TV5) .3%
The Smurfs (GMA-7) 9.3%; Swak na Swak (ABS-CBN) 2.1%; CCF (TV5) .2%
Hayate the Combat Butler (GMA-7) 11.3%; Angel Wings (ABS-CBN) 1.9%
Pac-Man and the Ghostly Adventures (GMA-7) 11.2%; Why Not? (ABS-CBN) 2.3%; Higglytown Heroes (TV5) 1.4%
Angry Birds Toons (GMA-7) 11.7%; Crossfight B-Daman (GMA-7) 9.7%; Magic Kaito (GMA-7) 10.5%; Maynila (GMA-7) 10.4%; Sarap Diva (GMA-7) 12.7%; BTS: Everything About Her (ABS-CBN) 2.3%; NBA 2015-2016 Season: Boston vs Cleveland (ABS-CBN) 4.8%; Doc McStuffins (TV5) 3%; Little Einsteins (TV5) 4%; Stitch! (TV5) 4.2%; Hi-5 (TV5) 4.2%; Scooby-Do! Mystery Inc. (TV5) 4.5% ; Scooby-Do! Mystery Inc. (TV5) 4.1%
Del Monte Kitchenomics (TV5) 14.7%; Kapamilya Blockbusters: The Master (ABS-CBN) 8.2%; Star Wars Rebels (TV5) 3.8%
Afternoon:
Eat Bulaga! (GMA-7) 24.8%; Karelasyon (GMA-7) 16.3%; It's Showtime (ABS-CBN) 12.6%; Movie Max 5: Dadnapped (TV5) 3.5%; Movie Max 5: Sink Hole (TV5) 2.4%
Wish Ko Lang! (GMA-7) 12.6%; Ipaglaban Mo (ABS-CBN) 12%; Movie Max 5: Let's Go to Prison (TV5) 2.9%
Celebri TV (GMA-7) 11.7%; SOCO (ABS-CBN) 12.8%
Imbestigador (GMA-7) 15.8%; Celebrity Playtime (ABS-CBN) 12.5%; Mga Kwento ni Marc Logan (ABS-CBN) 12.3%; Movie Max 5: The Flintstones (TV5) 2.9%
24 Oras Weekend (GMA-7) 22.8%; TV Patrol Weekend (ABS-CBN) 13.9%
Evening:
Pepito Manaloto: Ang Tunay na Kuwento (GMA-7) 26.4%; Home Sweetie Home (ABS-CBN) 14.8%; Born to be a Star (TV5) 2.2%
Magpakailanman (GMA-7) 27.5%; Dance Kids (ABS-CBN) 19%; MMK Ang Tahanan Mo (ABS-CBN) 15.4%; Tasya Fantasya (TV5) 3.8%; Wattpad Presents (TV5) 2.9%
Celebrity Bluff (GMA-7) 16.6%; i-Witness (GMA-7) 12%; Pilipinas Got Talent (ABS-CBN) 16.4%; MTV Top 20 Pilipinas (TV5) .6%
Kapuso Movie Night: Skyline (GMA-7) 9.5%; Failon Ngayon (GMA-7) 6%; The Bottom Line (ABS-CBN) 3.3%
Walang Tulugan (GMA-7) 3.3%; O Shopping (ABS-CBN) 1.1%; Shop Japan (TV5) .2%
--
February 7, 2015 (Sunday)
Daytime:
In Touch with Dr. Charles Stanley (GMA-7) .3%; Jesus The Healer (GMA-7) .5%; O Shopping (ABS-CBN) .4%; Shop Japan (TV5) .2%
Kapuso Sine Klasika: Darling Buntis Ka Na Naman! (GMA-7) 2.2%; The Healing Eucharist (ABS-CBN) 2.6%; Misa Nazareno (TV5) 1%
Grimm's Fairy Tales (GMA-7) 6.1%; Hayate the Combat Butler (GMA-7) 7.6%; Swak na Swak (ABS-CBN) 3.2%; Power to Unite with Elvira (TV5) .5%
Larva (GMA-7) 9.8%; Aha! (GMA-7) 9%; Salamat Dok (ABS-CBN) 2.8%; Spongebob Squarepants (ABS-CBN) 4%; Healing Galing sa TV5 (TV5) 1.4%; Higglytown Heroes (TV5) 2.4%
Born To Be Wild (GMA-7) 8.1%; Teenage Mutant Ninja Turtles (ABS-CBN) 4.6%; Doc McStuffins (TV5) 3.1%; Stitch! (TV5) 3.9%
iBilib (ABS-CBN) 7.8%; Superbook (TV5) 5.4%; Hi-5 (TV5) 2.2%
Kapuso Movie Festival: Paranorman (GMA-7) 12%; Matanglawin (ABS-CBN) 6%; Kapamilya Kiddie Blockbusters: Warm Bodies (ABS-CBN) 10.5%; The Tom & Jerry Show (TV5) 2.8%; The Tom & Jerry Show (TV5) 3.2%
Afternoon:
Del Monte Kitchenomics (GMA-7) 14.8%; Sunday Pinasaya (GMA-7) 18.3%; ASAP 20 (ABS-CBN) 10.3%; Happy Truck ng Bayan (TV5) .9%; Alagang Kapatid (TV5) 1.2%; T3 Alliance (TV5) 1.3%
GMA Blockbusters: Despicable Me 2 (GMA-7) 15.4%; Banana Sundae (ABS-CBN) 8.8%; Manny Pacquiao Presents (TV5) 1.3%
Juan Tamad (GMA-7) 9.7%; Kapamilya Mega Blockbusters: I Love You Goodbye (ABS-CBN) 6.5%; Celebrity Playtime (GMA-7) 7.4%; Movie Max 5: Overboard (TV5) 1.8%
24 Oras Weekend (GMA-7) 11.7%; TV Patrol Weekend (ABS-CBN) 8.5%; Movie Max 5: Real Steel (TV5) 5.3%
Evening:
Vampire Ang Daddy Ko (GMA-7) 14.4%; Goin' Bulilit (ABS-CBN) 9.9%
Ismol Family (GMA-7) 19.6%; Dance Kids (ABS-CBN) 17.1%; Born to be a Star (TV5) 2.3%
Kapuso Mo, Jessica Soho (GMA-7) 27.7%; Wansapanataym (ABS-CBN) 14.4%; Rated K: Handa Na Ba Kayo? (ABS-CBN) 13.9%; Parangnormal Activity (TV5) 2.1%; Barangay Utakan (TV5) 1.1%
Wanted: President (GMA-7) 16.6%; Pilipinas Got Talent (ABS-CBN) 18.4%; UFC Fight Night (TV5) 1.4%
SNBO: The Bodyguard (GMA-7) 9.6%; Gandang Gabi Vice (ABS-CBN) 13.6%; Sunday's Best: Pretty Woman (ABS-CBN) 3.9%; UFC Ultimate Insider (TV5) .8%
Diyos at Bayan (GMA-7) 2.1%; O Shopping (ABS-CBN) 1%; Shop Japan (TV5) .3%
--
February 8, 2015 (Monday)
Morning:
Power House Replay (GMA-7) .6%; O Shopping (ABS-CBN) .1%; Shop Japan (TV5) 0%
Unang Hirit! (GMA-7) 4%; Umagang Kay Ganda (ABS-CBN) 2.2%; Aksyon sa Umaga (TV5) .3%; Mickey Mouse Clubhouse (TV5) 1.2%
Doraemon (GMA-7) 8.8%; Pokemon Black & White (GMA-7) 11%; Ring ni Kakero (GMA-7) 11.1%; Kris TV (ABS-CBN) 4.9%; NFL Super Bown 50 (TV5) 1.2%
Detective Conan (GMA-7) 11.8%; Mr. Bean (ABS-CBN) 5.5%
Dragon Ball Z (GMA-7) 10.9%; You're the Best (GMA-7) 8.8%; Ice Adonis (GMA-7) 9.6%; Carmina (GMA-7) 9.7%; Kapamilya Blockbusters: You're My Boss (ABS-CBN) 11.9%
The Ryzza Mae Show: Princess in the Palace (GMA-7) 13.3%; Be My Lady (ABS-CBN) 13.4%; Amachan (TV5) 1.3%; Hallo2 Cafe (TV5) 1.3%
Afternoon:
Eat Bulaga! (GMA-7) 24.1%; It's Showtime (ABS-CBN) 13.2%; Aksyon sa Tanghali (TV5) 2.1%; Movie Max 5: The Cure (TV5) 3.5%; Star Wars the Clone Wars (TV5) 2.2%; X-Men (TV5) 2.5%
Wish I May (GMA-7) 16.4%; Doble Kara (ABS-CBN) 10.8%; Transformers Prime (TV5) 2.7%
Buena Familia (GMA-7) 15.5%; Tubig at Langis (ABS-CBN) 8.9%; Supernatural (TV5) 2.8%
Destiny Rose (GMA-7) 13.3%; And I Love You So (ABS-CBN) 8.8%; Movie Max 5: Deadly Descent (TV5) 3.5%
Alisto! (GMA-7) 9.4%; Kapamilya Deal or No Deal (ABS-CBN) 9.3%
Evening:
Wowowin (GMA-7) 14%; Pasion de Amor (ABS-CBN) 10.9%; Aksyon (TV5) 3.3%
24 Oras (GMA-7) 22.5%; TV Patrol (ABS-CBN) 18.7%; Movie Max 5: Delivery Man (TV5) 2.3%
Little Nanay (GMA-7) 23.1%; FPJ's Ang Probinsyano (ABS-CBN) 27.3%
That's My Amboy! (GMA-7) 19.7%; Pangako Sa 'Yo (ABS-CBN) 24.6%; The Accidental Couple (TV5) 1.4%
Because of You (GMA-7) 18%; On the Wings of Love (ABS-CBN) 13.9%; Amachan (TV5) 1%; Hallo2 Cafe (TV5) .7%
Temptation (GMA-7) 12%; You're My Home (ABS-CBN) 8.7%; Aksyon Tonite (TV5) .7%
Saksi (GMA-7) 7.7%; Front Row (GMA-7) 5.2%; Tonight with Boy Abunda (ABS-CBN) 5.9%; Bandila (ABS-CBN) 3.9%; Reaksyon (TV5) .7%; Demolition Job (TV5) .5%
The 700 Club Asia (GMA-7) 2.5%; Mission Possible (ABS-CBN) 2.9%; Shop Japan (TV5) .1%
Shop TV (GMA-7) 1%; O Shopping (ABS-CBN) 1.1%
--
February 9, 2015 (Tuesday)
Morning:
i-Witness Replay (GMA-7) 1.1%; O Shopping (ABS-CBN) .4%; Shop Japan (TV5) 0%
Unang Hirit! (GMA-7) 5.1%; Umagang Kay Ganda (ABS-CBN) 3.2%; Aksyon sa Umaga (TV5) .8%; Mickey House Clubhouse (TV5) 1.3%; Mickey House Clubhouse (TV5) 2.1%
Doraemon (GMA-7) 5.6%; Pokemon Black and White (GMA-7) 6.2%; Ring ni Kakero (GMA-7) 6.6%; Kris TV (ABS-CBN) 6%; Jake and the Neverland Pirates (TV5) 2.5%; Fish Hooks (TV5) 2.7%; Hi-5 (TV5) 2.7%
Detective Conan (GMA-7) 7.9%; Mr. Bean (ABS-CBN) 4.6%; The Looney Tunes Show (TV5) 2.5%
Dragon Ball Z (GMA-7) 8.2%; You're the Best (GMA-7) 8.1%; Ice Adonis (GMA-7) 9.7%; Carmina (GMA-7) 10.3%; Kapamilya Blockbusters: Tragic Theater (ABS-CBN) 8.1%; Rat-A-Tat (TV5) 3.2%; Krypto the Superdog (TV5) 4%; The Sylvester & Tweety Mysteries (TV5) 4.5%; Madam Chairman (TV5) 2.1%; Amachan (TV5) 1.9%; Hallo2 Cafe (TV5) 1.7%
The Ryzza Mae Show: Princess in the Palace (GMA-7) 12.1%; Be My Lady (ABS-CBN) 12.8%; Aksyon sa Tanghali (TV5) 2.2%
Afternoon:
Eat Bulaga! (GMA-7) 21.8%; It's Showtime (ABS-CBN) 12.3%; Movie Max 5: Half Baked (TV5) 2.1%; Star Wars the Clone Wars (TV5) 1.7%; X-Men (TV5) 2.3%
Wish I May (GMA-7) 15.5%; Doble Kara (ABS-CBN) 10.7%; Transformers Prime (TV5) 2.5%
Buena Familia (GMA-7) 14.4%;Tubig at Langis (ABS-CBN) 8.8%; Supernatural (TV5) 2.9%
Destiny Rose (GMA-7) 12.4%; And I Love You So (ABS-CBN) 7.8%; Movie Max 5: Virtual Storm (TV5) 3.1%
Tunay na Buhay (GMA-7) 10.4%; Kapamilya Deal or No Deal (ABS-CBN) 9.7%
Evening:
Wowowin (GMA-7) 15.1%; Pasion de Amor (ABS-CBN) 12.5%; Aksyon (TV5) 3.8%
24 Oras (GMA-7) 23%; TV Patrol (ABS-CBN) 19.4%; Movie Max 5: It's Complicated (TV5) 2.6%
Little Nanay (GMA-7) 23.9%; FPJ's Ang Probinsyano (ABS-CBN) 26.9%
That's My Amboy! (GMA-7) 20.5%; Pangako Sa 'Yo (ABS-CBN) 26.7%; The Accidental Couple (TV5) 1.6%
Because of You (GMA-7) 20.6%; On the Wings of Love (ABS-CBN) 16.4%
Temptation (GMA-7) 13.6%; You're My Home (ABS-CBN) 9.7%; Amachan (TV5) 1.3%; Hallo2 Cafe (TV5) .8%; Aksyon Tonite (TV5) 1.4%
Saksi (GMA-7) 9.2%; Tonight with Boy Abunda (ABS-CBN) 5.8%; Reaksyon (TV5) .7%
Stan Lee's Superhumans (GMA-7) 5.4%; Bandila (ABS-CBN) 3.9%; History with Lourd (TV5) .5%
The 700 Club Asia (GMA-7) 2.4%; My Puhunan (ABS-CBN) 2.6%; Shop Japan (TV5) .1%
Shop TV (GMA-7) 1%; O Shopping (ABS-CBN) .8%
--
February 10, 2015 (Wednesday)
Morning:
Tunay na Buhay Replay (GMA-7) 1.2%; O Shopping (ABS-CBN) .1%; Shop Japan (TV5) 0%
Unang Hirit! (GMA-7) 4.1%; Umagang Kay Ganda (ABS-CBN) 2.8%; Aksyon sa Umaga (TV5) .5%; Mickey Mouse Clubhouse (TV5) 1.1%; Mickey Mouse Clubhouse (TV5) 1.8%
Doraemon (GMA-7) 5.8%; Pokemon Black and White (GMA-7) 7.1%; Ring ni Kakero (GMA-7) 6.9%; Kris TV (ABS-CBN) 4.8%; Jake and the Neverland Pirates (TV5) 2.1%; Fish Hooks (TV5) 2.6%; Hi-5 (TV5) 3.1%
Detective Conan (GMA-7) 9%; Mr. Bean (ABS-CBN) 4.8%; The Looney Tunes Show (TV5) 2.6%
Dragon Ball Z (GMA-7) 9.6%; You're The Best (GMA-7) 8%; Ice Adonis (GMA-7) 9.8%; Carmina (GMA-7) 10.2%; Kapamilya Blockbusters: I'll Be There (ABS-CBN) 9%; Rat-A-Tat (TV5) 2.8%; Krypto the Superdog (TV5) 3.3%; The Sylvester & Tweety Mysteries (TV5) 3.2%; Madam Chairman (TV5) 1.6%; Amachan (TV5) 1.4%; Hallo2 Cafe (TV5) 1.6%
The Ryzza Mae Show: Princess in the Palace (GMA-7) 11.9%; Be My Lady (ABS-CBN) 13.2%; Aksyon sa Tanghali (TV5) 2.7%
Afternoon:
Eat Bulaga! (GMA-7) 21.5%; It's Showtime (ABS-CBN) 12.2%; Movie Max 5: Shark Week (TV5) 3.4%; Star Wars the Clone Wars (TV5) 2.1%; X-Men (TV5) 1.7%
Wish I May (GMA-7) 15.7%; Doble Kara (ABS-CBN) 10.8%; Transformers Prime (TV5) 2.3%
Buena Familia (GMA-7) 14.2%; Tubig at Langis (ABS-CBN) 8.8%; Supernatural (TV5) 2.7%
Destiny Rose (GMA-7) 12.6%; And I Love You So (ABS-CBN) 8.1%; Oppo PBA 2016 PBA Commissioner's Cup: Blackwater Elite vs Talk N Text (TV5) 3.2%
Power House (GMA-7) 10.4%; Kapamilya Deal or No Deal (ABS-CBN) 7.7%
Evening:
Wowowin (GMA-7) 14.1%; Pasion de Amor (ABS-CBN) 10.7%
24 Oras (GMA-7) 21.7%; TV Patrol (ABS-CBN) 17.4%; Aksyon (TV5) 3.8%; Oppo PBA 2016 Commissioner's Cup: Meralco vs Purefoods Star Hotshots (TV5) 6.9%
Little Nanay (GMA-7) 21.9%; FPJ's Ang Probinsyano (ABS-CBN) 25.6%
That's My Amboy! (GMA-7) 17.7%; Pangako Sa 'Yo (ABS-CBN) 24.6%
Because of You (GMA-7) 17.4%; On the Wings of Love (ABS-CBN) 16.1%; The Accidental Couple (TV5) 2.3%
Temptation (GMA-7) 12.7%; You're My Home (ABS-CBN) 9.8%; Amachan (TV5) 1.3%; Hallo2 Cafe (TV5) .8%
Saksi (GMA-7) 7.9%; Tonight with Boy Abunda (ABS-CBN) 5.5%; Aksyon Tonite (TV5) 1.3%
Serial Killer Earth (GMA-7) 5.5%; Bandila (ABS-CBN) 3.3%; Reaksyon (TV5) .6%
The 700 Club Asia (GMA-7) 2.3%; Red Alert (ABS-CBN) 2.2%; Shop Japan (TV5) .2%
Shop TV (GMA-7) .7%; O Shopping (ABS-CBN) .8%
--
February 11, 2015 (Thursday)
Morning:
Born to be Wild Replay (GMA-7) .9%; O Shopping (ABS-CBN) .2%; Shop Japan (TV5) 0%
Unang Hirit! (GMA-7) 4.4%; Umagang Kay Ganda (ABS-CBN) 2.8%; Aksyon sa Umaga (TV5) .5%; Mickey Mouse Clubhouse (TV5) 1.4%; Mickey Mouse Clubhouse (TV5) 2.2%
Doraemon (GMA-7) 6.5%; Pokemon Black and White (GMA-7) 7.1%; Ring ni Kakero (GMA-7) 6.6%; Kris TV (ABS-CBN) 5%; Jake and the Neverland Pirates (TV5) 2.2%; Fish Hooks (TV5) 2.2%; Hi-5 (TV5) 2.3%
Detective Conan (GMA-7) 7.7%; Mr. Bean (ABS-CBN) 4.5%; The Looney Tunes Show (TV5) 2.5%
Dragon Ball Z (GMA-7) 8.6%; You're The Best (GMA-7) 9.2%; Ice Adonis (GMA-7) 11.2%; Carmina (GMA-7) 11%; Kapamilya Blockbusters: Close to You (ABS-CBN) 7.8%; Rat-A-Tat (TV5) 2.6%; Krypto the Superdog (TV5) 3.1%; The Sylvester & Tweety Mysteries (TV5) 3.5%; Madam Chairman (TV5) 1.8%; Amachan (TV5) 1.7%; Hallo2 Cafe (TV5) 1.6%
The Ryzza Mae Show: Princess in the Palace (GMA-7) 12.4%; Be My Lady (ABS-CBN) 13%; Aksyon sa Tanghali (TV5) 2.3%
Afternoon:
Eat Bulaga! (GMA-7) 22.6%; It's Showtime (ABS-CBN) 13.3%; Movie Max 5: Wild Child (TV5) 2.7%; Star Wars the Clone Wars (TV5) 1.8%; X-Men (TV5) 1.4%
Wish I May (GMA-7) 14.5%; Doble Kara (ABS-CBN) 16%; Transformers Prime (TV5) 2%
Buena Familia (GMA-7) 13.8%; Tubig at Langis (ABS-CBN) 8.5%; Supernatural (TV5) 2.5%
Destiny Rose (GMA-7) 13.7%; And I Love You So (ABS-CBN) 8.3%; Movie Max 5: Scorcher (TV5) 2.6%
Reporter's Notebook (GMA-7) 10.8%; Kapamilya Deal or No Deal (ABS-CBN) 8.2%
Evening:
Wowowin (GMA-7) 14.8%; Pasion de Amor (ABS-CBN) 9.7%; Aksyon (TV5) 3%
24 Oras (GMA-7) 23%; TV Patrol (ABS-CBN) 17.7%; Movie Max 5: Charlie St Cloud (TV5) 3.5%
Little Nanay (GMA-7) 23.7%; FPJ's Ang Probinsyano (ABS-CBN) 26%
That's My Amboy! (GMA-7) 19.9%; Pangako Sa 'Yo (ABS-CBN) 25.6%; The Accidental Couple (TV5) 1.6%
Because of You (GMA-7) 18.3%; On the Wings of Love (ABS-CBN) 16.9%; Amachan (TV5) 1.4%; Hallo2 Cafe (TV5) 1%
Temptation (GMA-7) 13%; You're My Home (ABS-CBN) 9.5%; Aksyon Tonite (TV5) 1.8%
Saksi (GMA-7) 8.7%; Tonight with Boy Abunda (ABS-CBN) 5.8%; Reaksyon (TV5) .8%
Big History (ABS-CBN) 5.5%; Bandila (ABS-CBN) 3.2%; Kaya. (TV5) .4%
The 700 Club Asia (GMA-7) 3.3%; Sports U (ABS-CBN) 2.2%; Shop Japan (TV5) .1%
Shop TV (GMA-7) 1.3%; O Shopping (ABS-CBN) 1.1%
--
February 12, 2015 (Friday)
Morning:
Alisto! Replay (GMA-7) .6%; O Shopping (ABS-CBN) .4%; Shop Japan (TV5) .1%
Unang Hirit! (GMA-7) 4.1%; Umagang Kay Ganda (ABS-CBN) 2.7%; Aksyon sa Umaga (TV5) .7%; Mickey Mouse Clubhouse (TV5) 1.5%; Mickey Mouse Clubhouse (TV5) 2.5%
Doraemon (GMA-7) 6.4%; Pokemon Black and White (GMA-7) 6.8%; Ring ni Kakero (GMA-7) 6.9%; Kris TV (ABS-CBN) 4.8%; Jake and the Neverland Pirates (TV5) 2.6%; Fish Hooks (TV5) 2.3%; Hi-5 (TV5) 2.5%
Detective Conan (GMA-7) 7.2%; Mr. Bean (ABS-CBN) 4.9%; The Looney Tunes Show (TV5) 2.9%
Dragon Ball Z (GMA-7) 7.8%; You're the Best (GMA-7) 8.6%; Ice Adonis (GMA-7) 9.9%; Carmina (GMA-7) 9.5%; Kapamilya Blockbusters: Pridyider (ABS-CBN) 9.3%; Rat-A-Tat (TV5) 3.4%; Krypto the Superdog (TV5) 3.9%; The Sylvester & Tweety Mysteries (TV5) 3.6%; Madam Chairman (TV5) 1.8%; Amachan (TV5) 1.4%; Hallo2 Cafe (TV5) 1.2%
The Ryzza Mae Show: Princess in the Palace (GMA-7) 11.8%; Be My Lady (ABS-CBN) 13.4%; Aksyon sa Tanghali (TV5) 2.1%
Afternoon:
Eat Bulaga! (GMA-7) 20.8%; It's Showtime (ABS-CBN) 13.5%; Movie Max 5: Jet Stream (TV5) 2.5%; Star Wars the Clone Wars (TV5) 1.4%; X-Men (TV5) 1.7%
Wish I May (GMA-7) 15.1%; Doble Kara (ABS-CBN) 11.5%; Transformers Prime (TV5) 2.9%
Buena Familia (GMA-7) 14.2%; Tubig at Langis (ABS-CBN) 8.7%; Supernatural (TV5) 3%
Destiny Rose (GMA-7) 12.6%; And I Love You So (ABS-CBN) 7.8%; Oppo PBA 2016 Commissioner's Cup: Global Port vs Mahindra Enforcers (TV5) 3%
Love Hotline (GMA-7) 10.2%; Kapamilya Deal or No Deal (ABS-CBN) 8.2%
Evening:
Wowowin (GMA-7) 14.7%; Pasion de Amor (ABS-CBN) 8.8%; Aksyon (TV5) 4.2%
24 Oras (GMA-7) 22.3%; TV Patrol (ABS-CBN) 16.4%; Oppo PBA 2016 Commissioner's Cup: Brgy Ginebra vs NLEX (TV5) 7.1%
Little Nanay (GMA-7) 22%; FPJ's Ang Probinsyano (ABS-CBN) 25%
That's My Amboy! (GMA-7) 18.3%; Pangako Sa 'Yo (ABS-CBN) 27.5%
Because of You (GMA-7) 21.2%; On the Wings of Love (ABS-CBN) 14.4%; The Accidental Couple (TV5) 1.8%
Bubble Gang (GMA-7) 16.2%; You're My Home (ABS-CBN) 8.2%; Tonight with Boy Abunda (ABS-CBN) 4.7%; Amachan (TV5) 1.6% ; Hallo2 Cafe (TV5) .9%; Aksyon Tonite (TV5) .6%
Saksi (GMA-7) 9.1%; The 700 Club Asia (GMA-7) 4.3%; Bandila (ABS-CBN) 3.8%; Reaksyon (TV5) .4%
Shop TV (GMA-7) 1.4%; TNT (ABS-CBN) 2.6%; O Shopping (ABS-CBN) 1.3%; Shop Japan (TV5) .3%
--
February 13, 2015 (Saturday)
Morning:
PJM Forum (GMA-7) .1%; Adyenda (GMA-7) .6%; O Shopping (ABS-CBN) .1%; Shop Japan (TV5) .1%
Kapwa Ko Mahal Ko (GMA-7) 1.1%; Sa Kabukiran (ABS-CBN) .4%; Family Matters (TV5) .1%
Pinoy MD (GMA-7) 2.3%; Salamat Dok (ABS-CBN) 1.7%; Kakaibang Lunas (TV5) .3%
The Smurfs (GMA-7) 5.8%; Swak na Swak (ABS-CBN) 2.2%; CCF (TV5) .3%
Hayate the Combat Butler (GMA-7) 7.5%; Angel Wings (ABS-CBN) 1.7%
Pac-Man and the Ghostly Adventures (GMA-7) 8.6%; Why Not? (ABS-CBN) 1.5%; Higglytown Heroes (TV5) 1.3%
Angry Birds Toons (GMA-7) 9.1%; Crossfight B-Daman (GMA-7) 8.2%; Magic Kaito (GMA-7) 7.9%; Maynila (GMA-7) 8.3%; Kapamilya Blockbusters: Time Cop (ABS-CBN) 4.1%; Doc McStuffins (TV5) 2.3%; Little Einsteins (TV5) 3.5%; Stitch! (TV5) 3.7%; Hi-5 (TV5) 3.9%;
Sarap Diva (GMA-7) 10.4%; Del Monte Kitchenomics (TV5) 12.2%; BBVA Compass Rising Stars Challenger (ABS-CBN) 4.6%; The Sylvester & Tweety Mysteries (TV5) 3.9%; The Sylvester & Tweety Mysteries (TV5) 4.2%; Star Wars Rebels (TV5) 3.2%
Afternoon:
Eat Bulaga! (GMA-7) 24.3%; Karelasyon (GMA-7) 13.3%; It's Showtime (ABS-CBN) 10.2%; Movie Max 5: Zenon: Z3 (TV5) 3%; Born to be a Star (TV5) 1.4%; Born to be a Star (TV5) 1.5%
Wish Ko Lang! (GMA-7) 9.4%; Ipaglaban Mo (ABS-CBN) 9.2%; Oppo PBA 2016 Commissioner's Cup: Meralco vs Talk n Text (TV5) 2.1%
Celebri TV (GMA-7) 7.5%; SOCO (ABS-CBN) 9.2%
Imbestigador (GMA-7) 11.5%; Celebrity Playtime (ABS-CBN) 7.9%; Mga Kwento ni Marc Logan (ABS-CBN) 8.5%; Oppo PBA 2016 Commissioner's Cup: Purefoods Star Hotshots vs Rain or Shine (TV5) 4.4%
24 Oras Weekend (GMA-7) 17.8%; TV Patrol Weekend (ABS-CBN) 10.6%
Evening:
Pepito Manaloto: Ang Tunay na Kuwento (GMA-7) 21.8%; Home Sweetie Home (ABS-CBN) 12.9%
Magpakailanman (GMA-7) 21.6%; Pilipinas Got Talent (ABS-CBN) 18.5%; MMK Ang Tahanan Mo (ABS-CBN) 19.9%; Born to be a Star (TV5) 1.8%; Tasya Fantasya (TV5) 1.3%
Celebrity Bluff (GMA-7) 13.1%; i-Witness (GMA-7) 8.1%; I Love OPM (ABS-CBN) 16.8%; Wattpad Presents (TV5) 1.1%; MTV Top 20 Pilipinas (TV5) 1%
Kapuso Movie Night: Miss Congeniality (GMA-7) 6.8%; Failon Ngayon (GMA-7) 5.4%; The Bottom Line (ABS-CBN) 2.3%; Shop Japan (TV5) .2%
Walang Tulugan (GMA-7) 2.3%; O Shopping (ABS-CBN) .9%
--
February 14, 2015 (Sunday)
Daytime:
In Touch with Dr. Charles Stanley (GMA-7) .4%; Jesus The Healer (GMA-7) .6%; O Shopping (ABS-CBN) .2%; Shop Japan (TV5) 0%
Kapuso Sine Klasika: First Kiss (GMA-7) 4.7%; The Healing Eucharist (ABS-CBN) 2.4%; Misa Nazareno (TV5) 1%
Grimm's Fairy Tales (GMA-7) 4.7%; Hayate the Combat Butler (GMA-7) 6.7%; Swak na Swak (ABS-CBN) 2.7%; Power to Unite with Elvira (TV5) .3%
Larva (GMA-7) 7.6%; Aha! (GMA-7) 8%; Salamat Dok (ABS-CBN) 3.6%; Spongebob Squarepants (ABS-CBN) 4.4%; Healing Galing sa TV5 (TV5) .8%; Higglytown Heroes (TV5) 1.4%
Born To Be Wild (GMA-7) 7.7%; Teenage Mutant Ninja Turtles (ABS-CBN) 4.2%; Doc McStuffins (TV5) 2.9%; Stitch! (TV5) 3.6%
iBilib (ABS-CBN) 6.9%; Superbook (TV5) 5.4%; Hi-5 (TV5) 2%
Kapuso Movie Festival: The Little Engine that Could (GMA-7) 10.2%; Matanglawin (ABS-CBN) 6.1%; Kapamilya Kiddie Blockbusters: Rock Angels (ABS-CBN) 8.4%; Krypto the Superdog (TV5) 2.2%; Krypto the Superdog (TV5) 3%
Afternoon:
Del Monte Kitchenomics (GMA-7) 13.9%; Sunday Pinasaya (GMA-7) 19.1%; ASAP 20 (ABS-CBN) 9.5%; Movie Max 5: Jack and Jill (TV5) 2.7%; Alagang Kapatid (TV5) 1.4%; T3 Alliance (TV5) 1.5%
Dear Uge (GMA-7) 15%; Banana Sundae (ABS-CBN) 9.1%; Blow by Blow (TV5) 1.5%
GMA Blockbusters: Happy Feet (GMA-7) 10.4%; Kapamilya Mega Blockbusters: In the Name of Love (ABS-CBN) 9.1%; Oppo PBA 2016 Commissioner's Cup: Blackwater Elite vs Mahindra Enforcers (TV5) 2.6%
Juan Tamad (GMA-7) 9.5%; Celebrity Playtime (GMA-7) 9.5%; Oppo PBA 2016 Commissioner's Cup: Brgy Ginebra vs Global Port (TV5) 7.6%
24 Oras Weekend (GMA-7) 12.9%; TV Patrol Weekend (ABS-CBN) 8.9%
Evening:
Vampire Ang Daddy Ko (GMA-7) 15.2%; Goin' Bulilit (ABS-CBN) 10.3%
Ismol Family (GMA-7) 17.9%; Wansapanataym (ABS-CBN) 14.7%
Kapuso Mo, Jessica Soho (GMA-7) 19.9%; Pilipinas Got Talent (ABS-CBN) 21.3%; Rated K: Handa Na Ba Kayo? (ABS-CBN) 16.7%; I Love OPM (ABS-CBN) 18.7%; Born to be a Star (TV5) 2.7%; Parangnormal Activity (TV5) 1.7%; Barangay Utakan (TV5) .8%
SNBO: Rock of Ages (GMA-7) 8.8%; Gandang Gabi Vice (ABS-CBN) 14.9%; Sunday's Best: The Music of Rey Valera (ABS-CBN) 5%; Sports 360 (TV5) .7%; Countdown to Rio (TV5) .5%; History with Lourd (TV5) .5%
Diyos at Bayan (GMA-7) 2.2%; O Shopping (ABS-CBN) 1.6%; Shop Japan (TV5) .2%
--
TOP TEN PROGRAMS:
February 1, 2015 (Monday)
DAYTIME:
Eat Bulaga! (GMA-7) - 24.6%
Wish I May (GMA-7) - 17.5%
Buena Familia (GMA-7) - 15.9%
Destiny Rose (GMA-7) - 13.7%
The Ryzza Mae Show: Princess in the Palace (GMA-7) - 13.2%
Be My Lady (ABS-CBN) - 12.6%
It's Showtime (ABS-CBN) - 11.4%
Alisto! (GMA-7) – 11%
Doble Kara (ABS-CBN) - 10%
Carmina (GMA-7) - 9.7%
PRIMETIME:
FPJ's Ang Probinsyano (ABS-CBN) - 27.2%
24 Oras (GMA-7) / Pangako Sa 'Yo (ABS-CBN) - 24.4%
Little Nanay (GMA-7) - 22.9%
That's My Amboy! (GMA-7) - 21.2%
Because of You (GMA-7) - 20%
TV Patrol (ABS-CBN) - 17.6%
On the Wings of Love (ABS-CBN) - 16.2%
Wowowin (GMA-7) - 15.5%
Temptation (GMA-7) - 13.6%
Pasion de Amor (ABS-CBN) - 10.4%
February 2, 2015 (Tuesday)
DAYTIME:
Eat Bulaga! (GMA-7) - 22.6%
Wish I May (GMA-7) - 15.2%
Destiny Rose (GMA-7) - 13.4%
Buena Familia (GMA-7) - 13.1%
It's Showtime (ABS-CBN) - 11.9%
The Ryzza Mae Show: Princess in the Palace (GMA-7) - 11.8%
Be My Lady (ABS-CBN) - 11.5%
Tunay na Buhay (GMA-7) - 10.8%
Carmina (GMA-7) - 10.6%
Dragon Ball Z (GMA-7) - 10.5%
PRIMETIME:
FPJ's Ang Probinsyano (ABS-CBN) - 26.6%
Pangako Sa 'Yo (ABS-CBN) – 25%
24 Oras (GMA-7) - 22.6%
Little Nanay (GMA-7) - 22.4%
That's My Amboy! (GMA-7) - 21.9%
Because of You (GMA-7) - 21.5%
TV Patrol (ABS-CBN) - 18.2%
On the Wings of Love (ABS-CBN) - 14.9%
Wowowin (GMA-7) - 14.2%
Temptation (GMA-7) - 13.8%
February 3, 2015 (Wednesday)
DAYTIME:
Eat Bulaga! (GMA-7) - 21.4%
Wish I May (GMA-7) - 14.9%
Destiny Rose (GMA-7) - 13.9%
Buena Familia (GMA-7) - 13.6%
The Ryzza Mae Show: Princess in the Palace (GMA-7) / Be My Lady (ABS-CBN) / It's Showtime (ABS-CBN) - 12.8%
Doble Kara (ABS-CBN) - 10.1%
Power House (GMA-7) - 9.9%
Carmina (GMA-7) - 9.8%
Ice Adonis (GMA-7) / Kapamilya Deal or No Deal (ABS-CBN) - 9.4%
Kapamilya Blockbusters (ABS-CBN) - 9.2%
PRIMETIME:
FPJ's Ang Probinsyano (ABS-CBN) - 25.5%
24 Oras (GMA-7) / Pangako Sa 'Yo (ABS-CBN) - 21.7%
Little Nanay (GMA-7) - 19.2%
TV Patrol (ABS-CBN) - 18.1%
That's My Amboy! (GMA-7) - 16.9%
Wowowin (GMA-7) / Because of You (GMA-7) - 15.7%
Temptation (GMA-7) - 13.7%
On the Wings of Love (ABS-CBN) - 12.6%
Pasion de Amor (ABS-CBN) - 11.6%
Saksi (GMA-7) - 9.6%
February 4, 2015 (Thursday)
DAYTIME:
Eat Bulaga! (GMA-7) - 22.7%
Wish I May (GMA-7) - 15.3%
Buena Familia (GMA-7) – 14%
Destiny Rose (GMA-7) - 13.4%
The Ryzza Mae Show: Princess in the Palace (GMA-7) - 12.6%
Be My Lady (ABS-CBN) - 12.3%
It's Showtime (ABS-CBN) - 11.9%
Reporter's Notebook (GMA-7) - 10.4%
Carmina (GMA-7) - 10.3%
Doble Kara (ABS-CBN) - 10.2%
PRIMETIME:
FPJ's Ang Probinsyano (ABS-CBN) - 27.2%
Pangako Sa 'Yo (ABS-CBN) - 25.6%
24 Oras (GMA-7) - 23%
Little Nanay (GMA-7) - 22.9%
That's My Amboy! (GMA-7) - 20.4%
Because of You (GMA-7) - 19.4%
TV Patrol (ABS-CBN) - 19.1%
Wowowin (GMA-7) - 15.8%
On the Wings of Love (ABS-CBN) - 15.7%
Temptation (GMA-7) - 12.5%
February 5, 2015 (Friday)
DAYTIME:
Eat Bulaga! (GMA-7) - 23.6%
Wish I May (GMA-7) - 17.6%
Buena Familia (GMA-7) - 15.2%
Destiny Rose (GMA-7) - 13.9%
The Ryzza Mae Show: Princess in the Palace (GMA-7) - 12.8%
Be My Lady (ABS-CBN) - 12.3%
It's Showtime (ABS-CBN) - 11.5%
Love Hotline (GMA-7) - 11.1%
Carmina (GMA-7) - 10.3%
Doble Kara (ABS-CBN) - 10.1%
PRIMETIME:
FPJ's Ang Probinsyano (ABS-CBN) - 25.4%
24 Oras (GMA-7) - 23.9%
Little Nanay (GMA-7) / Pangako Sa 'Yo (ABS-CBN) - 22.9%
That's My Amboy! (GMA-7) - 21.5%
Because of You (GMA-7) - 21.2%
TV Patrol (ABS-CBN) - 19.3%
Wowowin (GMA-7) - 16.3%
Bubble Gang (GMA-7) - 16.2%
On the Wings of Love (ABS-CBN) - 14.4%
Pasion de Amor (ABS-CBN) – 11%
February 6, 2015 (Saturday)
DAYTIME:
Eat Bulaga! (GMA-7)- 24.8%
24 Oras Weekend (GMA-7) - 22.8%
Karelasyon (GMA-7) - 16.3%
Imbestigador (GMA-7) - 15.8%
Del Monte Kitchenomics (GMA-7) - 14.7%
TV Patrol Weekend (ABS-CBN) - 13.9%
SOCO (ABS-CBN) - 12.8%
Sarap Diva (GMA-7) - 12.7%
Wish Ko Lang! (GMA-7) / It's Showtime (ABS-CBN) - 16%
Celebrity Playtime (ABS-CBN) - 12.5%
PRIMETIME:
Magpakailanman (GMA-7) - 27.5%
Pepito Manaloto: Ang Tunay na Kuwento (GMA-7) - 26.4%
Dance Kids (ABS-CBN) - 19%
Celebrity Bluff (GMA-7) - 16.6%
Pilipinas Got Talent (ABS-CBN) - 16.4%
MMK: Ang Tahanan Mo (ABS-CBN) - 15.4%
Home Sweetie Home (ABS-CBN)- 14.8%
I-Witness (GMA-7) - 12%
Kapuso Movie Night (GMA-7) - 9.5%
Failon Ngayon (ABS-CBN) - 6%
February 7, 2015 (Sunday)
DAYTIME:
Sunday Pinasaya (GMA-7) - 18.3%
GMA Blockbusters (GMA-7) - 15.4%
Del Monte Kitchenomics (GMA-7) - 14.8%
Kapuso Movie Festival (GMA-7) - 12%
24 Oras Weekend (GMA-7) - 11.7%
Kapamilya Kiddie Blockbusters (ABS-CBN) - 10.5%
ASAP (ABS-CBN) - 10.3%
Larva (GMA-7) - 9.8%
Juan Tamad (GMA-7) - 9.7%
Aha! (GMA-7) - 9%
PRIMETIME:
Kapuso Mo, Jessica Soho (GMA-7) - 27.7%
Ismol Family (GMA-7) - 19.6%
Pilipinas Got Talent (ABS-CBN) - 18.4%
Dance Kids (ABS-CBN) - 17.1%
Wanted: President (GMA-7) - 16.6%
Wansapanataym (ABS-CBN) - 14.4%
Vampire Ang Daddy Ko (GMA-7) / Rated K (ABS-CBN) - 13.9%
Gandang Gabi Vice (ABS-CBN) - 13.6%
Goin' Bulilit (ABS-CBN) - 9.9%
SNBO (GMA-7) - 9.6%
February 8, 2015 (Monday)
DAYTIME:
Eat Bulaga! (GMA-7) - 14.1%
Wish I May (GMA-7) - 16.4%
Buena Familia (GMA-7) - 15.5%
Be My Lady (ABS-CBN) - 13.4%
The Ryzza Mae Show: Princess in the Palace (GMA-7) / Destiny Rose (GMA-7) - 13.3%
It's Showtime (ABS-CBN) - 13.2%
Kapamilya Blockbusters (ABS-CBN) - 11.9%
Detective Conan (GMA-7) - 11.8%
Ring ni Kakero (GMA-7) - 11.1%
Pokemon Black and White (GMA-7) - 11%
PRIMETIME:
FPJ's Ang Probinsyano (ABS-CBN) - 27.3%
Pangako Sa 'Yo (ABS-CBN) - 24.6%
Little Nanay (GMA-7) - 23.1%
24 Oras (GMA-7) - 22.5%
That's My Amboy! (GMA-7) - 19.7%
TV Patrol (ABS-CBN) - 18.7%
Because of You (GMA-7) - 18%
Wowowin (GMA-7) - 14%
On the Wings of Love (ABS-CBN) - 13.9%
Temptation (GMA-7) - 12%
February 9, 2015 (Tuesday)
DAYTIME:
Eat Bulaga! (GMA-7) - 21.8%
Wish I May (GMA-7) - 15.5%
Buena Familia (GMA-7) - 14.4%
Be My Lady (ABS-CBN) - 12.8%
Destiny Rose (GMA-7) - 12.4%
It's Showtime (ABS-CBN) - 12.3%
The Ryzza Mae Show: Princess in the Palace (GMA-7) - 12.1%
Doble Kara (ABS-CBN) - 10.7%
Tunay na Buhay (GMA-7) - 10.4%
Carmina (GMA-7) - 10.3%
PRIMETIME:
FPJ's Ang Probinsyano (ABS-CBN) - 26.9%
Pangako Sa 'Yo (ABS-CBN) - 26.7%
Little Nanay (GMA-7) - 23.9%
24 Oras (GMA-7) - 23%
Because of You (GMA-7) - 20.6%
That's My Amboy! (GMA-7) - 20.5%
TV Patrol (ABS-CBN) - 19.4%
On the Wings of Love (ABS-CBN) - 16.4%
Wowowin (GMA-7) - 15.1%
Temptation (GMA-7) - 13.6%
February 10, 2015 (Wednesday)
DAYTIME:
Eat Bulaga! (GMA-7) - 21.5%
Wish I May (GMA-7) - 15.7%
Buena Familia (GMA-7) - 14.2%
Be My Lady (ABS-CBN) - 13.2%
Destiny Rose (GMA-7) - 12.6%
It's Showtime (ABS-CBN) - 12.2%
The Ryzza Mae Show: Princess in the Palace (GMA-7) - 11.9%
Doble Kara (ABS-CBN) - 10.8%
Power House (GMA-7) - 10.4%
Carmina (GMA-7) - 10.2%
PRIMETIME:
FPJ's Ang Probinsyano (ABS-CBN) - 25.6%
Pangako Sa 'Yo (ABS-CBN) - 24.6%
Little Nanay (GMA-7) - 21.9%
24 Oras (GMA-7) - 21.7%
That's My Amboy! (GMA-7) - 17.7%
Because of You (GMA-7) / TV Patrol (ABS-CBN) - 17.4%
On the Wings of Love (ABS-CBN) - 16.1%
Wowowin (GMA-7) - 14.1%
Temptation (GMA-7) - 12.7%
Pasion de Amor (ABS-CBN) - 10.7%
February 11, 2015 (Thursday)
DAYTIME:
Eat Bulaga! (GMA-7) - 22.6%
Wish I May (GMA-7) - 14.5%
Buena Familia (GMA-7) - 13.8%
Destiny Rose (GMA-7) - 13.7%
It's Showtime (ABS-CBN) - 13.3%
Be My Lady (ABS-CBN) - 13%
The Ryzza Mae Show: Princess in the Palace (GMA-7) - 12.4%
Ice Adonis (GMA-7) - 11.2%
Carmina (GMA-7) - 11%
Reporter's Notebook (GMA-7) - 10.8%
PRIMETIME:
FPJ's Ang Probinsyano (ABS-CBN) – 26%
Pangako Sa 'Yo (ABS-CBN) – 6%
Little Nanay (GMA-7) - 23.7%
24 Oras (GMA-7) - 23%
That's My Amboy! (GMA-7) - 19.9%
Because of You (GMA-7) - 18.3%
TV Patrol (ABS-CBN) - 17.7%
On the Wings of Love (ABS-CBN) - 16.9%
Wowowin (GMA-7) - 14.8%
Temptation (GMA-7) – 13%
February 12, 2015 (Friday)
DAYTIME:
Eat Bulaga! (GMA-7) - 20.8%
Wish I May (GMA-7) - 15.1%
Buena Familia (GMA-7) - 14.2%
It's Showtime (ABS-CBN) - 13.5%
Be My Lady (ABS-CBN) - 13.4%
Destiny Rose (GMA-7) - 12.6%
The Ryzza Mae Show: Princess in the Palace (GMA-7) - 11.8%
Doble Kara (ABS-CBN) - 11.5%
Love Hotline (GMA-7) - 10.2%
Ice Adonis (GMA-7) - 9.9%
PRIMETIME:
Pangako Sa 'Yo (ABS-CBN) - 27.5%
FPJ's Ang Probinsyano (ABS-CBN) - 25%
24 Oras (GMA-7) - 22.3%
Little Nanay (GMA-7) - 22%
Because of You (GMA-7) - 18.5%
That's My Amboy! (GMA-7) - 18.3%
TV Patrol (ABS-CBN) - 16.4%
Bubble Gang (GMA-7) - 16.2%
On the Wings of Love (ABS-CBN) - 15.6%
Wowowin (GMA-7) - 14.7%
February 13, 2015 (Saturday)
DAYTIME:
Eat Bulaga! (GMA-7) - 24.3%
24 Oras Weekend (GMA-7) - 17.8%
Karelasyon (GMA-7) - 13.3%
Imbestigador (GMA-7) - 11.5%
Del Monte Kitchenomics (GMA-7) - 12.2%
TV Patrol Weekend (ABS-CBN) - 10.6%
Sarap Diva (GMA-7) - 10.4%
It's Showtime (ABS-CBN) - 12%
Wish Ko Lang! (GMA-7) - 9.4%
Ipaglaban Mo (ABS-CBN) / SOCO (ABS-CBN) - 9.2%
PRIMETIME:
Pepito Manaloto: Ang Tunay na Kuwento (GMA-7) - 21.8%
Magpakailanman (GMA-7) - 21.6%
MMK: Ang Tahanan Mo (ABS-CBN) - 19.9%
Pilipinas Got Talent (ABS-CBN) - 18.5%
I Love OPM (ABS-CBN) - 16.8%
Celebrity Bluff (GMA-7) - 13.1%
Home Sweetie Home (ABS-CBN) - 12.9%
I-Witness (GMA-7) - 8.1%
Kapuso Movie Night (GMA-7) - 6.8%
Failon Ngayon (ABS-CBN) - 5.4%
February 14, 2015 (Sunday)
DAYTIME:
Sunday Pinasaya (GMA-7) - 19.1%
Dear Uge (GMA-7) - 15%
Del Monte Kitchenomics (GMA-7) - 13.9%
24 Oras Weekend (GMA-7) - 12.9%
GMA Blockbusters (GMA-7) - 10.4%
Kapuso Movie Festival (GMA-7) - 10.2%
Juan Tamad (GMA-7) / ASAP (ABS-CBN) / Celebrity Playtime (ABS-CBN) - 9.5%
Banana Sundae (ABS-CBN) / Kapamilya Mega Blockbusters (ABS-CBN) - 9.1%
TV Patrol Weekend (ABS-CBN) - 8.9%
Kapamilya Kiddie Blockbusters (ABS-CBN) - 8.4%
PRIMETIME:
Pilipinas Got Talent (ABS-CBN) - 21.3%
Kapuso Mo, Jessica Soho (GMA-7) - 19.9%
I Love OPM (ABS-CBN) - 18.7%
Ismol Family (GMA-7) - 17.9%
Rated K (ABS-CBN) - 16.7%
Vampire Ang Daddy Ko (GMA-7) - 15.2%
Gandang Gabi Vice (ABS-CBN) - 14.9%
Wansapanataym (ABS-CBN) - 14.7%
Goin' Bulilit (ABS-CBN) - 10.3%
SNBO (GMA-7) - 8.8%
Source: AGB Nielsen Philippines