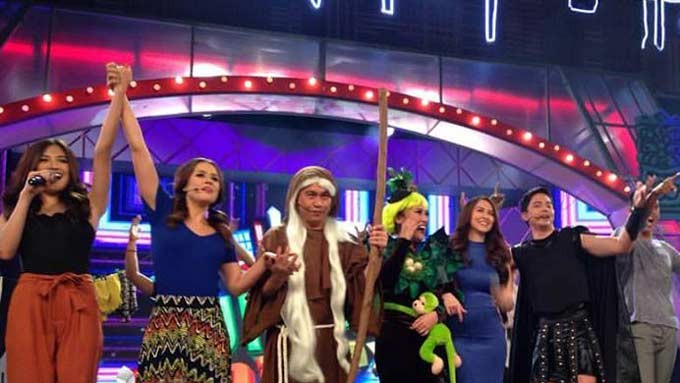 ---
Here are the highlights of the comparative ratings of GMA-7, ABS-CBN and TV5 programs from March 11-20, 2016 in Mega Manila.
GMA-7 led both daytime and primetime programming. The Kapuso network's shows were number one on the top ten lists during the given period.
The leading show for weekday daytime was still Eat Bulaga! Although the ratings are not as high as it was during the first months of AlDub and Kalyeserye, the long-running noontime show still gets a reasonable lead against ABS-CBN's It's Showtime.
The lead in weekday primetime was taken by GMA-7's Little Nanay. The light-hearted family drama defeated former leader FPJ's Ang Probinsyano during this week, thereby getting the No. 1 spot in Mega Manila.
The most-watched shows during the weekends were also from GMA-7: Eat Bulaga, Lip Sync Battle Philippines, Sunday Pinasaya and Kapuso Mo, Jessica Soho.

Sunday Pinasaya is doing particularly well in its timeslot. It consistently registered double-digit Mega Manila ratings while its counterpart program on ABS-CBN, ASAP 20, got single-digit ratings.

On March 13, SPS got 19.7% while ASAP got 9.4%. The following Sunday, SPS registered 21.8% while ASAP registered 9.1%.

On both instances, Sunday Pinasaya emerged as the No. 1 most-watched daytime program while ASAP did not make it to the Top 10 list on March 13. On March 20, it landed in the No. 8 slot.
A show that ended during the given period was Destiny Rose, an afternoon drama in GMA-7 that starred Ken Chan as a transsexual woman.
The March 11 finale got 17.2%, defeating the finale of ABS-CBN's And I Love You So, which only rated 10.5%.
ADVERTISEMENT - CONTINUE READING BELOW
And I Love You So was a family drama that starred young Kapamilya actresses Julia Barretto and Miles Ocampo.
The Millionaire's Wife, a heavy drama starring Andrea Torres and Mike Tan, replaced Destiny Rose on March 14.
The pilot episode got a Mega Manila TV rating of 14.9%, higher than My Love Donna's 6.9%. My Love Donna is a new Koreanovela on ABS-CBN.
Another new show was Heart of Asia Presents on Kapuso primetime. It features Korean movies every night, pitting them against ABS-CBN's You're My Home.
The first featured movie was That Kind of Love. It got a 12.9% rating, defeating You're My Home's 10.1%.
Another notable show was the second PiliPinas Debates 2016, which aired on TV5 on March 20, Sunday. It got an 11.2% rating, lower than the shows on both Kapuso and Kapamilya primetime.
On that day, Kapuso Mo, Jessica Soho got 26% while Pilipinas Got Talent got 21.3%.
Here are comparative ratings of GMA-7, ABS-CBN and TV5 programs from March 11-20, 2016, according to AGB Nielsen Philippines among Mega Manila households.
--
March 11, 2015 (Friday)
Morning:
Born to be Wild Replay (GMA-7) 1.4%; O Shopping (ABS-CBN) .2%; Shop Japan (TV5) .1%
Unang Hirit! (GMA-7) 4.6%; Umagang Kay Ganda (ABS-CBN) 3.1%; Aksyon sa Umaga (TV5) .8%; Mickey Mouse Clubhouse (TV5) 1.4%; Mickey Mouse Clubhouse (TV5) 2.9%
Dragon Ball Z (GMA-7) 4.8%; Pokemon Black and White (GMA-7) 5.9%; Knock Out (GMA-7) 6.8%; Kris TV (ABS-CBN) 4.5%; Lilo & Stitch (TV5) 3.9%; Fish Hooks (TV5) 3.7%; Hi-5 (TV5) 3.4%
Kapuso Movie Festival: Scaregivers (GMA-7) 9.3%; Dream Home (GMA-7) 8.5%; Love Hotline (GMA-7) 9.2%; Mr. Bean (ABS-CBN) 3.9%; Kapamilya Blockbusters: Halik sa Hangin (ABS-CBN) 7.6%; The Jungle Bunch to the Rescue! (TV5) 3.1%; Rat-A-Tat (TV5) 3.1%; Krypto the Superdog (TV5) 3.3%; The Sylvester & Tweety Mysteries (TV5) 3.8%; Amachan (TV5) 2.1%; Hallo2 Cafe (TV5) 1.8%
ADVERTISEMENT - CONTINUE READING BELOW
The Ryzza Mae Show: Princess in the Palace (GMA-7) 11.1%; Be My Lady (ABS-CBN) 11.7%; Aksyon sa Tanghali (TV5) 2.4%
Afternoon:
Eat Bulaga! (GMA-7) 22.1%; It's Showtime (ABS-CBN) 11%; Movie Max 5: Dark Breed (TV5) 2.4%; Star Wars the Clone Wars (TV5) 2%; X-Men (TV5) 1.4%
Wish I May (GMA-7) 17.4%; Doble Kara (ABS-CBN) 10%; Ang Panday Replay (TV5) 2.2%
Hanggang Makita Kang Muli (GMA-7) 16.8%; Tubig at Langis (ABS-CBN) 9.2%; Parangnormal Activity (TV5) 2.6%
Destiny Rose (GMA-7) 17.2%; And I Love You So (ABS-CBN) 10.5%; Oppo PBA 2016 Commissioner's Cup: Meralco vs NLEX (TV5) 2.6%
Wowowin (GMA-7) 16.4%; Game ng Bayan (ABS-CBN) 7.5%; We Will Survive (ABS-CBN) 9.1%
Evening:
24 Oras (GMA-7) 22.1%; TV Patrol (ABS-CBN) 16.2%; Aksyon (TV5) 4%
Little Nanay (GMA-7) 22.6%; FPJ's Ang Probinsyano (ABS-CBN) 23.3%; Oppo PBA 2016 Commissioner's Cup: Rain or Shine vs San Miguel Beermen (TV5) 7.4%
That's My Amboy! (GMA-7) 20.1%; Dolce Amore (ABS-CBN) 20.4%
Because of You (GMA-7) 19.9%; The Story of Us (ABS-CBN) 13.9%; Supernatural (TV5) 3.9%
Bubble Gang (GMA-7) 15.5%; You're My Home (ABS-CBN) 9.6%; Tonight with Boy Abunda (ABS-CBN) 5.6%; Amachan (TV5) 1.7%; Hallo2 Cafe (TV5) .8%; Aksyon Tonite (TV5) 1.1%; Reaksyon (TV5) .9%
Saksi (GMA-7) 8.3%; Bandila (ABS-CBN) 3.9%; Bilang Pilipino 2016 (TV5) .6%
The 700 Club Asia (GMA-7) 3.7%; TNT (ABS-CBN) 3%; Shop Japan (TV5) .2%
Shop TV (GMA-7) 1.5%; O Shopping (ABS-CBN) .9%
--
March 12, 2015 (Saturday)
Morning:
Adyenda (GMA-7) .8%; O Shopping (ABS-CBN) .4%; Shop Japan (TV5) 0%
Kapwa Ko Mahal Ko (GMA-7) 1.7%; Sa Kabukiran (ABS-CBN) .7%; Family Matters (TV5) .1%
Pinoy MD (GMA-7) 4.1%; Salamat Dok (ABS-CBN) 2%; Kakaibang Lunas (TV5) .5%
The Smurfs (GMA-7) 7.9%; Swak na Swak (ABS-CBN) 2.4%; CCF (TV5) .2%
Hayate the Combat Butler (GMA-7) 8.8%; Angel Wings (ABS-CBN) 1.8%
Pac-Man and the Ghostly Adventures (GMA-7) 10.2%; Angry Birds Toons (GMA-7) 9.6%; Why Not? (ABS-CBN) 2.2%; Higglytown Heroes (TV5) .8%
Bakugan Mechtanium Surge (GMA-7) 9.9%; Magic Knight Rayearth (GMA-7) 9%; Maynila (GMA-7) 9.9%; NBA 2015-2016 Season: Boston vs Houston (ABS-CBN) 4%; Doc McStuffins (TV5) 2.1%; Little Einsteins (TV5) 3.2%; Stitch! (TV5) 4%; Hi-5 (TV5) 3.8%; What's New Scooby-Doo? (TV5) 4.3%; Taz-Mania (TV5) 5.3%
ADVERTISEMENT - CONTINUE READING BELOW
Sarap Diva (GMA-7) 10.9%; Del Monte Kitchenomics (TV5) 14.9%; Kapamilya Blockbusters: The President's Man (ABS-CBN) 7.2%; Star Wars Rebels (TV5) 4.6%
Afternoon:
Eat Bulaga! (GMA-7) 25.6%; Karelasyon (GMA-7) 17.7%; It's Showtime (ABS-CBN) 10.3%; Movie Max 5: Den Brother (TV5) 3.4%; Ang Panday Replay (TV5) 2.5%; Ang Panday Replay (TV5) 2.4%; Alagang Kapatid (TV5) 1.2%; T3 Alliance (TV5) 2.2%
Wish Ko Lang! (GMA-7) 12.2%; Ipaglaban Mo (ABS-CBN) 10.2%; Oppo PBA 2016 Commissioner's Cup: Phoenix Fuel Masters vs Purefoods Star Hotshots (TV5) 2.9%
Celebri TV (GMA-7) 9.8%; SOCO (ABS-CBN) 8.6%; Celebrity Playtime (ABS-CBN) 7.9%
Imbestigador (GMA-7) 14.5%; Mga Kwento ni Marc Logan (ABS-CBN) 7.6%; Oppo PBA 2016 Commissioner's Cup: Alaska vs Global Port (TV5) 4.9%
24 Oras Weekend (GMA-7) 20.7%; TV Patrol Weekend (ABS-CBN) 9.6%
Evening:
Pepito Manaloto: Ang Tunay na Kuwento (GMA-7) 25.5%; Home Sweetie Home (ABS-CBN) 11.7%;Pilipinas Got Talent (ABS-CBN) 19.7%; Tasya Fantasya (TV5) 2.2%
Lip Sync Battle Philippines (GMA-7) 26.8%; MMK Ang Tahanan Mo (ABS-CBN) 17.4%; Born to be a Star (TV5) 1.6%
Magpakailanman (GMA-7) 25.3%; I Love OPM (ABS-CBN) 12.2%; Wattpad Presents (TV5) .9%
i-Witness (GMA-7) 14.8%; Failon Ngayon (GMA-7) 5.8%; MTV Top 20 Pilipinas (TV5) .7%
Midnight Horror Presents (GMA-7) 8%; The Bottom Line (ABS-CBN) 3.3%; O Shopping (ABS-CBN) 1.4%; Shop Japan (TV5) .1%
--
March 13, 2015 (Sunday)
Daytime:
Jesus The Healer (GMA-7) .5%; O Shopping (ABS-CBN) .5%; Shop Japan (TV5) .2%
Kapuso Sine Klasika: Boni & Klayd (GMA-7) 2.5%; The Healing Eucharist (ABS-CBN) 3.1%; Misa Nazareno (TV5) 1.3%
Grimm's Fairy Tales (GMA-7) 6%; Swak na Swak (ABS-CBN) 2.3%; Power to Unite with Elvira (TV5) .8%
Hayate the Combat Butler (GMA-7) 7.5%; Larva (GMA-7) 8.7%; Aha! (GMA-7) 9.3%; Salamat Dok (ABS-CBN) 3.7%; Healing Galing sa TV5 (TV5) 1.3%
Born To Be Wild (GMA-7) 9.5%; Spongebob Squarepants (ABS-CBN) 4.6%; Teenage Mutant Ninja Turtles (ABS-CBN) 5.2%; Higglytown Heroes (TV5) 1.9%; Doc McStuffins (TV5) 3.6%
iBilib (ABS-CBN) 9.6%; Superbook (ABS-CBN) 5.7%; Stitch! (TV5) 4.2%; Hi-5 (TV5) 2.3%
ADVERTISEMENT - CONTINUE READING BELOW
Kapuso Movie Festival: Barbie a Fashion Fairytale (GMA-7) 12.1%; Matanglawin (ABS-CBN) 5.1%; Kapamilya Kiddie Blockbusters: The Game Plan (ABS-CBN) 8.3%; Krypto the Superdog (TV5) 2.6%; Duck Dodgers (TV5) 2%
Afternoon:
Del Monte Kitchenomics (GMA-7) 15.5%; Sunday Pinasaya (GMA-7) 19.7%; ASAP 20 (ABS-CBN) 9.4%; Happy Truck Happinas (TV5) .7%; UFC Vault (TV5) 1.8%
Dear Uge (GMA-7) 13.9%; Banana Sundae (ABS-CBN) 9.2%; Blow by Blow (ABS-CBN) 1.2%
GMA Blockbusters: The Scorpion King 3 (GMA-7) 11.2%; Kapamilya Mega Blockbusters: Girl Boy Bakla Tomboy (ABS-CBN) 10.2%; Oppo PBA 2016 Commissioner's Cup: NLEX vs Talk n Text (TV5) 3%
Juan Tamad (GMA-7) 10.6%; Celebrity Playtime (GMA-7) 8.4%
24 Oras Weekend (GMA-7) 15.3%; TV Patrol Weekend (ABS-CBN) 8.1%; Oppo PBA 2016 Commissioner's Cup: Bgy Ginebra vs Blackwater Elite (TV5) 7.4%
Evening:
Vampire Ang Daddy Ko (GMA-7) 17.8%; Goin' Bulilit (ABS-CBN) 9.2%
Ismol Family (GMA-7) 19.6%; Wansapanataym (ABS-CBN) 14%
Kapuso Mo, Jessica Soho (GMA-7) 26%; Pilipinas Got Talent (ABS-CBN) 21.3%; Rated K: Handa Na Ba Kayo? (ABS-CBN) 14.3%; I Love OPM (ABS-CBN) 13.3%; Parangnormal Activity (TV5) 3.6%; Born to be a Star (TV5) 1.8%; Barangay Utakan (TV5) .6%; Tinig ng Maynila(TV5) .4%
SNBO: Flying Swords of Dragon Gate (GMA-7) 13.3%; Gandang Gabi Vice (ABS-CBN) 10.9%; Sunday's Best: 32nd Star Awards for Movies (ABS-CBN) 3.8%
Diyos at Bayan (GMA-7) 2.5%; O Shopping (ABS-CBN) 1.2%; Shop Japan (TV5) 0%
--
March 14, 2015 (Monday)
Morning:
Reporter's Notebook Replay (GMA-7) .6%; O Shopping (ABS-CBN) .3%; Shop Japan (TV5) 0%
Unang Hirit! (GMA-7) 4.3%; Umagang Kay Ganda (ABS-CBN) 3%; Aksyon sa Umaga (TV5) .7%; Mickey Mouse Clubhouse (TV5) 1.1%; Mickey Mouse Clubhouse (TV5) 2.2%
Dragon Ball Z (GMA-7) 4.8%; Pokemon Black & White (GMA-7) 6.4%; Knock Out (GMA-7) 7.1%; Kris TV (ABS-CBN) 4.8%; Lilo & Stitch (TV5) 2.5%; Fish Hooks (TV5) 2.5%; Hi-5 (TV5) 2.6%
Kapuso Movie Festival: Kangaroo Jack (GMA-7) 8.9%; You're the Best (GMA-7) 8.1%; Carmina (GMA-7) 8.7%; Mr. Bean (ABS-CBN) 4.1%; Kapamilya Blockbusters: Sakal Sakali Saklolo (ABS-CBN) 8.9%; The Jungle Bunch to the Recue! (TV5) 2%; Rat-A-Tat (TV5) 2.2%; Krypto the Superdog (TV5) 3.2%; The Sylvester & Tweety Mysteries (TV5) 3%; Amachan (TV5) 1.8%; Hallo2 Cafe (TV5) 1.6%
ADVERTISEMENT - CONTINUE READING BELOW
The Ryzza Mae Show: Princess in the Palace (GMA-7) 10.7%; Be My Lady (ABS-CBN) 11.7%; Aksyon sa Tanghali (TV5) 2.3%
Afternoon:
Eat Bulaga! (GMA-7) 21.5%; It's Showtime (ABS-CBN) 11.5%; Movie Max 5: Army of Darkness (TV5) 3.4%; Star Wars the Clone Wars (TV5) 1.3%; Marvel Avengers Assemble (TV5) 1.4%
Wish I May (GMA-7) 16.9%; Doble Kara (ABS-CBN) 10.3%; Movie Max 5: Cobra (TV5) 3.1%
Hanggang Makita Kang Muli (GMA-7) 15%; Tubig at Langis (ABS-CBN) 9.2%
The Millionaire's Wife (GMA-7) 14.9%; My Love Donna (ABS-CBN) 6.9%; PSL Invitational 2016: Cignal HD Spikers vs F2 Logistics (TV5) 1.3%
Wowowin (GMA-7) 16.2%; Game ng Bayan (ABS-CBN) 6.2%;We Will Survive (ABS-CBN) 9.2%
Evening:
24 Oras (GMA-7) 24.5%; TV Patrol (ABS-CBN) 16.9%; Aksyon (TV5) 3.2%; Ang Panday (TV5) 3.6%; Arrow (TV5) 3.9%
Little Nanay (GMA-7) 25.4%; FPJ's Ang Probinsyano (ABS-CBN) 24.3%; Supernatural (TV5) 3.7%
That's My Amboy! (GMA-7) 23.1%; Dolce Amore (ABS-CBN) 22.6%; Bakit Manipis ang Ulap? (TV5) 1.7%
Because of You (GMA-7) 20.8%; The Story of Us (ABS-CBN) 14.1%; Amachan (TV5) 1%; Hallo2 Cafe (TV5) .9%
Heart of Asia Presents That Kind of Love (GMA-7) 12.9%; You're My Home (ABS-CBN) 10.1%; Aksyon Tonite (TV5) 1.6%
Saksi (GMA-7) 9%; Front Row (GMA-7) 5.6%; Tonight with Boy Abunda (ABS-CBN) 5.6%; Bandila (ABS-CBN) 4%; Reaksyon (TV5) 1.1%; Bilang Pilipino 2016 (TV5) 1%
The 700 Club Asia (GMA-7) 2.9%; Mission Possible (ABS-CBN) 2.7%; Shop Japan (TV5) .6%
Shop TV (GMA-7) 1.2%; O Shopping (ABS-CBN) 1.1%
--
March 15, 2015 (Tuesday)
Morning:
i-Witness Replay (GMA-7) 1.1%; O Shopping (ABS-CBN) .2%; Shop Japan (TV5) .1%
Unang Hirit! (GMA-7) 4.2%; Umagang Kay Ganda (ABS-CBN) 3.2%; Aksyon sa Umaga (TV5) .7%; Mickey House Clubhouse (TV5) 1.5%; Mickey House Clubhouse (TV5) 2.5%
Dragon Ball Z (GMA-7) 3.8%; Pokemon Black and White (GMA-7) 5.5%; Knock Out (GMA-7) 6.6%; Kris TV (ABS-CBN) 3.7%; Lilo & Stitch (TV5) 2.9%; Fish Hooks (TV5) 3%; Hi-5 (TV5) 2.9%
Kapuso Movie Festival: Si Agimat, Si Enteng Kabisote at Ako (GMA-7) 10.4%; You're the Best (GMA-7) 10.8%; Carmina (GMA-7) 9.6%; Mr. Bean (ABS-CBN) 3.1%; Kapamilya Blockbusters: Sigaw (ABS-CBN) 7.2%; Rat-A-Tat (TV5) 2.6%; Krypto the Superdog (TV5) 2.5%; The Sylvester & Tweety Mysteries (TV5) 2.3%; Amachan (TV5) 1.5%; Hallo2 Cafe (TV5) 1.5%
ADVERTISEMENT - CONTINUE READING BELOW
The Ryzza Mae Show: Princess in the Palace (GMA-7) 11.2%; Be My Lady (ABS-CBN) 12%; Aksyon sa Tanghali (TV5) 2%
Afternoon:
Eat Bulaga! (GMA-7) 20.5%; It's Showtime (ABS-CBN) 11.7%; Movie Max 5: Global Effect (TV5) 2.7%; Star Wars the Clone Wars (TV5) 1.9%; Marvel Avengers Assemble (TV5) 1.9%
Wish I May (GMA-7) 16.1%; Doble Kara (ABS-CBN) 10.4%; Ang Panday Replay (TV5) 1.2%
Hanggang Makita Kang Muli (GMA-7) 16.2%; Tubig at Langis (ABS-CBN) 8.8%; Parangnormal Activity (TV5) 1.4%
The Millionaire's Wife (GMA-7) 16.2%; My Love Donna (ABS-CBN) 6.6%; PSL Invitational 2016: Foton vs RC Cola (TV5) 1.1%
Wowowin (GMA-7) 17.6%; Game ng Bayan (ABS-CBN) 6.6%; We Will Survive (ABS-CBN) 9.9%
Evening:
24 Oras (GMA-7) 25.1%; TV Patrol (ABS-CBN) 17.7%; Aksyon (TV5) 3.8%; Ang Panday (TV5) 3.8%
Little Nanay (GMA-7) 24.4%; FPJ's Ang Probinsyano (ABS-CBN) 24.1%; Arrow (TV5) 3.5%
That's My Amboy! (GMA-7) 23.1%; Dolce Amore (ABS-CBN) 22%; Supernatural (TV5) 2.7%
Because of You (GMA-7) 20.7%; The Story of Us (ABS-CBN) 13.9%; Bakit Manipis ang Ulap? (TV5) 1.2%; Amachan (TV5) .9%
Heart of Asia Presents That Kind of Love (GMA-7) 12.2%; You're My Home (ABS-CBN) 9.6%; Hallo2 Cafe (TV5) .4%; Aksyon Tonite (TV5) 1.1%
Heart of Asia Presents The Ugly Duckling (GMA-7) 10.3%; Saksi (GMA-7) 8.2%; Tonight with Boy Abunda (ABS-CBN) 6.1%; Reaksyon (TV5) .8%; History with Lourd (TV5) .9%
Alisto! (GMA-7) 4.9%; Bandila (ABS-CBN) 3.3%; History with Lourd (TV5) .9%
The 700 Club Asia (GMA-7) 2.3%; My Puhunan (ABS-CBN) 2.5%; Shop Japan (TV5) .2%
Shop TV (GMA-7) .8%; O Shopping (ABS-CBN) .8%
--
March 16, 2015 (Wednesday)
Morning:
Alisto! Replay (GMA-7) .6%; O Shopping (ABS-CBN) .7%; Shop Japan (TV5) 0%
Unang Hirit! (GMA-7) 3.7%; Umagang Kay Ganda (ABS-CBN) 3.2%; Aksyon sa Umaga (TV5) .5%; Mickey Mouse Clubhouse (TV5) 1.6%; Mickey Mouse Clubhouse (TV5) 2.1%
Dragon Ball Z (GMA-7) 4.8%; Pokemon Black and White (GMA-7) 6.4%; Knock Out (GMA-7) 7.4%; Kris TV (ABS-CBN) 4.1%; Lilo & Stitch (TV5) 2.5%; Fish Hooks (TV5) 2.9%; Hi-5 (TV5) 2.7%
ADVERTISEMENT - CONTINUE READING BELOW
Kapuso Movie Festival: The Mummy Quest (GMA-7) 8.7%; You're the Best GMA-7) 8.4%; Carmina (GMA-7) 8.5%; Mr. Bean (ABS-CBN) 4.4%; Kapamilya Blockbusters: Bekikang (ABS-CBN) 9.8%; The Jungle Bunch to the Rescue! (TV5) 1.8%; Rat-A-Tat (TV5) 2.5%; Krypto the Superdog (TV5) 2.7%; The Sylvester & Tweety Mysteries (TV5) 2.2%; Amachan (TV5) 1.7%; Hallo2 Cafe (TV5) 1.1%
The Ryzza Mae Show: Princess in the Palace (GMA-7) 11.7%; Be My Lady (ABS-CBN) 12.1%; Aksyon sa Tanghali (TV5) 2%
Afternoon:
Eat Bulaga! (GMA-7) 22.7%; It's Showtime (ABS-CBN) 12.3%; Movie Max 5: Battle Dogs (TV5) 2.3%; Star Wars the Clone Wars (TV5) 1.6%; Marvel Avengers Assemble (TV5) 1.1%
Wish I May (GMA-7) 17.5%; Doble Kara (ABS-CBN) 10.2%; Ang Panday Replay (TV5) 1.7%
Hanggang Makita Kang Muli (GMA-7) 17.4%; Tubig at Langis (ABS-CBN) 8.8%; Parangnormal Activity (TV5) 2.2%
The Millionaire's Wife (GMA-7) 15.5%; My Love Donna (ABS-CBN) 6.7%; Oppo PBA 2016 PBA Commissioner's Cup: Mahindra Enforcers vs Rain or Shine (TV5) 3%
Wowowin (GMA-7) 16.7%; Game ng Bayan (ABS-CBN) 6.9%; We Will Survive (ABS-CBN) 8.5%; Oppo PBA 2016 Commissioner's Cup: Mahindra Enforcers vs Rain or Shine (TV5) 3%
Evening:
24 Oras (GMA-7) 24.2%; TV Patrol (ABS-CBN) 16.2%; Aksyon (TV5) 4.1%; Oppo PBA 2016 Commissioner's Cup: Alaska vs San Miguel Beermen (TV5) 7.2%
Little Nanay (GMA-7) 22.8%; FPJ's Ang Probinsyano (ABS-CBN) 23.1%
That's My Amboy! (GMA-7) 20.7%; Dolce Amore (ABS-CBN) 20.9%
Because of You (GMA-7) 20.6%; The Story of Us (ABS-CBN) 13.5%; Ang Panday Replay (TV5) 2.6%; Ang Panday Replay (TV5) 2.3%
Heart of Asia Presents The Ugly Duckling (GMA-7) 11.4%; You're My Home (ABS-CBN) 10.9%; Aksyon Tonite (TV5) 2.1%
Saksi (GMA-7) 7.9%; Tonight with Boy Abunda (ABS-CBN) 6.6%; Reaksyon (TV5) 1.4%
Tunay na Buhay (GMA-7) 5.5%; Bandila (ABS-CBN) 4.3%; Bilang Pilipino 2016 (TV5) 1%
The 700 Club Asia (GMA-7) 3.7%; Red Alert (ABS-CBN) 3.1%; Shop Japan (TV5) .4%
Shop TV (GMA-7) 1%; O Shopping (ABS-CBN) 1%
ADVERTISEMENT - CONTINUE READING BELOW
--
March 17, 2015 (Thursday)
Morning:
Tunay na Buhay Replay (GMA-7) 1%; O Shopping (ABS-CBN) .2%; Shop Japan (TV5) .1%
Unang Hirit! (GMA-7) 4.5%; Umagang Kay Ganda (ABS-CBN) 3.4%; Aksyon sa Umaga (TV5) .5%; Mickey Mouse Clubhouse (TV5) 1.6%; Mickey Mouse Clubhouse (TV5) 1.8%
Dragon Ball Z (GMA-7) 6.4%; Pokemon Black and White (GMA-7) 7.8%; Knock Out (GMA-7) 7.7%; Kris TV (ABS-CBN) 4.4%; Lilo & Stitch (TV5) 2.2%; Fish Hooks (TV5) 2.7%; Hi-5 (TV5) 2.5%
Kapuso Movie Festival: Fantastic Man (GMA-7) 10.4%; You're the Best (GMA-7) 9.3%; Carmina (GMA-7) 9.7%; Mr. Bean (ABS-CBN) 4.2%; Kapamilya Blockbusters: Forevermore (ABS-CBN) 8.5%; The Jungle Bunch to the Rescue! (TV5) 2.4%; Rat-A-Tat (TV5) 2.7%; Krypto the Superdog (TV5) 2.7%; Amachan (TV5) 1.5%; Hallo2 Cafe (TV5) 1.3%; Amachan (TV5) 1.4%; Hallo2 Cafe (TV5) 1%
The Ryzza Mae Show: Princess in the Palace (GMA-7) 12.1%; Be My Lady (ABS-CBN) 12.2%; Aksyon sa Tanghali (TV5) 2%
Afternoon:
Eat Bulaga! (GMA-7) 22.6%; It's Showtime (ABS-CBN) 11.8%; Movie Max 5: Ghostquake (TV5) 2.2%; Star Wars the Clone Wars (TV5) 1.4%; Marvel Avengers Assemble (TV5) 1.5%
Wish I May (GMA-7) 16.7%; Doble Kara (ABS-CBN) 10.7%; Meet the Vice Presidentiables (TV5) 1.2%
Hanggang Makita Kang Muli (GMA-7) 16.6%; Tubig at Langis (ABS-CBN) 8.7%
The Millionaire's Wife (GMA-7) 15.6%; My Love Donna (ABS-CBN) 7.1%; PSL Invitational 2016: Petron Tri Activ vs RC Cola Army (TV5) 1.2%
Wowowin (GMA-7) 17.1%; Game ng Bayan (ABS-CBN) 6%; We Will Survive (ABS-CBN) 8.8%
Evening:
24 Oras (GMA-7) 24.2%; TV Patrol (ABS-CBN) 17.1%; Aksyon (TV5) 2.5%; Ang Panday (TV5) 3.4%
Little Nanay (GMA-7) 24.6%; FPJ's Ang Probinsyano (ABS-CBN) 24.5%; Arrow (TV5) 3.3%
That's My Amboy! (GMA-7) 22.7%; Dolce Amore (ABS-CBN) 21.9%; Supernatural (TV5) 3.4%; Bakit Manipis ang Ulap? (TV5) 1.4%
Because of You (GMA-7) 20.8%; The Story of Us (ABS-CBN) 13.7%; Amachan (TV5) 1%; Aksyon Tonite (TV5) 1%
Heart of Asia Presents The Ugly Duckling (GMA-7) 13.7%; You're My Home (ABS-CBN) 9.8%; Hallo2 Cafe (TV5) .5%
ADVERTISEMENT - CONTINUE READING BELOW
Heart of Asia Presents Taste of Curry (GMA-7) 10.5%; Tonight with Boy Abunda (ABS-CBN) 5.7%
Saksi (GMA-7) 7.5%; Reporter's Notebook (GMA-7) 4.5%; Bandila (ABS-CBN) 3.7%; Reaksyon (TV5) .7%; Kaya. (TV5) .6%
The 700 Club Asia (GMA-7) 2.8%; Sports U (ABS-CBN) 2.1%; Shop Japan (TV5) 0%
Shop TV (GMA-7) 1%; O Shopping (ABS-CBN) 1.3%
--
March 18, 2015 (Friday)
Morning:
Born to be Wild Replay (GMA-7) 1%; O Shopping (ABS-CBN) .4%; Shop Japan (TV5) .1%
Unang Hirit! (GMA-7) 4.4%; Umagang Kay Ganda (ABS-CBN) 3%; Aksyon sa Umaga (TV5) .6%; Mickey Mouse Clubhouse (TV5) 1.7%; Mickey Mouse Clubhouse (TV5) 2.7%
Dragon Ball Z (GMA-7) 5%; Pokemon Black and White (GMA-7) 6.2%; Knock Out (GMA-7) 6.6%; Kris TV (ABS-CBN) 4.5%; Lilo & Stitch (TV5) 3.6%; Fish Hooks (TV5) 3.7%; Hi-5 (TV5) 3.1%
Kapuso Movie Festival: Big Miracle (GMA-7) 8.7%; Dream Home (GMA-7) 8.6%; Love Hotline (GMA-7) 9.4%; Mr. Bean (ABS-CBN) 5%; Kapamilya Blockbusters: Sukob (ABS-CBN) 9.7%; The Jungle Bunch to the Rescue! (TV5) 3.1%; Rat-A-Tat (TV5) 3.1%; Krypto the Superdog (TV5) 2.6%; The Sylvester & Tweety Mysteries (TV5) 2.6%; Amachan (TV5) 1.1%; Hallo2 Cafe (TV5) 1.1%
The Ryzza Mae Show: Princess in the Palace (GMA-7) 12.7%; Be My Lady (ABS-CBN) 13.4%; Aksyon sa Tanghali (TV5) 1.9%
Afternoon:
Eat Bulaga! (GMA-7) 21.8%; It's Showtime Holy Week Special (ABS-CBN) 11%; Movie Max 5: Project Viper (TV5) 2.3%; Star Wars the Clone Wars (TV5) 1.8%; Marvel Avengers Assemble (TV5) 1.8%
Wish I May (GMA-7) 16.7%; Doble Kara (ABS-CBN) 10.8%; Ang Panday Replay (TV5) 1.7%
Hanggang Makita Kang Muli (GMA-7) 14.6%; Tubig at Langis (ABS-CBN) 9.5%; Parangnormal Activity (TV5) 2.3%
The Millionaire's Wife (GMA-7) 14.3%; My Love Donna (ABS-CBN) 6.7%; Oppo PBA 2016 Commissioner's Cup: Blackwater Elite vs Meralco (TV5) 2.5%
Wowowin (GMA-7) 16.7%; Game ng Bayan (ABS-CBN) 5.9%; We Will Survive (ABS-CBN) 7.5%
Evening:
24 Oras (GMA-7) 22.9%; TV Patrol (ABS-CBN) 14.8%; Aksyon (TV5) 3.9%; Oppo PBA 2016 Commissioner's Cup: Global Port vs Purefoods Star Hotshots (TV5) 6.7%
ADVERTISEMENT - CONTINUE READING BELOW
Little Nanay (GMA-7) 23.5%; FPJ's Ang Probinsyano (ABS-CBN) 22.9%
That's My Amboy! (GMA-7) 21.6%; Dolce Amore (ABS-CBN) 20.3%; Supernatural (TV5) 3.3%
Because of You (GMA-7) 20.3%; The Story of Us (ABS-CBN) 14.2%; Amachan (TV5) 1.4%
Bubble Gang (GMA-7) 16.7%; You're My Home (ABS-CBN) 10.5%; Tonight with Boy Abunda (ABS-CBN) 6.2%; Hallo2 Cafe (TV5) 1%; Aksyon Tonite (TV5) 1.4%; Reaksyon (TV5) 1.2%
Saksi (GMA-7) 9.2%; Bandila (ABS-CBN) 3.8%; Bilang Pilipino 2016 (TV5) .7%
The 700 Club Asia (GMA-7) 4.4%; TNT (ABS-CBN) 3.1%; Shop Japan (TV5) .3%
Shop TV (GMA-7) 1.6%; O Shopping (ABS-CBN) 1%
--
March 19, 2015 (Saturday)
Morning:
Adyenda (GMA-7) .6%; O Shopping (ABS-CBN) .6%; Shop Japan (TV5) .1%
Kapwa Ko Mahal Ko (GMA-7) 1.3%; Sa Kabukiran (ABS-CBN) .8%; Family Matters (TV5) .2%
Pinoy MD (GMA-7) 3.8%; Salamat Dok (ABS-CBN) 1.5%; Kakaibang Lunas (TV5) .3%
Monsuno (GMA-7) 6.8%; Swak na Swak (ABS-CBN) 2.2%; CCF (TV5) .1%
Hayate the Combat Butler (GMA-7) 8.5%; Angel Wings (ABS-CBN) 2.4%
Pac-Man and the Ghostly Adventures (GMA-7) 9.7%; Why Not? (ABS-CBN) 2.4%; Higglytown Heroes (TV5) 1%
Angry Birds Toons (GMA-7) 10.1%; Bakugan Mechtanium Surge (GMA-7) 10.4%; Magic Knight Rayearth (GMA-7) 10%; Maynila (GMA-7) 9.8%; NBA 2015-2016 Season: Cleveland vs Orlando Magic (ABS-CBN) 3.4%; Doc McStuffins (TV5) 2.4%; Little Einsteins (TV5) 3.6%; Stitch! (TV5) 4.6%; Hi-5 (TV5) 3.9%; What's New Scooby-Doo? (TV5) 3.5%
Sarap Diva (GMA-7) 9.7%; Del Monte Kitchenomics (TV5) 12.9%; Kapamilya Blockbusters: Tango & Clash (ABS-CBN) 8.5%; Taz-Mania (TV5) 4.5%; Star Wars Rebels (TV5) 3.5%; Movie Max 5: Twitches Too (TV5) 2.7%
Afternoon:
Eat Bulaga! (GMA-7) 23.3%; It's Showtime Holy Week Special (ABS-CBN) 12%; Ang Panday Replay (TV5) 2.2%; Ang Panday Replay (TV5) 2.1%; Alagang Kapatid (TV5) 1%; T3 Alliance (TV5) .9%
Karelasyon (GMA-7) 16.3%; Ipaglaban Mo (ABS-CBN) 9.2%; Movie Max 5: Revolutionary Road (TV5) 1.7%
Wish Ko Lang! (GMA-7) 13.3%; SOCO (ABS-CBN) 8.7%
Celebri TV (GMA-7) 11.2%; Celebrity Playtime (ABS-CBN) 7.9%
Imbestigador (GMA-7) 14.5%; Mga Kwento ni Marc Logan (ABS-CBN) 7.8%; TV Patrol Weekend (ABS-CBN) 9.9%; Oppo PBA 2016 Commissioner's Cup: Bgy Ginebra vs Phoenix Fuel Masters (TV5) 6.3%
ADVERTISEMENT - CONTINUE READING BELOW
Evening:
24 Oras Weekend (GMA-7) 20.3%; Home Sweetie Home (ABS-CBN) 12.2%
Pepito Manaloto: Ang Tunay na Kuwento (GMA-7) 25.6%; Pilipinas Got Talent (ABS-CBN) 20.8%; Tasya Fantasya (TV5) 2.2%
Lip Sync Battle Philippines (GMA-7) 29%; MMK Ang Tahanan Mo (ABS-CBN) 19.3%; Born to be a Star (TV5) 2%
Magpakailanman (GMA-7) 25%; I Love OPM (ABS-CBN) 11.9%; Wattpad Presents (TV5) 1.6%
i-Witness (GMA-7) 12.5%; Failon Ngayon (GMA-7) 6.5%; MTV Top 20 Pilipinas (TV5) 1.1%
Midnight Horror Presents (GMA-7) 6.2%; The Bottom Line (ABS-CBN) 3%; O Shopping (ABS-CBN) .9%; Shop Japan (TV5) .6%
--
March 20, 2015 (Sunday)
Daytime:
Jesus The Healer (GMA-7) 1.2%; O Shopping (ABS-CBN) .5%; Shop Japan (TV5) .1%
Kapuso Sine Klasika: Bituing Marikit (GMA-7) 2.1%; The Healing Eucharist (ABS-CBN) 3.3%; Misa Nazareno (TV5) 1.4%
Monsuno (GMA-7) 7%; Swak na Swak (ABS-CBN) 2.9%; Power to Unite with Elvira (TV5) .5%
Hayate the Combat Butler (GMA-7) 7%; Larva (GMA-7) 9.2%; Salamat Dok (ABS-CBN) 2.8%; Healing Galing sa TV5 (TV5) 1%
Aha! (GMA-7) 9.8%; Spongebob Squarepants (ABS-CBN) 3.3%; Higglytown Heroes (TV5) 1.6%
Born To Be Wild (GMA-7) 8.7%; Teenage Mutant Ninja Turtles (ABS-CBN) 4%; Doc McStuffins (TV5) 3.7%
iBilib (ABS-CBN) 8.1%; Superbook (ABS-CBN) 5.2%; Stitch! (TV5) 4.7%; Hi-5 (TV5) 2.6%
Kapuso Movie Festival: Battleship (GMA-7) 13.7%; Matanglawin (ABS-CBN) 6.5%; Kapamilya Kiddie Blockbusters: Sky H.I.G.H. (ABS-CBN) 8.6%; Krypto the Superdog (TV5) 2.3%; Duck Dodgers (TV5) 2.2%
Afternoon:
Sunday Pinasaya (GMA-7) 21.8%; ASAP 20 (ABS-CBN) 9.1%; Happy Truck Happinas (TV5) 1.5%; UFC Vault (TV5) 1.9%
Dear Uge (GMA-7) 13.6%; Banana Sundae (ABS-CBN) 9.6%; Blow by Blow (ABS-CBN) 1.7%
GMA Blockbusters: Rush Hour 3 (GMA-7) 13.7%; Kapamilya Mega Blockbusters: A Mother's Story (ABS-CBN) 8.1%; Celebrity Playtime (GMA-7) 6.7%; Movie Max 5: Death Race (TV5) 3.6%; PiliPinas Debates 2016 (TV5) 11.2%
24 Oras Weekend (GMA-7) 13.8%; TV Patrol Weekend (ABS-CBN) 7.4%
Evening:
Vampire Ang Daddy Ko (GMA-7) 15.3%; Goin' Bulilit (ABS-CBN) 9.1%
Ismol Family (GMA-7) 17.4%; Wansapanataym (ABS-CBN) 11.3%
Kapuso Mo, Jessica Soho (GMA-7) 22.2%; Pilipinas Got Talent (ABS-CBN) 15.1%; Rated K: Handa Na Ba Kayo? (ABS-CBN) 12.6%; I Love OPM (ABS-CBN) 13%; Born to be a Star (TV5) 3.5%
ADVERTISEMENT - CONTINUE READING BELOW
SNBO: 2 Fast 2 Furious (GMA-7) 17.2%; Gandang Gabi Vice (ABS-CBN) 11.5%; Sunday's Best (ABS-CBN) 3%; UFC Fight Night (ABS-CBN) 2.4%
Diyos at Bayan (GMA-7) 3.5%; O Shopping (ABS-CBN) .9%
--
TOP TEN PROGRAMS:
March 11, 2015 (Friday)
DAYTIME:
Eat Bulaga! (GMA-7) - 22.1%
Wish I May (GMA-7)  - 17.4%
Destiny Rose (GMA-7) - 17.2%
Hanggang Makita Kang Muli (GMA-7) - 16.8%
Wowowin (GMA-7) - 16.4%
Be My Lady (ABS-CBN) - 11.7%
The Ryzza Mae Show: Princess in the Palace (GMA-7) - 11.1%
It's Showtime (ABS-CBN) - 11%
Amd I Love You So (ABS-CBN) - 10.5%
Doble Kara (ABS-CBN) - 10%
PRIMETIME:
FPJ's Ang Probinsyano (ABS-CBN) - 23.3%
Little Nanay (GMA-7) - 22.6%
24 Oras (GMA-7) - 22.1%
Dolce Amore (ABS-CBN) - 20.4%
That's My Amboy! (GMA-7) - 20.1%
Because of You (GMA-7) - 19.9%
TV Patrol (ABS-CBN) - 17.2%
Bubble Gang (GMA-7) - 15.5%
The Story of Us (ABS-CBN) - 13.9%
You're My Home (ABS-CBN) - 9.6%
March 12, 2015 (Saturday)
DAYTIME:
Eat Bulaga! (GMA-7) – 25.6%
24 Oras Weekend (GMA-7) – 20.7%
Karelasyon (GMA-7) – 17.7%
Del Monte Kitchenomics (GMA-7) – 14.9%
Imbestigador (GMA-7) – 14.5%
Wish Ko Lang! (GMA-7) – 12.2%
Sarap Diva (GMA-7) – 10.9%
It's Showtime (ABS-CBN) - 10.3%
Pac-Man and the Ghostly Adventures (GMA-7) / Ipaglaban Mo (ABS-CBN) - 10.2%
Bakugan Mechtanium Surge (GMA-7) / Maynila (GMA-7) - 9.9%
PRIMETIME:
Lip Sync Battle Philippines (GMA-7) – 26.8%
Pepito Manaloto: Ang Tunay na Kuwento (GMA-7) – 25.5%
Magpakailanman (GMA-7) – 25.3%
Pilipinas Got Talent (ABS-CBN) – 19.7%
MMK: Ang Tahanan Mo (ABS-CBN) - 17.4%
iWitness (GMA-7) – 14.8%
I Love OPM (ABS-CBN) - 12.2%
Home Sweetie Home (ABS-CBN) - 11.7%
Midnight Horror Presents (GMA-7) - 8%
Failon Ngayon (ABS-CBN) - 5.8%
March 13, 2015 (Sunday)
DAYTIME:
Sunday Pinasaya (GMA-7) - 19.7%
Dear Uge (GMA-7) - 15.5%
24 Oras Weekend (GMA-7) – 15.3%
Dear Uge (GMA-7) – 13.9%
Kapuso Movie Festival (GMA-7) - 12.1%
GMA Blockbusters (GMA-7) - 11.2%
Juan Tamad (GMA-7) - 10.6%
Kapamilya Mega Blockbusters (ABS-CBN) - 10.2%
iBilib (GMA-7) - 9.6%
Born to be Wild (GMA-7) - 9.5%
PRIMETIME:
Kapuso Mo, Jessica Soho (GMA-7) - 26%
Pilipinas Got Talent (ABS-CBN) – 21.3%
Ismol Family (GMA-7) - 19.6%
Vampire Ang Daddy Ko (GMA-7) - 17.8%
Rated K (ABS-CBN) – 14.3%
Wansapanataym (ABS-CBN) – 14%
SNBO (GMA-7) / I Love OPM (ABS-CBN) – 13.3%
Gandang Gabi Vice (ABS-CBN) - 10.9%
Goin' Bulilit (ABS-CBN) - 9.2%
Oppo PBA 2016 Commissioner's Cup: Bgy Ginebra vs Blackwater Elite (TV5) - 7.4%
March 14, 2015 (Monday)
DAYTIME:
Eat Bulaga! (GMA-7) – 21.5%
Wish I May (GMA-7) - 16.9%
Wowowin (GMA-7) - 16.2%
Hanggang Makita Kang Muli (GMA-7) - 15%
The Millionaire's Wife (GMA-7) - 14.9%
Be My Lady (ABS-CBN) - 11.7%
It's Showtime (ABS-CBN) - 11.5%
The Ryzza Mae Show: Princess in the Palace (GMA-7) - 10.7%
Doble Kara (ABS-CBN) - 10.3%
Tubig at Langis (ABS-CBN) - 9.2%
PRIMETIME:
Little Nanay (GMA-7) - 25.4%
24 Oras (GMA-7) - 24.5%
FPJ's Ang Probinsyano (ABS-CBN) – 24.3%
That's My Amboy! (GMA-7) - 23.1%
Dolce Amore (ABS-CBN) – 22.6%
Because of You (GMA-7) - 20.8%
TV Patrol (ABS-CBN) – 16.9%
The Story of Us (ABS-CBN) - 14.1%
Heart of Asia Presents That Kind of Love (GMA-7) - 12.9%
You're My Home (ABS-CBN) - 10.1%
March 15, 2015 (Tuesday)
DAYTIME:
Eat Bulaga! (GMA-7) – 20.5%
Wowowin (GMA-7) - 17.6%
Hanggang Makita Kang Muli (GMA-7) / The Millionaire's Wife (GMA-7) - 16.2%
Wish I May (GMA-7) - 16.1%
Buena Familia (GMA-7) – 12%
It's Showtime (ABS-CBN) - 11.7%
The Ryzza Mae Show: Princess in the Palace (GMA-7) - 11.2%
You're the Best (GMA-7) - 10.8%
Kapuso Movie Festival (GMA-7) - 10.4%
Carmina (GMA-7) - 9.6%
PRIMETIME:
24 Oras (GMA-7) -25.1%
Little Nanay (GMA-7) - 24.4%
FPJ's Ang Probinsyano (ABS-CBN) - 24.1%
That's My Amboy! (GMA-7) - 1%
Dolce Amore (ABS-CBN) – 22%
Because of You (GMA-7) - 20.7%
TV Patrol (ABS-CBN) – 17.7%
The Story of Us (ABS-CBN) - 13.9%
Heart of Asia Presents That Kind of Love (GMA-7) -12.2%
Heart of Asia Presents The Ugly Duckling (GMA-7) - 10.3%
March 16, 2015 (Wednesday)
DAYTIME:
Eat Bulaga! (GMA-7) – 22.7%
Wish I May (GMA-7) - 17.5%
Hanggang Makita Kang Muli (GMA-7) - 17.4%
Wowowin (GMA-7) - 16.7%
The Millionaire's Wife (GMA-7) - 15.5%
It's Showtime (ABS-CBN) - 12.3%
Be My Lady (ABS-CBN) - 12.1%
The Ryzza Mae Show: Princess in the Palace (GMA-7) - 11.7%
Doble Kara (ABS-CBN) - 10.2%
Kapamilya Blockbusters (ABS-CBN) - 9.8%
PRIMETIME:
24 Oras (GMA-7) - 24.2%
FPJ's Ang Probinsyano (ABS-CBN) – 23.1%
Little Nanay (GMA-7) - 22.8%
Dolce Amore (ABS-CBN) – 20.9%
That's My Amboy! (GMA-7) - 20.7%
Because of You (GMA-7) - 20.6%
TV Patrol (ABS-CBN) – 16.2%
The Story of Us (ABS-CBN) - 13.5%
Heart of Asia Presents The Ugly Duckling (GMA-7) - 11.4%
You're My Home (GMA-7) – 10.9%
March 17, 2015 (Thursday)
DAYTIME:
Eat Bulaga! (GMA-7) – 22.6%
Wowowin (GMA-7) - 17.1%
Wish I May (GMA-7) - 16.7%
Hanggang Makita Kang Muli (GMA-7) - 16.6%
The Millionaire's Wife (GMA-7) - 15.6%
Be My Lady (ABS-CBN) - 12.2%
The Ryzza Mae Show: Princess in the Palace (GMA-7) - 12.1%
It's Showtime (ABS-CBN) - 11.8%
Doble Kara (ABS-CBN) - 10.7%
Kapuso Movie Festival (GMA-7) - 10.4%
PRIMETIME:
Little Nanay (GMA-7) - 24.6%
FPJ's Ang Probinsyano (ABS-CBN) – 24.5%
24 Oras (GMA-7) - 24.2%
That's My Amboy! (GMA-7) - 22.7%
Dolce Amore (ABS-CBN) – 21.9%
Because of You (GMA-7) - 20.8%
TV Patrol (ABS-CBN) – 17.1%
Heart of Asia Presents The Ugly Duckling (GMA-7) - 13.7%
Heart of Asia Presents Taste of Curry (GMA-7) - 10.5%
You're My Home (GMA-7) – 9.8%
March 18, 2015 (Friday)
DAYTIME:
Eat Bulaga! (GMA-7) – 21.8%
Wish I May (GMA-7) / Wowowin (GMA-7) - 16.7%
Hanggang Makita Kang Muli (GMA-7) - 15.6%
The Millionaire's Wife (GMA-7) - 14.3%
Be My Lady (ABS-CBN) - 13.4%
The Ryzza Mae Show: Princess in the Palace (GMA-7) - 12.7%
It's Showtime (ABS-CBN) - 11%
Doble Kara (ABS-CBN) - 10.8%
Kapamilya Blockbusters (ABS-CBN) - 9.7%
Tubig at Langis (ABS-CBN) - 9.5%
PRIMETIME:
Little Nanay (GMA-7) - 23.5%
24 Oras (GMA-7) / FPJ's Ang Probinsyano (ABS-CBN) - 22.9%
That's My Amboy! (GMA-7) – 21.6%
Because of You (GMA-7) / Dolce Amore (ABS-CBN) - 20.3%
Bubble Gang (GMA-7) - 16.7%
TV Patrol (ABS-CBN) – 14.8%
The Story of Us (ABS-CBN) - 14.2%
You're My Home (GMA-7) – 10.5%
We Will Survive (ABS-CBN) - 7.5%
Oppo PBA 2016 Commissioner's Cup: Global Port vs Purefoods Star Hotshots (TV5) - 6.7%
March 19, 2015 (Saturday)
DAYTIME:
Eat Bulaga! (GMA-7) – 23.3%
Karelasyon (GMA-7) – 16.3%
Imbestigador (GMA-7) – 14.5%
Wish Ko Lang! (GMA-7) – 13.3%
Del Monte Kitchenomics (GMA-7) – 12.9%
It's Showtime (ABS-CBN) - 12%
Celebri TV (GMA-7) – 11.2%
Bakugan Mechtanium Surge (GMA-7) - 10.4%
Angry Birds Toons (GMA-7) - 10.1%
Magic Knight Rayearth (GMA-7) - 10%
PRIMETIME:
Lip Sync Battle Philippines (GMA-7) – 29%
Pepito Manaloto: Ang Tunay na Kuwento (GMA-7) – 25.6%
Magpakailanman (GMA-7) – 25%
Pilipinas Got Talent (ABS-CBN) – 20.8%
24 Oras Weekend (GMA-7) – 20.3%
MMK: Ang Tahanan Mo (ABS-CBN) - 19.3%
iWitness (GMA-7) – 12.5%
Home Sweetie Home (ABS-CBN) - 12.2%
I Love OPM (ABS-CBN) - 11.9%
Failon Ngayon (ABS-CBN) - 6.5%
March 20, 2015 (Sunday)
DAYTIME:
Sunday Pinasaya (GMA-7) - 21.8%
24 Oras Weekend (GMA-7) – 13.8%
Kapuso Movie Festival (GMA-7) / GMA Blockbusters (GMA-7) - 13.7%
Dear Uge (GMA-7) - 13.6%
Aha! (GMA-7) - 9.8%
Banana Sundae (ABS-CBN) - 9.6%
Larva (GMA-7) - 9.2%
ASAP (ABS-CBN) - 9.1%
Born to be Wild (GMA-7) - 8.7%
Kapamilya Kiddie Blockbusters (ABS-CBN) - 8.6%
PRIMETIME:
Kapuso Mo, Jessica Soho (GMA-7) - 22.2%
Ismol Family (GMA-7) - 17.4%
SNBO: 2 Fast 2 Furious (GMA-7) - 17.2%
Vampire Ang Daddy Ko (GMA-7) - 15.3%
Pilipinas Got Talent (ABS-CBN) – 15.1%
I Love OPM (ABS-CBN) – 13%
Rated K (ABS-CBN) – 12.6%
Gandang Gabi Vice (ABS-CBN) - 11.5%
Wansapanataym (ABS-CBN) – 11.3%
PiliPinas Debates 2016 (TV5) - 11.2%
Source: AGB Nielsen Philippines