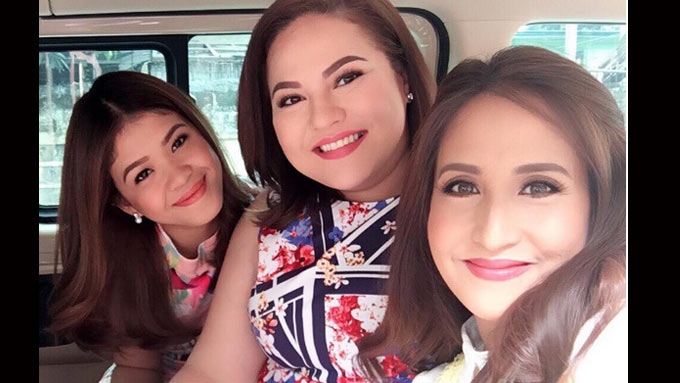 ---
Here are the highlights of the comparative ratings of GMA-7, ABS-CBN and TV5 programs from April 18-24, 2016 in Mega Manila.
New and special programs made the ratings scene fresh during the given period.
ABS-CBN had two new shows: Magandang Buhay and My Super D, which both aired pilot episodes on April 18.

Magandang Buhay is a morning talk show hosted by Jolina Magdangal, Karla Estrada and Melai Cantiveros. It replaced Kris TV, which went off air because Kris Aquino announced a break from showbiz.
Magandang Buhay's first episode rated 4.1%, lower than the animes aired on GMA-7: Dragon Ball Z, Yokai Watch and Knock Out, which got 6.2%, 7.9% and 9.4% respectively. The new Kapamilya talk show consistently got lower TV ratings in Mega Manila compared to its counterparts.
My Super D, meanwhile, is a superhero series that airs on early primetime. It stars Dominic Ochoa, and it replaced Game ng Bayan.
My Super D's pilot episode got 8.1%, losing to Wowowin's 13.1%. Wowowin continued to beat the Kapamilya series throughout the week.
ABS-CBN also had a finale during the given period. I Love OPM, a singing contest for foreigners, held its grand finals on April 23, Saturday night. The episode garnered 11.4%, losing to Magpakailanman's 19.3%.
The following Sunday was big for the Kapamilya network because it aired three special programs.
The first was the boxing fight betweek Nonito Donaire and Hungary's Zsolt Bedak, on Sunday morning. The sports event had 11.3%, lower than the airing of The Spongebob Squarepants Movie on GMA-7, which received 13.1%.
The second special program was the third leg of PiliPinas Debates 2016, a political forum featuring the candidates for Philippine President. The three-hour long debate aired on ABS-CBN got 27.9%, easily defeating the programs that GMA-7 carried on that night. They were 24 Oras Weekend, Vampire Ang Daddy Ko and Ismol Family, which rated 11.2%, 12.9% and 15.1% respectively.
It should also be noted that ABS-CBN's leg had the highest TV rating in Mega Manila. GMA-7's first leg of the PiliPinas Debates 2016 on February 21 rated 25.3%, while TV5's version on March 20 garnered 11.2%.
ADVERTISEMENT - CONTINUE READING BELOW
The last special program is the awards ceremony of Himig Handog PPop Love Songs 2016, which got 6.1%. It lost only by a small fraction to GMA-7's SNBO: Fight for Love, which had 6.3%.imig
Here are comparative ratings of GMA-7, ABS-CBN and TV5 programs from April 18-24, 2016, according to AGB Nielsen Philippines from Mega Manila households.
--
April 18, 2016 (Monday)
Morning:
Reporter's Notebook Replay (GMA-7) .3%; O Shopping (ABS-CBN) .4%; Shop Japan (TV5) .1%
Unang Hirit! (GMA-7) 2.7%; Umagang Kay Ganda (ABS-CBN) 2.3%; Aksyon sa Umaga (TV5) .6%; Sofia the First (TV5) 2.2%; Sofia the First (TV5) 3.5%
Dragon Ball Z (GMA-7) 6.2%; Yokai Watch (GMA-7) 7.9%; Knock Out (GMA-7) 9.4%; Magandang Buhay (ABS-CBN) 4.1%; Lilo & Stitch (TV5) 3.8%; Sheriff Callie's Wild West (TV5) 3.7%; Hi-5 (TV5) 2.6%
Kapuso Movie Festival: Resiklo (GMA-7) 10%; Hi School Love On (GMA-7) 9.4%; You're the Best (GMA-7) 9.7%; Naruto Shipuuden (ABS-CBN) 3.8%; Kapamilya Blockbusters: Chinese Zodiac (ABS-CBN) 9.4%; The Jungle Bunch to the Recue! (TV5) 3%; Rat-A-Tat (TV5) 3%; Krypto the Superdog (TV5) 2.8%; The Sylvester & Tweety Mysteries (TV5) 3.5%; Amachan (TV5) 2.4%; Hallo2 Cafe (TV5) 2%
The Ryzza Mae Show: Princess in the Palace (GMA-7) 11.9%; Be My Lady (ABS-CBN) 13.5%; Aksyon sa Tanghali (TV5) 2.2%
Afternoon:
Eat Bulaga! (GMA-7) 20.8%; Wish I May (GMA-7) 16.4%; It's Showtime (ABS-CBN) 11%; Movie Max 5: On Hostile Ground (TV5) 2.2%; Star Wars the Clone Wars (TV5) 2.1%; Marvel Avengers Assemble (TV5) 2.3%
Hanggang Makita Kang Muli (GMA-7) 14.6%; Doble Kara (ABS-CBN) 9.3%; Movie Max 5: Dragon the Bruce Lee Story (TV5) 3.1%
The Millionaire's Wife (GMA-7) 11.6%; Tubig at Langis (ABS-CBN) 8.1%; Oppo PBA 2016 Commisioner's Cup Quarterfinals: Meralco vs NLEX (TV5) 3.4%
Wowowin (GMA-7) 13.1%; We Will Survive (ABS-CBN) 7.4%; My Super D (ABS-CBN) 8.1%
Evening:
24 Oras (GMA-7) 19.2%; TV Patrol (ABS-CBN) 16%; Aksyon (TV5) 4.6%
Poor Senorita (GMA-7) 18.5%; FPJ's Ang Probinsyano (ABS-CBN) 22.4%; Oppo PBA 2016 Commisioner's Cup Quarterfinals: Purefoods Star Hotshots vs San Miguel Beermen (TV5) 7.4%
That's My Amboy! (GMA-7) 17.6%; Dolce Amore (ABS-CBN) 17.4%
Because of You (GMA-7) 17%; The Story of Us (ABS-CBN) 11.5%; Ang Panday (TV5) 2.7%; Bakit Manipis Ang Ulap? (TV5) 1.8%
Heart of Asia Presents (GMA-7) 8.8%; Jane the Virgin (ABS-CBN) 7.7%; Aksyon Tonite (TV5) 1.4%
ADVERTISEMENT - CONTINUE READING BELOW
Saksi (GMA-7) 6.8%; Tonight with Boy Abunda (ABS-CBN) 4.2%
Front Row (GMA-7) 5.1%; Bandila (ABS-CBN) 3.2%; Reaksyon (TV5) .7%
The 700 Club Asia (GMA-7) 2.3%; Mission Possible (ABS-CBN) 2.6%; Bilang Pilipino 2016 (ABS-CBN) .6%
Shop TV (GMA-7) 1.2%; O Shopping (ABS-CBN) .9%; Shop Japan (TV5) .3%
--
April 19, 2016 (Tuesday)
Morning:
i-Witness Replay (GMA-7) .5%; O Shopping (ABS-CBN) .4%; Shop Japan (TV5) 0%
Unang Hirit! (GMA-7) 3.9%; Umagang Kay Ganda (ABS-CBN) 1.9%; Aksyon sa Umaga (TV5) .7%; Sofia the First (TV5) 2.3%; Sofia the First (TV5) 3.4%
Dragon Ball Z (GMA-7) 6.7%; Yo-Kai Watch (GMA-7) 5.4%; Knock Out (GMA-7) 6.5%; Magandang Buhay (ABS-CBN) 5.7%; Lilo & Stitch (TV5) 3.7%; Sheriff Callie's Wild West (TV5) 3.8%; Hi-5 (TV5) 3.2%
Kapuso Movie Festival: Kutob (GMA-7) 9.1%; Hi School Love On (GMA-7) 9.6%; You're the Best (GMA-7) 10.9%; Naruto Shippuuden (ABS-CBN) 4.9%; Kapamilya Blockbusters: The Revenge of the King Cobra (ABS-CBN) 8.9%; The Jungle Bunch to the Rescue! (TV5) 3.4%; Rat-A-Tat (TV5) 3.9%; Krypto the Superdog (TV5) 3.6%; The Sylvester & Tweety Mysteries (TV5) 3.3%; Amachan (TV5) 2.1%; Hallo2 Cafe (TV5) 1.8%; Amachan (TV5) 1.5%; Hallo2 Cafe (TV5) 1.6%
The Ryzza Mae Show: Princess in the Palace (GMA-7) 11.5%; Be My Lady (ABS-CBN) 13.2%; Aksyon sa Tanghali (TV5) 2.4%
Afternoon:
Eat Bulaga! (GMA-7) 18.6%; Wish I May (GMA-7) 15.3%; It's Showtime (ABS-CBN) 11.7%; Movie Max 5: Arachnoquake (TV5) 4.2%; Star Wars the Clone Wars (TV5) 2.6%; Marvel Avengers Assemble (TV5) 3.1%
Hanggang Makita Kang Muli (GMA-7) 15.3%; Doble Kara (ABS-CBN) 9.4%; Kidlat (TV5) 2.3%; Ang Panday Replay (TV5) 2.4%
The Millionaire's Wife (GMA-7) 12.2%; Tubig at Langis (ABS-CBN) 8.8%; PBA 2016 Comm. Cup Quarterfinals: Brgy Ginebra vs Rain or Shine (TV5) 5.5%
Wowowin (GMA-7) 12.8%; We Will Survive (ABS-CBN) 7.9%; My Super D (ABS-CBN) 7.7%
Evening:
24 Oras (GMA-7) 19.5%; TV Patrol (ABS-CBN) 15.1%; Aksyon (TV5) 4.4%; PBA 2016 Comm Cup Quarterfinals: Alaska vs Talk N Text (TV5) 6.8%
Poor Senorita (GMA-7) 18.4%; FPJ's Ang Probinsyano (ABS-CBN) 22.1%
That's My Amboy! (GMA-7) 17.9%; Dolce Amore (ABS-CBN) 17.4%; Ang Panday (TV5) 3.5%
Because of You (GMA-7) 16.9%; The Story of Us (ABS-CBN) 11%; Bakit Manipis ang Ulap? (TV5) 1.9%
Heart of Asia Presents (GMA-7) 9.3%; Jane the Virgin (ABS-CBN) 7%; Aksyon Tonite (TV5) 1.6%
Saksi (GMA-7) 7.1%; Tonight with Boy Abunda (ABS-CBN) 5.4%; Reaksyon (TV5) 1.4%
ADVERTISEMENT - CONTINUE READING BELOW
Alisto! (GMA-7) 5.1%; Bandila (ABS-CBN) 3.6%; Bilang Pilipino (TV5) 1%
The 700 Club Asia (GMA-7) 3.1%; My Puhunan (ABS-CBN) 2.5%; Shop Japan (TV5) .4%
Shop TV (GMA-7) 1.2%; O Shopping (ABS-CBN) .6%
--
April 20, 2016 (Wednesday)
Morning:
Alisto! Replay (GMA-7) .4%; Shop Japan (TV5) .1%
Unang Hirit! (GMA-7) 3.2%; Umagang Kay Ganda (ABS-CBN) 2.2%; Aksyon sa Umaga (TV5) .6%; Sofia the First (TV5) 1.8%; Sofia the First (TV5) 3.1%
Dragon Ball Z (GMA-7) 5.2%; Yo-Kai Watch (GMA-7) 6.8%; Knock Out (GMA-7) 8.3%; Magandang Buhay (ABS-CBN) 4.4%; Lilo & Stitch (TV5) 2.9%; Sheriff Callie's Wild West (TV5) 3.2%; Hi-5 (TV5) 2.7%
Kapuso Movie Festival: Pitong Dalagita (GMA-7) 9.3%; Hi School Love On (GMA-7) 11.4%; You're the Best GMA-7) 11.5%; Naruto Shippuuden (ABS-CBN) 4.5%; Kapamilya Blockbusters: Tekken 2 (ABS-CBN) 8.4%; The Jungle Bunch to the Rescue! (TV5) 3.4%; Rat-A-Tat (TV5) 3.8%; Krypto the Superdog (TV5) 3.6%; The Sylvester & Tweety Mysteries (TV5) 3.3%; Amachan (TV5) 1.8%; Hallo2 Cafe (TV5) 1.1%; Amachan (TV5) 1.3%
The Ryzza Mae Show: Princess in the Palace (GMA-7) 12.6%; Be My Lady (ABS-CBN) 12.2%; Aksyon sa Tanghali (TV5) 2.9%
Afternoon:
Eat Bulaga! (GMA-7) 19.7%; Wish I May (GMA-7) 16.1%; It's Showtime (ABS-CBN) 10.6%; Movie Max 5: Earthfall (TV5) 3.6%; Star Wars the Clone Wars (TV5) 1.7%; Marvel Avengers Assemble (TV5) 1.7%
Hanggang Makita Kang Muli (GMA-7) 16.3%; Doble Kara (ABS-CBN) 8.2%; Kidlat (TV5) 1.7%; Ang Panday Replay (TV5) 1.8%
The Millionaire's Wife (GMA-7) 14.3%; Tubig at Langis (ABS-CBN) 7.7%; Movie Max 5: The God of Cookery (TV5) 2.3%
Wowowin (GMA-7) 14.9%; We Will Survive (ABS-CBN) 6.1%; My Super D (ABS-CBN) 7.1%
Evening:
24 Oras (GMA-7) 20.6%; TV Patrol (ABS-CBN) 15.2%; Aksyon (TV5) 3.5%; Oppo PBA 2016 Commissioner's Cup: Purefoods Star Hotshots vs San Miguel Beermen (TV5) 9%
Poor Senorita (GMA-7) 19.2%; FPJ's Ang Probinsyano (ABS-CBN) 22%
That's My Amboy! (GMA-7) 17.7%; Dolce Amore (ABS-CBN) 17.5%
Because of You (GMA-7) 16.8%; The Story of Us (ABS-CBN) 11.8%; Parangnormal Activity (TV5) 2.6%
Heart of Asia Presents (GMA-7) 10%; Jane the Virgin (ABS-CBN) 8.1%; Bakit Manipis Ang Ulap? (TV5) 1%; Aksyon Tonite (TV5) 1.6%
Saksi (GMA-7) 7.4%; Tonight with Boy Abunda (ABS-CBN) 4.8%; Reaksyon (TV5) 1%
Tunay na Buhay (GMA-7) 4.8%; Bandila (ABS-CBN) 3.2%; Bilang Pilipino 2016 (TV5) .5%
The 700 Club Asia (GMA-7) 2.5%; Red Alert (ABS-CBN) 2.1%; Shop Japan (TV5) .3%
Shop TV (GMA-7) .8%; O Shopping (ABS-CBN) 1%
ADVERTISEMENT - CONTINUE READING BELOW
--
April 21, 2016 (Thursday)
Morning:
Tunay na Buhay Replay (GMA-7) .6%; O Shopping (ABS-CBN) .3%; Shop Japan (TV5) 0%
Unang Hirit! (GMA-7) 3%; Umagang Kay Ganda (ABS-CBN) 2.1%; Aksyon sa Umaga (TV5) .6%; Sofia the First (TV5) 1.8%; Sofia the First (TV5) 3.6%
Dragon Ball Z (GMA-7) 6.6%; Yo-Kai Watch (GMA-7) 8.4%; Knock Out (GMA-7) 9.1%; Magandang Buhay (ABS-CBN) 4.1%; Lilo & Stitch (TV5) 4.3%; Sheriff Callie's Wild West (TV5) 3.5%; Hi-5 (TV5) 3.2%
Kapuso Movie Festival: Matakot sa Karma (GMA-7) 8.6%; Hi School Love On (GMA-7) 10.8%; You're the Best (GMA-7) 11.8%; Naruto Shippuuden (ABS-CBN) 4.5%; Kapamilya Blockbusters: In the Name of the King (ABS-CBN) 8.5%; The Jungle Bunch to the Rescue! (TV5) 3.9%; Rat-A-Tat (TV5) 4.3%; Krypto the Superdog (TV5) 4.5%; The Sylvester & Tweety Mysteries (TV5) 4.4%; Amachan (TV5) 1.8%; Hallo2 Cafe (TV5) 1.6%; Amachan (TV5) 1.8%; Hallo2 Cafe (TV5) 1.8%
The Ryzza Mae Show: Princess in the Palace (GMA-7) 13.3%; Be My Lady (ABS-CBN) 11.7%; Aksyon sa Tanghali (TV5) 2.7%
Afternoon:
Eat Bulaga! (GMA-7) 20.8%; Wish I May (GMA-7) 15.7%; It's Showtime (ABS-CBN) 10.9%; Movie Max 5: Weather Wars (TV5) 2.9%; Star Wars the Clone Wars (TV5) 1.9%; Marvel Avengers Assemble (TV5) 2.2%
Hanggang Makita Kang Muli (GMA-7) 16.3%; Doble Kara (ABS-CBN) 9.9%; Kidlat (TV5) 2.4%; Parangnormal Activity (TV5) 2.4%
The Millionaire's Wife (GMA-7) 13.9%; Tubig at Langis (ABS-CBN) 8.5%; Movie Max 5: Crimson Tide (TV5) 2.4%
Wowowin (GMA-7) 14.2%; We Will Survive (ABS-CBN) 6.5%; My Super D (ABS-CBN) 7.1%
Evening:
24 Oras (GMA-7) 21.3%; TV Patrol (ABS-CBN) 15%; Aksyon (TV5) 3.5%; Movie Max 5: Fun with Dick and Jane (TV5) 3.4%
Poor Senorita (GMA-7) 20.1%; FPJ's Ang Probinsyano (ABS-CBN) 21.8%
That's My Amboy! (GMA-7) 18.1%; Dolce Amore (ABS-CBN) 17.7%; Ang Panday (TV5) 2.8%
Because of You (GMA-7) 17.1%; The Story of Us (ABS-CBN) 11%; Bakit Manipis ang Ulap? (TV5) 1.1%
Heart of Asia Presents (GMA-7) 9.4%; Jane the Virgin (ABS-CBN) 6.8%; Aksyon Tonite (TV5) 1.2%; Reaksyon (TV5) .9%
Saksi (GMA-7) 7.9%; Tonight with Boy Abunda (ABS-CBN) 4.4%; Presidente (TV5) 1.3%
Reporter's Notebook (GMA-7) 5.7%; Bandila (ABS-CBN) 2.7%; Shop Japan (TV5) .2%
The 700 Club Asia (GMA-7) 3.7%; Sports U (ABS-CBN) 1.9%
Shop TV (GMA-7) 1.8%; O Shopping (ABS-CBN) .9%
--
April 22, 2016 (Friday)
Morning:
Born to be Wild Replay (GMA-7) .8%; O Shopping (ABS-CBN) 0%; Shop Japan (TV5) .2%
ADVERTISEMENT - CONTINUE READING BELOW
Unang Hirit! (GMA-7) 3.3%; Umagang Kay Ganda (ABS-CBN) 2%; Aksyon sa Umaga (TV5) .5%; Sofia the First (TV5) 2.1%; Sofia the First (TV5) 3.3%
Dragon Ball Z (GMA-7) 6.8%; Yo-Kai Watch (GMA-7) 7.9%; Knock Out (GMA-7) 9%; Magandang Buhay (ABS-CBN) 3.9%; Lilo & Stitch (TV5) 3.9%; Sheriff Callie's Wild West (TV5) 3.7%; Hi-5 (TV5) 3.3%
Kapuso Movie Festival: Masikip sa Dibdib (GMA-7) 8.9%; Dream Home (GMA-7) 9.1%; Love Hotline (GMA-7) 10.4%; Naruto Shippuuden (ABS-CBN) 5%; Kapamilya Blockbusters: Red (ABS-CBN) 8.6%; The Jungle Bunch to the Rescue! (TV5) 3.8%; Rat-A-Tat (TV5) 4.3%; Krypto the Superdog (TV5) 3.3%; The Sylvester & Tweety Mysteries (TV5) 3.5%; Amachan (TV5) 2.1%; Hallo2 Cafe (TV5) 1.7%; Amachan (TV5) 2.1%; Hallo2 Cafe (TV5) 2%
The Ryzza Mae Show: Princess in the Palace (GMA-7) 12.7%; Be My Lady (ABS-CBN) 12.4%; Aksyon sa Tanghali (TV5) 2.4%
Afternoon:
Eat Bulaga! (GMA-7) 20.4%; Wish I May (GMA-7) 17%; It's Showtime (ABS-CBN) 10.9%; Movie Max 5: 2012 Supernova (TV5) 2.4%; Star Wars the Clone Wars (TV5) 2.1%; Marvel Avengers Assemble (TV5) 2.3%
Hanggang Makita Kang Muli (GMA-7) 15.8%; Doble Kara (ABS-CBN) 10.2%; Kidlat (TV5) 1.9%; Ang Panday Replay (TV5) 1.8%
The Millionaire's Wife (GMA-7) 13.7%; Tubig at Langis (ABS-CBN) 9.8%; Movie Max 5: Fight Back the School (TV5) 2%
Wowowin (GMA-7) 15.3%; We Will Survive (ABS-CBN) 7.8%; My Super D (ABS-CBN) 7.6%
Evening:
24 Oras (GMA-7) 21.1%; TV Patrol (ABS-CBN) 14.4%; Aksyon (TV5) 3.3%; Oppo PBA 2016 Commissioner's Cup: Alaska vs Talk N Text (TV5) 6.3%
Poor Senorita (GMA-7) 19.8%; FPJ's Ang Probinsyano (ABS-CBN) 21.2%
That's My Amboy! (GMA-7) 18.6%; Dolce Amore (ABS-CBN) 18.6%; Bakit Manipis ang Ulap? (TV5) .8%
Because of You (GMA-7) 17.8%; The Story of Us (ABS-CBN) 11.9%
Bubble Gang (GMA-7) 16.3%; Jane the Virgin (ABS-CBN) 6.4%; Tonight with Boy Abunda (ABS-CBN) 4.5%; Aksyon Tonite (TV5) .9%; Reaksyon (TV5) .5%; Bilang Pilipino 2016 (TV5) .6%
Saksi (GMA-7) 8.5%; Bandila (ABS-CBN) 3%; Shop Japan (TV5) .2%
The 700 Club Asia (GMA-7) 4.5%; TNT (ABS-CBN) 2.5%
Shop TV (GMA-7) 2.2%; O Shopping (ABS-CBN) 1.2%
--
April 23, 2016 (Saturday)
Morning:
Adyenda (GMA-7) 1%; O Shopping (ABS-CBN) .5%; Shop Japan (TV5) 0%
Kapwa Ko Mahal Ko (GMA-7) 1.4%; Sa Kabukiran (ABS-CBN) .8%; Family Matters (TV5) .1%
Pinoy MD (GMA-7) 2.9%; Salamat Dok (ABS-CBN) 1.6%; Kakaibang Lunas (TV5) .4%
Monsuno (GMA-7) 4.9%; Swak na Swak (ABS-CBN) 2%; CCF (TV5) .2%
ADVERTISEMENT - CONTINUE READING BELOW
Hayate the Combat Butler (GMA-7) 6.8%; Angel Wings (ABS-CBN) 1.3%
Pac-Man and the Ghostly Adventures (GMA-7) 8.5%; Why Not? (ABS-CBN) 1.7%; Higglytown Heroes (TV5) 1.3%
Angry Birds Toons (GMA-7) 9.2%; Bakugan Mechtanium Surge (GMA-7) 8.2%; Magic Knight Rayearth (GMA-7) 8%; Maynila (GMA-7) 9.3%; 2016 NBA Eastern Conference Playoffs: Atlanta vs Boston (ABS-CBN) 4.1%; Doc McStuffins (TV5) 2.9%; Little Einsteins (TV5) 3.3%; Stitch! (TV5) 4.2%; Hi-5 (TV5) 2.9%; What's New Scooby-Doo? (TV5) 3.9%
Sarap Diva (GMA-7) 9.5%; Del Monte Kitchenomics (TV5) 12.7%; Kapamilya Blockbusters: The World is Not Enough (ABS-CBN) 9.1%; Taz-Mania (TV5) 4.8%; Star Wars Rebels (TV5) 3.8%
Afternoon:
Eat Bulaga! (GMA-7) 22.3%; Karelasyon (GMA-7) 15.6%; It's Showtime (ABS-CBN) 10.2%; Movie Max 5: Sky HIGH (TV5) 5%; Asia's Next Top Model 4 (TV5) 1.5%; Alagang Kapatid (TV5) 1.4%; T3 Alliance (TV5) 1.9%
Wish Ko Lang! (GMA-7) 11.2%; Ipaglaban Mo (ABS-CBN) 9.5%; Movie Max 5: Once Upon a Time in China IV (TV5) 2.9%
Celebri TV (GMA-7) 9.1%; SOCO (ABS-CBN) 9.1%; Mga Kwento ni Marc Logan (ABS-CBN) 8.5%
Imbestigador (GMA-7) 12.5%; Family Feud (ABS-CBN) 8.2%; Movie Max 5: The Interpreter (TV5) 3.1%
24 Oras Weekend (GMA-7) 17%; TV Patrol Weekend (ABS-CBN) 10.3%
Evening:
Pepito Manaloto: Ang Tunay na Kuwento (GMA-7) 23.3%; Home Sweetie Home (ABS-CBN) 11.9%; Pilipinas Got Talent (ABS-CBN) 17.2%; Parangnormal Activity (TV5) 2.7%; Tasya Fantasya (TV5) 2%
Lip Sync Battle Philippines (GMA-7) 22.6%; MMK Ang Tahanan Mo (ABS-CBN) 15.1%; Wattpad Presents: Picture of You (TV5) .9%
Magpakailanman (GMA-7) 19.3%; i-Witness (GMA-7) 8.8%; I Love OPM: The Grand Destination (ABS-CBN) 11.4%; MTV Top 20 Pilipinas (TV5) .9%
Midnight Horror Presents (GMA-7) 5%; Failon Ngayon (GMA-7) 5.7%; The Bottom Line (ABS-CBN) 3.2%; O Shopping (ABS-CBN) 1.4%; UFC 197 Countdown (TV5) 1%; Shop Japan (TV5) .2%
--
April 24, 2016 (Sunday)
Daytime:
Jesus The Healer (GMA-7) .7%; O Shopping (ABS-CBN) .5%; Shop Japan (TV5) .1%
Kapuso Sine Klasika: Magic Bilao (GMA-7) 1.9%; The Healing Eucharist (ABS-CBN) 2.7%; Misa Nazareno (TV5) 1.3%
Monsuno (GMA-7) 4.1%; Swak na Swak (ABS-CBN) 1.8%; Power to Unite with Elvira (TV5) .6%
Hayate the Combat Butler (GMA-7) 5.7%; Larva (GMA-7) 7.8%; Aha! (GMA-7) 9.5%; Salamat Dok (ABS-CBN) 2.9%; Healing Galing sa TV5 (TV5) .9%
Born To Be Wild (GMA-7) 7.4%; iBilib (GMA-7) 7.6%; Kapuso Movie Festival: The Spongebob Squarepants Movie (GMA-7) 13.1%; The Time Has Come Donaire (ABS-CBN) 11.3%; Higglytown Heroes (TV5) 1.3%; Doc McStuffins (TV5) 2.4%; Stitch! (TV5) 2.9%; Hi-5 (TV5) 1.9%; Krypto the Superdog (TV5) 1.7%
ADVERTISEMENT - CONTINUE READING BELOW
Del Monte Kitchenomics (GMA-7) 15.9%; Jadine Flying High (ABS-CBN) 7%; Duck Dodgers (TV5) 2%; Happy Truck Happinas (TV5) 1.1%
Afternoon:
Sunday Pinasaya (GMA-7) 15.6%; ASAP (ABS-CBN) 9.3%; Banana Sundae (ABS-CBN) 8.7%; UFC Vault (TV5) 1.4%
Dear Uge (GMA-7) 12.5%; Kapamilya Mega Blockbusters: Chain Mail (ABS-CBN) 9.3%; Blow by Blow (ABS-CBN) 1.4%; Movie Max 5: Hard Target (TV5) 3.3%
GMA Blockbusters: The Mummy Returns (GMA-7) 11.8%; Family Feud (GMA-7) 9.9%; Halalan 2016 Ang Huling Harapan (ABS-CBN) 12.7%; Oppo PBA 2016 Commissioner's Cup: Rain or Shine vs San Miguel Beermen (TV5) 4.6%
Evening:
24 Oras Weekend (GMA-7) 11.2%; Vampire Ang Daddy Ko (GMA-7) 12.9%; Ismol Family (GMA-7) 15.1%; Pilipinas Debates 2016 (ABS-CBN) 27.9%; Sports 360 (TV5) 1%; Born to be a Star (TV5) .9%
Kapuso Mo, Jessica Soho (GMA-7) 17.5%; Halalan 2016 Ang Huling Harapan (ABS-CBN) 20.1%; Pilipinas Got Talent (ABS-CBN) 14.8%; ESL One Manila 2016 (TV5) 1.3%; UFC 197 (TV5) 2%
SNBO: Fight for Love (GMA-7) 6.3%; Diyos at Bayan (GMA-7) 1.6%; Gandang Gabi Vice (ABS-CBN) 12.8%; Sunday's Best: Himig Handog PPop Love Songs 2016 (ABS-CBN) 6.1%
--
TOP TEN PROGRAMS:
April 18, 2016 (Monday)
DAYTIME:
Eat Bulaga! (GMA-7) – 20.8%
Wish I May (GMA-7) - 16.4%
Hanggang Makita Kang Muli (GMA-7) – 16%
Be My Lady (ABS-CBN) - 13.5%
Wowowin (GMA-7) - 13.1%
The Ryzza Mae Show: Princess in the Palace (GMA-7) - 11.9%
The Millionaire's Wife (GMA-7) - 11.6%
It's Showtime (ABS-CBN) - 11%
Kapuso Movie Festival (GMA-7) - 10%
You're The Best (GMA-7) - 9.7%
PRIMETIME:
FPJ's Ang Probinsyano (ABS-CBN) - 22.4%
24 Oras (GMA-7) – 19.2%
Poor Senorita (GMA-7) - 18.5%
That's My Amboy! (GMA-7) - 17.6%
Dolce Amore (ABS-CBN) - 14%
Because of You (GMA-7) - 17%
TV Patrol (ABS-CBN) – 16%
The Story of Us (ABS-CBN) - 11.5%
House of Asia Presents (GMA-7) - 8.8%
My Super D (ABS-CBN) - 8.1%
April 19, 2015 (Tuesday)
DAYTIME:
Eat Bulaga! (GMA-7) – 18.6%
Wish I May (GMA-7) / Hanggang Makita Kang Muli (GMA-7) - 15.3%
Be My Lady (ABS-CBN) - 13.2%
Wowowin (GMA-7) - 12.8%
The Millionaire's Wife (GMA-7) - 12.2%
It's Showtime (ABS-CBN) - 11.7%
The Ryzza Mae Show: Princess in the Palace (GMA-7) - 11.5%
You're The Best (GMA-7) - 10.9%
Hi School Love On (GMA-7) - 9.6%
Doble Kara (ABS-CBN) - 9.4%
PRIMETIME:
FPJ's Ang Probinsyano (ABS-CBN) - 22.1%
24 Oras (GMA-7) - 19.5%
Poor Senorita (GMA-7) - 18.4%
That's My Amboy! (GMA-7) - 17.9%
Dolce Amore (ABS-CBN) – 17.4%
Because of You (GMA-7) - 16.9%
TV Patrol (ABS-CBN) – 15.1%
The Story of Us (ABS-CBN) - 11%
Heart of Asia Presents (GMA-7) - 9.3%
My Super D (ABS-CBN) - 7%
April 20, 2015 (Wednesday)
DAYTIME:
Eat Bulaga! (GMA-7) – 19.7%
Hanggang Makita Kang Muli (GMA-7) - 16.3%
Wish I May (GMA-7) - 16.1%
Wowowin (GMA-7) - 14.9%
The Millionaire's Wife (GMA-7) - 14.3%
The Ryzza Mae Show: Princess in the Palace (GMA-7) - 12.6%
Be My Lady (ABS-CBN) - 12%
You're The Best (GMA-7) - 11.5%
Hi School Love On (GMA-7) - 14%
It's Showtime (ABS-CBN) - 16%
PRIMETIME:
FPJ's Ang Probinsyano (ABS-CBN) – 22%
24 Oras (GMA-7) - 20.6%
Poor Senorita (GMA-7) - 19.2%
That's My Amboy! (GMA-7) - 17%
Dolce Amore (ABS-CBN) – 15%
Because of You (GMA-7) - 16.8%
TV Patrol (ABS-CBN) – 2%
The Story of Us (ABS-CBN) - 11.8%
Heart of Asia Presents (GMA-7) - 10%
Jane the Virgin (ABS-CBN) - 8.1%
April 21, 2015 (Thursday)
DAYTIME:
Eat Bulaga! (GMA-7) – 20.8%
Hanggang Makita Kang Muli (GMA-7) - 16.3%
Wish I May (GMA-7) - 15.7%
Wowowin (GMA-7) - 14.2%
The Millionaire's Wife (GMA-7) - 13.9%
The Ryzza Mae Show: Princess in the Palace (GMA-7) - 13.3%
You're The Best (GMA-7) - 18%
Be My Lady (ABS-CBN) - 11.7%
It's Showtime (ABS-CBN) - 10.9%
Hi School Love On (GMA-7) - 18%
PRIMETIME:
FPJ's Ang Probinsyano (ABS-CBN) – 21.8%
24 Oras (GMA-7) - 21.3%
Poor Senorita (GMA-7) - 20.1%
That's My Amboy! (GMA-7) - 18.1%
Dolce Amore (ABS-CBN) –7%
Because of You (GMA-7) - 16.1%
TV Patrol (ABS-CBN) – 15%
The Story of Us (ABS-CBN) - 11%
Heart of Asia Presents (GMA-7) - 9.4%
My Super D (ABS-CBN) - 7.1%
April 22, 2015 (Friday)
DAYTIME:
Eat Bulaga! (GMA-7) – 20.4%
Wish I May (GMA-7) - 17%
Hanggang Makita Kang Muli (GMA-7) - 15.8%
Wowowin (GMA-7) - 15.3%
The Millionaire's Wife (GMA-7) - 13.7%
The Ryzza Mae Show: Princess in the Palace (GMA-7) - 12.7%
Be My Lady (ABS-CBN) - 12.4%
It's Showtime (ABS-CBN) - 10.9%
Love Hotline (GMA-7) - 10.4%
Doble Kara (ABS-CBN) - 10.2%
PRIMETIME:
FPJ's Ang Probinsyano (ABS-CBN) - 21.2%
24 Oras (GMA-7) - 21.1%
Poor Senorita (GMA-7) - 19.8%
That's My Amboy! (GMA-7) / Dolce Amore (ABS-CBN) - 18.6%
Because of You (GMA-7) - 17.8%
Bubble Gang (GMA-7) - 16.3%
TV Patrol (ABS-CBN) – 14.4%
The Story of Us (ABS-CBN) - 11.9%
Saksi (GMA-7) - 8.5%
My Super D (ABS-CBN) - 7.6%
April 23, 2015 (Saturday)
DAYTIME:
Eat Bulaga! (GMA-7) – 22.3%
24 Oras Weekend (GMA-7) – 17%
Karelasyon (GMA-7) – 15.6%
Del Monte Kitchenomics (GMA-7) - 12.7%
Imbestigador (GMA-7) - 12.5%
Wish Ko Lang! (GMA-7) – 11.2%
TV Patrol Weekend (ABS-CBN) - 10.3%
It's Showtime (ABS-CBN) - 10.2%
Sarap Diva (GMA-7) / Ipaglaban Mo (ABS-CBN) - 9.5%
Maynila (GMA-7) - 9.3%
PRIMETIME:
Pepito Manaloto: Ang Tunay na Kuwento (GMA-7) – 23.3%
Lip Sync Battle Philippines (GMA-7) – 22.6%
Magpakailanman (GMA-7) – 19.3%
Pilipinas Got Talent (ABS-CBN) – 17.2%
MMK: Ang Tahanan Mo (ABS-CBN) -  15.1%
Home Sweetie Home (ABS-CBN) – 11.9%
I Love OPM (ABS-CBN) - 11.4%
iWitness (GMA-7) - 8.8%
Failon Ngayon (ABS-CBN) - 5.7%
Midnight Horror Stories (GMA-7) – 5%

April 24, 2015 (Sunday)
DAYTIME:
Del Monte Kitchenomics (GMA-7) - 15.9%
Sunday Pinasaya (GMA-7) - 15.6%
Kapuso Movie Festival (GMA-7) - 13.1%
Halalan 2016 Ang Huling Harapan (ABS-CBN) - 12.7%
Dear Uge (GMA-7) - 12.5%
GMA Blockbusters (GMA-7) - 11.8%
The Time Has Come Donaire (ABS-CBN) - 11.3%
Family Feud (ABS-CBN) - 9.9%
Aha! (GMA-7) - 9.5%
Kapamilya Mega Blockbusters (ABS-CBN) / ASAP (ABS-CBN) - 9.3%
PRIMETIME:
Pilipinas Debates 2016 (ABS-CBN) – 27.9%
Halalan 2016 Ang Huling Harapan (ABS-CBN) - 20.1%
Kapuso Mo, Jessica Soho (GMA-7) - 17.5%
Ismol Family (GMA-7) - 11%
Pilipinas Got Talent (ABS-CBN) – 14.8%
Vampire Ang Daddy Ko (GMA-7) - 12.9%
Gandang Gabi Vice (ABS-CBN) – 12.8%
24 Oras Weekend (GMA-7) – 11.2%
SNBO (GMA-7) - 6.3%
Sunday's Best: Himig Handog 2016 (ABS-CBN) – 6.1%
Source: AGB Nielsen Philippines