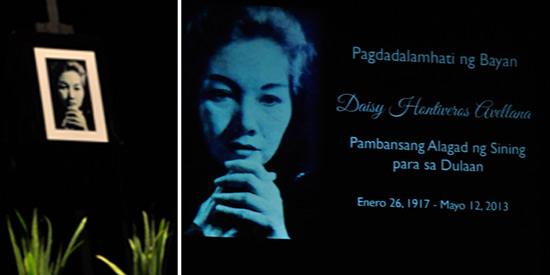 ---

Last Friday, May 17, National Artists from various fields came together to celebrate the life and memory of beloved thespian Daisy Hontiveros-Avellana.

The necrological rites were held for Avellana at the Cultural Center of the Philippines main hall before she was laid to rest at the Loyola Memorial Park at high noon. Avellana died on May 12, 2013 at the age of 96.

Napoleon Abueva, Virgilio Almario, F. Sionil Jose, Bienvenido Lumbera, and Abdulmari Imao were some of the National Artists present to honor the woman dubbed Philippine's First Lady of Theater. Some of them were emotional as they gave flower offerings for the renowned theater actress.

Though some were in wheelchairs or using walking aids, what was evident was their determination to give Avellana their utmost respect by giving a speech or tribute.

Among the members of the Hontiveros-Avellana families present were notably, former Congresswoman Risa Hontiveros and her sister, Pia Hontiveros, TV broadcast journalist. Daisy Avellana was their dad Ramon's eldest sister.

The responses from the Hontiveros-Avellana family members represented by painter Ivi Avellana-Cosio (Avellana's only daughter) and Corinne Avellana (her granddaughter) were perhaps the most tear-filled segments of the tribute. While most of the tributes focused on the Grand Dame of the Philippine stage and her many accomplishments and contributions, Ivi and Corinne provided a very personal and touching picture of Avellana as a mother and a grandmother.

Other highlights of the necrological rites include a very moving portrayal of a scene from Nick Joaquin's A Portrait of The Artist as Filipino done by veteran theater actress Irma Adlawan-Marasigan as Candida and fellow thespian Liesl Batucan as Paula. Their scene "No Lights" was taken from the source material in which Avellana played arguably the best Candida that Pinoys have seen onstage and on the big screen.

The re-enactment once again showed so much of what Avellana was known for: maintaining that fine balance between hysterical crying and manic laughter without seeming over-the-top crazy. Watching Irma as Candida was a very special treat for the audience gathered at the CCP. However, it was probably even more special for Naty Crame-Rogers, who originally played Paula, opposite Avellana in the famed production.

Crame-Rogers shared her most special memories about Avellana right before the "No Lights" scene came on. She introduced the two by saying, "two very brilliant actresses of today and I wonder whether they too, will love each other and care so much for each other as Daisy and I did now and then."

Crame-Rogers also shares part of a note Avellana wrote her, "To Naty, a great artist and a great lady."

She explains, "actually she was describing herself...as a veteran actress, she had developed mastery of technique. She always called me Paulita and the concern and love for each other through all the years followed. Somewhere, I hope Daisy will remember that the love for each other will remain throughout my life. I will try to carry on, but I will be a very poor imitation of what she's done."

Bienvenido Lumbera, National Artist for Literature, said in his farewell message "si Daisy ay dyosa ng teatro, hinahangaan ng kapwa artista," in a tribute applauded loudly by the people present at the CCP.

Actor Bart Guingona read tributes by Tessie Luz, "Daisy will always be remembered for the pioneering work she did in the development of the dramatic arts of the Philippines. She proved that being First Lady need not presume a leader's standard code...that living for the theater can be enough to sustain one for life. But I think that the most invaluable lesson that she may yet be credited for, is the marriage of ability, humor, erudition, and discipline in a craft that is all too often practiced thoughtlessly. Whether we are among those who've lost our way or among those who kept our eyes on the ball, I think it's very fitting, that we Filipino theater practitioners can trace our artistic bloodlines back to Daisy and Bert."

Bert is Avellana's late husband, National Artist for Film and Theater, Lamberto Avellana. The couple created the screenplay for the film version of Nick Joaquin's A Portrait of The Artist as Filipino, making it one of the few projects where three National Artists collaborated. Bert Avellana served as the director of the said project.

Behn Cervantes, actor and stage director, also shared his thoughts about Avellan. "She was one of our greatest actors in English, she was also our greatest actress in Tagalog, in fact given the chance, she could have been our greatest actress in Ilocano...she was one of the few National Artists from Capiz. Mabuhay si Daisy Hontiveros-Avellana! Mabuhay!" he exclaimed loudly at the end of his speech.

National Artist for Literature Virgilio Almario, Komisyon sa Wikang Pilipino president and Pambansang Komisyon para sa Kultura at Sining commisioner, pointed out that Avellana's death is a big blow to the theater community.

"Nakalulungkot isipin na ang Pambansang Alagad ng Sining na minsan ay nagpatawa, nagpaiyak, nagpagalit..at sa lahat ng pagkakataon ay ating hinangaan, ay ngayon nakahimlay. Nagdadalamhati ang buong bansa dahil sa pagkawala ng isang natatangi sa larangan ng teatro dito sa Pilipinas. Ang pagpanaw niya ay isang malaking kawalan para sa sining ng ating bansa. Sino ba ang makalimot sa kanyang pagganap bilang Candida sa A Portrait of The Artist as Filipino? Isa siya sa mga nangunguna sa pagsuporta at pagbuo ng mga organisasyong pang teatro. Ang kurtina ay nagsasara, pero hindi ang kanyang alaala."

As Avellana makes her final curtain bow, it seems fitting to quote her, "when the time does come for the Filipino national theater to emerge and take its place at center stage, we who were young in 1939 may no longer be on the scene, but we shall be watching, in spirit, from the wings."
ADVERTISEMENT - CONTINUE READING BELOW