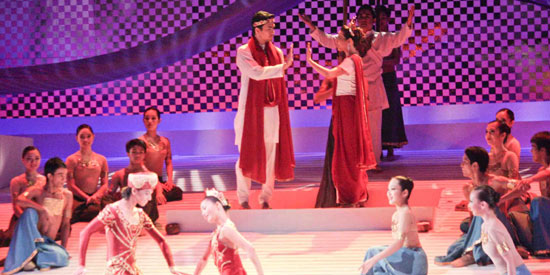 ---

Cultural Center of the Philippines Vice President and Artistic Director Chris Millado proudly announced that the CCP will honor the late Salvador F. Bernal, National Artist for Theater Design. This will be through a retrospective exhibit that highlights his various design projects in ballet, opera, theater, and film from the 1970s until the time of his passing in 2011. Millado said the exhibit was the first of its kind in the country where the field of production design is showcased.


BADONG: Salvador Bernal Designs the Stage will be open for public viewing from 19 July to 27 October 2013. The venue is three galleries combined: the Bulwagang Juan Luna (Main Gallery), which has been transformed into a veritable black box, and at the Pasilyo Guillermo Tolentino and Pasilyo Juan Luna (the 3rd floor hallway galleries).

(Read: National artist Salvador "Badong" Bernal honored in new CCP exhibit)

Acknowledged as the "Father of Theater Design in the Philippines," Bernal was instrumental in elevating theater and production design as a fine art and a profession. He helped establish the Production Design Center as a division under the then CCP Performing Arts Department which he headed from 1981-­‐1994. The PDC building was inaugurated in 1993, a three-­story building designed with facilities to execute large-­scale theater props and fabricate and store costumes. Bernal also initiated the founding of the Kapisanan sa Pilipinas ng mga Production Designer or KAPPROD, which later became the Philippine Association of Theater Designer and Technician (PATDAT).

Prior to the time of Salvador Bernal, production design in theater and film was not the respected field it is today. In an interview, Dr. Nicanor Tiongson told PEP.ph (Philippine Entertainment Portal), "It was Salvador Bernal who professionalized theater design in the Philippines and elevated it to the level of an art form. Before that it was considered as the handmaid of the other aspects of theater like direction and acting. Di siya ganun ka importante. With Badong you had proof that theater design can be a major contribution to any production."

For this project, CCP invited Dr. Nicanor Tiongson and Gino Gonzales as guest curators, both close friends and collaborators of Bernal. They provide an insightful perspective to the artist's professional practice as well as his personal life. Tiongson, former CCP Artistic Director, authored the book on Bernal published in 2007. He and Bernal worked together in the 1990s for productions such as Pilipinas Circa and Realizing Rama. Under Tiongson's term as CCP Artistic Director, Bernal's long time dream of setting up the Production Design Center was realized.

Because of the wide-ranging disciplines involved in production design, a lot of them have also become successful film directors. Cannes award-winning director Brillante Mendoza is one of the more recent examples. Mendoza just won an Urian award for Best Production design for Thy Womb, which earned for Nora Aunor her 5th Best Actress award for the same film. Adolf Alix Jr., on the other hand, is a director who sometimes works as production designer in his own films.

Tiongson explains why production design is crucial to theater and film, "Production design in theater is just as important as it is in film. It has much to contribute to the success of the production. I think from that point of view people in film should learn also from people in theater because that's where it starts."

The terno made famous by Imelda Marcos had a lot of different versions in different eras, he explained. "Badong Bernal did research for example on the evolution of the Filipino costume. And he published a book together with George Encanto on the terno. The terno is not, akala ng tao isang form lang yon, no nag evolve yon. It had several silhouettes in the 19th century, before that, the 20th century iba-iba yon. So pinagaralan niya, dinismantle at kinunan ng mga patterns."

Research is only the beginning, being able to replicate the correct period pieces needed experimentation and eye for detail, "For you to create a period costume correctly it has to be cut correctly. It has to use the right materials. Study ni Badong is scientific. They're based on actual costumes from there he created this book, which is supposed to be precisely a sourcebook for anyone who wants to recreate these costumes from different periods."

Instead of reinventing the wheel, all production designers need to do is consult the book that National Artist Badong Bernal had already written, "Unfortunately I think a lot of production designers take the easy way out. They don't study that's why a lot of our period films are terrible to see. Their costumes are wrong. The book is there already I don't understand why they can't study the book and base their designs on the book. In other words, the attention to detail and research is very important. [Bernal] was very very strong on that. You have to study whatever it is you're designing. Then you execute your insight in terms of materials and the other elements of design," stressed Tiongson.

For more information on the exhibit, contact the CCP Visual Arts and Museum Division at Tel. No. 832-1125 loc. 1504/1505 or 832-3702. Guided group tour bookings may be arranged with the CCP Marketing Department at Tel. No. 832-1125 loc. 1804. Admission to the Main Gallery exhibit is Php 100.



ADVERTISEMENT - CONTINUE READING BELOW