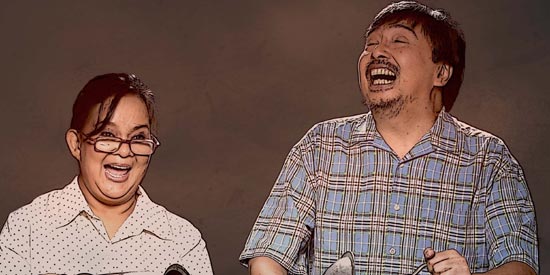 ---

"The stage becomes the altar of our lives, a place where great sacrifice and love was offered and celebrated," says Maribel Legarda, director of the upcoming docu-musical Pamana.

This project aims to pay tribute to the slain opposition leader Ninoy Aquino and his wife Cory Aquino, the first female president of Philippines who was also nominated for the Nobel Peace Prize.

The docu-musical depicts the lives of three generations of a Filipino family recalling the EDSA revolution.

The play will open on August 21 at the Meralco Theater, Ortigas Center, Pasig City.

Pamana, an initiative of the Ninoy and Cory Aquino Foundation Inc. (NCAF), Indie.go Media and the Philippine Educational Theater Association, Inc. (PETA) is written by the award-winning playwright Rody Vera. The music for this first-of-its-kind docu-musical tribute to Ninoy and Cory was composed by two great Filipino masters, Ryan Cayabyab and Manoling Francisco.

Pamana brings the audience back in time as it revisits the 1986 People Power Revolution and that milieu through three generations of a Filipino family with differing points of view on the effects of the EDSA revolution.

The cast is headlined by Malou de Guzman (Lola Azon), Bodjie Pascua (Turo, Azon's husband), Jett Pangan (Edgar, son of Lola Azon), and Kakki Teodoro (Trina, granddaughter of Lola Azon).

Rapa Lopa of NCAF (who happens to be Cory Aquino's nephew), brainstormed the Pamana idea together with Executive Producer Jun Reyes, Director Maribel Legarda, playwright Rody Vera, musical director Vincent de Jesus, composer Ryan Cayabyab and PETA.

Rapa shares, "what is so important is for me to let them [viewers] experience the kind of transformation that happened through these two people."

He says, he hopes that when people watch Pamana, they will "essentially do what they did, realize that they can, that there is a Ninoy, a Cory in all of us."

Given the many achivements that Ninoy and Cory did for the Philippines, Rapa points out the greatest lesson that Filipinos can learn from these icons of democracy: "The legacy of Ninoy and Cory is about the choice to actually love your country, your nation, and essentially a response to that love."



LOSING HOPE FOR THE PHILIPPINES? Jett Pangan is very happy to be included in a project like this, "as an actor, I am just very honored, to be part of it, to be chosen."

Jett plays Edgar, the son of Lola Azon played by Malou de Guzman. While he goes through the same historical time-frame, he sports a different lens: where others see hope, he sees despair, apathy, and corruption. This leads his character to become very cynical to the point of going abroad to find and build a better life for himself. Unlike his mother, Edgar feels redemption can only be found in the land of milk and honey.

The multi-faceted actor explains why he didn't have a hard time relating to Edgar, "I can safely say that I will not be very challenged in immersing the role except maybe in memorizing the lines...because I feel for the guy.

"I was telling Mr. Lopa during the first day of rehearsal, I know Edgar," sharing how many times in the past, since EDSA, Jett himself has thought about leaving the Philippines and transferring somewhere else.

He continues, "after Cory, palala ng palala yung gobyerno, e.

"There's even mention in my script, parang kamote, yung sangay ng gobyerno," noting that corruption was and is so deep-rooted, just like the roots of the kamote.

"Ako, I was like...mukhang wala na talaga pagbabago," he admits, sounding very emotional.

"A Ninoy tried, a Cory tried, bakit parang ganoon pa rin."

"As far as portraying the role of Edgar is concerned, andoon ako. The feeling is so real to me."

He does note that the inclusion of the audiovisual aspect footage featuring Ninoy and Cory is commendable, and that this adds to the authenticity of the material as a docu-musical tribute.

Jett adds a dilemma that many might have noticed, "how do you condense the life of two people who spent their lifetimes trying to change a country into one and a half hours on stage?"

He adds that in Pamana, "we are able to capture that moment."

But he also admits, "it would be foolish to say that this would be the last production to deal with this subject matter." What matters is productions like this remind us of what happened, especially since Pinoys tend to be a rather forgetful bunch."

Video producer and executive producer of Pamana, Jun Reyes, also reveals the choice to go more serious with a material that is already serious, instead of trying to lighten it up with comedy, "in telling the story about this couple that can be told from the perspective of three generations, the idea of a musical and the docu-idea is to actually retell it in a fresh way."

"There are funny, light moments but it is also a fresh way to retell the story. Not exactly how their lives have been but how it affected other people."

"That is what the whole concept was about behind this production: we'd like to tell their story from three different points of view."

Jun concludes, "obviously, Ninoy, Cory and now Noynoy: that is what is transpiring in the present moment of our lives," that there are three generations in the country today: represented by the Ninoys (those who lived in those times) the Corys (those who lived after those pivotal moments), and the Noynoys (those who live a generation after the events happened).

He says the style of Pamana is "a way to address our concern, to speak to the youth and the whole idea that the central character is Trina, that's the purpose, for us to continue speaking to the youth. So that the next generation can understand this and then the next..."

He says Pamana has relevance even to the youth, especially as it tells the story through Trina, an 18-year old who starts to appreciate the value of loving the home she grew up in as she realizes that hope is internal and not external. She is more like her grandmother Lola Azon than her dad Edgar.

Pamana director Maribel Legarda narrates how the concept started. "It began with what we had, which is history, the documentary footage: trying to tell the story from the point of view of every man."

She adds, "it will be heartfelt and emotional, but I really don't think that comedy is the one needed, we have enough of that on television," a statement that elicited laughter from the audience.

She hopes that watching Pamana "will hopefully let you leave the theater reflective and yan ang important, may point of retention. For some of our actors, they weren't even born yet during this time."

Pamana starts its limited run on August 21, 7 pm, August 22, 8 pm, and August 24-25, 3 pm and 8 pm at the Meralco Theater, Ortigas.

Tickets are available through PETA at Tel. No. 725-6244 or 0906-4817333, Ticketworld at Tel. No. 891-9999 or www.ticketworld.com.ph.
ADVERTISEMENT - CONTINUE READING BELOW