Closer opens with a tender scene: Alice (Cris Villonco), a self-described waif, sits in a hospital reception nursing an injured leg. She rummages through a leather messenger bag parked beside her. She finds a sandwich and an apple. Dan (Marc Abaya), the bag's owner, emerges with two paper cups. He offers a drink to her. Meanwhile, a doctor briefly attends to Alice.
Alice and Dan banter. We find out that he is a writer of obituaries and he is the one who has taken Alice, whom he has just met, to the hospital. They flirt. She makes a cell phone call to his boss, saying that Dan is sick and can't come to work.
Love blooms? Not quite that simple. Because in the next scene, we find Dan lusting after Anna (Angel Aquino), a photographer hired to shoot for his book's jacket. Dan's book, by the way, is about Alice's life as a stripper.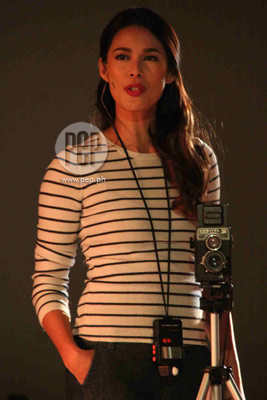 Angel Aquino as Anna in Closer. Photo by Allan Sancon.


Then Dan pretends to be Anna in an adult chat room and seduces a man, who turns out to be Larry (Bart Guingona), the doctor who had treated Alice in the hospital. Dan unwittingly plays Cupid between Larry and Anna. Dan also causes Larry and Anna to break up later on. He breaks Alice's heart, too.
But Dan is not the only one in the story who loves but cheats; demands truth but lies; and tries to win but loses. In the end, Alice tells him, rather harshly: "I don't love you anymore… goodbye."
Closer is written by English playwright Patrick Marber and it premiered in 1997. (American director Mike Nichols's film adaptation, also penned by Marber, was released in 2004. This Hollywood version starred Natalie Portman, Jude Law, Clive Owen, and Julia Roberts.)
Its take on modern love and contemporary relationships remain relevant. The four characters' internal and intertwined conflicts and confusions are still pertinent.
All these points are taken up engagingly in the play's current staging by Red Turnip Theater under the direction of Ana Abad Santos.
The minimalist set design (a bench in one scene, a bed in another, etc.) is aided by background images (a large photo of a melancholic Alice during Anna's photo exhibit, a visual display of Dan and Larry's racy chat, etc.). This way, the audience is able to focus on the story and the actors' performances.
Speaking of actors, theater stalwarts Bart Guingona and Cris Villonco carry the bulk of the production.
Bart brings life to the character of Larry, who runs his medical practice like any decent and practical doctor but is also capable of behaving indecently like any other person. The seasoned actor delivers his delicious lines with unrepentant honesty and humor.
Cris is a joy to watch as Alice. With her pixie haircut and wide-eyed expression, she looks exactly like a waif in desperate need of love and care. She also moves with child-woman sensuality, which makes her striptease truly inventive and perfect for the scene.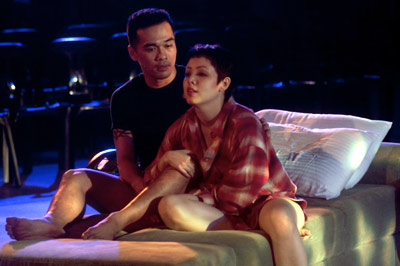 Marc Abaya and Cris Villonco in a scene in Closer. Photo courtesy of Red Turnip.


Movie and TV performers Angel Aquino and Marc Abaya round up the four-actor cast as Anna and Dan, respectively.
Closer is only Angel's second foray into theater, after taking part in the 2002 staging of The Vagina Monologues, while it is the first for Marc, who's also a rock-band vocalist.
Angel and Marc's newness to the medium is apparent. They have difficulty enunciating words and making their voices more audible. They look uneasy and tentative, thus compromising what could've been effective and felt performances.
But their hearts are in the right place, so they should be applauded for taking the crossover challenge and they should do more theater work.
Angel, in particular, is able to apply the discipline of onscreen acting in her portrayal of a woman whose beauty and elegance make her irresistible to two men. She just lets the audience sees her exquisite and expressive face, and they already learn a lot about her character. Without a doubt, she will emerge an even better actress than she already is after her stint in Closer.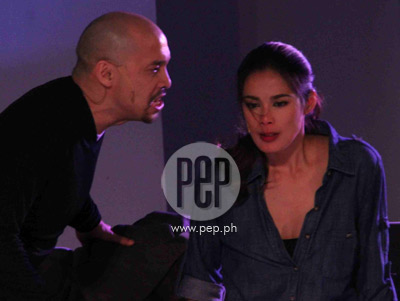 Bart Guingona and Angel Aquino in a scene in Closer. Photo by Allan Sancon.


Closer runs until October 27, 2013. Performances are scheduled Fridays at 9 p.m.; Saturdays at 3 p.m. and 8 p.m. (except on October 12); and Sundays at 3 p.m. and 8 p.m. (on October 20 and 27).

Venue: Whitespace, 2314 Chino Roces Avenue Extension (formerly Pasong Tamo Extension), Makati City.

Tickets are available at Ticketworld at Tel. No. 891-9999 or to purchase tickets online, click here: ticketworld.com.ph

Interested parties may also inquire at Tel. No. 215-0788 / 0917-5378313 or email redturniptheater@gmail.com