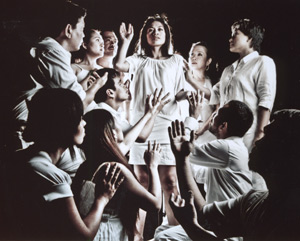 ---

Our kababayans in China will have the chance to witness thelife, passion, and death of the visionary Elsa onstage. Tanghalang Pilipino's Himalathe Musicale has been chosen to represent the Philippines in the AsianContemporary Theater Festival in Shanghai, People's Republic of China, thisNovember.
The 11-strong cast of Himala the Musicale will perform the play using Tagalog proseand lyrics while English and Chinese translations will be screened overhead forthe sake of the foreign audiences. A moving story about faith and faithfulness,truth and delusion, Himala the Musicale is based on the 1982 film byNational Artist for Film Ishmael Bernal about a young woman, Elsa, who claimsto have spoken to the Virgin Mary during an eclipse and begins to exhibithealing powers. In the movie version, superstar Nora Aunor played the simplegirl who uttered the famous lines: "Walang himala! Ang himala ay nasa puso ng tao... ang himala ay nasa puso nating lahat."
When asked to speculate on why Himala the Musicale waschosen to represent the Philippines, composer and musical director Vince deJesus told PEP (Philippine Entertainment Portal), "Very Pinoy ang Himala.Yung holding on to religion during times of desperation lalo na ngayong panahonna ito, we're so desperate. Di ba, there is prostitution of everything—fromreligion and even of the body...Lahat na lang ginagawa to survive."
In fact, one of the highlights of the play is the showdownbetween Elsa the healer and Niña the prostitute.
Vince also commended Tanghalang Pilipino for mounting asuccessful abridged version of the play. "This was first mounted in 2003 with acast of twenty, then again in 2006, with cast of forty. Ang daming songs that werecut from the original—siguro one-third of the songs were removed in thisabridged version.
ADVERTISEMENT - CONTINUE READING BELOW
"Polishing na lang [ang kailangan nila]. Pero yung intentionniya kasi malinaw, e. Imagine puno na lang ang set—dati ang set namin grabe anglaki! May burol, may mga bahay...ngayon santo na lang saka puno."
In the middle of the set, there is a stand where the imageof the Virgin Mary is placed, surrounded by tree branches that hangfrom the ceiling. A brightly lighted box bearing the name of the cabaret, DiscoHeaven, is placed on stage to indicate the place where prostitutes wait fortheir customers.
In his playwright's notes, Ricardo Lee said, "I wrote thescreenplay of Himala in 1976, at the time when I had many questionsabout life and religion. I had just been freed from prison then (Note: RickyLee was a political prisoner under martial law in 1974) and answers were hard to find.I had read about a story of a girl in Cabra who had experienced a miracle and Ithought we had the same story. I pitched the script for six years before it wasfinally made into a film.
"For me, Himala is about questions, not answers. It isnot important whether or not Elsa experienced a miracle, or who it was whokilled her. What is important is that Cupang became a big vortex ofdesperation: that in our present time we still need miracles."
SYNOPSIS. In a remote village of Barrio Cupang, ayoung girl named Elsa (May Bayot) claims that the Virgin Mary spoke to her during a solareclipse. She reveals her vision and starts healing people. She then becomes anational figure as pilgrims and curiosity-seekers descend on her village, thuspushing the village to finally confront its own needs and beliefs. A storyabout faith and faithlessness, truth and delusion, it tackles the endless andtimeless struggle of humans in their quest for something to believe in. thestory is based on an account of the alleged apparitions of the Virgin Mary on Cabra Island, province of Occidental Mindoro, Philippines, in 1967.
ADVERTISEMENT - CONTINUE READING BELOW


Also in the cast of outstanding performers are Isay Alvarez (as the prostituteNimia), Cynthia Culig-Guico (as Chayong), Mila Bolaños (as Aling Saling),Leonel Guico (as Orly), Jay Cruz (as Pilo), Bong Embile (as Igmeng Bugaw), andthe Tanghalang Pilipino Actor's Company. Gino Gonzales designs the productionwhile Dennis Marasigan is technical director.
Himala the Musicale will be performed at the DramaSalon of the Shanghai Dramatic Arts Centre at 7 p.m. on November 22 and 23,2007. Tangahalang Pilipino's participation in the festival is made possiblewith the cooperation of the Philippine Consulate General in Shanghai.