Five years and six staging seasons since its premiere in January 2014, Rak of Aegis has remained as entertaining and relevant as ever.
Original cast members Aicelle Santos, Isay Alvarez, Robert Seña, and Pepe Herrera do not seem to have aged nor gotten wearied as they opened the seventh season of the Philippine Educational Theatre Association (PETA) production last July 5 at the PETA Center in Quezon City.
Aicelle is still charming as Aileen, the female lead in the all-Filipino original musical based on the hit songs of the iconic Aegis band and set in a fictional flooded neighborhood called Barangay Venezia.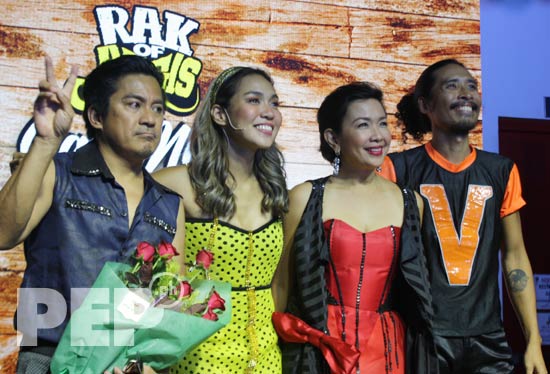 (L-R) Robert Seña, Aicelle Santos, Isay Alvarez, and Pepe Herrera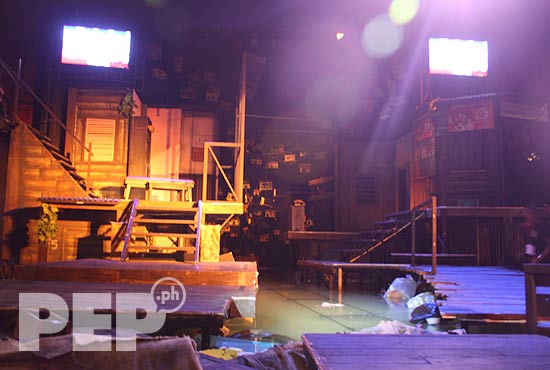 Aileen dreams of making it big as a singer so she can guest star in American TV host Ellen DeGeneres's show and eventually give her family a better life.
Real-life couple Isay and Robert retain the delicious and hilarious tension between their characters: ex-lovers Mary Jane, the enterprising kapitana of Barangay Venezia and Kiel, a down-on-his luck shoemaker and father of Aileen.
Pepe continues to win hearts as the love-struck boatman Tolits, the role that has brought him and his co-originator, Jerald Napoles, popularity in mainstream showbiz.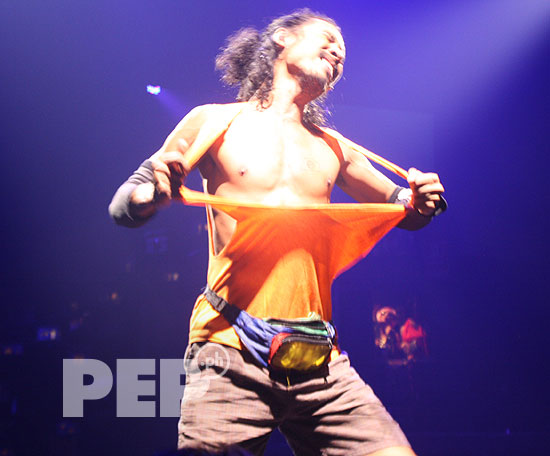 The other original cast members—Neomi Gonzales as Mercy (the wife of Kiel and mother of Aileen), Vince Lim as Kenny (the only son of Mary Jane and original romantic interest of Aileen), Rody Vera as Fernan (the exploitative subdivision owner), and Ron Alfonso as Jewel (the helpful sari-sari store owner)—likewise gave stellar performances at the Season 7 opening.
Rak of Aegis's story and script by PETA artistic director Maribel Legarda and Palanca Award-winning writer Liza Magtoto have withstood the test of time.
Ditto for the musical arrangement and musical direction by Myke Solomon, who, by the way, also alternates in the role of Kenny.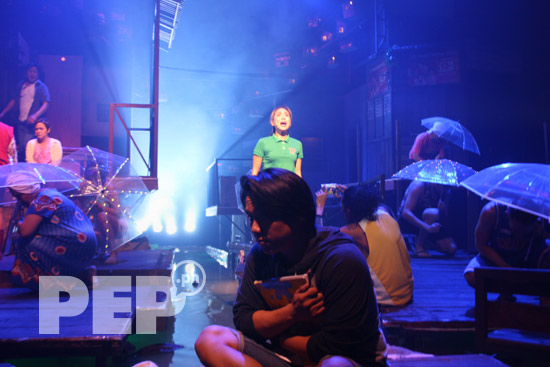 It helps that some references of topical interest are woven into the scenes either as witty one-liners or funny gestures, making the five-year-old material sounds a bit fresh.
The K-pop references are quite strong that they could've been utilized more, and maybe there should've been more pop culture and political references to make the show more current.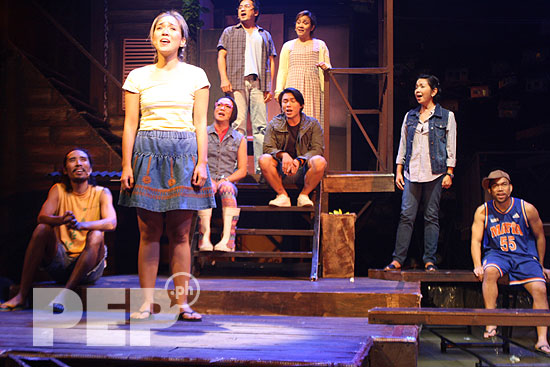 At the post-show press conference, Aicelle, Isay, Robert, and Pepe concurred that after five years, they still get excited to play their roles and performing onstage.
Aicelle was extra excited and more anxious because she missed Rak of Aegis's Season 6 last year as she was abroad. Back then, she played the key role of Gigi in the global tour of the hit West End and Broadway musical, Miss Saigon.
"Tuwang-tuwang ako na nairaos ko," she told reporters, referring to her Rak comeback. "Hopefully nagawa ko naman nang maayos."
She revealed that during the musical's technical dress rehearsals, she was constantly consulting her co-actors and their director, Maribel Legarda.
"Sabi ko," she remembered telling them, "sa totoo lang, medyo nahirapan akong hanapin ulit si Aileen—yung youthful na Aileen, yung dreaming, bago, fresh."
She explained that Rak of Aegis's Aileen is completely different from Miss Saigon's Gigi, who's a world-weary bargirl. Aicelle also pointed out that it is a far cry from her previous character, Elsa, in the stage adaptation of the classic Filipino film, Himala.
Additionally, Aicelle is entering a new phase in her personal life.
"Mag-a-asawa na 'ko," she pointed out. "Ang hirap ulit hatakin pabalik sa bata."
The 34-year-old singer-actress got engaged to GMA-7 news reporter Mark Zambrano, 41, on March 7, 2018.
They are set to get married later this year, 2019.
At first, Aicelle thought she'd easily get into the Aileen character because she's played it since day one.
"Sabi ko sa sarili ko, 'Ah, si Aileen, madali, nagawa ko na.' Hindi pala totoo 'yon," she said.
"Kailangan mong magre-learn, 'yon ang importante, and start anew. Hindi ka puwedeng mag-rely sa muscle memory.
"Kaya constant searching itong bagong journey ni Aileen this seventh season. So hopefully, iba't ibang Aileen ang mawi-witness niyo kapag nakita niyo ako sa stage."
Aicelle alternates with Kim Molina and Kimberly Baluzo in Rak of Aegis Season 7, which will run until September 29, 2019.
* All photos by Jocelyn Valle