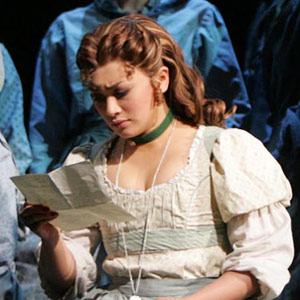 ---

London-based thespian Joanna Ampil is finally coming home tothe Philippines to do her very first musical theater project in Manila after 16years of being a West End star. Joannais playing the role of Maria in the production of West Side Story to beproduced by STAGES, and directed by Menchu Lauchengco-Yulo.
Joanna has long wanted to perform in her own country butnever had the chance until she heard of the casting call for West Side Story.She was then busy playing Fantine in West End's Les Miserables. So sheemailed STAGES' president Audie Gemora, and asked if she could send in heraudition materials instead. Without thinking twice, Audie said yes.
Thanks to the advent of technology, Joanna was able to sendin a digital audio track of "Think of Me" from the Phantom ofthe Opera where she sang the soprano role of Christine. After listeningto Joanna, the judges were all blown away, and agreed that she would get thepart of Maria. The judges included Audie, Jaime del Mundo, and MenchuLauchengco-Yulo, who has starred as Maria in the past.
When Joanna was offered the role, Audie reminded her thatSTAGES could never match her West End rates, but Joanna simply said that it'sher dream to work with Audie, hence financial issues could be put aside. Joannarecalls the day when she saw Audie in the production of Joseph the Dreamerat the Meralco Theater. "That was a turning point for me," Joannashares. "I remember vividly how I told a friend about wanting to get intotheater after seeing the show. That was way back in 1992, and little did I knowthat 16 years later, I would be working with Audie in the same theater where Irealized my dream."
Joanna has always dreamed of becoming a performer. She hasno formal drama training but when she was younger, she was always part of theschool programs, which gave her the invaluable experience of performing beforea crowd. That's why when she was chosen to play an alternate for the role ofKim in West End's Miss Saigon in 1993, there was no stopping her.
ADVERTISEMENT - CONTINUE READING BELOW
After her powerful performance in Miss Saigon, shewas offered one key role after another. She has also played Mimi in Rent,and Eponine in Les Miserables, among others. Joanna was even handpickedby Sir Andrew Lloyd Webber to play Mary Magdalene in Jesus Christ Superstar,which was very memorable for her. "It was tough to get to know hercharacter," she says. "The pressure was immense since we were openingthe show. It was a total change of environment for me and it was my first timeto work with Mr. Webber."
TELLING MARIA'S STORY. However, Joanna was quitecontent already after playing Kim. "The roles I played after that werejust bonuses," she mentions. "But then, Maria came along and Idreamed again, I just had to tell her story."
The role of Maria is quite far from Joanna in real life. Butshe is taking this as a challenge in the same way that she has handled all herother roles. "To be honest, my life is not that similar to hers,"Joanna discloses. "But I can draw out certain emotions from myexperiences, which I can then use for the role. It's just a matter of findingthe 'truth' of Maria within me."
On the other hand, her most recent role as Fantine in LesMiserables is the most challenging for her since this is her first maturerole. "I cannot be more different than the character," she expresses."Since I was the first Asian to play the part in London, the creative teamof Les Miserables was a bit challenged with how they were going tocreate my look. For instance, the wig color, etc. It also took a while before I could relate to her fully. It wasdaunting in a way that my experiences, which I eventually used to play the rolewere too painful to delve into."
At the moment, Joanna wrapped up playing Fantine. She is nowtaking a short break before she comes to Manila for the show. She wants tostart with a fresh mind, and make her first Manila performance a memorable onefor her. In fact, for every new production that she does, she makes sure thatshe is well prepared. She does a lot of different exercises to increase herstamina, and takes classical lessons with her singing coach, Gillyanne."Not long ago, we went through the song, 'I Have A Love,'" Joannarecollects, "Gillyanne and I cried. How beautiful is this song let alone the whole score? The geniuses ofBernstein and Sondheim are a perfect combination." It is no wonder thatone London critic cites Joanna as a major star in West End.
ADVERTISEMENT - CONTINUE READING BELOW
Indeed, Joanna has been showered with a lot of blessings.Her singing prowess has brought her to places. Not only has she conquered thetheater stage, but also the concert scene in London. And for Joanna, eachoffers a different challenge for her. "On stage, I become a differentperson and I get to experience a different life," she describes."Whereas in concerts, I feel totally naked, not literally, as I am beingmyself. It's always terrifying to do that. Naturally, a feeling of beinginadequate starts to kick in as this time, there is no mask to hidebehind."
TELEVISION GUESTINGS. If there is one thing thoughthat Joanna wants to do more of, it's television work. She has appeared in justa number of TV shows. Some of which include the Mummy Autopsy Documentary(Discovery Channel), A Day in the Life of Windsor Castle (BBC), TheQuest Documentary (BBC), 100 Greatest Musicals, and BrokenNews--Michelle Wong" (BBC). "Also, if an opportunity arises to dofilms," she continues, "I would feel very blessed to do that,too."
Joanna can't wait to come to Manila and start rehearsing.She feels very ecstatic and excited coming home. "Everything is so laidback and relaxed in Manila as compared to the fast-paced life in London,"she explains. "Because I have been based in London for many years, I seethe Philippines as a paradise, a place where I can totally be stressfree."
There is a lot of pressure on Joanna right now but one thing'scertain: people can expect a West End performance from her in Manila. "Icannot really predict what people expect of me," she humbly says."I'm sure they have certain expectations from the character of Maria and Ijust hope I meet that along with their standards."
By the time Joanna finishes West Side Story, it willbe Christmas season already. And since she has been away from her family for 16long years, she plans to go to Vancouver and Los Angeles to spend her firstChristmas with them.
ADVERTISEMENT - CONTINUE READING BELOW
West Side Story is set in Manhattan's upper WestSide, and tells the love story of a Polish lad named Tony (Christian Bautista),and a Puerto Rican lass named Maria (Joanna alternating with Karylle) in aseemingly unending feud between the New Yorkers and Puerto Ricans.
STAGES' production of West Side Story will run at theMeralco Theater on Sept. 5-7, 12-14, 19-21, Oct. 3-5, 10-12, 2008. For tickets, call Ticketworld at 891-9999 orSTAGES at 818-1111 loc. 225. Ticketworld is also online at www.ticketworld.com.ph. Ticket pricesrange from P500 to P1200.
PEP (Philippine Entertainment Portal) is one of the mediapartners of West Side Story. STAGES' production of West Side Storyis presented through special arrangement with Music Theatre International (MTI)in New York.