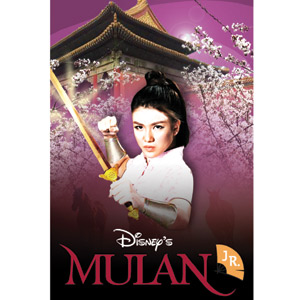 ---

After a smashing theater season that had four excitingproductions—Tuesdays with Morrie, Hamlet, Romance in D, and AltarBoyz—Repertory Philippines turns to musicals on a grand scale for thesecond half of its theatrical year.

Disney's Mulan (Jr.) opens on August 9 at the Onstage Theater inGreenbelt One and will run until December 17. The beloved classic, A Christmas Carol, with music by Alan Menkenand Lyrics by Lynn Ahrens, opens November 14 and will run until December 21 atthe same venue.
Mulan is based on the Disney film of the same nameand features the same songs, including a song that has become a pop favorite titled"Reflections." The stage version was written especially for young audiences byPatricia Cotter with music and lyrics by Matthew Wilder, David Zippel, StephenSchwartz, Jeanine Tesori and Alexa Junge with music adapted and arranged byBryan Louiselle. Mulan is a production of REP'S Children's Theater,which has featured musicals in the past for young audiences as Cinderella,Alladin (Jr.), Pinocchio, Sleeping Beauty, and many others.
The theater version of the Disney hit features some of REP'Smost seasoned and accomplished actors including Cris Villonco, Cara Barredo,and Caisa Borromeo alternating in the role of Mulan; PJ Valerio, Reuben Uy, andFelix Rivera alternating in the role of Chang; and Red Concepcion, RobbieGuevara, Rem Zamora and Chevy Mercado alternating in the role of Mushu, the"Dragon Wanna-be." Supporting them willbe a strong cast of veterans and talented newcomers. Mulan is based on a real-life Chinese legend about a younggirl who proves that with courage, intelligence and determination, a girl canbring honor to her family as much as any boy.
Mulan is directed by Joy Virata with choreography byDenisa Reyes and sets and costumes by Niki Torres.
A Christmas Carol is based on the Charles Dickensclassic and was chosen by REP to allow families and people of all ages to getinto the true Christmas spirit of peace, joy, hope and love by enjoying thisbeautiful story. It is the story of Ebenezer (Bah! Humbug!) Scrooge who hatesChristmas but through the Ghosts of Christmas Past, Christmas Present andChristmas future, he discovers the true meaning of Christmas. The lonely oldman also catches the jolly Yuletide spirit through the help of Tiny Tim and theCratchit family.

REP has staged this musical twice before in different versions. This time it uses the version that featuresmusic by famed Broadway composer Alan Menken (Little Mermaid, Aladdin,Beauty and the Beast) and his equally well-know lyricist Lynn Ahrens. It is a version that has been staged manytimes in the famous Madison Square Garden in New York and has been made into amovie.

Audie Gemora and Michael Williams will alternate in the role of Scrooge. A Christmas Carol will alsofeature a full, live orchestra courtesy of the Manila Symphony Orchestra. This is a production not to be missed. It will be directed by REP's artisticdirector Ms. Baby Barredo and veteran actor Robbie Guevara.
ADVERTISEMENT - CONTINUE READING BELOW
Both Mulan and A Christmas Carol offeropportunities for fundraising, advertising sponsorships and corporate Christmastreats for employees and clientele.
Special showings and group sales are available at verydiscounted rates. Call 8870710 for information about the upcoming productions,show sponsorships, and about REP itself. Tickets are also available to Ticket World (Tel. No. 891-9999).