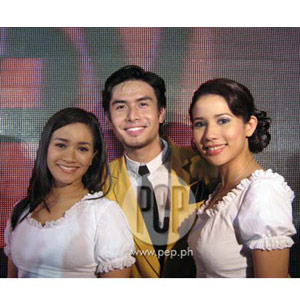 ---

Wearing a mustard yellow coat, "baston" pants, and shinypatent leather shoes, Christian Bautista looked like his fashion sense wasstill stuck in the 1950s. His leading ladies wore identical white dressesaccented with a bright red ribbon at the waist. Karylle's hair was curled atthe end while Joanna Ampil's black long tresses framed her face.

Last August 20, mall goers of TriNoma in Quezon City were treated tosnippets of the play West Side Story at the mall's activity center. Foravid theater goers, the restaging of the Broadway play has been long overdue.

This year's production of West Side Story won't be the first time thatit will be performed in Manila but it does promise to be one of the mosthistoric collaborations in the world of theater. This is the first time thatGMA-7 star Karylle and ABS-CBN talent Christian Bautista will team uponstage as star-crossed lovers in West Side Story. Not only that, thisalso marks the first time that West End star Joanna Ampil will be performingfor her native country under the guidance of first-time director MenchuLauchengco-Yulo.
This full-length musical will be staged at the MeralcoTheater from September 5 to October 12, exactly 27 years afterFilipinos first watched the play in 1981. This highly anticipated revival inAsia also precedes a new Broadway production in 2009.


Repertory Philippines is credited for the 1981 staging of WestSide Story, wherein Ms. Yulo played the role of Maria. She was then paired with Cocoy Laurel who essayed the role of Tony. Audie Gemora, who is now WestSide Story's executive producer, played the "Jets" gang leader Riff.
This year, STAGES presents 20 shows of the Broadway play, under the musical direction of Gerard Salonga, with the FILharmoniKA orchestra. Thelocal production also stars pop artists and international thespians RowenaVilar, Pam G, Jake Macapagal, Jeff Singson, and SOP mainstay GianMagdangal.
When PEP (Philippine Entertainment Portal) asked ChristianBautista to describe how it was like to be a leading man to two ladies, hesaid, "Wow! I'm a very lucky man. It's great 'cause I can really connect toboth of them in such different levels. We help each other and we really havegreat chemistry."
ADVERTISEMENT - CONTINUE READING BELOW
He later adds: "When you have two talented ladies likethese, beautiful, talented, it's not hard at all!"

How does he describe both Marias? "Karylle is beautiful, she loves dancing,talagang siya ang pumipilit sa akin: 'Christian, dance!' Si Joanna naman, sheloves singing, classical music, siya naman ang nagi-inspire sa akin to sing."
NINE KISSING SCENES. According to Christian, he hasnine kissing scenes with his leading lady (alternately played by Karylle andJoanna).
Karylle admits that, being a conservative person, she haddifficulty doing the kissing scenes for the play. "Actually nahirapan talagaako, uhm, you should have seen them copying me. Dati, sa Little Mermaid [herfirst theatrical play], wala namang kissing scene dun. Yung hug namin ganitokalayo [she demonstrates being a foot away from the other person]. Hug pa lang,ha!
"Pinagtatawanan nila ako. Minsan daw yung lips ko parangnaninigas na...so sinabi ko magi-smile muna ako bago mag-kiss. So mga littlethings like that. It's more of...may ginagawa pala akong pangit panoorin sokino-correct nila ngayon sa rehearsals. Na-correct na naman kasi parang anglayo ko masyado."

The daughter of Zsa Zsa Padilla describes how they conduct rehearsals: "During rehearsals,binibigay niya [Joanna] lahat, kahit na nakakapagod. It's a very tiring,emotionally draining show. After our scenes, natutulog kami talaga sa sahig.Yung iyakan dito combined with the singing and the dancing, mapapagod katalaga."
SYNOPSIS. West Side Story transports theclassic tale of William Shakespeare's Romeo and Juliet to the turbulentstreets of the Upper West Side in 1950's New York City. Star-crossed lovers, Tony (Christian) andMaria (Karylle or Joanna), find themselves caught between the rival streetgangs of different ethnic backgrounds, the "Jets," led by Riff (Magdangal), andthe "Sharks," led by Bernardo (Macapagal or Singson). The young lovers' struggle to exist togetherin a world of violence, hate, and prejudice is one of the most heart-rending,relevant, and innovative musical masterpieces originally conceived for thestage by director and choreographer Jerome Robbins.
ADVERTISEMENT - CONTINUE READING BELOW
West Side Story highlights the many show-stoppingnumbers, and immortal songs of Leonard Bernstein and Stephen Sondheim, like"Somewhere," "Tonight," "One Hand, One Heart," "America," and "Something'sComing."
While the new Broadway production is said to present the"Sharks" speaking and singing in Spanish, Ms. Yulo says that the local productionis staying true to what West Side Story was in 1957. It will re-create Jerome Robbins'choreography, delivering it as it was originally written.
The director challenges her cast to come up with extremelyorganic characters though. "My actorsattack their characters in a more real, more edgy manner as compared to themusical's movie version. I don't setrules and tell them what to do during rehearsals. I take it on how they give it," shares Yulo. "I don't expect Karylle's Maria will be likeJoanna's, for instance. I don't makethem copy each other, but I still make sure that there's not a great disparityin their performances."
West Side Story runs at Meralco Theater on Sept. 5,6, 7, 12, 13, 14, 19, 20, 21, Oct. 3, 4, 5, 10, 11, and 12. For tickets, call Ticketworld at 891-9999 orSTAGES at 818-1111 loc. 225. Ticketprices range from P500 to P1,200.
Click HERE to buy tickets to West Side Story.