After 28 years, Tony-award winning play M. Butterfly will take flight once again in Manila.
Frontrow Entertainment led by award-winning actor/entrepreneur Raymond "RS" Francisco and Broadway producer/four-time Tony award-winner Jhett Tolentino are producing the local re-staging of American-Chinese playwright David Henry Hwang's master piece.

M. Butterfly will be staged from September 13 to September 30 at the Maybank Performing Arts Theater in Bonifacio Global City.
M. BUTTERFLY
M. Butterfly follows the story of love and deception within the 20-year relationship of a Frenchman named René Gallimard and a Chinese opera singer named Song Liling. Rene is a diplomat assigned at the French embassy in China where he met Song Liling, a Chinese opera star who portrays a woman on stage.
The story is loosely based on the 1986 French espionage trial of French diplomat, Bernard Boursicot, and Chinese opera singer, Shi Peipu.
RS will reprise the role of Song Liling in the Manila re-staging of the play. RS first played the role at the age of 18 in February 1990—two years after the successful premiere run of M. Butterfly on Broadway in March 1988—under the direction of Tony Mabesa and opposite the late actor Behn Cervantes for Dulaang Unibersidad ng Pilipinas.
"I wanted to do M. Butterfly 'cause I think this is my strongest piece... not to mention the films that I've done and the TV shows," he told PEP.ph (Philippine Entertainment Portal) in an exclusive interview during their rehearsal last July 20.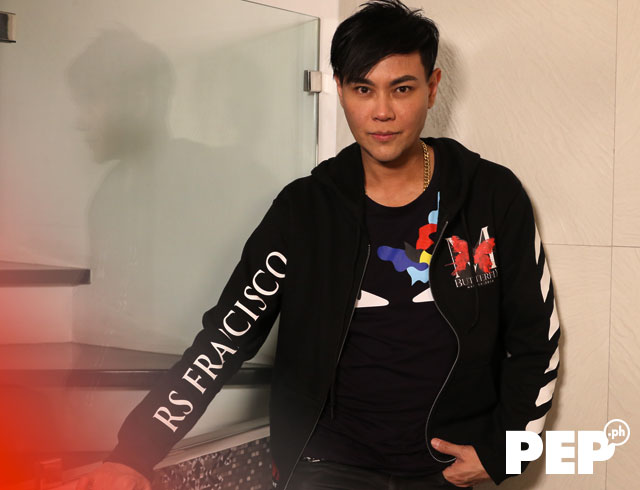 RS told PEP.ph that he initially wanted Jhett to bring Here Lies Love in the Philippines, and even considered producing the show for Filipinos.
He recalled, "I wanted Here Lies Love to be shown here… I messaged him sa Facebook, 'When are you gonna show Here Lies Love here?'
"And then he said, 'Wala pa… I have plans pero not in the Philippines and all...' So kinukulit ko lang siya sa Facebook na do it in the Philippines."
When he personally met Jhett in New York City, that was when they finally decided to bring M. Butterfly to the country.
In 2017, M. Butterfly had a revival on Broadway under the direction of Julie Taymor and starring Clive Owen as René Gallamard and Jin Ha as Song Liling.
However, RS and Jhett wanted to bring the original script in Manila instead of the new edition of M. Butterfly.
"Yun yung time na sinabi naming na, 'Uy it's gonna be shown in Broadway pala… Why don't we show it in the Philippines right after?'
"And that's when we said, 'Okay, we need to get a license from David Hwang.' So I said, 'Okay, that's why you're Jhett Tolentino.'
"So he e-mailed David Henry Hwang and asked if after the Broaway run, we can do it in the Philippines."
"And David obliged and said yes."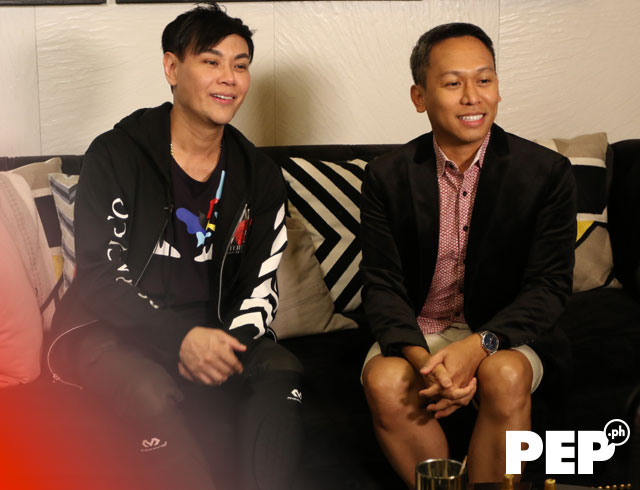 The new production will be directed by Kanakan Balintagos.
RS revealed that they initially were picking among three directors to lead them but ultimately chose Kanakan for his out-of-the-box ideas and creativity.
"Kanakan is very… he thinks about of the box. He really thinks about the crazy ideas which can go as far as really crazy.
"That's why I wanted him, because I've been a fan of his works before pa sa UP, and when hid plays sa CCP and movies.
"He did Ang Pagdadalaga ni Maximo Oliveros. I've been a secret fan so when Jhett Tolentino and I were brainstorming who's gonna be director for M. Butterfly, we had some choices.
"We had like three choices but we chose Kanakan because he's the weirdest of them all."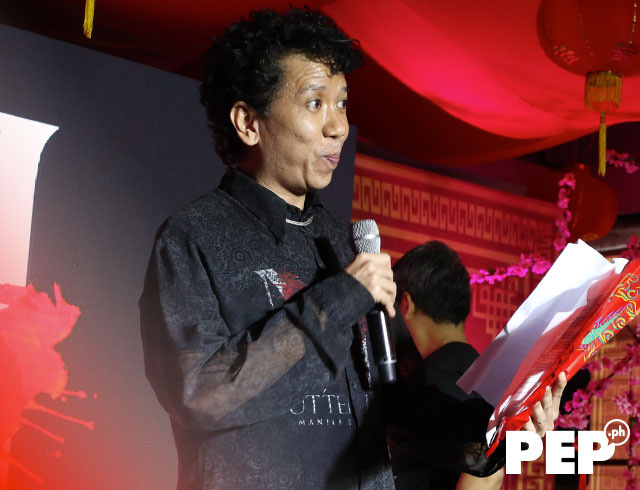 A NEW BUTTERFLY
RS's acting career sky-rocketed after his critically acclaimed performance as the Chinese opera diva and even went on tour around the country up until 1992.
Aside from Dulaang UP, Repertory Philippines and Arnold Vegafria also produced some of the show runs of M. Butterfly.
With his experience, RS believes that he'll be able to give a better performance as Song Liling this time around.
He told members of the press at the launch last July 2, "At that time, of course, I was 18 and still clueless, naive... I didn't have that much life experience at that time.
"So I had to really pick up and try to think na I'm 40 and ganyan, I have so much angst and all that.
"But now I'm a little bit older, parang feeling ko with all that I've gone through, all the hardships, all the heartbreak, I can put into the character of Song Liling now.
"So I feel with Kanakan Balintagos's direction and motivation, I can play Song Liling even [better].
"I can give more justice to her now more than yung nung 1990."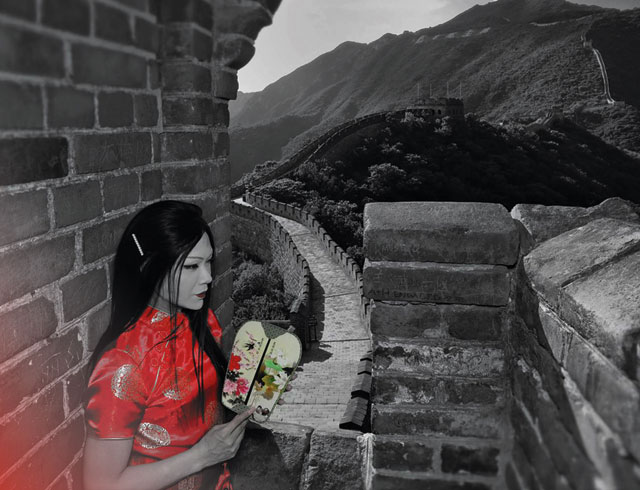 During the press launch, RS recalled one of his most memorable performances as Song Liling in Dulaang UP in the early '90s.
RS surprised the audience of Dulaang UP with a frontal nudity scene—which he admits was a mistake on his part.
He later revealed that the frontal nudity wasn't actually part of the script but his "dingaling" slipped through a scene when he forgot to turn his back to the audience.
The director at that time, Tony, rushed to the backstage and reprimanded him for the surprise appearance of his "dingaling."
When asked if this will happen in the new production, RS just promised that they will stay faithful with the script.
He told the press, "We told David Hwang that we wanted the original script and we will be as faithful.
"We will not alter it even if our director is a little bit quirky and surreal, out of the box, and sometimes borderline...
"We assured David Hwang that we will stick to the script and now change anything.
"If that script requires anything that I should reveal then maybe I will reveal."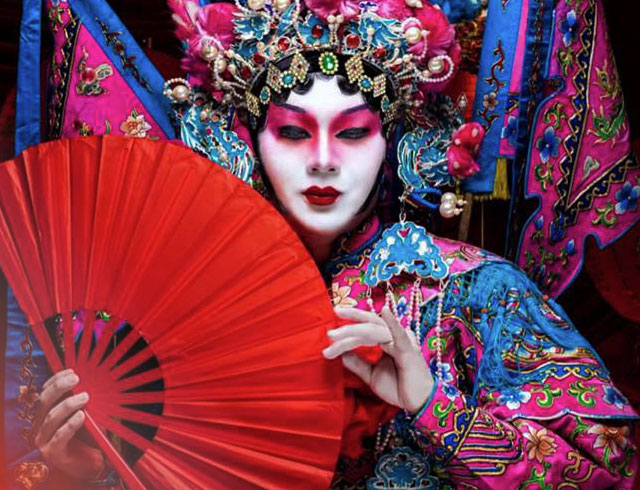 RS hopes that more millennials would watch their re-staging of M. Butterfly.
He told PEP.ph, "For me, M. Butterfly is very appealing now to millennials because nowadays, di ba, meron tayong tinatawag na fake news. Usong-uso yung fake news.
"Meron din tayong mga meme na tinatawag na 'expectation versus reality.' The issues now sa China and all that.
"It's very, very relevant now and I think more than before, more than any time, now is the pinaka-opportunistic time that they'll take home something from it.
"I don't know exactly what but alam ko they'll realize what expectation is versus reality, what fake news really is.
"After all, my character, Song Liling, is fake news but she made it seem like real news."
STRIVING FOR AUTHENTICITY
The producers had six audition days—from the originally planned two dates—to pick the right actors and actresses for the characters in the new production.
RS told PEP.ph that they're striving to give the play an authentic feel by casting Western actors for the Caucasian roles and local talents for the Asian characters.
He explained, "I wanted a contrast sa Asian mystique ni Song Liling... because it's East versus West.
"So I wanted talaga na kapag nagdikit yung Westerners and Easterners, makikita mo talaga yung pagkakaiba."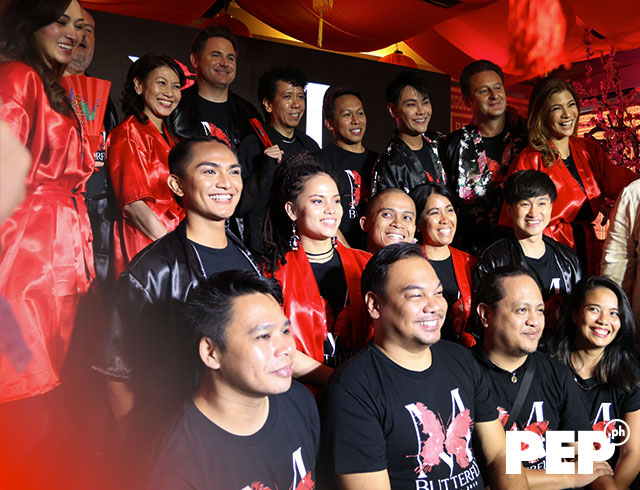 Olivier Borten will play the role of René. According to RS, this is probably the first time René's character will actually be played by a French actor.
"Even the accent niya, when he speaks talaga, alam mo yung French and French talaga. So when he says, 'We French, we know how to run a prison…'
"So talagang authentic talaga yung ano [delivery] niya."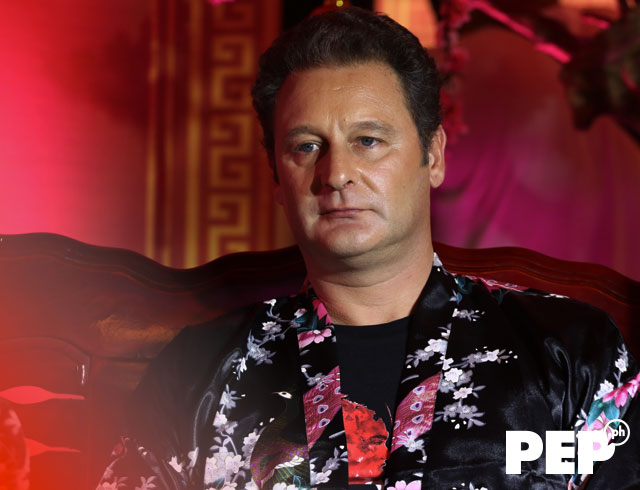 Seasoned actress Pinky Amador, however, is the exception. The 52-year-old actress will be playing the role of Helga, René's German wife.
"We wanted a real European actress to play it kasi Pinky Amador plays Helga, the German wife to Gallamard.
"But then, when she came it and did a cold reading, meaning walang emotions, wala lahat, it was already perfect.
"Walang directions yun ah, she just read the script for the first time. She was not aware of the role, she just read it and it was already perfect."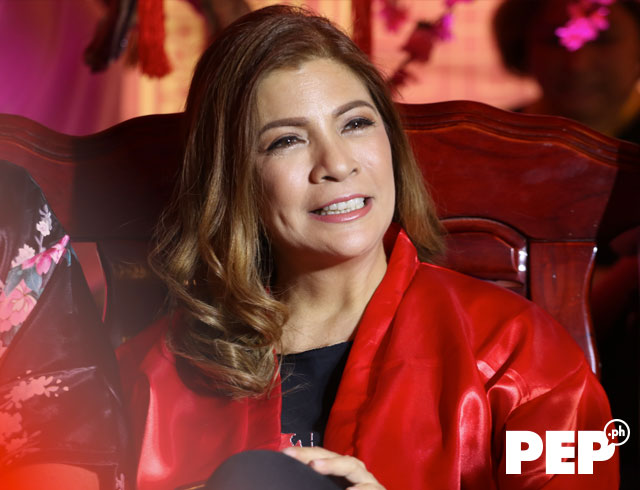 BEHIND THE SCENES
PEP.ph took exclusive behind-the-scenes photos of the cast of M. Butterfly during their rehearsal.
The cast rehearsed several scenes from the play.
In this scene, RS emerged behind a huge fan and recited some of his lines as Song Liling.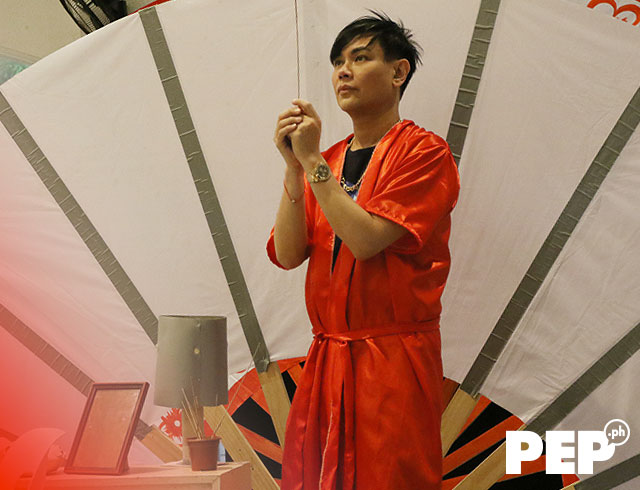 He is then, joined by Oliver acting as René. Their characters were having a discussion.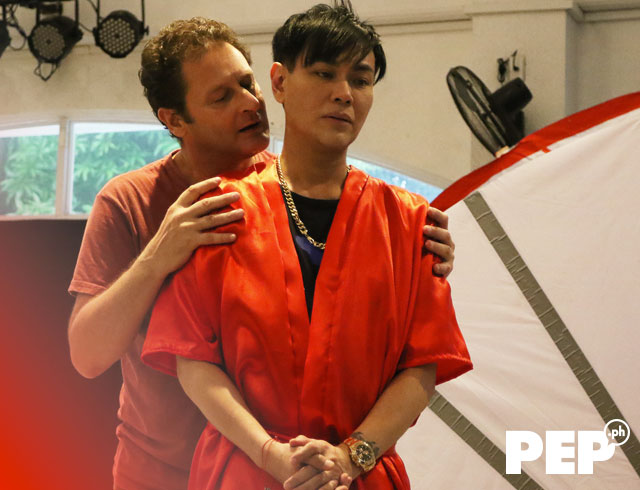 RS and Oliver also rehearsed one of the intimate scenes of the play.
When asked if RS still remembers his lines from 28 years ago, the actor admitted that he only remembers certain parts of it.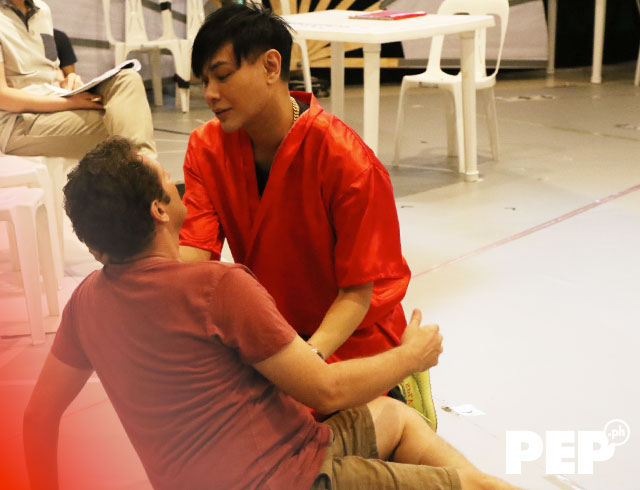 Director Kanakan giving instructions to the lead stars on how to act during the intimate scene.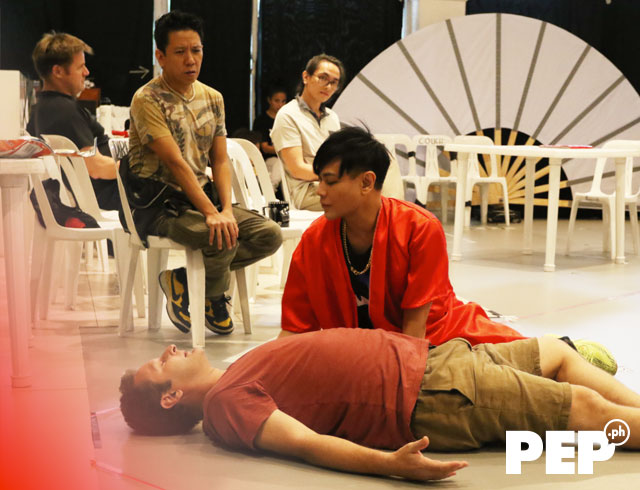 In this scene, Rebecca's character helps Song Liling send her love letters for René.
Rebecca will play the roles of Suzuki and Comrade Chin.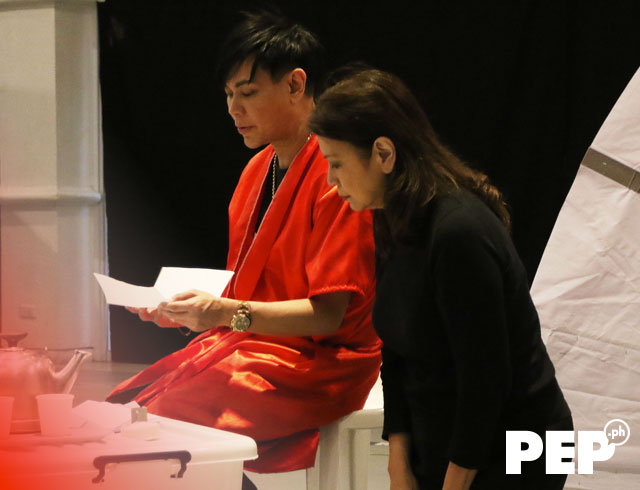 American actor Lee O'Brian is cast as Marc, René's best friend.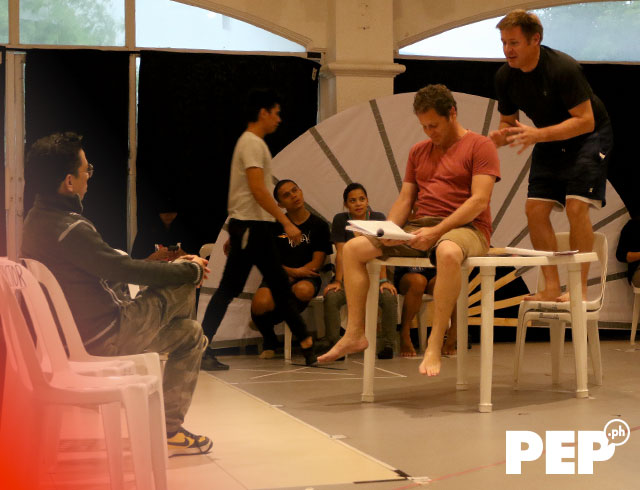 Young talent Maya Encila will portray a Danish bombshell named Renee.
In this scene, Renee performs some sexy dance moves to seduce René.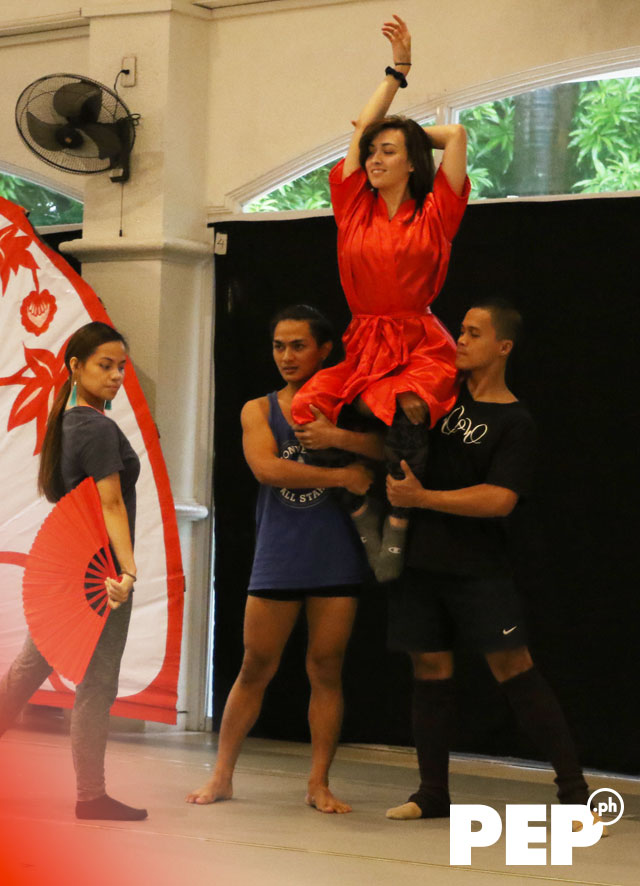 The cast also includes Scottish actor Norm McLeod who will play Manuel Toulon, the French ambassador to China.
John Paul Ortenero, Pheit Lena Ballug, Kay Megan Kierulf, Aira Jay Igarta, Ulysses Basa, and Rica Nepomuceno complete the cast as members of the "kurogo" or ensemble.
Meanwhile, the creative team behind M. Butterfly includes composer Joed Balsamo, costume designer Eric Pineda, set designer Ohm David, sound designer Jethro Joaquin, lighting director John Batalla, and make-up artist Gery Penaso.
PAYING IT FORWARD
RS is also proud to reveal that they will be donating 100% of their profits to 14 different charities and organizations dedicated to education and the arts.
According to Jhett, the charity part made him say yes to produce the play. RS, Jhett, and Kanakan each picked five charities and organizations each.
Jhett listed down his chosen organizations and told PEP.ph, "One is the Love Yourself Foundation, second is the Teach for the Philippines.
"I was a mentor there last year and I loved their platform in trying to uplift the kind of education to our kids.
"I love their program... Third is the Philippine High School for the Arts.
"I visited in 2016 and for the first time... I realized it's unfortunate that there's not much funding given to them to restore the glory of the school.
"And I also love the platform, it's because they're hands on.
"Fourth is the Our Lady of the Miraculous Medal Parish, the conduit on how I got my scholarship from the Sophia University in Tokyo for eight years.
"Somewhat, I wanna give back. The last one is my Elementary in Ilo-ilo, the Esteban Juntado Sr. Mem. Elementary School."
Meanwhile, RS and Jhett's picks are Philippine Stagers Foundation, Environmental Legal Assistance Center, Inc. (ELAC), LOVE Lipa, Habitat for Humanity Philippines, Trip to Quiapo Ricky Lee, UP Samaskom LIVE AIDS, Philippine Science High School Foundation, Arko ni Apo Art Gallery, Dulaang Unibersidad ng Pilipinas, Pakisama (Pambansang Kilusan ng mga Samahang Magsasaka), and Hope for Change.
A photo gallery titled The Chrysalis will also be mounted at the Maybank Theater.
RS revealed that the photos will be up for auction and the proceeds will also be donated to their partner organizations.
He said, "It's done by 8 top photographers in the Philippines namely Raymund Isaac, Jun de Leon, Wyg Tysmans, Patrick Uy, Mandy Navasero, BJ Pascual…
"They will be interpreting my character, Song Liling, in their eyes through the lens.
"There will be eight photos of Song Liling and Gallimard and those limited edition photos which are signed by the master photographer themselves will be up for auction.
"And lahat ng makuha nun will also go to charity."
Official merch will also be sold at the venue and proceeds will also go to the charities.
"Pati yung mga merchandise that we're selling, mga hoodies, mga ballpens, mga tumblers, mugs… Lahat ng kikitain nun, 100% will go to charity also."


M. Butterfly will run from September 13 to September 30, 2018 at the Maybank Performing Arts Theater in Bonifacio Global City. For tickets and show schedules, please contact 8919999 or 09176233834.