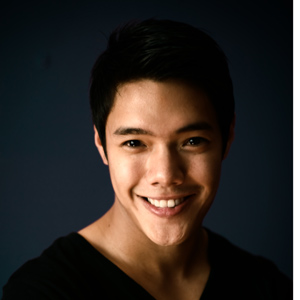 ---
After his much-lauded performance in New Voice Company's Into the Woodsin 2007, it seemed Joaqui Valdes will be the next big thing in Philippinetheater. But in 2008, instead of focusing on his career as a stage actor,Valdes focused on other artistic endeavors. He co-hosted the now defunct 100%Pinoy with Miriam Quiambao on GMA-7 and even had a small role as JolinaMagdangal's brother in I.T.A.L.Y. His short film, Bulong, won theGolden Duck award at the 2nd New Beijing International Movie Weekand was screened at the Cannes Film Festival.

This year, however, sees the return of Joaqui the theater actor. Afterstarring in Dulaang UP's Ang Kiri for the UP Sarsuela Festival lastFebruary, he returns to New Voice for The Male Voice, the company's 15thanniversary offering.

Written and directed by NVC associate artistic director Rito Asilo, TheMale Voice is a series of monologues that tackles the life and the psycheof the Filipino male, covering all walks of life, from macho dancers and maleprostitutes to priest and soldiers, among others. Based on interviews from realpeople, The Male Voice is the first time NVC will stage an originalproduction. It also stars Tommy Abuel, Michael Williams (who also starred in Intothe Woods), and Joel Trinidad.

AFTER BULONG. For Valdes, the opportunity to work on TheMale Voice came at the most appropriate time, especially afterconcentrating on directing for the past year. According to Joaqui, hisexperience with Bulong made him realize directing is his vocation. Bulongalso made him want to "create more works that push and challenge the people,that will move their hearts." This was after he saw foreigner viewers respondto Bulong, a 30-minute film he described in a previous PEP interview asa speculative tale "about a city where everybody is unconsciously controlled ormade to believe that they are free, but they all follow a routine day in andday out."
ADVERTISEMENT - CONTINUE READING BELOW

But Valdes doesn't plan to turn his back on theater just yet. In fact, TheMale Voice is exactly the kind of material he prefers to do as an actor.Although he considers musical theater as his guilty pleasure, something he hasbeen doing since he started out as a stage actor and something he would dosimply because he enjoys it, Valdes wants his art to go beyond that.

"Kasi kung indulging lang siya, dahil luho ko lang siya, dahil enjoy ko langsiya, selfish yun. Pero kung chinachallenge mo sila para maging progresibo,para maging world changers, para baguhin yung sistema dahil may pini-pinpointkang kanser sa lipunan, then you've done your job as an artist," he said.

CHALLENGING ROLES. In The Male Voice, Valdes will perform anumber of roles: as a former macho dancer and as a son who found out his motherwas abused by his grandfather. The Male Voice is unlike most of theproductions he has done in the past, a fact that scares him and challenges himat the same time. For one, he hasn't done a monologue in his entire career, andhe feels the pressure of being able to sustain the interest of the audience ofthe entirety of his piece.

On one of his monologues, he said: "It's a challenge. Thing is, I told Rito Asilo,if I pull this off, it's gonna be really good. There's nothing less thanexcellence, you really have to pull it off, eh. Kasi, if you don't, the wholething suffers.

However, he sees this challenge as a necessity in his career as anactor.
"As an actor, you have to try new things... But what differentiates you froman entertainer and an artist is an artist feels stretched and you'll eventuallytackle material na takot ka. One of the best advice a director gave me was youhave to do roles that you're afraid of. Ito, isa ito, kasi sobrang nakakatakotitong material na ito kasi ayaw mong i-misrepresent yung interview, you want toremain faithful to the actual person," said Joaqui. "Ang pinaka-challenge saamin, apart from portraying these interviews well, is portraying it through,portraying it realistically, para lumabas talaga yung pinakaka-totohanan ng mgainterviews na ito."
ADVERTISEMENT - CONTINUE READING BELOW

"Takot ako, but at the same time, I feel challenged by it. And as anartist, you have to be challenged," pointed out the actor.

The Male Voice is the second time that Joaqui worked with Tommy,Michael and Rito after Into the Woods. "It's such an honor to be workingwith theater greats, like Tommy and Michael and Joel, because I'm the youngestand they've been in the industry for so long," he said.
The Male Voice
will have its limited run from
May 22, 23, and 31
at the Carlos P.Romulo Auditorium (RCBC Theater) at 8 PM.