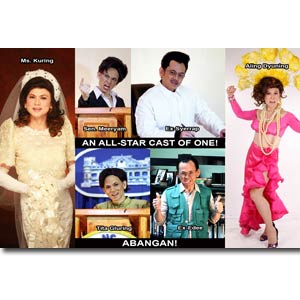 ---
Election fever is clearly in the air, and with it comes the motley crew of presidential hopefuls slugging it out in the open with an endless tirade of promises, brickbats and political rhetoric.

It's a scenario we've all known too well; an entertaining roller-coaster ride that blurs the thin line between hard-nosed reality and virtual insanity. Making it even more interesting is the hodgepodge of characters—dyed-in-the-wool politicos, showbiz luminaries and everything in-between—guaranteed to add even more sizzle to the tussle.

The timing couldn't have been more perfect for the resurgence of election spoofs. In the Philippines, one man has successfully redefined the fine art of political satire. In his own funny way, acclaimed stand-up comic/impersonator Jon Santos has become a chronicler of socio- political/pop culture with his wacky characters 'Governor Vi,' 'Ate Sha,' 'Senator Miriam,' 'Oprah,' 'Paris Over-the-Hill-ton,' 'Tita Midz,' 'Brother Mike,' 'Ex-President Eddie,' 'Ex-President Sherap,' 'Kabayan,' 'Kurtina Halily' and many more.

On September 4 and 5, Jon unveils an even more exciting tapestry of new and familiar characters in Kuring, Gluring, Syerrap at Dyuning: Election is Nearing (For Voter or for Worse), to be held at the Teatrino (Greenhills Promenade).

Of his new personas, Jon speaks fondly about his fascination for news journalist 'Kuring.' In the wake of the latter's impending marriage, Jon weaves a tight, seamless storyline that finds his heroine in madcap mayhem—and looking stylishly chic in a wedding gown at that!

Still another endearing character is 'Mommy Dyuning.' Another star-in-the-making, the pleasantly candid 'mother figure' has been getting her fair share of the limelight lately, what with the slew of commercial endorsements and movie offers coming her way.

Catch them and the 'all-star-cast of one,' with their takes on the latest hearings, investigations, hidden camera scandals, campaign ads, surveys, state visits, and other headlines, in a 'mini-spoof-of-the-nation.'

Onstage, Jon's characters loom larger than life and tread fearlessly as they push the envelope of political correctness to the limit. It's comedy with balls—with malice toward none and wild, good-natured fun for all.


"Bonding among kindred spirits," Jon says, "an hour or two of relief...Before the real madness happens next year, for voter or for worse."

The (political) party starts at 8:30 pm. Tickets are available at Ticketworld (891-9999) and Music Museum (710-7944).



ADVERTISEMENT - CONTINUE READING BELOW