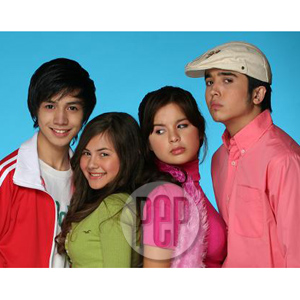 ---
Teens break free in STAGES andTrumpet Playshop's production High School Musical, a stage adaptation ofthe Disney Channel Original Movie. It will star Crush ng Bayan SamConcepcion as Troy Bolton opposite Cheska Ortega who will play GabriellaMontez. This theater production will be staged from June 23 to July 15 at theMeralco Theater in Ortigas Center.
Under the direction of Audie Gemora, High School Musical ispresented through special arrangement with Music Theatre International (MTI).
Disney's High School Musical is an inspirationalstory fighting against stereotypes of a typical high school. The story revolvesaround Gabriella Montez, a new student at East High who is labeled as a nerd ather old school, and Troy Bolton, East High's basketball star and schoolheartthrob. They meet at a New Year's party where they were paired in a karaokesinging contest.
When they find themselves together in a class, Gabriella andTroy audition for their high school's upcoming theatrical production, Juliet and Romeo. Friends of the two find out about their intention but they advicethem to "stick to the status quo."
Adding to all the confusion are the twins Sharpay and RyanEvans who are obsessed with becoming theater actors. They will do anything toprevent the "jock" and the "nerd" from ruining their moment in the spotlight.
When auditions were called for the said musical play, 300aspiring thespians tried their luck including Super Inggo star StephCuevas and Little Big Star alumna Krissha Viaje.
ADVERTISEMENT - CONTINUE READING BELOW
The freshest crop of actors will perform hit songs like"Start of Something New," "Breaking Free," and "Stick to the Status Quo" fromDisney's High School Musical.
Performance Dates: June 23 - July 15, 2007
Venue: Meralco Theater, Ortigas Ave. corner Meralco Ave., Ortigas Center, Pasig City
For more information about theshow, interested block buyers and sponsors can contact the STAGES office attelephone number 818-1111 loc. 209 or send an email to STAGES@i-manila.com.ph