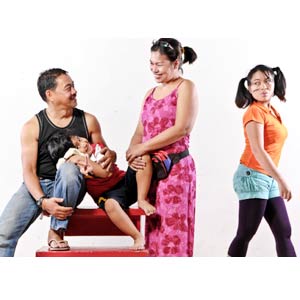 ---
It could not have been by chance that May Bayot-De Castro came to the world with a two and a half octave vocal range. Born into a family of musicians, with a tenor as a father, a coloratura soprano as a mother, Asia's Nightingale Lani Misalucha as a sister and with other brothers and sisters acting, playing the violin, flute, guitar and piano, it was not a surprise that May found her way performing on stage.
Tutored in classical vocals by her own parents, May and her sisters expanded their musical horizons to various genres and styles and developed dynamic versatility. With her genes and through her hard work, she has become an award-winning theater actress, a contemporary dancer and an accomplished singer.
May's children, as young as they are, are also staring to get into music. "I do encourage my two kids age 9 and 6 to listen to music and they listen to music a lot. My son, Gato likes rock music while Adriana likes to listen to classical music. I guess music will really find it's way through their blood stream."
In recent years, she has won several Best Actress Awards: for the role of Elsa in Himala the Musicale (2004 Aliw Awards), as Amor Sangre (the reigning Ms. Artificial Beauty Queen in China) in the musical Skin Deep (2008 Aliw Awards) staged by PETA (Philippine Educational Theater Association). She also bagged the most coveted title of Best Theater Actress at the 2003 Aliw Awards.
She has been active in the entertainment scene since the late '80s and consistently gives powerful performances. This year, May lends her voice for a different cause as she plays the lead role of Joselle (alternating with Raye Baquirin) in PETA's Rated:PG, an advocacy play about corporal punishment and positive discipline.
ADVERTISEMENT - CONTINUE READING BELOW

Unlike her past roles (as Elsa in Himala and Amore in Skin Deep), her role in Rated:PG required May Bayot to play the role of a regular housewife, a multi-tasking woman who switches roles between being a caterer, a plantsadora, a sari-sari store owner, a clothes and undergarments vendor and being both a mother and a wife.
Rated:PG is also a journey of a family as they struggle in their relationships and find new ways of dealing with ordinary situations that take place at home, in school and in the community. May's character is fragmented by family misunderstandings and grapple with how to properly raise and discipline her children.
A multi-tasking woman herself, May finds similarities between herself and her character: "In Rated:PG I don't really have to act. It's pretty much how I am as a mother up there on stage doing Josselle," she says. "I would often joke during rehearsals that it seems I've not left home working with a very young actor," she adds.
The story, although realistic, is presented in a lively mix of drama, humor and fantasy to make for an experience that is educational, entertaining and relatable—definitely a good combo for children and parents alike.
A mother herself, May felt that the play had quite an effect on her and on her children, "Especially now that my kids have seen the play, I don't want to be this monster mom at home. The play helped also them to understand that there are other ways to negotiate through family troubles. They listen better now. They understand what I go through during work after they've seen me during rehearsals. It's not yet consistent, but it's a start."
ADVERTISEMENT - CONTINUE READING BELOW
From a musically gifted biological family, May's character is joined by an equally musical kin in Rated:PG. Catch as she performs a tearful duet with her daughter Rosalie (essayed by Joann Bugcat), her son Ton Ton (played by child actor, Arthur Castro) and her husband Romy (Jack Yabut alternating with Joel Saracho).
Expect to see a lot of breathtaking song numbers and a mixture of hilarious and tear-jerking numbers from songs of multi-award winning composer Vincent De Jesus.
PETA will be staging Rated:PG in Caloocan, Manila, Makati, Pasig and Quezon City for the benefit of teachers, children and parents in these cities.
"I hope this play reaches parents, educators and child guardians. We need to truly find better alternatives to raise our children, not only in the household, but even in school and other institutions. Remember, it takes a village to raise a child," says May.
Rated:PG is a project of PETA's ARTS Zone program, an educational campaign on children's right to safety and protection from violence through theater and the arts.
For more information about this performance, contact PETA's Marketing and Public Relations Office at 725-6244, 410-0821, 0917-804428 or petatheater@gmail.com.